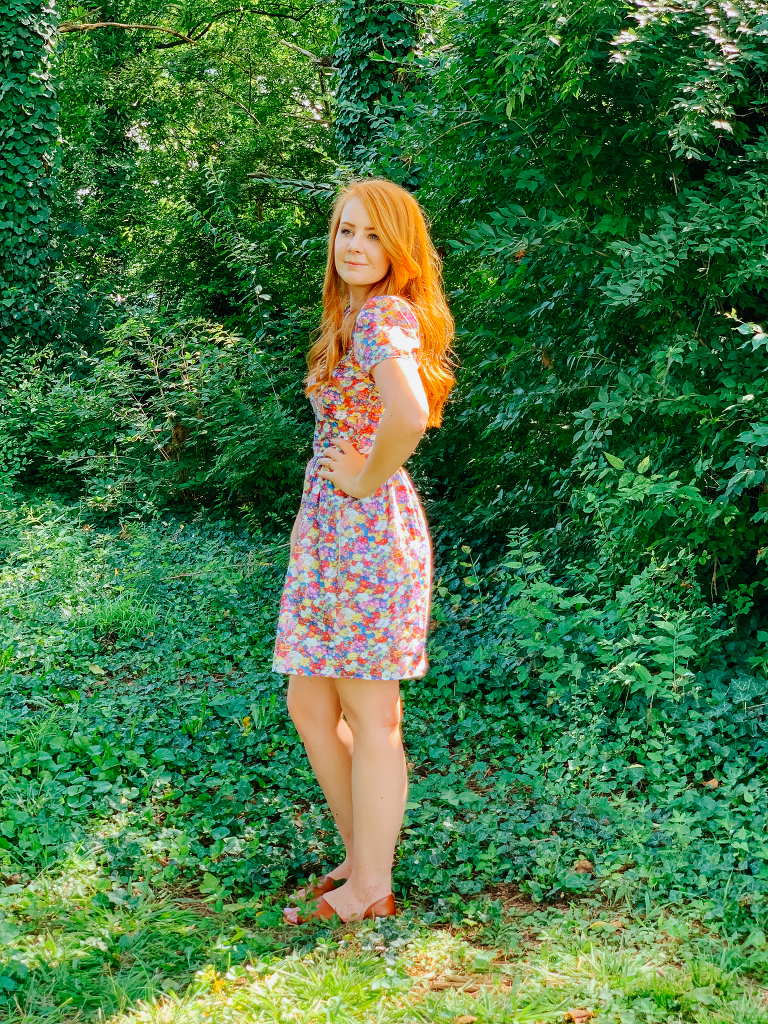 Its been a dry spell here on the ole blog. These breaks are rarely intentional, but I find them to be a good time to regroup and refresh. I've had a rush of commissioned work, which is always wonderfully varied given my clients' unique visions and tastes. I love always having the opportunity to try something new. But between big projects, or when I get a free night or weekend, I like to squeeze in a garment making project because they are generally quick and very gratifying, perfectly good for keeping the creative juices flowing.
Last week, I grabbed some favorite prints that I've purchased for garments, and decided to throw caution to the wind and just make whatever felt right at the moment. No second thoughts, no deciding I needed more of something, just diving in and going for it. I have to tell you, it was the best thing I've done in a long time. Not only do I feel refreshed creatively speaking, I whittled down my "stash" and have several more finished garments ready to wear!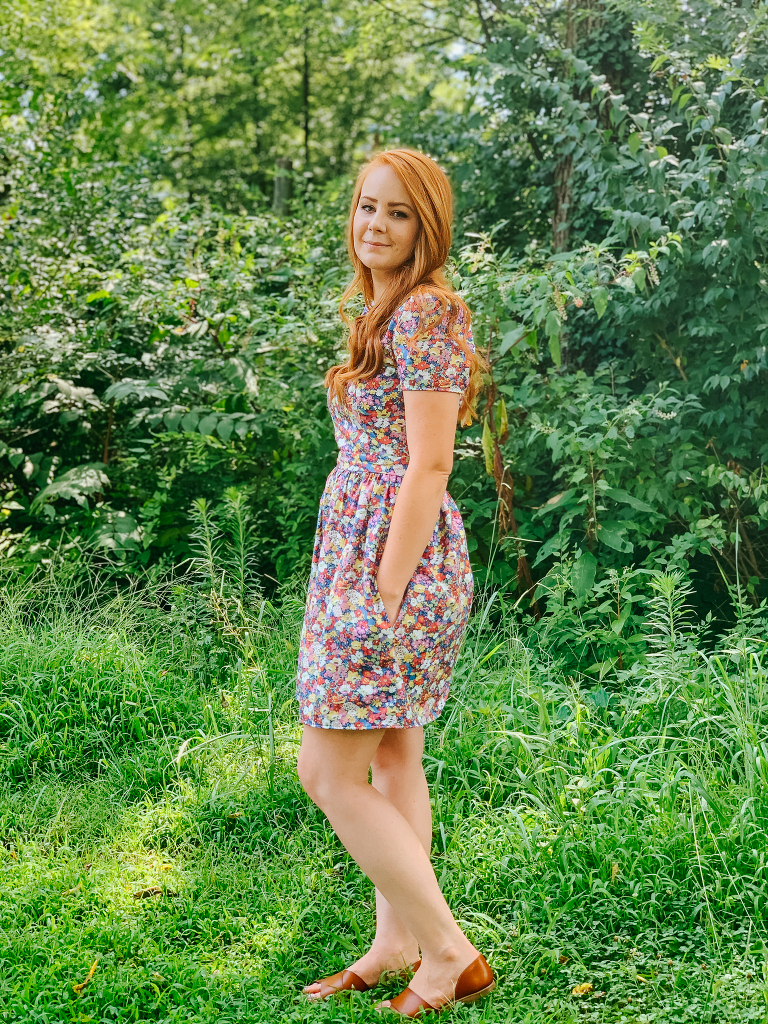 So the dress I'm showing you today is a modified Michelle, My Belle Dress. If you've followed me for any length of time, you likely know this pattern is my all time favorite and most used. I use the bodice as a starting point for all sorts of modifications, then I do whatever seems most fitting for the skirt. The pattern is from the book Liberty Love, which is far and away one of the best crafting books ever written, and one I highly recommend you add to your library if you like to do any kind of sewing as it has a variety of projects.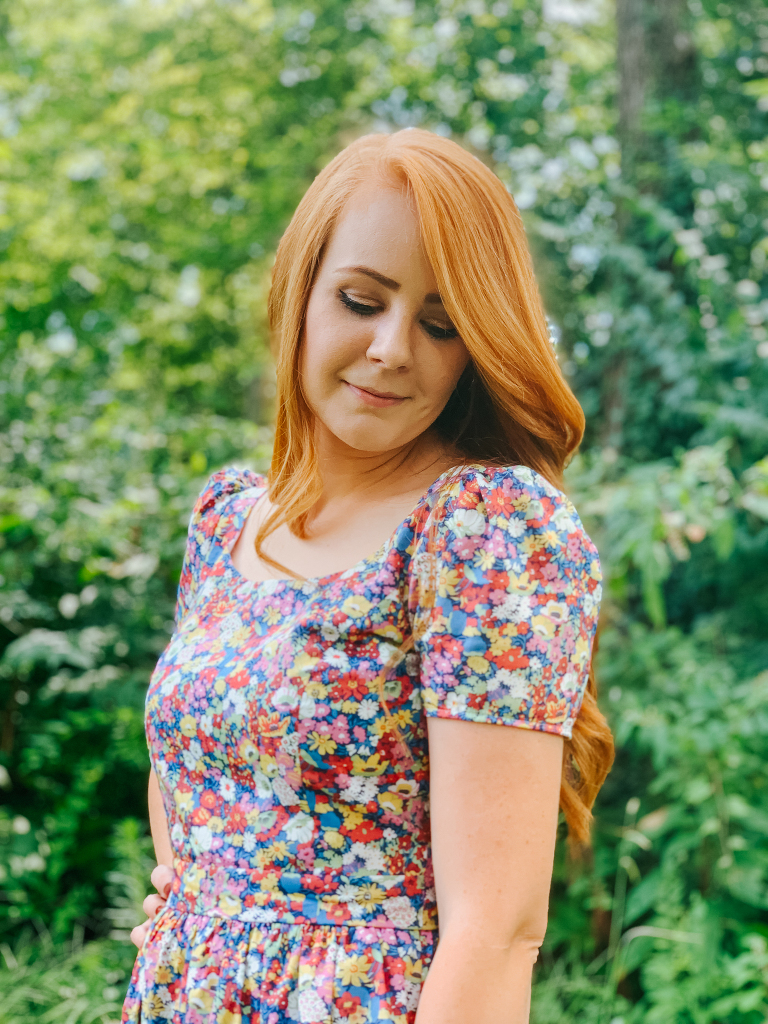 For this dress, I lowered the cut of the neckline in both the front and back, and also widened it to make it more of a scoop-neck.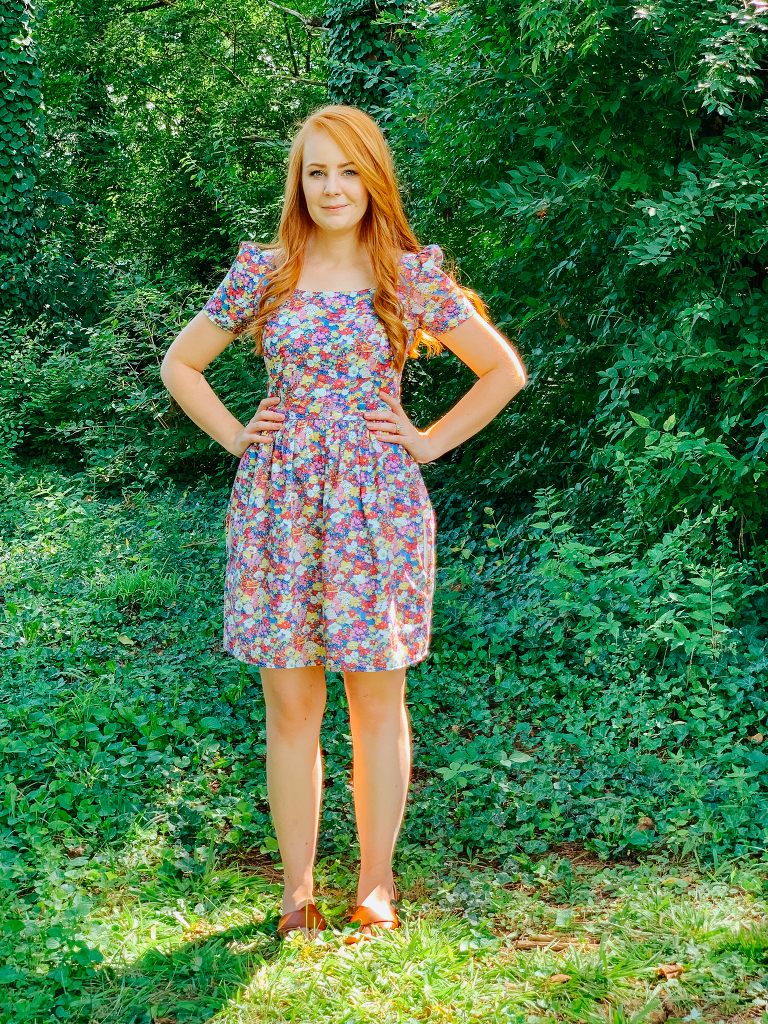 I also used the extended bodice modification I made on this dress. Because the bodice is lengthened, I shortened the waistband.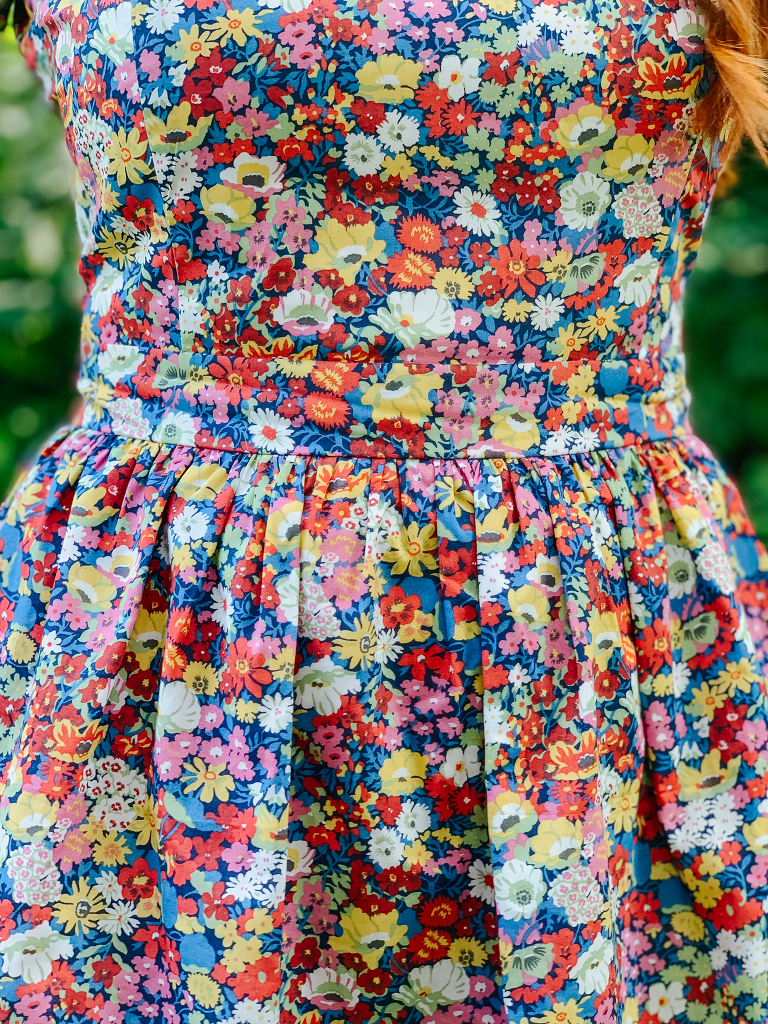 The gathered, puff sleeve is a modification I first made for this dress and this dress. After drafting a sleeve from my favorite ready-to-wear piece, the J.Crew Perfect shirt, I modified it to be a short sleeve, then hacked it up and added lots of room for gathering along the top. Its super feminine and classic, and I love this added touch.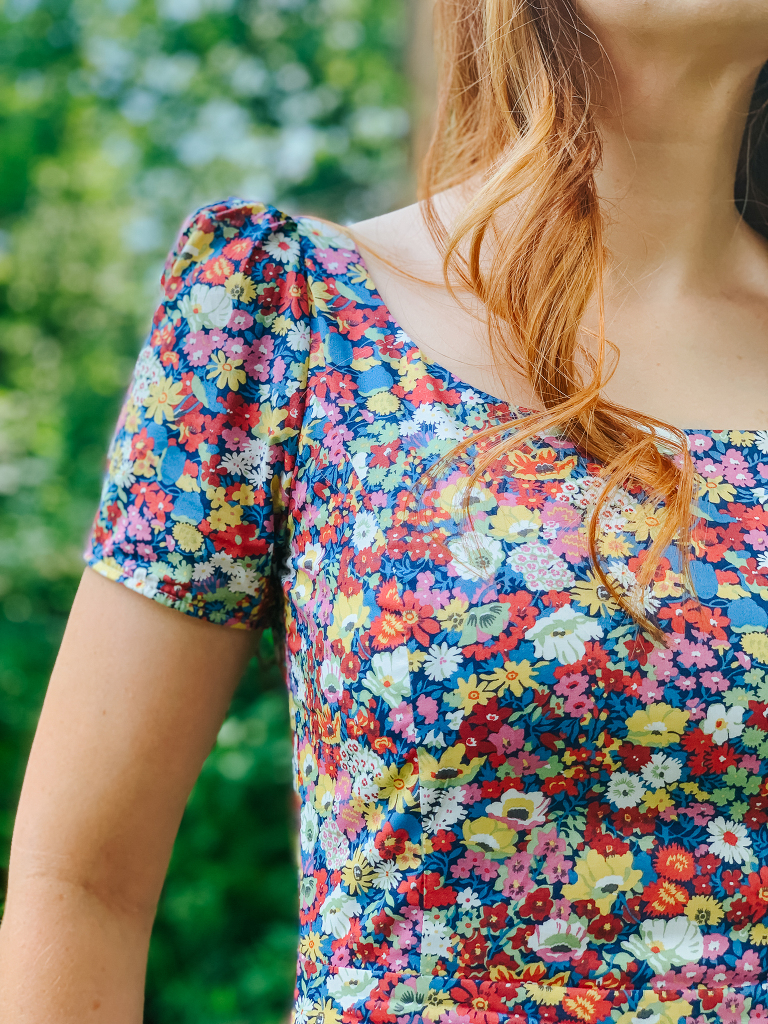 Of course the dress is fully lined. I avoid facings in any circumstance I possibly can because they are not a clean finish, and I don't like for my garments to look "homemade". A lot of you have sent me messages asking what lining I'm using now that Free Spirit has discontinued the greatest product ever  (their nude colored solid voile!), and I'm happy to report that I've been using this great voile. Its not the same as the FS, but its really the best alternative I've found. Its a 100% cotton voile with a slight silkiness, and it behaves much the same as a Liberty lawn. I do believe that linings should match the exterior in terms of quality, and would never recommend lining cotton with something like a blend or polyester.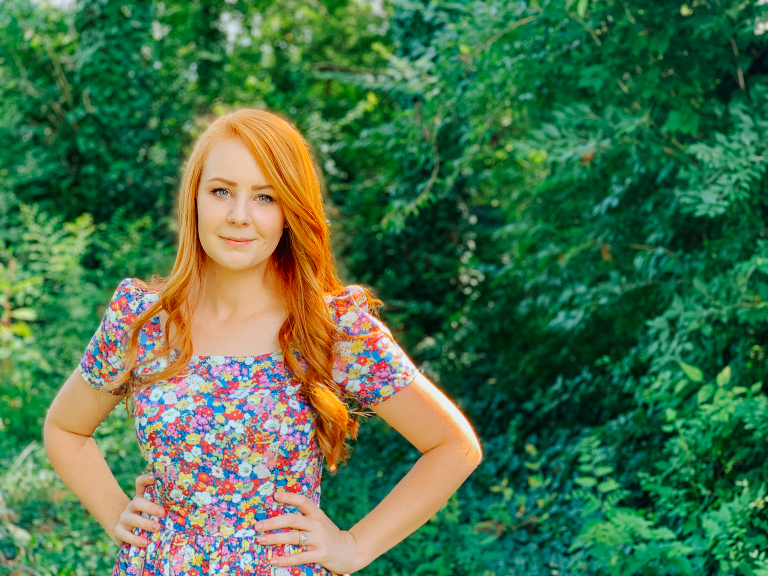 Back to business, and perhaps the most important part of any garment- POCKETS! I did use pockets on this dress, and my go to pocket for pretty much everything lately is my self drafted pocket I made for my 30 Minute Skirt (free pocket pattern and skirt tutorial!)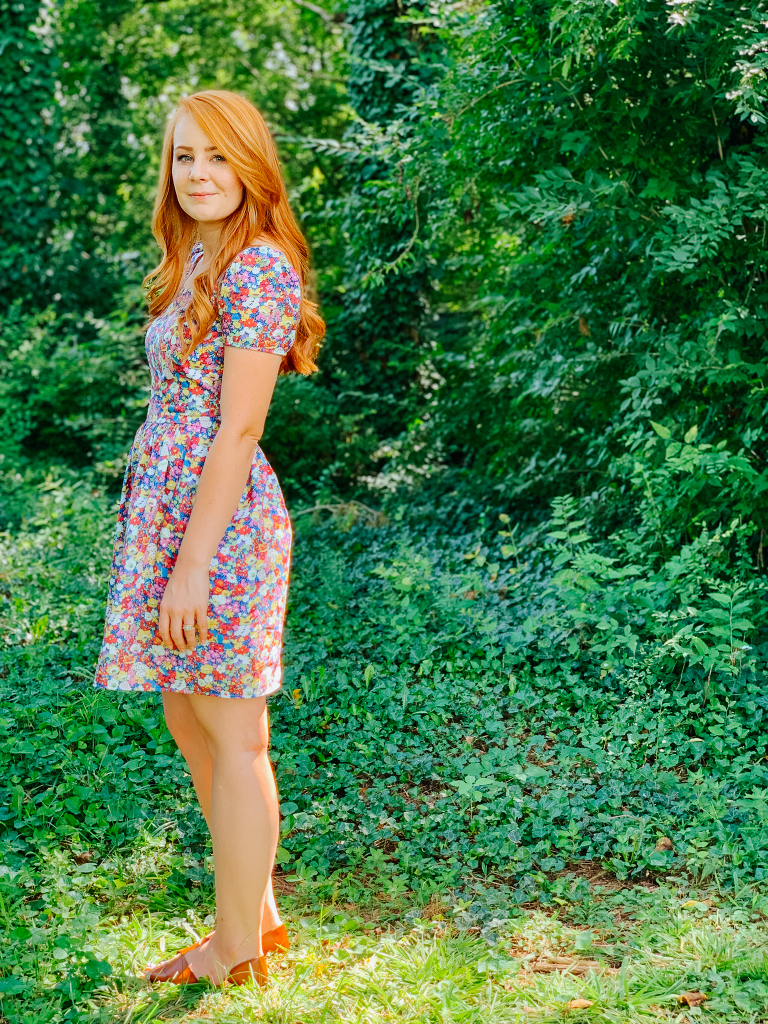 This gorgeous print is a Liberty lawn from their 40th Anniversary Classics collection. Its called Thorpe and I purchased it from Jones & Vandermeer who are based in New York City. They sell Liberty by the meter for only $36 which is an absolute steal AND they offer free domestic shipping on all orders over $60 which is so easy to do!
I'll see you back here soon as I catch up on writing about my backlog of projects! I have a lot to share!
-Meredith
please note that this post may contain links to amazon, which are affiliate links. this means that if you choose to buy, you get the same low price, but amazon will give me a small share of the sale to support my business, which is a great way to keep my blog going!