I work with a lot of fabrics! Most of what I buy is for business and now and then I'll have some time for a personal project. With so many fabrics out there, it really takes a gem to stop me in my tracks.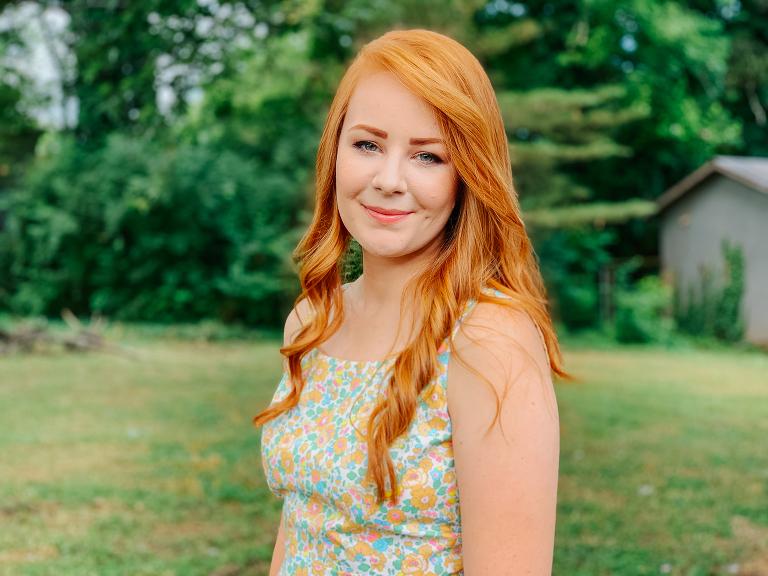 Cue Betsy Neon Tan. DuckaDilly posted a shot of it on their Instagram page last week and I instantly STOPPED EVERYTHING. It was perhaps the most gorgeous color way of the classic Liberty print I have ever seen. They were incredibly kind to reach out and ask if I would like some to make something. Of course my answer was an instant 'YES', and I stalked the mail carrier until it arrived on Tuesday when I promptly grabbed my pattern and rotary cutter and cut it up.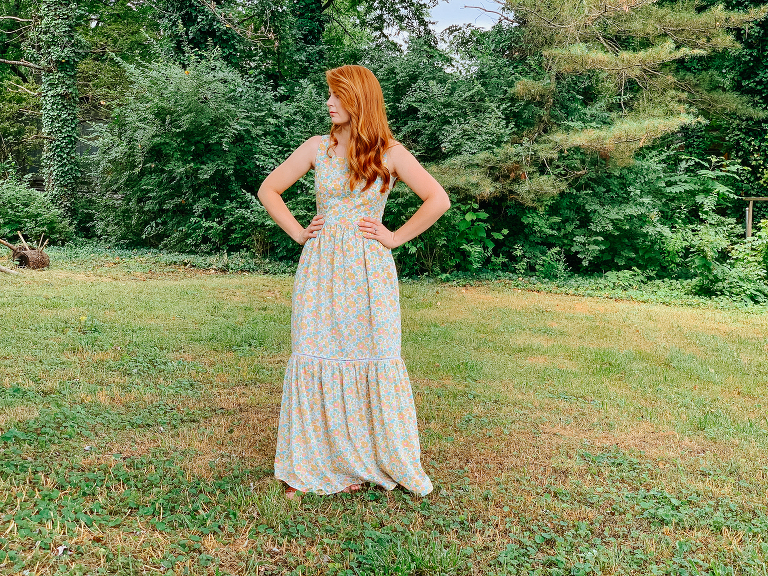 I had a vision for what I wanted to make right away- I was definitely feeling an Anthro-esque maxi, boho, summer style paired with the most classic of prints. I also wanted it to have a mostly open back.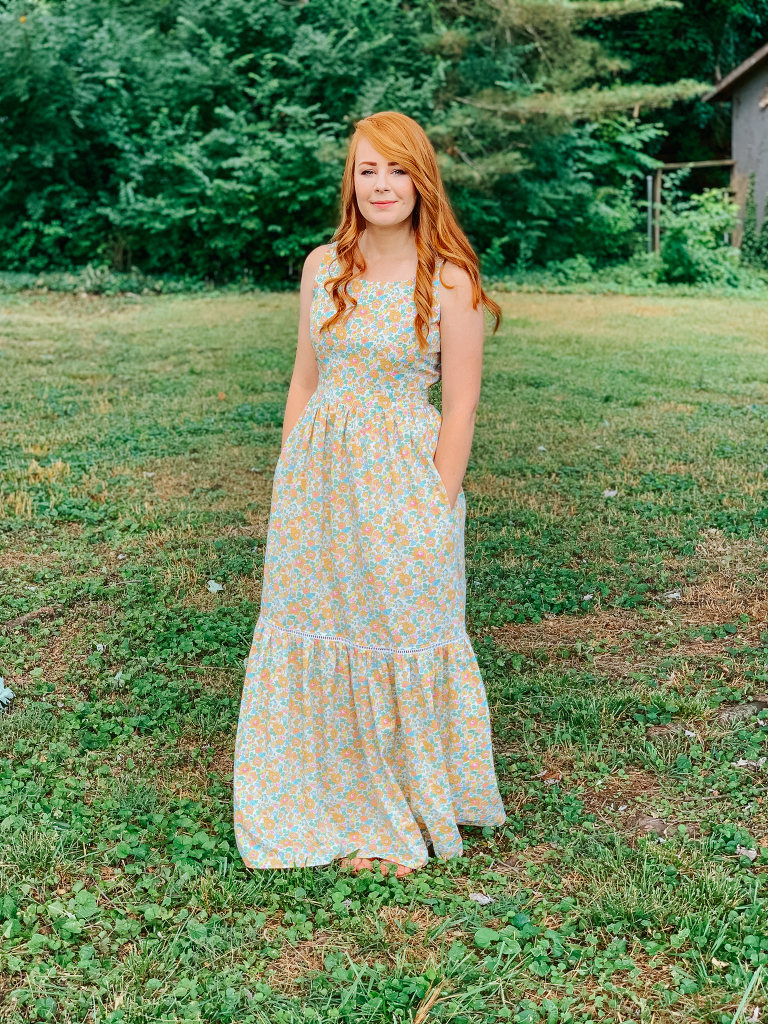 I grabbed my favorite pattern, the Michelle, My Belle dress from Liberty Love, and began modifying it in pretty much every way- I only kept the sides for the front and back.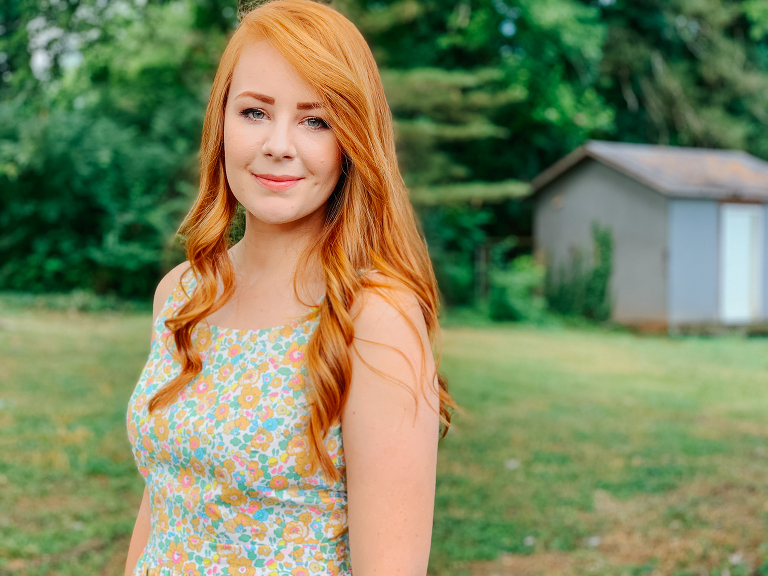 The neckline is wider and the straps are thinner.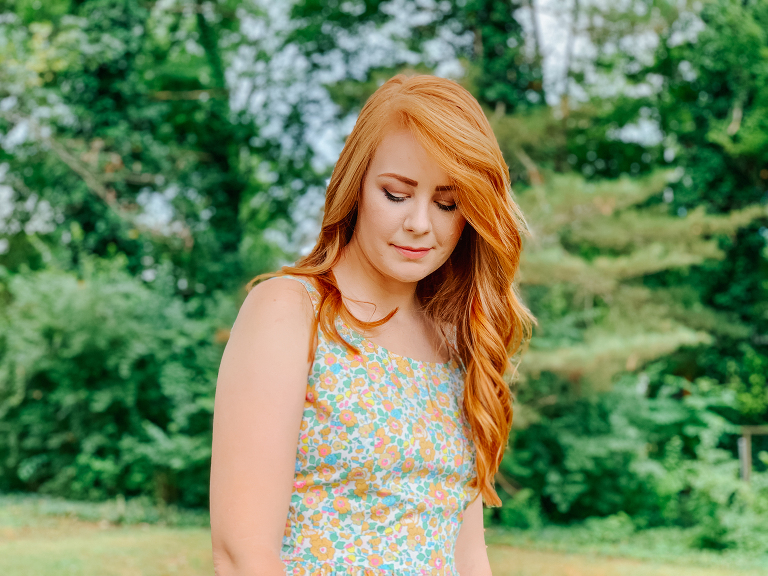 I lowered the back neckline by a few inches, then cut out almost the rest of the back piece out. I extended the middle part of the back to incorporate a small button closure since I was planning to nix the zipper on the upper back portion. The entire bodice was lengthened by an inch, and the waistband is narrower by an inch.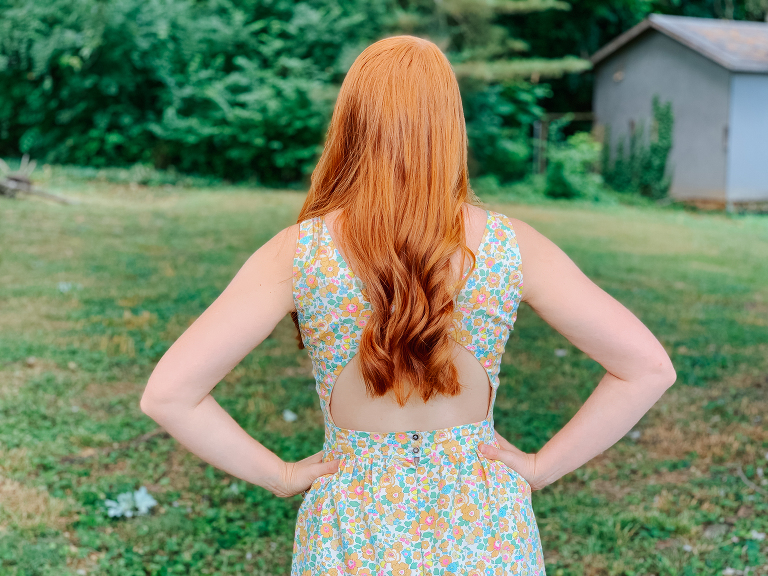 The waistband is also secured with buttons, and there is a small zipper that goes down the skirt so I can get it on and off my bum.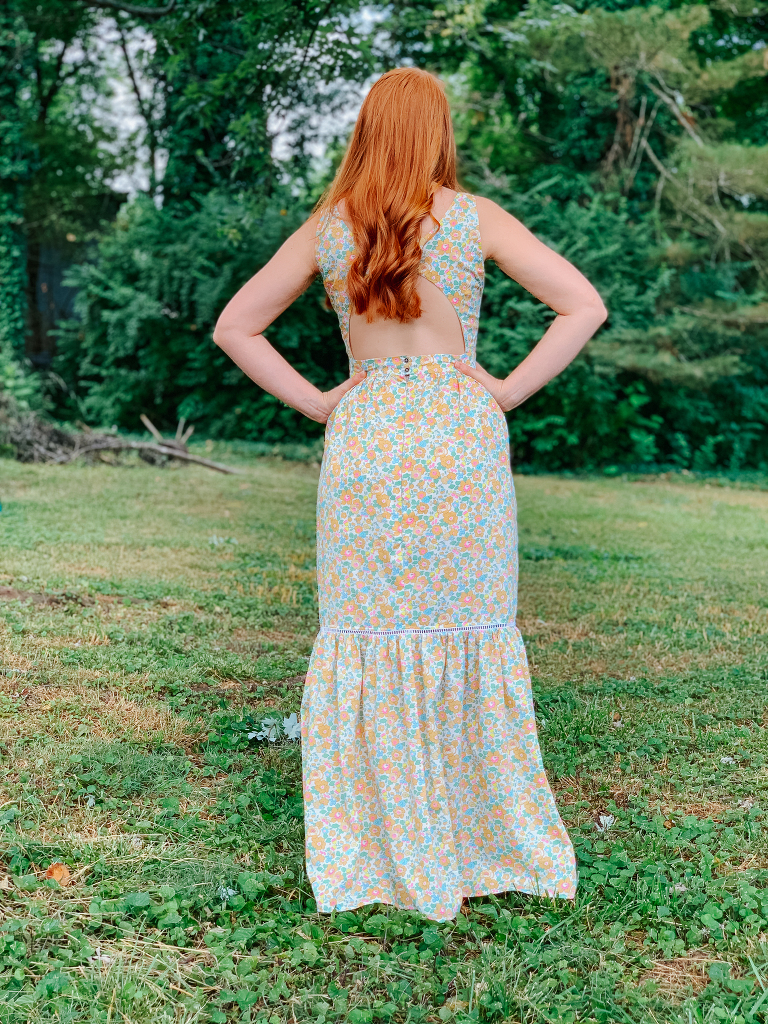 The skirt, goodness, I don't even know if I have words for how much I love the skirt. I think the maxi length makes the skirt so very extra. I wanted it to be ultra flowy, so I decided to break the skirt up into two sections, which is really on trend right now. The top portion of the skirt uses the whole 54″ width of fabric- its gathered (and has pockets which are entirely necessary), and I've used an insertion lace at the bottom of that. The bottom portion of the skirt has TWO 54″ widths of fabric sewn together, ultra gathered and attached to the insertion lace.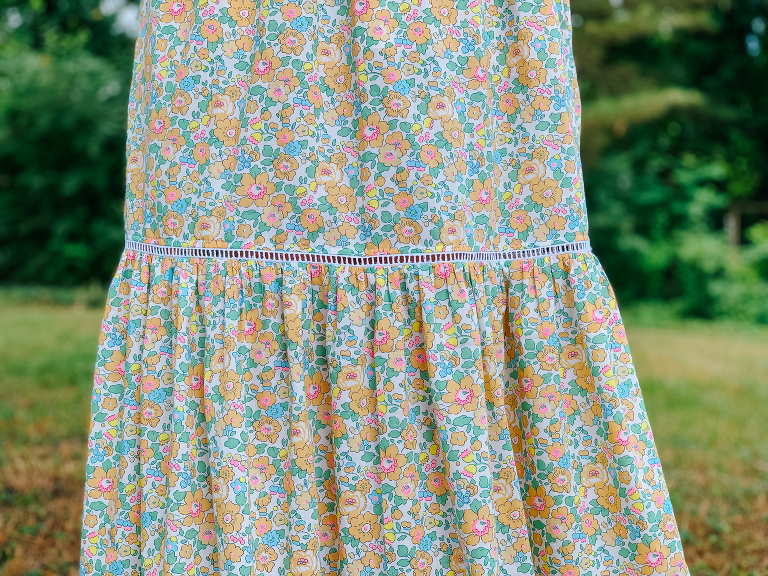 It is my dream dress, you guys. So much so, that in a couple weeks when Justin takes me to see Finding Neverland on Broadway, I think this is what I'm going to wear! He's going to need a matching tie or bow tie for sure! The boys want shirts in this fabric too, so I think I'm going to make those along with a dress for Layla so we can be that really cool matching family. Its fine because my hair isn't permed, Justin doesn't have a mullet, and we don't plan to pose weird. So… totally socially acceptable.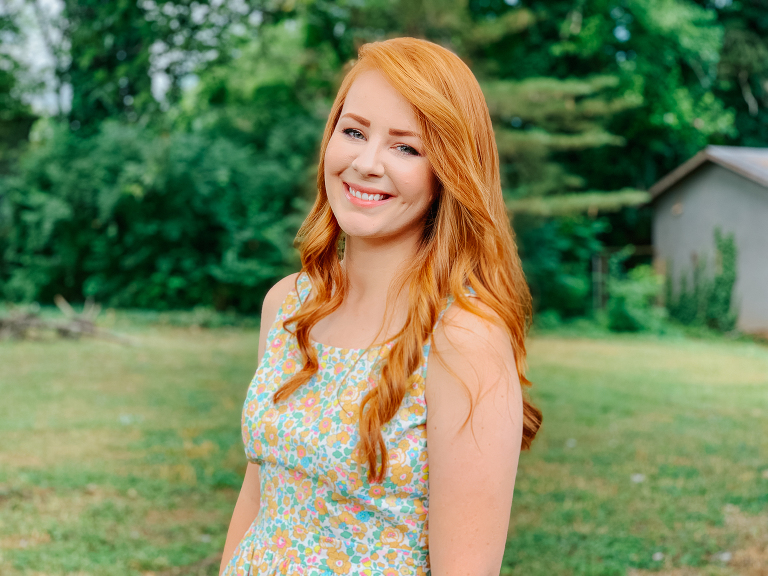 This fabric is a total dream, and I kindly suggest you go buy some before I buy it all up for matching family outfits. :) The tan is orangey, but not pure orange. I don't wear orange. My hair is orange and its the one color you won't ever see me in. The tan/orange here is totally pretty. The green is like a Kelly green, and there are pops of bright blue, neon yellow and neon pink.   The colors work so well together in this print, and I think its very timeless. They've also given the neon treatment to a purple/pink color way which is gorgeous.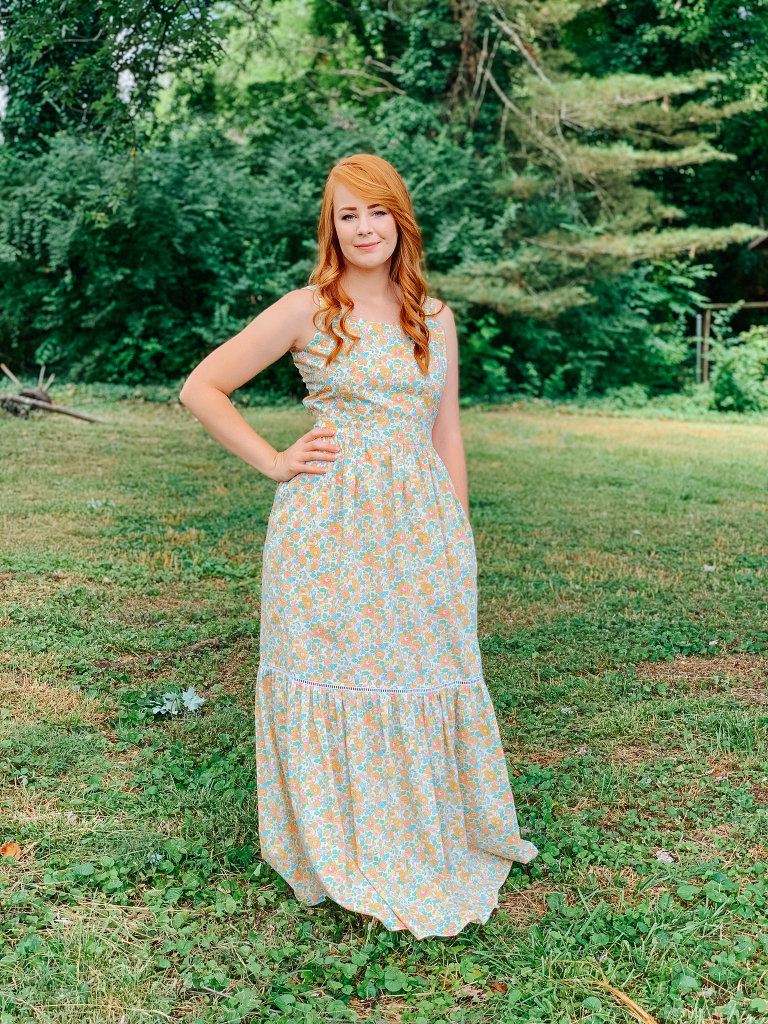 I really appreciate DuckaDilly giving me the opportunity to work with this amazing new print! It was recolored by them and is exclusive to DuckaDilly. It really is one of a kind and so gorgeous! If you haven't sewn with Liberty before, and would like some tips, I've written a post with some helpful tips and some encouragement for getting started! You can find my post by clicking here Sewing with Liberty.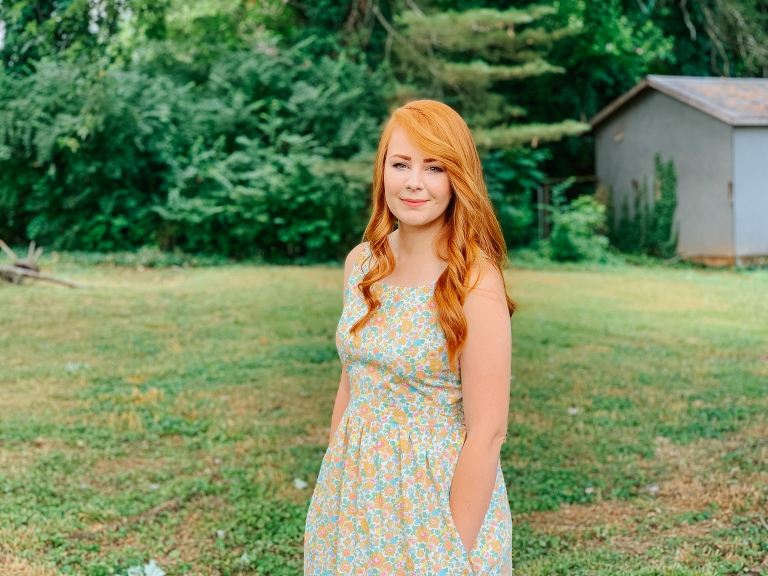 See you Monday!
-Meredith
this post contains Amazon links which means that if you choose to buy an item (same low price), amazon will give me a few cents of the sale to support my blog.