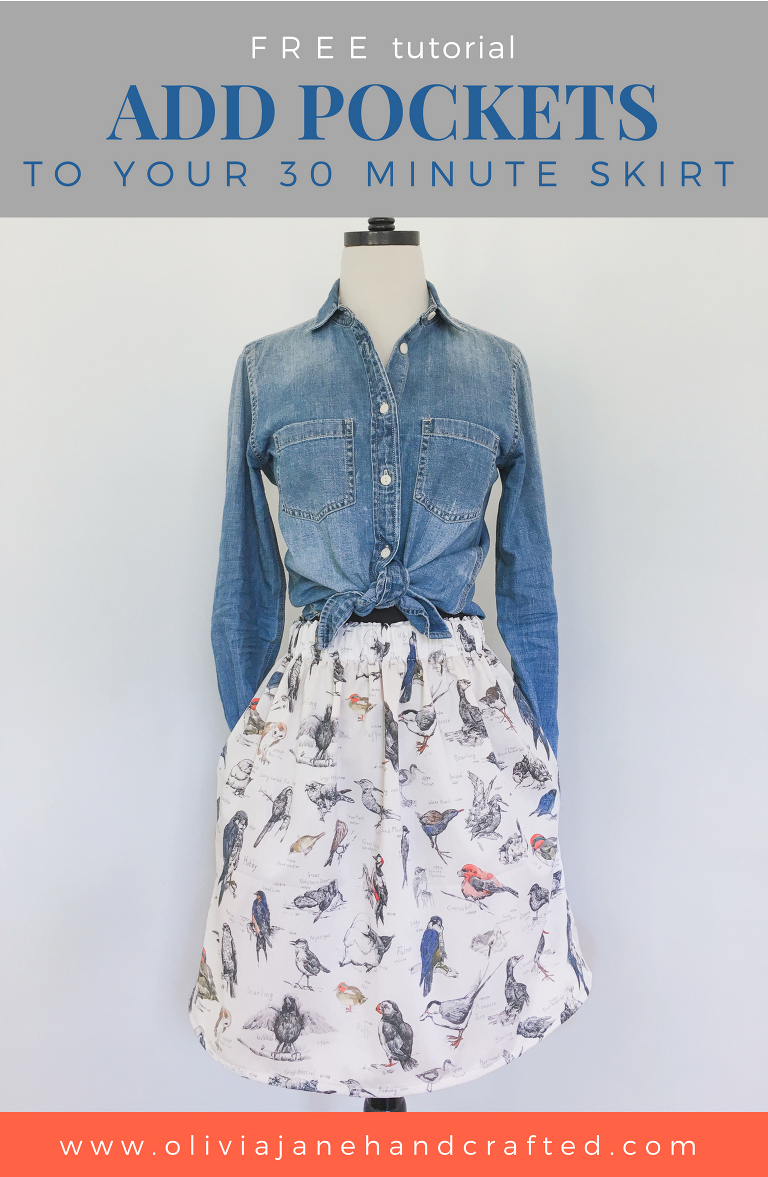 The 30 Minute Skirt is one of my very favorite pieces in my wardrobe, and today I'm showing how you can seriously level up this pattern by adding POCKETS! Sure, it'll add little onto your half hour, but y'all. Pockets. They require very little extra effort, but they are so worth it! Keep reading for the tutorial and a little giveaway!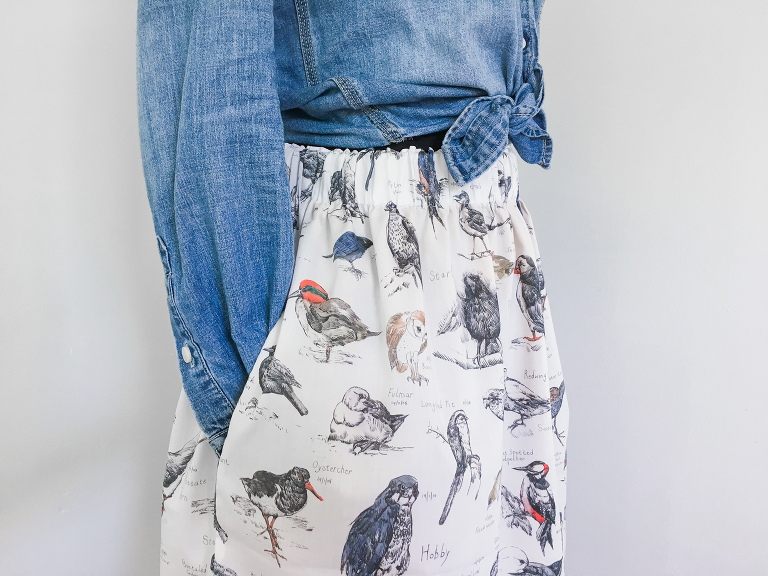 Since I already have the main tutorial written up with pictures and all that, this tutorial will just walk you through the pocket modification, so you'll want the link to the original 30 Minute Skirt tutorial to walk you through how much fabric to cut, and the basic process. Its ridiculously easy! The skirt is fully lined with all seams enclosed, and when you add pockets, it will be just as polished. If you've never made a garment before, this is the best pattern to start with, and you'll wow yourself with a perfectly professional new piece in your wardrobe!
To add pockets, you'll want to print off my template or use your favorite pocket template. Print mine HERE. Print at 100% on letter size paper.
Cut four from your fabric (if your main fabric is light colored, I recommend cutting pockets from your plain lining fabric).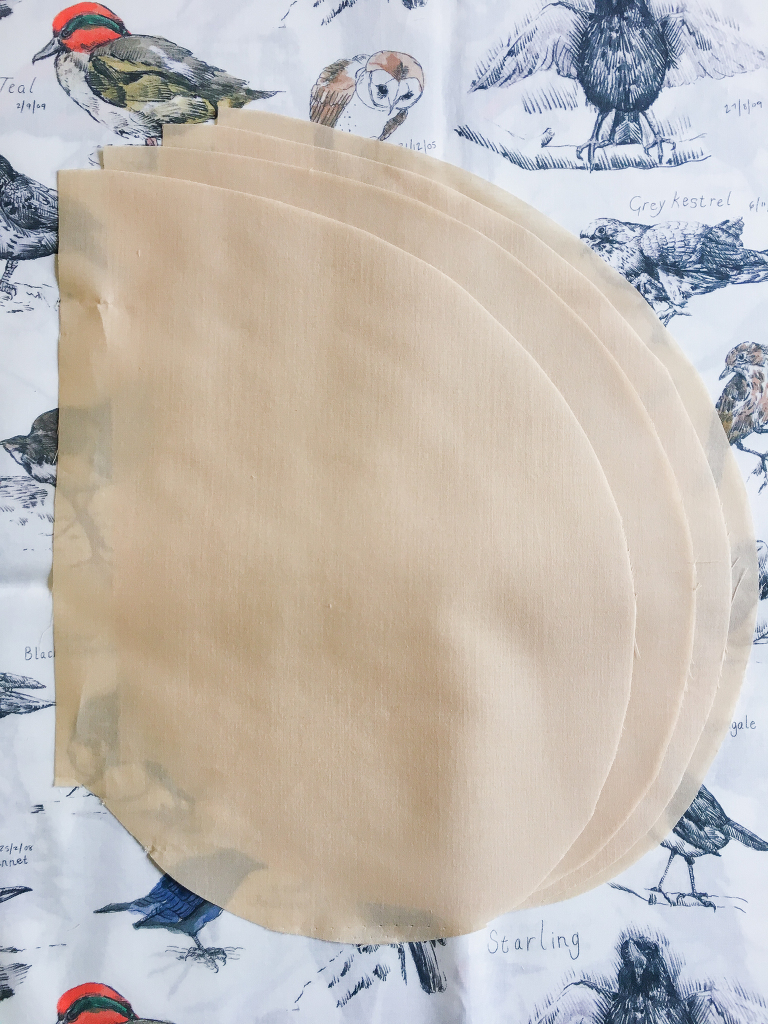 Now cut your main fabric in half width wise. Do NOT cut your lining fabric in half.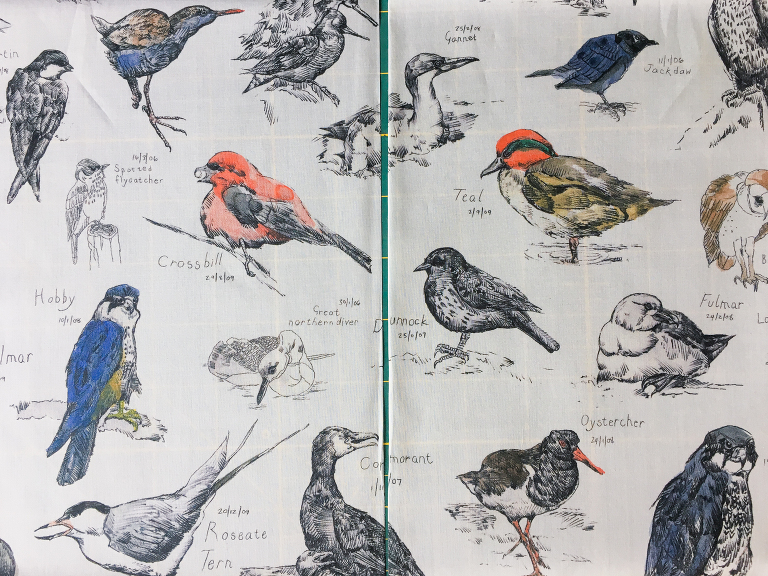 To determine where you are placing your pockets, first you need to decide where the top of your skirt is going to sit. Mine is right at the smallest part of my waist, plus I have a long torso, so I measured 5″ down and pinned the top of my pocket at that point. If you hold your fabric up to your body, that should help you determine the most natural place to put your pockets. If you have no idea, I'd say with the silhouette of this skirt, 5″ down is a good guideline. Pin the pocket pieces on the right side of both sides of your main fabric.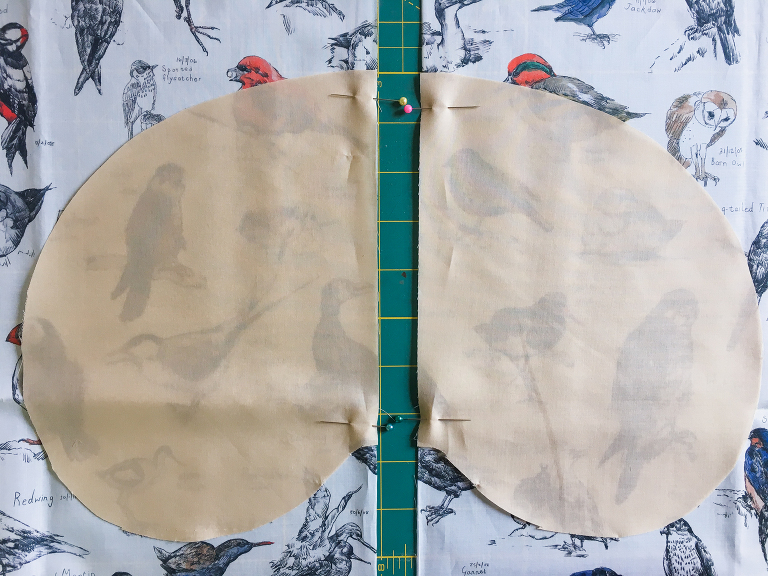 Using a 1/4″ seam allowance start sewing 3/8″ below the top of the pocket, and stop stitching 3/8″ above the bottom of the pocket piece. I would backstitch here to keep your pocket super secure. Its important to leave room at the top and bottom for the seam allowance of the pockets. Do this with all four of your pocket pieces.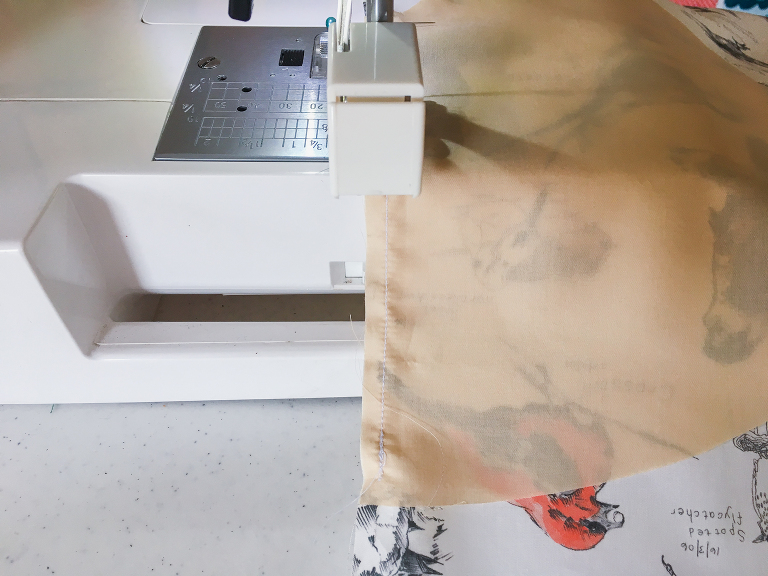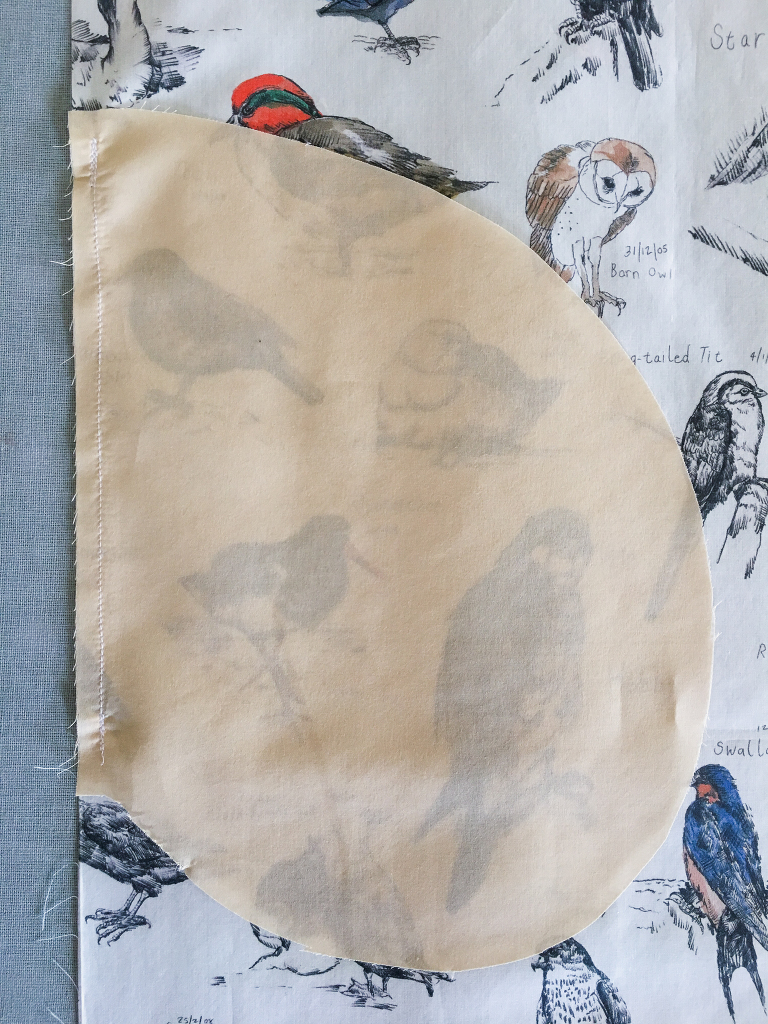 Press your pocket pieces away from the main fabric.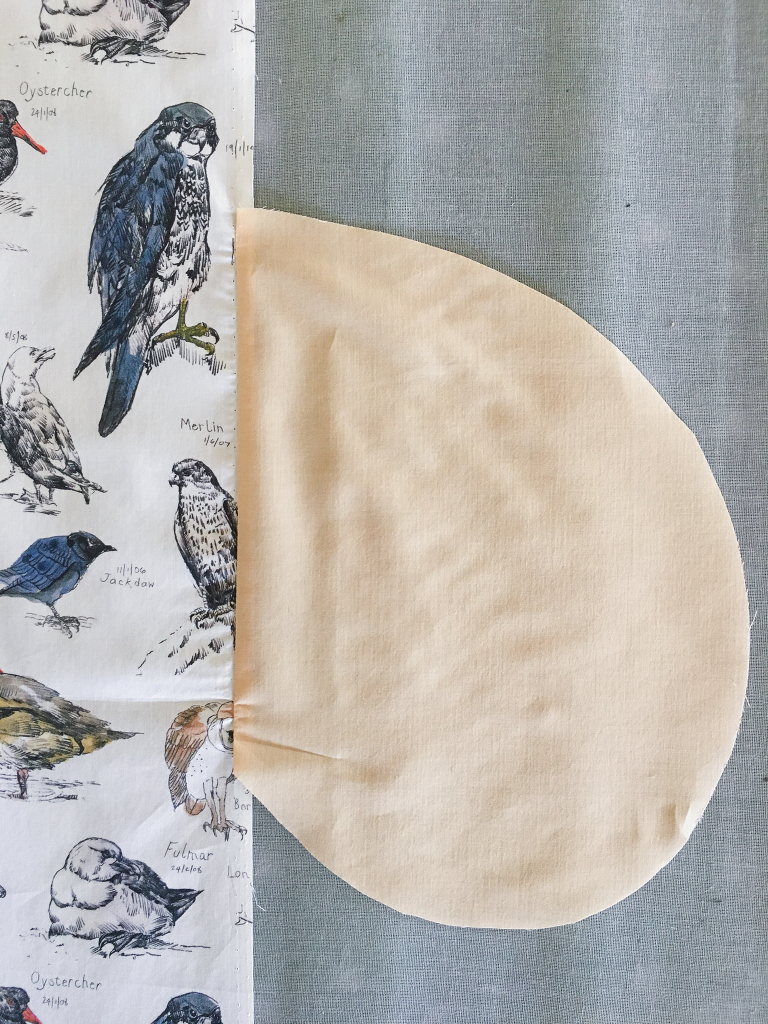 Edgestitch your pocket pieces using a 1/8″ seam allowance. This will ensure your pockets don't rebel and will stay inside your skirt.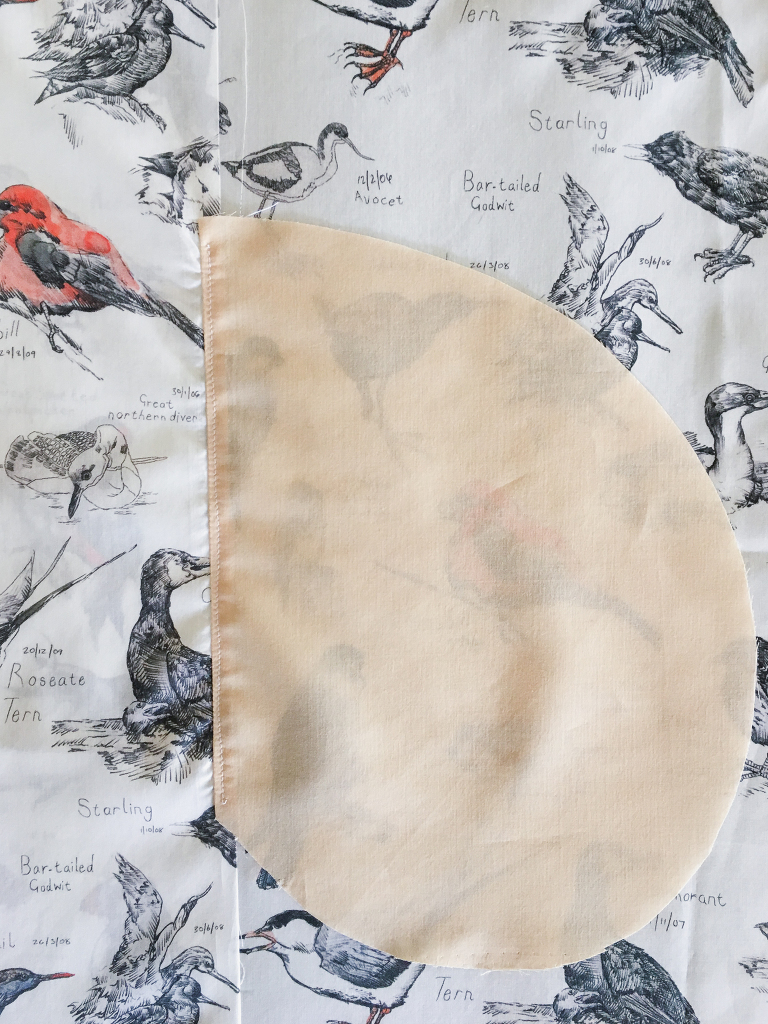 Now put your skirt pieces right sides together. Line up the pockets and pin as much as you need to to keep them together. Using a 1/4″ or 3/8″ seam, begin sewing at the top of your skirt and sew until you reach the pocket stitch line. Keep your needle down, and lift your presser foot and rotate your skirt so that you can sew around the pocket piece. Once you reach the bottom of that pocket stitch line, keep your needle down and rotate the skirt again, so you can sew from the bottom of the pocket to the bottom of the skirt and backstitch at the end. DO NOT sew the other side yet.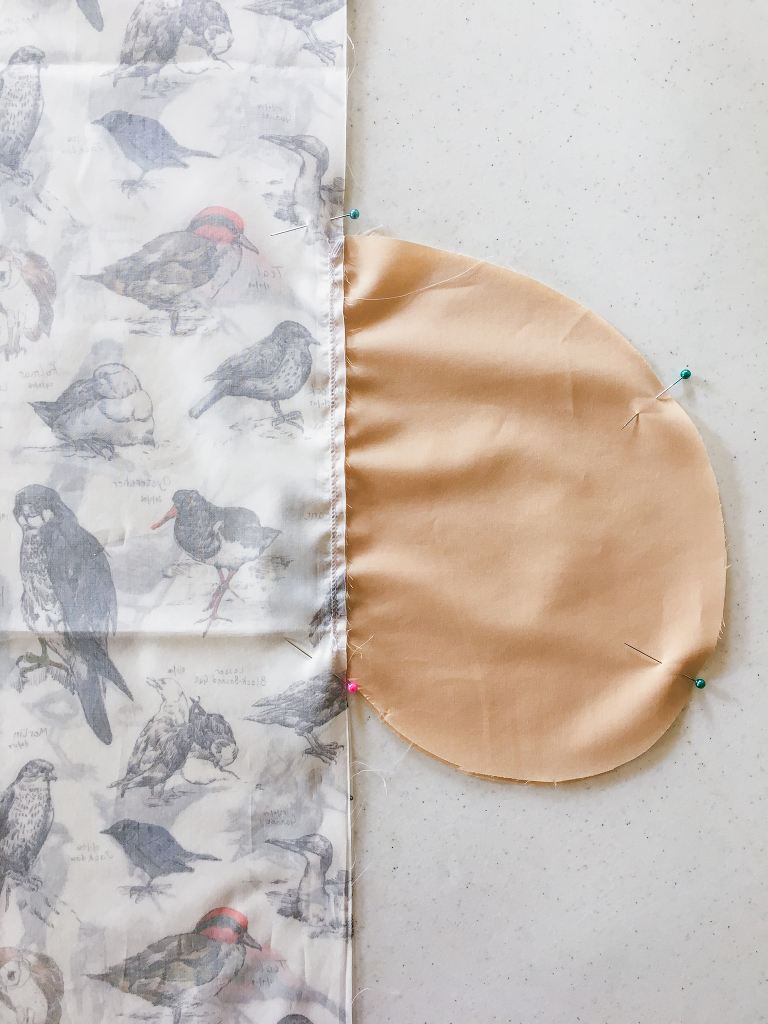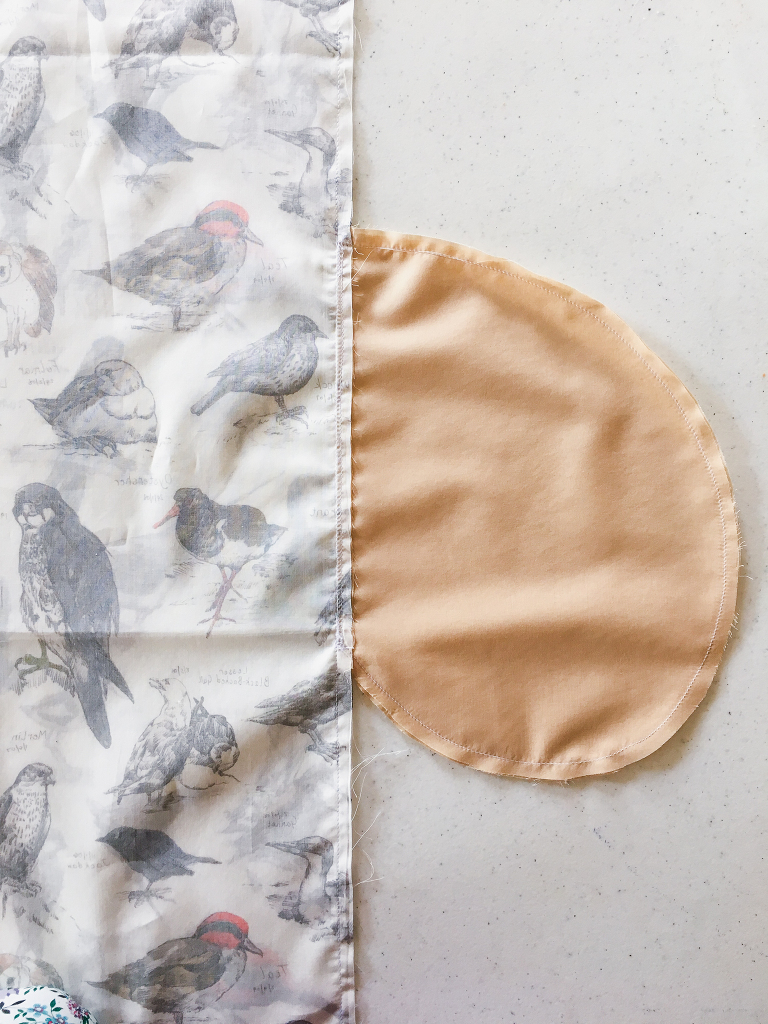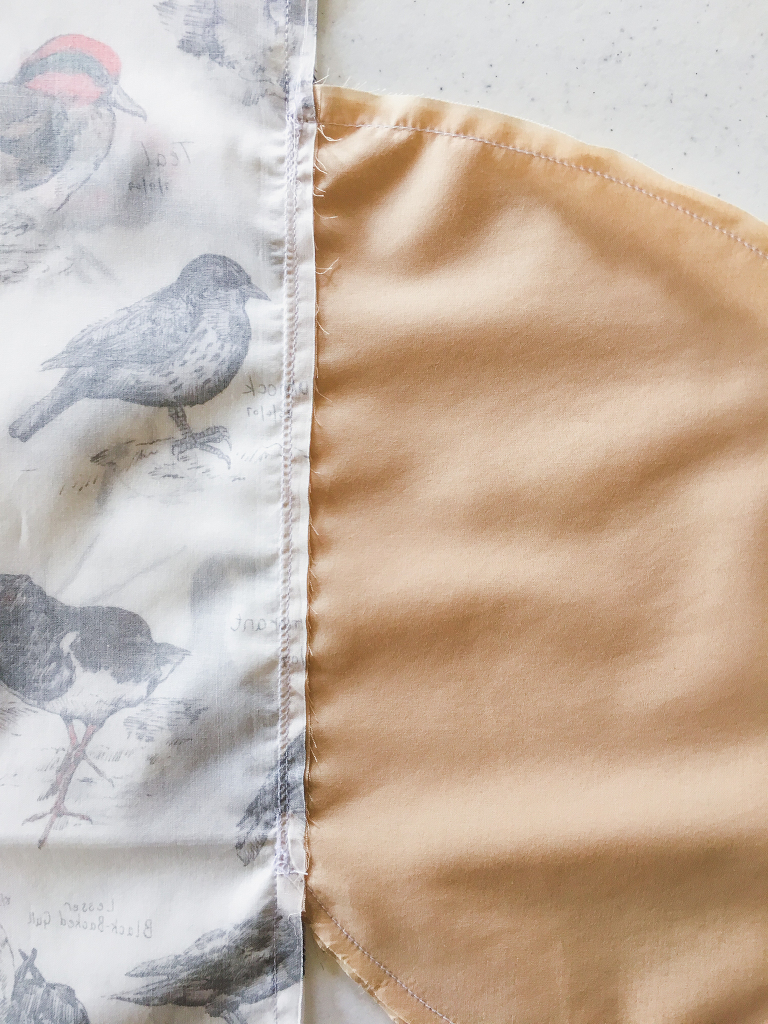 Press your seam allowance (including the pocket piece) to the side you want to be the front.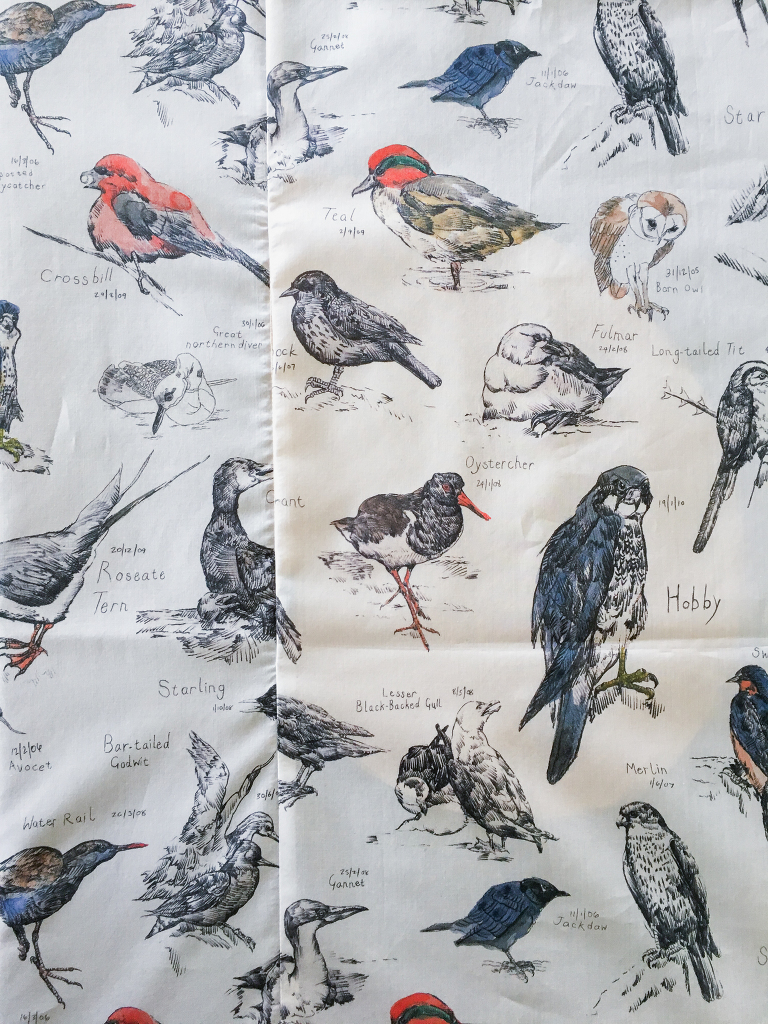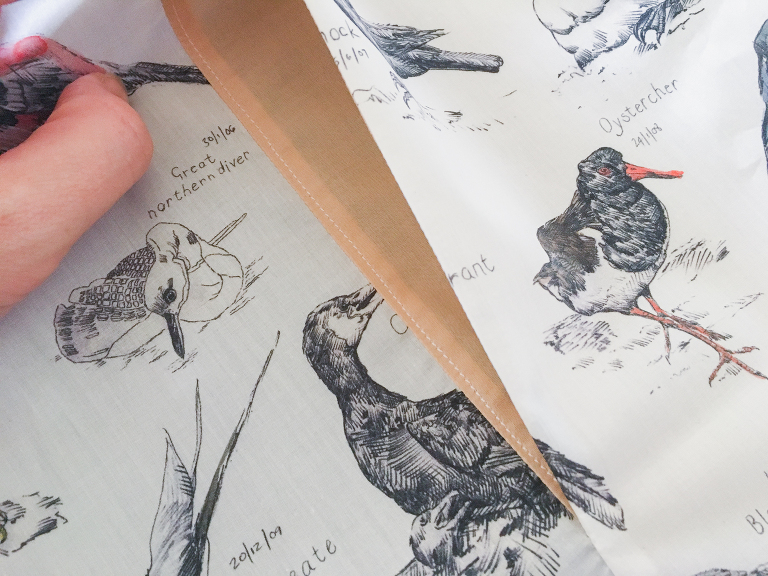 Hop on over to the original tutorial, and you will continue assembling the skirt from the point where you sew the top of the skirt main and lining pieces. You will do everything the exact same way except when you sew the remaining seam, remember to sew around the pocket piece as opposed to straight down and you are golden.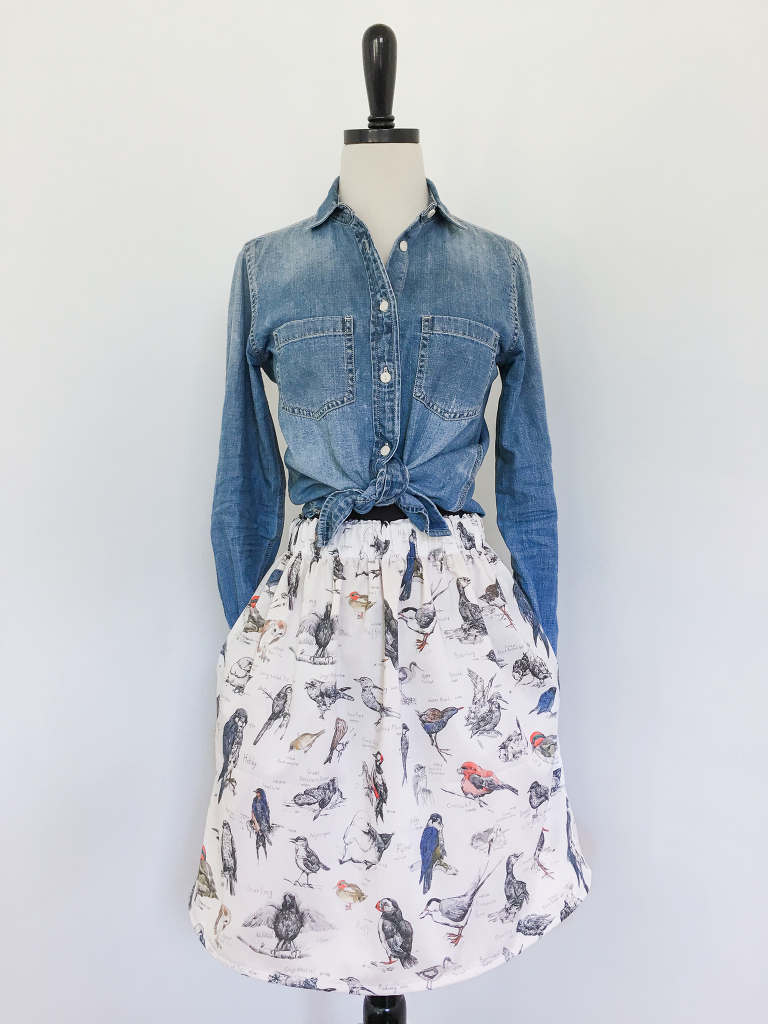 Some other details you might want to know:
I remembered to photograph the skirt inside out so you can see how clean, and professionally finished it looks inside.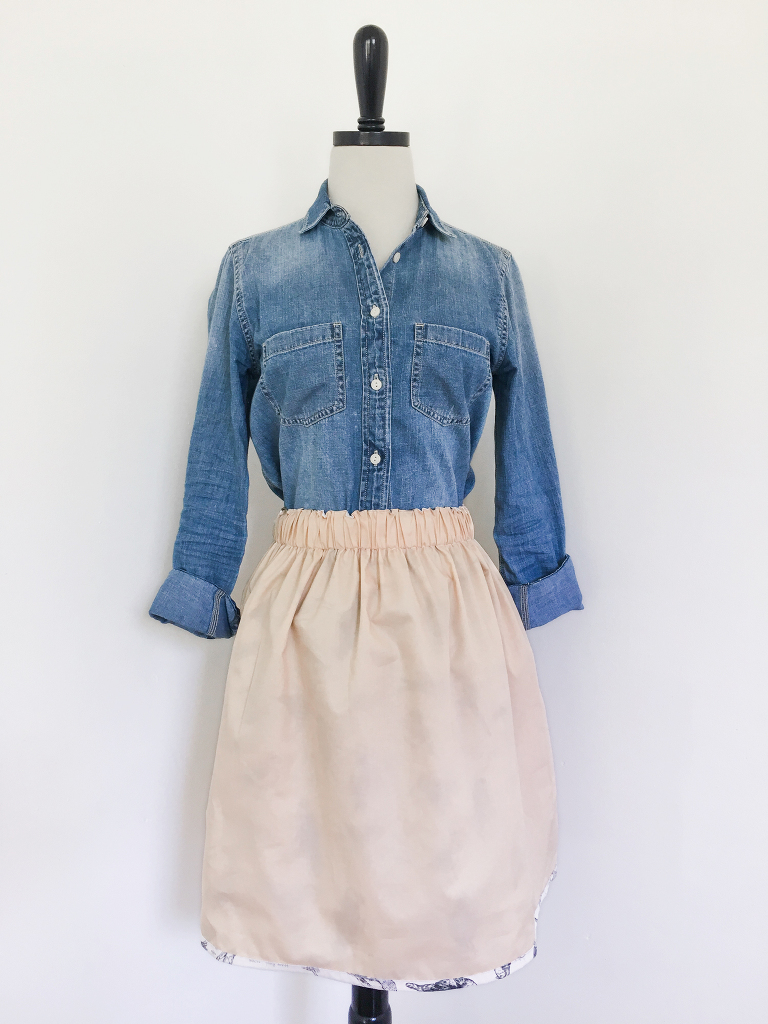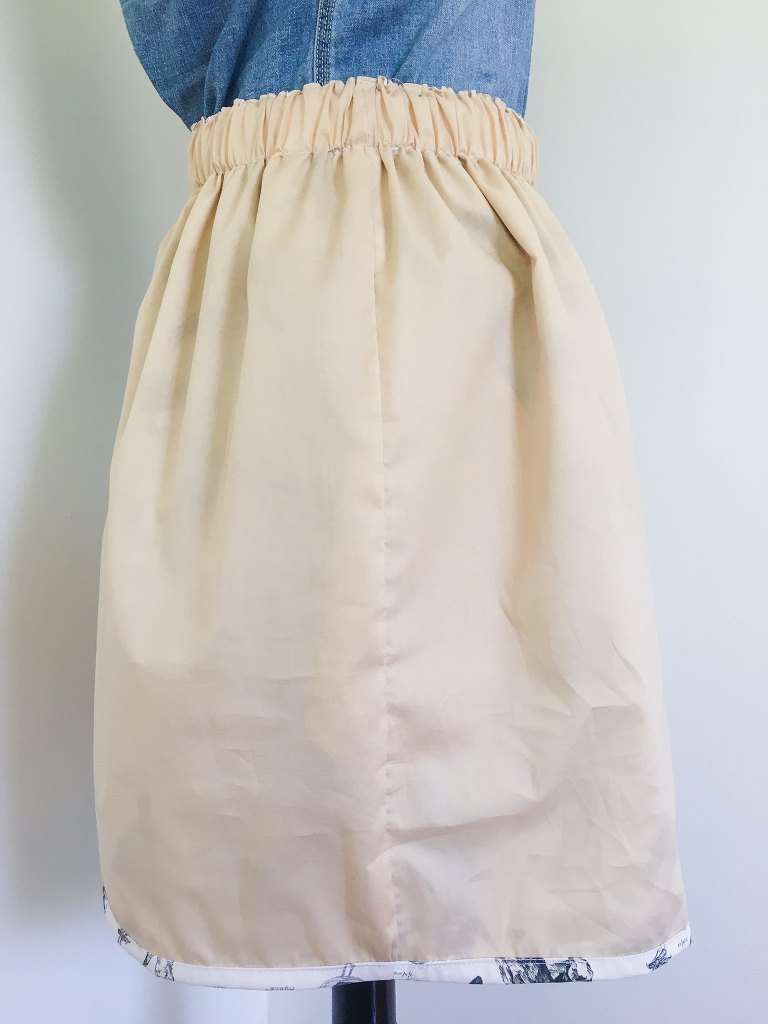 I made this skirt using a double folded hem. Instructions for this are included in the original tutorial.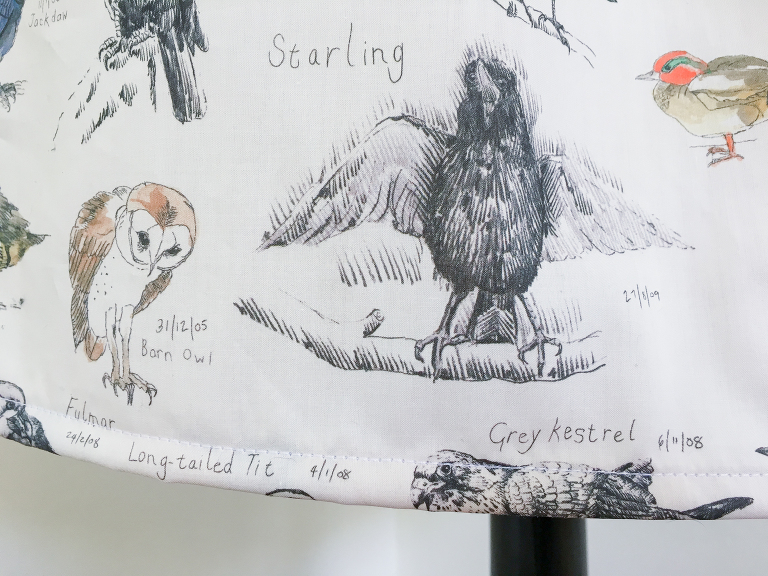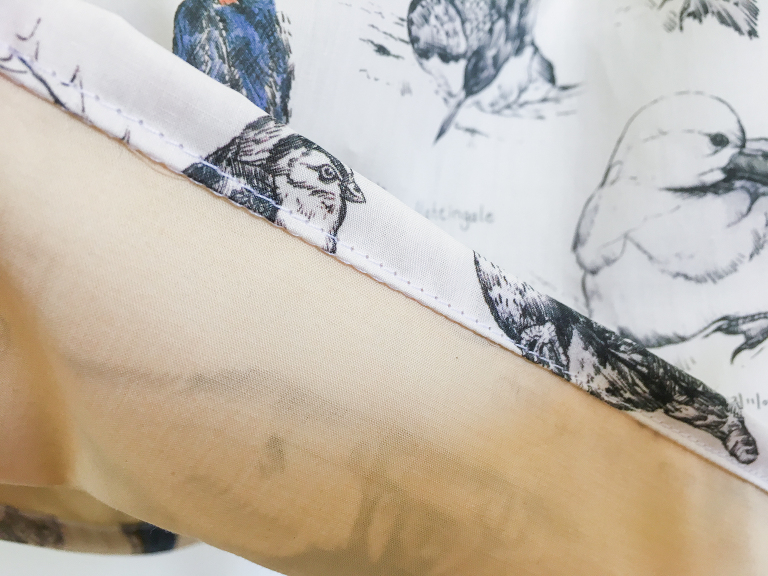 This amazing print is from DuckaDilly fabrics. Its a limited edition Liberty print called Ornithology. This skirt is a super affordable way to use Liberty because as long as you are less than about 52″ around, you really need a yard or less to make the skirt exterior.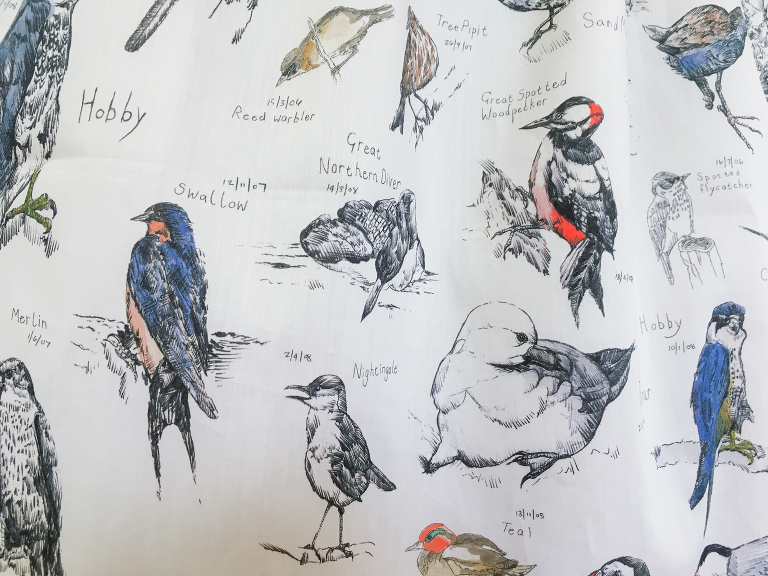 If you would like to have a chance to WIN a yard of the Liberty fabric of your choice, you have a chance to do so! DuckaDilly is generously offering this prize to one lucky sewist! Between today and Sunday, July 22, we would like to challenge you to make a 30 Minute Skirt. You can enter as many times as you like (each skirt = one entry), by hash tagging a photo of your finished skirt with #30minuteskirt on Instagram. You have to have a public account for me to be able to see your hashtagged pictures. We will choose a winner, and you will get a beautiful new cut of tana lawn. You can also tag me @thefooshe.
Alright! Go, go, go! I'm excited to see some new beautiful summer skirts floating around!
If you have any questions, please feel free to ask me in the comments section and I will do my best to help!
-Meredith