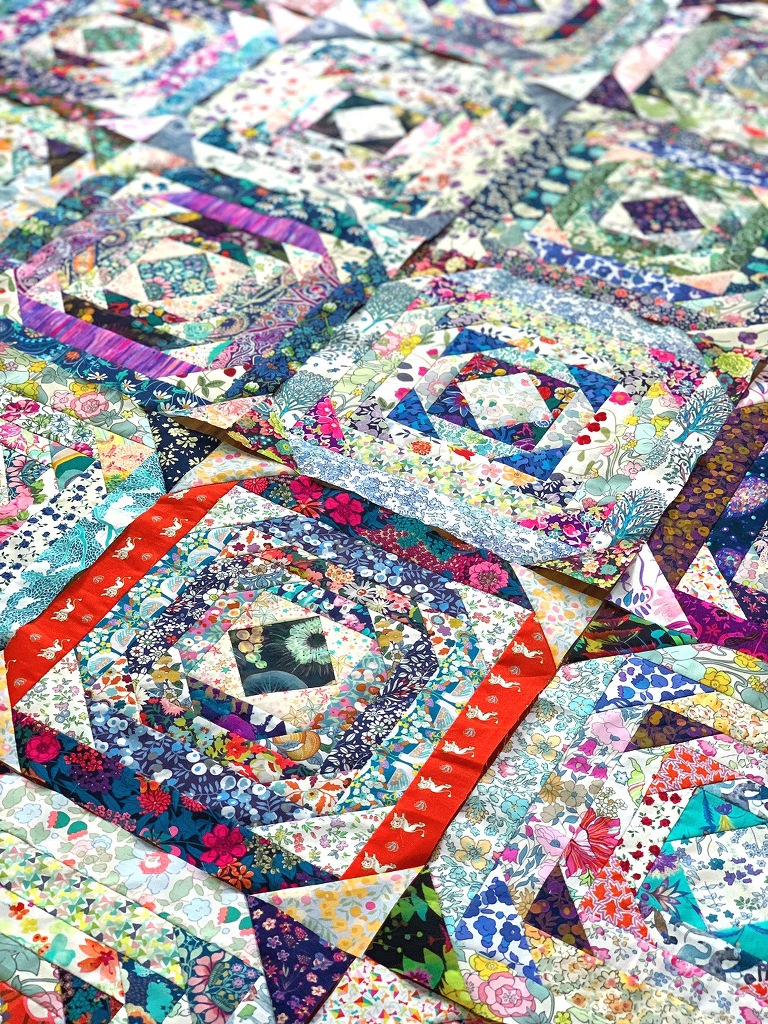 I spent much of last week slowly, but steadily adding more pineapple blocks to my collection. After making the first four, I decided it would be easiest to work in batches of four at a time. These took around two hours per batch of four, so I didn't make more than four in a single day. I made these four this morning.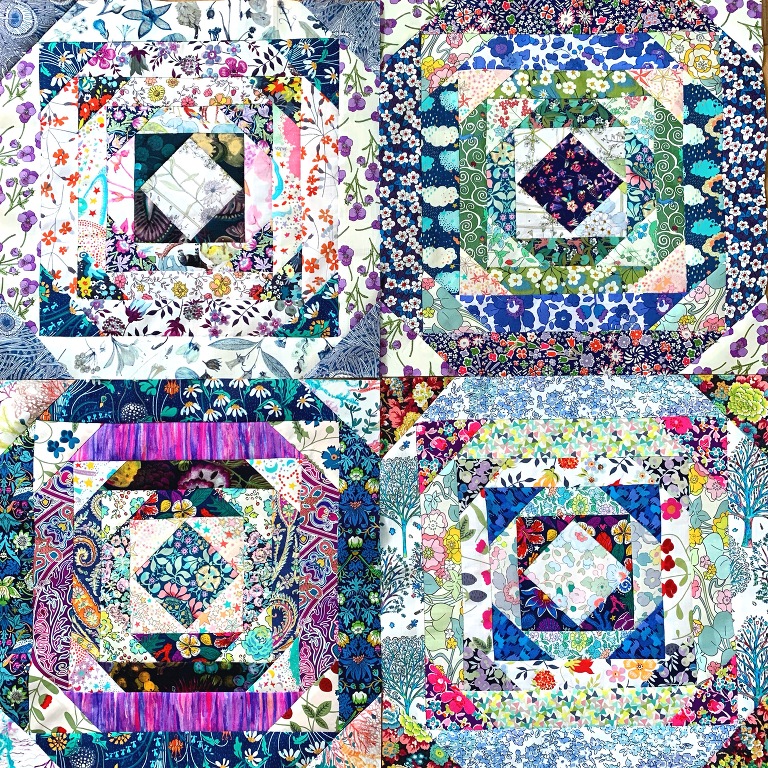 I would say I've been able to make these with about 98% scraps, but I've happily grabbed from my Liberty stash if I needed a larger cut in a certain color than what was available in my pile of scraps. And speaking of my scrap pile, I've now managed to make twenty of thirty total blocks, and I've whittled down most of my scraps. Of course, last week, I discovered four other bags of Liberty scraps. I was so overwhelmed with them, I spent a couple hours sorting through them and setting aside repeats and scraps I thought others might like to have, and tossing out any that are too small for anyone sane to play with. I kept anything I thought would be useful for the pineapple blocks, and even though that whole process seemed to take forever, my pile of scraps is much more manageable now. In fact, I plan to have none left after I work with the pile I have. One bag of scraps is headed to Ireland, and the other will go to someone else in the US at some point. 
After making those first four blocks, I realized I had veered off course a little bit; I had deviated from the original pineapple design and kept the points throughout the blocks rather than chopping them. It was an unintentional thing, but I refuse to call it a mistake because I quite like the way they look even if they are a bit different.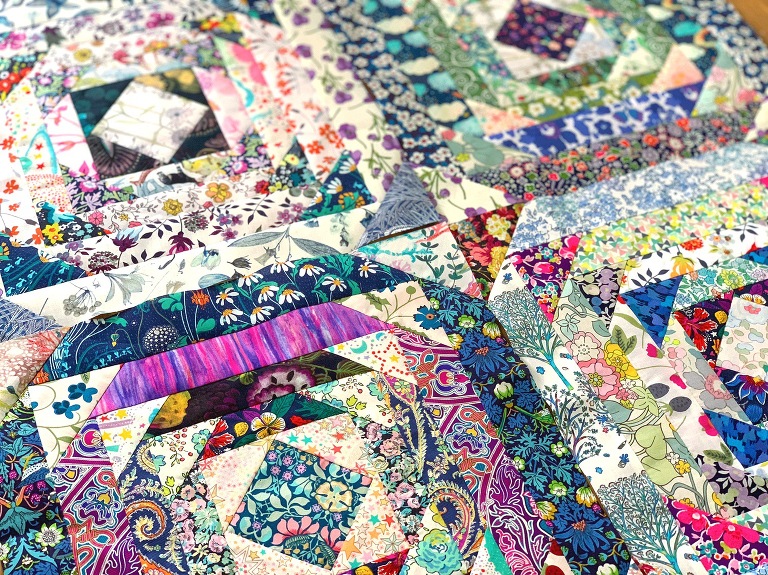 As I mentioned last time, I'm using Crazy Mom Quilts pineapple block tutorial, though we know I didn't follow it completely. oops.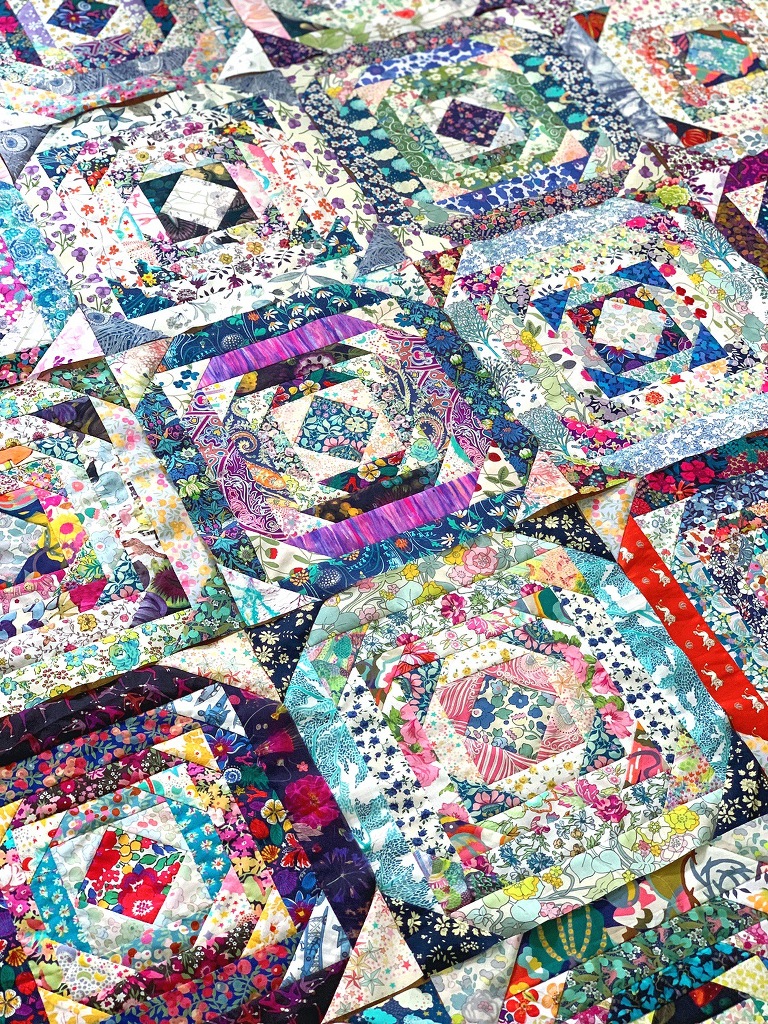 I'm hoping to get the remaining blocks done in the next few days. I only have ten to go, and then I plan to use sashing between them so I will have a generously sized throw quilt for the couch. We've got lots of kid size quilts around here, but I realized recently we only have one quilt that's useful for a full size person or two to use, and we need to remedy that! When its chilly, I don't like sharing the quilts with my husband if we watch a movie on the couch! But he hogs the covers at night, so….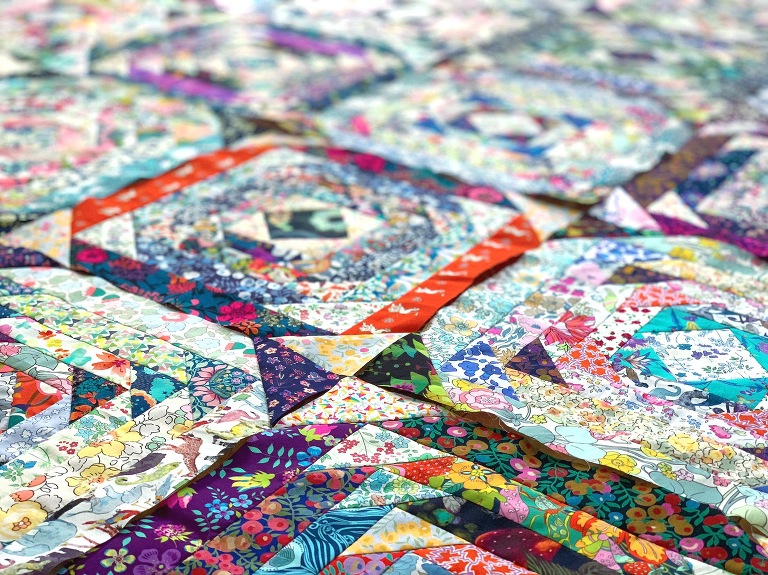 Perhaps my favorite thing about these blocks is that every one has so many different fabrics. I can mostly recall the projects I used them in, and its fun to reminisce about the dresses or shirts or quilts in which they were originally used. I have made Liberty quilts for strangers, friends, and my own kids, but I have never made one for me and my husband. I am excited that this will be the one for us! Its so full of color and variety, but its grounded with that traditional pattern and I just love it!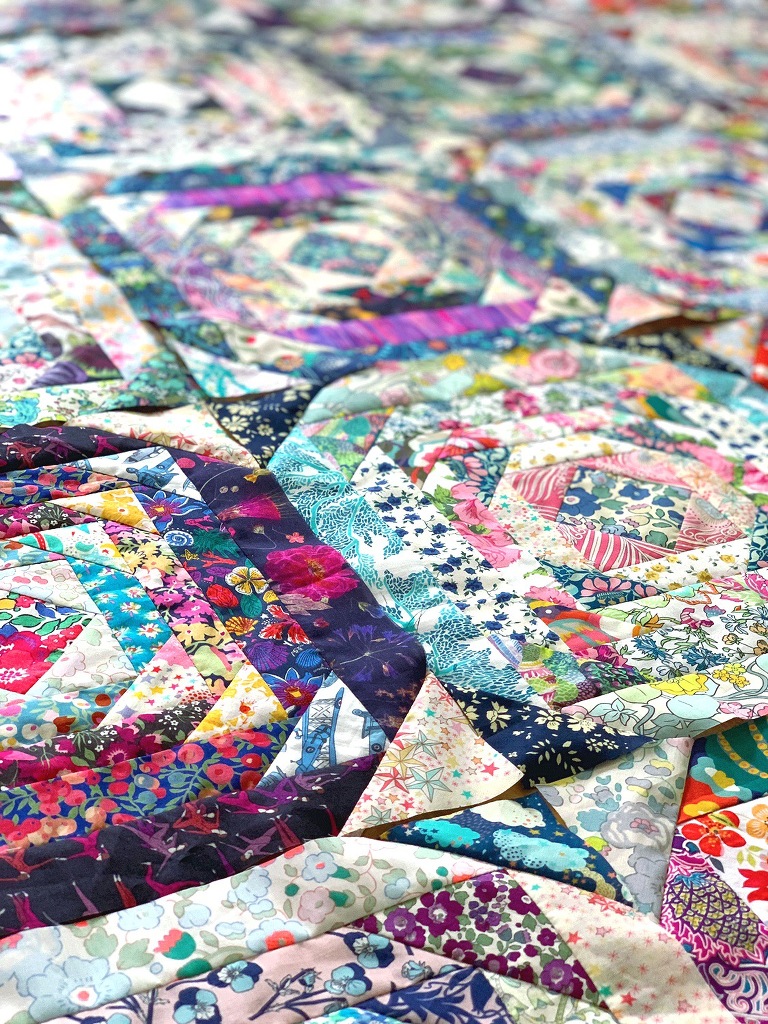 I hope you are doing well on this Monday! Schools around here have been closed because of the flu, but thankfully we have been able to stay well. I'm hoping we got all our stuff out last year, but you never know.
See you back here on Wednesday!
-Meredith