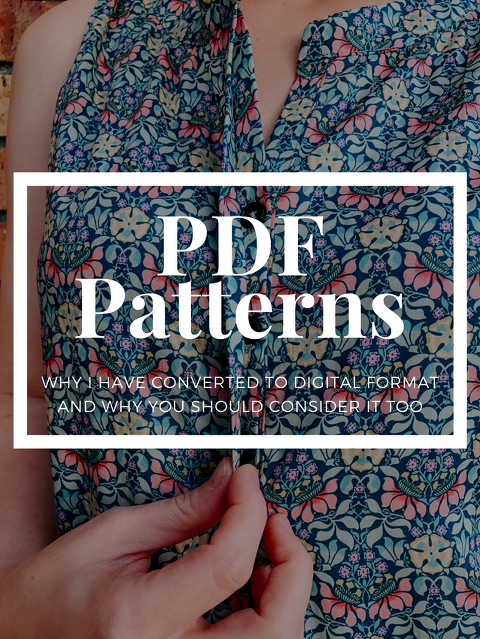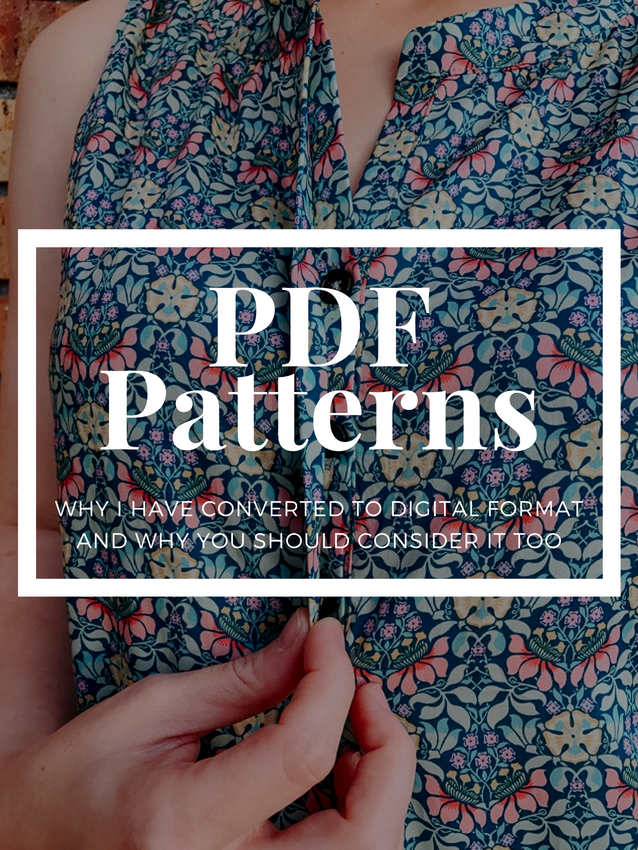 I don't know how its possible I'm just now writing this post since its one of the things I think about every time I purchase a pattern, or what I want to say when folks get seriously upset about companies switching from paper to PDF patterns. But right here, today, I'm going to tell you why I am totally converted to PDFs, and I hope at the very least it will help you to consider using this format in the future.
I'll start out by saying I have no beef with paper patterns. Frankly, they are pretty most of the time, and they are nice to look at. Aside from that, I really don't think they have any edge over PDFs.
So why are PDFs so great anyway?
I'm so glad you asked! First of all, pretty much any good PDF pattern comes with a copy shop file, which means that you can print off the whole of the pattern pieces in a single sheet (sometimes its two, but not often). That is the single best reason for my conversion to PDFs. Once you download that pattern, you can send the file over to your favorite printer and you can print as many as your heart desires which totally eliminates any need to EVER trace. You don't have to treat your one and only sheet of pattern pieces like a family heirloom because you can just print more if you happen to lose (or gain) a few pounds, or want to make a version for your mother. Still, never pass these along to your friends- we want to keep our favorite designers in business and sharing in this case, is really not caring at all. Support your makers and designers!
But COST. Okay, so I've seen this question be raised a lot, and its a good one. So let me address that by saying first of all, PDF patterns should ALWAYS cost less than their paper counterparts because the designer has not had to pay all that money to print and pack the pattern. I've seen some justify charging you more for PDFs so their paper patterns would still sell, and let me tell you, as a consumer that is a terrible reason. Its ridiculous to charge as much for a digital file that requires zero work to process as a paper pattern.
As far as printing the files go, you still save! If you see that you can keep printing the actual pattern pieces this is only a win situation. Most of the time lately, I won't even print the instruction portion, but rather leave it on my laptop. If I do print it, I will file it in my handy notebook (see how I do that in this post) for easy reference.
Most patterns give you two options: 1. you can print the bajillion individual tiles of the pattern pieces and trim them and tape them all together, or 2. you can print the single full pattern sheet on 36″ wide paper at your local printer. While I never minded taping the tiled pages together before, once I printed a copy shop file I have never ever gone back. And I will not. I have all mine printed at Office Depot which is super easy. I just email the file, specify what page is the copyshop file, and ask them to print it. They call me when its done and I normally pay maybe $8.
This is important: Office Depot has good prices, but they are a big box company and the employees can be scattered and get the pricing confused, so it is important that you specify these things: 1. Print only the copy shop file at 100% on 36″ wide paper by however long the document is, 2. Print on the blueprint printer (this should be obvious, but sometimes you need to explain obvious things), 3. Print ONLY in black and white otherwise they will try to charge as an art print which is ridiculous. My Office Depot charges $0.42/sq ft, according to what I asked the guy last time I was there, so its really pretty darn cheap. I'm in there weekly and sometimes more than that just for pattern printing.
The other reason I'm all for PDFs is that they are instant. When I want a pattern, I want it NOW. I also hate paying for shipping, so PDFs eliminate that cost altogether. Between the instant inbox delivery and the print time, I can usually have my pattern cut out and ready to go in less than 24 hours which I just love. I'm not the world's most patient person, so this is a great option for me.
If you'd like to see the super easy way I store my patterns, both the pattern pieces and the instructions, check out this post!
I want to hear from you on this. If you are a paper pattern only person, tell me why! If you like PDFs, I'd like to know why that is as well. If you have any questions I can answer, please leave me a comment and I'll do what I can do help out. I'd also like to know what your favorite patterns are right now! I'm feeling the itch to make some more clothes.
-Meredith