Remember when I picked up this pattern a while back?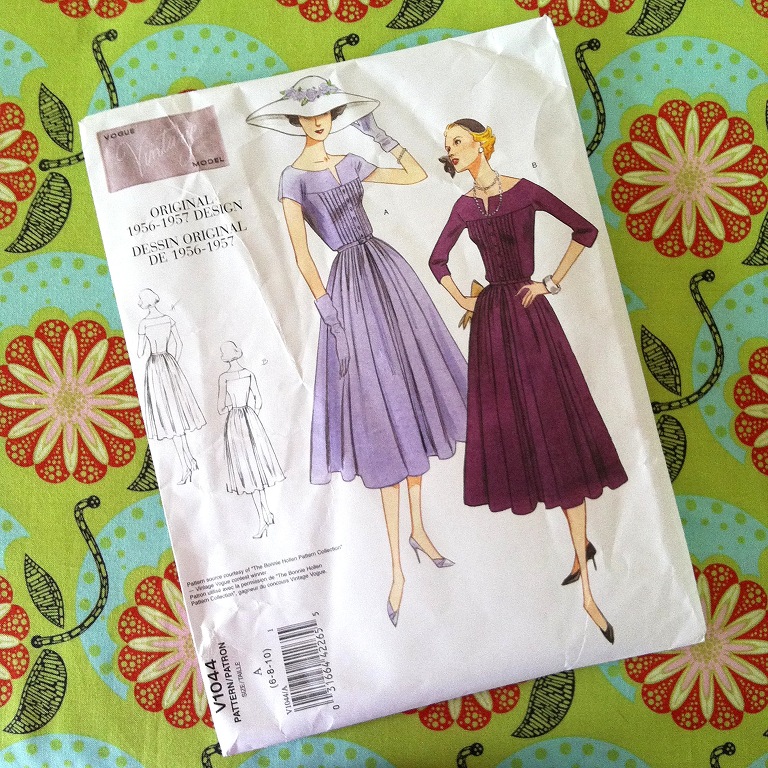 Well I've finally finished it! It was such a fun pattern to make, but because it was so incredibly thorough, it was quite a time consuming project to tackle. I'll take thorough and well done, over fast and incomplete any day, so don't think that was an issue. I made this dress for my sister, Emilee, who picked out the pattern. She loves vintage styles, and can rock them like nobody's business because she is tall and slender like the women on the cover. I know, its totally unfair.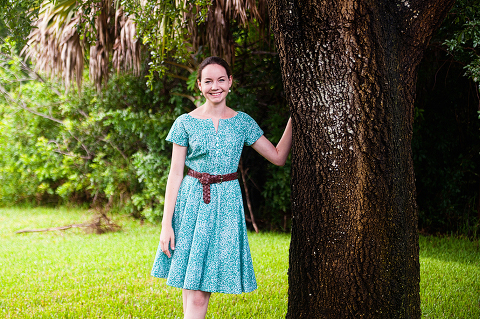 I love the pleated bodice on the dress. The pleats are incredibly flattering, and the hidden darts make the bodice even more flattering. The top of the bodice is fully lined, though the pleated section is not. (There's not really a need for it, and there are no exposed seams). In fact, all the seams on this dress are enclosed, either by lining, or by the use of French seams. Enclosed, professional seams makes the pattern even better in my eyes.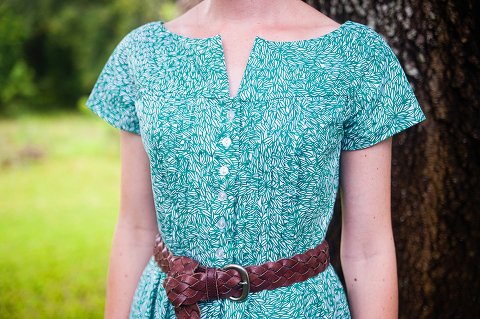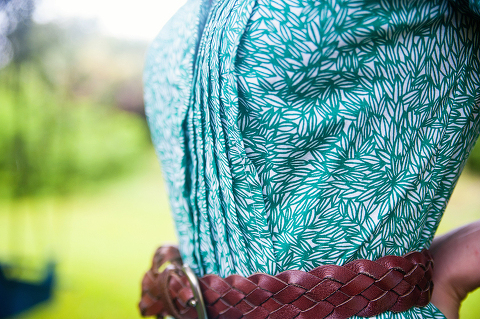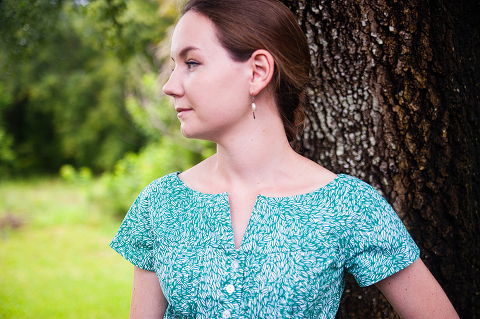 Isn't she beautiful!? Its ridiculous sometimes.
I'm sure you have come to expect that I will make changes to any pattern, and this Vintage Vogue pattern is no different. I felt the skirt to this pattern was incredibly outdated. Obviously there are so many ways that vintage items are accessible in today's society, but some things do need a little modernizing. With the instructions the pattern came with, the skirt would have been extremely gathered in the waist, with enough fabric to encircle the body eight times. I felt that would add unnecessary bulk to this waistline which is supposed to be very slim and flattering in that particular area. In order to keep both the full skirt and the small waistline, I made a circle skirt.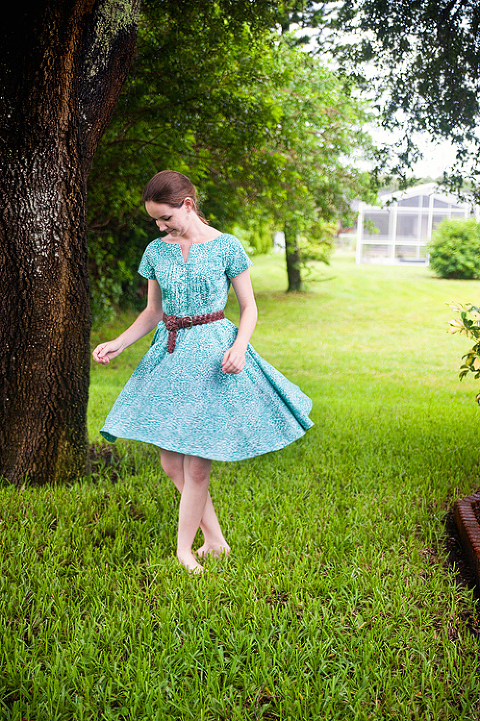 It was the perfect modification! Not only was the hemline brought up to a more favorable length, but it gave the dress a certain playfulness that I'm just in love with. Its a circle skirt! There's not a more fun, classy skirt style than that!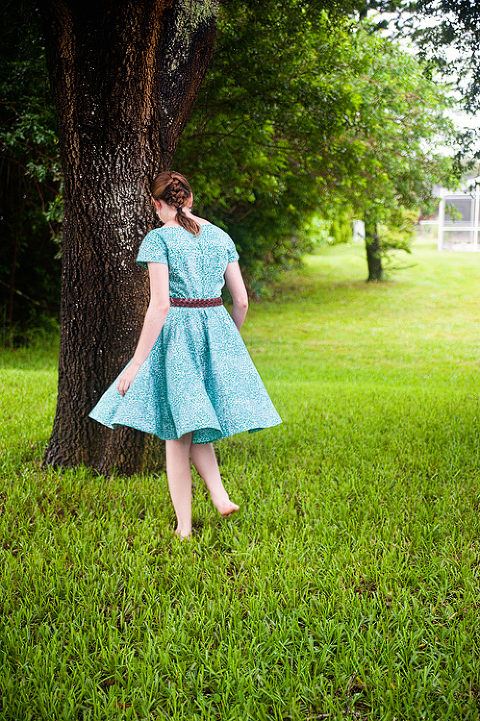 The pattern also called for a matching belt, but I decided to forego that part, and Emilee was able to pair it with a leather belt, which I think is far more complementary to the dress. Also, it is another modern touch, which makes this outfit so wearable today.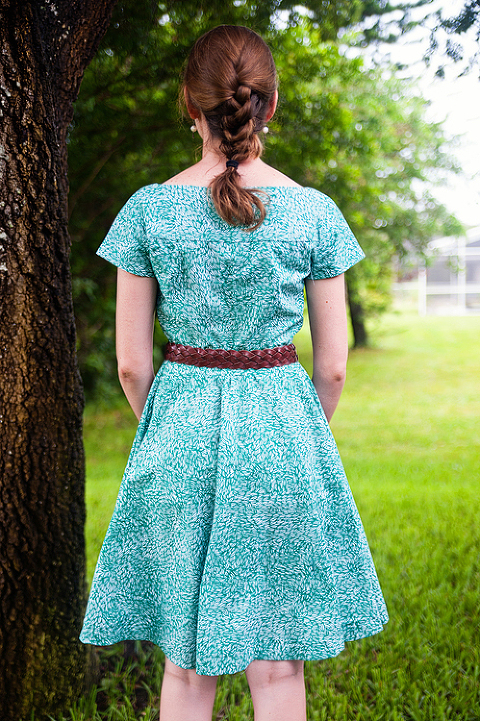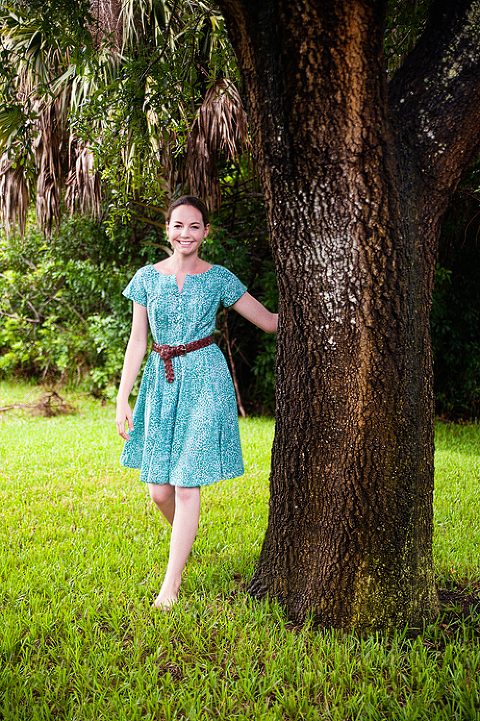 Emilee loves the dress, and there is no greater feeling of satisfaction than that. Having someone love what you put so much work into makes every minute of time (and even a little frustration) so worth it. Not only that, but the dress looks dang good on her! She's rocking it!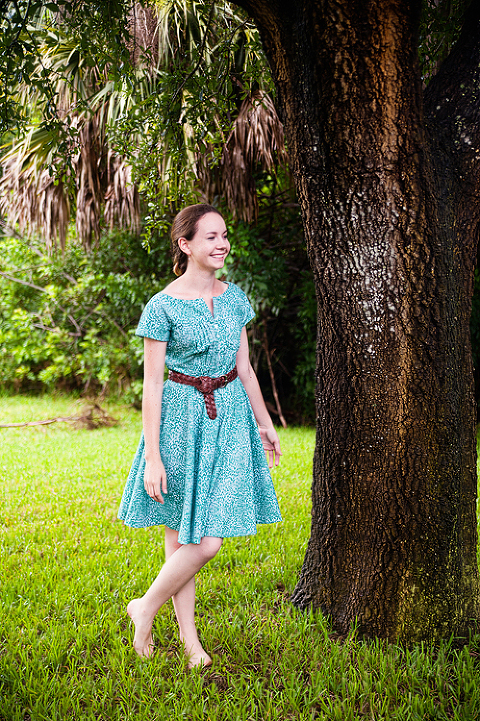 Note: the fabric I used is an organic cotton print from Steffie Brocoli's line In the Forest from Cloud 9. Again, the pattern is Vintage Vogue V1044. I shortened the skirt to have a 24″ hemline (my sister is 5'8″) and the skirt does start right at her natural waist which is high. 
Drop in again tomorrow to see the great linen bag I made for her! I didn't want to give it away.
Also, I wanted to note, you can follow my blog through BlogLovin. I just thought I would mention that!
-Meredith