I was recently asked to make a bolster sized pillow based on these potholders I made which were based on the Orimono Pillow from Anthropologie from several years back.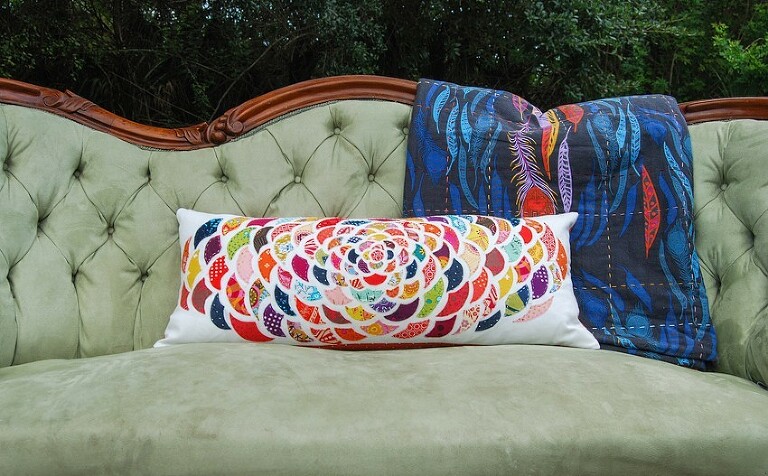 I LOVE the look of this pillow- this style of anything really. Visually, I feel like its just a treat to the eyes. You can see the whole floral picture, or you can look closer and see the detailed prints with their own designs. Look closer and you'll see the texture created by the applique and its perle cotton stitches.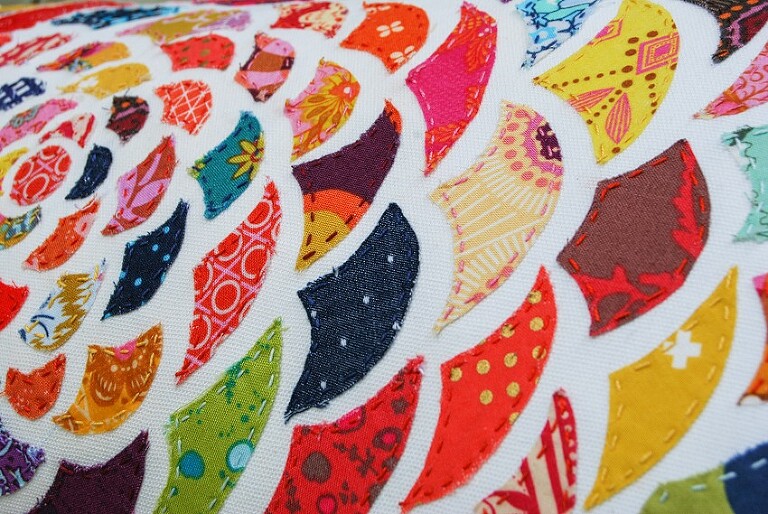 I used a variety of favorite prints by Anna Maria Horner, Alison Glass, Juliana Horner, and Cotton + Steel. They go together so nicely, don't you think?
This project was one that nearly got the best of me. And it shouldn't have, but Murphy really has it in for me lately. I began this project by cutting out the fabric and fusing it down with Decor Bond (which absolutely stinks as a fusible, thank you). It hardly held the pieces in place long enough for me to stitch them down.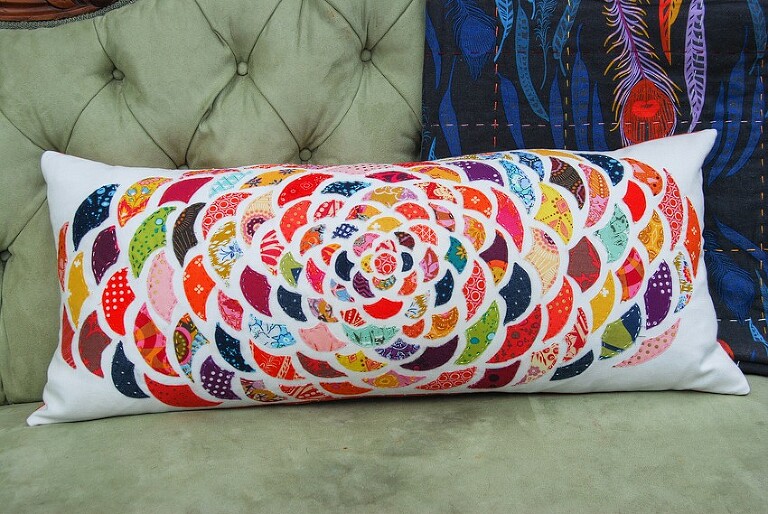 At first I stitched them down by machine. There are a ton of tiny pieces so this took many hours of maneuvering. Before I had even completed the task I had to stop. I texted a friend (who I knew would be honest with me) and told her how much I loathed the look now that I had added the stitching. I just hated it. She agreed that it could look way better and said what I knew I needed to do- take out every stitch and do it by hand. So that's what I did. I contacted my client to tell her why it was taking me so long. This process took several days, but even after only a few petals, I was in love with it. And that's what I needed. I can't in good conscience send out an item that I don't love, but especially not one that I hate. I explained this, and thankfully had her full support.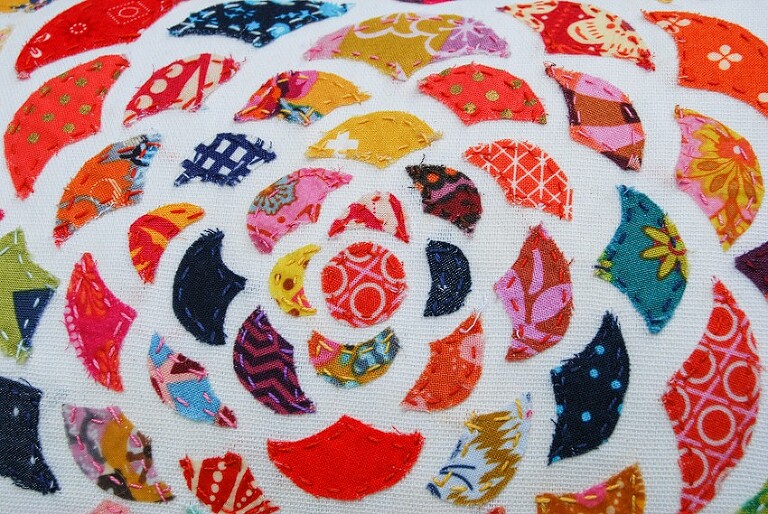 I finished up the pillow, and after only one other hiccup – finding a box at the post office to fit it- it was on its way. And I do hope she will love it! It should hold up well! Those petals are in place, and the pillow was even assembled with generous French seams.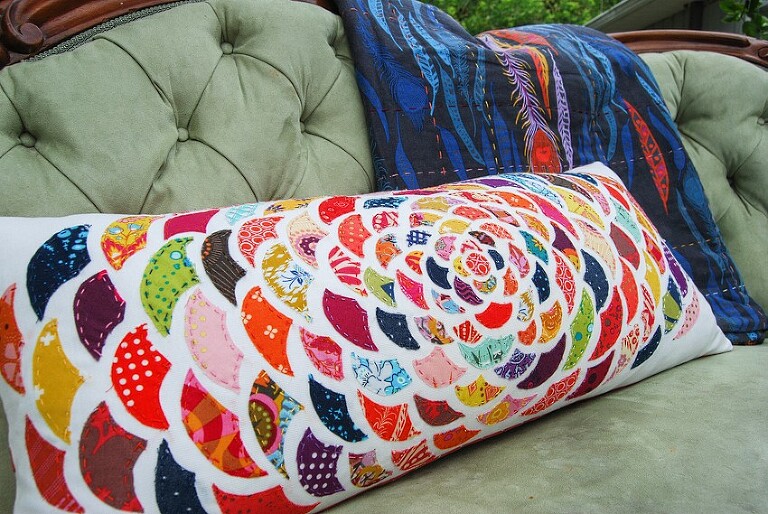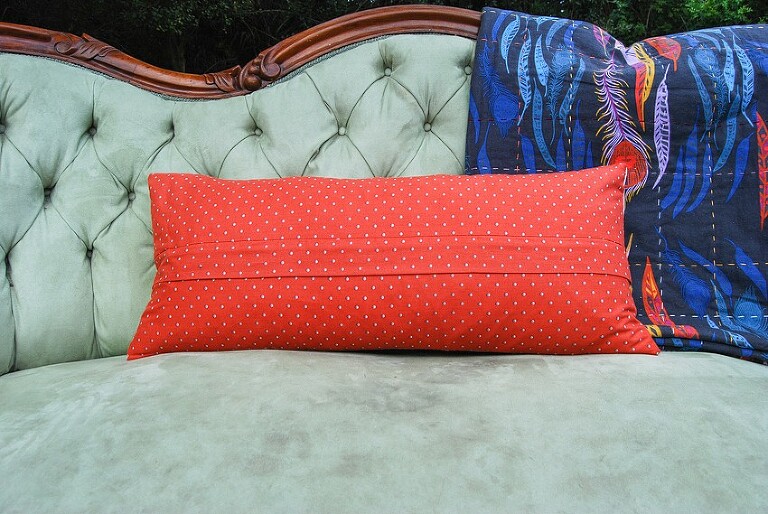 The back of the pillow is a burnt orange print from Juliana Horner. This color was requested and I'm so happy I had the perfect print for it! I used my usual hidden zipper method for this pillows closure.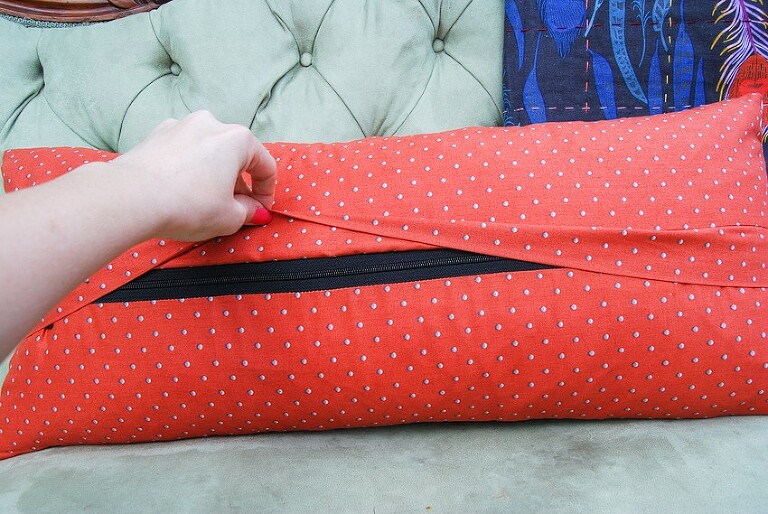 That's all she wrote on this custom project. I do love the finished pillow so much, and I'm glad I was able to get through the humps to get to that point of gratification.
I've got lots in store for you next week. (it was actually supposed to be this week, but correcting pictures is out of my control) Anyway, I've got some projects in the works, and even more that are done and ready for showing off- including a host of Caravan Totes and other bags. See you back here Monday!
-Meredith