Good afternoon! I do hope all of my American friends had a wonderful and safe Independence Day! Ours was relatively quiet and very nice.
Today I want to show you the extremely late birthday present I made for Emilee. She has been obsessed with horses since her entrance into the world, so the Mustang fabric from Melody Miller was highly appropriate.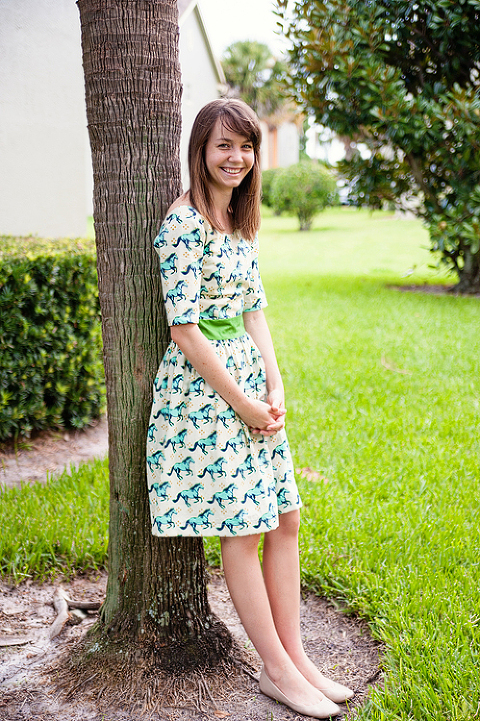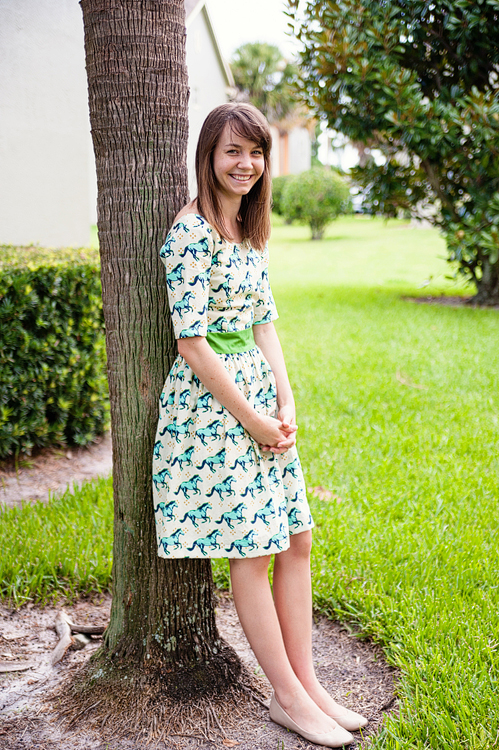 My vision for this dress began with the fabric and grew from there. I knew I wanted a sleeved dress with a full skirt.
I used the Elisalex pattern from By Hand London for the bodice. Unlike the pattern, however, mine is fully lined. I try to line things whenever possible not only because its far neater on the inside, but since I'm using Layla's Hello Kitty Janome for all my sewing, I don't have any sort of finishing stitch. This is the perfect solution, and really it lends a far more professional result than overlocking everything. Where I don't line, I use French seams which are also a very clean finishing option. Anyway, that bodice is lined with Free Spirit solid voile- a lightweight cotton fabric that serves as the perfect underlining to just about anything you can think of.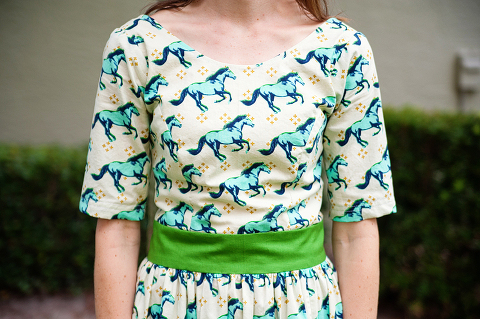 The skirt…
This part took some serious thinking. Initially, I wanted something with an super clean appearance that would be very, very full. So I thought box pleats were the answer. I made them so that every horse lined up perfectly and I thought I had my answer. I even assembled the skirt to the band and bodice. But I hated it.
I actually hated it so much I had to walk away from the dress. It elongated the midsection far too much, and rather than giving the skirt fullness, it actually flattened it out in a super awkward way.
After a week or so, I decided that a classic, gathered skirt was my answer. I took apart all of the pleating, and gathered the skirt and attached it. I then sewed in the zipper and stitched the lining and interior band bottom down by hand.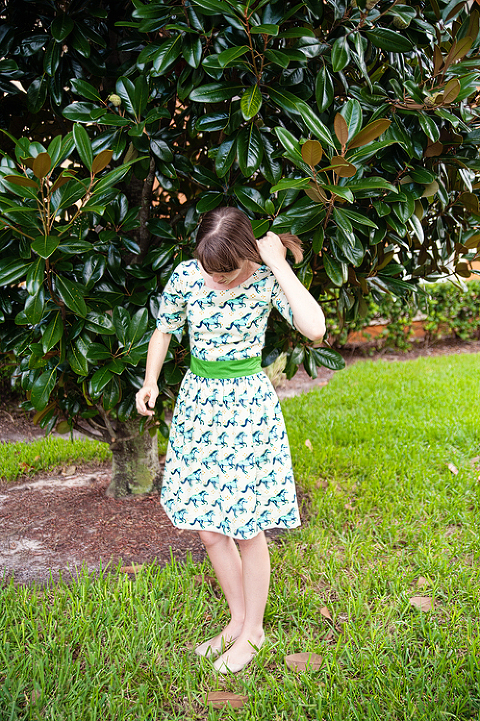 I'm so happy I hated the first version enough to take it apart, because I love the finished dress now! And Emilee looks fabulous in it! She's been working out constantly, so she's a little skinny minnie! I had to take in the dress after doing an initial fitting because she's shrinking before my eyes.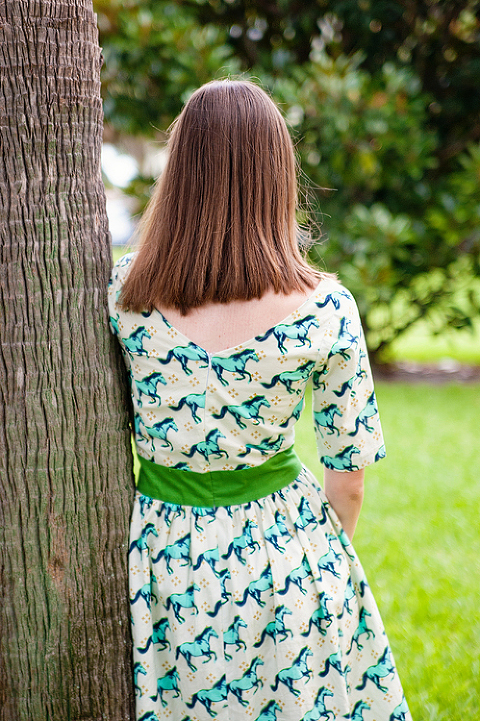 Garment making, as in all of sewing, is such an adventure. It gives you the freedom as the maker to combine various elements and make them work for your body. I just love that. I think that's what made me fall in love with this particular sort of sewing, and I know its what has kept me at it. I can't get enough!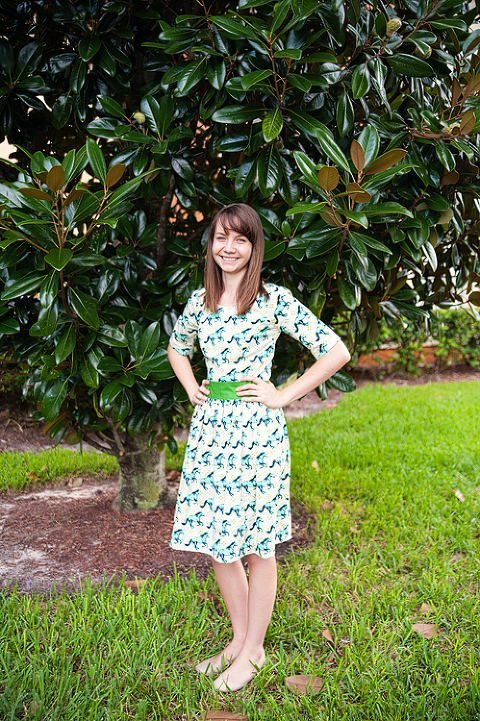 If you follow me on Instagram, you already know that I didn't make it past the first round of the Super Online Sewing Match hosted by Sew, Mama, Sew. They told me my machine was not up to par (which was the whole reason I entered a contest to win a machine of my own). That news really got me down at first. I've not had anyone look at my work and say, "Gosh, your machine must be awful." (which was not the wording they used, by the way) And don't get me wrong, every person who made a Sutton did an incredible job. I was blown away by a couple of them. Of course I would have liked to have moved on, but two worthy people were being eliminated and I was one of them. And its OKAY! After getting some very encouraging feedback from the IG community, I was reassured of the mindset I've already been trying to keep:  work with what you have, and make everything you do awesome. So many worse things have happened, and I'm just blessed I was chosen as a contestant among so many women to begin with. I do my very best on every single project I start and I don't do things I don't love. If its not worth my best effort, it is not worth doing. Period. I am pleased with the quality of my work, and I would not change one thing I did in the Match because I put my best foot forward and made a darn good blouse, as did every other woman. Thank you to every one of you that follow me for being a constant source of encouragement. It means the world to me! I think the world of Kristin and the other ladies at the Sew, Mama, Sew team and I'm so happy they allowed me to be a part of it!
I'll see you back here soon with lots more garments I'm cooking up on HK!
-Meredith