It feels like I've been waiting forever for this pattern to come out! After seeing a glimpse of April's on her Instagram feed, I knew I'd be making a Date Night Dress. So I ordered some of Anna Maria's Field Study rayon and waited. And waited. And then finally it was released! I was taping together that pattern within minutes of its debut. Shortly after that, I had the dress basically assembled.
It was at that point that I started doubting myself. I tried the dress on and the critic came out. Was this fabric too orange for me? (I have orange hair, and therefore do not own anything orange). Was it the dropped hem that wasn't quite right? Do I look like a giant dork sporting flutter sleeves? Something was not doing it for me, but I couldn't pinpoint what it was.
Those doubts kept that dress unfinished for days. And then one day I added the neck binding. And then the next morning, I chopped three inches off the hem and hemmed the dress. It was that last step that did it for me. Oh, and this time when I tried it on I was wearing make up which makes anything look better.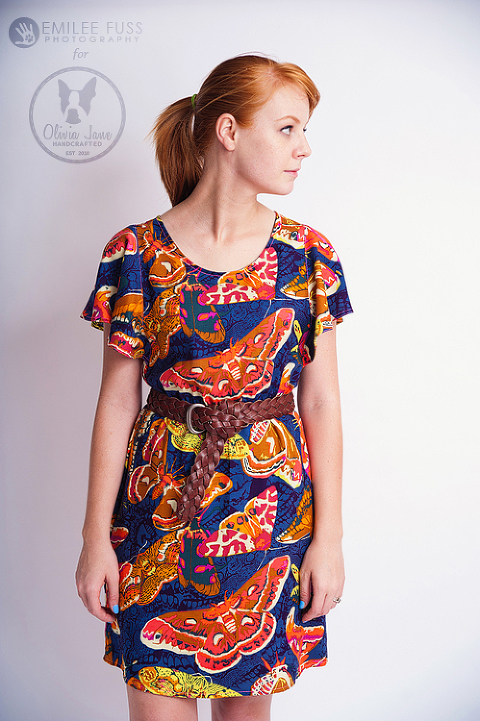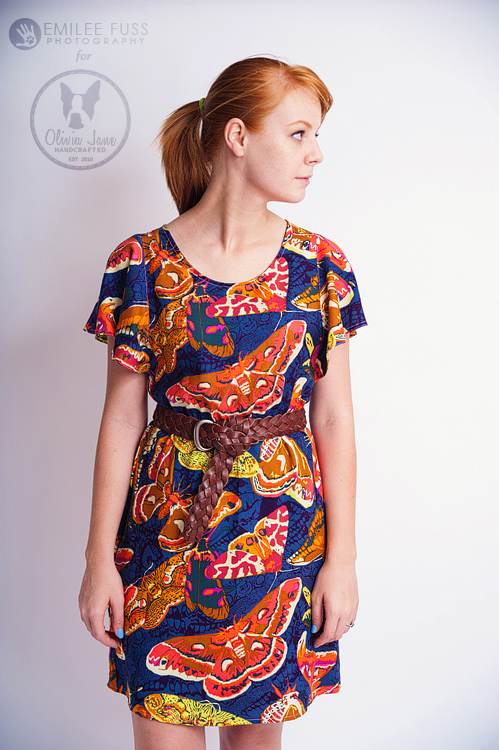 Yesterday I assisted my sister in an all day shoot, and I brought my dress with me so she could add to that workload. (Sisters are good like that). And anyway, I feel a little funny because this would be considered studio, and the fabric I used is the very same as is used on the cover of the Date Night Dress pattern. April's model wore it better. But I like mine too!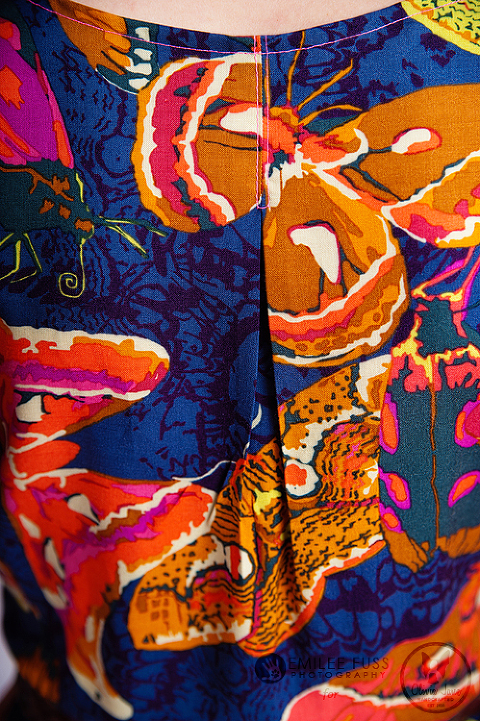 I love this box pleat on the back!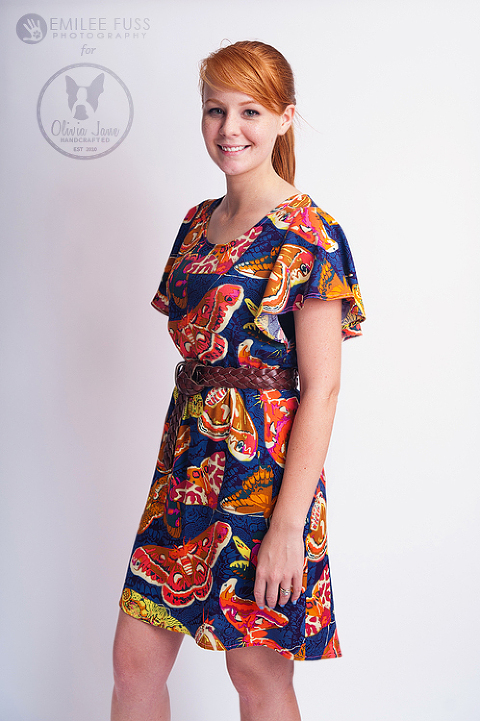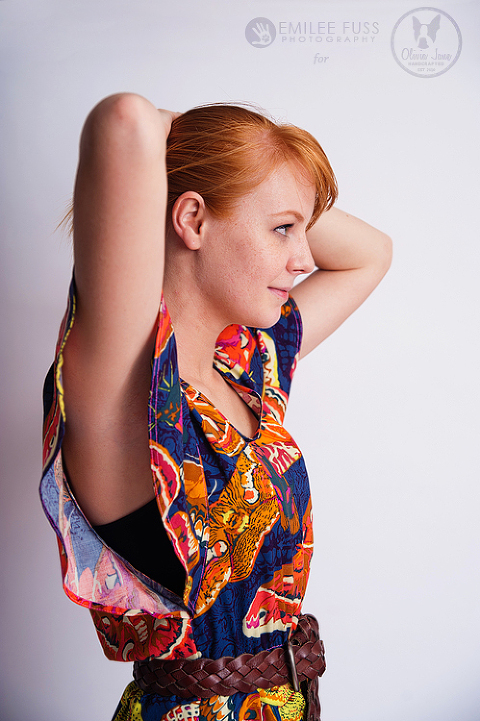 One really cool feature to the Date Night Dress pattern is that it comes with a bonus pattern for a slip to wear under the dress. I did forego adding the Simple Slip, but know that if you make this dress, you really do need to wear something under the dress, because the sleeves dip so low and are open. I just wore a cami under mine because I thought something longer might add bulk to my booty, which I do not want. I think it works!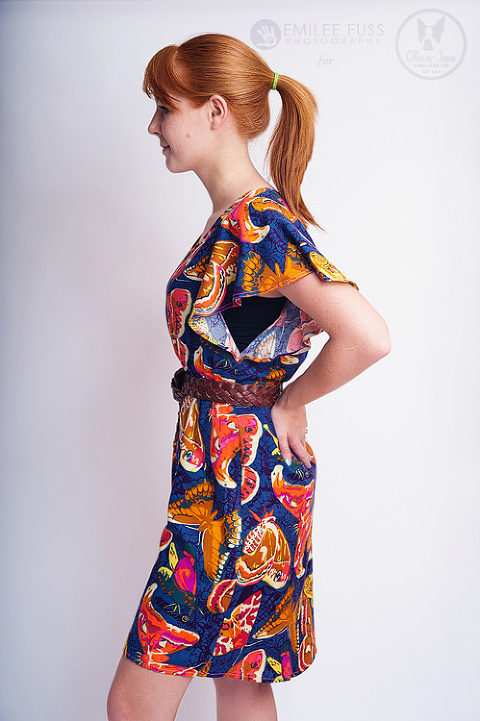 Though don't you think it would be fun to make a voile Simple Slip and then top it with a crochet lace Staple or Date Night Dress? I'm thinking that might be my next project. :D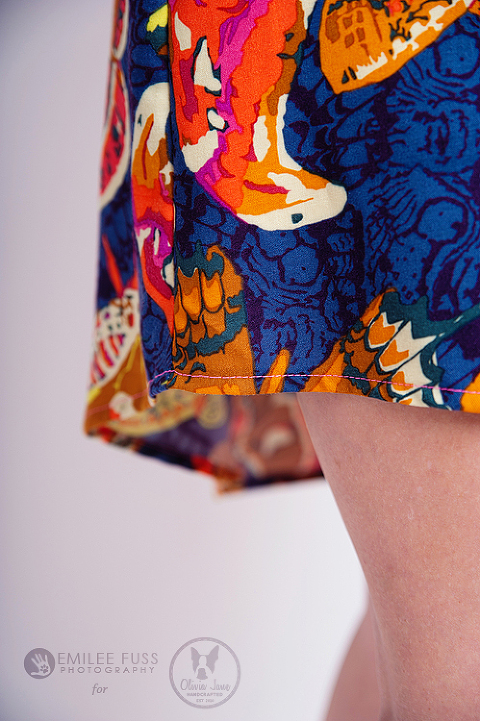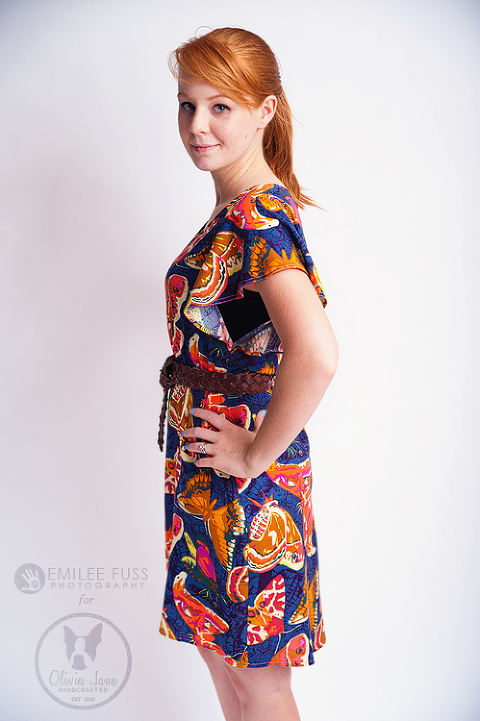 Just like the Staple Dress, the Date Night Dress is extremely simple and straightforward, both in the design of the dress, and the conciseness of the instructions. It is at a higher price point than the Staple Dress, but I attribute that to it coming with bonus instructions for the Simple Slip. Both of April's patterns are wonderful, and if you are new to garment sewing, I highly recommend both for their simplicity. Also, no matter what your skill level, they are as addictive as your most guilty pleasure. For real. I've made six Staple Dresses.
And I'm not done yet.
You can find both the Staple Dress, and the Date Night Dress here. Go check them out!
-Meredith