My machine had to go in for some emergency servicing on Friday. Since I don't have any projects to show you quite yet, I thought I'd show you some of the fabrics I've stashed recently. I haven't really done any stashing for several months since I've been so looking forward to some lines are beginning to release now. I'm so glad I waited!!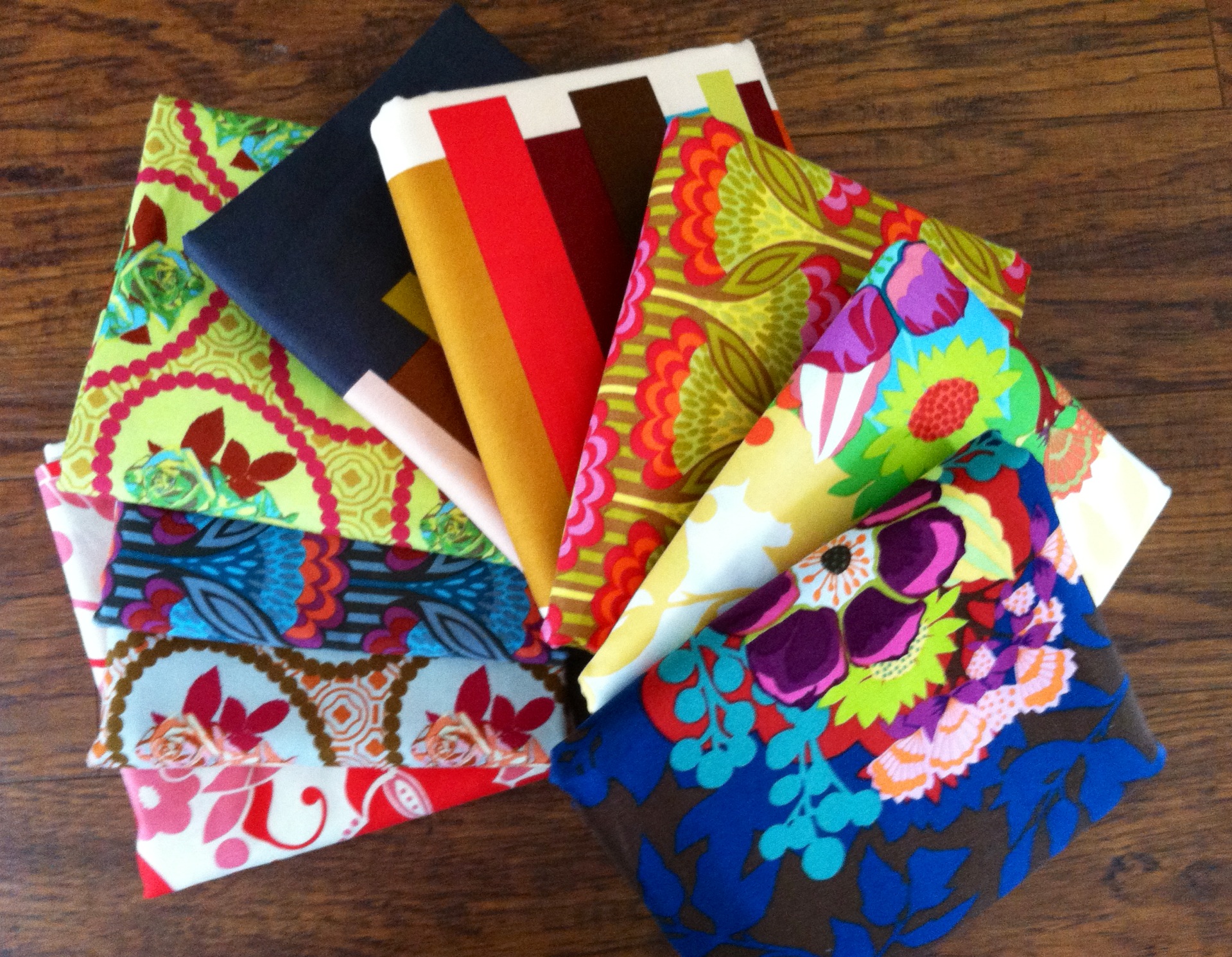 Here's a look at some of the Hand Drawn Garden by the über talented, Mrs. Anna Maria Horner! I've got one more print coming today, and then I'll have two left to get.
The Social Climber in gold is my most favorite! I realized after getting it that that was the very first Anna Maria print I ever saw. Its the one that got me hooked. Aside from a fat quarter sent along by a friend, this is the first time I've had my hands on it. I'm so thrilled to have it, and the other reprints from Garden Party and Drawing Room. I missed those lines, as they were out before I began sewing. Heck, I missed Good Folks! I'm beyond elated to be able to play with this line, and you will be seeing much more of it on here in the coming weeks, as it is what I'm using to redo Layla's room. :D
Next I have to show off some of the Juliana Raquel fabric I got my hands on. For those of you who may not know, Juliana is Anna Maria's very talented daughter. She is still in school at Pratt, yet has found the time to launch an exclusive premium line, called Rosette, with JoAnn's. What?! Yeah. I want to be Anna Maria's daughter too, but with the seven children she already has, I don't think I have a chance at adoption. I do not purchase fabric from JoAnn's but after seeing Anna Maria's Instagram post about it, I hightailed it to my local store and bought a half yard of each of the fabrics they had. Mine only had five, but I'm planning to complete my stash of the line this Friday.
The fabric is quilt shop quality from what I can tell. The price certainly suggested that. The colors are so vibrant, and the mix of prints is great. Juliana is going to be a big name very soon, I can tell you. I'm so happy to have what I have of the line, and even more excited to be supporting a new artist who I know will do amazing things in the industry.
I stocked up on Field Study linen. (Yes! More Anna Maria fabric!) Layla mentioned that we needed a quilt to sit on so we could have a picnic, and that seemed line a good enough reason to splurge on the line. Hey, I've bought fabric with less incentive than that. Admit it, you have too!
I already know I love these! I carry my linen Art Student Tote every single day, and I get compliments on it all the time. Its such a wonderful line!
I think that's all I have to show for the time being. My husband will get cross if I order any more anytime soon. :D
Thanks for stopping by!
-Meredith