The past few weeks have been spent redoing Layla's room with a little paint and a whole lot of Anna Maria's new line, Hand Drawn Garden (the re-release of some prints from her Garden Party and Drawing Room collections). Since I had only done very small things here or there ever, it was more like decorating the room from scratch. It all started with the idea of making her bed special. As independent as that child is, she has only ever climbed out of her crib maybe twice. Its insane. I have no clue why we were given that blessing of privacy for three and a half years. Anyway, though she never clued in that she could climb out anytime she wanted, I knew that she was overdue for a big girl bed.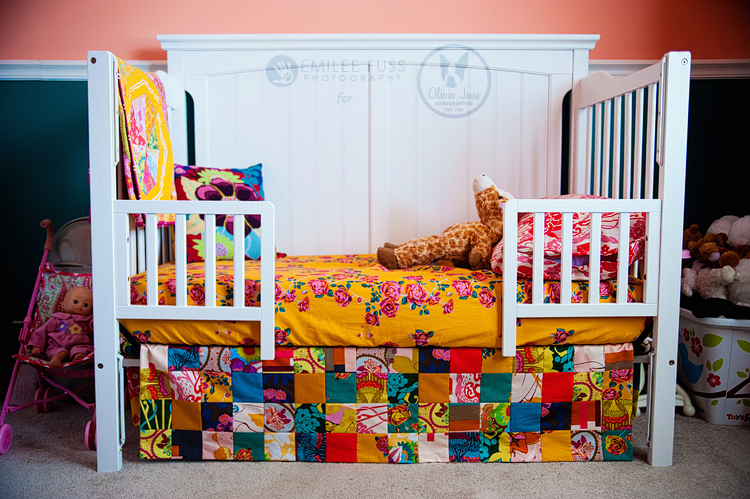 Her bed is one of those 4 way convertible beds, so we have moved from crib to daybed. I began by making her some fitted sheets using this tutorial by Dana Made It. FAIR WARNING: once you start, you will need to show great restraint. Otherwise every fabric in your stash that meets the size requirements will become crib sheets!
I really, really love the pics Emilee took of Olivia Jane!!!
For now, she only has fitted sheets in the gold and teal Social Climber prints, which is probably my favorite print of the line. Since she does not dirty her bed, that is probably adequate, though I know she will have more before long. The crib sheets are such an immediate gratification project!
Just so we're clear, this bed is not for my dog. It's for my daughter. 
But you can clearly see my dog was happier in front of the camera than my child. 
Okay. Moving right along. Pillowcases were my next project. Of course I used Film in the Fridge's tutorial. I will offer the same FAIR WARNING here. I've only made three so far!
Again, I know there will be more! I threw the Centerpiece needlepoint pillow I made on her bed, because it is a perfect addition! I have five more pillows to make because Layla very specifically said she wants six pillows on her new bed. I'll probably work on those here and there once I have her quilt finished.
I made a patchwork bed skirt using every print from the line plus three coordinating Free Spirit solids. For this project I just measured and came up with my own pattern. The patchwork panels are lined with muslin, and the center part is also muslin. I used 3.5″ unfinished squares. I also did a panel for the backside. I'm not sure why, but it would have felt wrong to leave it out. I'm a weirdy.
I love that it pulls the fabrics all together!
I'm also planning on making this quilt (second photo in the post) to go with her new room. As soon as it is released, I'll get started on that! I can't wait for that to happen, and neither can Layla. Every time I pull out fabric she asks if I'm making her new quilt. Patience, child! You are too much like your mother!
Drapes. I cannot believe I made these drapes.
I love them so much! I used another favorite print, Sketchbook in Ivory lined with blackout drapery lining to make these full length, back tab drapes using this tutorial from A View Along the Way. This project was much more fun than I thought it would be. I mean, I was sewing with over seven yards of fabric, and generally the larger the project, the less fun it is on a home sewing machine. Luckily, that was not at all the case. The drapery lining was far easier to sew with than I thought, and it just took time to get things cut evenly and equally, and I was set from there. My Janome handled those drapes without a single hiccup, and I think they turnout out great!
Oddly enough, the painting took longer than all the sewing projects combined. I didn't expect that. I put three coats of the teal on the bottom, and two coats of the coral color on top. It took about sixteen hours split into two days for me to cover those 10′ high walls. It was totally worth it! The colors are amazing, and I have to thank my sweet friend, Alison Glass, for her help with that! I was texting/talking to her in Home Depot and she was  kind enough to help me on the fly!
So what do you think?! Have I missed something? I don't know what I should add. I know I'll want to replace the dresser in her room with something else. I have no idea what.
Okay! I promise that's the last Olivia picture! She was hamming it up big time!
It was so much fun to work on her [Layla's] room! We never went crazy decorating a nursery before she was born, so this was really a first for me. I really want to tackle the rest of the house now, but I think Hubs handles things better piecemeal. I love that I was able to use tutorials from the handmade community to bring my vision for her room to fruition. Its a wonderful community to be a part of!
Thanks for stopping by!
-Meredith