Looks like I'm the first stop on the Alison Glass blog tour! I'm feeling pretty special. Really, though, I'm so excited you have stopped by because I cannot wait to show off Alison's latest fabric!!!
Alison is an incredible woman! Seriously. She is so passionate about her work, and such a sweet person. I could talk on the phone to her ALL day! She has been working her butt off coming up with some wonderful fabrics for Andover. Her biggest project of late is her line of 54 basics called Sun Print. There are six different prints that come in nine different colorways, and not all the colors are the same, so this line reaches a new level of versatility that makes it a must for your stash. Today I'll be showing you a skirt I made using the red feather print, which is from the first portion of the prints to be released.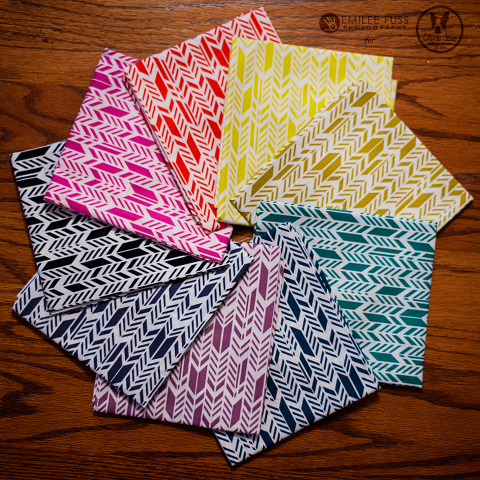 I chose to make a simple high-low skirt that would be a versatile addition to my wardrobe. I wanted something clean and simple that would draw attention to the feathers on the skirt.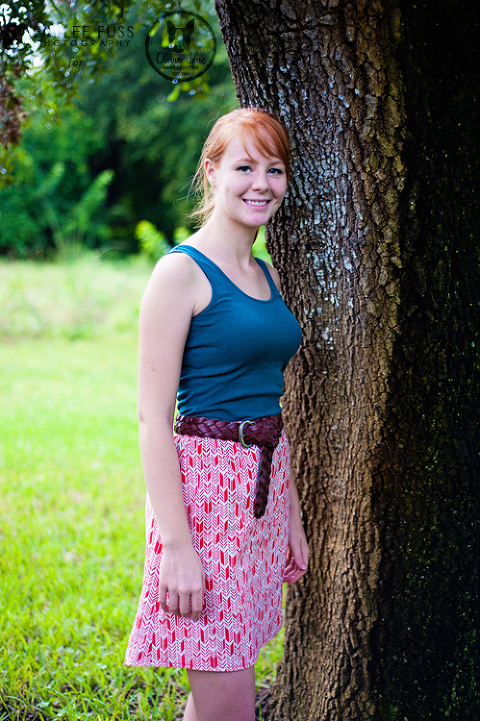 yucky post-rain picture. just look at the skirt, okay?
I love the hem on my Date Night dress (by April Rhodes), so I attempted to do a similar cut on this skirt. I shortened it up a bit to make it a bit more playful, which I just love. Since I was not blessed with mile long skinny legs, I find that a skirt/dress cut a few inches above my knees makes them appear thinner.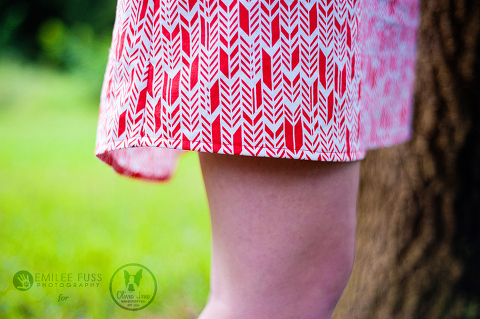 The part of this skirt that took the longest to figure out was the waistline. I had no clue what I wanted! Elastic? Zipper? Darting + zipper? In the end, I decided to go with an elastic waistband. Its simplicity goes well with the overall feel of the skirt. I actually used a double elastic waistband here by making two elastic casings, and inserting to pieces of 1/2″ elastic. It breaks it up a bit, and I think it adds interest. But it is not so wide that I can't wear a belt. Versatility!
You can easily draft a skirt pattern using your waist and hip measurements, or by using an existing skirt as a guide. This skirt took me less than an hour to whip up! Though it was a simple sew, I can already tell you it will be a staple in my wardrobe. I just love it!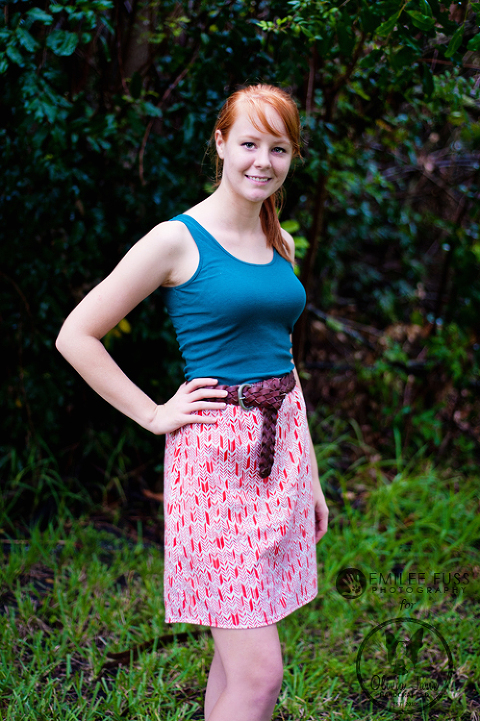 I do love this fabric! It is a dream to sew with. And I'm not just saying that, because I am one harsh critic when it comes to fabric quality and I do not sugarcoat. To give you something to go off of, if you love Free Spirit fabrics, you will love Andover fabrics equally. They are durable and consistent, and that perfect (non flimsy) weight you would expect out of quilting cotton.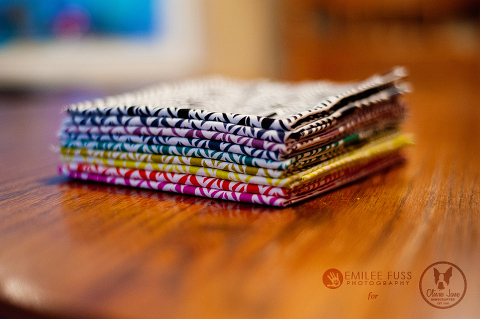 There are nine prints in the Feather portion of Sun Print. You need all of them. You can purchase a bundle over on Alison's website! You can also enter to win 2.5 yards of one of the Feather prints and one of Alison's new patterns!!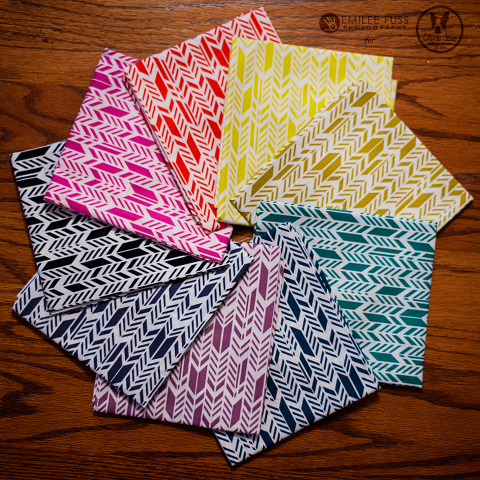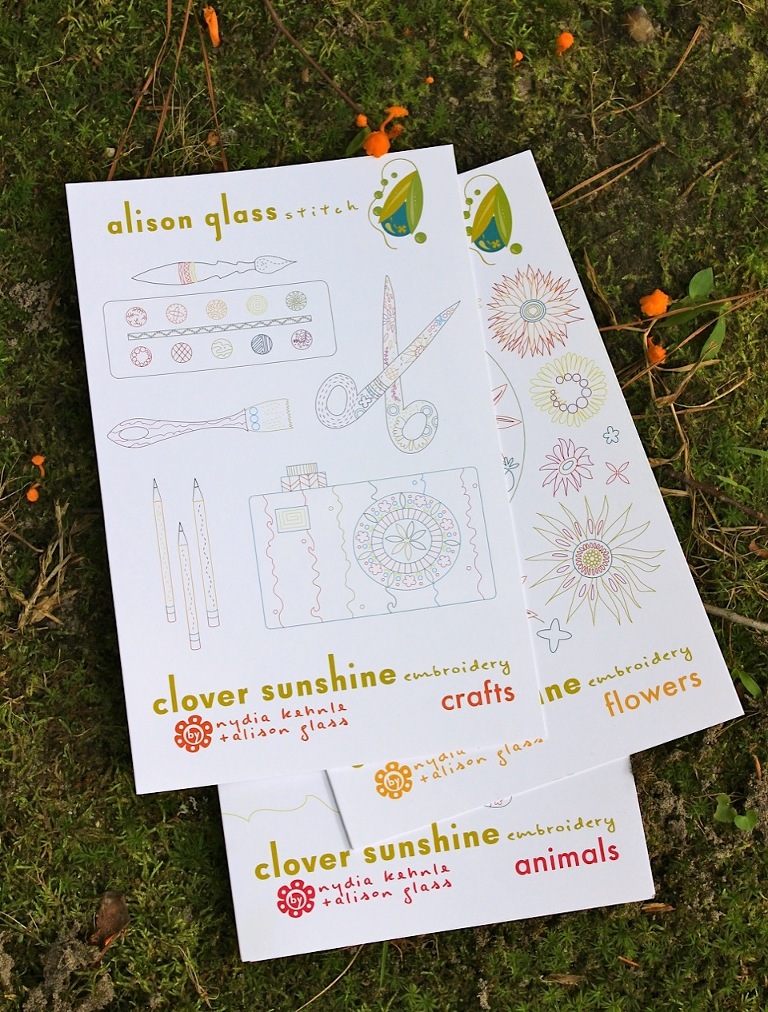 To enter, simply leave a comment on my blog letting me know what you would made with the fabric! I'll choose a winner on Friday.
You also have the chance to enter the Alison Glass Big Fabric Giveaway. This is a HUGE giveaway that includes all the prints from her Sun Print and Clover Sunshine lines!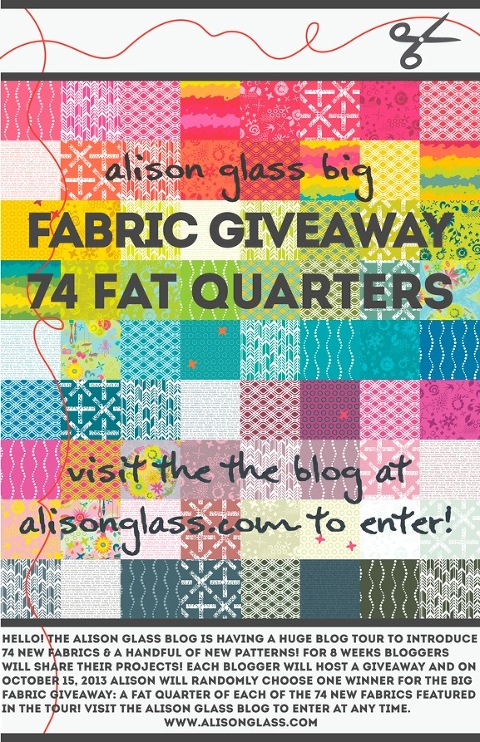 Be sure to stop by each of the blogs on the tour! There are so many goodies along the way, you will not want to miss a single one!
Group 1 – Feathers, Text, Party Streamer
Group 2 – Feathers Quilt Pattern
Group 3 – Clover Sunshine
Group 4 – Corsage, Bike Path, X & +