Last week my husband headed out to Nashville for work, and while he was away, the kids and I got busy! We ran up to Home Depot for supplies, and set out to complete a whole list of projects around the house.
Our master has been sitting on the back burner for some time, giving way so we could finish the kids' rooms and do some other projects around the house (like getting furniture). But after a while, I've gotten very antsy to have a more inviting and homey space in our bedroom. Last week I showed you the embroidered gallery of Liberty artwork I made for the wall above the dresser, but I had to carefully conceal the rest of the room since Justin hadn't seen it and I wanted it to be a surprise when he came back from his trip.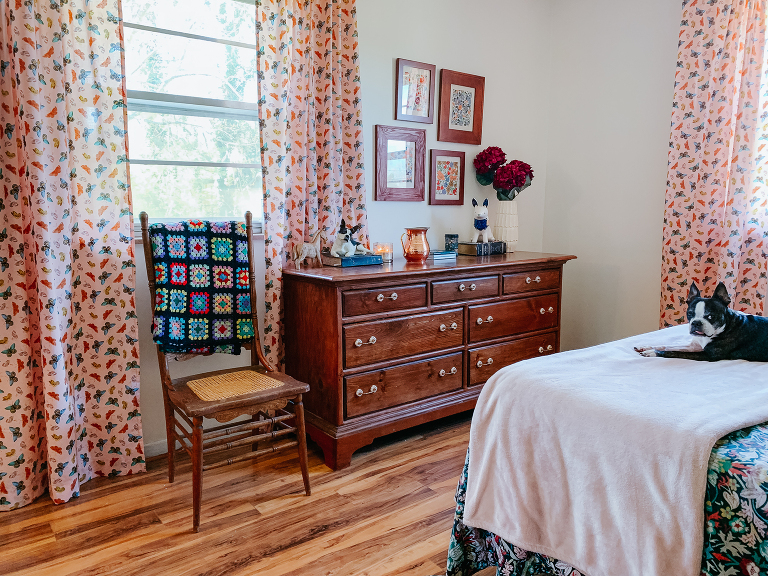 The first thing I did last week was make some curtain rods from copper piping and flanges that I got in the plumbing section at Home Depot. They were very easy to put together, and really what took the most time was shining up the copper and getting rid of the red print that was on them. I used a tutorial from Remodelista which was helpful! My rods ended up costing around $25 a piece which beats the median price at Target and these are much stronger. Those flanges aren't going anywhere! Of all the things I did, my husband was probably happiest about that because my kids have rods from Target and they have come out of the wall so many times, and they are such a headache!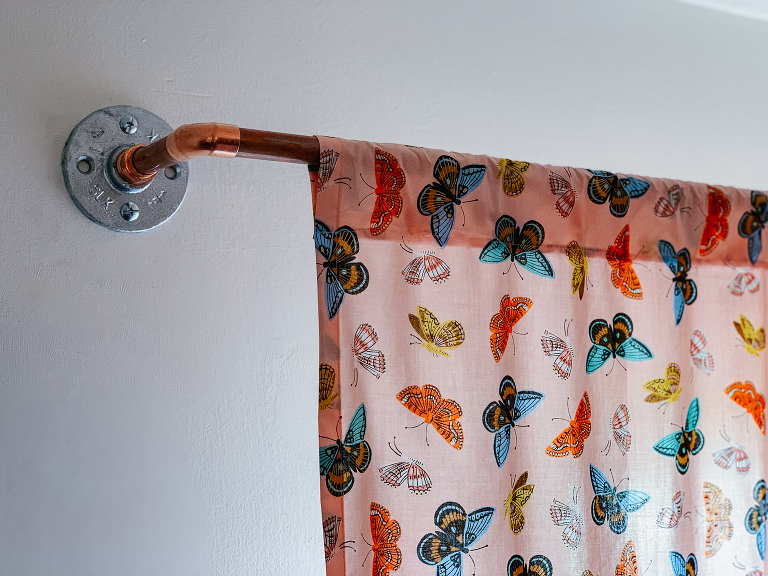 We have copper throughout our house, and I had wanted copper rods for a long time. I couldn't find any so I'm really happy I was able to make some myself and for such a great price! I'll be putting together four more of these over the next week or two as I add curtains to our living and dining rooms areas. The rods can totally be painted, by the way, if you want to try these but copper just isn't your look!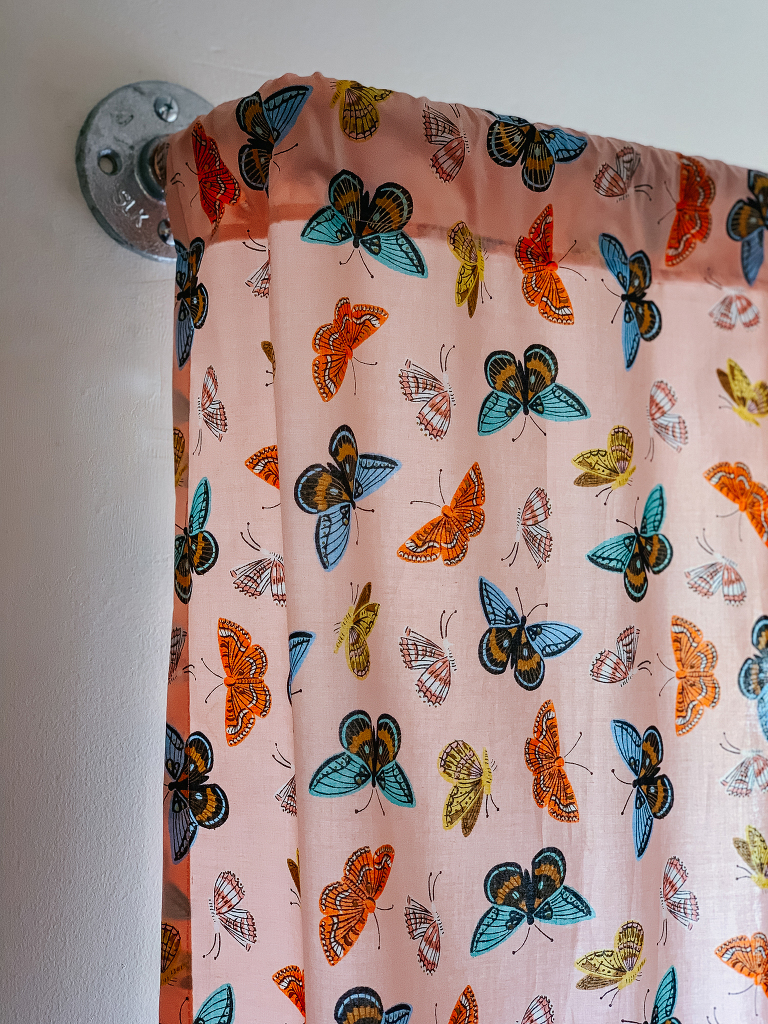 I also made the curtains! The fabric I used for these is a lawn from Rifle Paper Co's English Garden collection. I did a special order through HandCutFabric for 10 yards. If you haven't ever shopped with them, you need to get over there and check out their shop! They offer great prices, and they are willing to take special orders which is what I did for these. I also ordered a couple bolts of canvas for curtains in our living area, and another 20 yards for another project that is under wraps at the moment.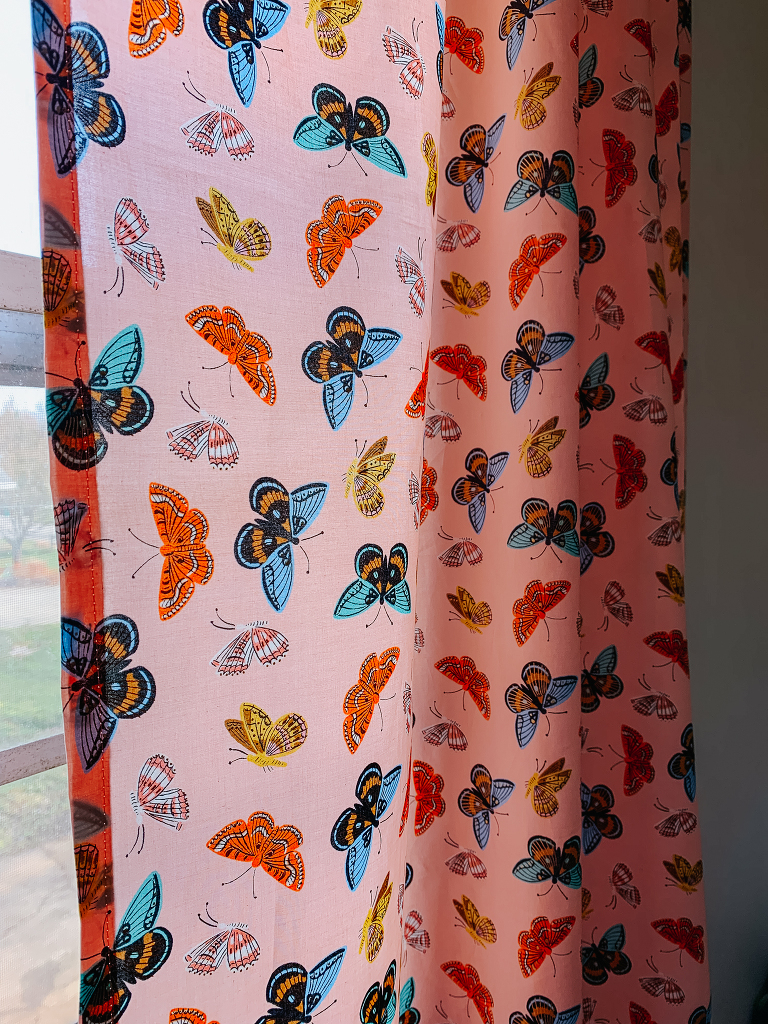 The fabric is a soft, almost coral pink and has butterflies all over. They all have metallic accents, which make me love them even more! Also, the lawn drapes in the loveliest way, reinforcing that lawn curtains were definitely a good choice!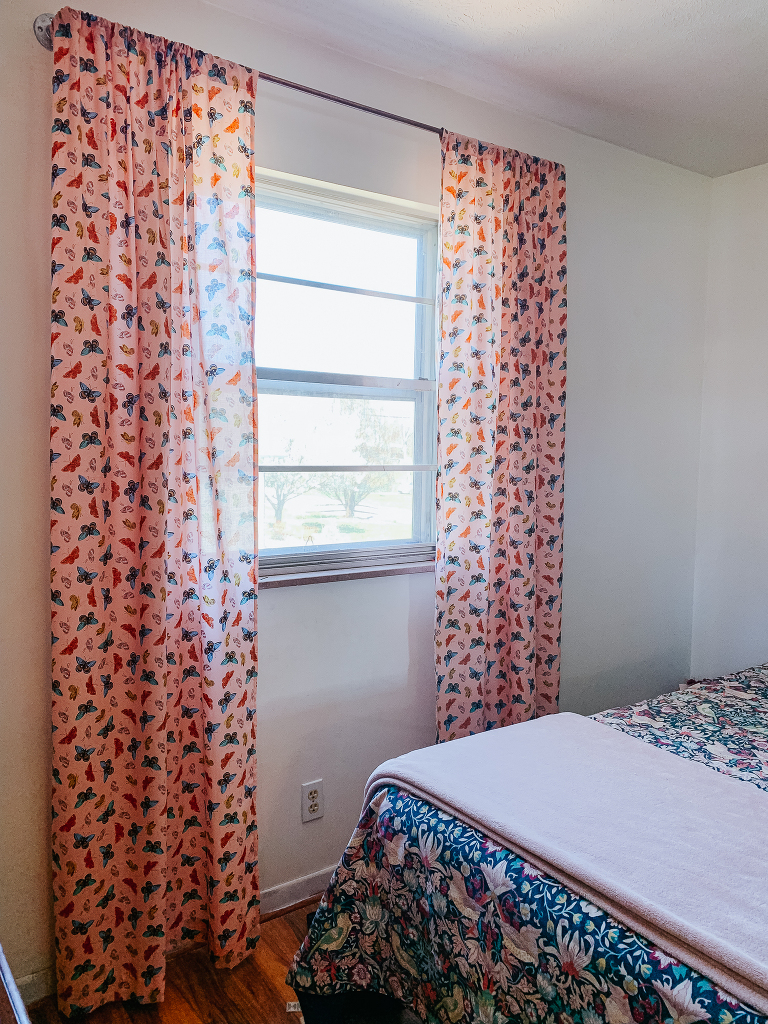 Our bed is across from the dresser (perhaps tentatively), and it has my favorite quilt- one that I did not make (I got it on super sale at Anthropologie). It features William Morris' Strawberry Thief artwork on an enlarged scale and in the softest velvet. It was the inspiration for the color in the rest of the room (the curtains and even the embroidered Liberty gallery feature colors that are found in this quilt). The artwork above the bed is from Rifle Paper Co. I'm planning to either work on more of a gallery behind the bed, or perhaps add a headboard. I'm not sure yet, and I never do anything around our house until I'm sure which is why we just now have curtains after living here for a year and a half. ha!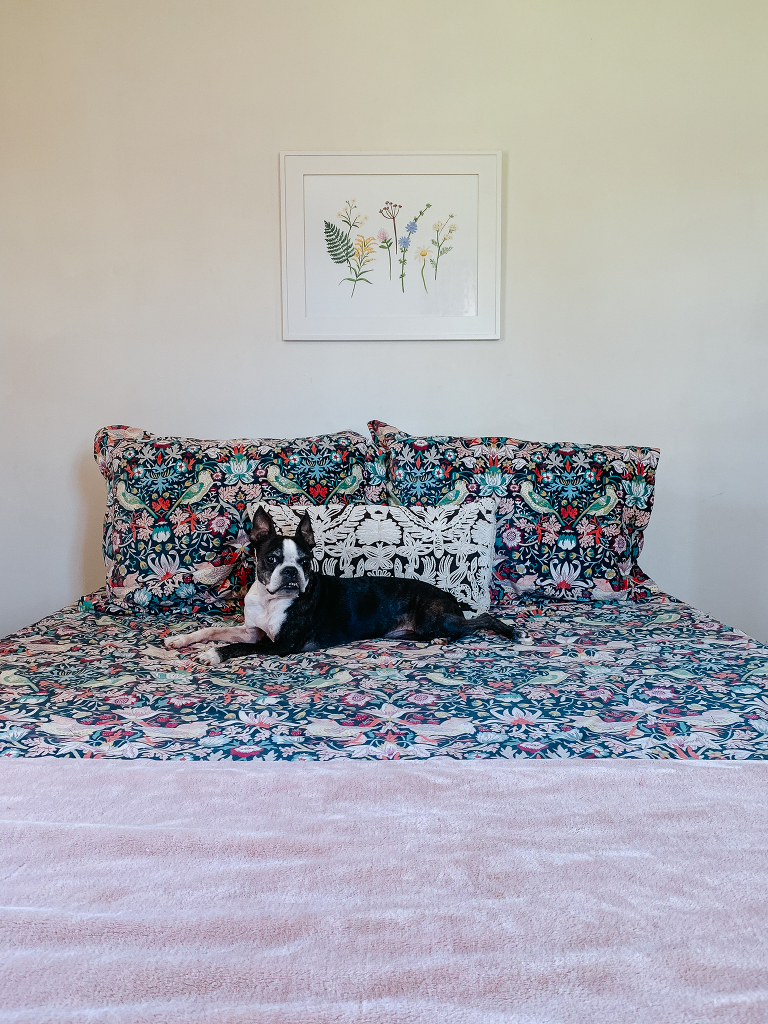 I also added a bookcase to our room for my husband. He had been using a living room side table beside the bed to house his books and pens and anything else. It was such an eyesore, and I was thrilled when I found this bookshelf at Target for only $50 on sale! Goodbye ugly side table! We could still use some nightstands, but our room is already much improved with a big cleanup and these new touches. We spend a lot of time in here, so its nice that it feels more polished and inviting! The color of the wood isn't just right, but like I said, its such a huge improvement over the big, clunky side table, that it will work just fine for the foreseeable future.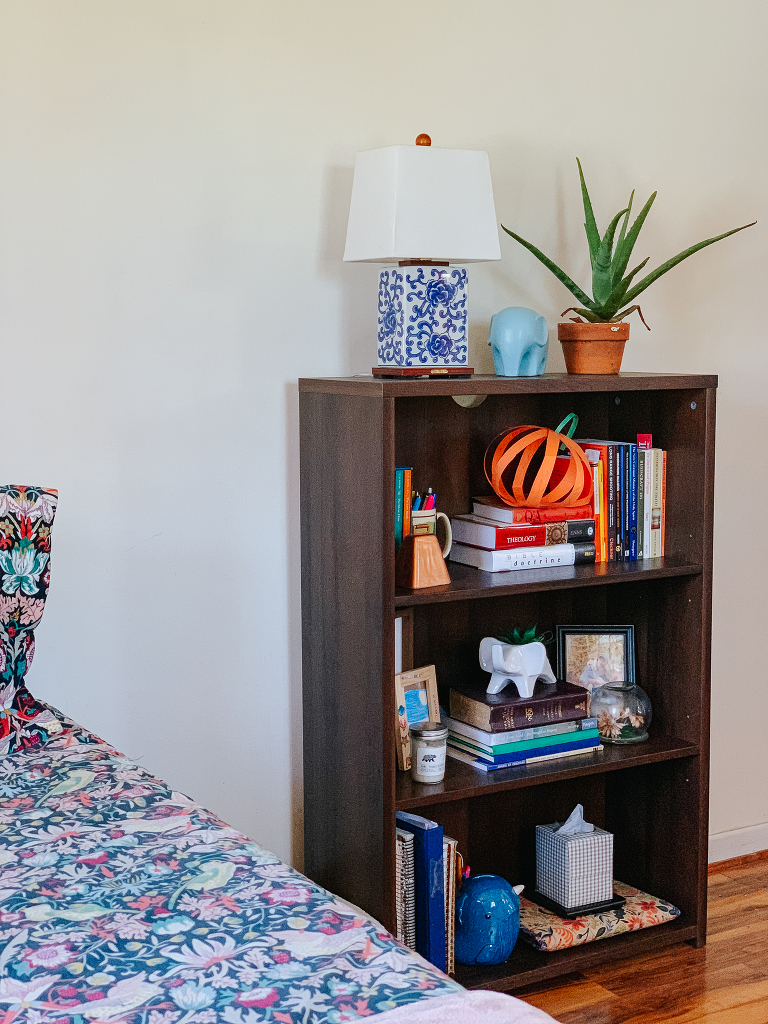 The chair and crocheted blanket both belonged to my grandma, who you know is a precious influence in my life and so much in my style. I love having a piece of her in here!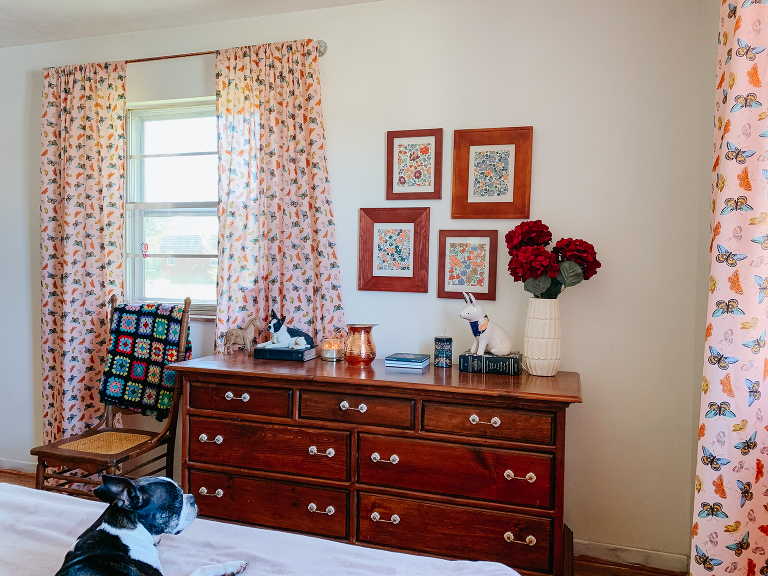 I have been tackling some other projects around the house too, which I'm excited to share here. Its so special to be able to put our touches on this house after renting for so long! Do you like doing projects around your house? Do you have a favorite DIY that I should try! Leave me a comment and let me know!
See you back here tomorrow!
-Meredith