It's Friday! And its the first sunny one we've had in what seems like months! This time last week, the kids and I were getting ready to head over to Craft South. We drove over to Nashville to see Justin, and we thought we would make a mini getaway out of it since it was Spring Break. Craft South was amazing. They have such a fun and well curated selection of everything you can do with a needle, from knitting and crochet, to fabric and notions, needlepoint, cross stitch, crewelwork, and a host of Janome sewing machines. Its a really fun stop!
They had a variety of prints I have never seen before, and even though I need more fabric like I need another hole in the head, I had to get just a few fabrics as a souvenir. By Monday, I had decided on a quilt and had them sewn together. I just finished sewing on the binding yesterday, and we went out to Cades Cove hoping to get some pictures and see some wildlife between the rain showers. It was my birthday yesterday, and I was feeling pretty down and unexcited about the whole thing until we decided to get out in nature rather than go out to eat somewhere.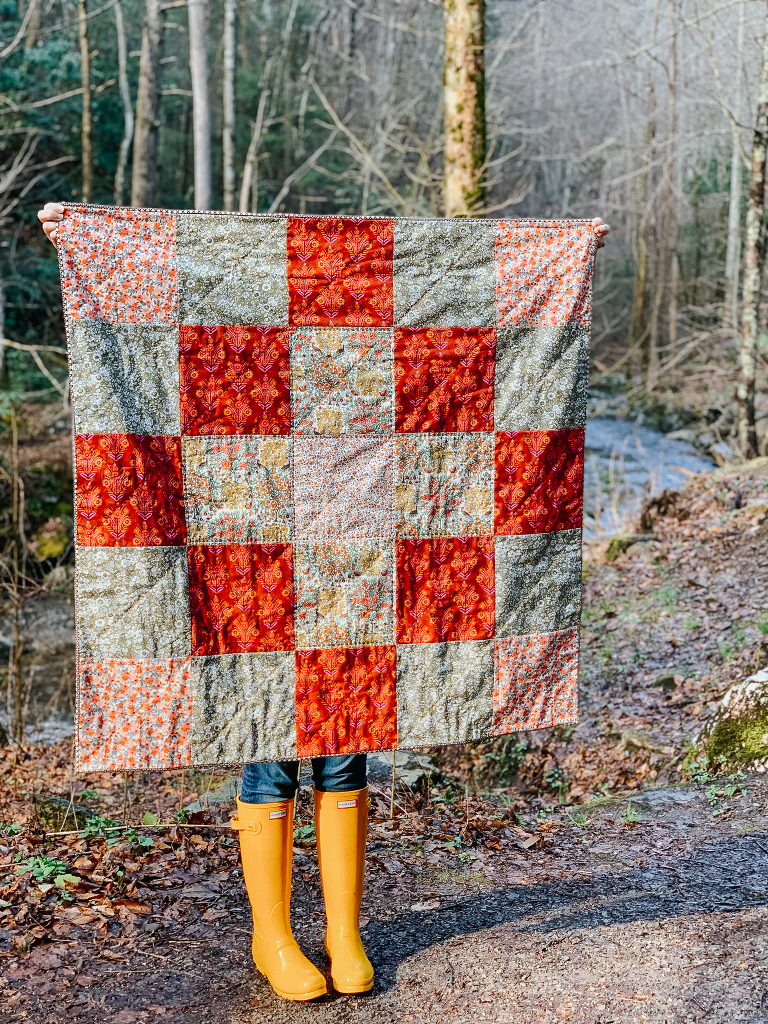 On a completely unrelated note, those boots were my present from Justin. He told me to head to our favorite local shoe store on Wednesday to get a pair of Hunter boots because I had wanted some for two years. Only when I got there, I discovered that the yellow ones were 75% off, so I grabbed them. Its a good thing I got there when I did because they had four pairs when I got there (right at opening time), and two sold within minutes. I can't believe I walked out of there spending $37.50 rather than full price! What?! I'm glad I don't have to walk around our wet and muddy ground with my Keds anymore!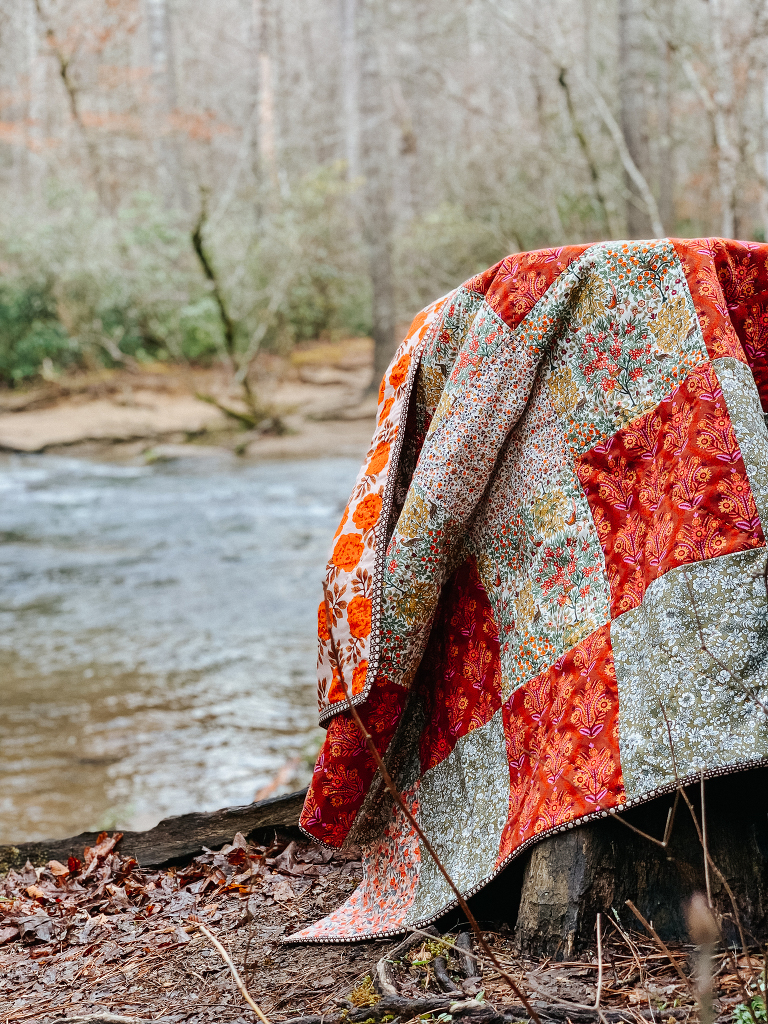 Wearing some sunshine on my feet yesterday definitely lifted my mood, but being able to take this quilt out there and to smell the dirt and the clean air was really the best way to spend our evening.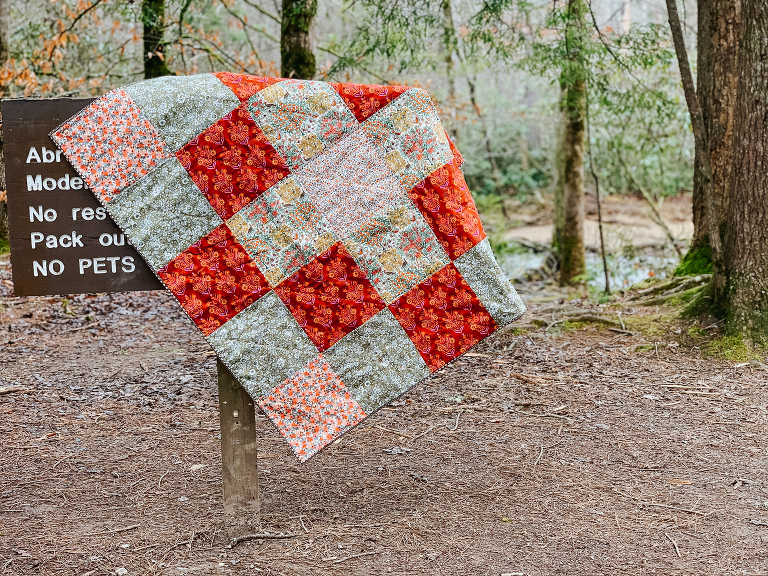 Let's chat about this quilt though- its a small throw size or baby size quilt. I wanted something I could easily put on the wall or use, and this granny square-esque quilt fit the bill. From the center and working out, the first two fabrics are Liberty quilting cottons, the third is from Anna Maria's brand new Tambourine collection, the green floral is another Liberty quilt weight cotton, and the last is from Rifle Paper Co. The backing and binding are both from Juliana Horner's debut collection for JoAnn.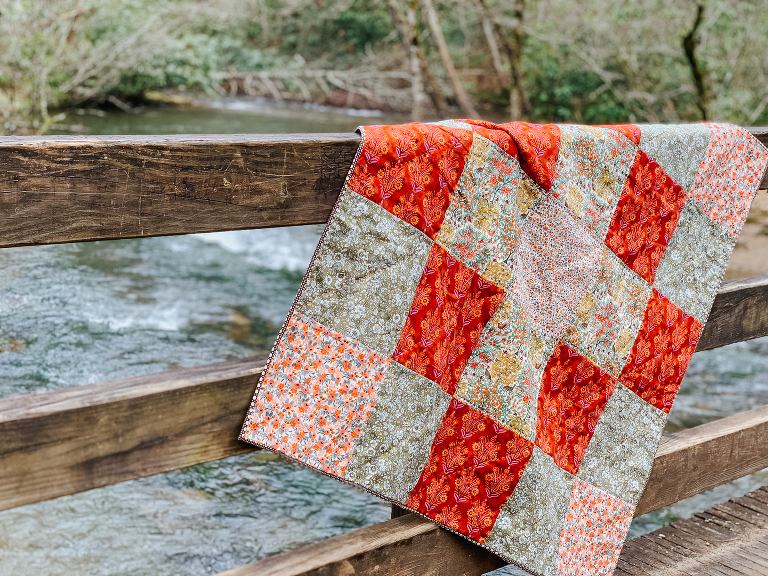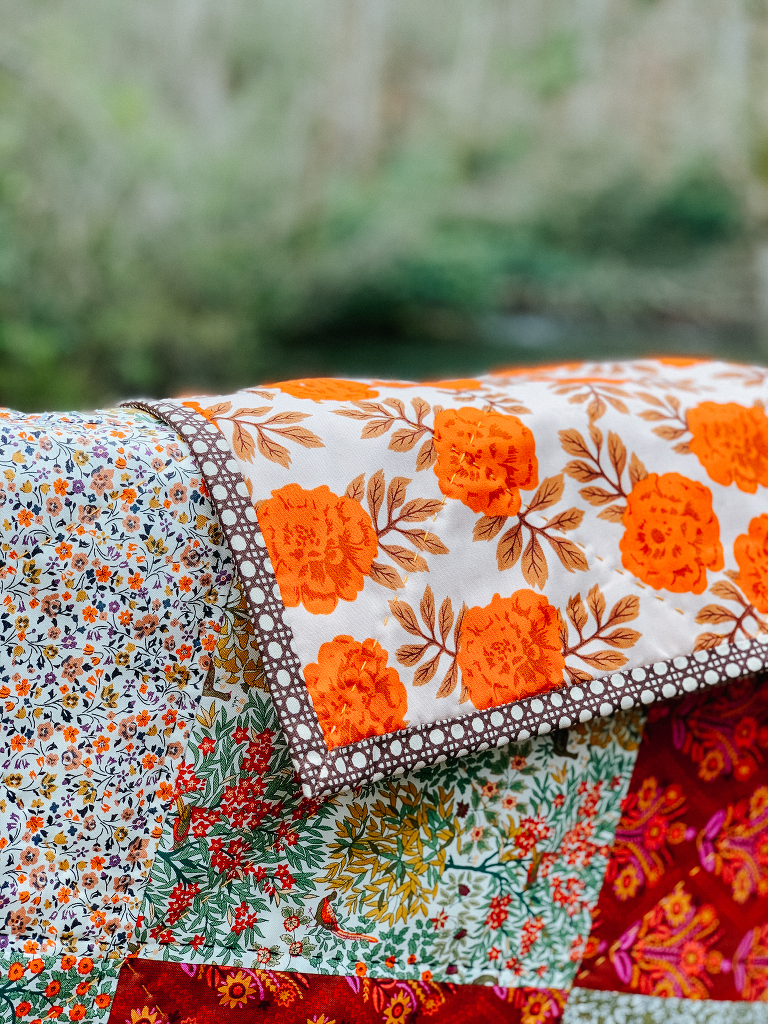 I hand quilted it first in a grid with a mustard color Perle 8 cotton thread. Then I framed out the granny squares with a black Perle cotton.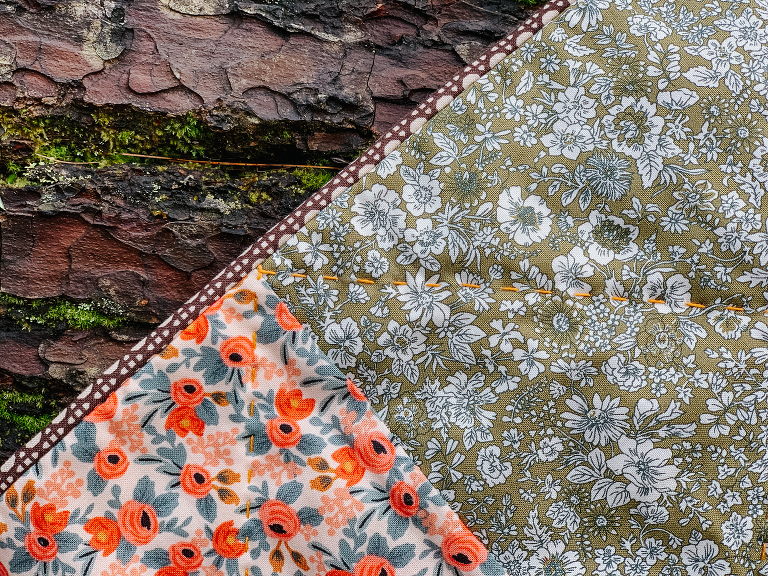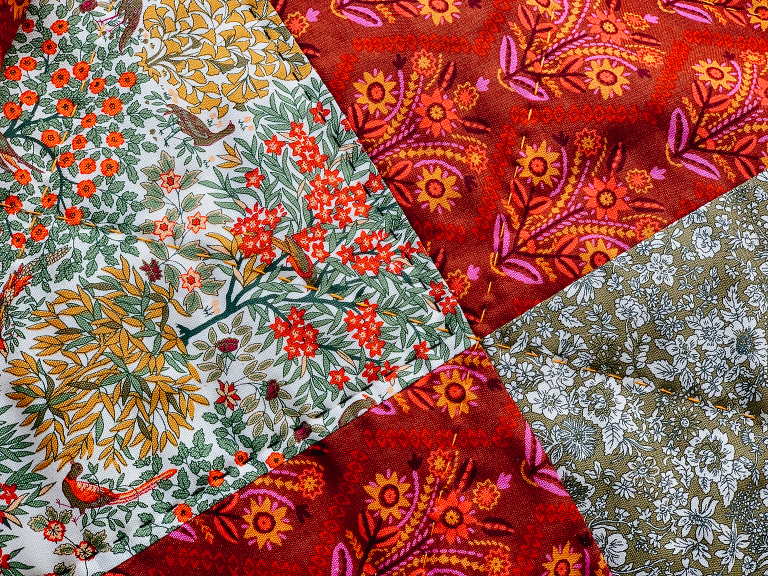 I loved making this quilt! The color scheme is a bit different from my normal "use ALL the colors" mentality, but I am just smitten with its warm tones. I am thinking it'll hang in a place of prominence all Autumn long.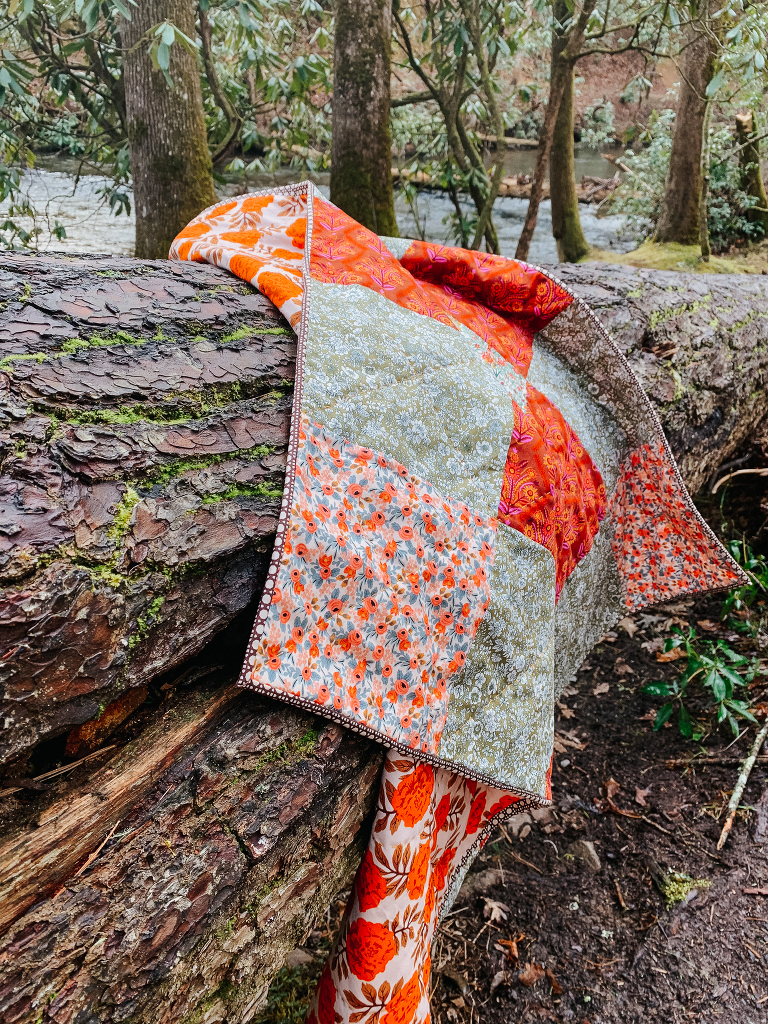 I've gotten quite a lot of requests lately from beginner sewists requesting simple patterns to get them going- so here's what is coming from me: Starting next week, I'm going to walk you through making an entire quilt with a pattern similar to this. It will all be free, and there will also be video instructions.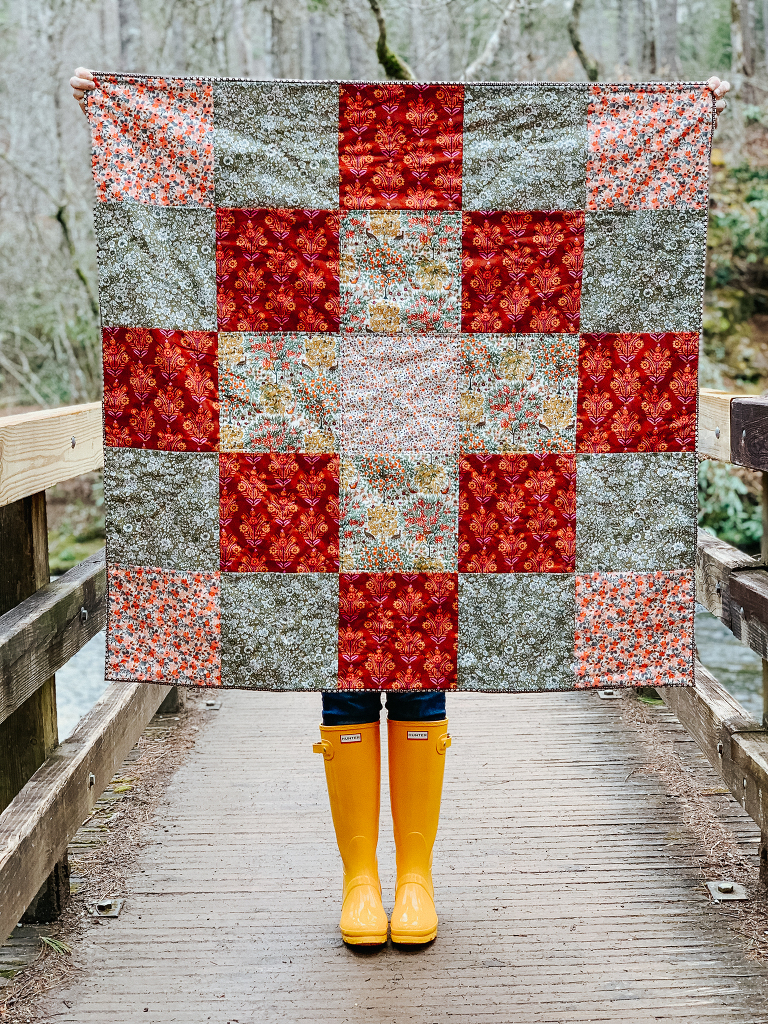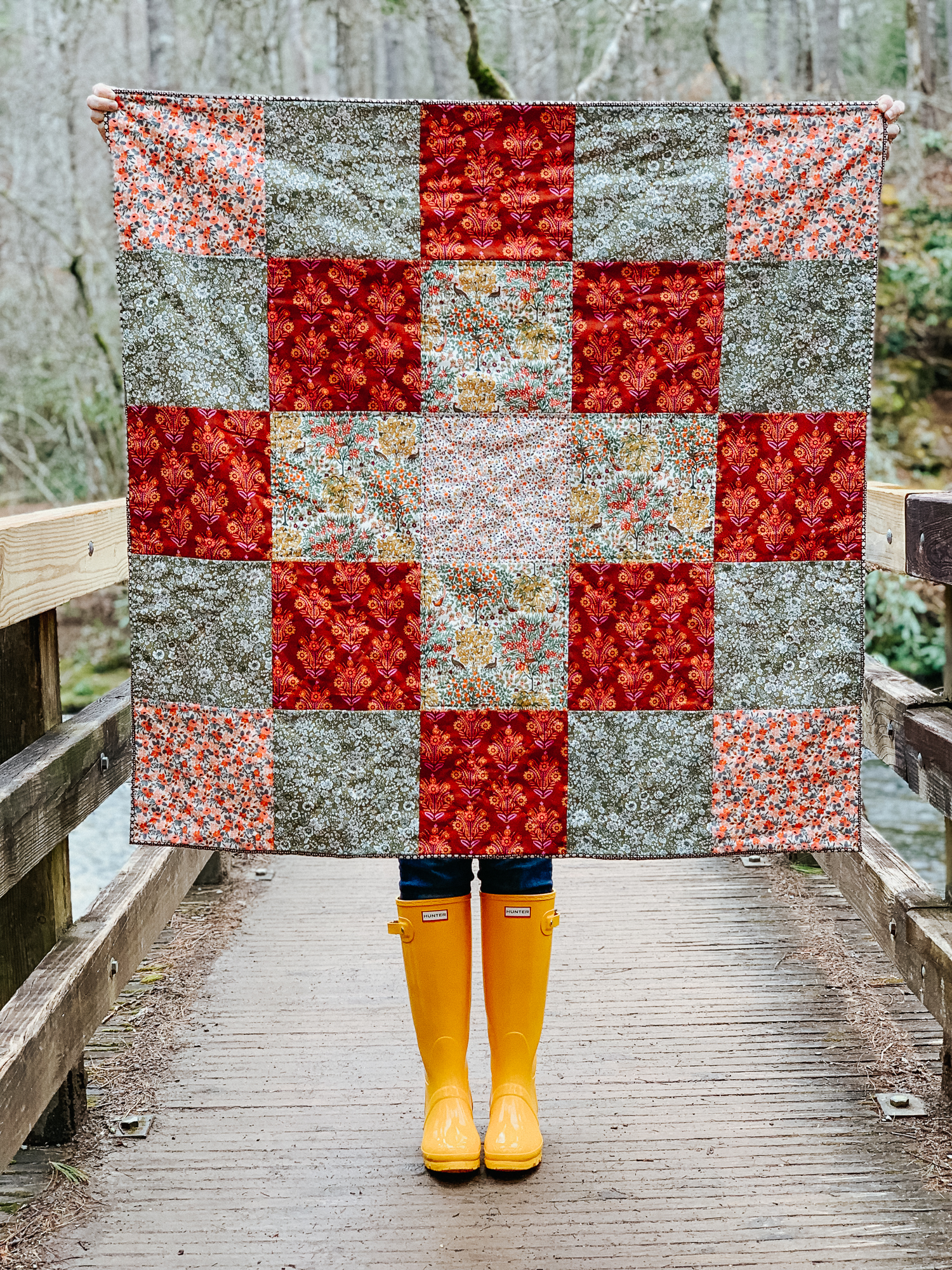 We are going to walk step by step through the whole process, and by the end of it you ought to be comfortable with the basic steps to making a quilt. I'm a "learn it right the first time and you won't have to unlearn the wrong things" kind of girl- that's how I prefer to learn- and that's how I'm going to teach you! I will be partnering up with my friends over at Jones & Vandermeer who will be offering complete kits for you to purchase so choosing fabrics will be super easy and you'll be sure to get something entirely beautiful! I'll also be linking up all my favorite supplies through Amazon before we get started so you'll have plenty of time to get what you need for the best possible prices. I'm so excited about this, I'm almost giddy! I'm thrilled for you to join me- and by the way, this little quilting course will be perfect for any beginner regardless of age! So tell all your friends, and I'll be back here Wednesday or Friday with a full schedule and supply list! Let me know if you are excited to join in!
See you back here Monday!
-Meredith