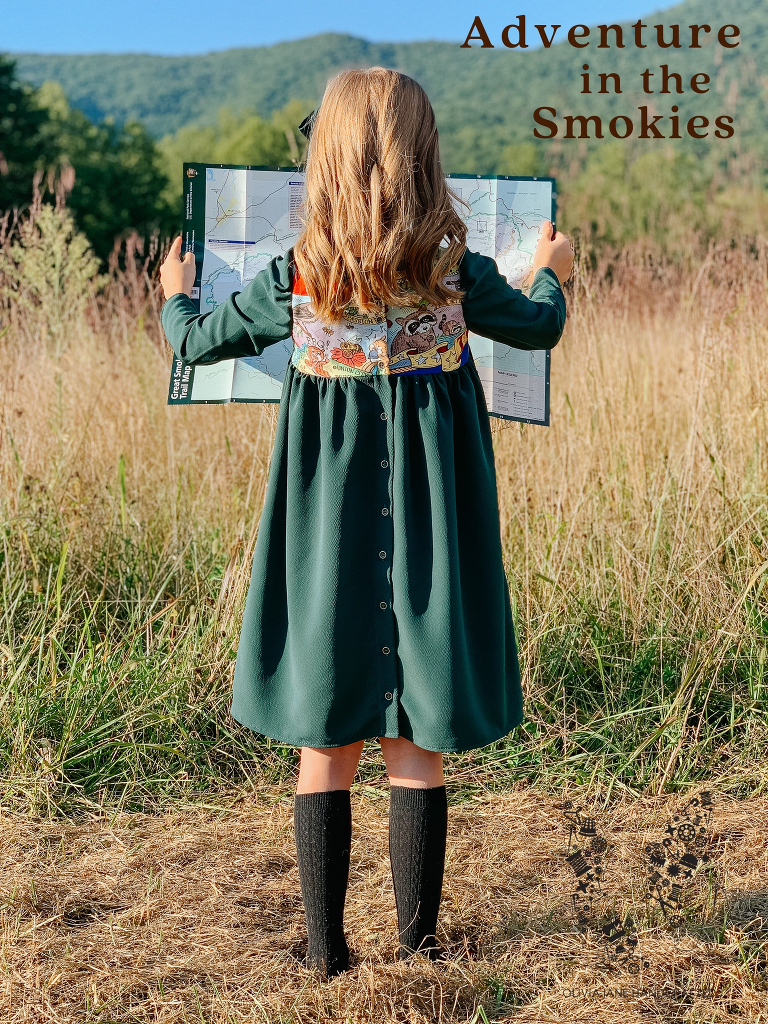 I am super privileged to be a contestant on this season of Project Run and Play! You can read my full post for the first week- the theme is "where I live"- right here, then hop over to their blog and vote for your favorite! We are each being judged on a single outfit, and we were encouraged to make a single garment that is well made, as opposed to many that aren't so great, and since only one can be entered/judged, I chose to stick with one for this week! I'm so excited to be a part of this competition and am so looking forward to seeing all the great outfits from my fellow contestants! Good luck to all of us.
The Great Smoky Mountains in Tennessee is where we call home, and while there are innumerable pop culture references that hail from our great state from Elvis Presley, to Dolly Parton, to Taylor Swift, life here is all about the adventure of being out in nature, spotting wildlife like bears and deer, and enjoying the beautiful landscape of the mountains. I wanted to create an outfit that nodded to our simplistic lifestyle, while giving a nod to the very area we call home.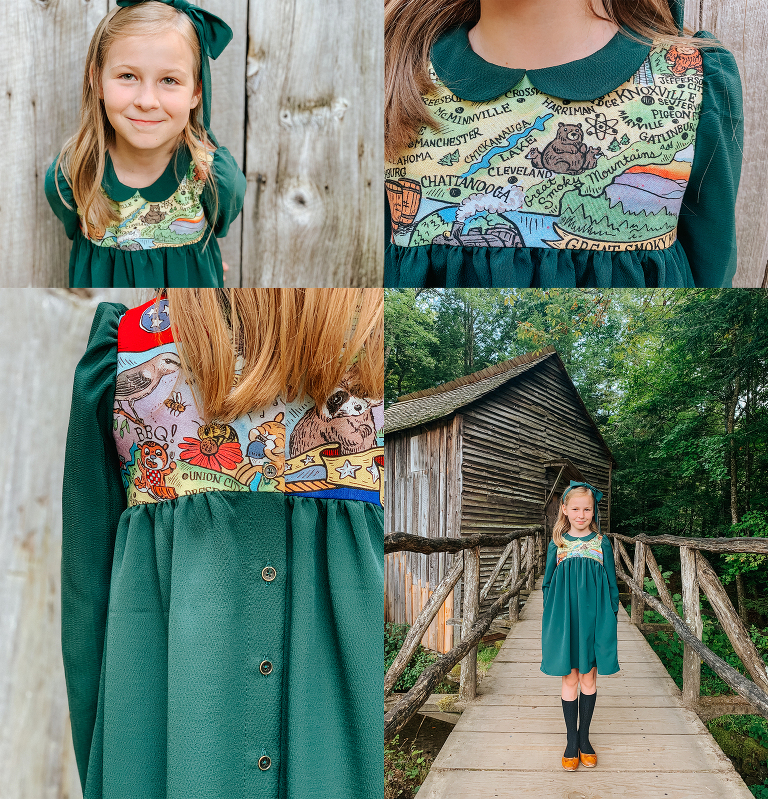 This was no easy task! Every time I went searching for a Tennessee related tea towel, like the one I had envisioned in my head, I was handed an something with a big orange "T" for the Vols, which is the mascot for the University of Tennessee which is just minutes away. I felt as though the folks trying to help me were a little aghast that I wasn't meaning to represent our local team, but I assured them I have copious amount of pride in the state of Tennessee. At last, I found what I was looking for at a local shop in Downtown Knoxville.
What began as a tea towel, adorned with a painterly image of Tennessee and its many landmarks, became the bodice for this dress. I carefully cut the space which showcased Knoxville and its sunsphere, Maryville, and the foothills of the Great Smoky Mountains.
We visit the Great Smoky Mountains National Park pretty much every weekend, and have done so since moving here a few years ago. We never tire of the changing colors, the mountainous landscape, or the wildlife! Its exciting every single time, traffic jams and all. I truly couldn't think of a better tribute to this Tennessee and our beloved Smoky Mountains than this practical, but beautiful dress.
Wanting to nod to the vast green landscape, I chose a deep green poly crepe for the rest of the dress. The crepe also added a beautiful drape which is what I wanted in this simple silhouette. The dress features a Peter Pan collar, long puffed sleeves, and a curved bodice which are all very feminine and clean features that add detail to the dress. The back of the dress has a full length button closure with bronze buttons from Jones & Vandermeer, and the back bodice showcases the Tennessee state flag, along with our state bird, and other local flora and fauna. Of course, the dress has pockets because every girl needs pockets! I also made a bow with the green crepe as an accessory. It can be worn as a headband or tied around a pony tail, though my girl prefers her hair to be worn down.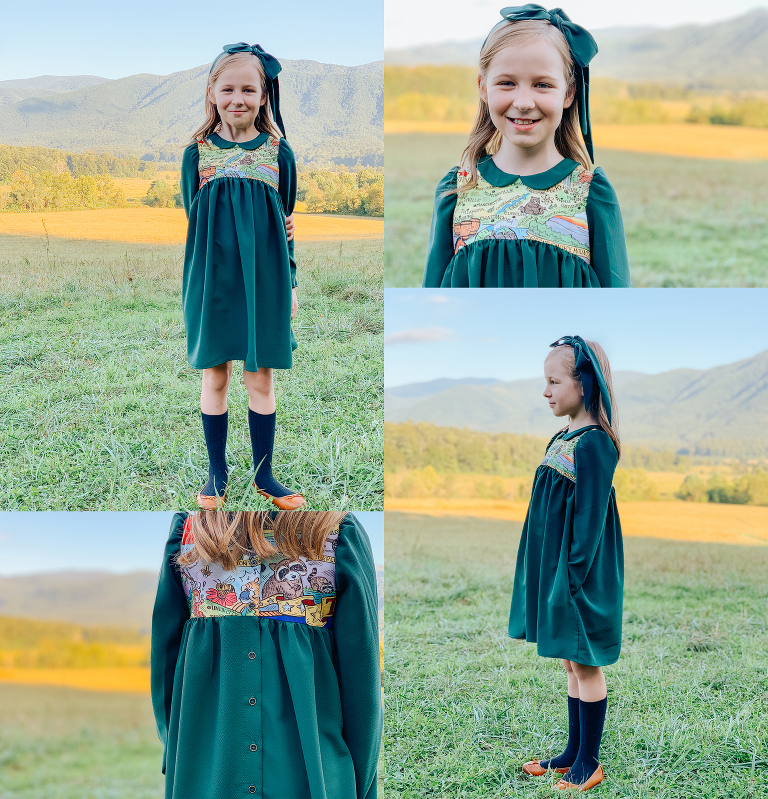 I used the Building Block Dressbodice as a starting point for this dress, and modified it quite a bit to fit my long and lean daughter. I love the Building Block Dress book, as it contains a basic dress pattern, but can be modified in hundreds of ways to make any number of garments from dresses, to blouses, to skirts. Its one of my most used books in my sewing library, and a great investment!
The collar, too, came from this book. The sleeve was modified to be quite full at the top, and the skirt was drafted by me. The bodice is fully lined with the crepe fabric.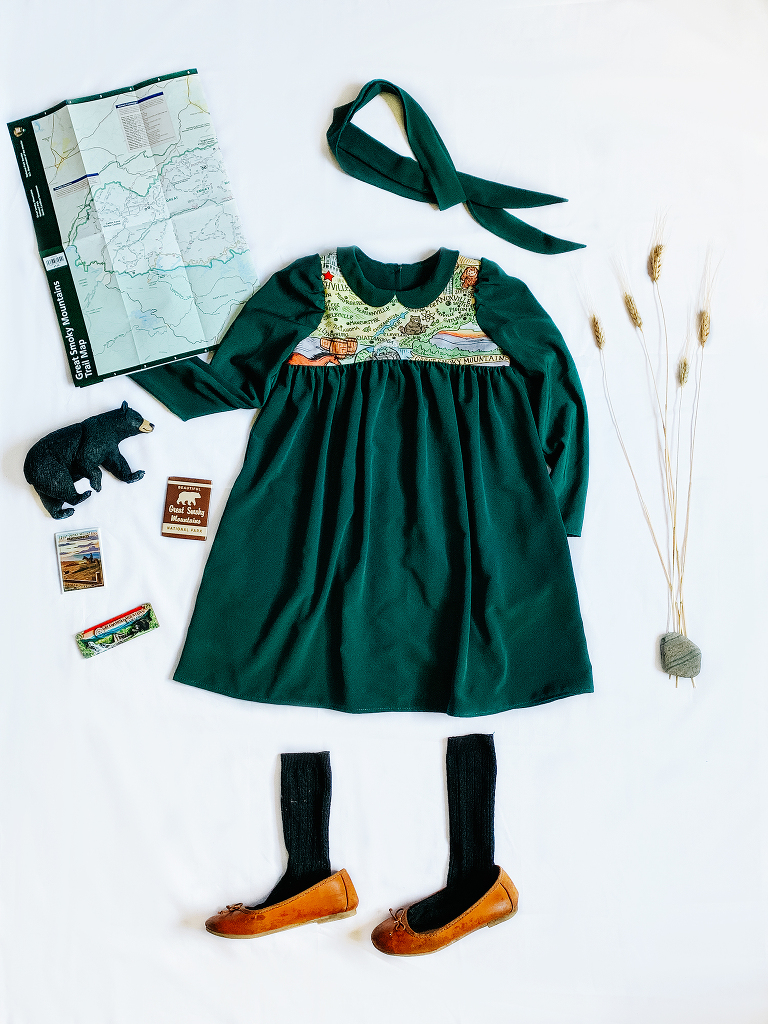 Please note: this post may contain Amazon affiliate links. This means that you get the very same low price, but Amazon will give me a small percentage of the sale which helps support my blog. I really appreciate it when you shop my links!