I'm so excited to share today's free project with you! I've written this tutorial in collaboration with Janome, and I used their spectacular combination machine, the Skyline S9 to create this project.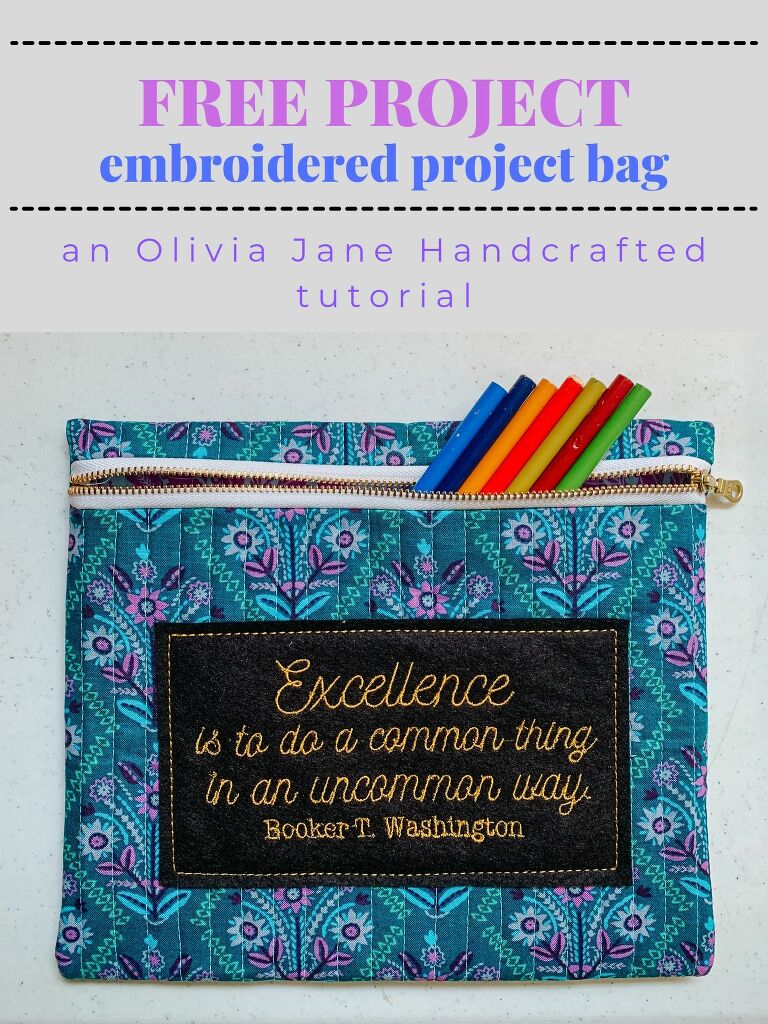 So what is it? Its an embroidered supply bag that's perfect for back to school, but you can easily take the concepts and apply them to other projects, from various bag styles, to pillows, to framed artwork featuring your favorite quotes. I have used both the embroidery and sewing functions of the machine to make this bag.
Its an easy project you can do in an afternoon, and if you aren't familiar with switching between functions on the machine, its good practice! Its much less intimidating that you might think!
Here's what you'll need:
felt- at least 10 x 12″ to fit into the RE20a hoop which is 170x200mm of embroider-able space
stabilizing paper
fabric- two fat quarters for the exterior and bag lining
batting- two pieces at least 11×10″ and 11×8″
zipper 10″
coordinating thread
machine & cutting tools
optional- download this embroidery file with Booker T. Washington quote, or make your own in Artistic software
Begin with embroidery
To begin, download my file for this Booker T. Washington quote (you'll need embroidery software to be able to open the .jef file), or create your own in the Artistic software. Transfer to a USB, or via wifi to the Skyline S9, or whatever embroidery machine you have.
Make sure your machine is set up with the proper plate and foot, and turn on the embroidery function. Open the file on your machine.
Prepare your hoop for embroidery. Use your stabilizing paper, then felt, and make sure it is taught within the RE20a hoop, which is the biggest hoop that comes with the Skyline S9.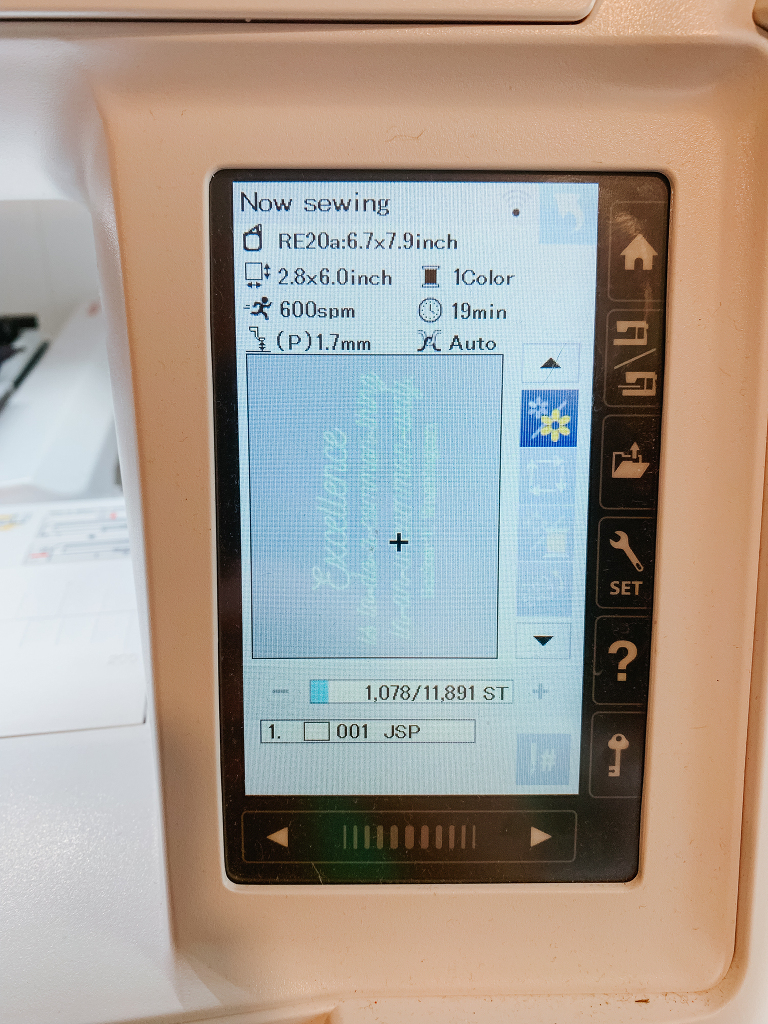 Make sure your needle is threaded, and press START, and watch your embroidery come to life. I love this part!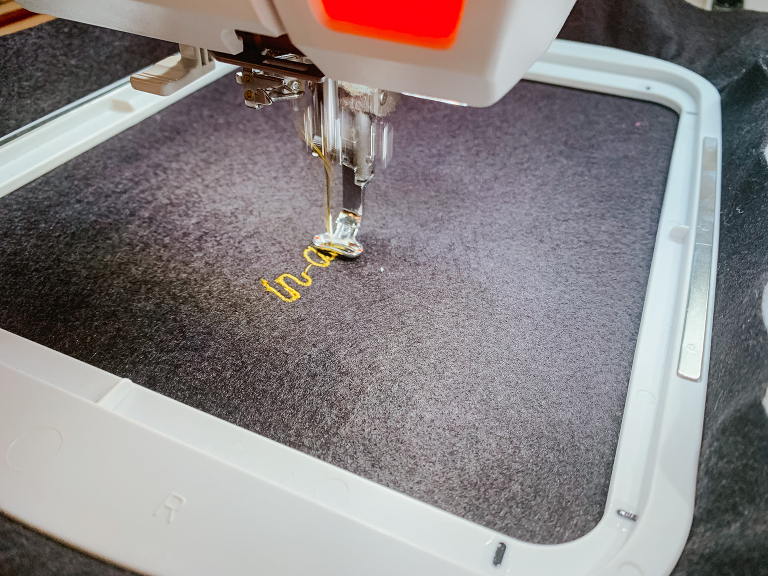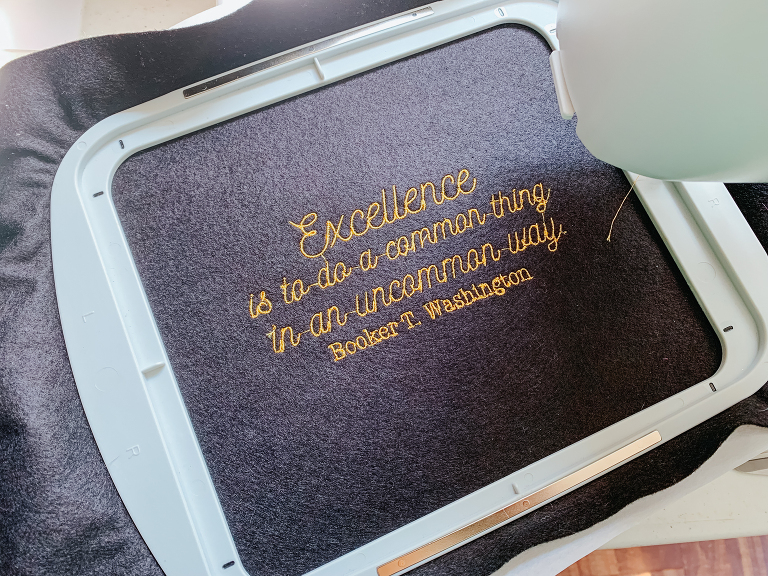 Once it is complete, remove your hoop, trim your felt to 7×4″ and carefully remove that stabilizing paper away from the backside of the text. You can carefully trim the little threads between the letters if you want. Set aside. 
Prepare your machine for sewing
Close the embroidery arm, and switch out your plate for regular sewing. Swap out the embroidery foot for the walking foot. Make sure you engage the back of the walking foot by pressing the hook into the back after you have screwed it in place.
Cut your fabric and batting
You can either prepare your fabric as a single piece prior to cutting, or you can work with two pieces. I have worked with two separate sections, and you'll see directions for this method throughout.
From your fabric, cut: 1 (11×10″) piece and 1 (11×8″) piece from both exterior and lining fabrics (you can totally cut them a little bigger if you need more of an allowance for your quilting)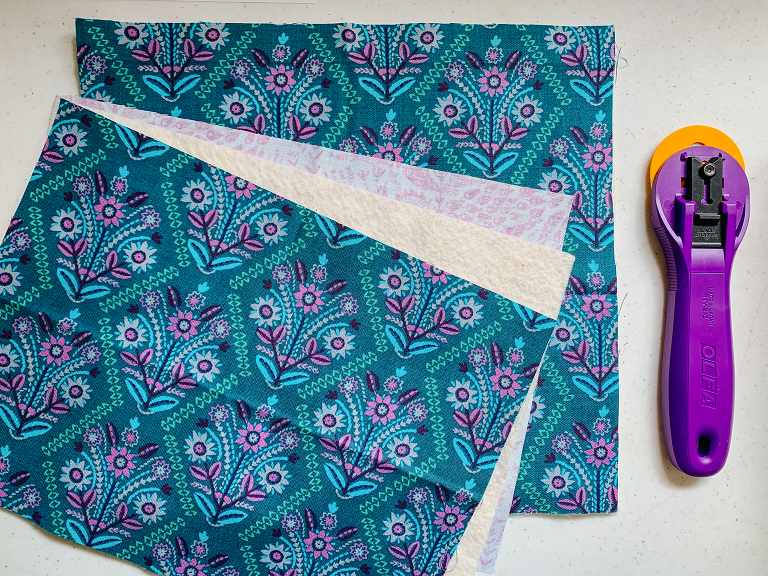 Baste and quilt your bag panels
Layer your lining, right side down, batting, and exterior right side up. You will have one quilt sandwich with the 11×10″ pieces and one with the 11×8″ pieces if you chose to do two separate sections like me. You can spray baste if you want, or pin in a couple places, but these are small pieces and you may not find this necessary.
Quilt in whatever way makes you happy through all three layers on both of your little quilt sandwiches. I used straight lines about 1/2″ apart.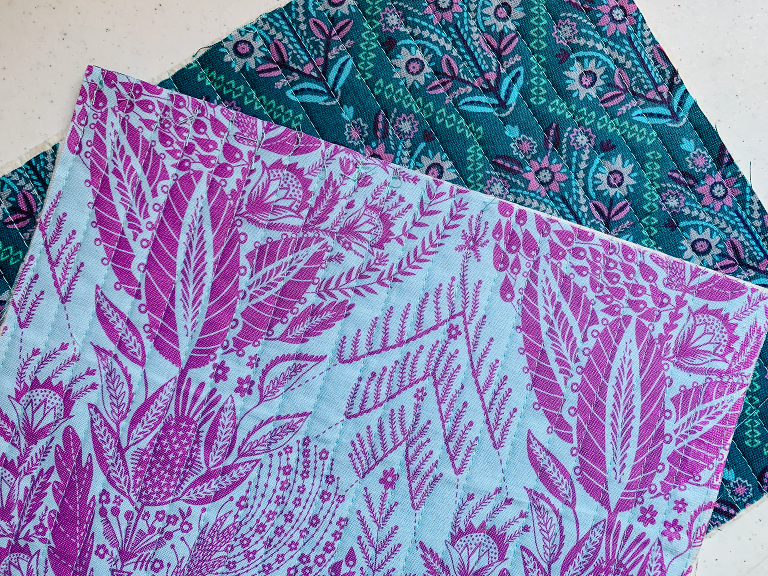 Trim your quilt sandwiches to 10.5×9.75″ and 10.5×7.75″ respectively.
Sew your embroidered felt to the bag front
Center that felt embroidery to your 10.5×7.75″ section, and use whatever stitch you like to sew it to the panel. The Skyline S9 has a ton of gorgeous appliqué stitches as well as many decorative stitches built right into the machine. Just remember to switch to the proper presser foot depending on the stitch you choose. I have used a simple straight stitch since felt does not fray, but get as creative as you like!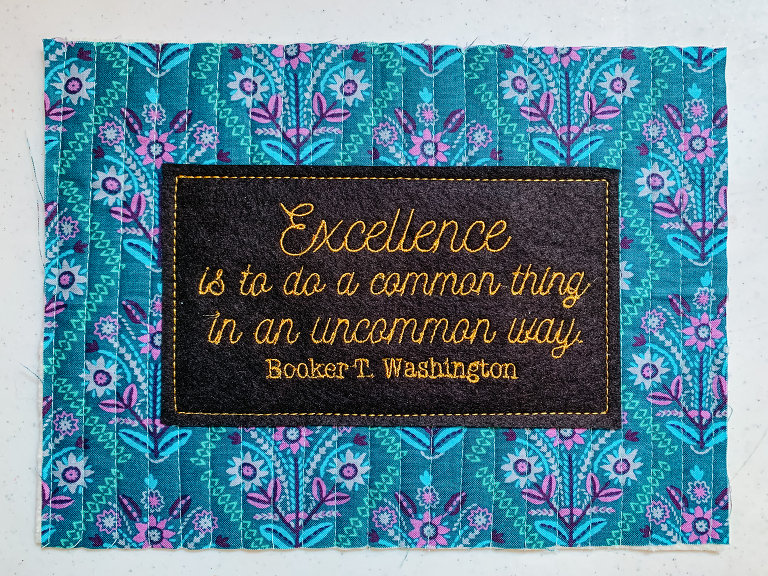 Assemble your bag
We're nearly there now! The first thing we're going to do is attach the two bag panels along the bottom edge. Place your front and back panels right sides together (so that you can only see the lining sides) along the bottom edge, and sew a 1/4″ seam along that edge.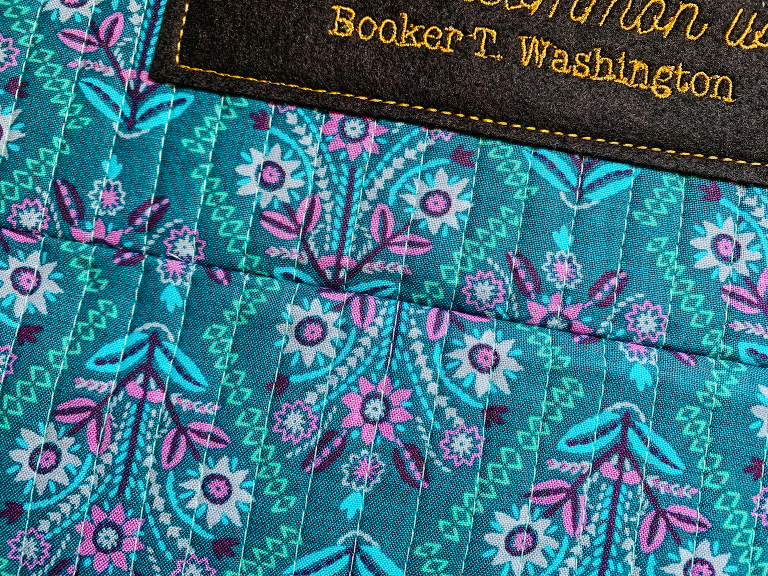 Press that seam toward the back of the bag, and then sew a line of stitches 1/8″ from the edge so that you catch your seam. This will flatten that seam, and stabilize it.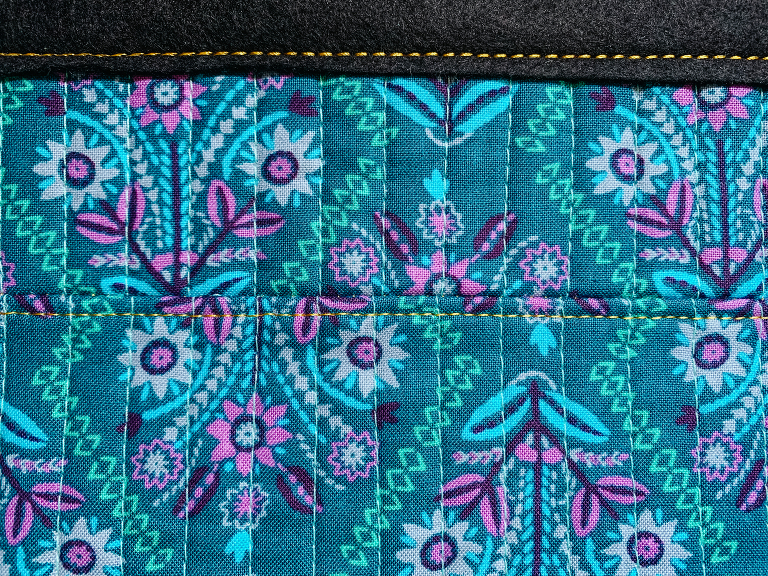 Now we will install the zipper. Switch out your walking foot the the zipper foot. Place your zipper right size DOWN onto the front of your bag along the top raw edge. The zipper teeth should be about 3.8″ away from the side of the bag, so that when you sew up the sides you won't break your needle on the teeth. If your zipper is longer than the bag, don't sweat it, I'll tell you how to fix that issue. Just make sure the zipper beginning it about 3/8″ in from the side.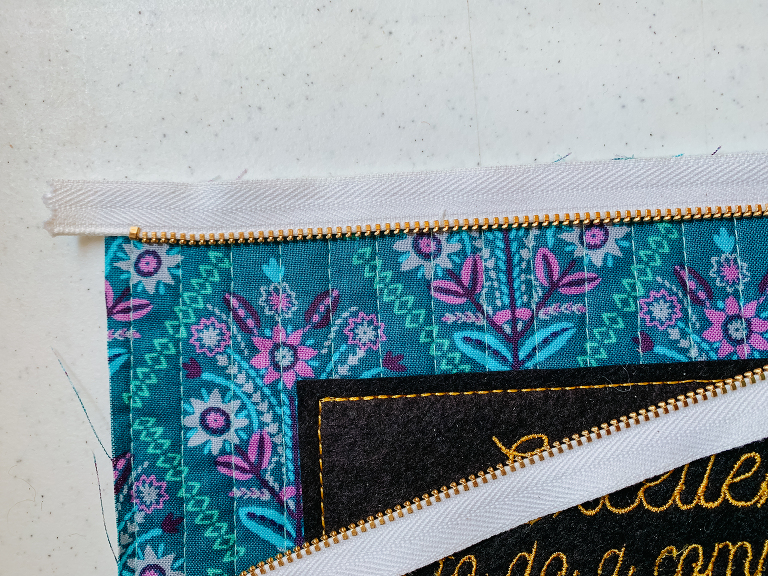 Stitch 1/4″ from the raw edge using that zipper foot.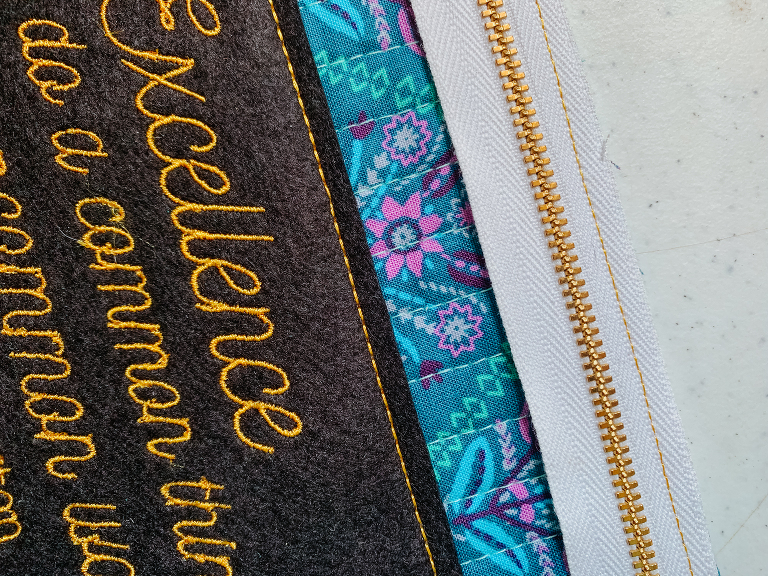 Now fold your panel around, so that you can attach the other side of the zipper tape to the right side of the back panel.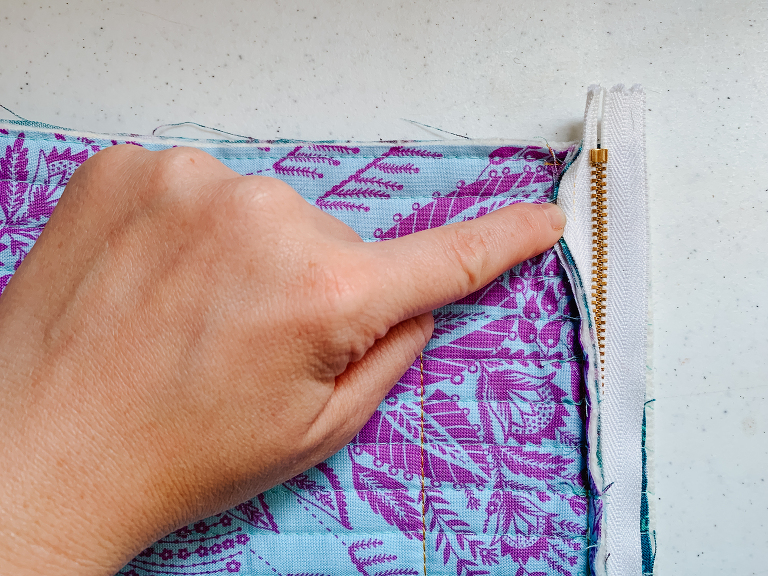 It will most likely be helpful to close your zipper for most of the stitching here. When you come to the zipper pull, keep your needle down, but raise your presser foot so you can unzip it and keep stitching unencumbered by the bulk of the zipper pull.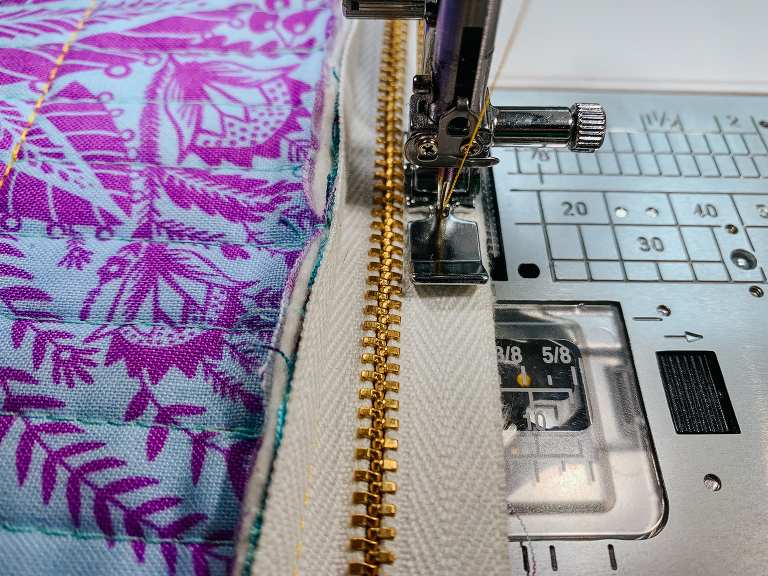 Ready to stitch up the sides? Fold your bag in half, right sides together. You will fold so that the bottom seam is right at the base, and the top is actually the back panel folded down a bit because the zipper opening will be on the front side of the bag. Keep your zipper open by several inches because you'll have to turn your bag right side out through this opening after you've stitched up the sides. You can keep your sides pinned or clipped and remove them as your stitch.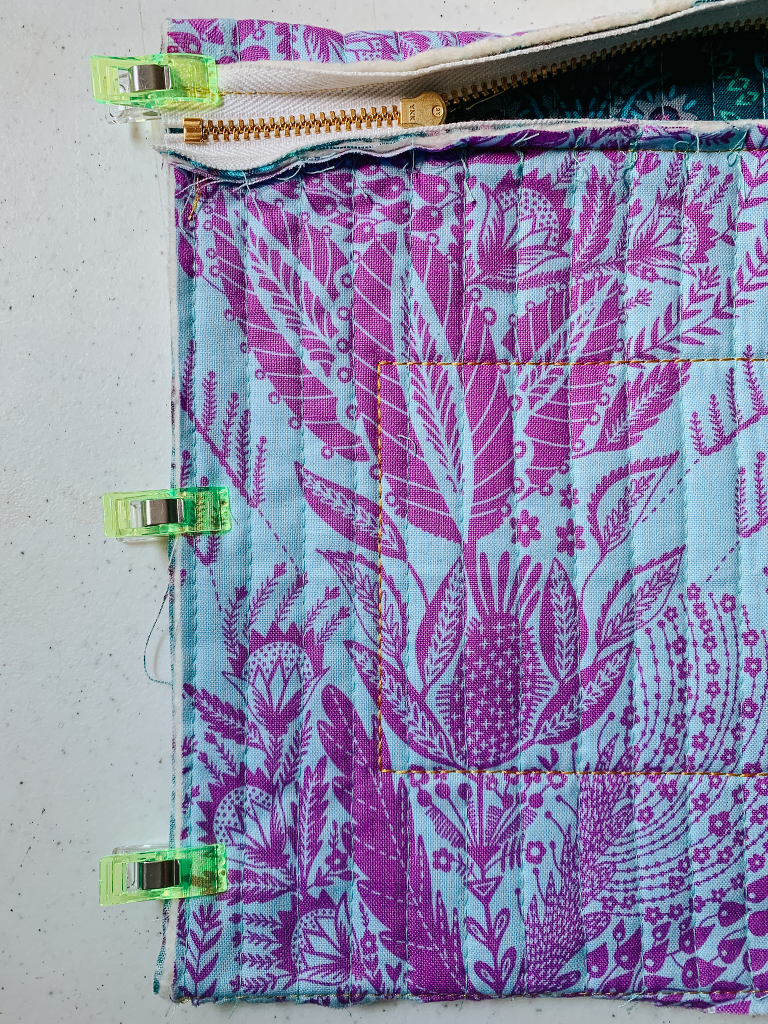 Stitch 1/4″ from the raw edge on the side, backstitching at the beginning and end. If your zipper teeth are within your seam allowance, stitch up to that point, backstitch, and then raise your presser foot and move your back just to the other side of the zipper teeth, backstitch and then finish stitching to the end of the seam. This will keep you from breaking your needle which you absolutely want to avoid!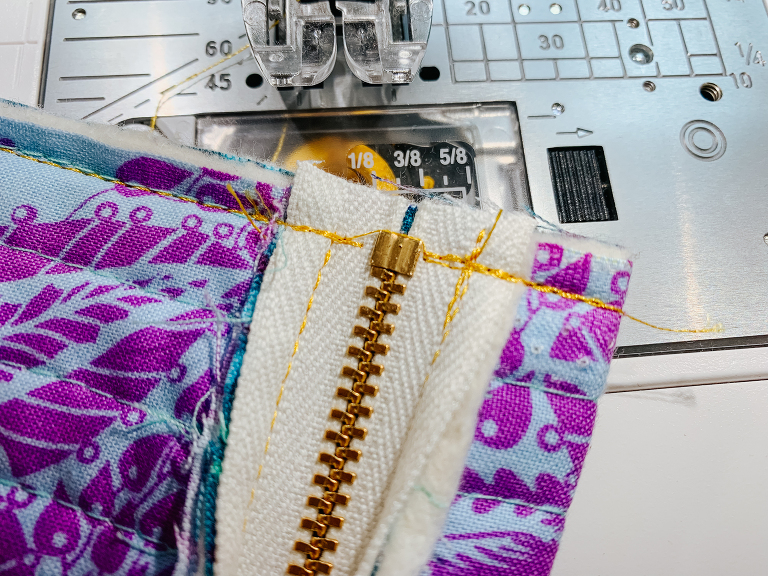 Turn your back through the open zipper and give it a good press, and you are ready to fill it with goodies and put it to good use!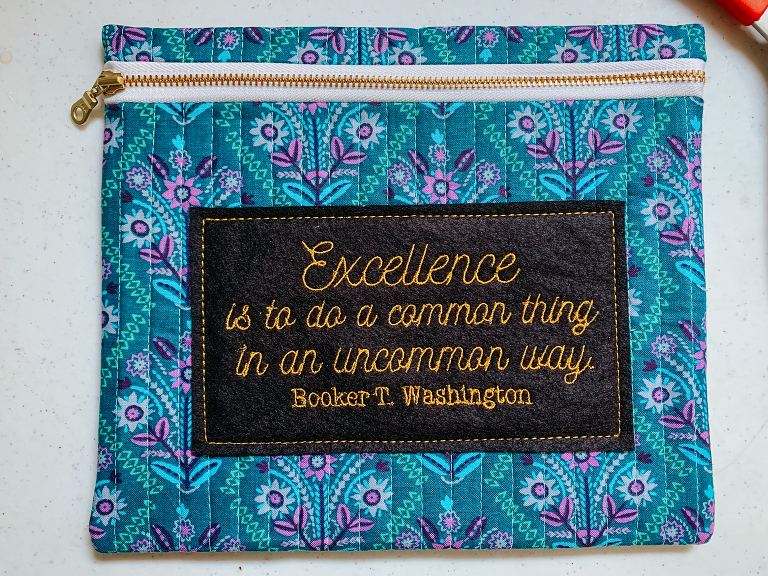 Bonus tip: You can totally stitch about 1″ from the bottom edge, then install grommets for use in a notebook- you may want to make the pack a little wider if you choose to do this!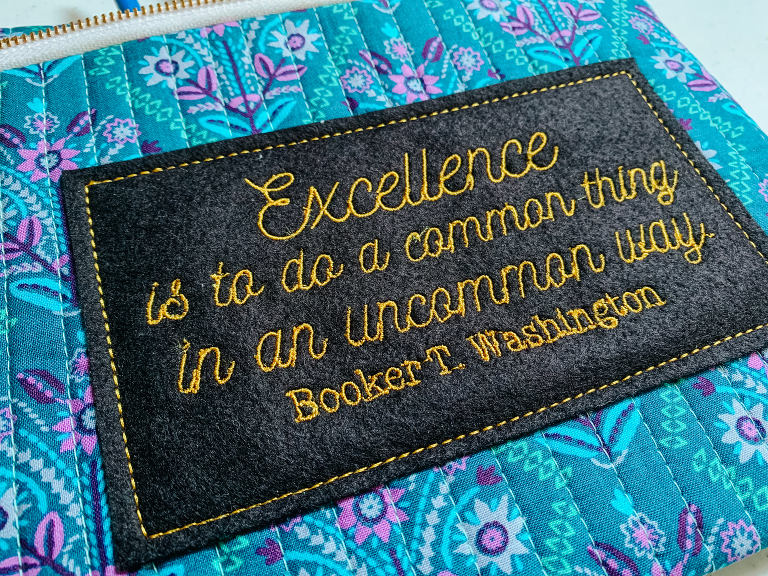 I would absolutely love to see your project if you use this tutorial! Share it with me by tagging me @thefooshe on Instagram and by using the hashtag #oliviajanehandcrafted and #janomeproject
Please leave any questions you may have in the comments section, and I'll get back to you as soon as I can!
-Meredith