Did you catch my panelist intro on the Oliver + S blog a week or two ago? My plan was to make Layla a Swingest Skirt that would be reversible and have three layers, with the middle one being the longest.
I made two minor changes to the final product, and I just love it! Let me tell you about it!
I began with a Liberty lawn, a Liberty chambray, and a hot pink georgette. I tossed the georgette pretty quickly because I hated working with it and it wasn't close to the same quality as the Liberty I was working with. So I switched it out for a light pink solid cotton I had in my stash. It was far easier to work with, and I like it just as much.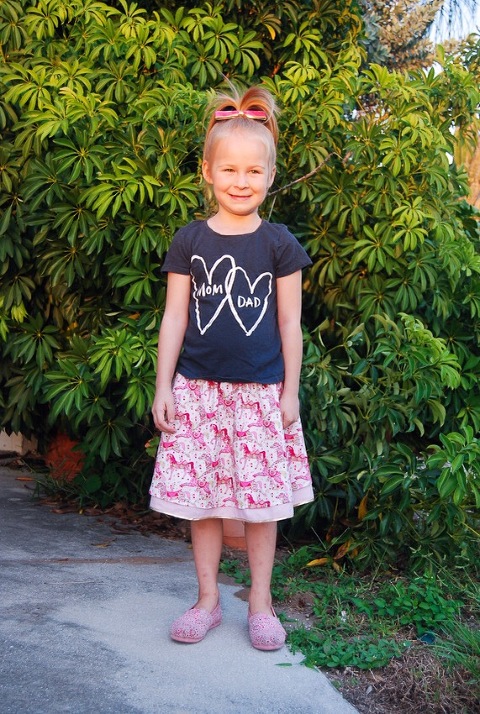 How did I incorporate three layers into a two layer skirt? It was actually super simple! I used the Lining template to cut out my main Liberty fabrics and the Main pattern piece for the solid pink. I wanted to be able to see the gold lined pink on both sides of the skirt. I sewed French seams on the sides of all pieces, and on the pink, I sewed the [already finished] seam down with an edgestitch to give it a fully finished appearance on both sides. I then layered the skirt pieces as follows: pink solid, horse print right side out, and chambray on the outside wrong side out. I used a few pins to keep my edges clean and even since I was using a few layers.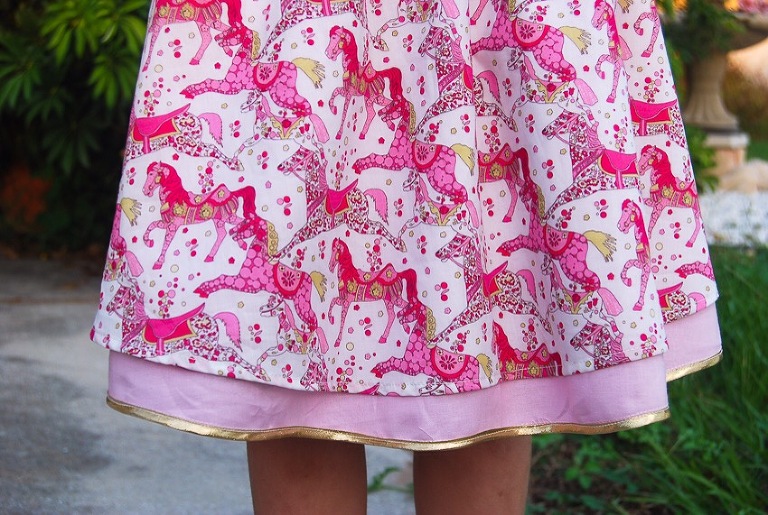 Now the other change I made was to exclude the drawstring at the waist. This was not part of my plan going into it, but as I thought about the child who would be wearing this skirt- and her constant need to mess with things- I decided that I would rid her of the temptation to pull out the drawstring by eliminating it. In addition, at her age she's going to grow upward before she grows in girth so I felt I could get away with doing this. Instead of the drawstring, I simply added a third elastic band.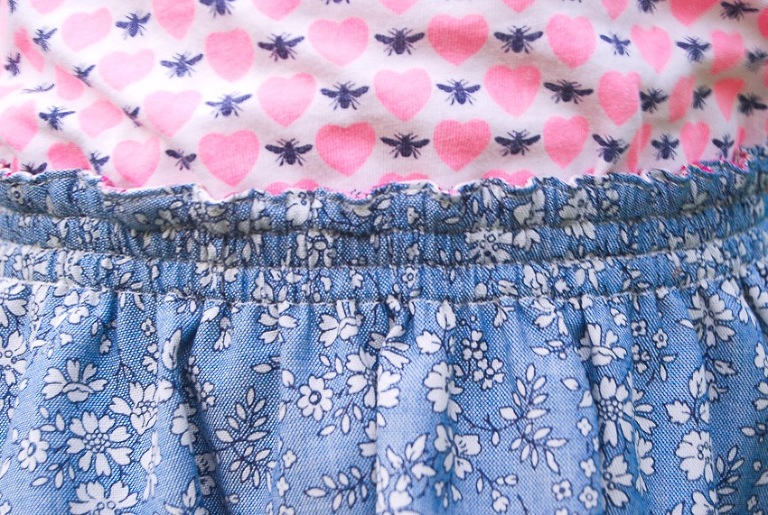 I hemmed the outer layers as instructed, but decided to use gold binding on the pink layer for an extra pop of fun. I love it, but I grabbed the wrong bias tape and its too narrow for my liking. I had to do the double fold since it didn't come this way. I will probably change it out for standard 1/2″ double fold binding when I can get to the craft store just because I will like the look more and I think it will be a bit cleaner. I didn't even bother using metallic thread because it pulls in my machine and I very much doubt anyone will notice the white.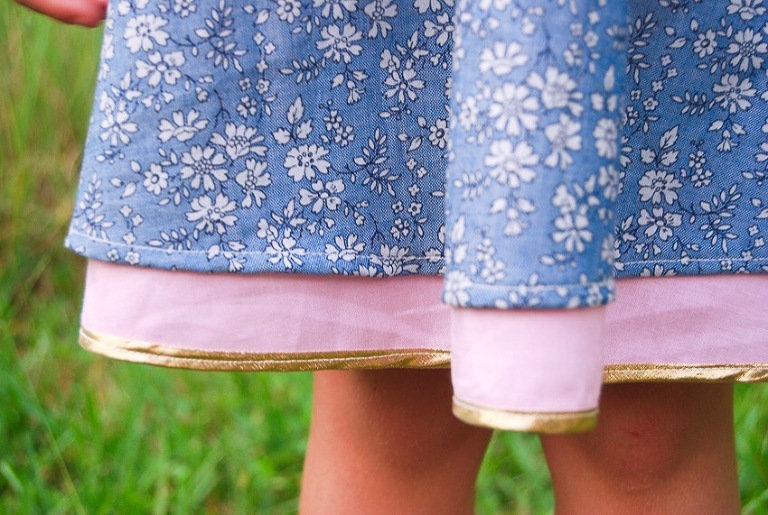 Layla did just what I thought she would and sported both sides of skirt with a simple tee or tank. She's just a laid back girl, and while this skirt is particularly girly, she will make it her own. I fully expect to see it paired with a clashing tee shirt and glitter tennis shoes in the near future.
 I had such fun with this make! I have another Swingset Skirt to show you in the next day or two, so drop back by to see it! I hope you are joining us over at Oliver + S for this fun sew along. There is a $100 gift card up for grabs, so get on over there and show us your skirt! Imagine the incredible wardrobe you could put together for one or multiple children with $1oo in the Oliver + S shop!