About a month ago, my friends at Jones & Vandermeer asked if I'd like to sew something up with their brand spanking new, exclusive Liberty print, Betsy Neon Coral. I said yes faster than the speed of light, and also picked up a copy of the Deer and Doe Aubépine from their shop. 
The dress came together very easily. Deer and Doe always does an amazing job of drafting and writing their patterns, so everything was very straightforward. I definitely recommend this, and any of their patterns! I'll talk more about the pattern when the sun finally comes out and I can get photos in the second one I made. 
But lets talk fabric, shall we? This particular color of Betsy (which is tied with Wiltshire as my all time favorite print) is so soft but eye catching. The blue flowers and green leaves are light but not too light. There are soft pink flowers throughout and all of it punctuated so nicely with the emerald green and neon coral. Its so gorgeous in person. I won't pretend my photos do it any justice, though the closeups do capture the colors more accurately because I think the brick is throwing off the color in the full body shots. 
The fabric is lawn, Liberty's classic lightweight cotton that many people describe as being silk like. Its ideal for warmer weather, but I only like to wear flowers (big surprise, I know), so I will be wearing mine all year even if I need to pair it with tights and a blazer or sweater. If you haven't worked with Liberty lawn before, I'll tell you its the highest quality cotton you're going to get. Its finely woven with a much higher thread count than your standard quilting cotton. Despite its light weight, its extraordinarily durable and holds up well in a variety of uses from the more obvious clothing to things like pillows and quilts. I never prewash it because it doesn't shrink. I've written all about working with this particular fabric here if you'd like to learn more about sewing with Liberty tana lawn.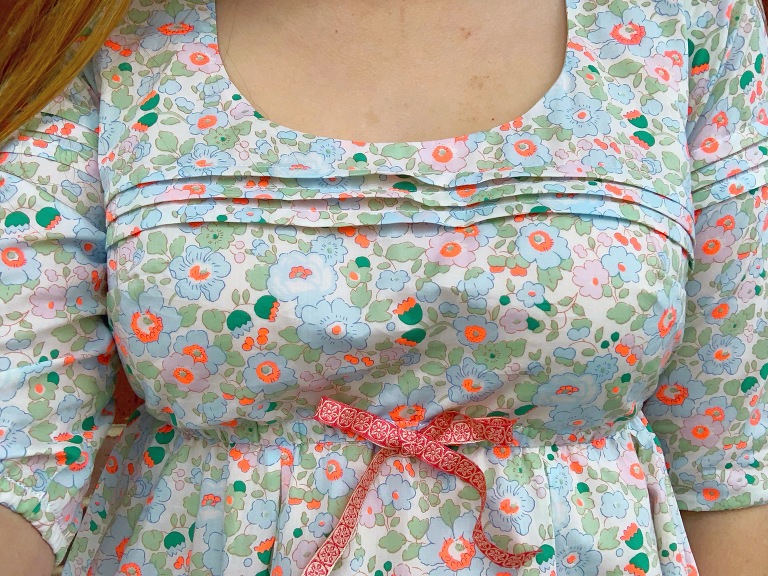 Jones & Vandermeer also carry a few other exclusives among their huge selection of Liberty. You can see the dress I made with their exclusive Wiltshire here, and the dress I made for Layla with their Betsy on chambray here. 
I love buying anything at Jones & Vandermeer, and while they did send this along for me to work with, I frequent their shop quite regularly because they have such a uniquely curated selection of fabrics, notions, and yarn. They always cut foreign fabrics, like Liberty, by the meter instead of the yard but still only charge $36/meter which is the best small business deal you can get in the US. I love those generous cuts! They also offer free shipping on all domestic orders over $60, so I've never actually paid for shipping. I really hate paying for shipping. 
Be sure to head over and check out the new Betsy. Exclusives this good always go quickly in the world of Liberty collectors, so get some while you can! While you're there make sure you check out all the other goodies!
This post is not sponsored in any way. I was sent the fabric to use as I so choose, and all opinions are my own. 
-Meredith