I've been feeling a need for some changes in the wardrobe department. I'm trying to accept that the world thinks the 90s grunge look is cool right now even though its just awful, and that my body isn't the same as it used to be and I need to dress to make it look good the way it is rather than trying to fit it into a smaller mold. sigh.
So I've been exploring patterns and seeing what is different and new. I'm really glad to have a subscription to Seamwork because I get two patterns a month for only $6. No, I don't love all the patterns, but I only have to use my credits for what I want, and I can use the others toward Colette patterns if I want. Also, two patterns for $6 is pretty freaking fantastic.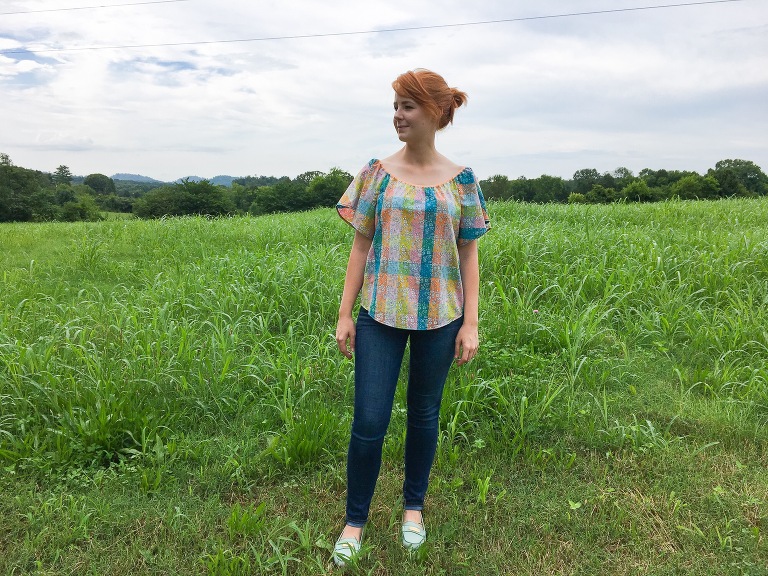 The first pattern I chose to try was Loretta, which is described as "a modern peasant top". Its on trend right now with the loose, flowy, and flouncy look that's everywhere. So why not? If it isn't the most complimentary look, I can at least get a season of wear riding on the "trendy" bandwagon. It can be worn on or off the shoulder which is also a thing right now.
Loretta comes with two versions: one is tunic length top to be worn with a belt, and the other is a blouse length top. I made a hybrid. I didn't love the blunt cut of the blouse, and the tunic length was too long for my taste (because when your derriere sticks out a mile, tunics are not super flattering, ahem). So I took the curved hems from the tunic, and added them to the bottom of the blouse. Easy peasy.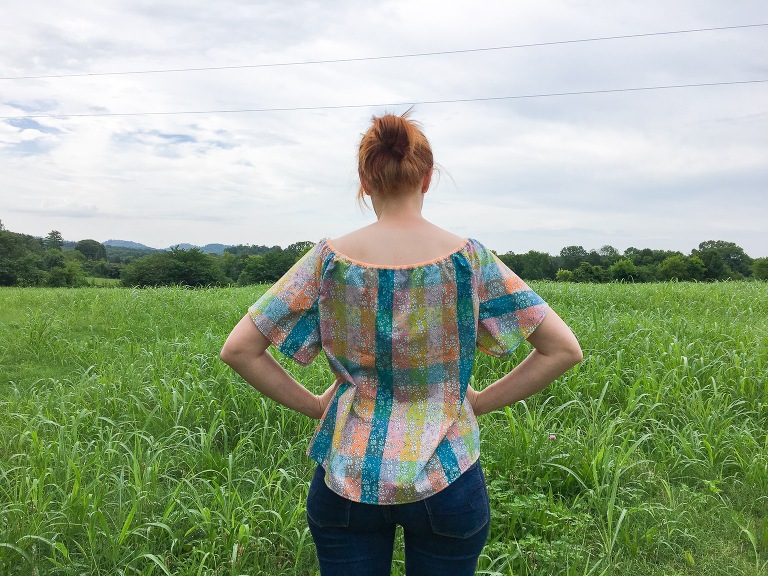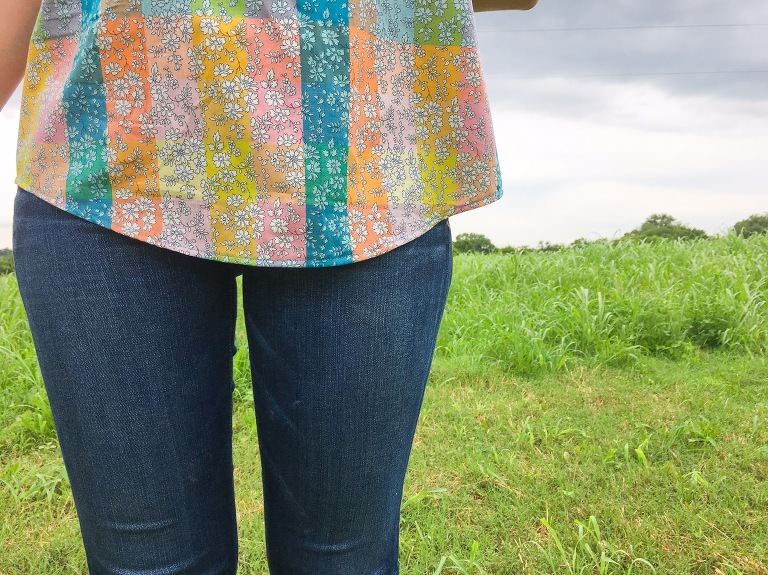 I was thrilled I could get this blouse from just over a yard of 46″ wide fabric! I had to place the sleeves at different angles on the fabric, but I think its fine considering they are supposed to be flouncy. I also cut the bias neckline from a coordinating solid because I could.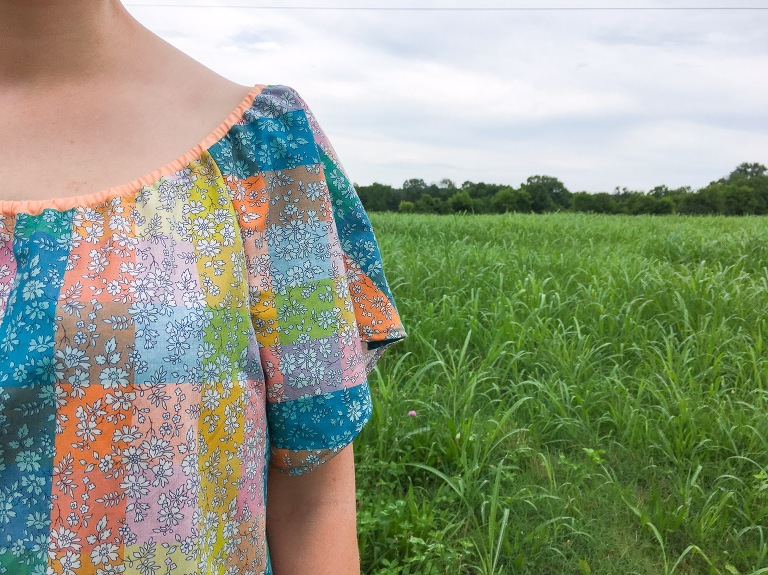 The pattern and the fabric are a great match. I think they both scream "summer". The fabric is a madras lawn with their iconic Capel gracing the print. I have been saving it forever for the perfect project! I picked it up from Jones & Vandermeer forever ago. They are sold out of that particular print, but this one featuring Nina is basically identical.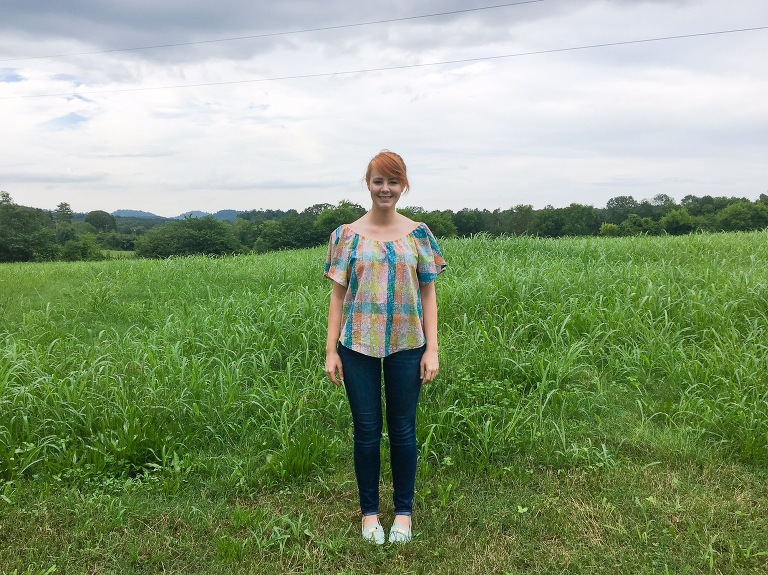 The top is a different style than I'm used to for sure. But lately I've been living in band t's, so its a good change. No, its not the most flattering silhouette on my body, but paired with skinny jeans, I think its a cute look. I'm planning a second version that I'll lengthen to a dress, and I'll likely use rayon. I think it will be beautiful!
Loretta was easy to put together like all Seamwork patterns. They are designed to be made in just a few hours and this was no exception. I used French seams throughout rather than going through and and serging the raw edges. I do love my serger to death, but when using a lightweight cotton, I find I want a cleaner finish, and nothing beats a French seam.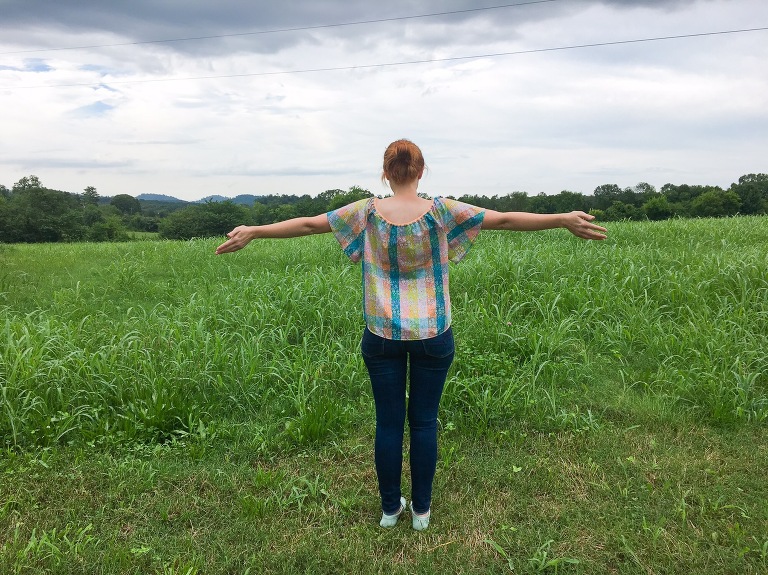 Do you subscribe to Seamwork? What is your favorite pattern from them? They have over 60 patterns to choose from, which I love. I think there's something for every season and every shape. As I said before, I don't love every pattern, and I have a hard time envisioning what something will look like on me if the model is a completely different size and shape, BUT you just can't beat two patterns with multiple versions for $6 a month. That includes a magazine full of helpful articles.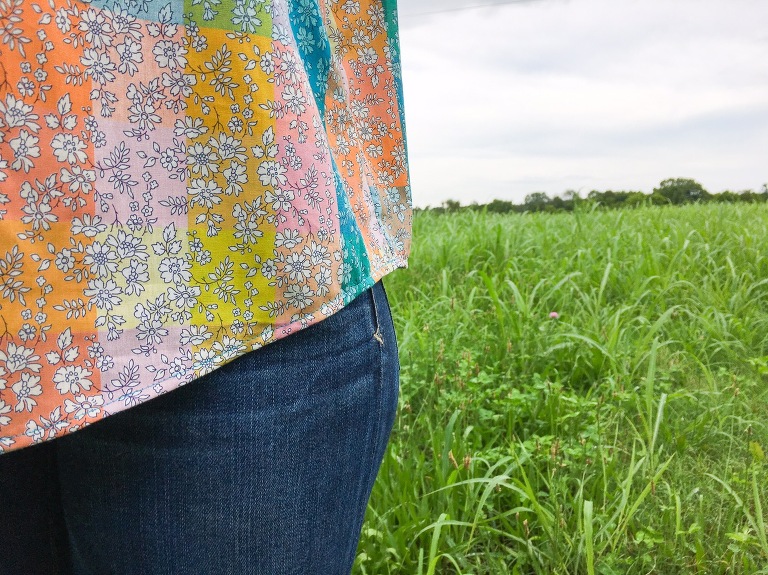 If you don't have Seamwork and would like to add to your handmade wardrobe, you ought to at least check it out. You'll get half off your first month and I'll get credit too. win win.
I made the Georgia shift dress yesterday and I'll be making Veronica as well, so stay tuned for more Seamwork reviews. And let me know which patterns you love! I'm in the market for some good ones!
-Meredith