I'm getting a head start on birthday crafting this year. I've been searching out projects for little boys since we'll be having one join our family before we know it. I thumbed through my most favorite craft books, and couldn't put down Liberty Love by Alexia Abegg. I love that book so much, and before long, I think I will have made every single project. Its just that good.
Anyway! I began picking out quilts I must make for Baby, and was so taken with the Sixteen Patch Postage Stamp Quilt. Yes. I think both of the children need one of these! I immediately began to choose a full spectrum assortment from my Liberty stash for Layla's quilt.
After cutting and sewing together the postage stamp blocks – which was incredibly gratifying, let me tell you – I needed the double gauze. I'm so so grateful for friends in the crafting community because I was so clueless about gauze, which was the other recommended fabric for this quilt. I was unsure of how well it would play with the Liberty since this will be a quilt that I actually will put in the machine. So thank you, Ashley, for all of your advice on the subject!!! I made yet another purchase from what has got to be the coolest little shop, Jones and Vandermeer, and within three days I received some Nano Iro double gauze and the quilt top was complete. Just a little note: I also get a lot of Liberty from Jones and Vandermeer. They have a great selection of prints, including the new Spring/Summer line for 2014!
This is the completed quilt top: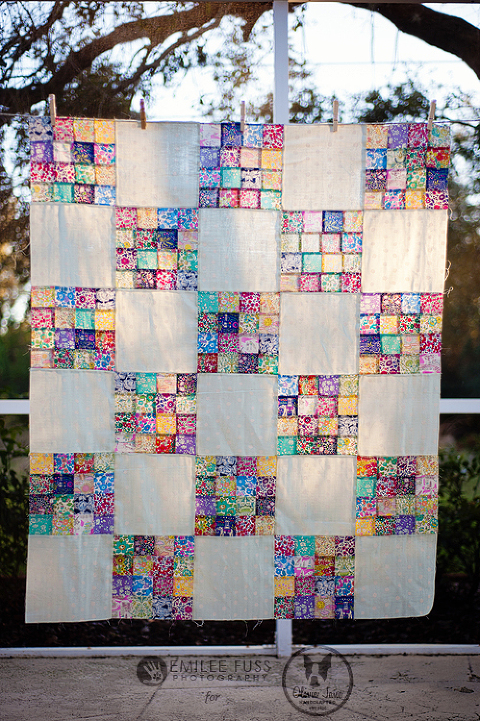 I'll be getting the background fabric tomorrow, also from Jones and Vandermeer, so after work I'll be basting and preparing to hand quilt this beauty!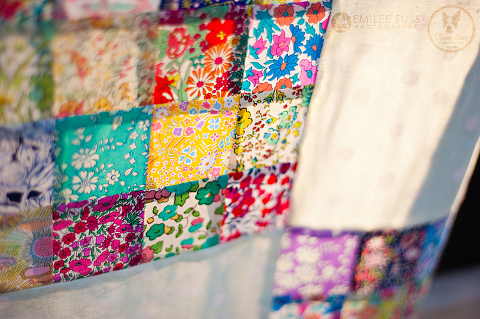 Layla has seen the quilt top, but she has no clue its for her. She keeps going on and on about how beautiful it is and how much baby will love it. I can't wait to surprise her on her birthday!!
See you back here tomorrow with another Liberty project.
-Meredith