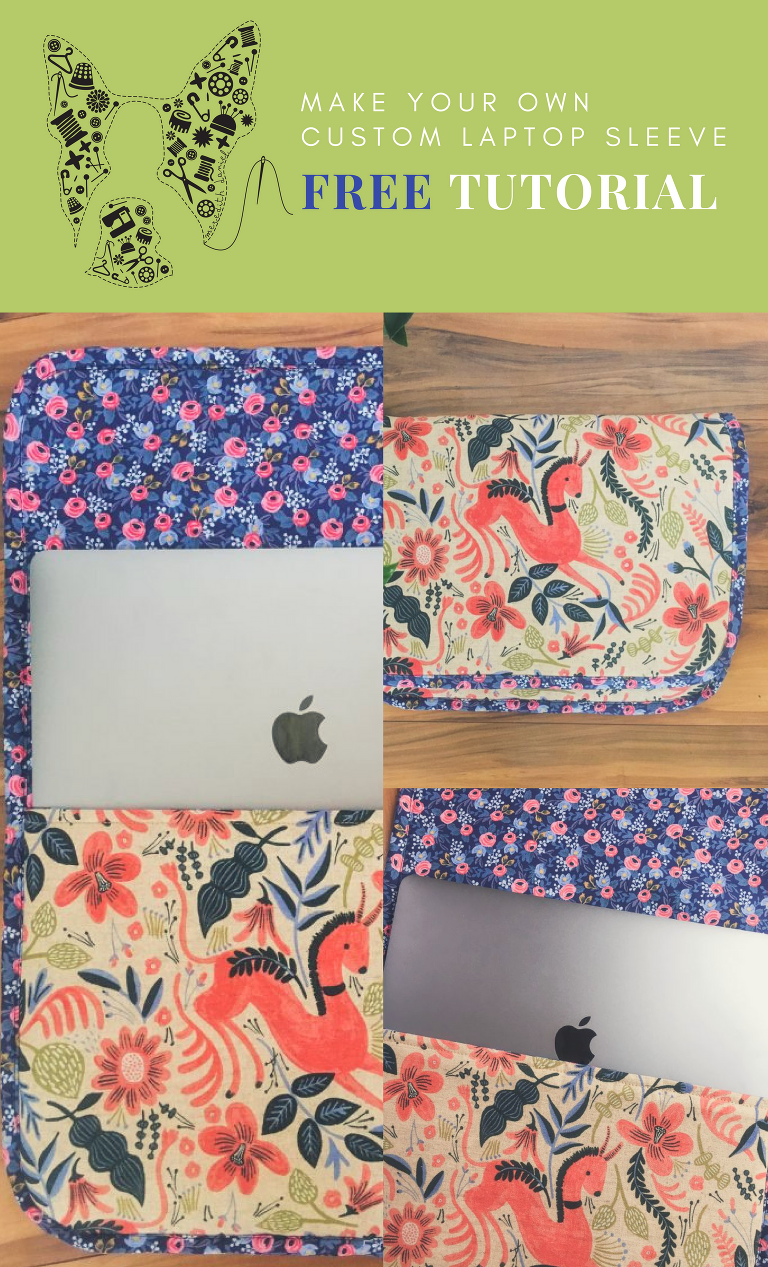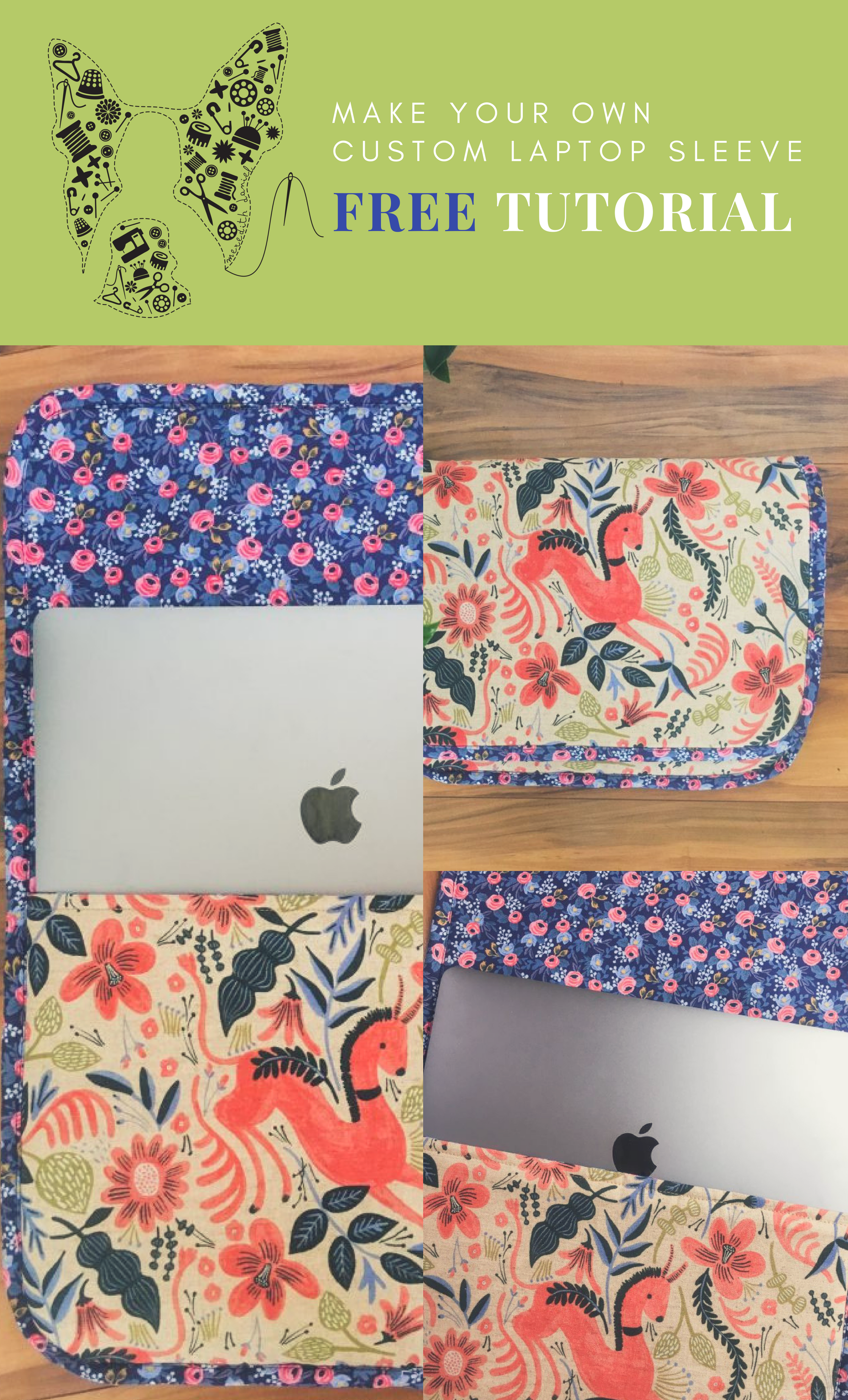 It has been way too long since I've posted a tutorial. I've given myself some space with all the moving around we did last year, but I'm quite happy to get back to it. My spring project for Janome is a laptop sleeve. I needed protection for the new computer, and I thought you might like to make one for yourself too. You can use the same idea to make a cover for a tablet.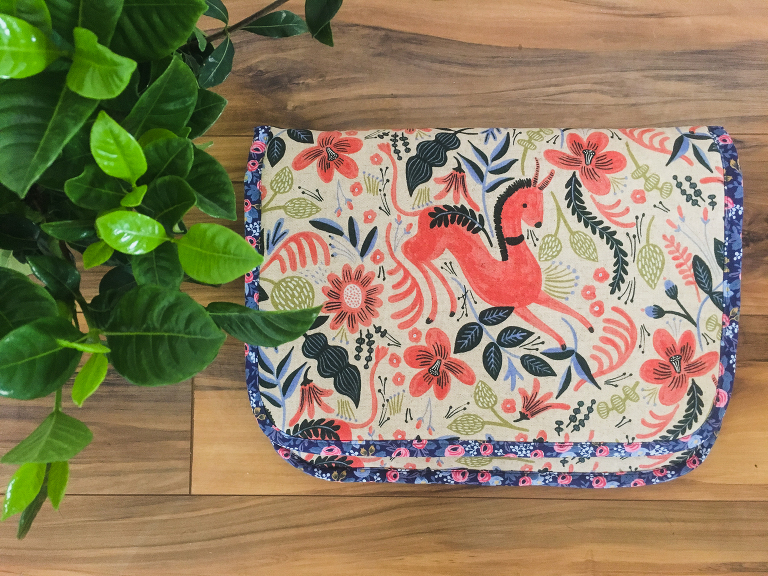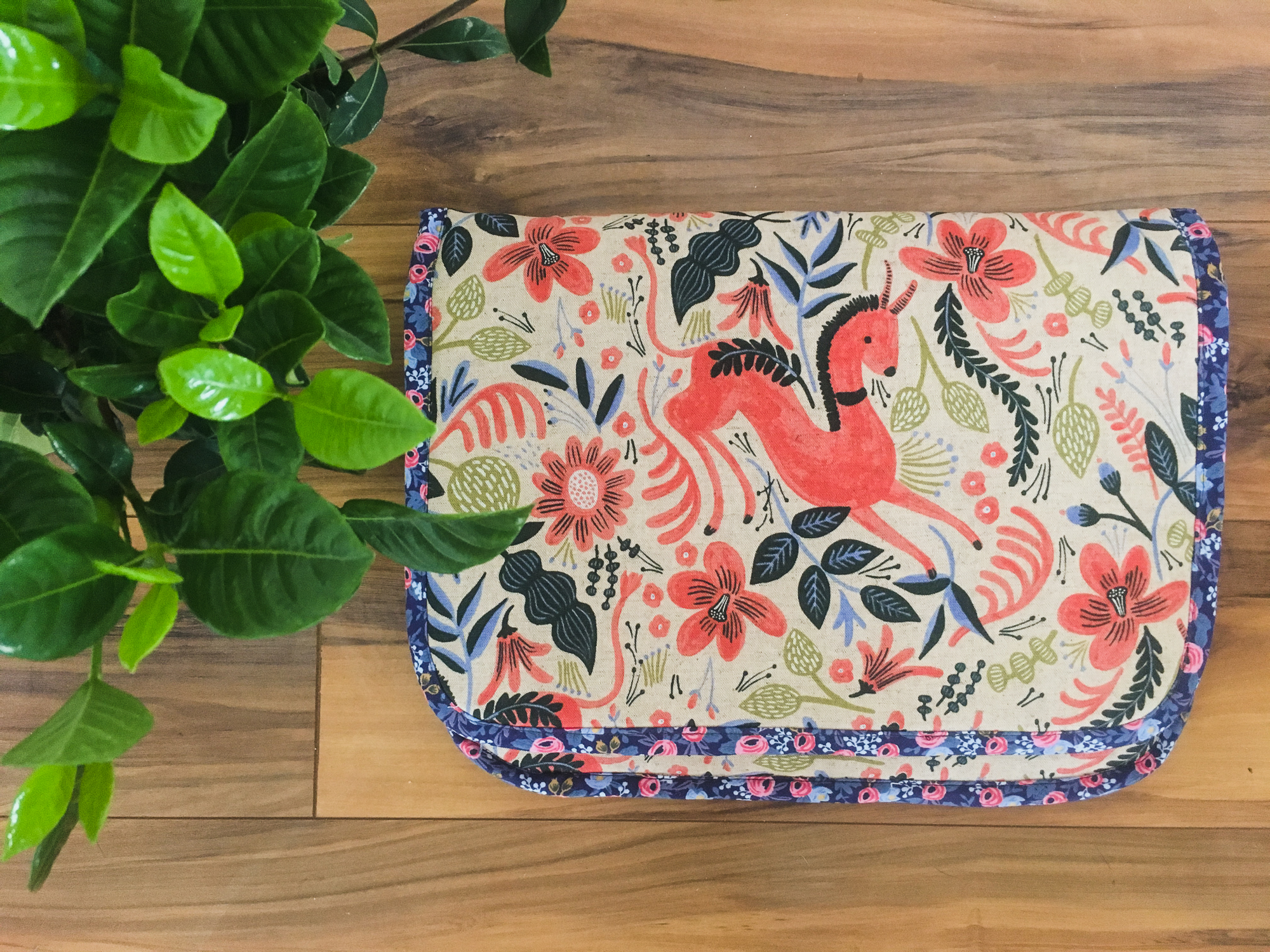 My laptop sleeve is simply a sleeve with a flap. Its a clean design, and one you can make in an afternoon. I have a 13″ MacBook Pro, so I'm going to give measurements based off of that, but you can easily change measurements to suit your device. If its pretty thin, give yourself 1.5″ all the way around and you should be golden.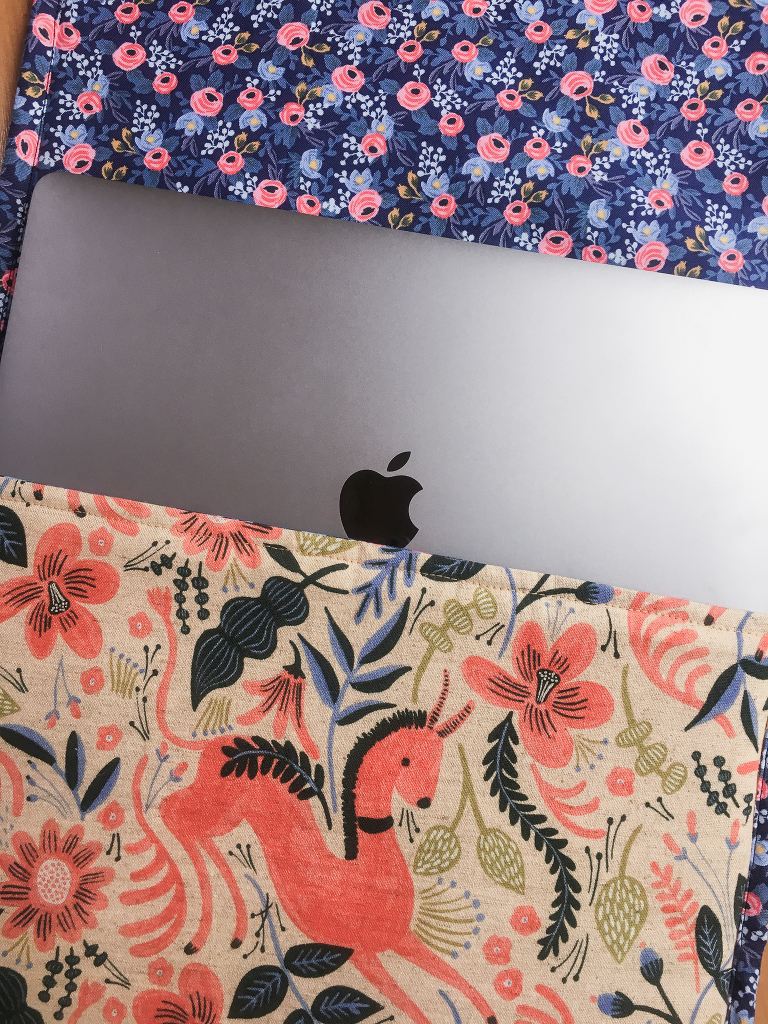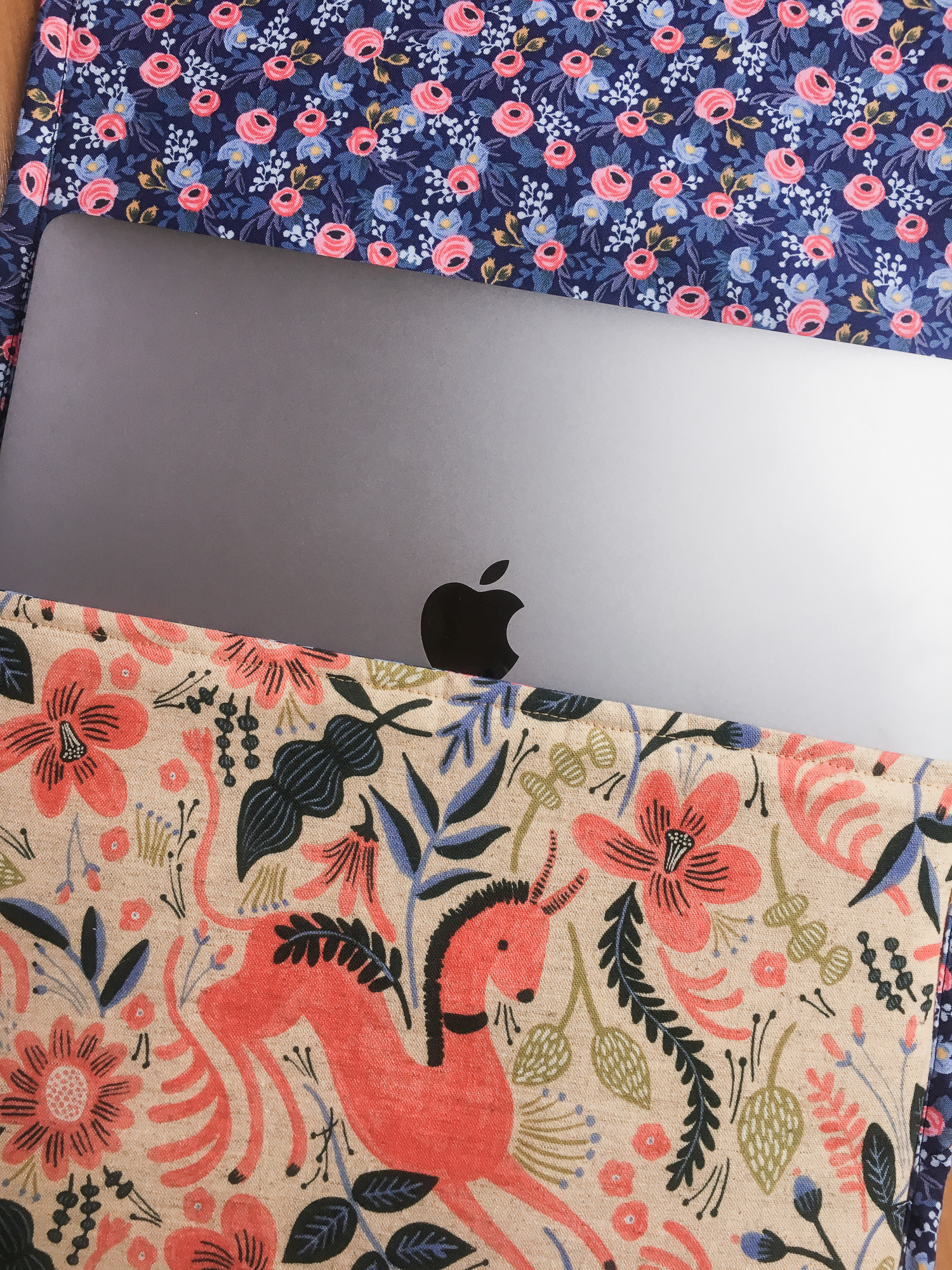 What you need:
a favorite fabric for the outside. I used less than half a yard of Rifle Paper Co canvas.
a coordinating fabric for the lining. I used less than half a yard, plus some extra for the bias binding.
if you get a store bought bias binding (I would encourage you to make your own because you can choose whatever fabric you want), you probably need about 2 yards. You'll need 2″ double fold (1/2″ when folded up)
half yard of 44″ Pellon Flex Foam
yard of 20″ Pellon SF101
coordinating thread
(optional) magnetic snap or velcro for closure (I didn't use this)
I'm using my trusty Janome M100, Anna Maria's limited edition machine that has everything you could need without all the extras that no one uses. I just found one from Sew Vac Direct on Amazon for an absolute steal of a deal here. I've reviewed this machine a few other times here. Aside from my overlocker, its really all I use these days.
To begin, if you are using a one directional print, you will need to cut your exterior in three pieces so it can all be oriented properly. I cut 3 (10.5×13.5″) pieces. Sew two of them together (the exterior back and the piece that will be the flap) with a 1/4″ seam. I finished the seam with my overlocker, pressed to one side, then stitched the seam down with an edge stitch.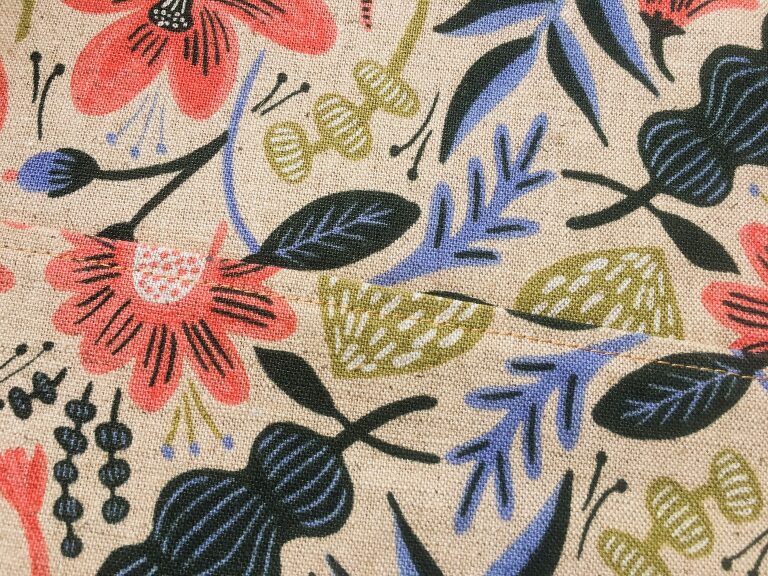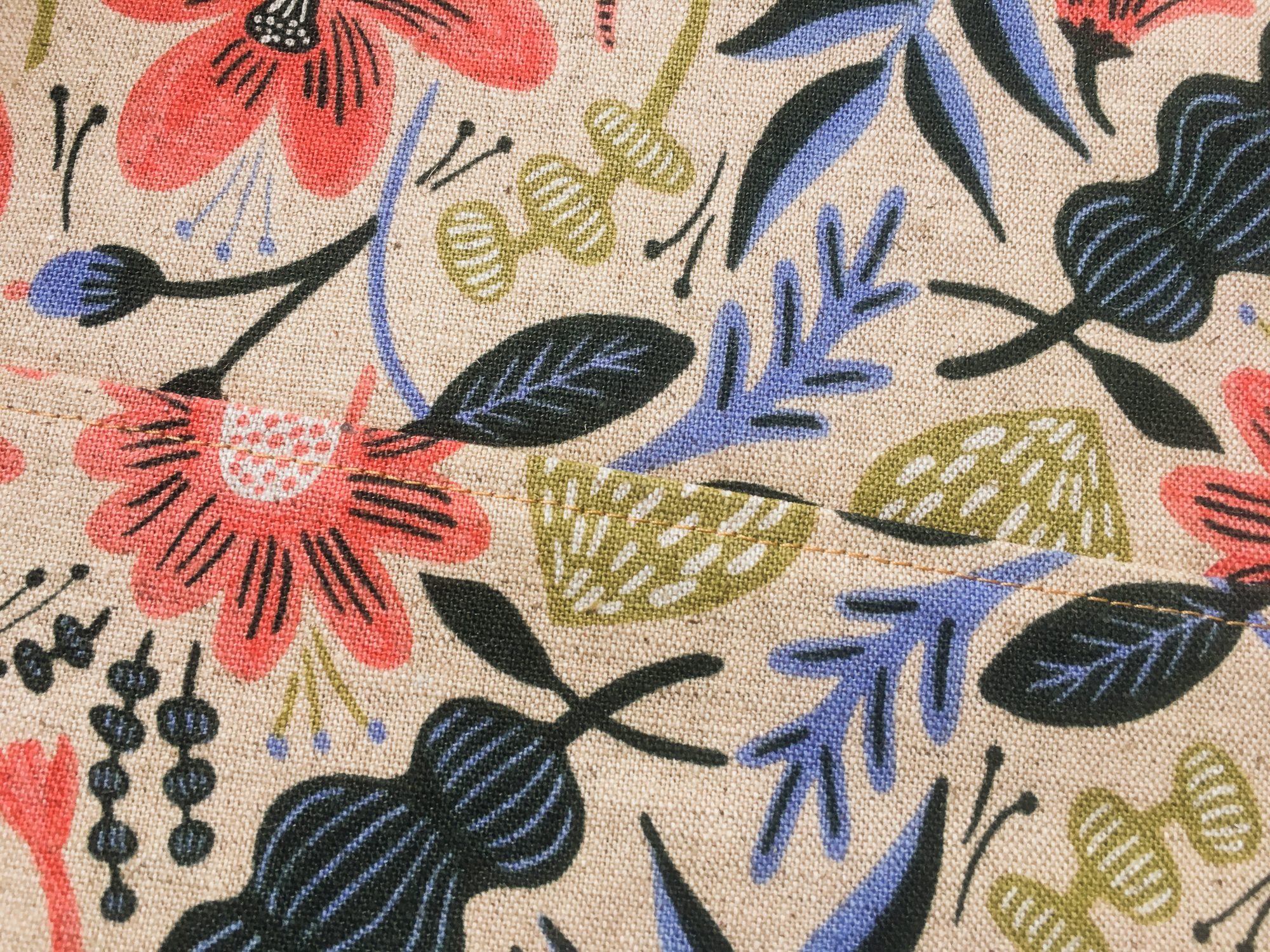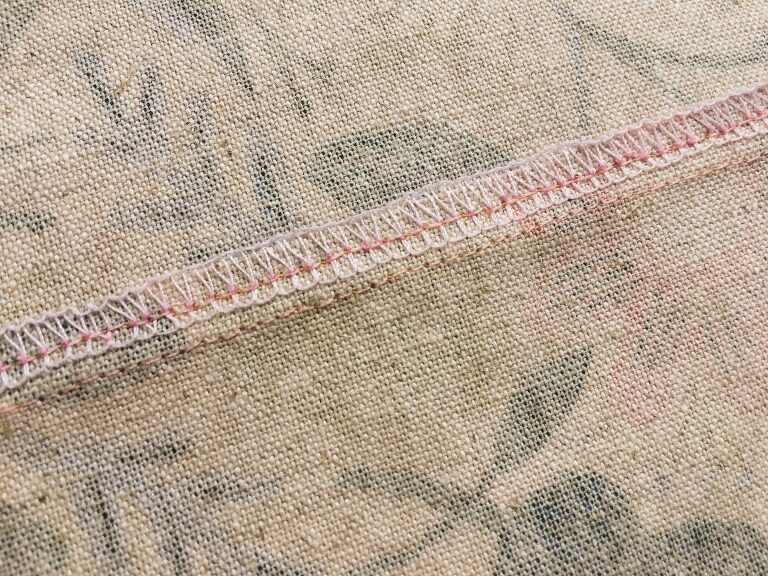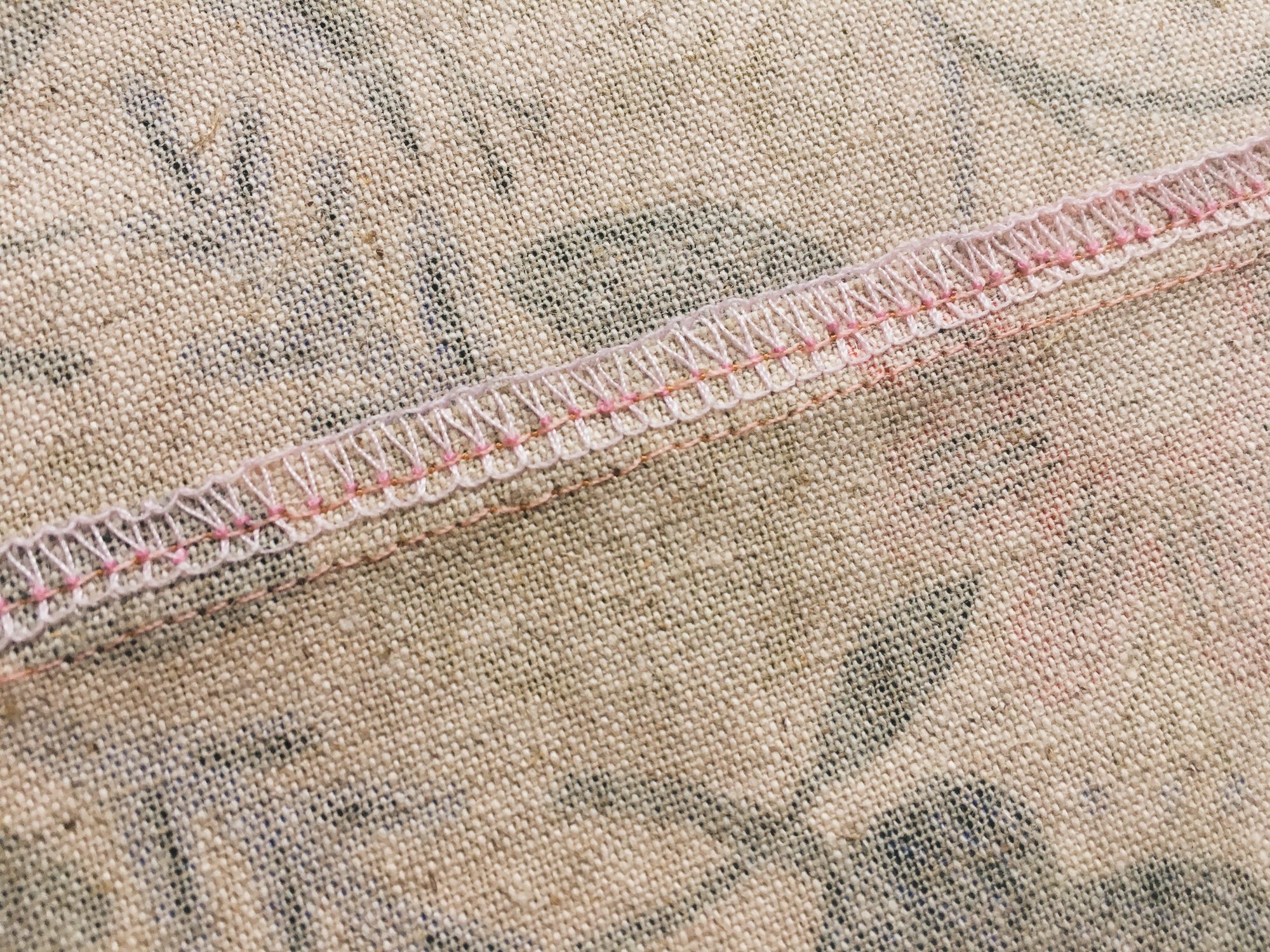 Cut out your lining fabric. I cut a single piece for the back/flap (20.5×13.5″) and one piece for the inside of the sleeve/pocket (10.5×13.5″).
Cut your interfacing and foam pieces. From the interfacing, cut one (20.5×13.5″) and one (20×13.5″). From the foam cut one (20×13″) and one (10×13″).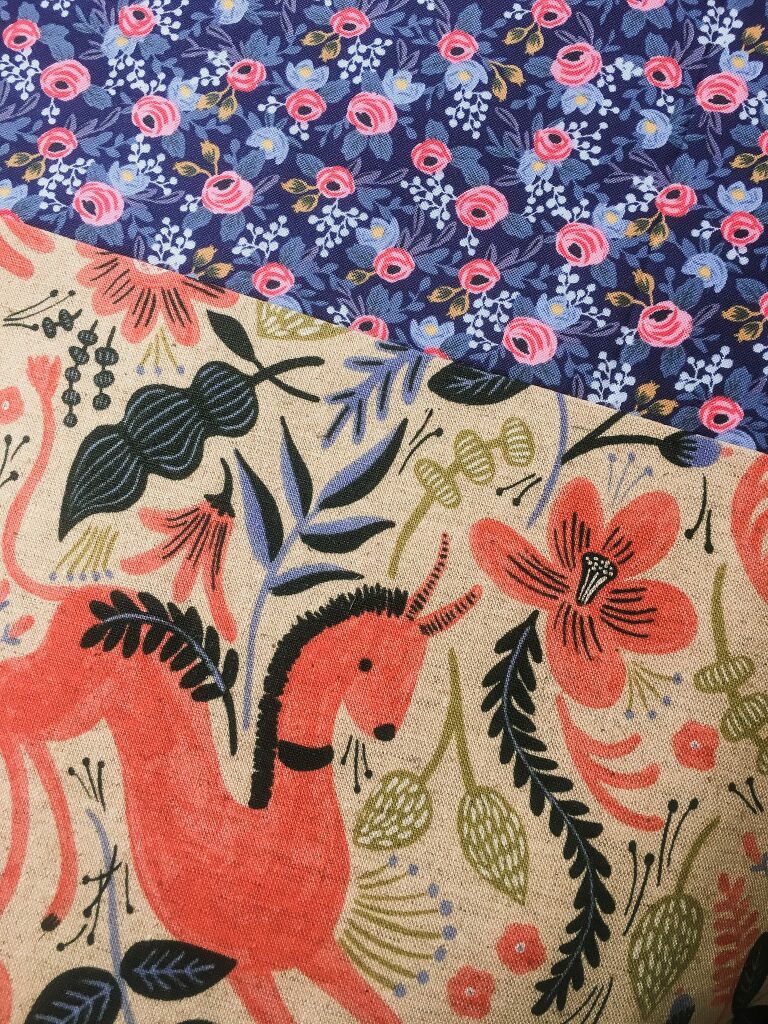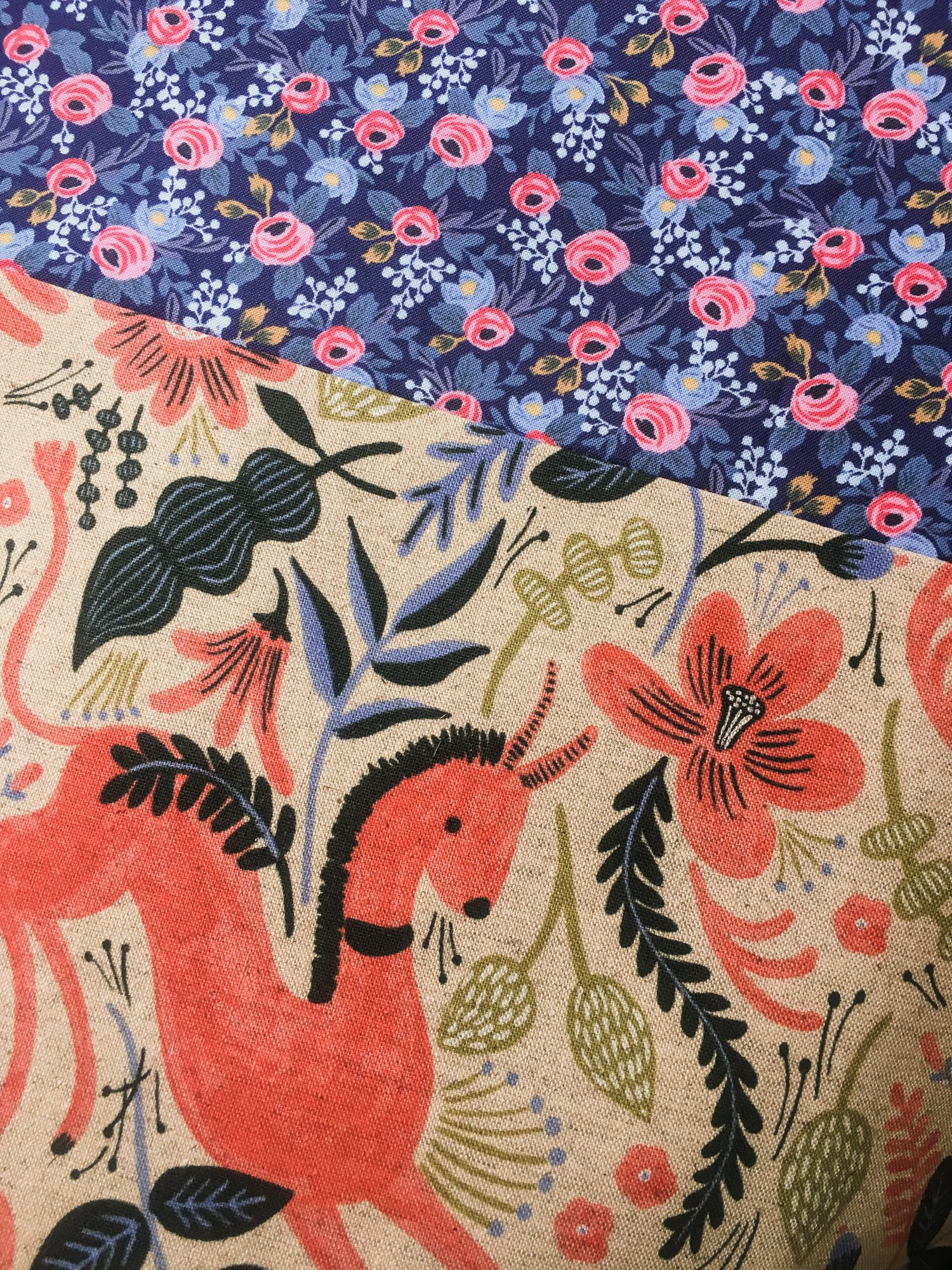 Sew the remaining exterior fabric and the smaller interior fabric piece right sides together along the top using a 1/2″ seam allowance. Press seam toward the interior piece, and then fuse the (20×13.5″) SF101 to the wrong side of this piece. Now fuse the smaller cut of Flex Foam to the wrong side of the exterior portion of this sewn piece. But it up to the seam (it should be shorter than the raw edges on the side and bottom). Now fold the piece in half so that the right sides are out. Give it a good press so your sewn edge is nice and sharp. Sew 1/2″ away from the sewn edge to keep it crisp. I would use a stitch length of 3 here. If you are using a snap or velcro, go ahead and use it only on the exterior portion of the sleeve piece.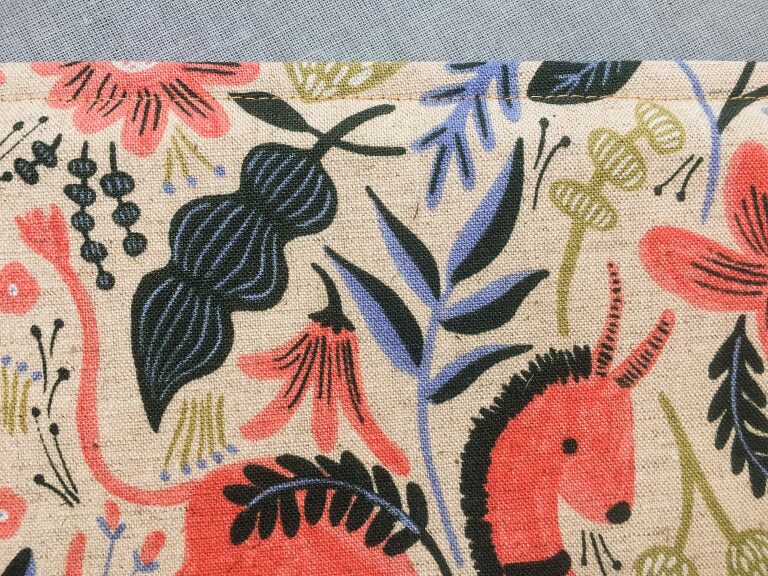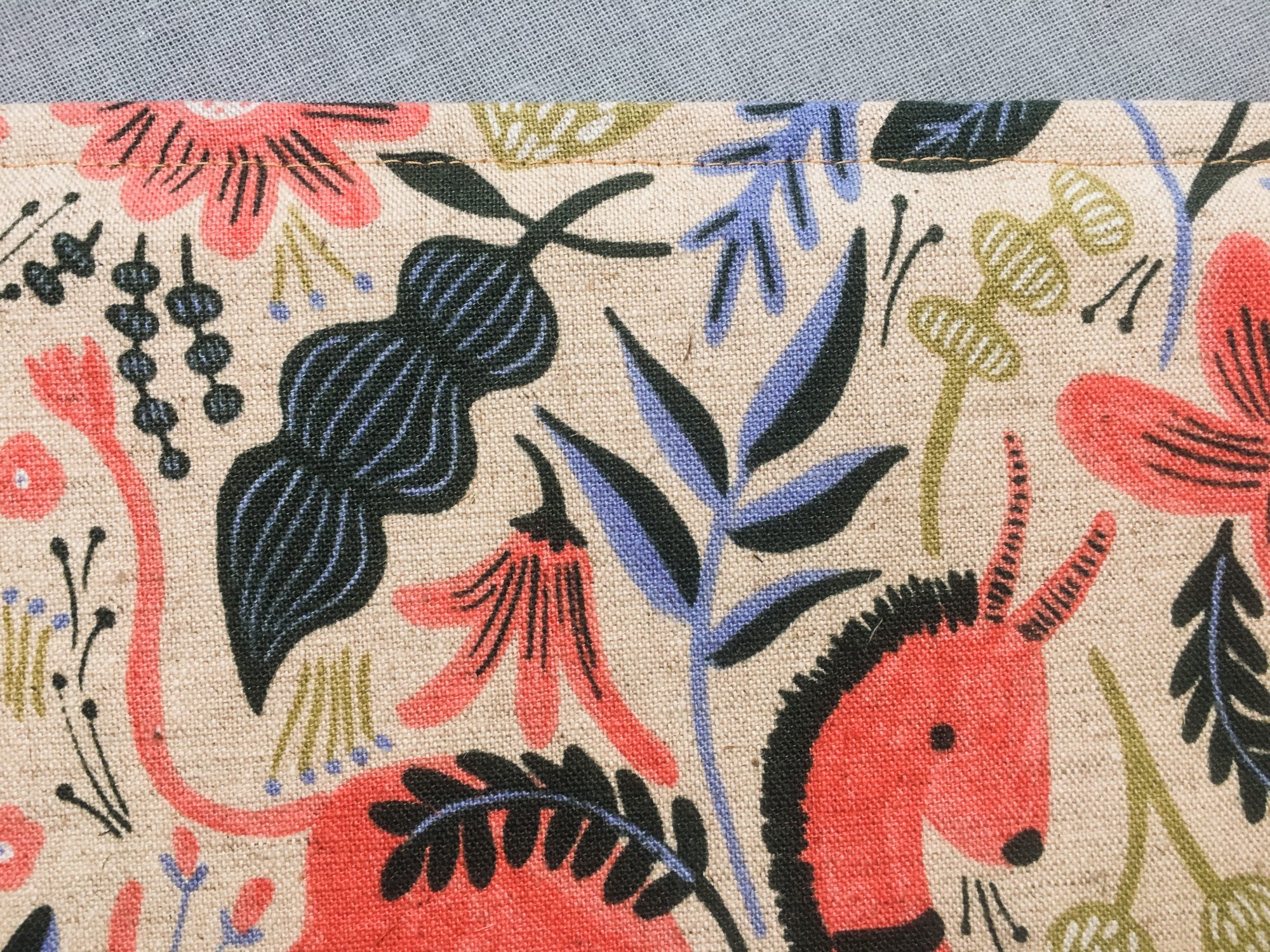 Pick your larger exterior piece back up, and fuse the remaining SF101, then Flex foam.
Use a cup, or some round bottomed object to mark a curve at all four edges of your larger exterior and interior pieces, and the bottom corners of your sleeve piece. Cut along your marked curves. If you are using velcro or a snap, go ahead and use it on the interior piece before you baste it to the exterior.
Baste your large pieces together so that the exterior and interior fabrics are right side out. Use a 1/4″ for basting. Now baste the sleeve piece to the larger piece. Your interior fabrics should be right sides together. Again, you can use a 1/4″ seam here.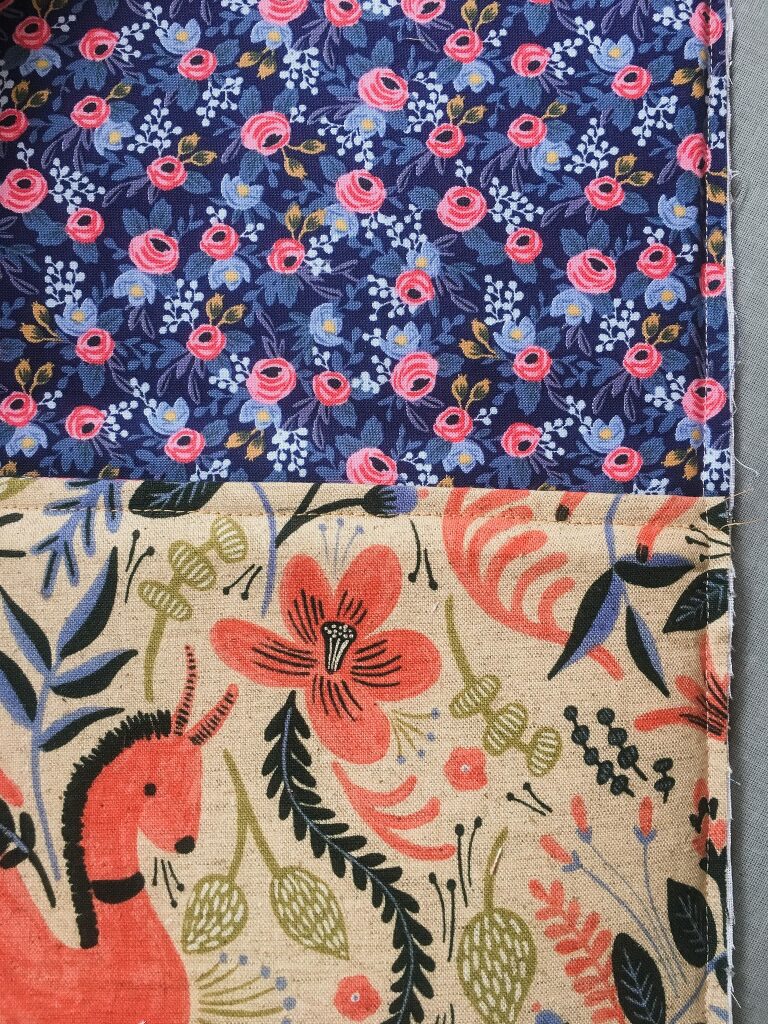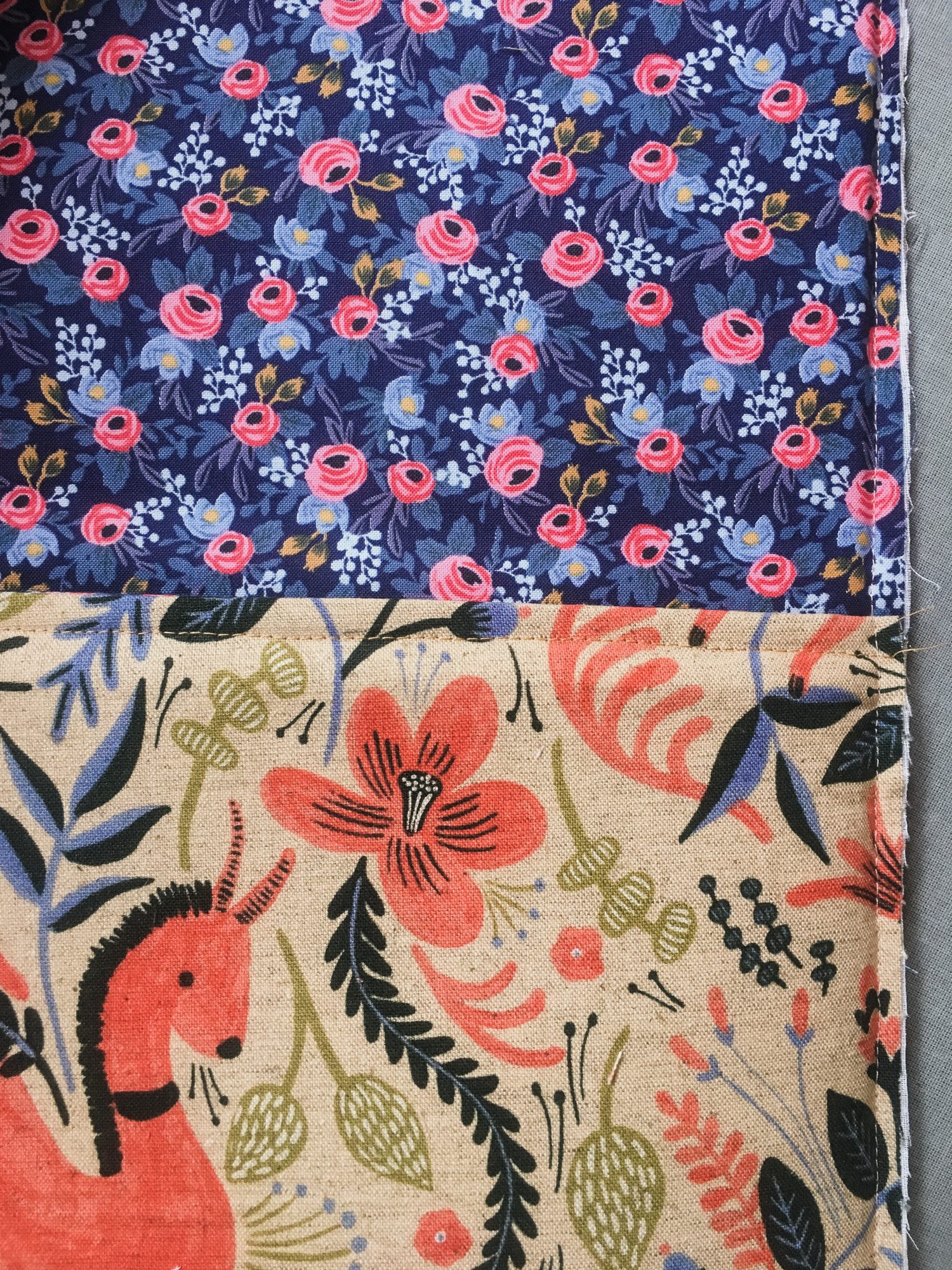 NOTE: if you need a good visual representation of making binding, I highly recommend scrolling through my Picture Perfect Binding Tutorial. It uses straight grain binding, but the technique of sewing the ends together is the same, and helpful to see in picture form.
If you are making your own bias binding, cut 2″ strips at a 45° angle until you have enough to go all the way around your laptop sleeve. I needed a bit less than 70″. Sew the strip pieces together at a 45° angle not straight across. Press the length of your piece in half, then fold the raw edges in to reach the center fold and press. You now have 1/2″ double fold bias tape. Pin it to the exterior of your sleeve. Start several inches from the end, and sew 3/8″ from the edge, which is just a hair in from the first fold line. When you get to about 4″ away from where you started, stop and trim the excess binding and attach the strips so that they become one. To do this, trim a couple of inches off the beginning piece of binding.We're going to use what you just trimmed off as a guide for where to cut the end binding. Overlap the beginning and end pieces, and open up the piece you trimmed off. Using that as a guide, trim the end piece so that it is overlapping your beginning piece 2.5″ (the width of your trimmed piece). Then trim off another 1/8″ for good measure. When I was taught, the lady told me to give it a haircut. Okay. Now your ready to attach the ends. We're going to do this the same way we attached the pieces to begin with with a 45° seam, but its just a little trickier since its attached to the quilt. But you can do it!!! Keep going. Attach the ends so that they lay perpendicular. Its a great idea to keep them intact with pins while you sew. Once your seam is sewn, trim it down to 1/4″ and press open. Finish sewing your bias binding to the sleeve.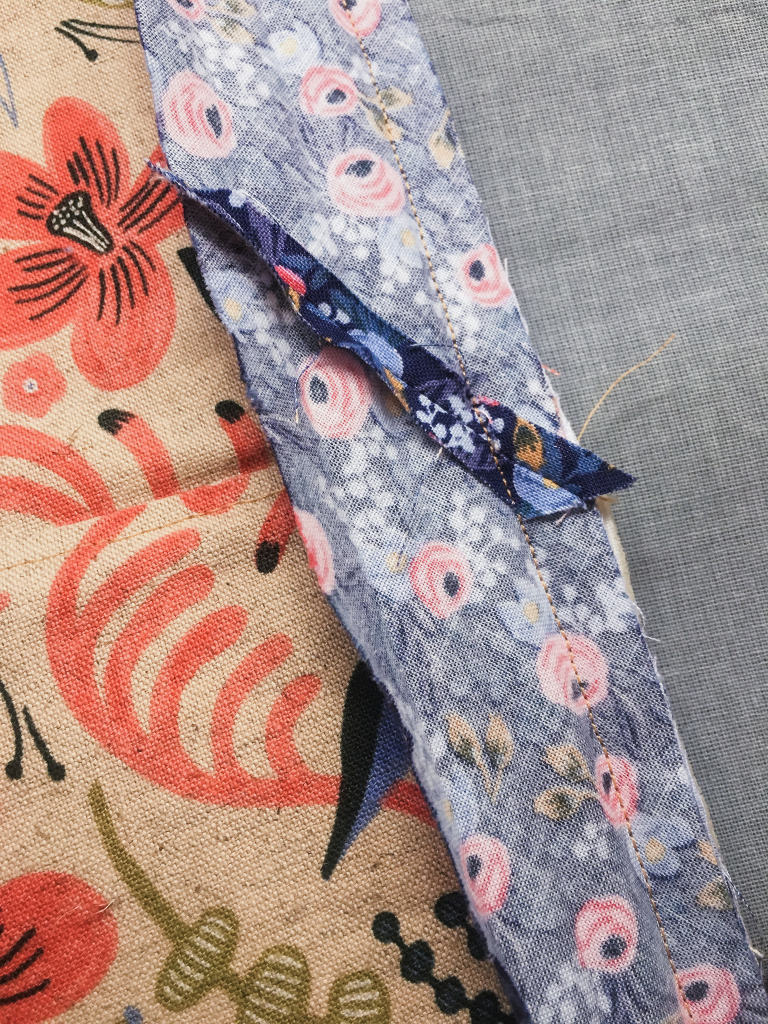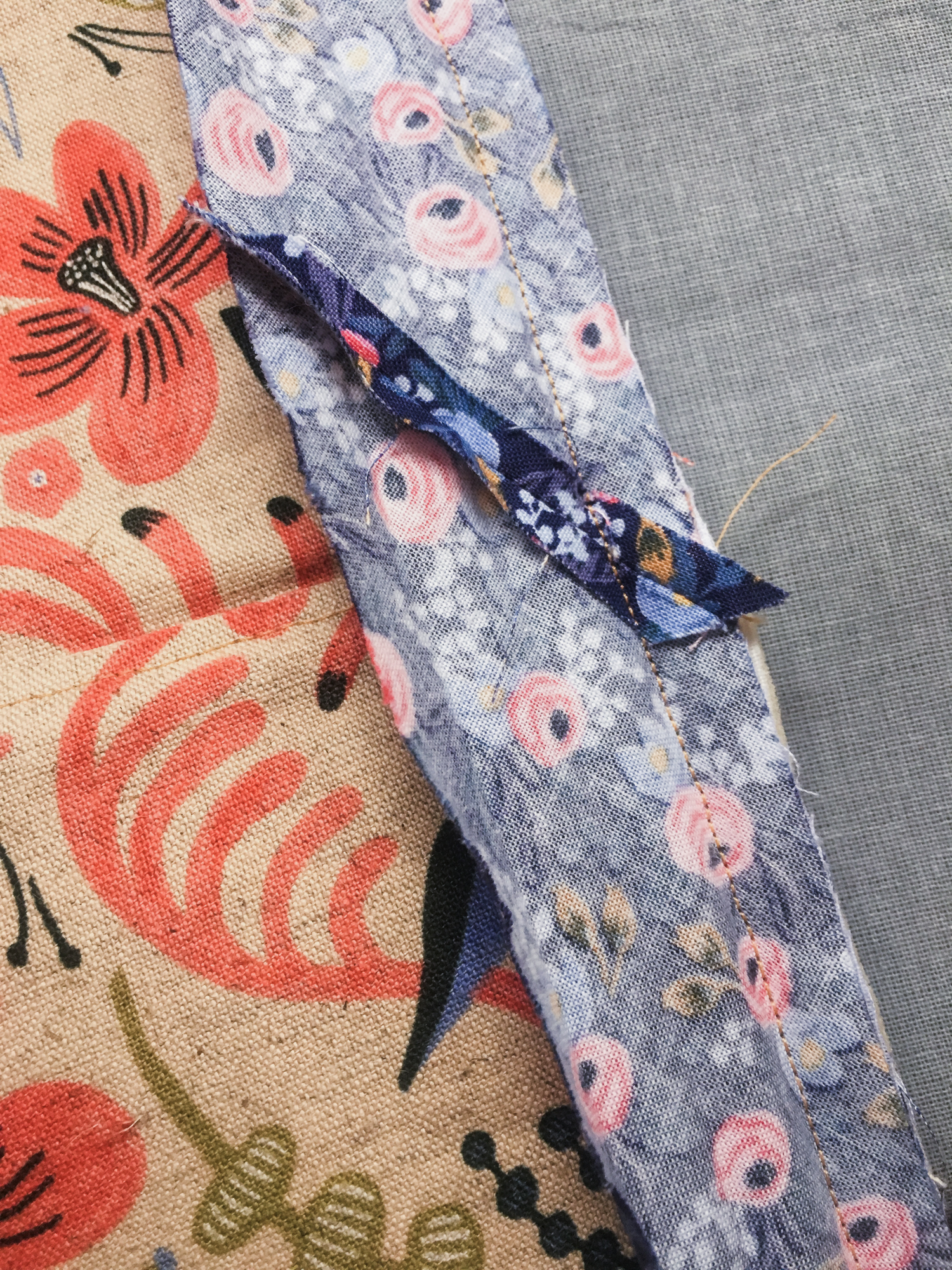 Press the binding toward the outside of the sleeve (where it should fold naturally). You may want to trim down the corners and sides of your sleeve pieces before folding the binding toward the inside. It can help to reduce the bulk of the Flex Foam. Once you've done that, using your pressed fold lines as a guide fold the binding toward the inside and press and pin in place.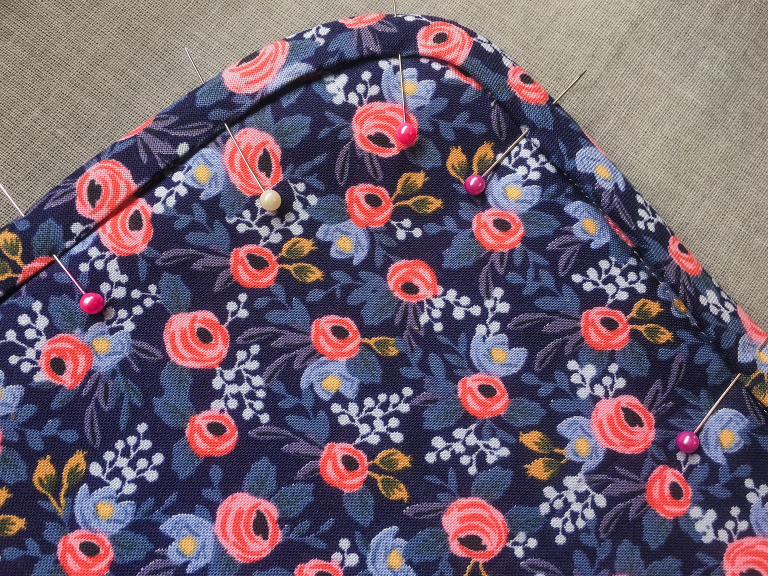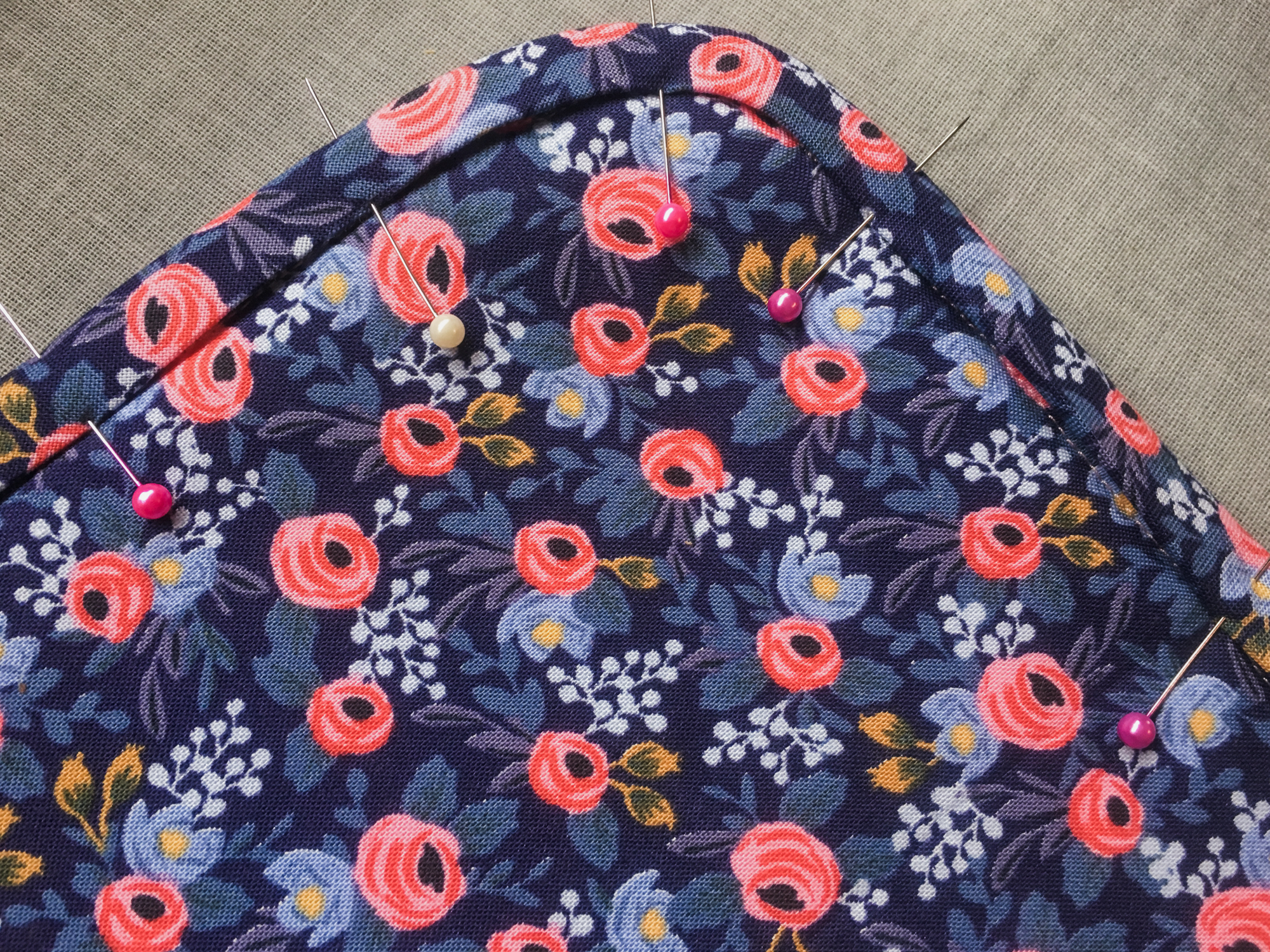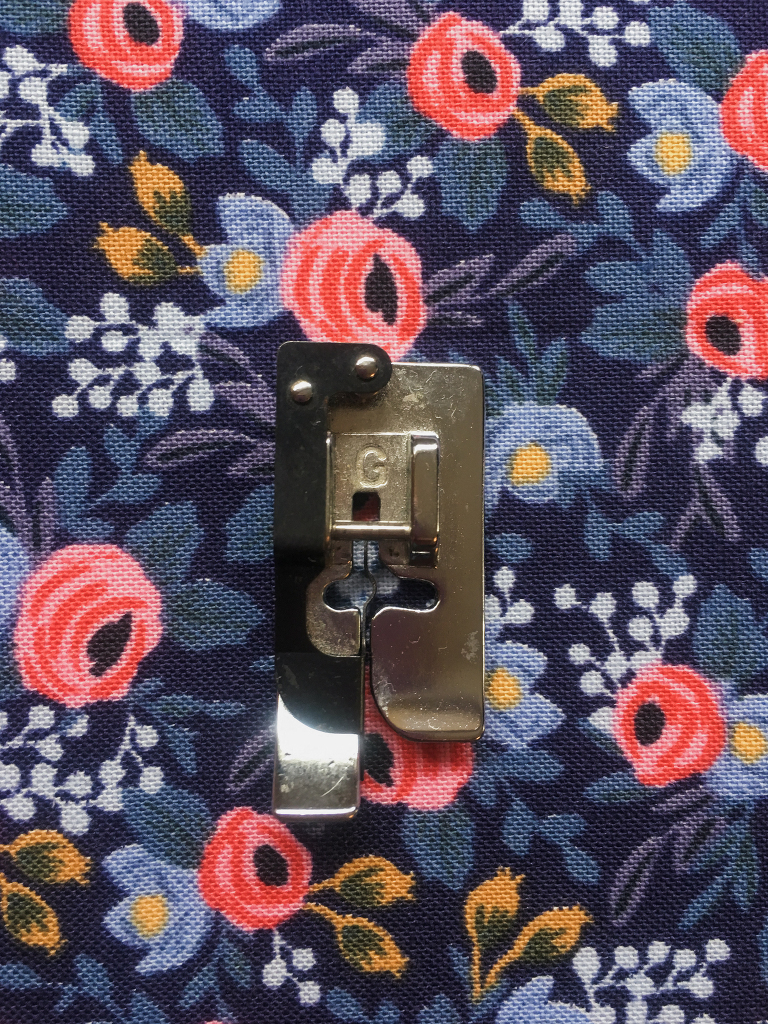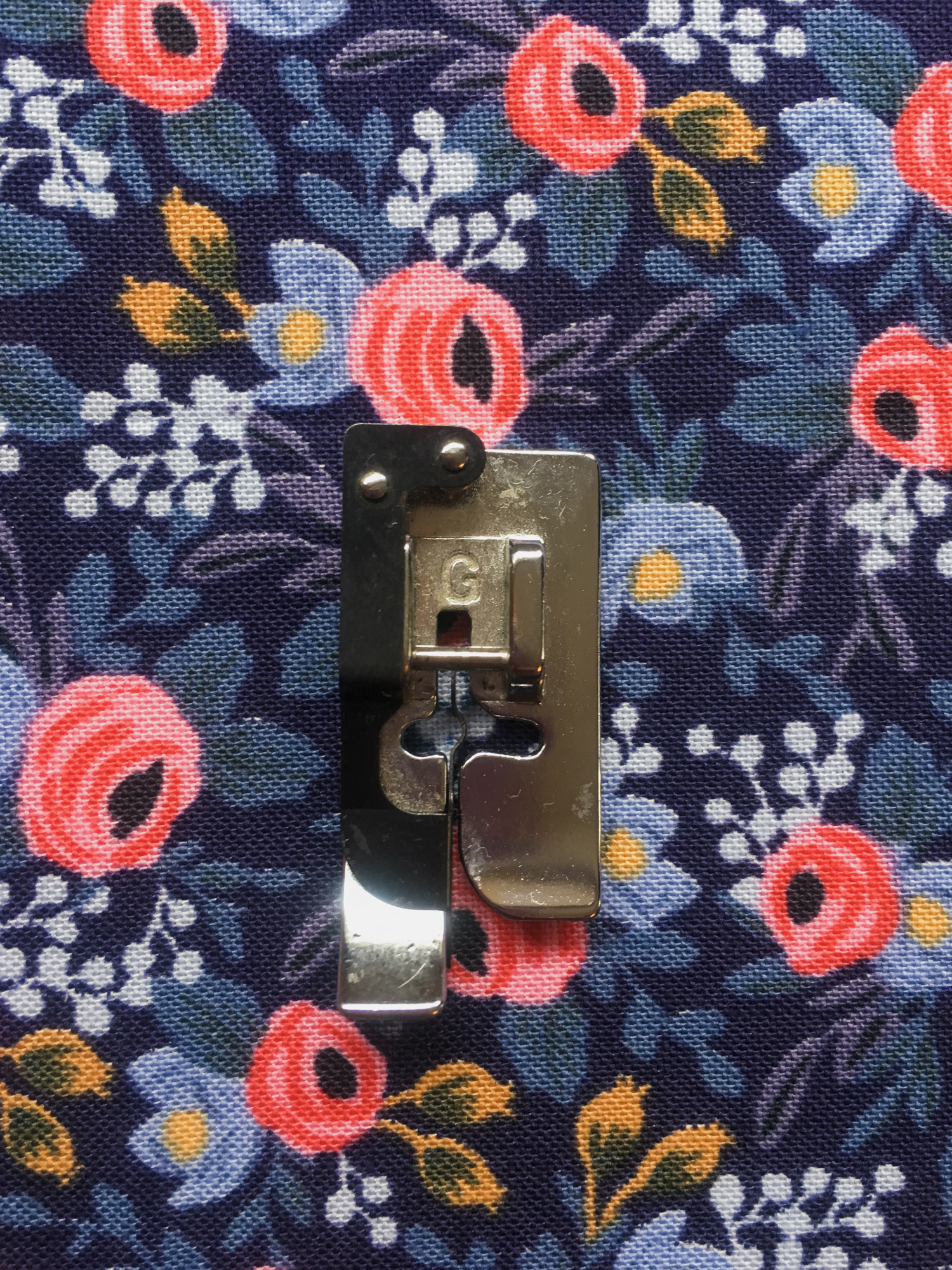 Switch over to your G foot, which is the world's most spectacular thing for perfect edge stitching, and move your needle over toward the left. My needle is normally in the center at the 3.5 position, and for this I moved it to the left to 0.5. Use a longer stitch length of 3, and stitch along the inner fold of the binding. Overlap the beginning stitches by five stitches or so, and cut your thread.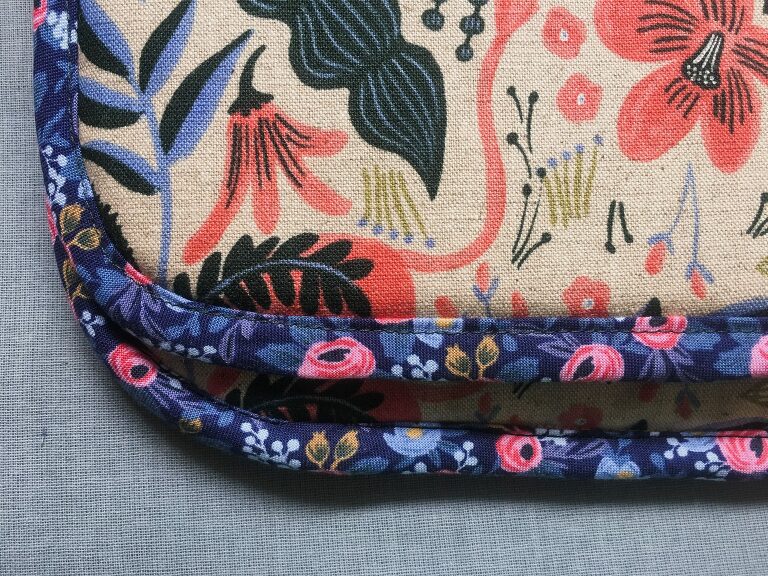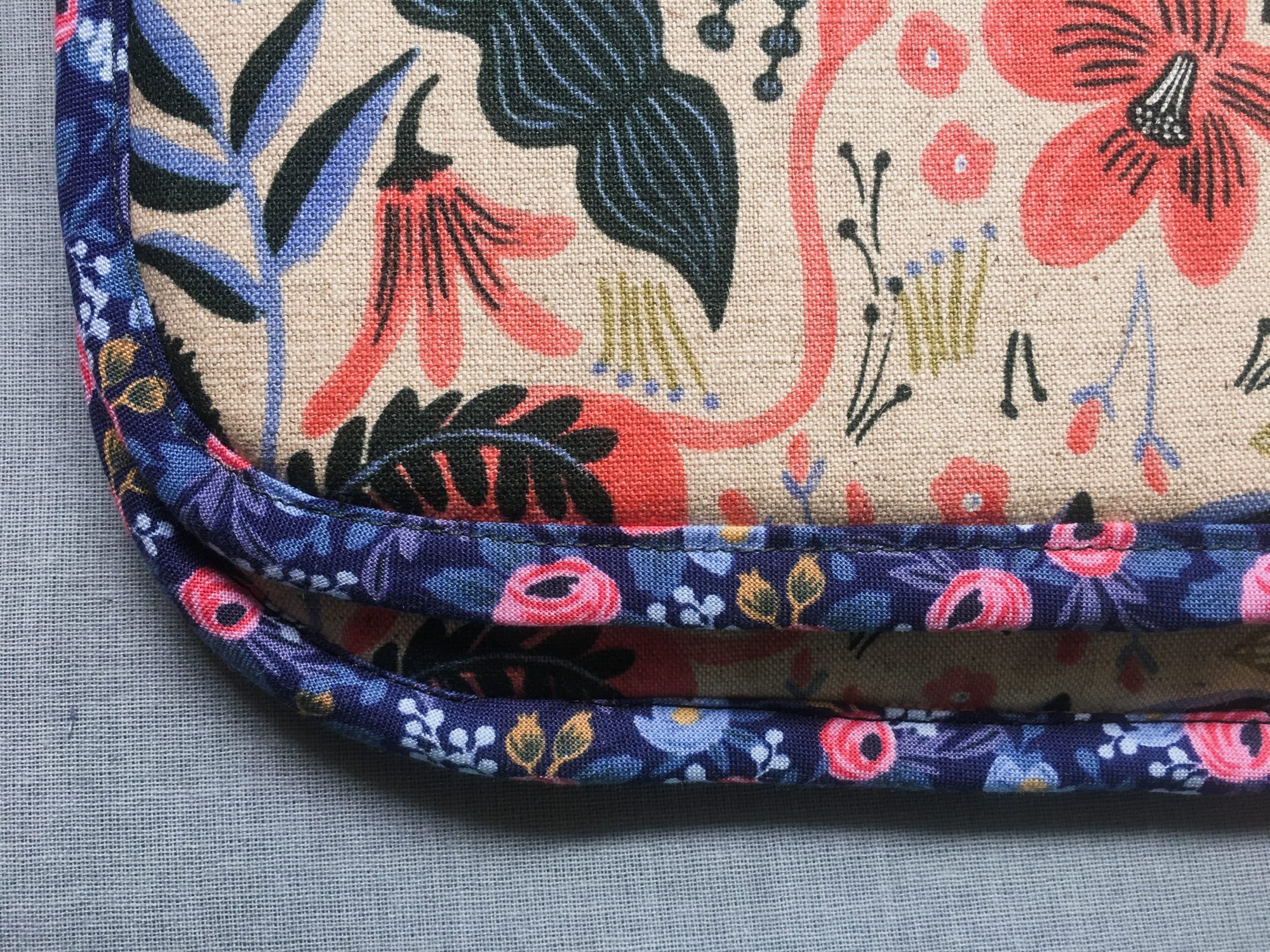 Slide your device in and adore your new protective sleeve!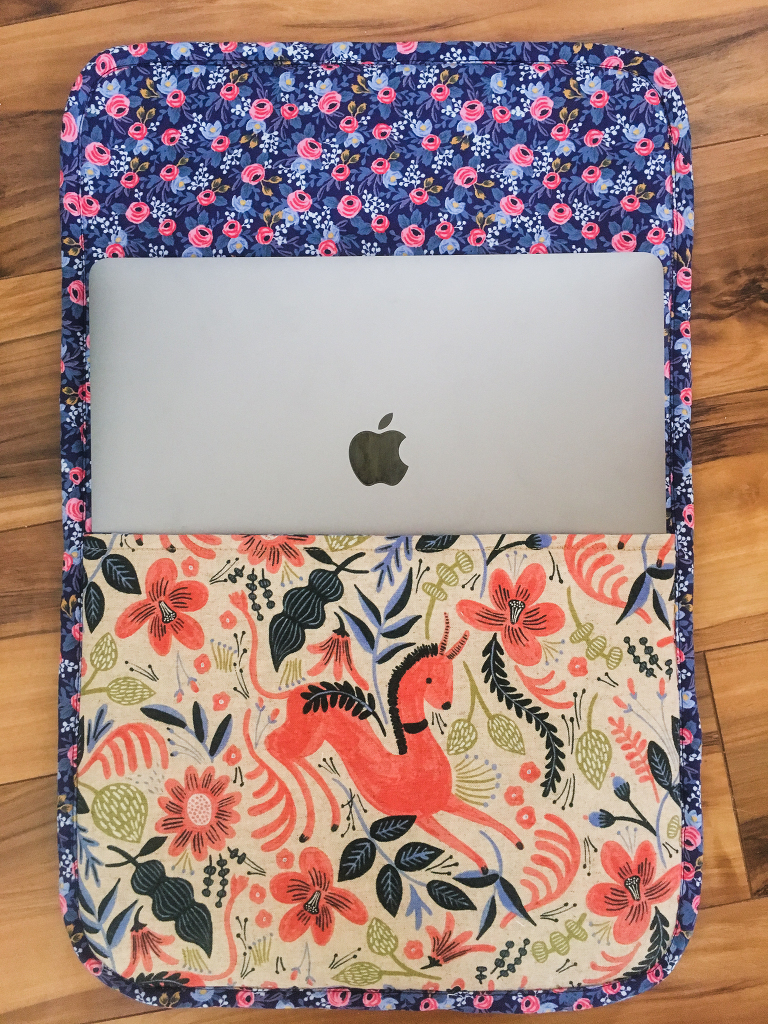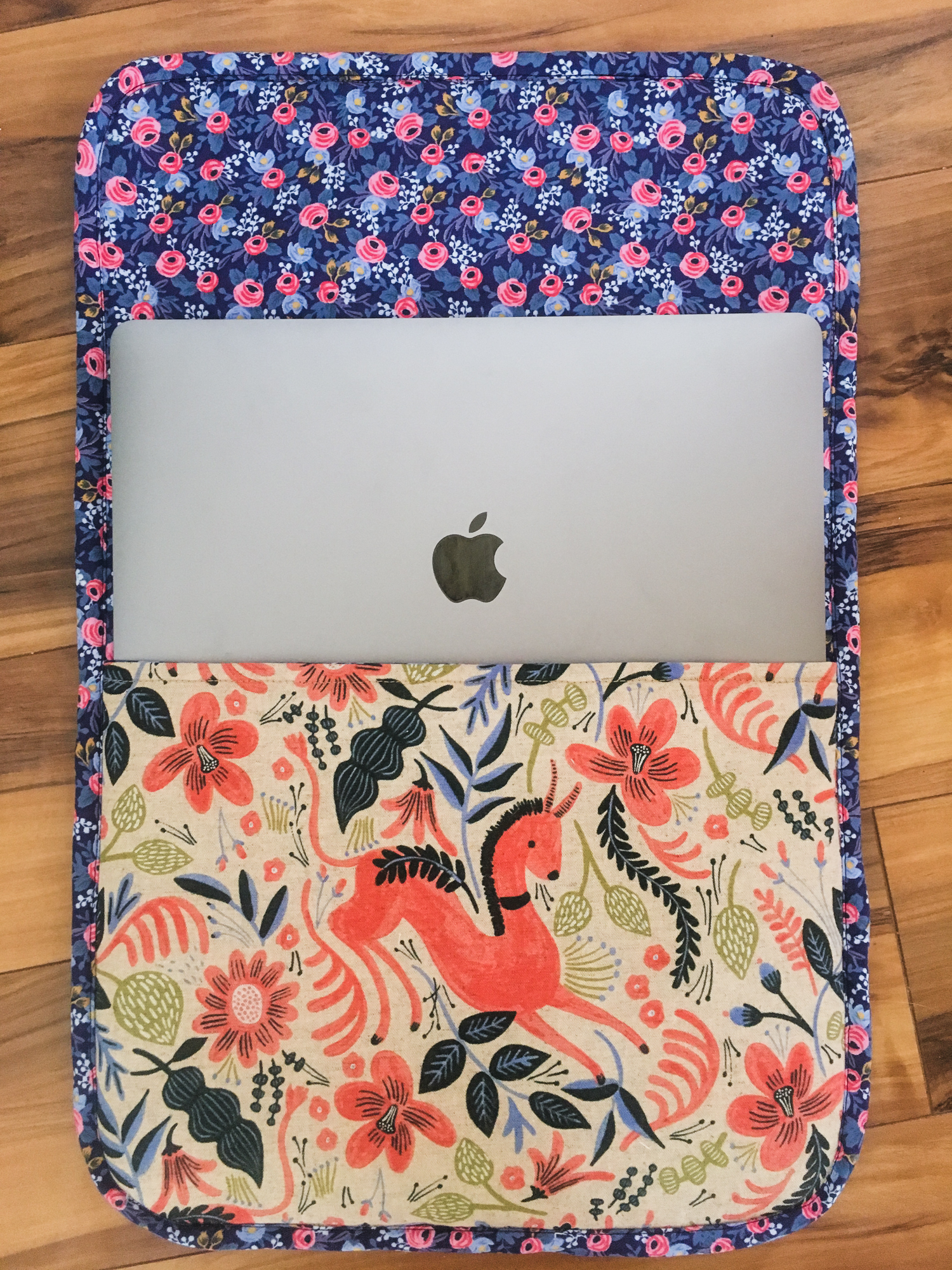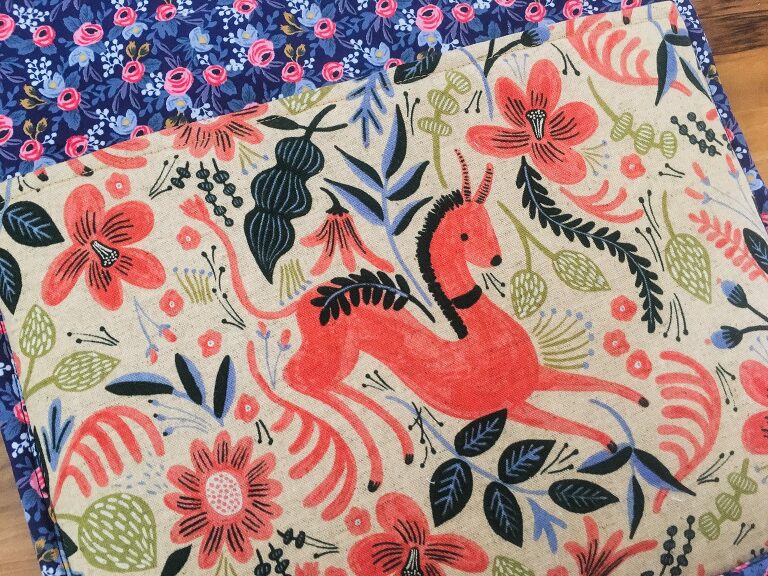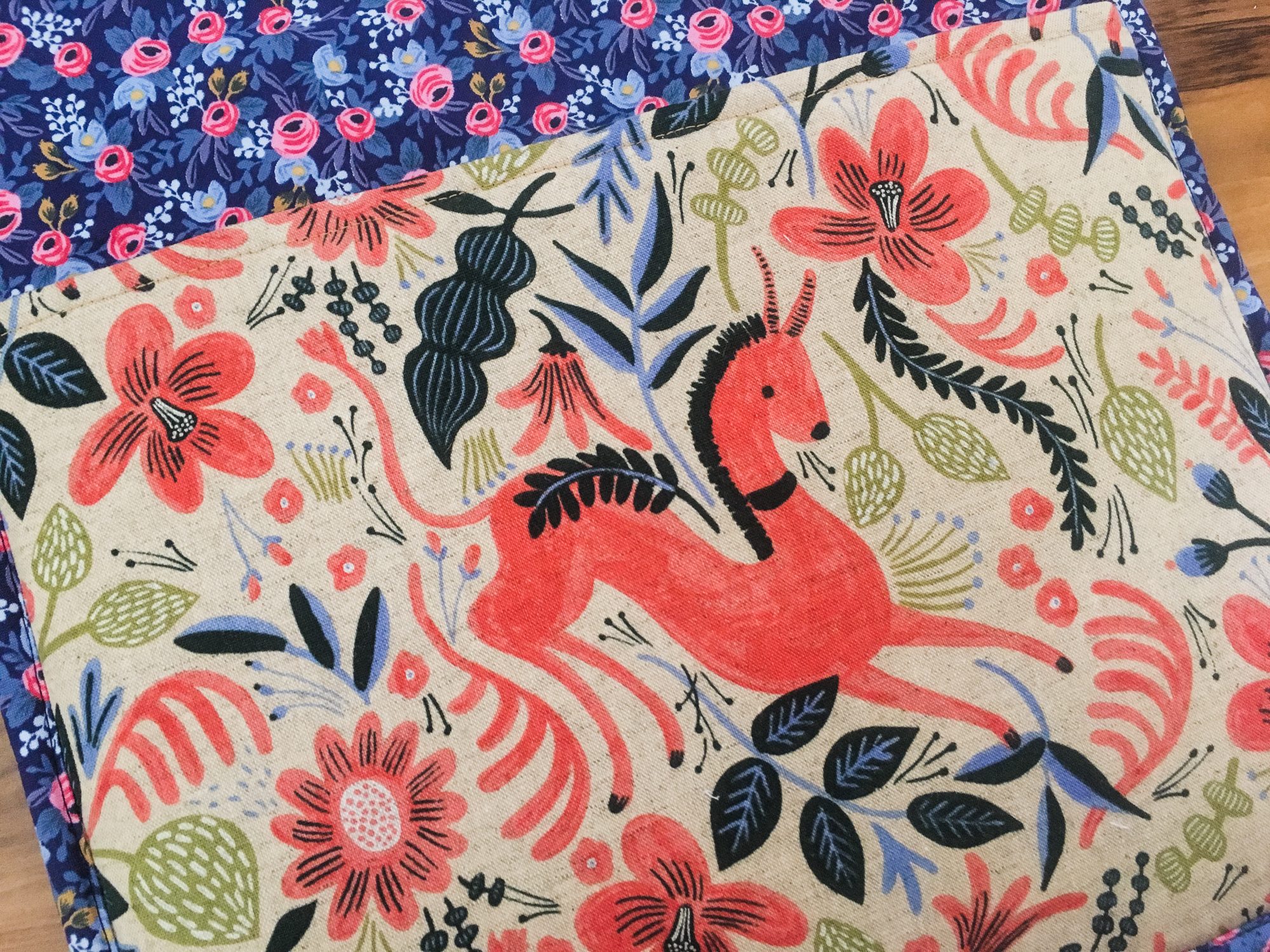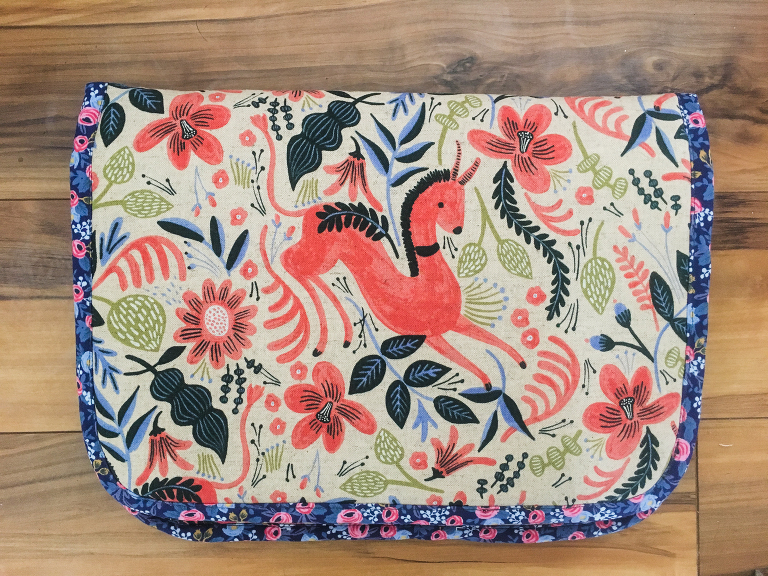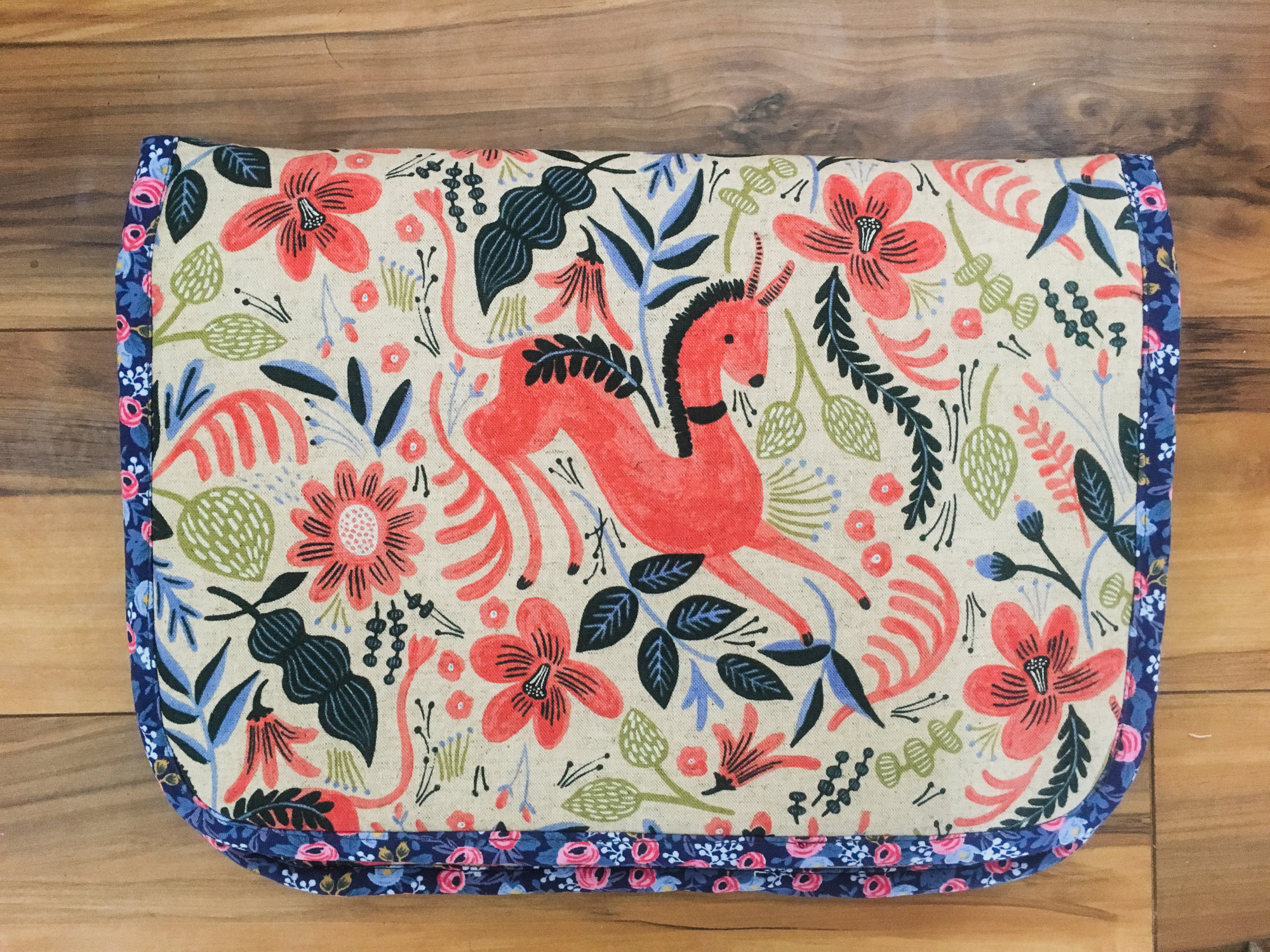 I hope you've enjoyed this tutorial! I wish you a very happy Easter!
If you have any questions, feel free to ask me in the comments below!
-Meredith