Recently, Amy of Amy Nicole Studio asked me to be part of her spring Patti Pocket Skirt blog tour. I love skirts, so I joined in.
 The Patti Pocket Skirt has pockets, of course, which automatically makes it great. It has an invisible zipper closure on the side, and the band overlaps and closes with a hook and eye. The shape makes me think of an apron, and while most skirts aren't terribly different from one another, this one has several unique characteristics in the silhouette.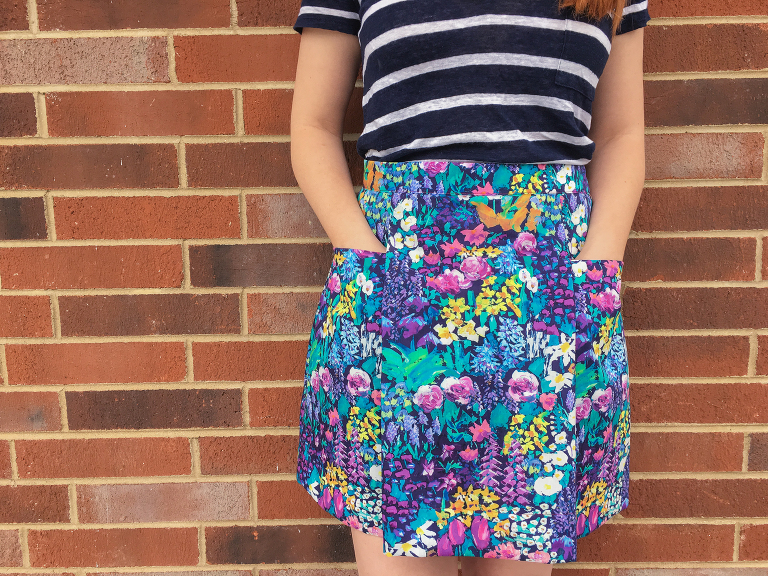 I am 5'4″ which is the height that her patterns are made for, and I made the shorter version, as I am allergic to anything that is midi length. I also sized up a bit because I am hippy and I wanted the skirt to flare because of its own fullness as opposed to the fullness of my thighs.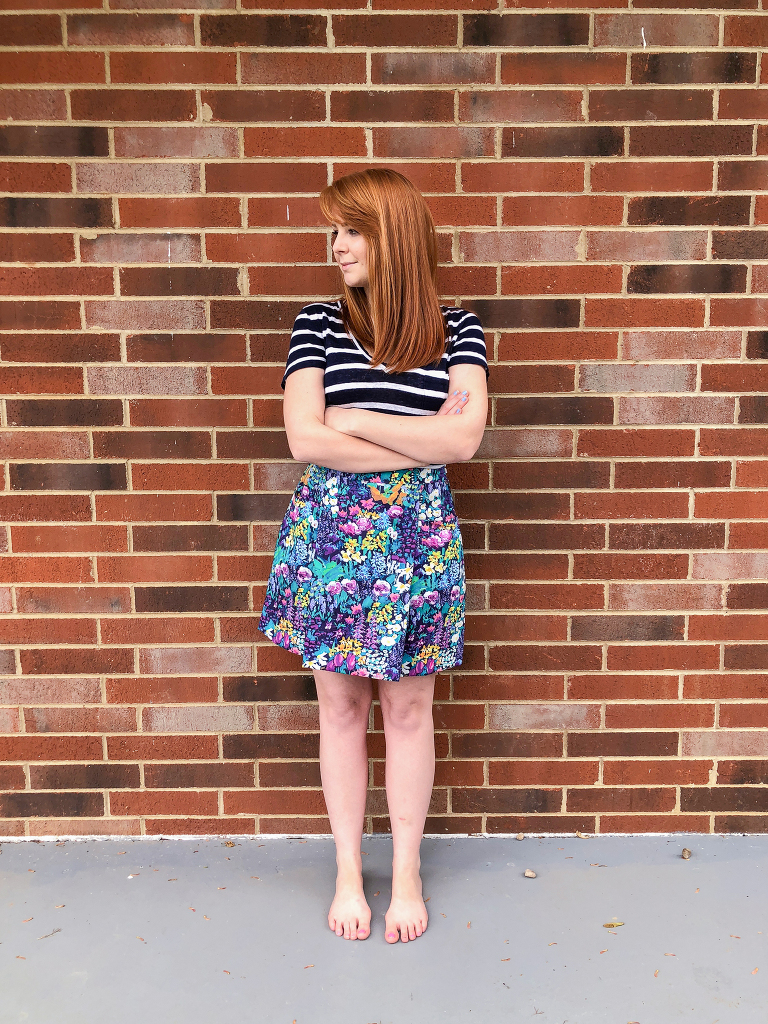 Anyway, I'm just going to tell you what I did and give my honest thoughts as I normally do when I make a pattern for the first time.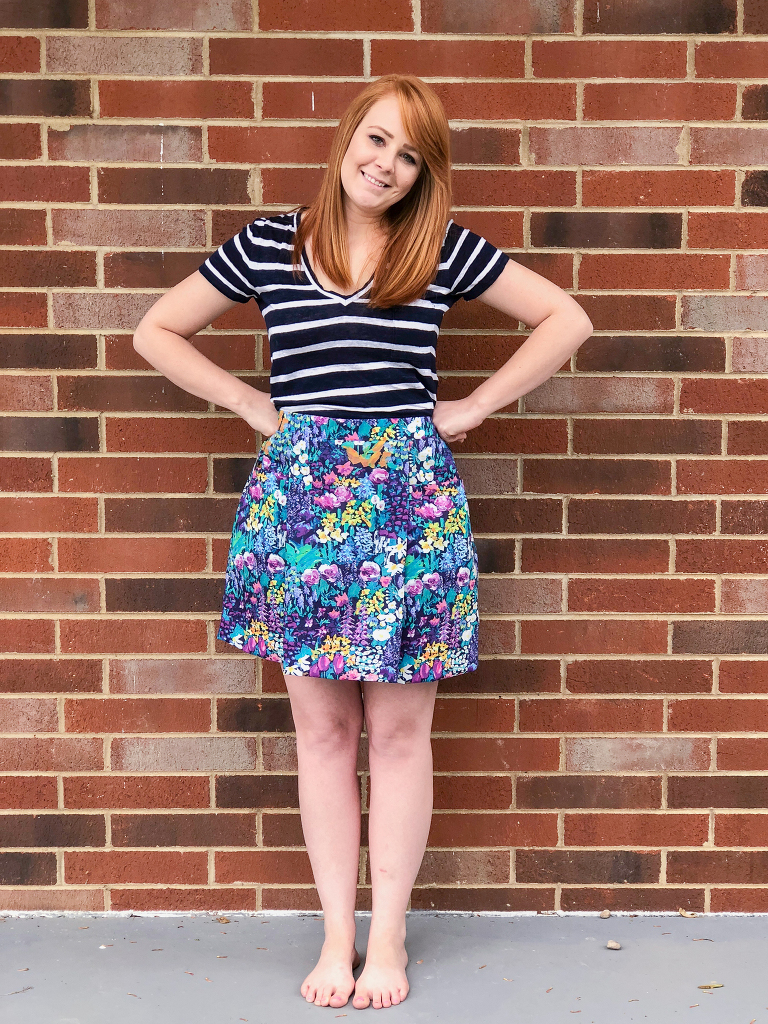 As I said, I did size up a little for the before mentioned reason. The pattern creates a pocket that naturally hangs out a bit. I suppose if you have no curves on your bottom half this would be a great way to add shape, but as I don't need anymore attention to my bottom half, I trimmed down the pockets to lay flat against the skirt.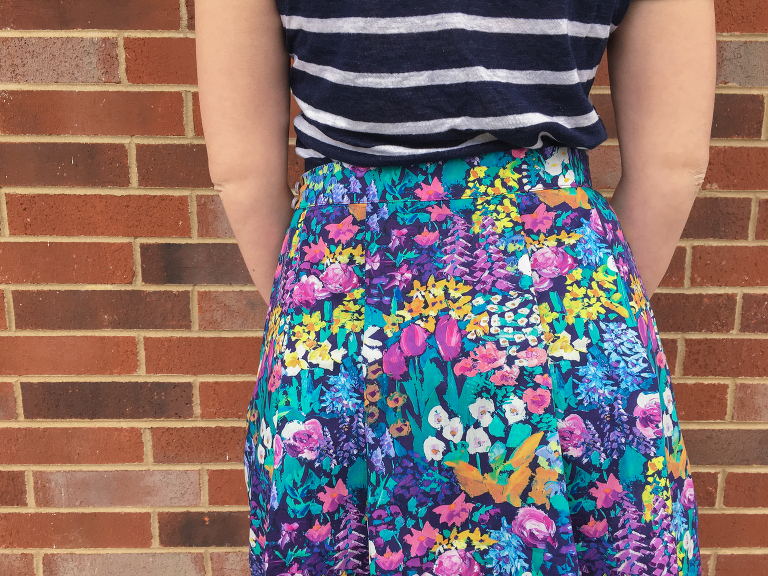 The skirt is pleated out from the center of the front and back of the skirt. The pleats are pretty deep and create quite a lot of flare. 
The waistline is supposed to have a good inch of overlap on the front so that it can hook to the back. Unfortunately, the waistband piece in the size I made was not sufficient for any overlap. My seams were dead on, so if I make this again, I'll cut the waistband piece extra long and trim it down to wear I need. I was able to improvise by adding elastic loops on one side and buttons on the other. Had I known the waistband would be this way, I would have just extended the zipper up all the way to the top of the waistband.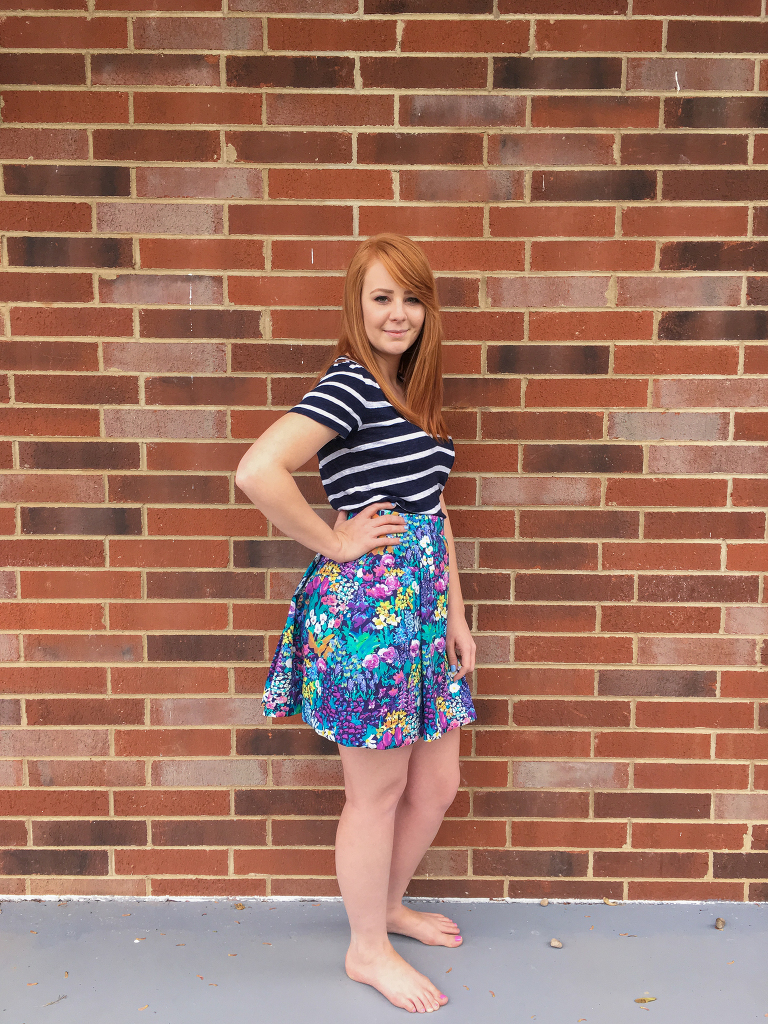 Amy's instructions were clear and easy to follow, and I like that she had a "cheat sheet" of condensed instructions. I didn't follow those because the pattern pieces were referred to with "A" "B" "C" and so on as opposed to "center front" or "pocket lining" and I don't keep track of patterns by numbers and letters. Still, I like the idea. Made by Rae did this with her Washi Top and I just used the condensed instructions which saved a load of time when I made a bajillion of them for my maternity wardrobe a few years ago.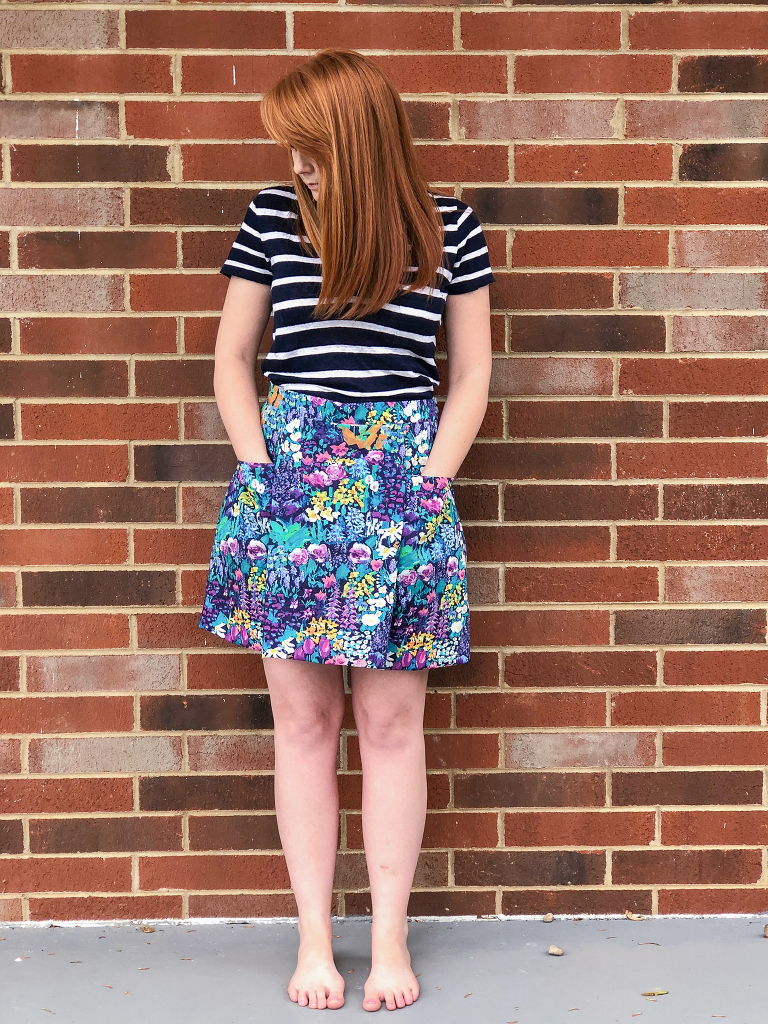 The skirt has a unique silhouette and great details and I think its a great shape for a non curvy woman. Obviously women can wear what they like, I'm just saying that I think it would be more flattering to my eyes if I had less junk in the trunk. Maybe if it was made with rayon I would find it more flattering on me. Or maybe I should just go for a run now and then. :)
The fabric is Liberty lawn from a few years ago, and I got it at Jones & Vandermeer. I didn't bother lining it because the skirt is so full and overlaps in several places and this is a darker print.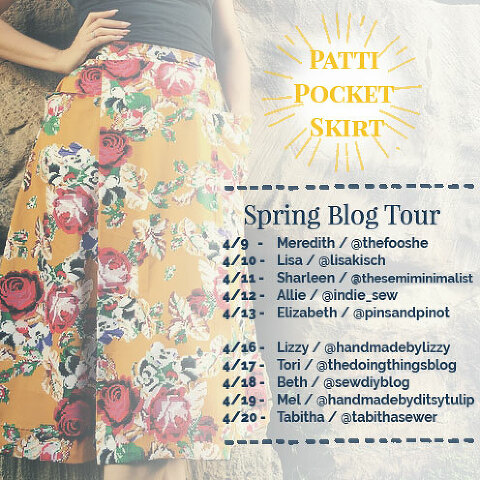 There will be several more stops on the tour and you are sure to see a great variety of skirts! Thanks for having me, Amy!
-Meredith