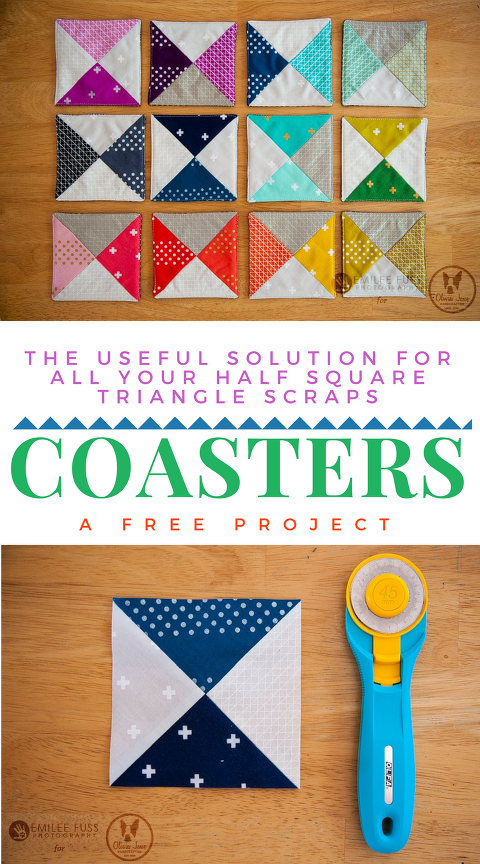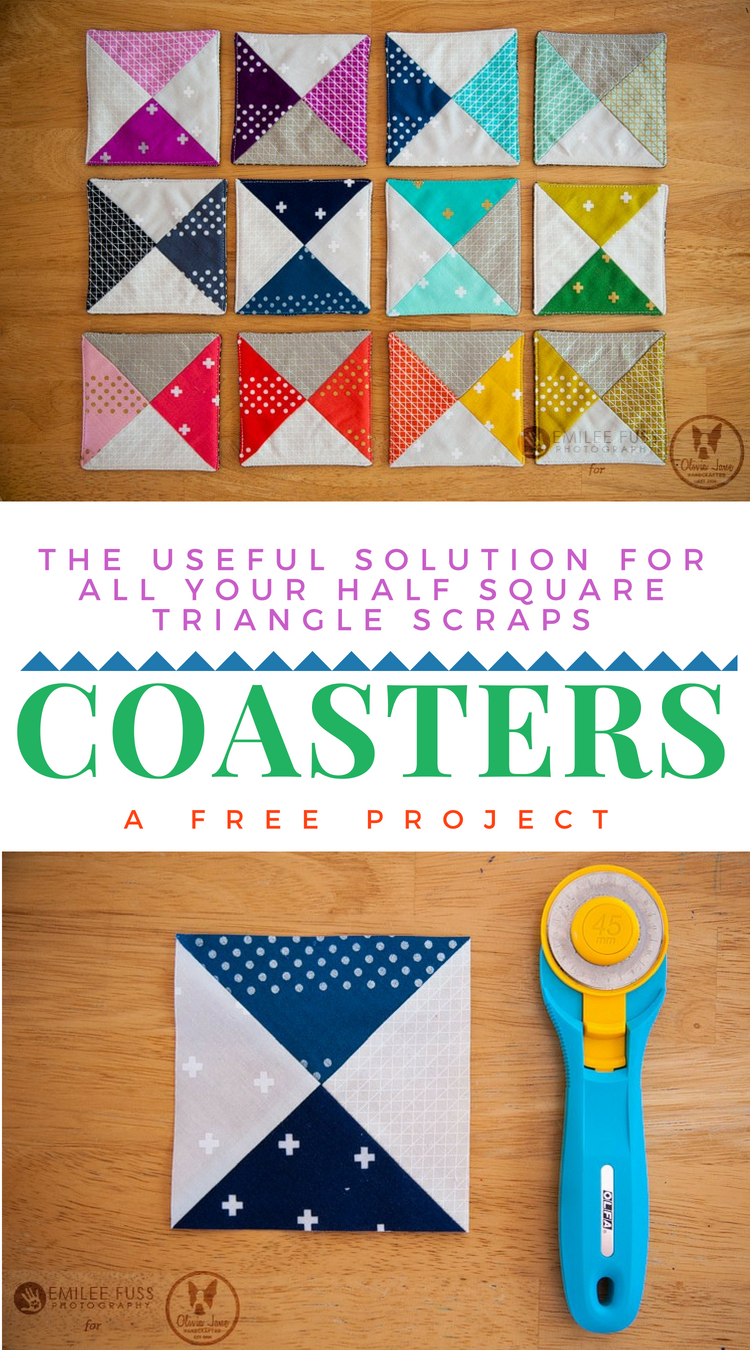 I'm back today with a tutorial for using up those half square triangle (HST) pieces you are bound to be left with at some point as a quilter. Don't fret! They are far from useless. Today I'm going to prove it to you with a tutorial for making one of my all time favorite household items- coasters.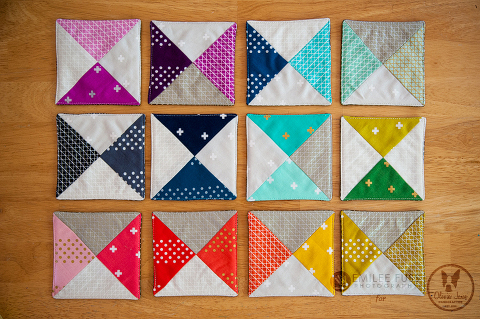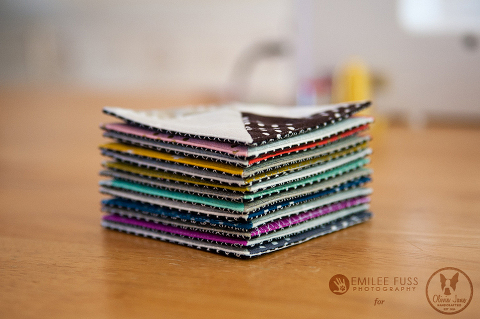 Several Christmases ago, I showed you how to make some tree themed coasters, but this one will be perfect year round, and so great for busting through those triangle scraps! I'm using leftovers from a recent Opposites Attract Quilt I made using Cotton + Steel Basics.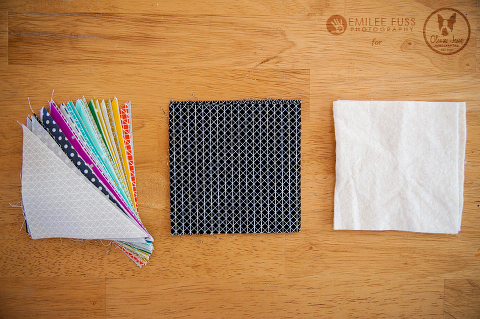 So here's what you will need: triangle scraps, 4.5″ backing fabric for as many as you are making, and 4.5″ batting squares (again, for however many coasters you plan to make). You'll also need a rotary cutter and mat, an iron, a sewing machine, a turning tool (perhaps  dull pencil or a knitting needle) and coordinating thread (I'm using Aurifil 50wt). You will probably be able to make one coaster in ten minutes, maybe less.
There are a million and two ways to arrange HSTs. You can use larger pieces, or you can cut them down and come up with a more complex arrangement. I went with hourglass blocks for mine because its quick and simple and looks great.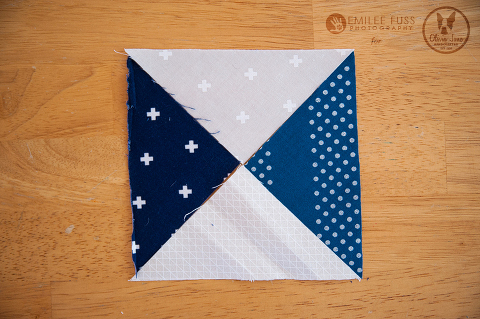 Assuming you are going with an hourglass shape, sew sides together so that the section in the middle is in line. (The 90º corner of the triangle will most likely be square, so this shouldn't be difficult to do. If its not, consider squaring off that part before you begin.)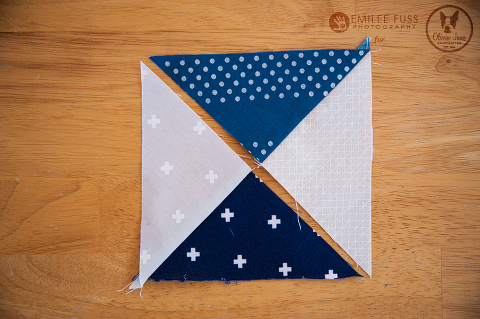 Press seams toward the colored portion, and then sew middle seam together. The middle seam should "lock" in place if you pressed to one side on the first step. Press the middle seam open.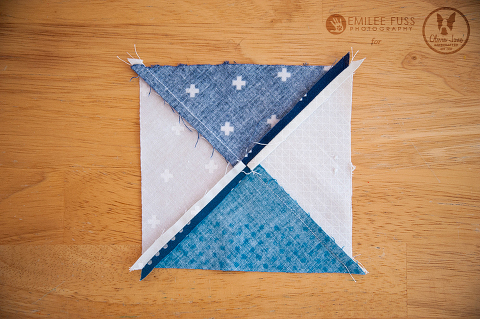 Trim down to 4.5″ square using the 45º angles on your ruler as a guide.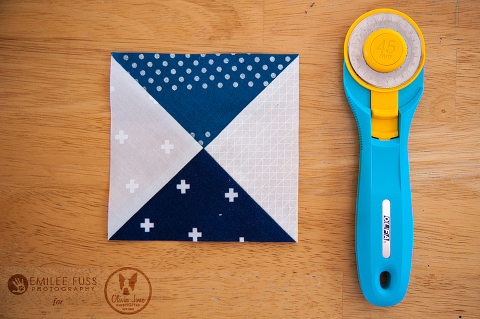 Next, layer your pieces as follows: backing fabric right side up, HST block right side down, batting.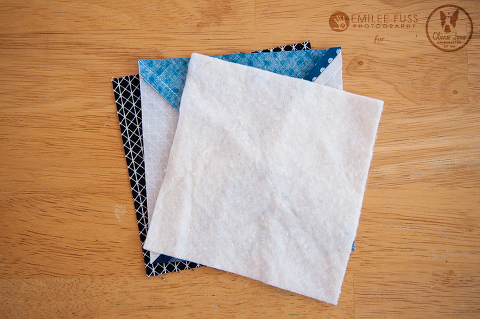 You may want to use your walking foot for this part, or you can just sew with your batting on top. Begin toward the bottom of one side, and using a backstitch and 1/4″ seam allowance, sew around your square, pivoting at the corners. Stop and backstitch 1.5-2″ before you reach your starting point so you have room to turn your coaster.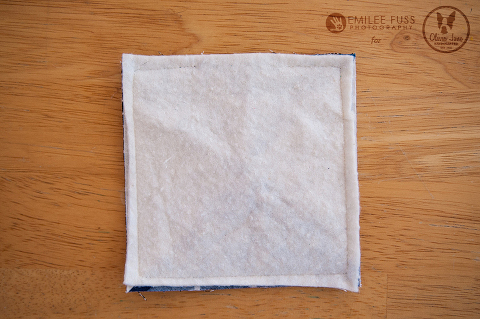 Trim the corners, but do not cut into your stitching.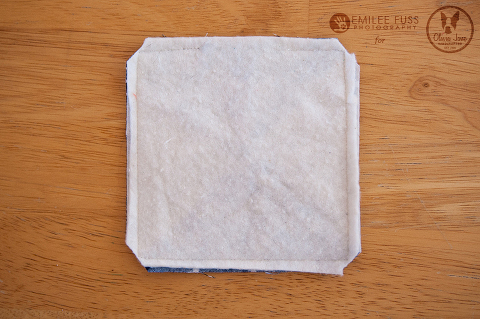 Turn coaster right side out using your turning tool to gently poke out the corners. Press coaster.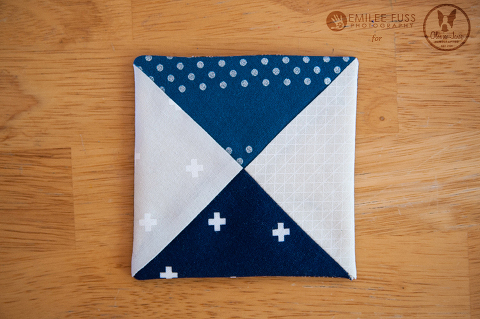 Using an edgestitching foot, sew all around your coaster. This will close up the opening, and give your coaster a finished appearance. Press again, then you are finished!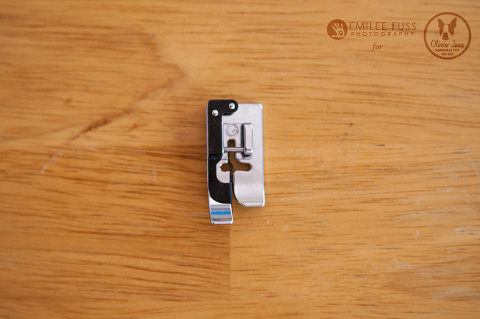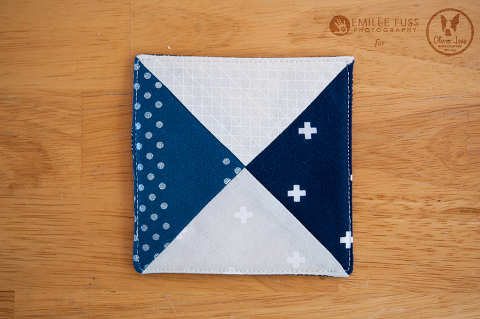 I love making these coasters as gifts because you can do anything you want with the tops, and they are so useful! Really, they are better than any coaster I've ever purchased, AND they are machine washable.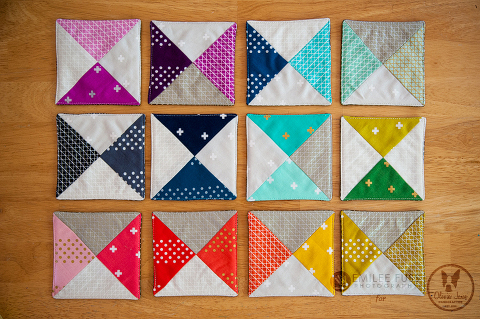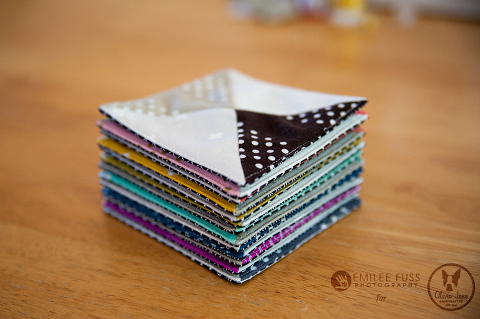 Go raid your scrap drawer and have fun! I want to see what you're making, so post pictures to social media and use #OJHcoasters.
-Meredith