I was recently asked to be a part of the Traveling Threads Bee which is a small group of women who are mailing out blocks each month on a circuit. At the end of the year, the blocks and the additions made by the group will circle their way back to the original owners who will finish up the quilts. I liked the idea, but man, I had the worst time finding inspiration for this one. No one else seemed to have an issue. I'm such a control freak; I normally plan out every single bit of a quilt before I even whip out my rotary cutter, so this was really a few steps outside of my comfort zone. I decided that regardless of the theme I began with, I ought to stick with a single collection of fabric so that even with a mish mash of styles, at least the fabric would coordinate. The obvious choice was just to go with Cotton and Steel because their entire range of fabrics coordinates perfectly, and there are so many to choose from. I quickly stashed a bunch of fat quarters to use and send in my package. That was the easy part.

The real difficultly for me was coming up with a first block. This single block would determine the whole tone of the quilt. Did I want to start with a big star? Some patchwork squares? I was just clueless. That is, until I pulled out a piece of Melody Miller's Mustang fabric. Gosh, that print is genius and it makes such a bold statement. I knew I had to recreate it for my quilt. I'm not into paper piecing a gazillion pieces to make a picture, so I asked my sister to blow me up a picture of the horse so I could make a template and applique my horse. I used the template to cut out my pieces which I fused together with some Wonder Under. I fused the whole horse to my favorite print from Melody's new Playful collection. Then I went back and stitched it down using coordinating pink thread and clear polyester thread.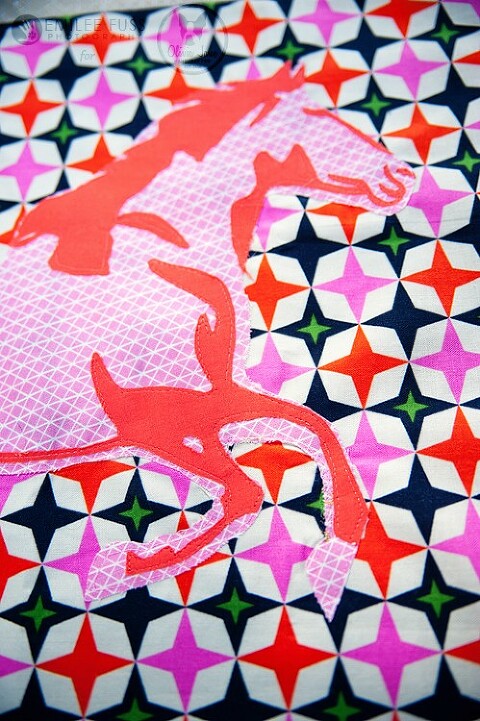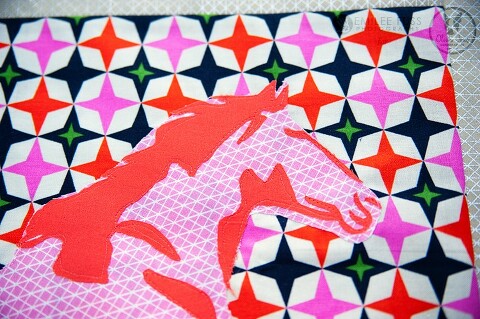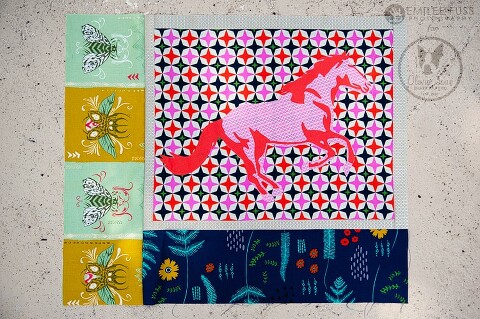 It took a while for inspiration to find me, but I'm just tickled with the result. I really could not be happier, and I'm finally excited to send this fabric off on its journey around the country. I can't wait to see what the other ladies decide to add.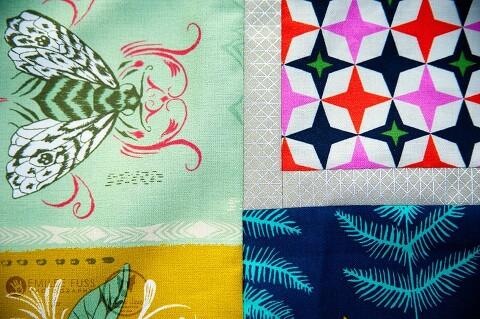 I'm going to be making another Mustang inspired quilt, and I'll be happy to post a tutorial on my process if you would like a bit more clarity. Leave me a comment so I know if there is interest.
-Meredith