Do you ever feel there is a pressure to have something new? To come up with something different? Sometimes, when I am thinking of projects to share, I get too caught up in the novel, and forget that spicing up the everyday is really a stress free, and easy approach to exercising creativity and adding beauty to the world one stitch at a time. So guess what we are going to do today? We are going to take a simple, everyday item and give it some handmade love, and I think you will be inspired to see what you already have in a new light. I hope you will find joy in the simplicity of this everyday appliqué project and apply it in places that cause you to smile.
Once upon a time, I decided I was going to be that fun, creative mom and allowed my three young children to have full reign over acrylic paints on my bare dining room table. After all, it was just a bit (okay, a lot) of paint. Well I found out that once it dries, short of refinishing the table, that paint was just part of the table. And it is everywhere, in every color. Now we use tablecloths regularly because I am not refinishing that table until the children are a bit older. So I'm going to show you how I took a plain grey tablecloth, and made it more "me" with just a bit of pretty fabric and a trusty appliqué stitch.
I am sewing this project on my Janome Skyline S9, which is a combination machine, but I have never encountered a regular machine that doesn't include a simple applique stitch, so I am confident you will be able to do this project no matter what machine you are stitching on!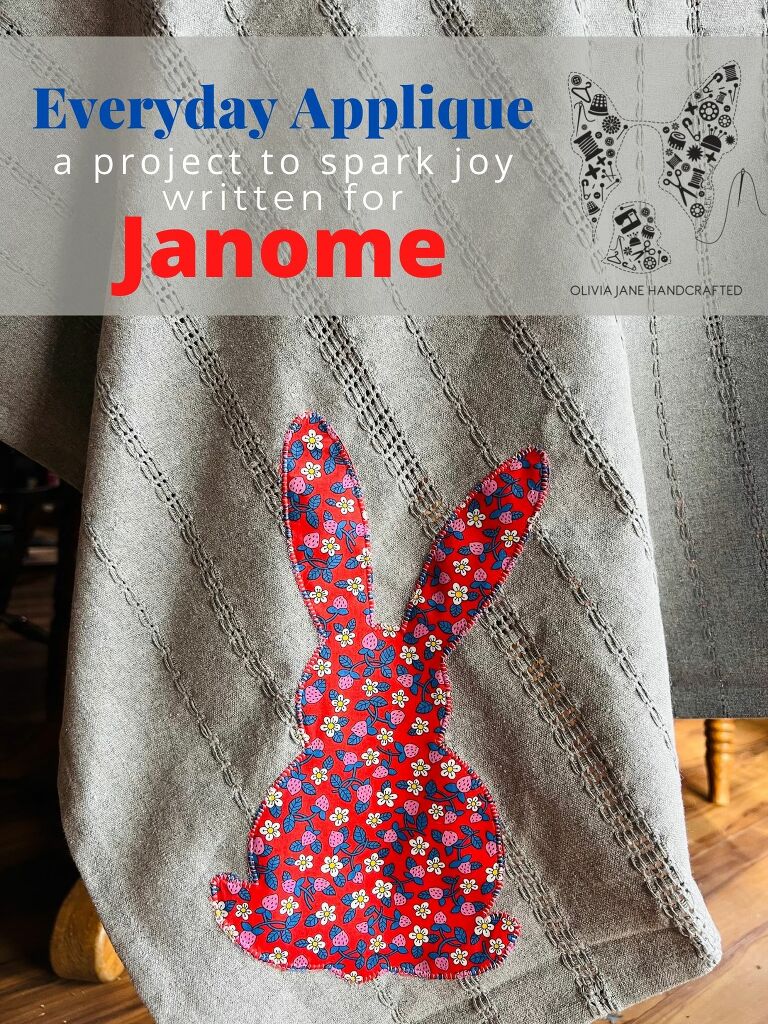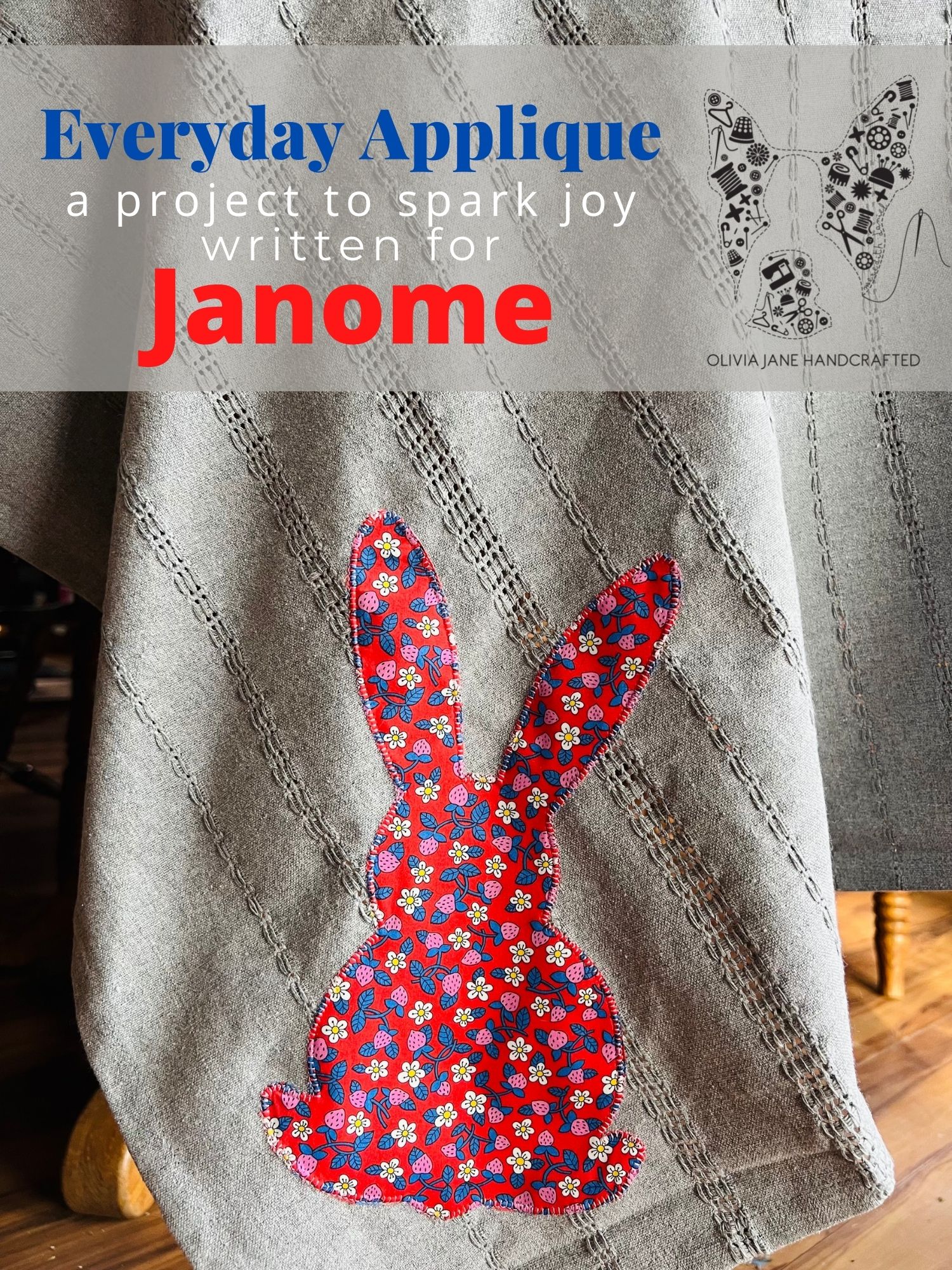 Everyday Applique Tablecloth
Level: Beginner       Time: 1-2 hours, can vary
Materials Needed:
ready made tablecloth

some fabrics that you love.- I'm using 10 Liberty prints that make me smile

interfacing

wonder under (optional for fusing shapes- I didn't use it here)

thread that coordinates with your fabric

bunny template, if using (you can choose your own shape!)

scissors, a pencil or water soluble pen, and pins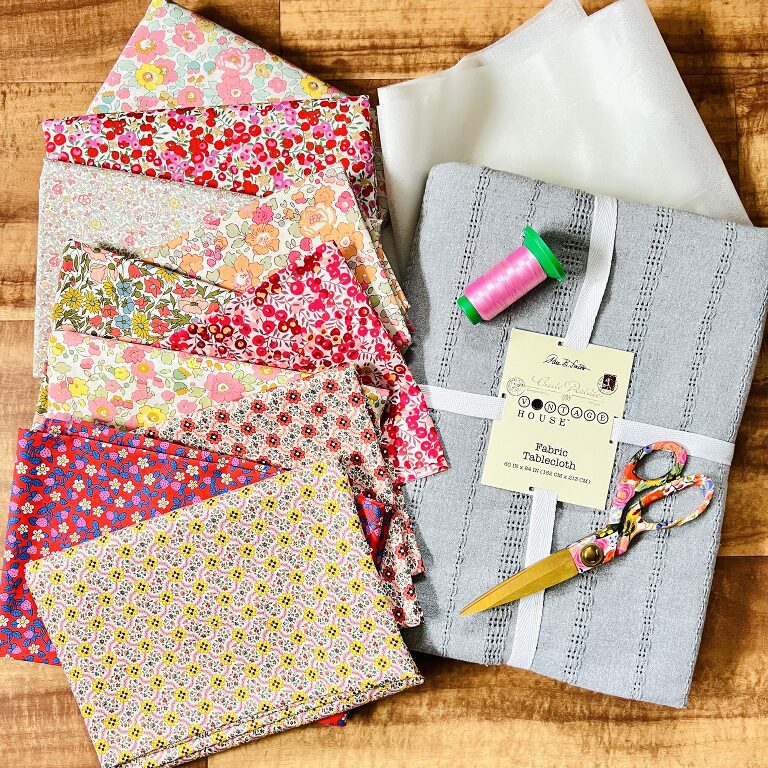 Instructions:
Cut 6″x10′ pieces from your fabrics and interfacing. This is large enough to fit the bunny, but if you are using a different template, just be sure to cut pieces that will fit your template. Fuse interfacing to fabric following manufacturers directions. If you are planning to use Wonder Under to fuse your template to your tablecloth, go ahead and fuse the first side, and leave the paper backing for now.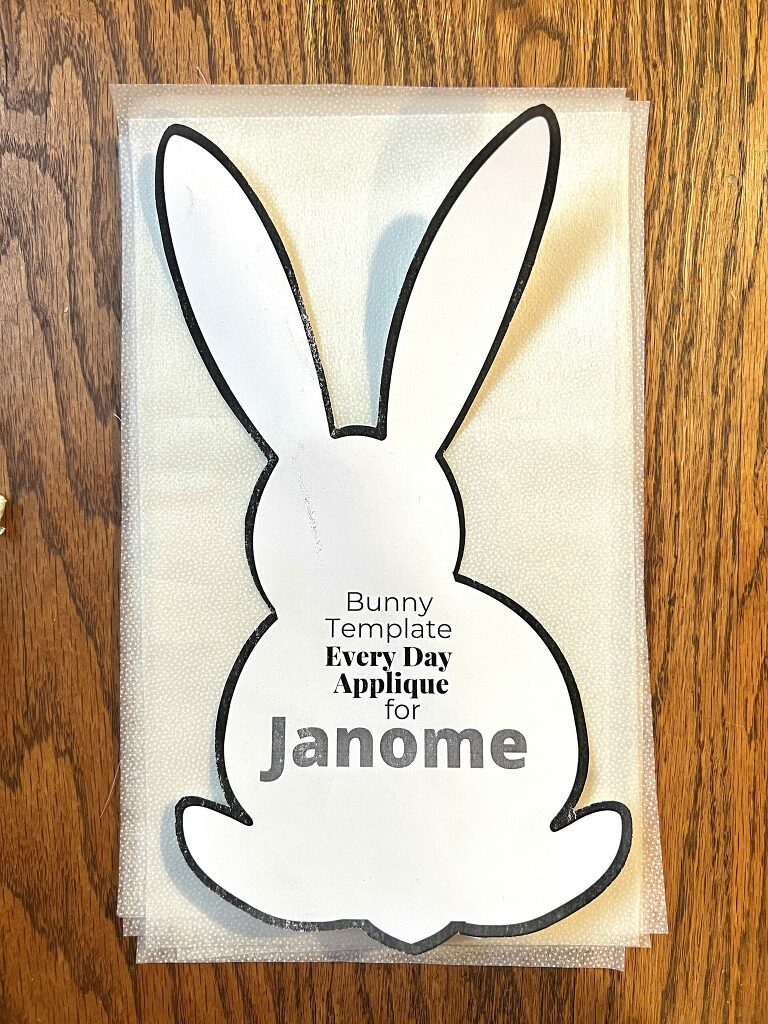 Trace template onto wrong side (interfaced or Wonder Under side), and cut all pieces with sharp scissors.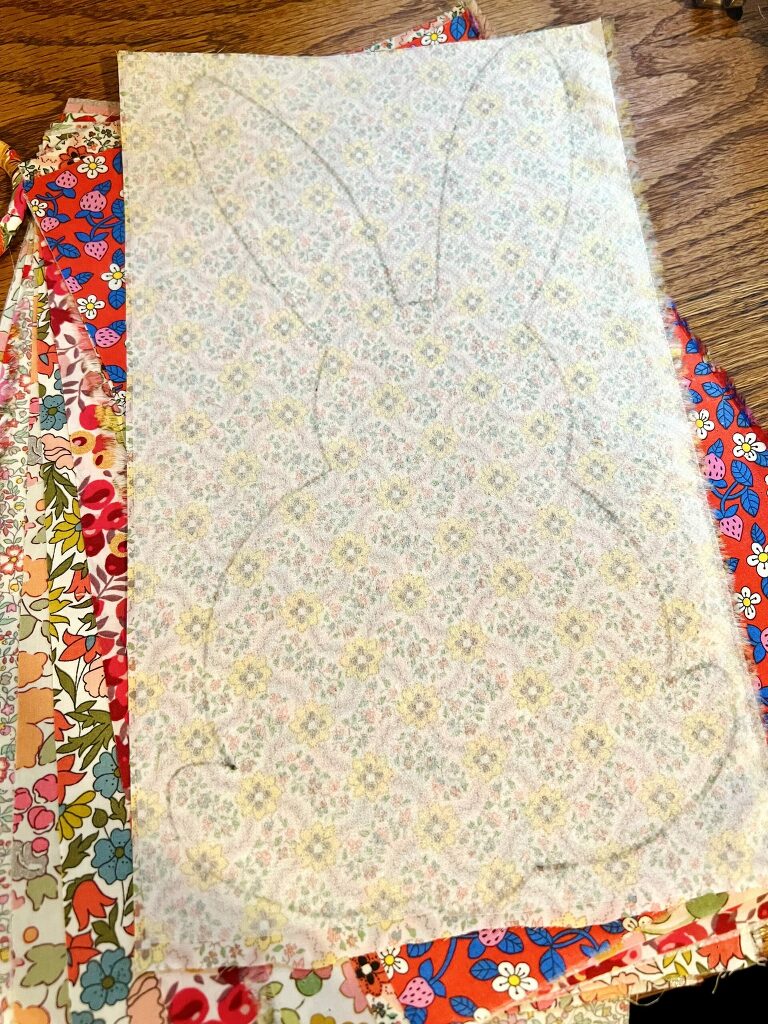 Pin or fuse your cut fabric pieces to tablecloth to prepare for appliqué.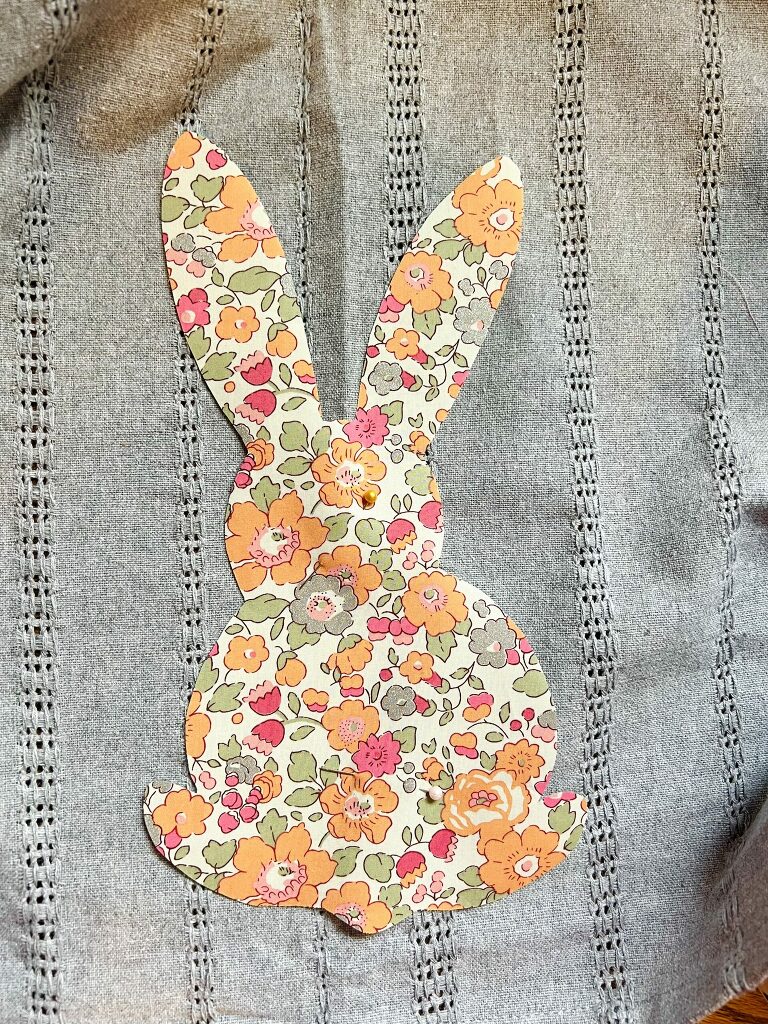 Using your desired applique stich and foot F, stitch around each bunny.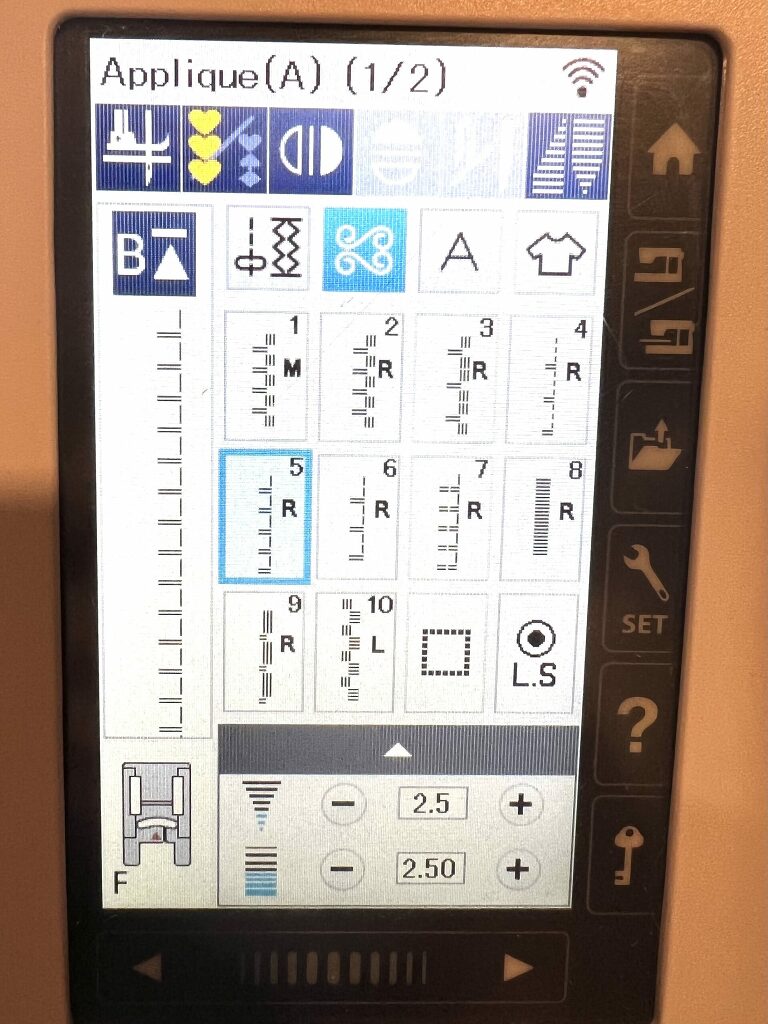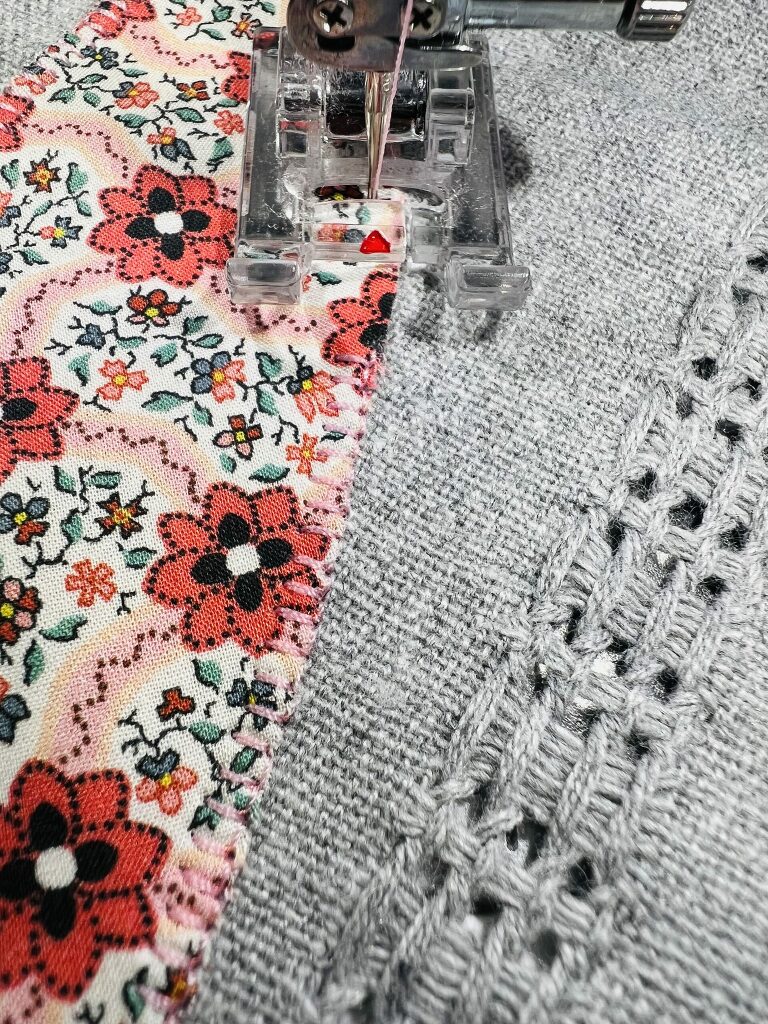 You've done it! Look at that cute little bun.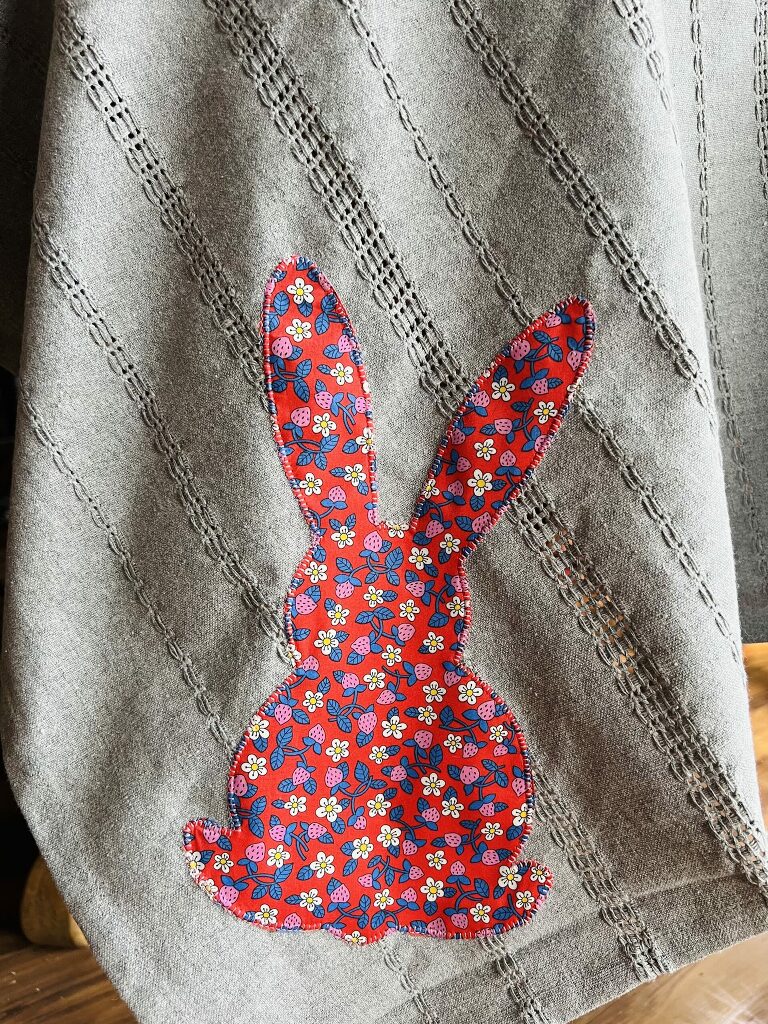 and this one!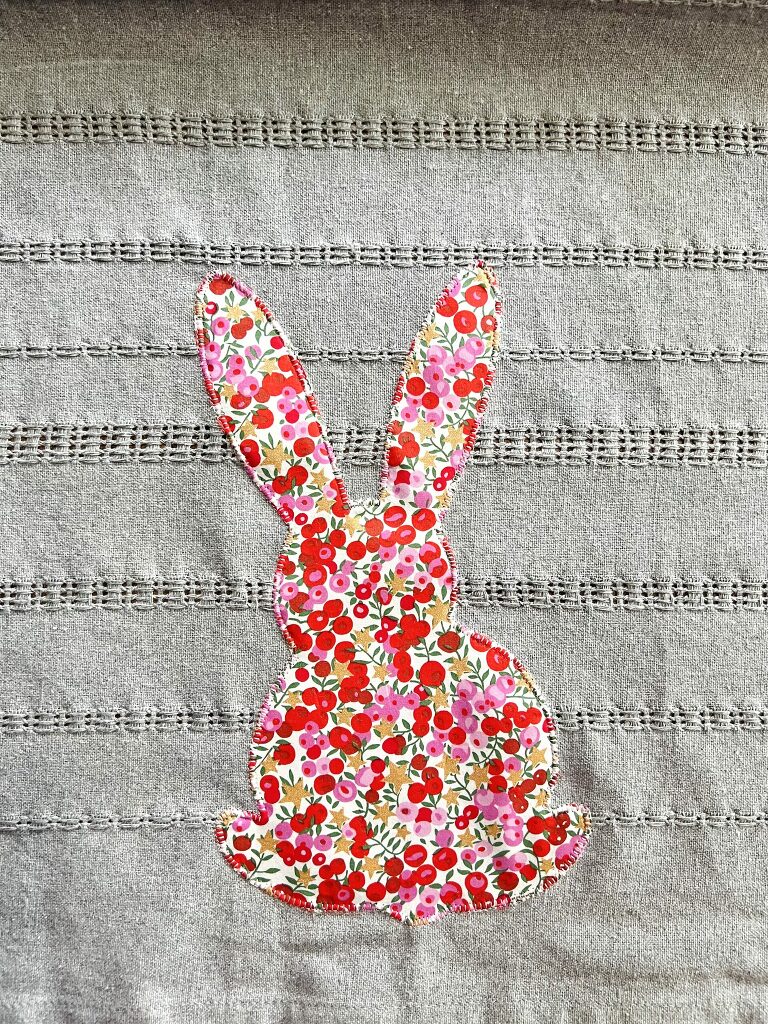 et viola! You have taken an ordinary tablecloth and made it extraordinary!
Now go grab some tea towels, and embellish them too! The possibilities are endless when you use this simple method to add a touch of YOU to everyday items. A project need not be difficult or time consuming to add measureless beauty to your home, your wardrobe, your life.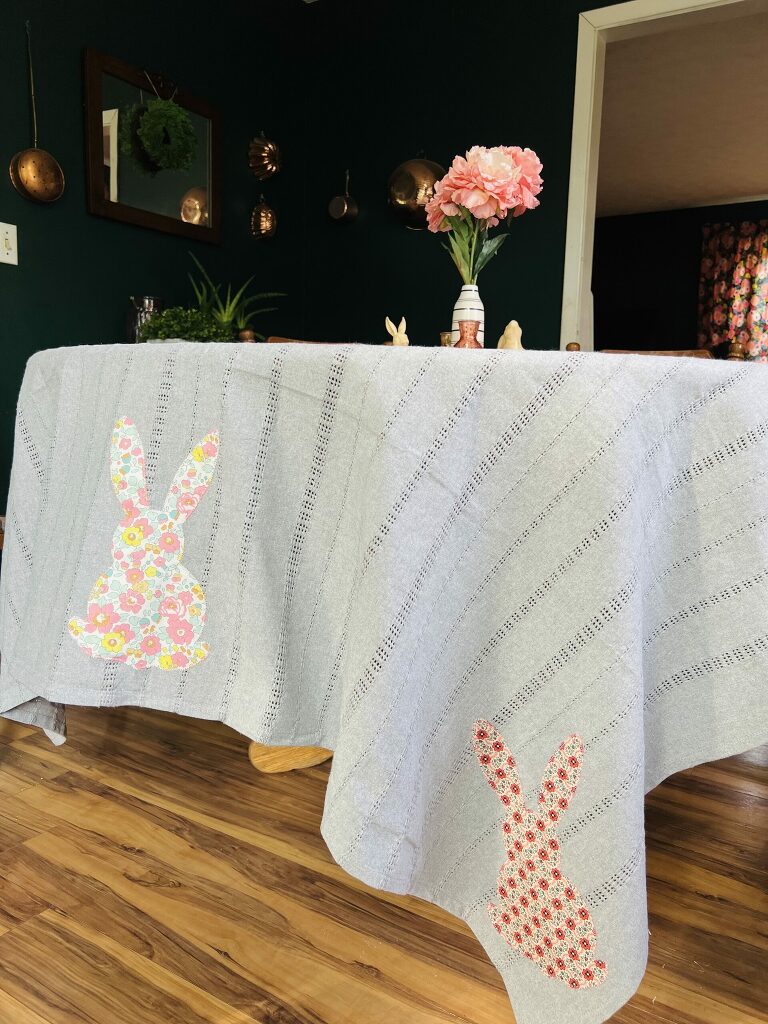 hint: try this everyday appliqué on bath towels, shower curtains, sweatshirts, or an old piece of clothing that could use new life. 
I hope this inspires you to stitch today! Share your projects on social media using #oliviajanehandcrafted and #madewithjanome
-Meredith