Do you know what's difficult? Finding clothes for an adolescent girl. No longer a child, and not quite a teen, both Layla herself and her body are figuring out where to fit in. Its not easy to find clothes that are slightly curvy but not too much so. When Layla asked me to make her some more dresses, it was important to find a style to make this transitional phase feel more natural and less awkward. So we worked together to make a mini Fringe dress in a Liberty print.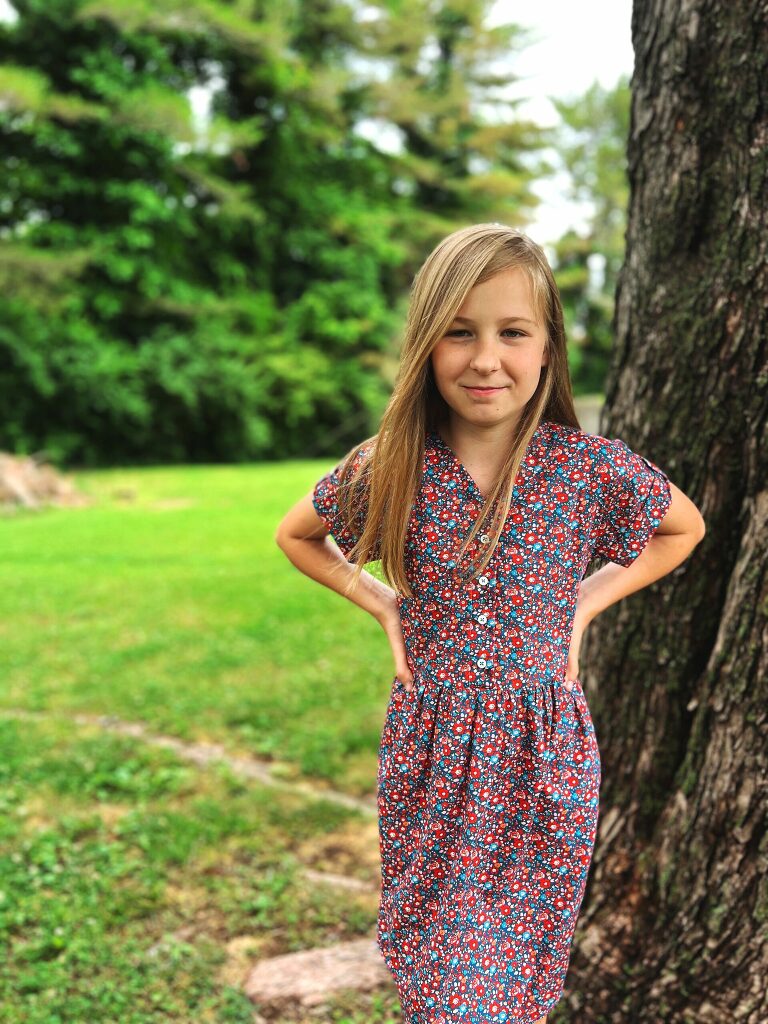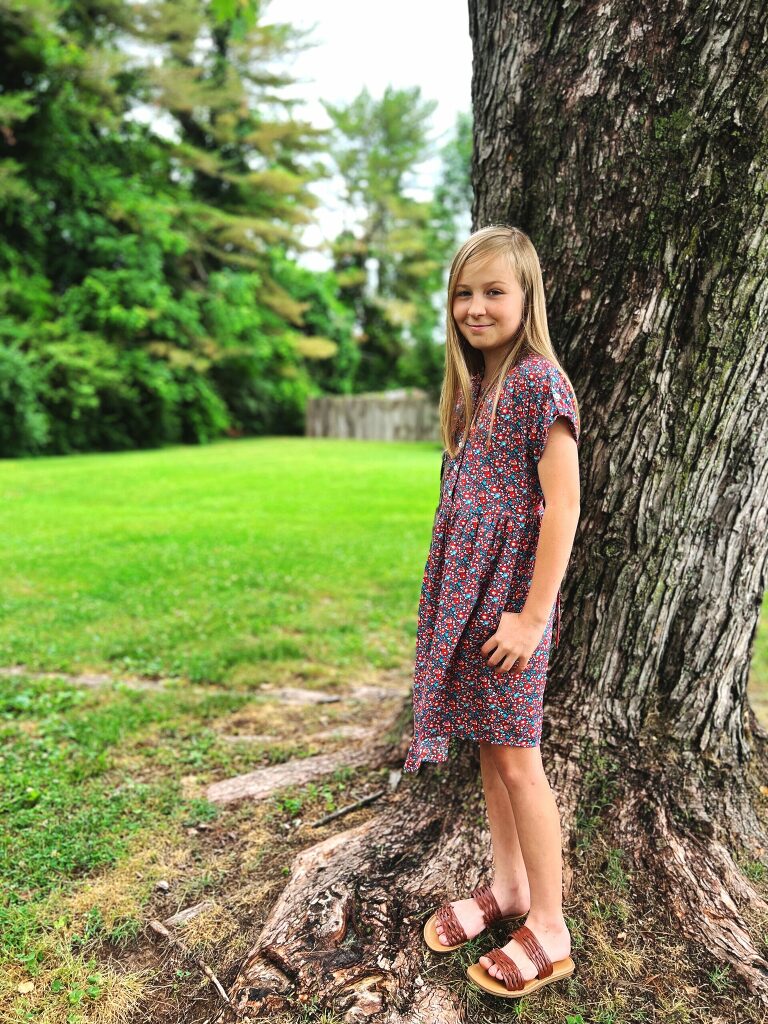 If you follow along with me here regularly, you'll know the Fringe Dress by Chalk and Notch is a favorite of mine. Since Layla is not physically large enough to fit into the women's pattern, I purchased the mini Fringe Dress pattern. Layla really likes my dresses, so I thought using this dress that looked grown up but would fit her small frame would be perfect.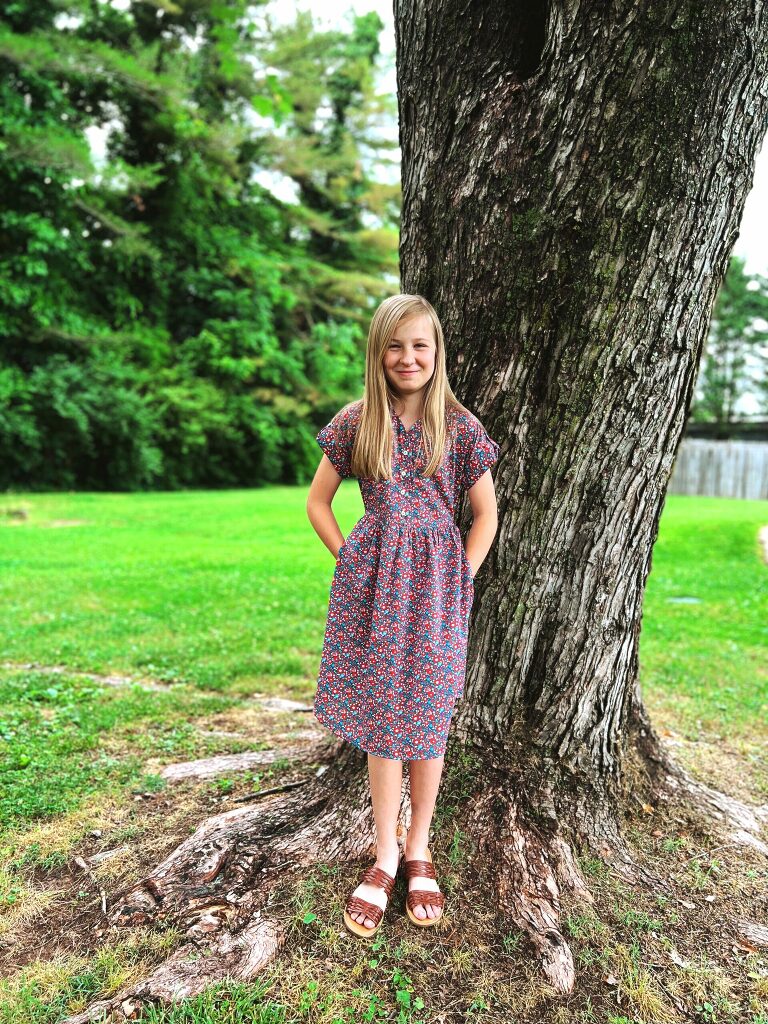 This project was a lot of fun. Not only did we use a fabric and pattern combination that is a favorite for me, I actually got to spend time working on this with Layla. We cut out two of these dresses, one in this Liberty print, and the other in a leopard print, and we sewed through them at the same time. For the most part, I worked on this version, and then she would copy me step-by-step on the leopard print version.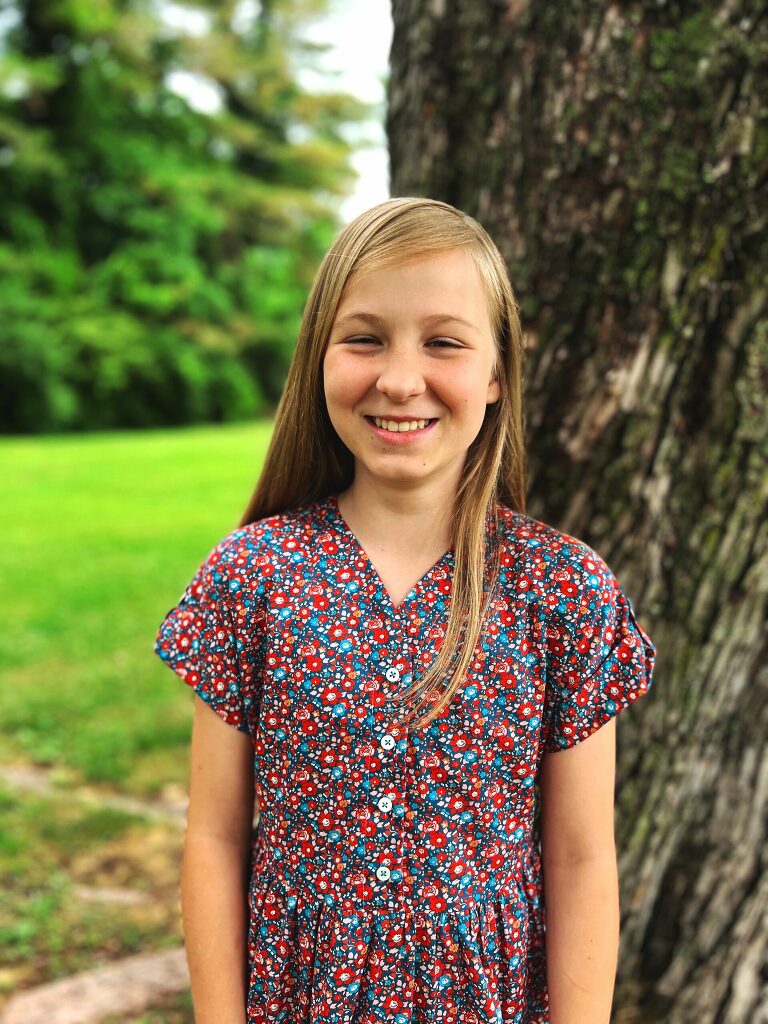 Layla and I don't get a ton of one-on-one time.  It seems that one of us is always needed to care for one or more of the boys. The youngest is two and he is into absolutely everything. None of my children have been as busy as he is, so he really does keep all of us on our toes. With that being our current reality, having this girl time was a real treat. Also, Layla got to learn some new techniques in the process.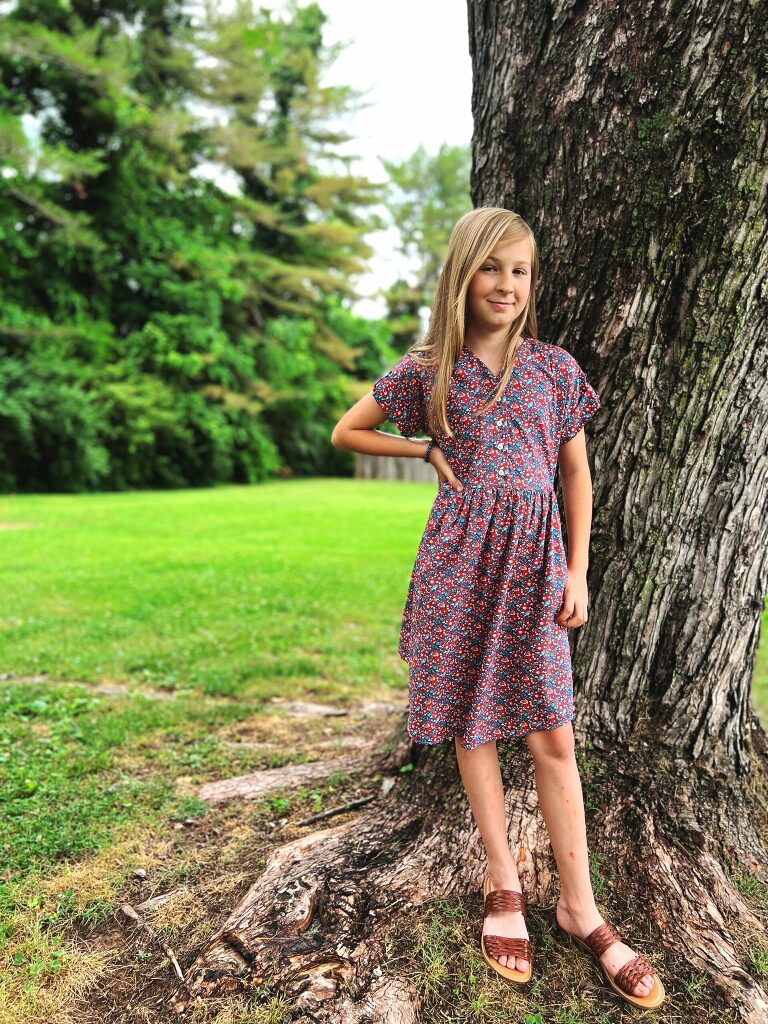 I ordered one yard of this print from DuckaDilly a couple of weeks ago. I really should have ordered a half yard more, but we made it work. We cut the waist ties, pockets, and facings from a contrasting fabric, which I really like. The main print is Betsy Ann in a color way that was originally commissioned by J.Crew a few years ago. DuckaDilly was able to get a hold of some, and I was lucky enough to get a yard of it. It looks like they still have a few yards in stock at the time I'm writing this! The red contrasting fabric is Edenham from Liberty's 40th Anniversary Classics collection.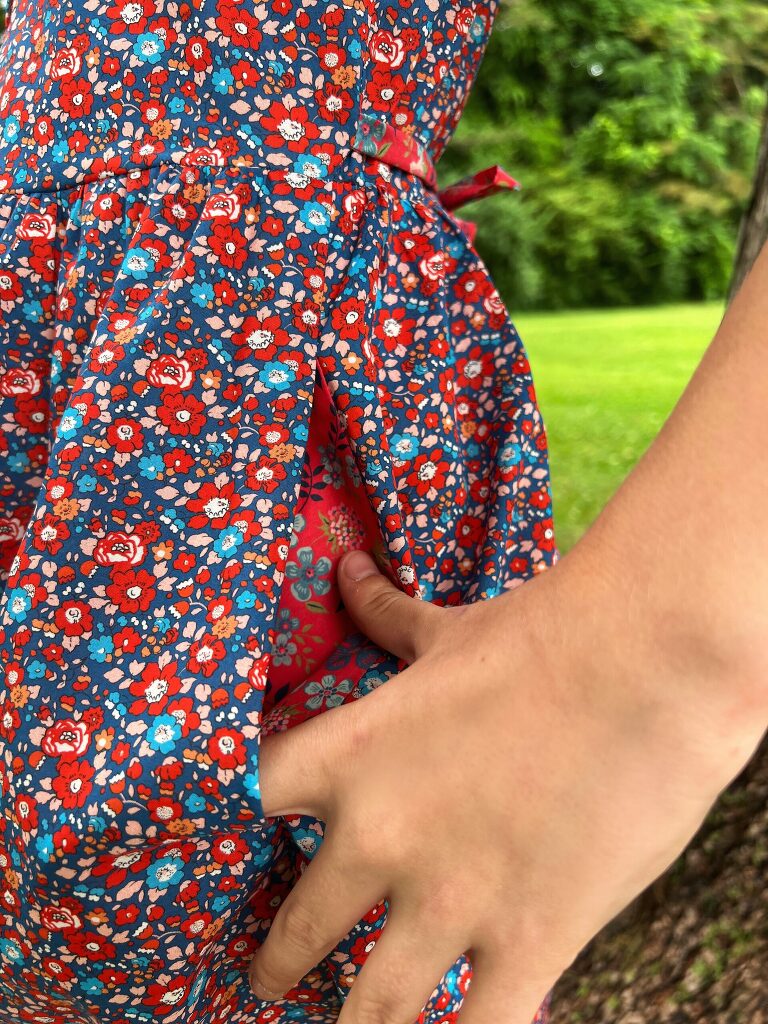 This pattern went together just as easily as the ladies version. There are just a few differences between the girls and ladies patterns. The girls version lacks bust darts, as expected. The girls version has four buttons on the bodice, whereas the ladies has three.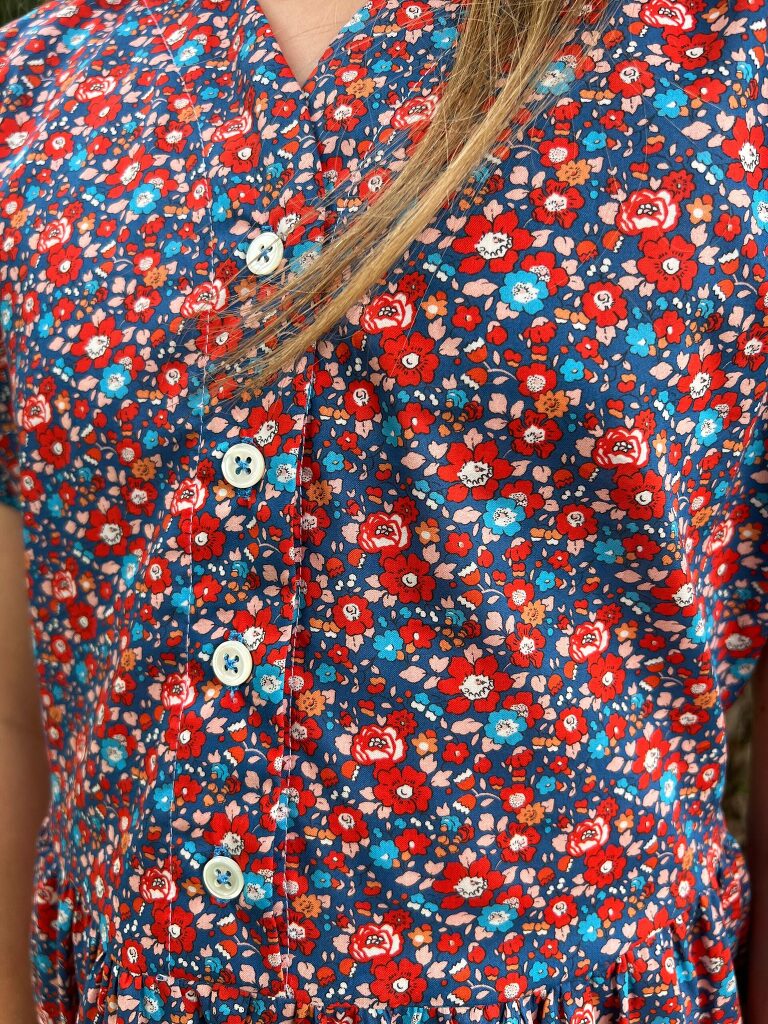 Layla is pretty little- she is 12 but generally wears a girls 8-10. I made this dress in a size 8 with size 10 length, according to her measurements. I think the fit is really great. She doesn't like anything too tight or clingy, and she feels very comfortable in this. I think our mini Fringe in Liberty is the perfect piece for my little preteen girl!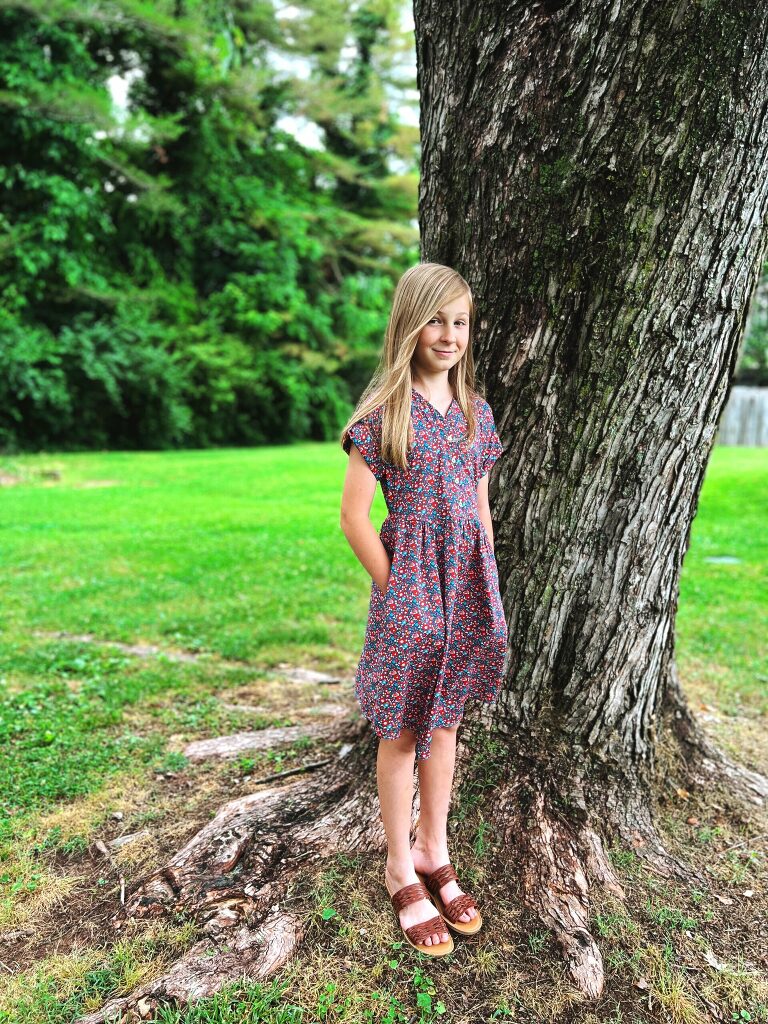 I have another Layla project to share with you next time. See you back here then!
-Meredith