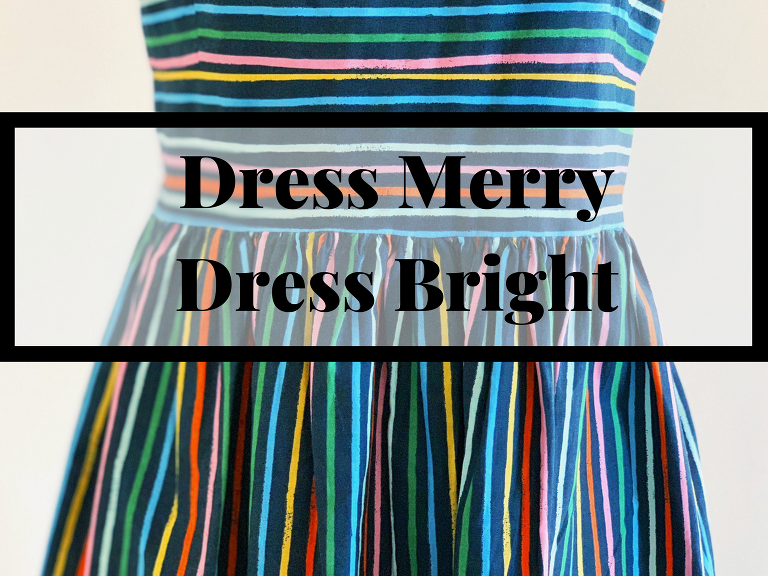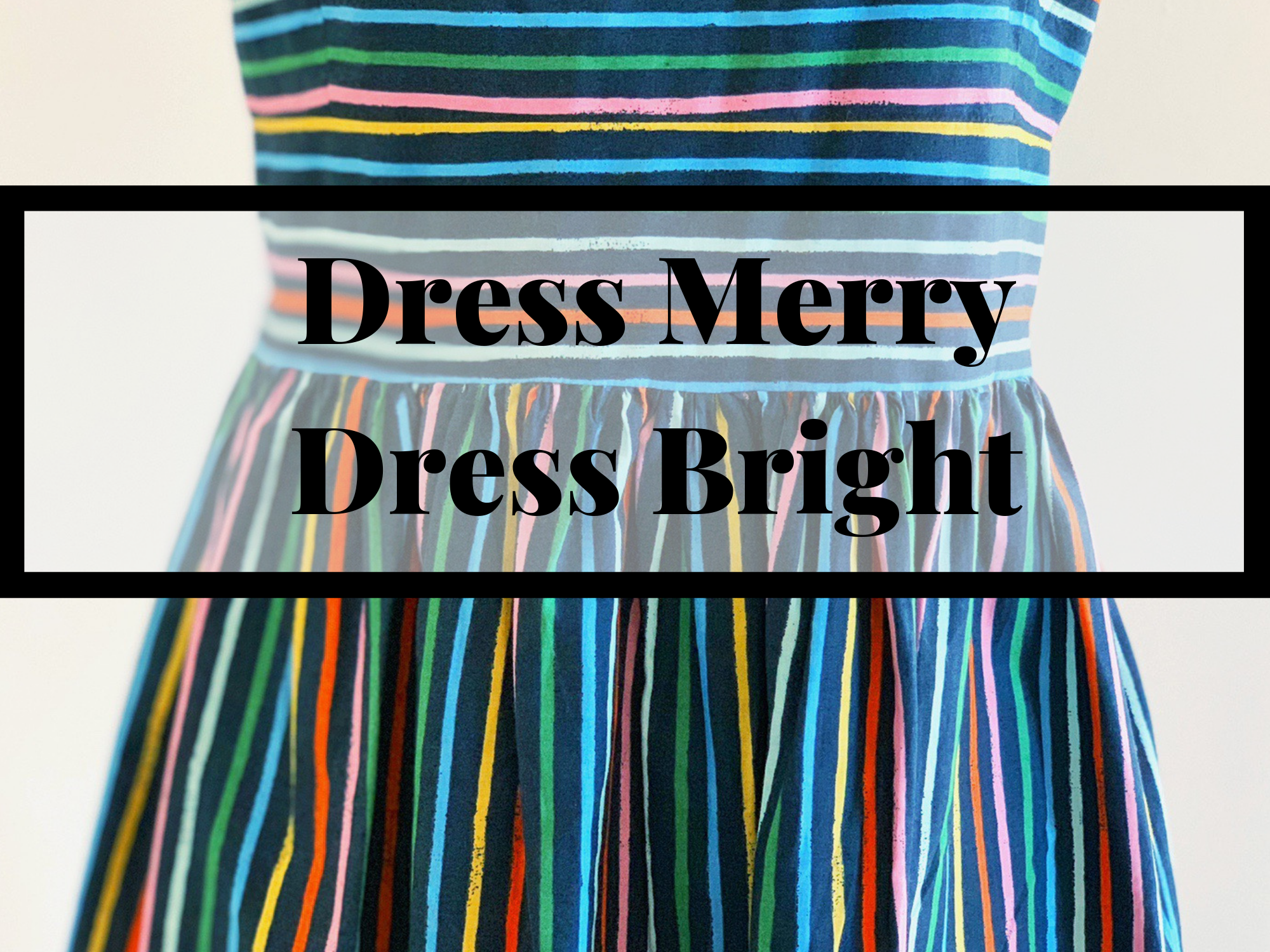 While I'm over here gladly enjoying these gloriously lower temperatures, I have to admit I'm all summer and sunshine when it comes to my wardrobe. How could I not be with this Rifle Paper Co timeless, striped lawn? I made this dress back in August when I was in the throws of a lot of commissioned work, and I just needed to have a quick finish. Those sort of projects do wonders for revitalizing my sew-jo.
I started cutting out the trusty Michelle, My Belle pattern from Liberty Love (best book EVER), which I've made five thousand of in the past (see the others here). I decided I should make another, but this time I'd change it up a little bit. Not only is this fabric not floral (GASP!), but I decided this one should also be maxi length! So Saturday night I cut out my dress. I then decided I wanted I wanted to wear it Sunday morning, so I told the husband I'd only be a little while but I had to get down to my studio. After years of seeing that look in my eye, he knows how this works.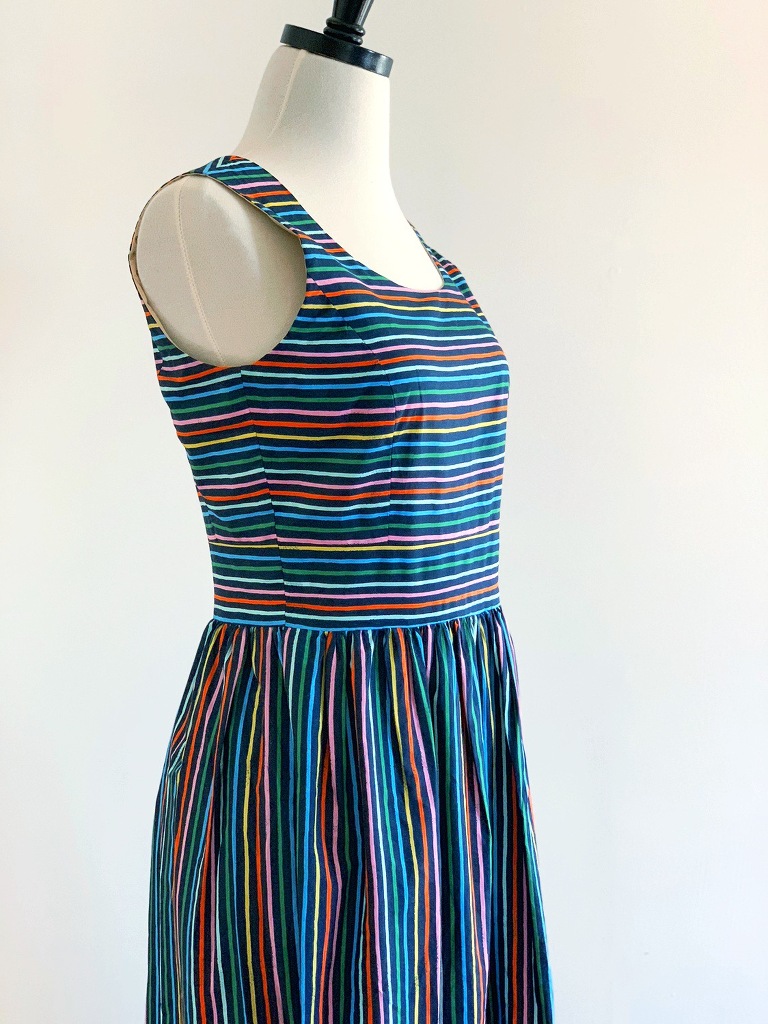 This pattern is such an easy fit because of the princess seams, and I tend to choose it over darted bodices again and again for this reason. However, I was a little worried about matching up the stripes this way. In the end, I decided to really take my time with the cutting, and line it up as best as I was able, but I was not going to fret over lines that were slightly off. The way that this construction works is that the side pieces of the front and back seams have a greater convex curve that must be eased into the smaller concave curves of the main front and back pieces, so by nature the stripes aren't going to match up perfectly all the way because the side pieces simply have more stripes. All that to say, I did my best and I'm pleased as pie with the result. I'm a perfectionist when it comes to constructing anything, but I'm more flexible when it comes to pattern matching.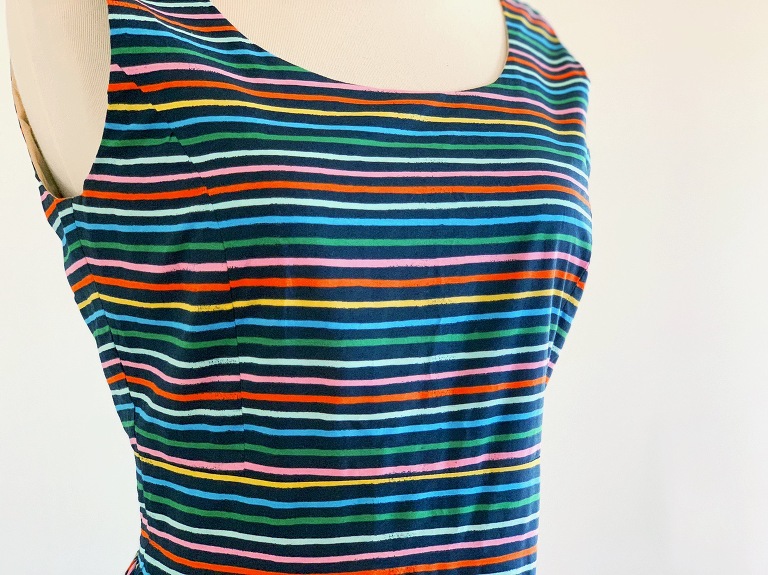 After completing the bodice, I went upstairs to double check that maxi length was right for me, and after the husband said yes, I ran downstairs for just another minute to attach my skirt and the zipper. It really did go quickly, then we watched a goofy movie while I hand sewed the lining down. Truly, this was the project I needed on a Saturday night after a LONG week with the husband working out of town. Michelle, My Belle is my tried and true dress pattern, always promising a beautiful and easy result.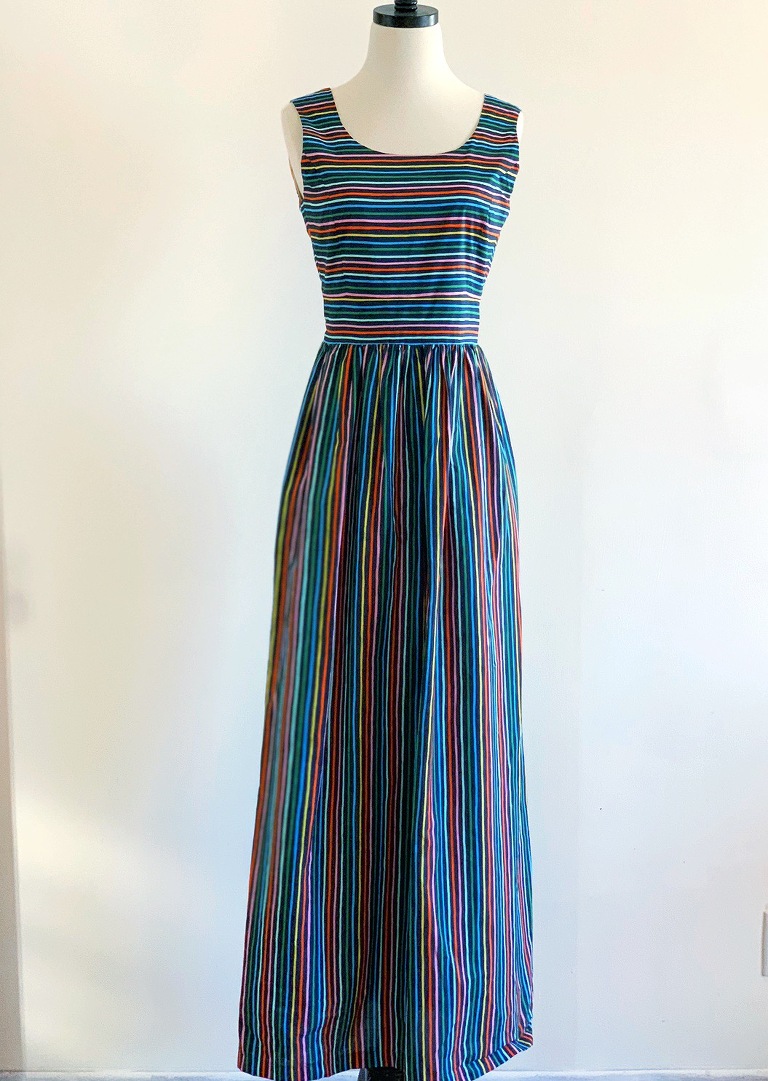 There is a single thing I plan to change on this dress, and that is that it needs a slit so I can take normal steps. The skirt is quite full enough, but with the length being to the floor, I do need just a bit more freedom for my feet so I don't have to hold it up as I walk. I plan to add that before the week is up so I don't have to think about it again. I'm living and learning!
I want to know what your favorite patterns are. I love making favorites over and over again. Its just like a favorite drink at Starbucks, always great and worth getting again. On that note, I do have a closet full of My Belles, so truly, I'd love to know if you have a pattern I ought to try as we go into winter.
-Meredith