About a month and a half ago, I liked an Oliver + S post announcing the release of a new Lisette pattern, the Round Trip Dress. Very shortly after, my sister said she needed that dress that I 'liked'. That thrilled me, because I knew what I'd be doing for Emilee's birthday!
Well its only been a month and four days, but Emilee now has her very belated birthday gift. And it looks darn good on her!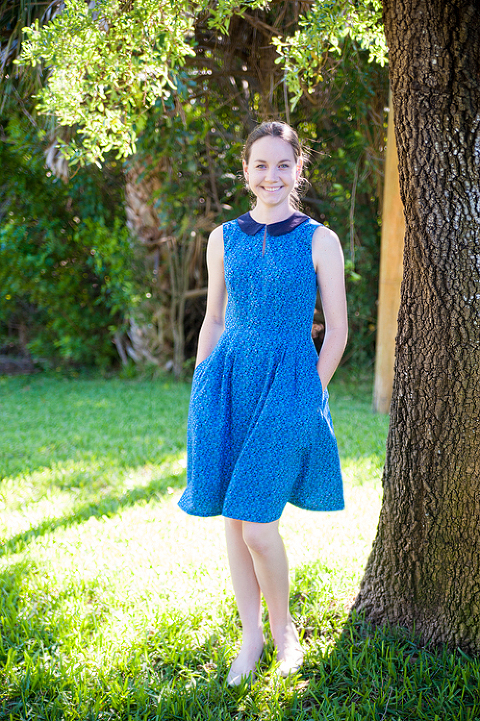 I've been wanting to make a dress for her with this Liberty horse fabric (Kussman) for some time, and I was so happy that Pink Chalk had it. I would've gone with the brighter colorway, but Emilee liked the blue one. And because it was her birthday, I obliged. Initially, I was thinking a chambray collar would be fun, but Emilee wanted black. She has waaaayyy too much black in her wardrobe, and I don't have a single cut of solid black fabric, so I rebelled and used a super dark navy voile. I bet she hasn't even noticed. :)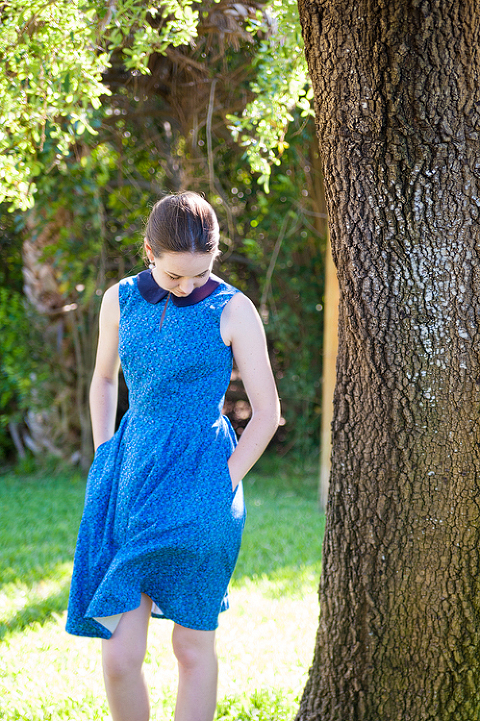 So some dress details… This pattern did not call for any lining, just facings (which by now you know I detest), so I just did what I wanted, and went with a full lining using my trusty Free Spirit solid voile. For me, a full lining means skipping out on overcasting the exposed seams, because there are no exposed seams. Plus it just looks a gazillion times better! I also used a hook and eye for the top front closure after trying out the button and loop and disliking the look. I think it looks a bit cleaner.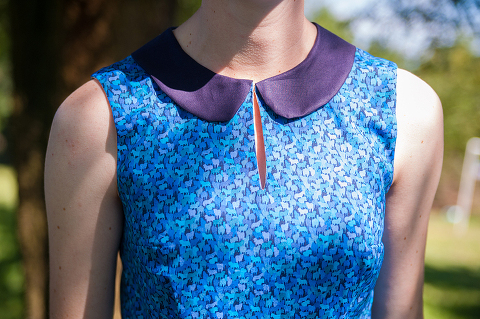 Its safe to say the pockets are her very favorite feature of this dress! In fact, I do believe that Emilee's motto is that any garment is made better with pockets.
I think Emilee looks perfectly cute in this dress! I made it to fit her exactly, which meant a good bit of grading and changing. But I'm so glad I waited to sew or finish a particular step for me to measure her when needed because the result is a fabulously fitting dress. And she loves it. Few things beat the feeling that comes with seeing someone love something that you put your heart into.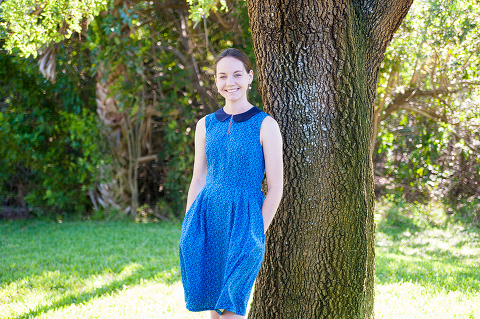 I'm sorry things have been so slow around here. I've had to more than double my 'real' job workload to pay for Baby's arrival, which unfortunately means house and blog are suffering. Three more weeks of work, and then I'll have some time off before Baby gets here to jabber on about all the last minute things I'm working on! Come back tomorrow to see a peek of what I'm working on for a client.