Today is Layla's fifth birthday. The festivities started yesterday with a small party with my family. She really wanted to go bowling again this year, so we rushed through presents and cake so we would have plenty of time to bowl. We got the the bowling alley and all the lanes were taken for leagues, so that will happen some other time. But I want to show you some pictures of the party because its been too long since Layla has had a feature on here.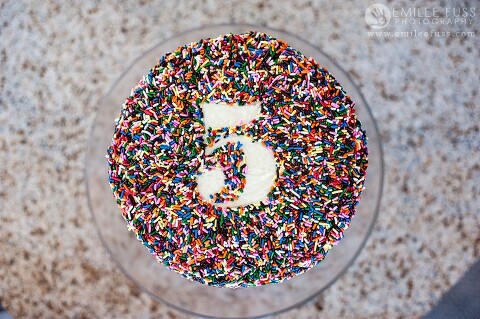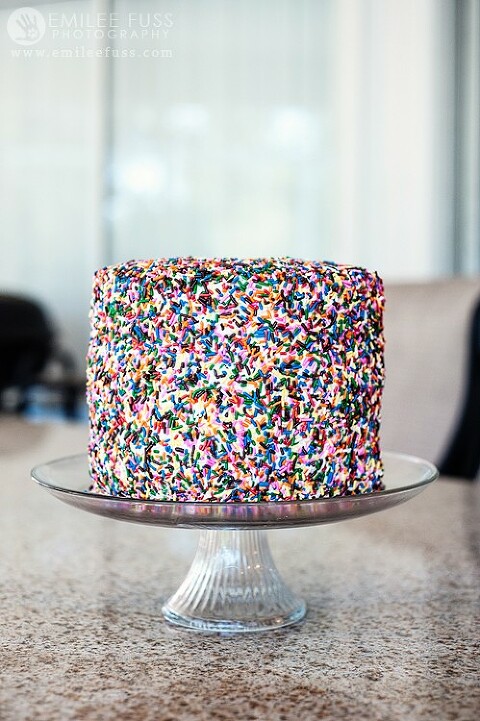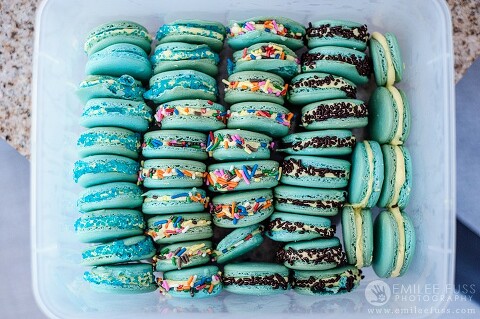 We kept things small, as I said. We just got together with family and had a great time. And I didn't do any hand made presents this year. I made up for it by attempting this cake. I saw one like it on Pinterest, and decided, heck. I can make that monster of a cake. So I did. I didn't follow the tutorial on Pinterest because I didn't have all the equipment it called for. I'm not a baker. In fact, I'm known as the female in the family with the least domestic talents. [see those amazing macaroons? My littlest sister made those.] So as I do most things, I winged it. I'll leave a little note at the end in case you're not a cake baker by trade, but want to make a cake like this. It's humongus and delicious.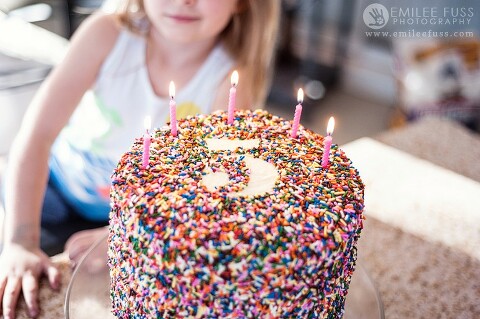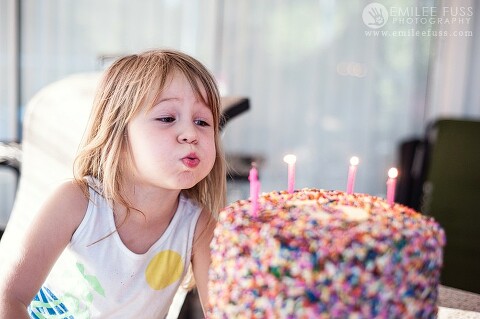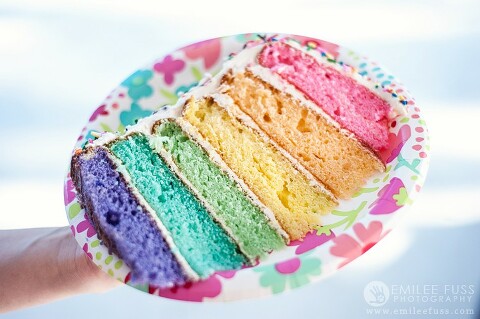 Layla got some good presents. I was really hoping for anything other than toys. Activity items are good, and thankfully that's what she got. We have accumulated so many toys, and we're constantly having to purge. She seems happy!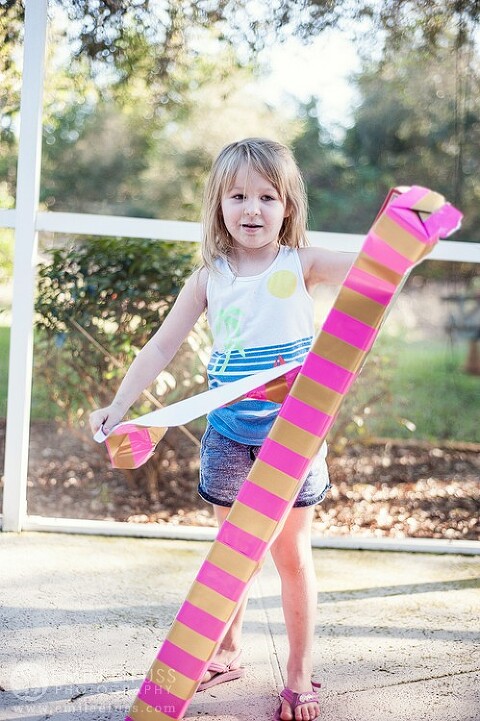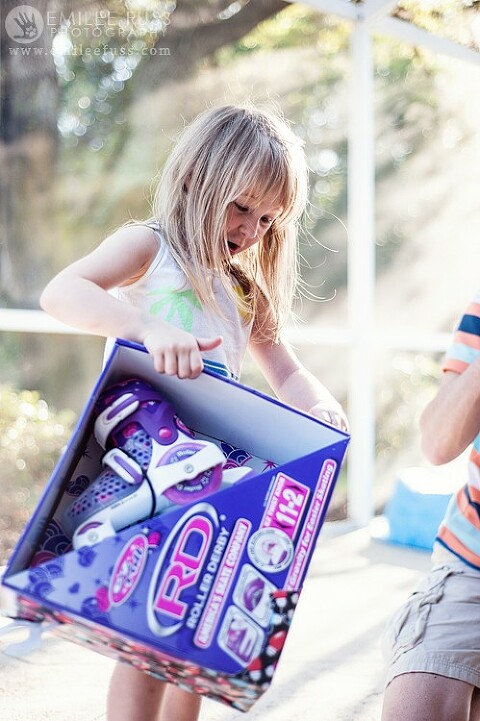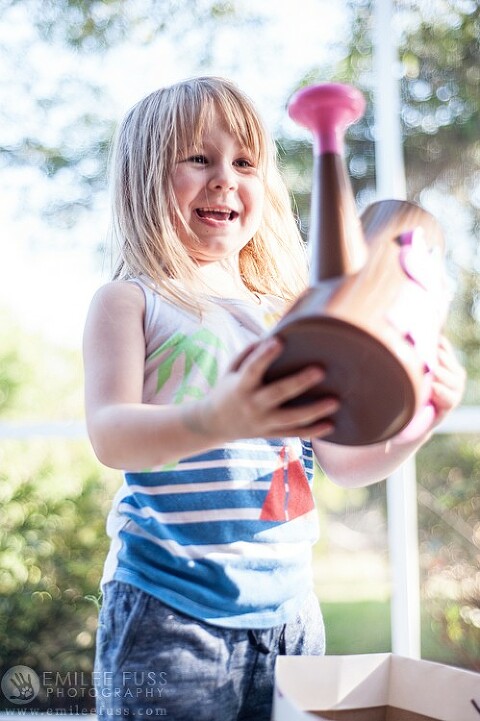 Wallace really enjoyed the festivities. He loved watching Layla react to her gifts, just had a good time being in the middle of all of it. He adores his big sister!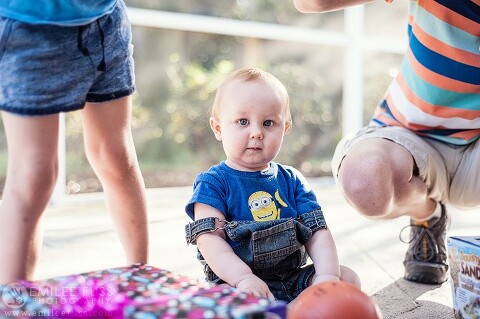 This was the year of the pinata. She has wanted one for every birthday and I always forget. I know- I'm terrible. So I got her one even though she would be the only kid big enough to hit it. She went through three different bats before that darn thing finally broke open. It was very comical to watch, and I'm so glad we got the pinata.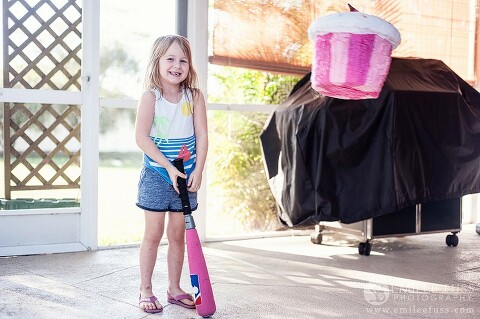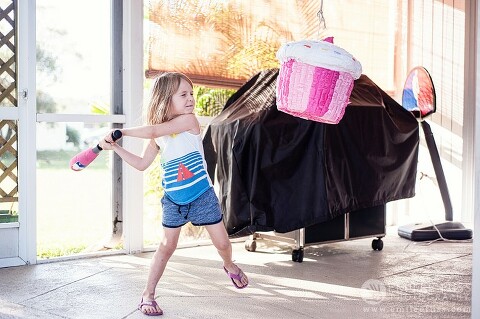 I can't believe I have a five year old child. Its so strange to me how it can seem like yesterday that we were driving to the hospital to meet her, yet it also seems right that's she's five. I haven't cried yet, but the day's not over yet. I'm just so blessed to have beautiful, healthy children that I really find it overwhelming. I look at my life and think, I really do have everything I want.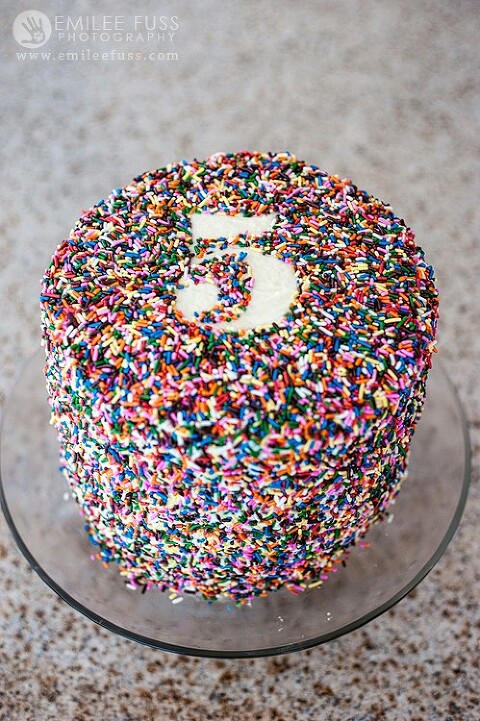 So you wanna make this cake? Here's how I did it (and know that if I can do it, you can most certainly do it- perhaps with your eyes closed): I used 3 boxes of white cake mix. I mixed one at a time, and then divided it in half and colored each half. I baked them in 9″ round cake pans. I repeated this two more times so that I ended up with 6 layers (from the three cake boxes). I frosted in between each layer (NOT the top)  when the cakes were completely cool, and I made the buttercream frosting with Food Network's recipe (which I tripled because this is a giant cake). After frosting in between each layer, I frosted the outside (again, not the top) with a regular ole spatula. Then I put the cake in the refrigerator for about 10 minutes to help the frosting set. After that, I plopped a whole bunch more frosting on top and smoothed it out with my spatula and returned the very heavy cake back to the refrigerator for 10 minutes. While it cooled, I went online and printed off a fancy looking 5 and cut it out. After the cake cooled, I place the 5 on the cake top and started spreading sprinkles on the top. I just went slow and made sure they  were packed on there. I let them fall down the sides of the cake, and after I was finished with the top, I used a butter knife to gather up the sprinkles on the bottom of the cake holder and gently adhered them to the sides of the cake. I started at the bottom and worked all the way back up to the top. I just kept putting sprinkles around the cake stand and worked my way around. After I was finished, I carefully removed my 5 template, and voila. A finished cake. You can do it!!
Come back tomorrow to see an awesome new quilt and for a chance to win some fabrics from RJR!
-Meredith