Do you ever get a sudden burst of creative energy? Much of last year was spent planning out commissioned projects, and those of course take precedence over any sort of personal projects. But sometimes, normally late at night, I will get this burst of creative energy, an idea that must be explored, and a new project is born. This project was actually started on the evening of Thanksgiving. I was working through a really time consuming commission, but I gave myself permission to do something personal since it was a holiday. I began pulling out my rarest Anna Maria Horner scraps, and cut from six of them small 60° triangles. I then added itsy bitsy strips to each one, continuing to keep all my triangles at 60° as they grew. And yes, this can totally be done with Jelly Rolls if that's how you like to stash, but I cut as I went and used a range of strip widths from 2″ to 4″, just depending on what looked right at the moment.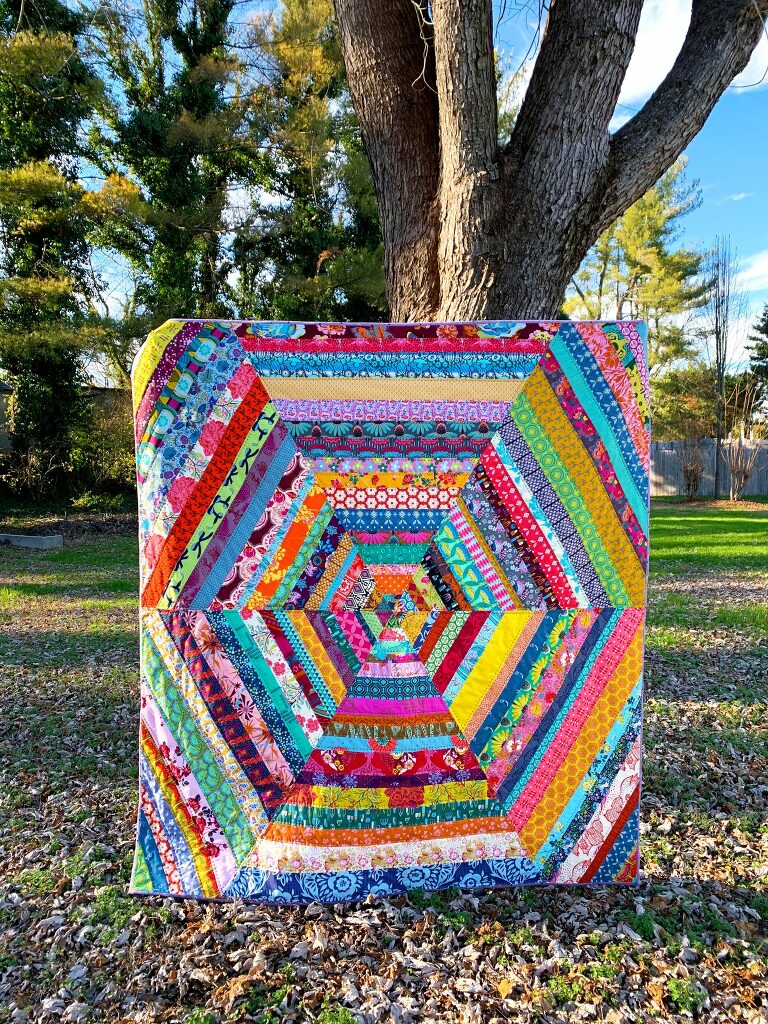 I'll mention at this point that this quilt was inspired by a baby quilt Anna Maria designed over 10 years ago. I don't know what her instructions were for that quilt, but I chose to tackle this one with math which is what made sense to me. And since everyone on Instagram has asked me what I did, I'll let you know. Like I said, I started with 6 60° triangles (because 180° is a straight line, and I needed three triangles to make that for half the quilt, and six total to have two halves). As I added strips, I continued to trim the sides so that I kept my growing triangles at 60°. My middle triangles are each 34″ tall, and measure about 40″ across at the widest part if I'm not mistaken. The side triangles were trimmed once I got the width I wanted in the quilt which is 64″, I believe. I continued to add height until the sides reached the width and height needed to give me a 64×68″ quilt. One could always just continue to make giant triangles and trim later, but I hate fabric waste, so I trimmed as I went.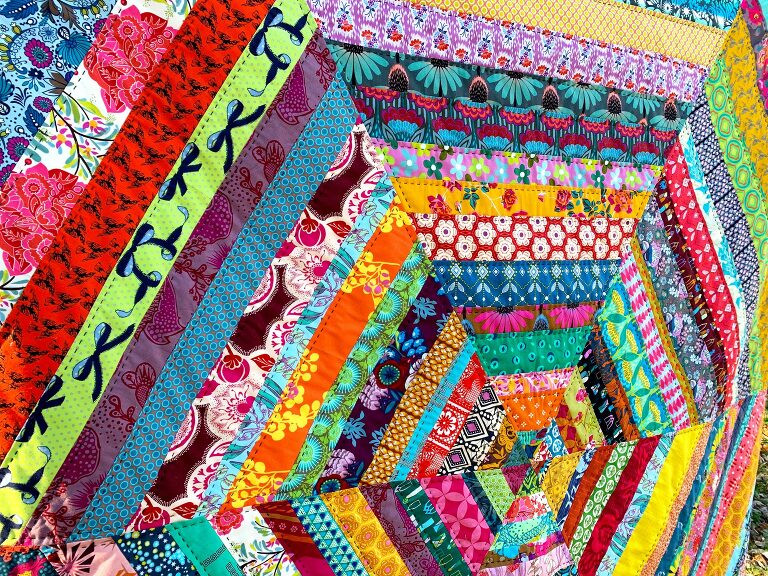 As it turned out, a long time client saw my tiny little sneak peek of this quilt, and contacted me to say she wanted it when it was complete, so began a new project as soon as my current commission was finished.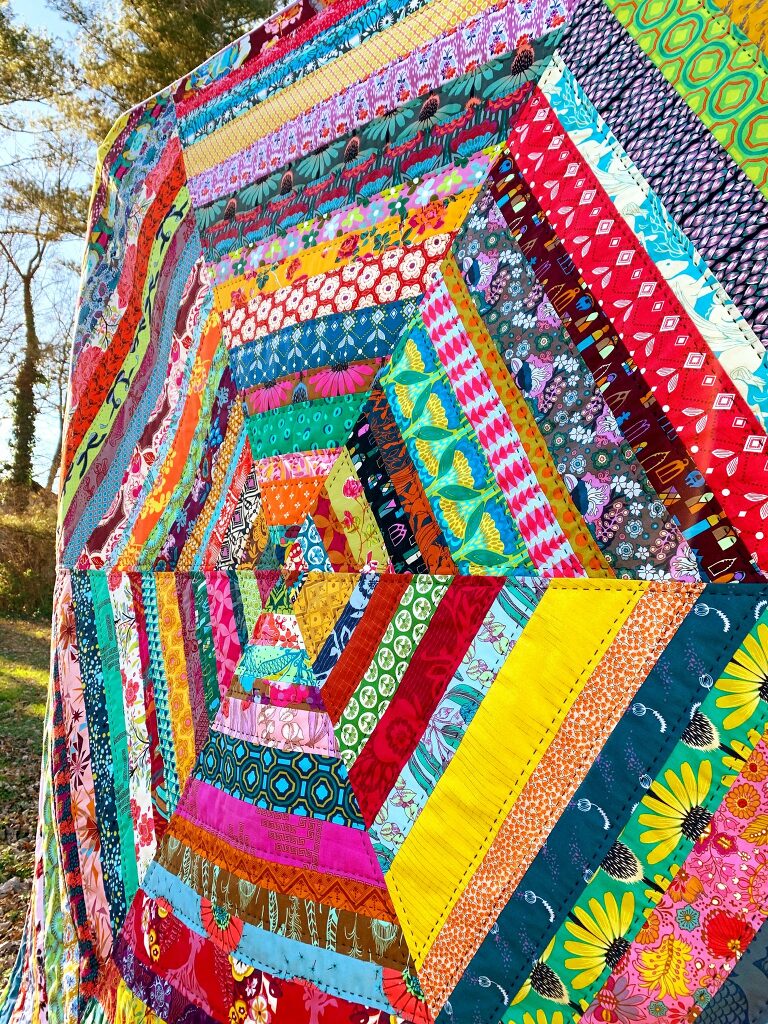 I quilted this quilt by hand, stitching every row and also on either side of my triangle pieces. I used black Perle cotton because I love the contrast it created against all the color in the quilt, and I also loved that it didn't stand out a lot on the leopard print back which needed no distraction. I spent over forty hours on the quilting, and I can tell you in complete honesty that I loved every second of the process. I love hand quilting! It add a texture and an outpouring of love that just beats machine quilting every time for me.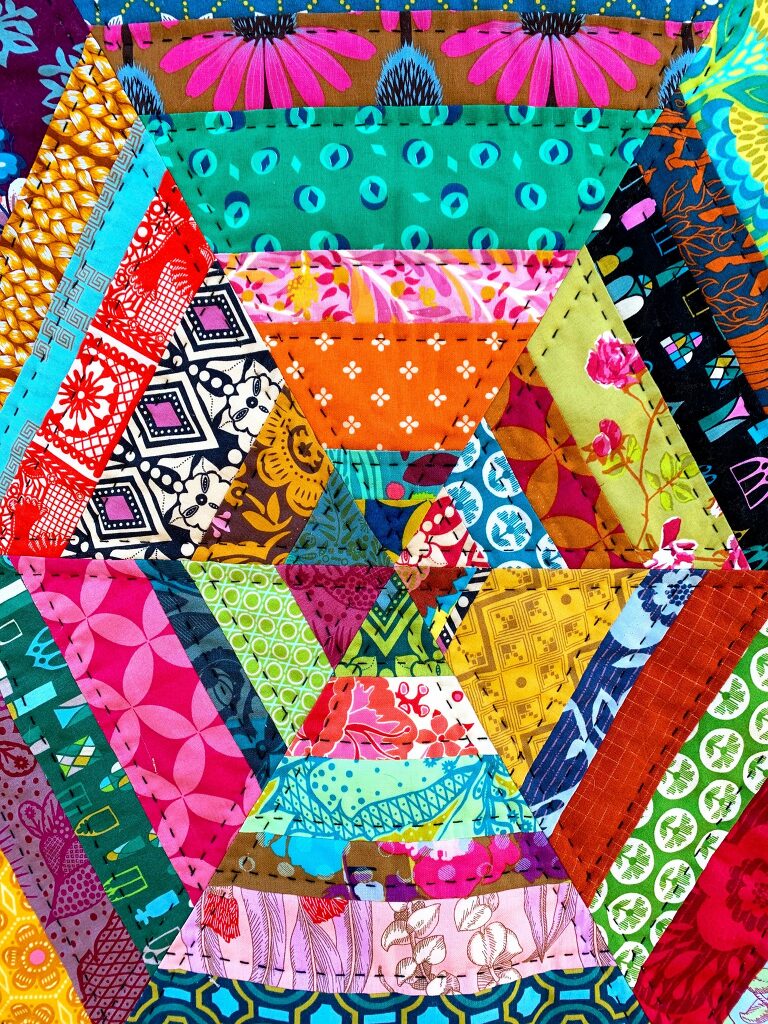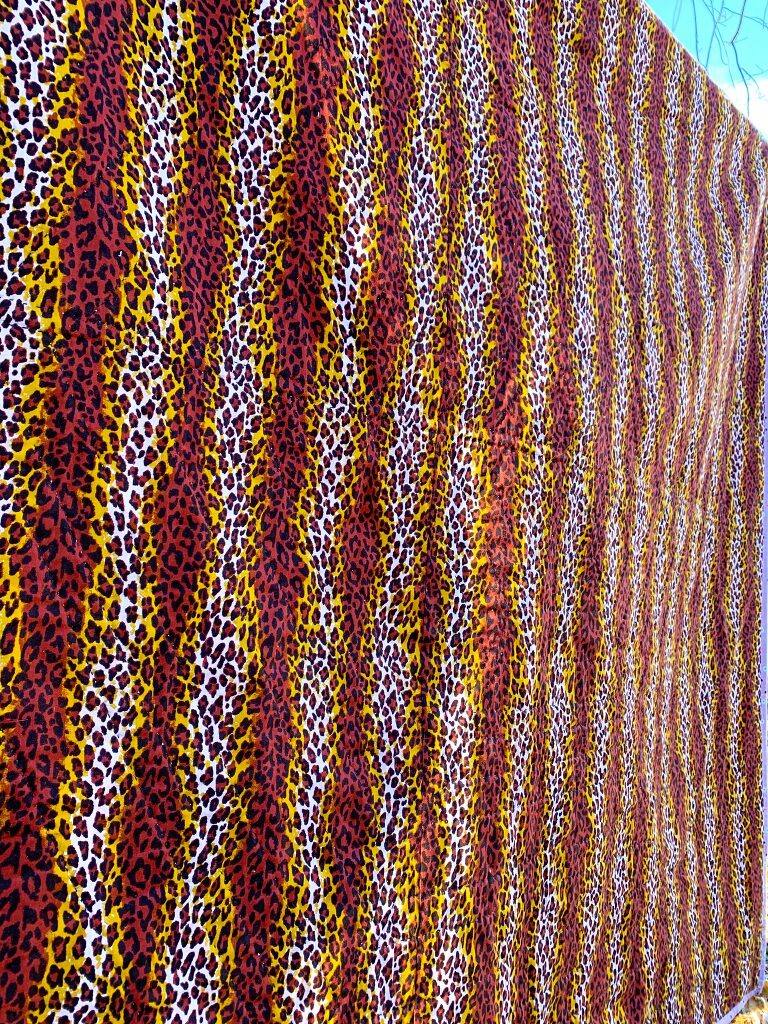 I'm totally obsessed with the backing! Its super sassy, and pairs perfectly with the explosion of color on the front of the quilt.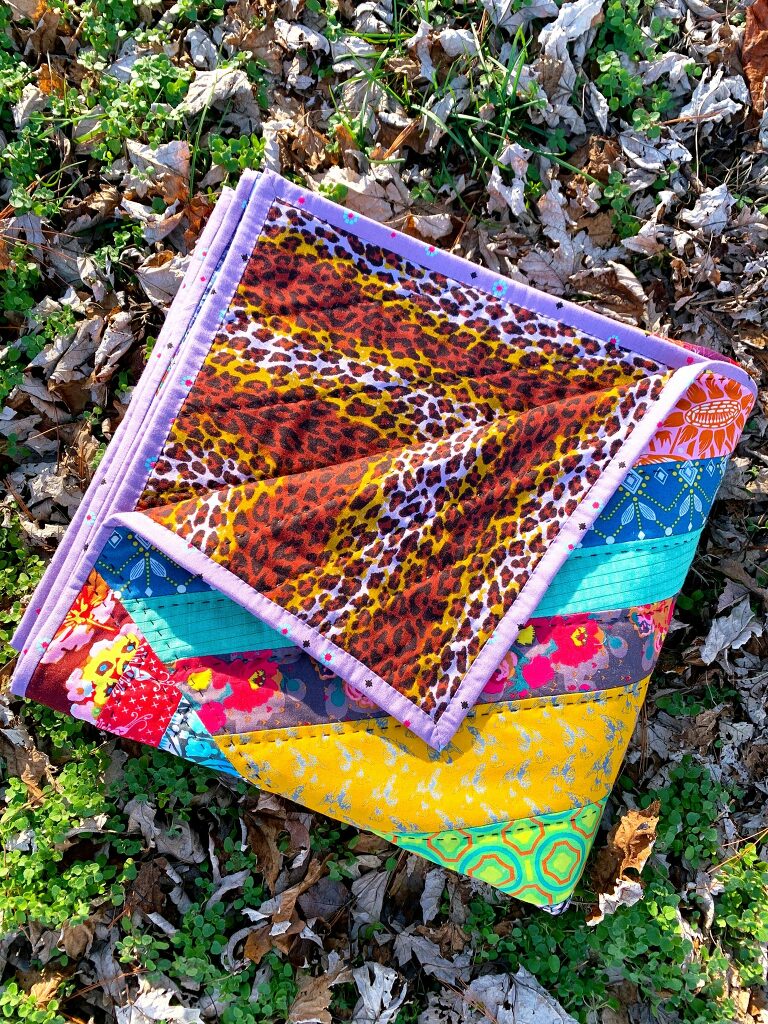 With the exception of two orange prints by Anna's daughter, Juliana, all the fabrics used on this quilt are designed by Anna Maria Horner. She has a vast selection of prints that work so well together, and since I've been collecting her fabrics for ten years, I had plenty to choose from. It was a lot of fun to put together prints in new ways, since I typically will create a quilt with a single collection of her fabrics before I use the fabrics to create anything else. I haven't had the time to make a quilt from every collection for some time!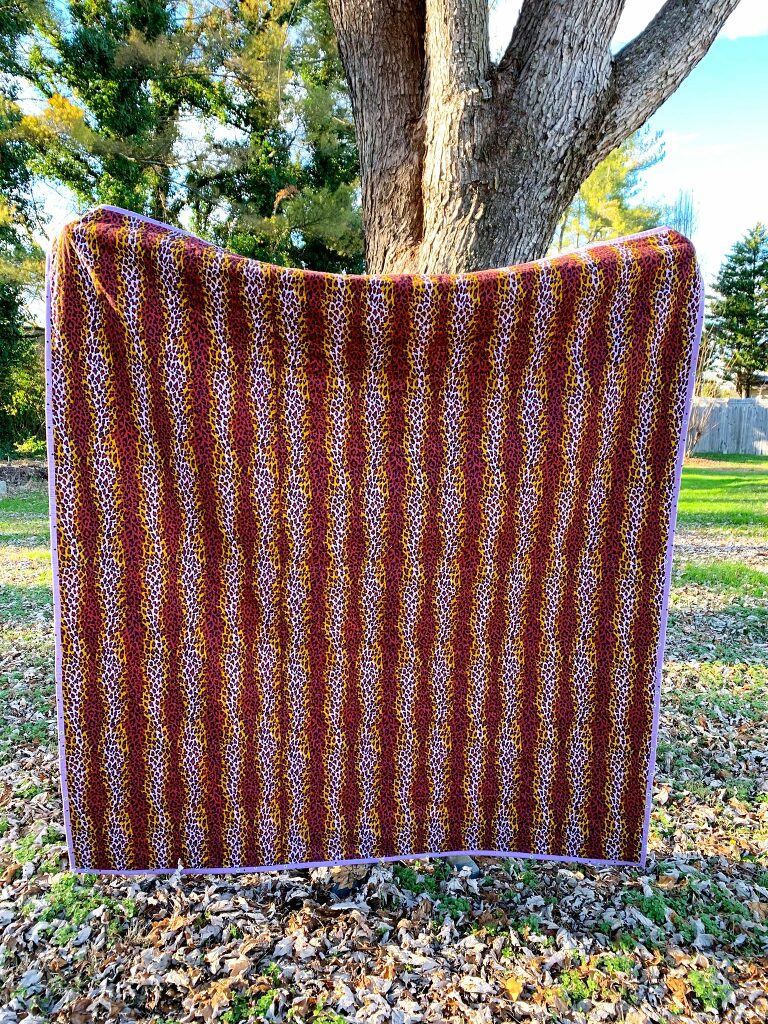 I loved making this quilt so much, that I made a second one for our family. I have the top done, and I need to order a big roll of batting so I can tackle a couple of quilt tops that need to be quilted and finished. I'll share that one with you when its finished!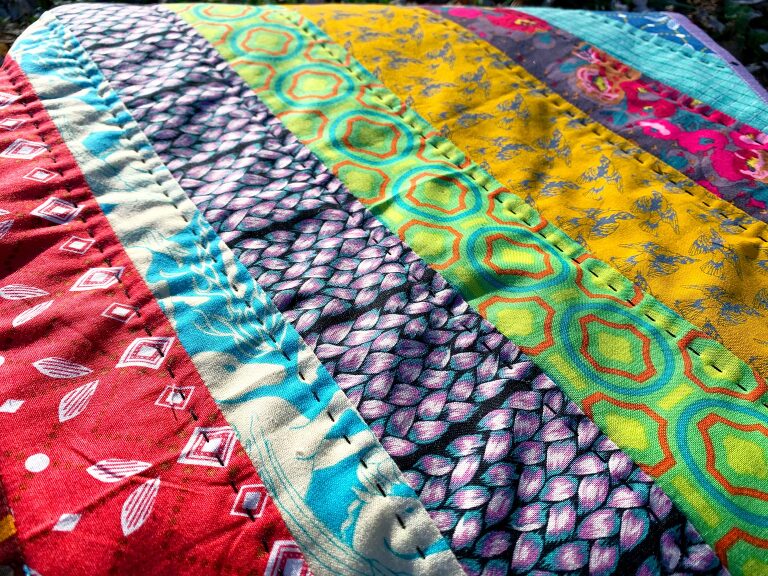 Thank you guys for stopping by on this beautiful Wednesday! I am excited to share with you the coordinating garments I made for all the kids and my husband for Christmas. I totally flaked on making one for me because I was so crazy busy and because I am now sporting a belly. I know, such excuses!
-Meredith