I've taken a small break to catch up on commissioned work and care for sick kiddies, but I'm happy to be back today to share a brand new quilt top!
One of the great things about blogs is that they are often full of resources and even free projects. I never want the blog (ie., blogs in general) to go away, so I try to post as much as possible here both to inspire, and to demonstrate techniques and tutorials to helps others learn! A blog I've been following for nearly a decade, Film in the Fridge, is a great source of inspiration. Ashley has her own, quickly recognizable style as a quilter. She is just brilliant in her use of solid fabrics, and I'm always excited to see what she is working on. She is the queen of improvised quilting! The quilt I'm showing you today was made following one of her free tutorials, the Checkered Garden Quilt.
Its granny square-esque, but with a very striking modern spin. I used a bundle of Rifle Paper Co Wildwood paired with coordinating solids from Hand Cut Fabric Co on Etsy. I got the whole fat quarter bundle.
I decided the only "pattern" I would stick to would be print-solid-print-solid. Aside from that, I just paired whatever looked good at the moment.
The cutting directions are super clear, and I made most of the blocks in groups of four. So I would cut all I needed for those blocks, and then sew all of them at the same time. That gave me a good pace and palette for selecting the next blocks.
I was remiss when taking photos to get any good closeups, so I'll have to remedy that when I show you the finished quilt. The prints in this collection are so lovely. Somehow Anna Bond manages to design florals that are both dainty and bold. I think she does a great job with scale!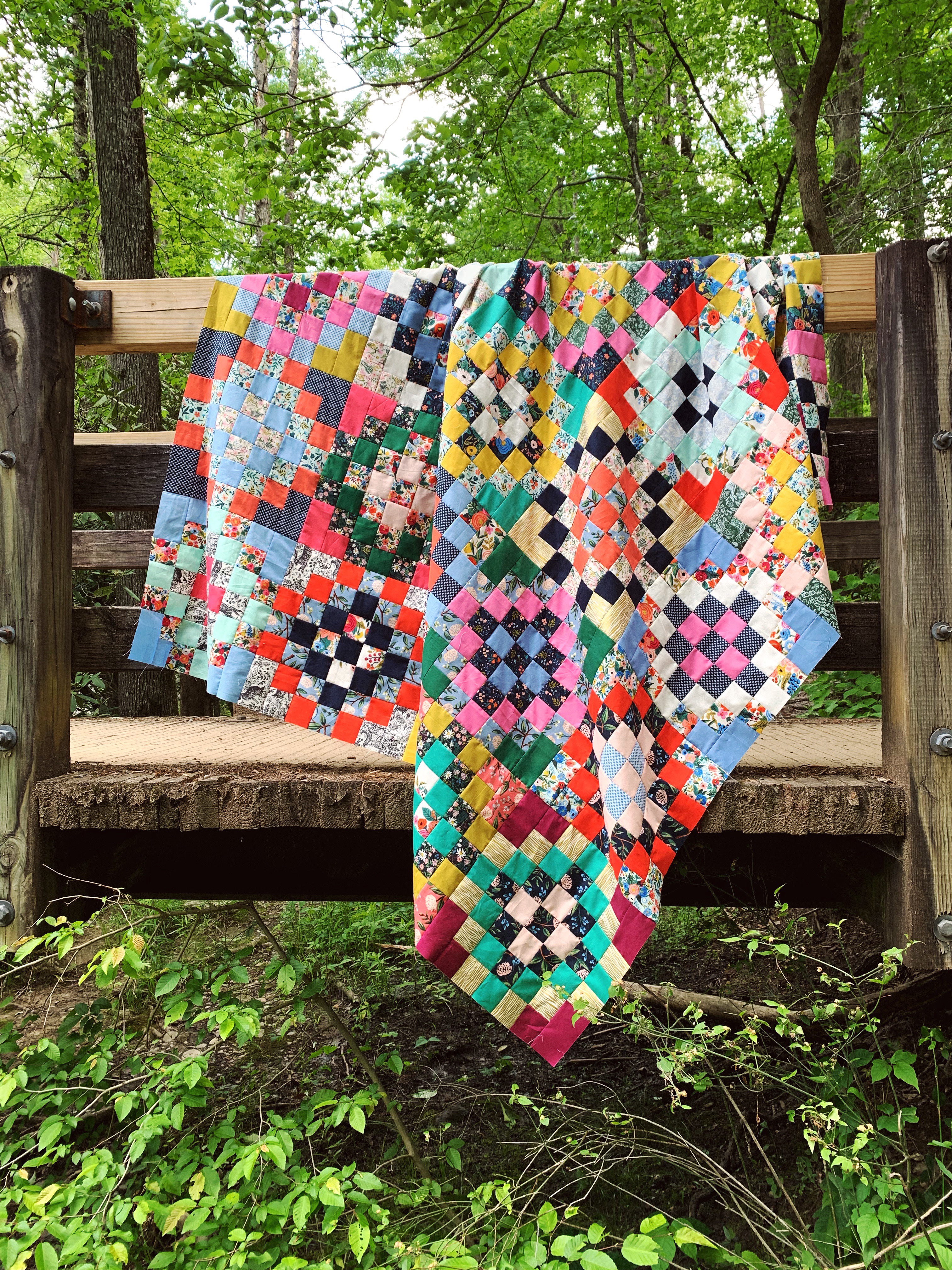 The colors are just perfect for entering into summer. I'm definitely excited to tackle the quilting on this one, so we can put it to good use. The finished size is 70 x 70″ (25 blocks) which is a large couch size or perfect for a picnic. It'll also do a lovely job as an extra layer on the bed in the cold months.
I hope you are well this week! What have you been working on?
-Meredith