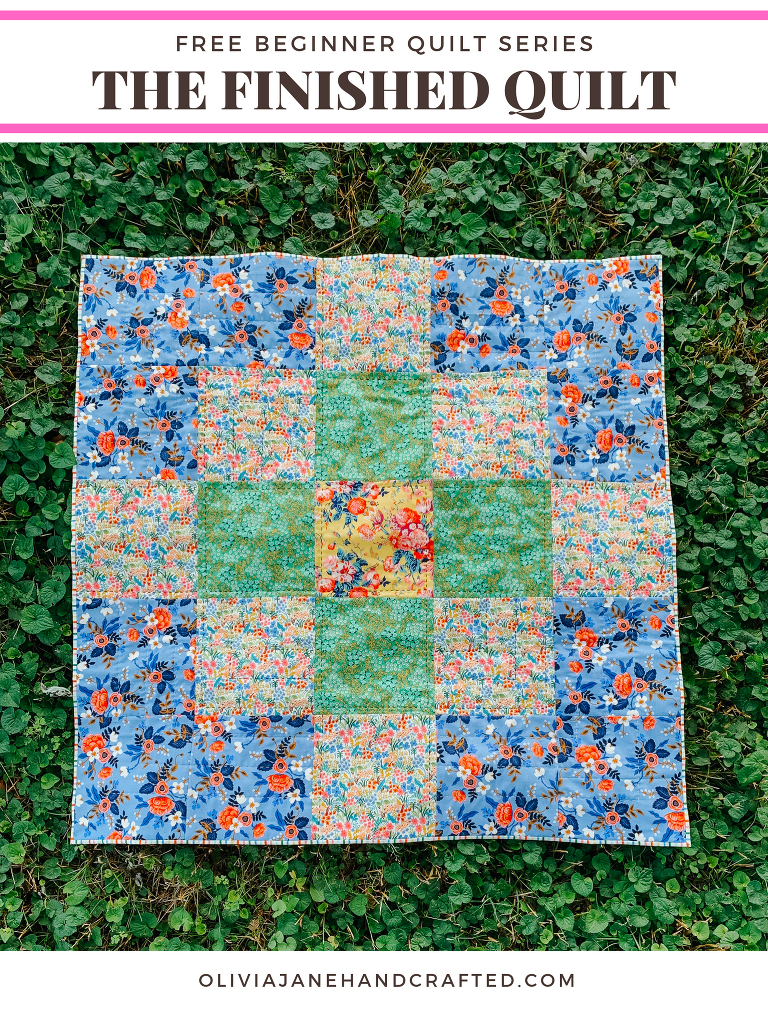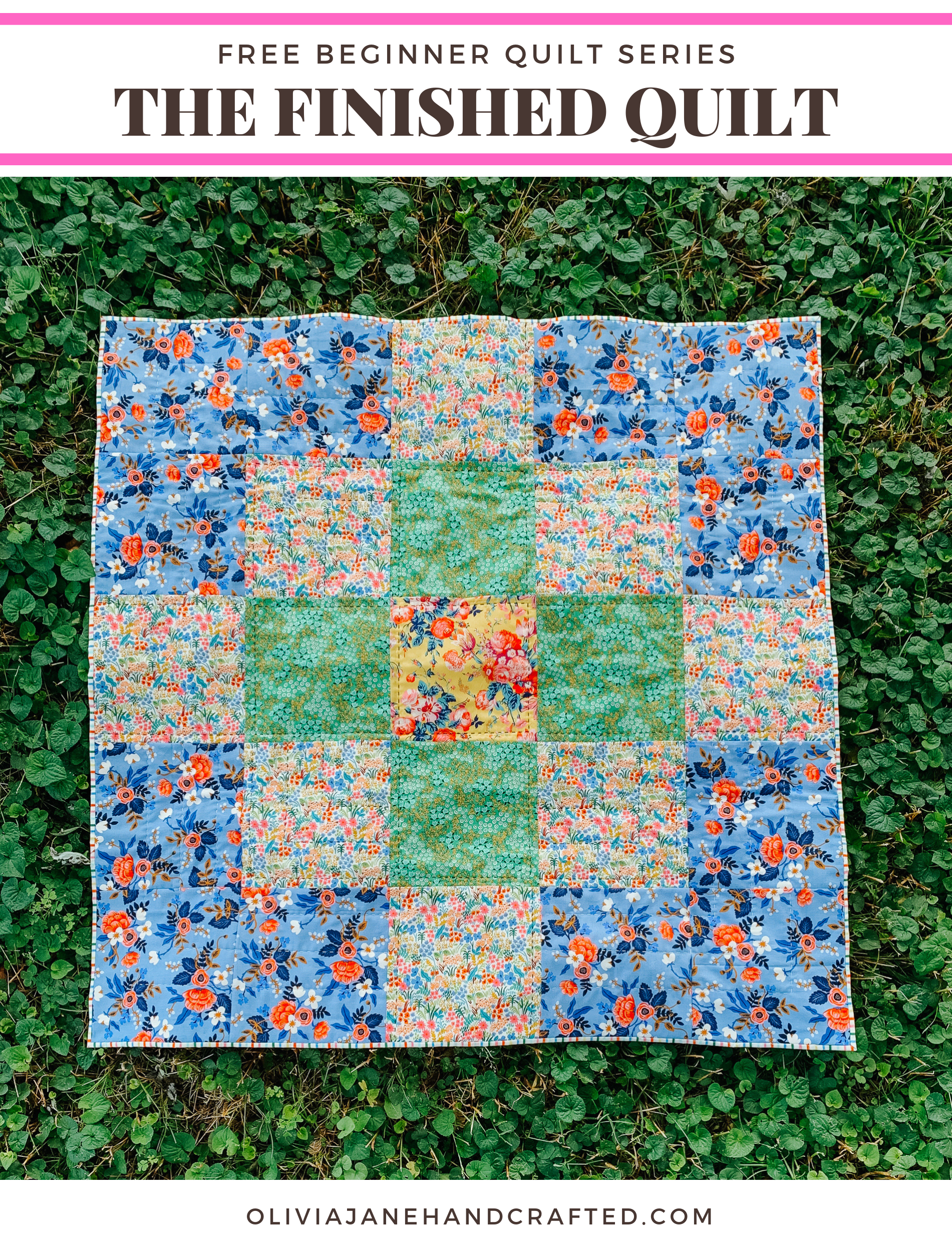 Nothing is better than a finish on a project you've worked hard on! For the past five weeks, we've been working our way through my Beginner Quilt Series, which walks you through every single step to making a quilt, and I even threw in a bonus lesson on hand quilting!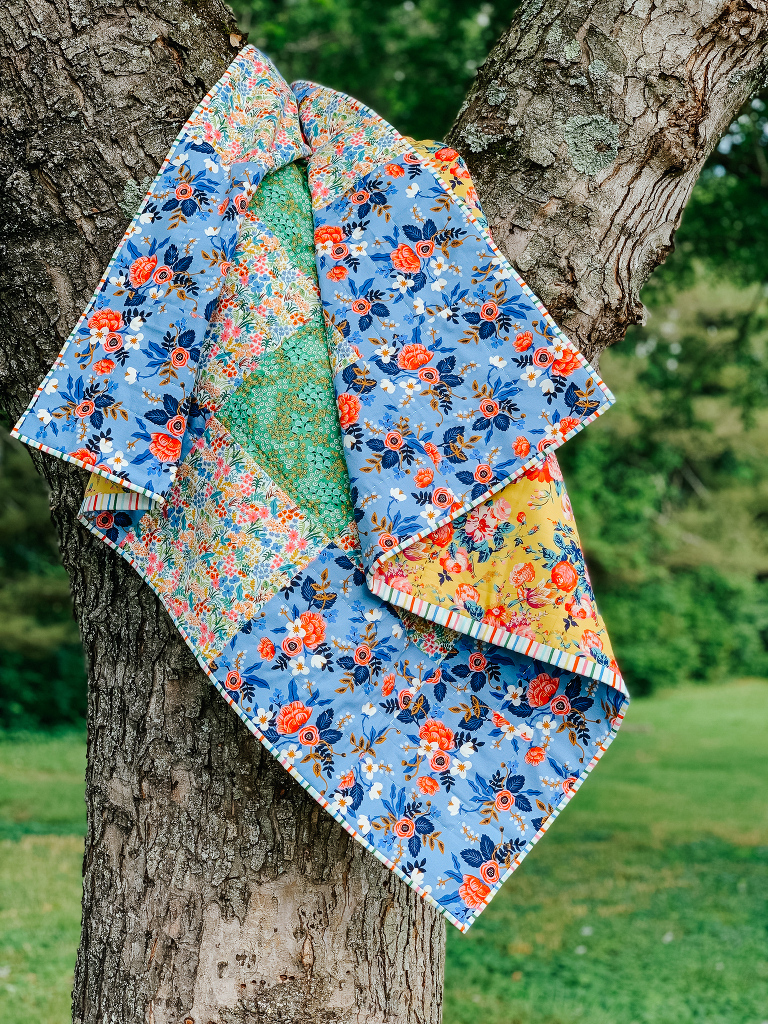 Just so you know, these tutorials are here to stay, and they are totally free and replete with pictures and resources to help you dive into the world of quilting. Week One covered all the tools and materials you need to get started as a quilter. Week Two was all about cutting your fabric. Week Three showed how to use your sewing machine to piece together you fabric into a quilt top (front). Week Four included both machine and hand quilting. And finally Week Five was all about trimming your quilt and binding it. I also filmed live videos for Facebook for each week starting with week two, which you can find right on my facebook page Olivia Jane Handcrafted if you like video instruction.
This weekend I finished binding the version of the quilt I was working on during my Facebook videos, and I'm excited to show it to you today.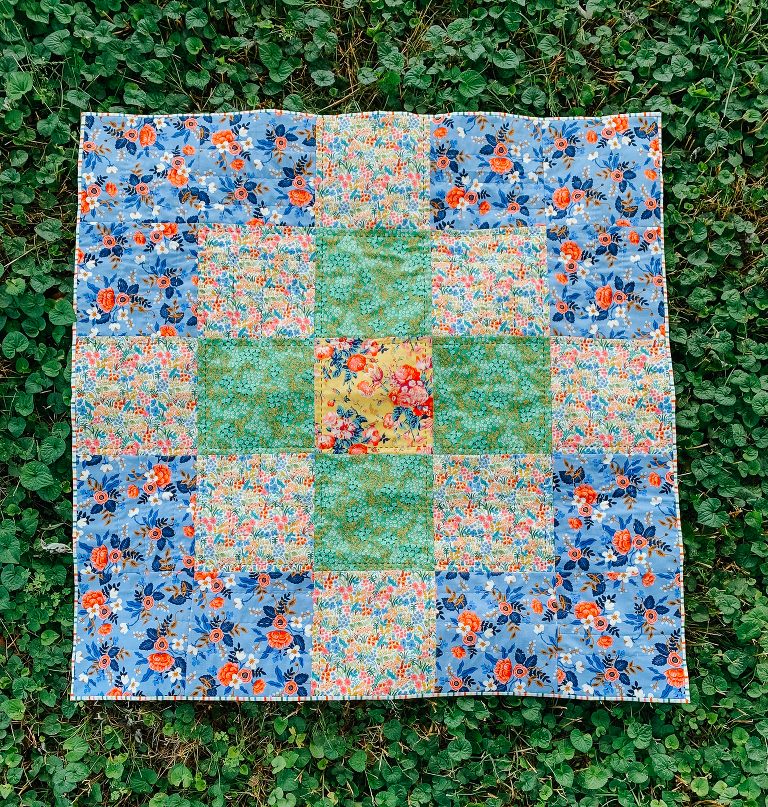 I went with a very adventurous palette both in terms of color and motif. I wanted my quilt to be nothing but happy, and not totally "matchy matchy", so I chose fabrics that brought me joy and I didn't pay any attention to designers or collections. I also only chose fabrics I currently had stashed, so I was limited with what I already had.
I chose this gorgeous yellow Liberty print for both the center square and the backing, and it just makes me swoon every time I see it. Its so striking and classy.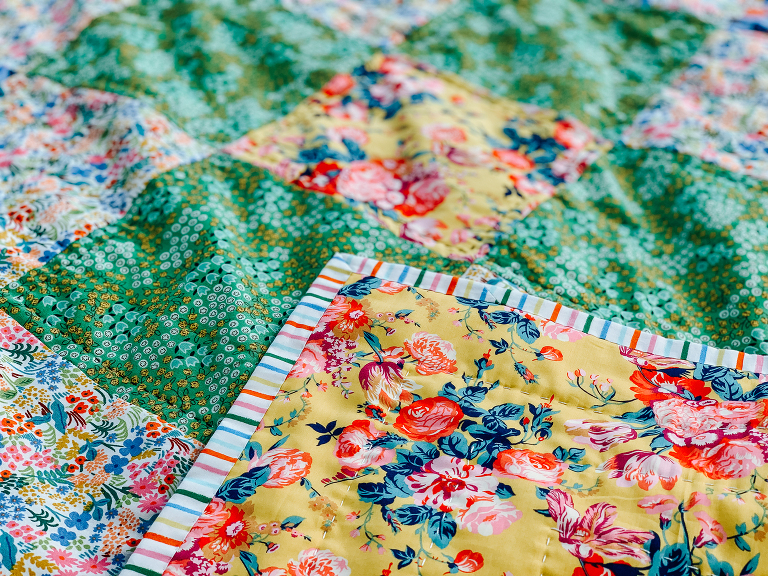 The next "ring" of squares is a fabulous green by Juliana Horner for JoAnn. Its an older fabric that is perfectly punchy against the yellow.
The third "ring" of squares is a gorgeous small scale floral by Rifle Paper Co for their English Garden collection. Its the perfect choice to go with the Liberty! I love all the colors, and I feel like this print really helps tie all the colors together as it has so many.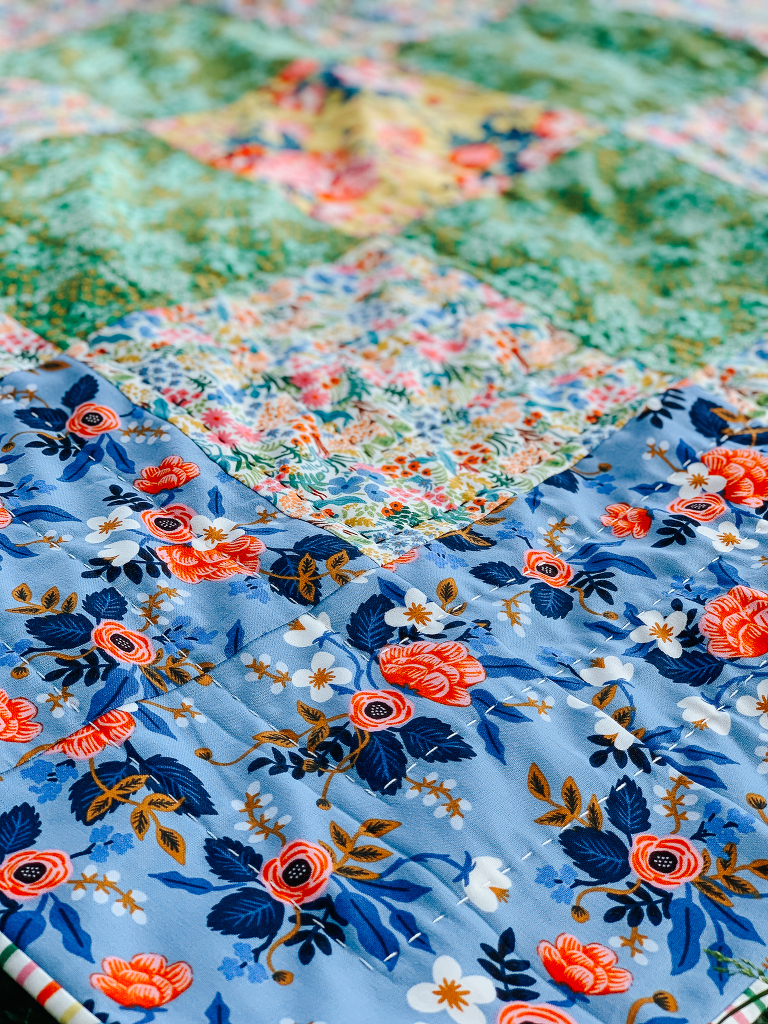 Finally, the outer corners are also by Rifle Paper Co, their debut collection, Les Fleurs. I love this print. The periwinkle is the most perfect color!
The binding is also by Rifle Paper Co, and I simply cannot get enough of the colored stripes. They are gorgeous and really tie the whole quilt together and make the perfect frame for both front and back.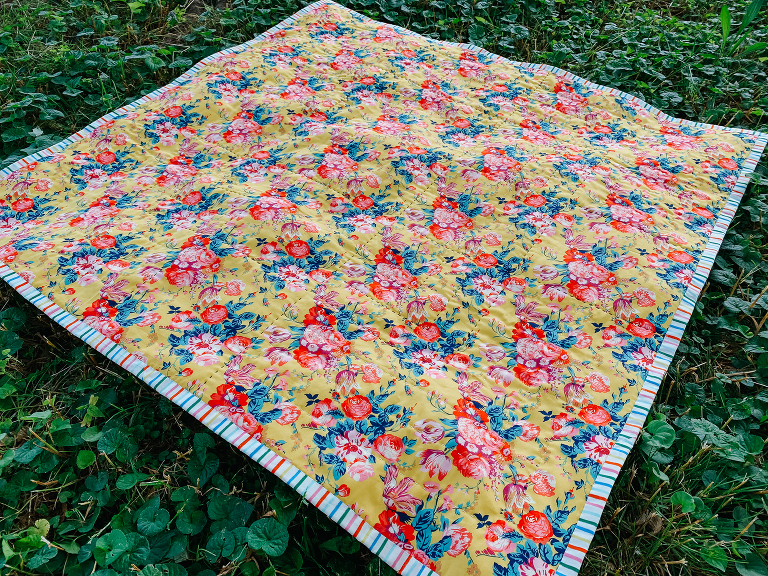 This is the quilt I demonstrated hand quilting with, and I had a lot of fun adding all sort of stitching throughout. It has great texture, and the black thread gives the quilt even more personality and POP.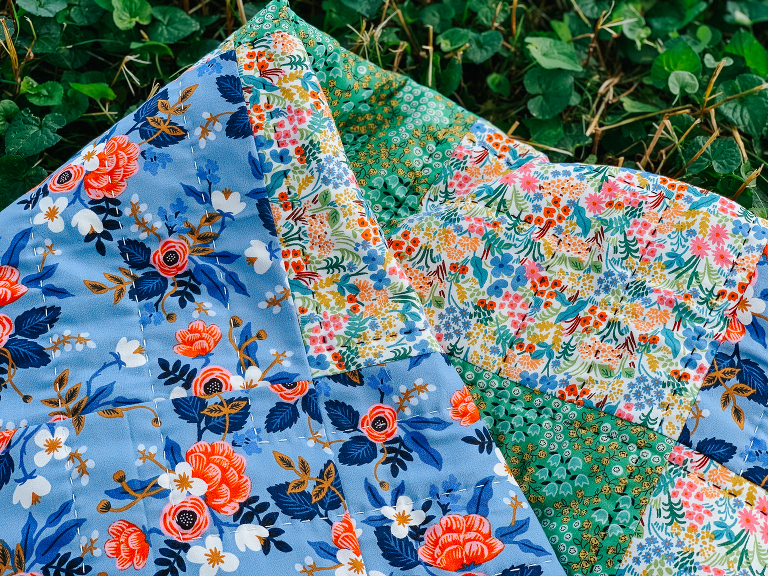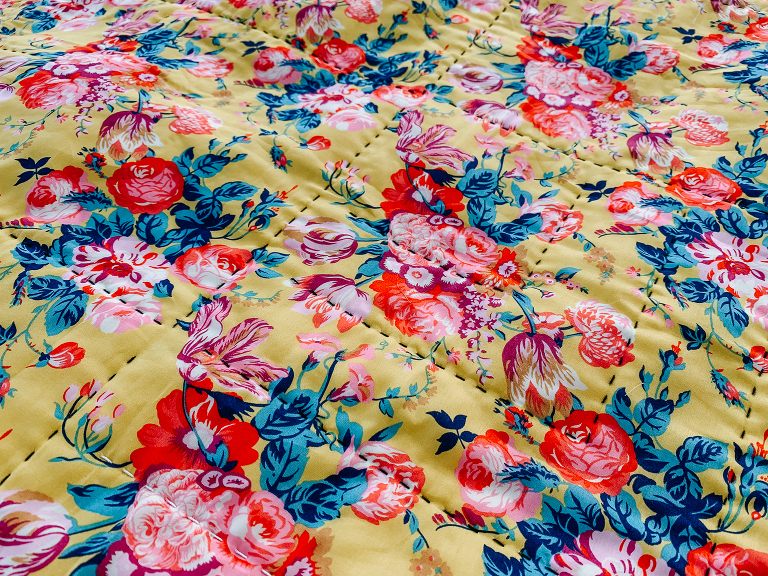 I took in as much of it as I could earlier when I was snapping photos because tomorrow its headed off to its new home! I made it for a sweet little baby girl who will be making her entrance a little later this year. I have to tell you, I love the punchy palette so much I think I'll make a larger throw size version soon!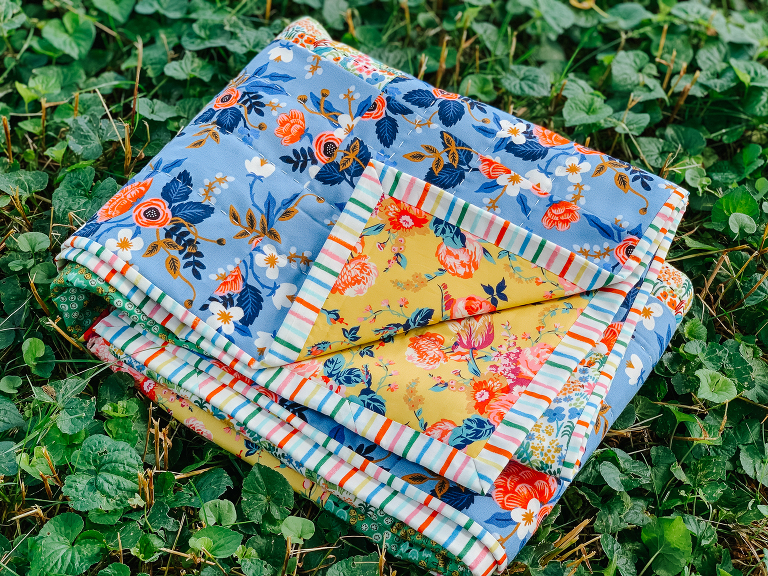 Did you join me for the Beginner Quilt Series? If you've been working on a quilt, I would love for you to tag me @thefooshe on Instagram and use #ojhbeginnerquiltseries so I can see your quilt! If you have any questions, please feel free to leave them in the comments sections of any of the Quilt Series posts or right on Facebook. I'm happy to help in any way I'm able!
-Meredith