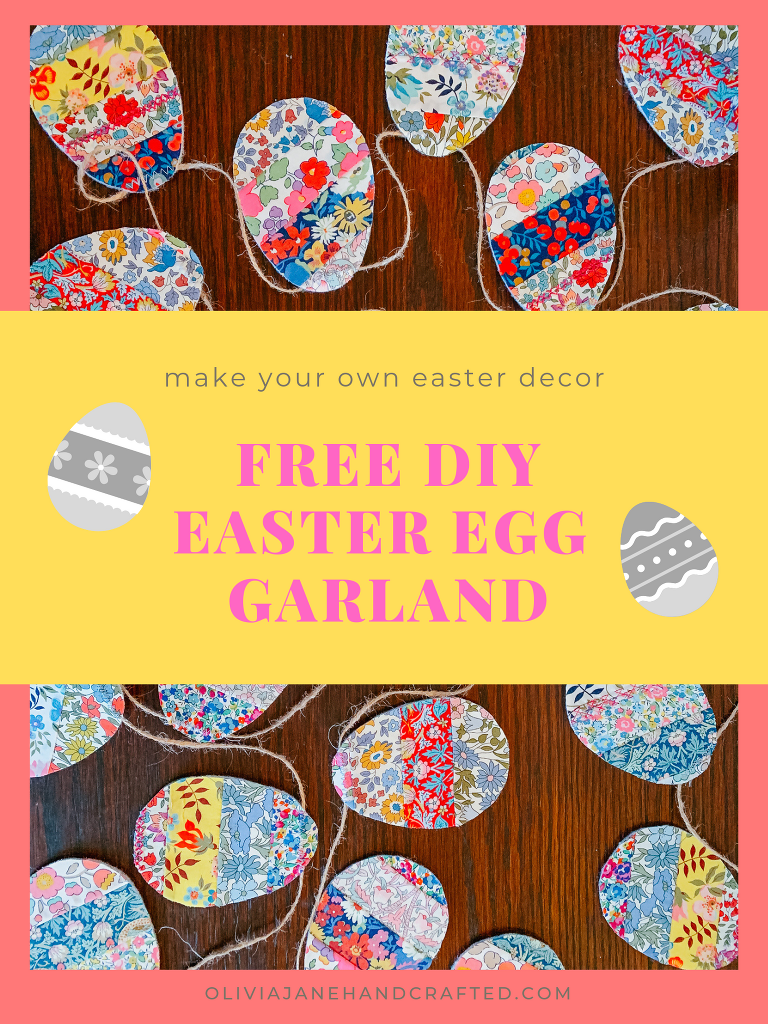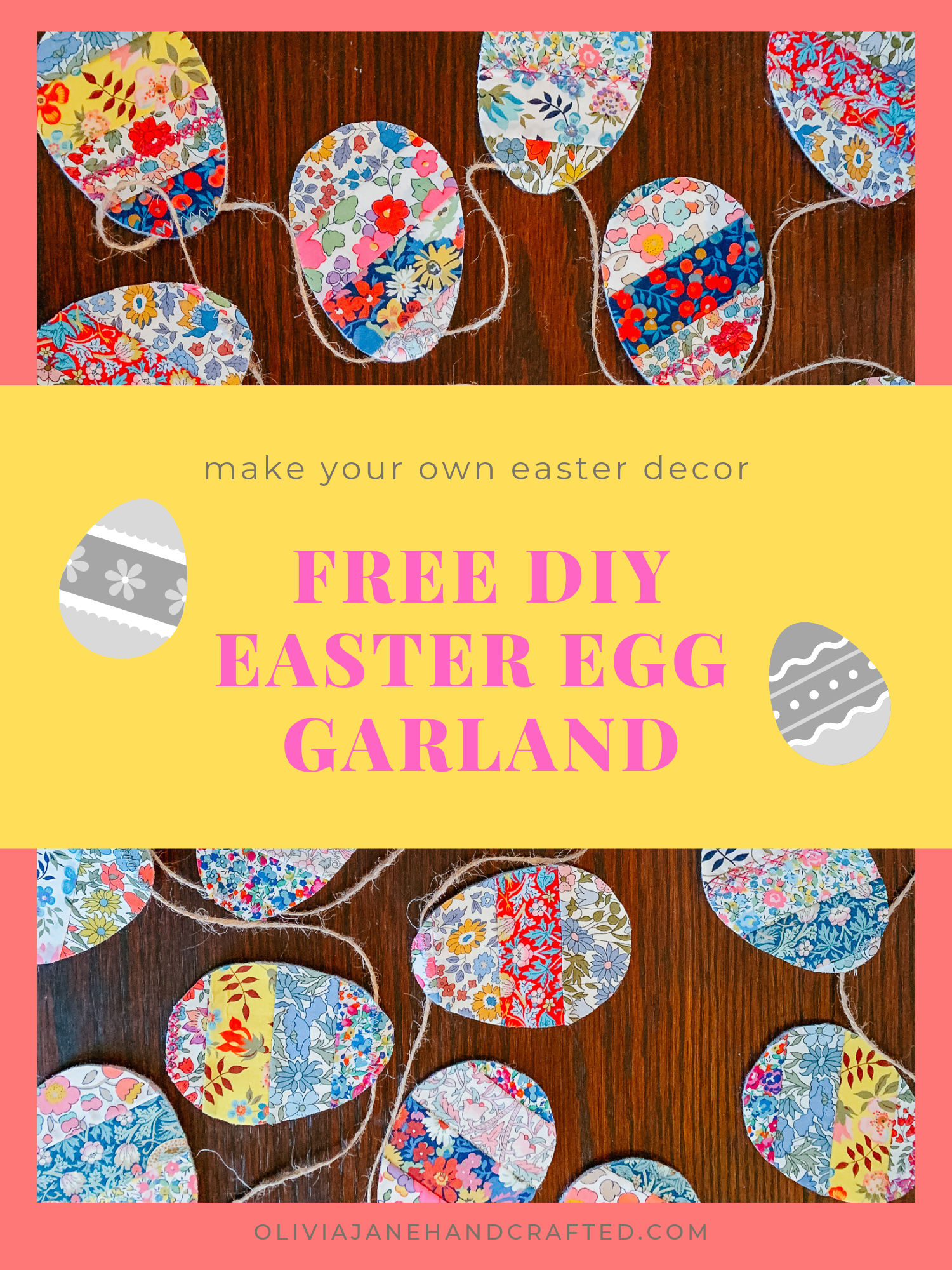 Happy Monday! I'm popping in today with a super fun tutorial! I love decorating my house as the seasons and holidays come, and if I can make things that bring me joy and add some cheer to the house, I feel like that's a win. I was so excited to make these adorable little Easter eggs with some of my favorite fabrics, and I hope you'll enjoy this tutorial!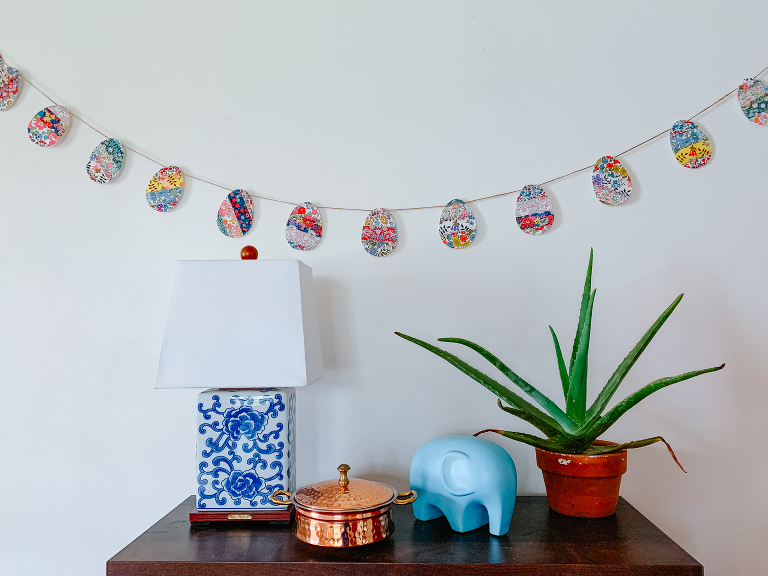 This is a simple tutorial, and would be fun to make in an afternoon or with your kids!
Here's what you'll need: 
some strips of fabric (I used 16 strips that measure approx 13.5 x 1.5″)
a 13.5 x 18″ cut of interfacing (I used SF101)
a 13.5 x 18″ cut of fusible fleece (I used Pellon)
twine or ribbon, approx 12 feet
egg template (click to download)
a marking pen or chalk
coordinating thread, scissors, and sewing machine
I have full kits available with the Liberty fabric I used. Mine made 21 eggs and over 9 feet of garland with the spacing I used. Kits include 16 strips of Liberty tana lawn, interfacing, fusible fleece, and twine. Cost is $30 and includes shipping within the United States. Leave a comment below if you would like one, and I will send an invoice and get your kit in the mail!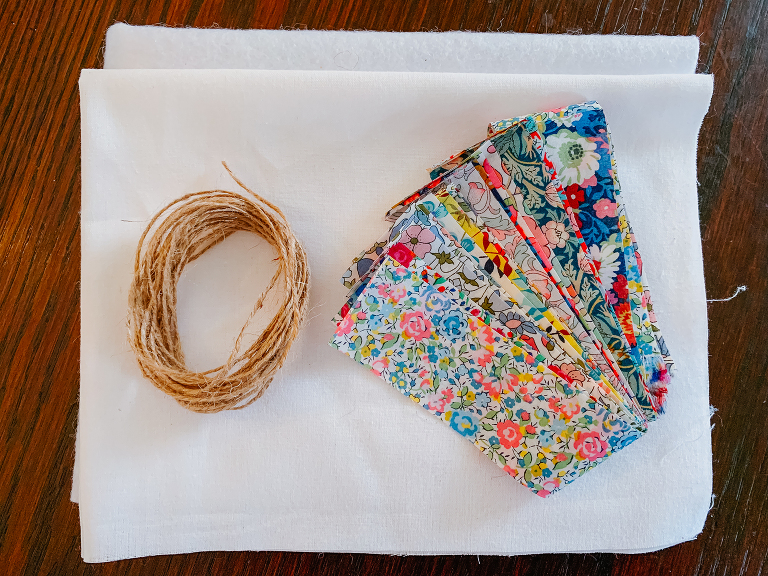 To begin, cut out your egg template and arrange your strips however you like.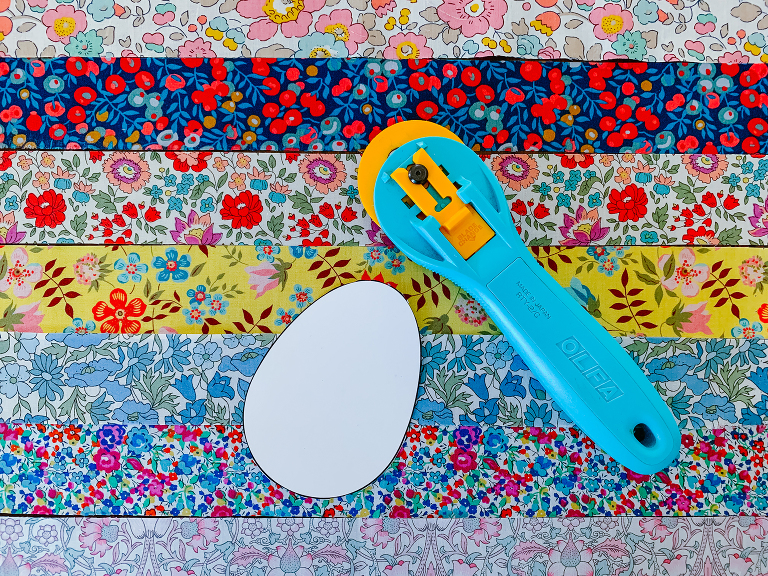 Sew them together with a 1/4″ seam allowance two at a time, then four, then eight, then sixteen. I like to chain piece which means I don't cut my thread between sewing each piece- rather, for instance, I will sew them all together in pairs, and then snip the thread after sewing all eight pairs. It saves time and thread, and makes the whole process more streamlined.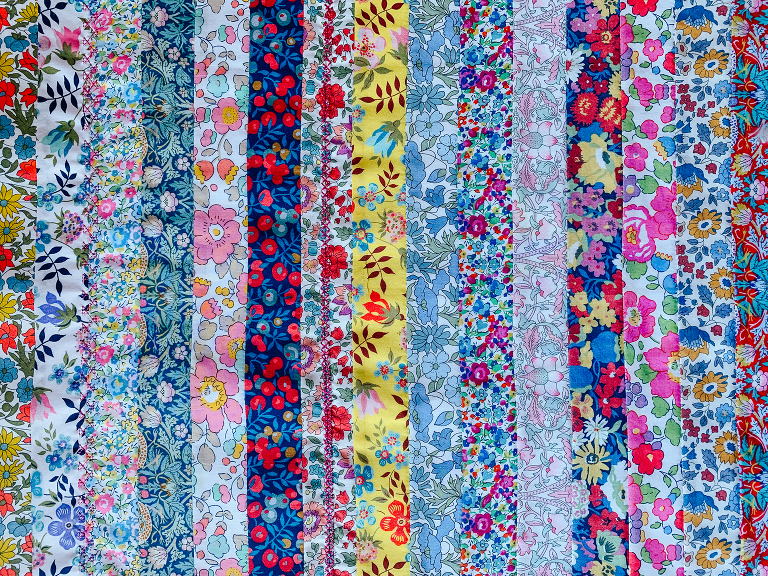 After you have sewn them together, press the seam allowances to one side and fuse your fabric block to your interfacing. Place your interfacing fusible side UP, and your fabric wrong side DOWN, then press to fuse them together.
This is totally optional, but if you want a little extra pizzazz, after you have fused the interfacing to your fabric you can add some embroidery stitches if your machine has that option.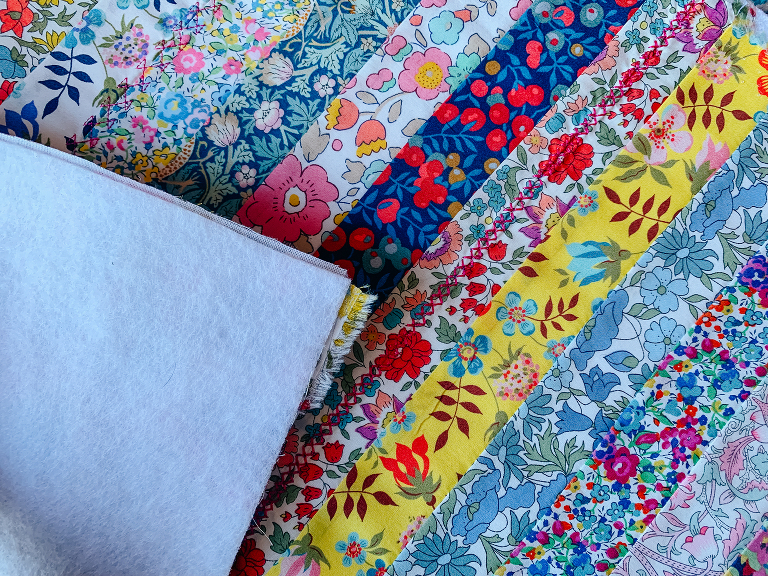 Next, fuse your interfaced fabric to your fleece. You'll do this in the same way you fused the interfacing, but do remember to press a little longer so your fabric really adheres to the fleece.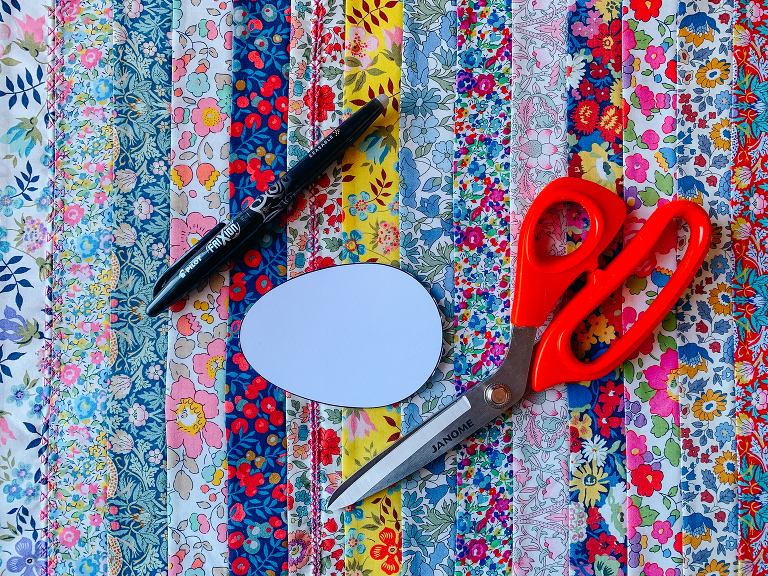 Now you are ready to mark your eggs onto your fabric using your template and marking tool (I used a Frixion pen, which disappears when ironed). I marked eggs in all directions all around my fabric because I wanted all my eggs to be a little different.
Cut out your eggs using some good, sharp scissors. I was able to get 21 eggs out of my 13.5 x 17″  block of fabric.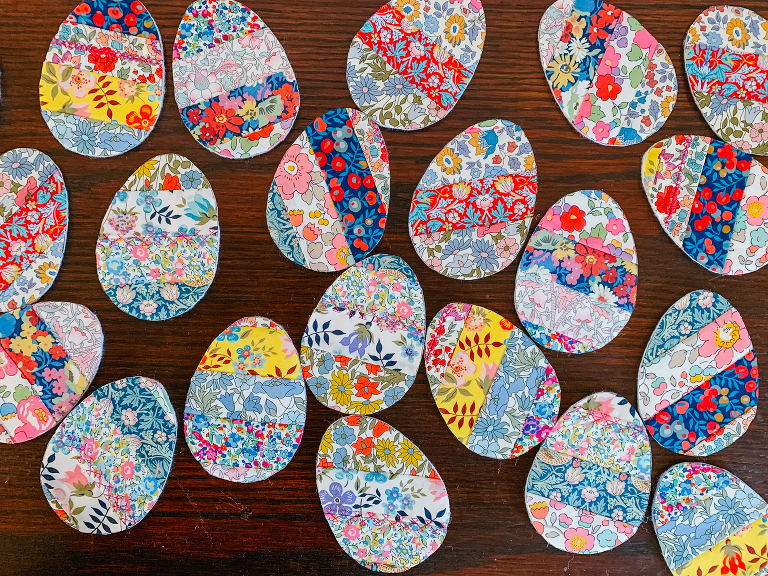 Now you need to decide if you want all your eggs on one garland or if you want to make a couple of them. I put all of mine on the same line, and mine ended up being just over 9′ long from the first to the last egg. I left about 12″ of twine on the beginning and end of my garland for tying. You could easily change up the spacing and make two five or six foot garlands.
To attach your eggs to your ribbon or twine, switch to the zig zag stitch on your machine. Place your twine under the egg (fleece side), and stitch it down using the zig zag stitch.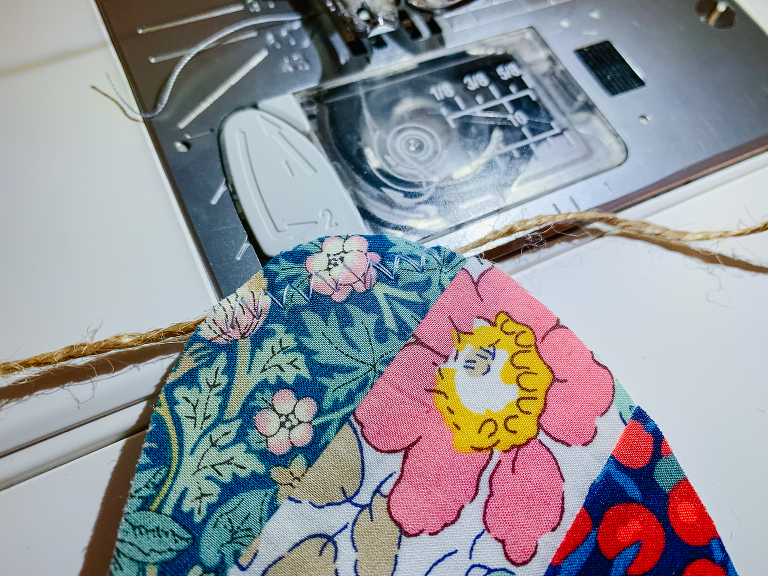 I used my machine plate as a spacing guide, so my eggs are just about 5″ apart, which I think works well!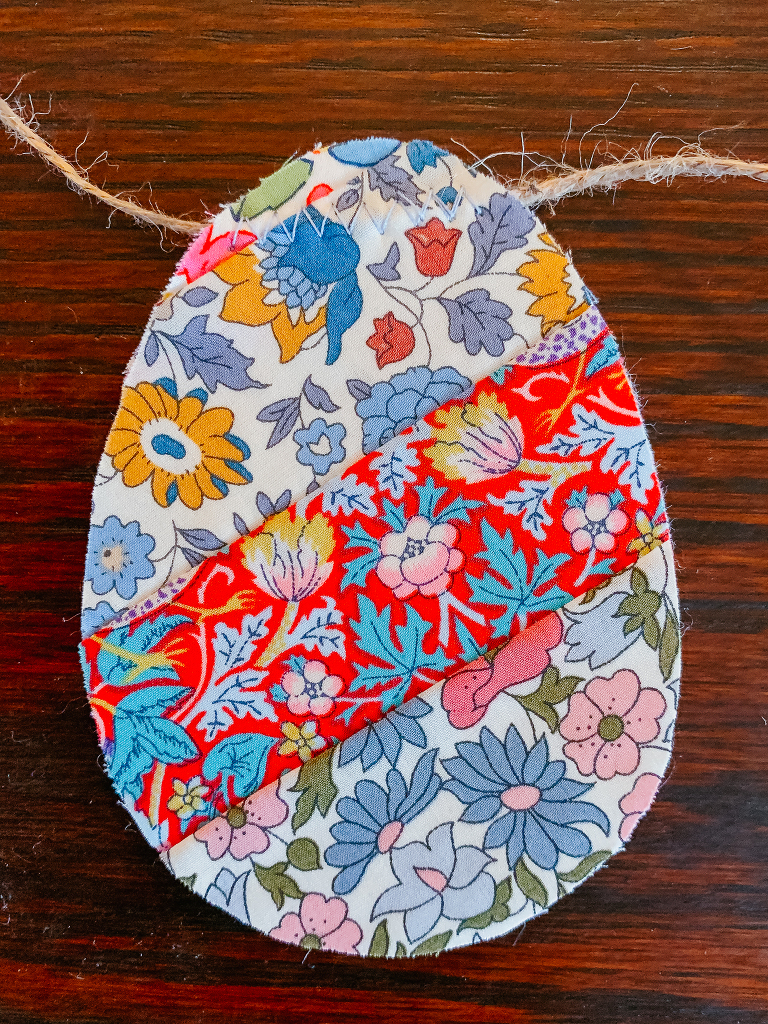 You are ready to hang your garland!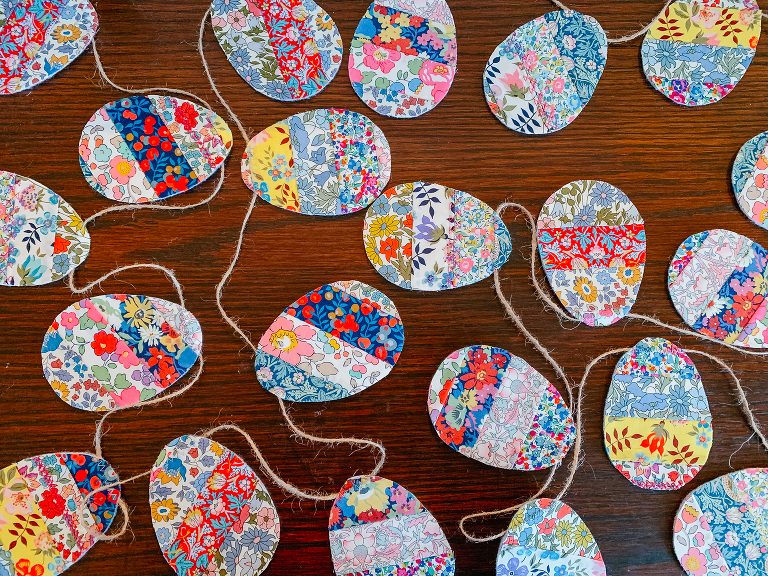 This is a quick and easy project to add some handmade cheer to your spring decor. I used a selection of Liberty lawn prints from their 40th Anniversary Classics collection, and as I mentioned above, I have cut out kits with all the materials you need to make your own garland for much less than it would cost to purchase a 16 prints of Liberty. The fabric is already cut to the sizes needed; all you have to do is sew it together and make the eggs! If you do want one of those kits, leave me a comment below, and I'll send you an email with an invoice. I am not set up for online shopping on here, so I'll invoice the same way I do for custom orders and Instagram sales.
I'd love to see your garland! If you make it, do tag me @thefooshe on Instagram and tag your photos #oliviajanehandcrafted
-Meredith