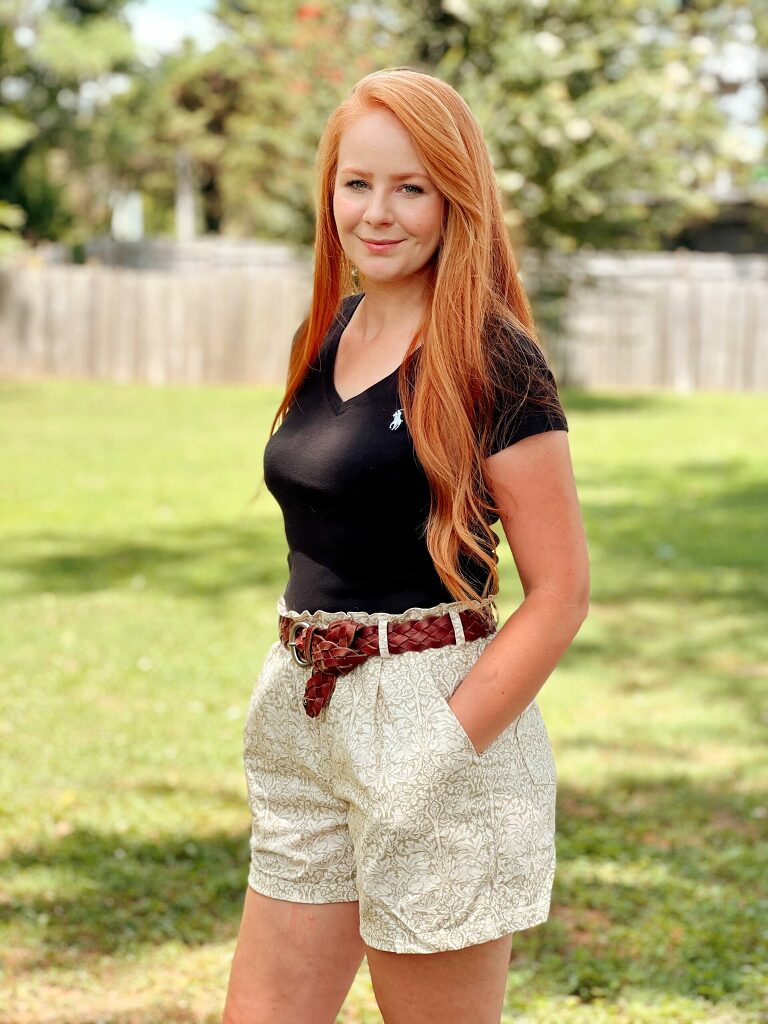 I'm here to tell you about some more shorts I made today! These are the Lisboa Walking Shorts in a favorite William Morris print. The pattern is from Liesl & Co, and the fabric is called Brer Rabbit and is printed by Moda. You can find the Lisboa Walking Shorts pattern here. This will include a full review of the pattern, which I did purchase. You can expect full honesty throughout the post as always.
This summer has to be the hottest summer on record since we moved the the Smokies in 2017. The humidity could certainly rival Southwest Florida, and the heat has happily hovered in the mid 90s for most of the season. My power bill causes a look of shock and feeling of sadness every month. So that paints a picture of our summertime. It will come as no surprise at all to learn that all I want to wear is shorts everyday. At the start of this heat, I definitely didn't have an adequate amount of shorts to wear seven days a week, so I sought to make my own.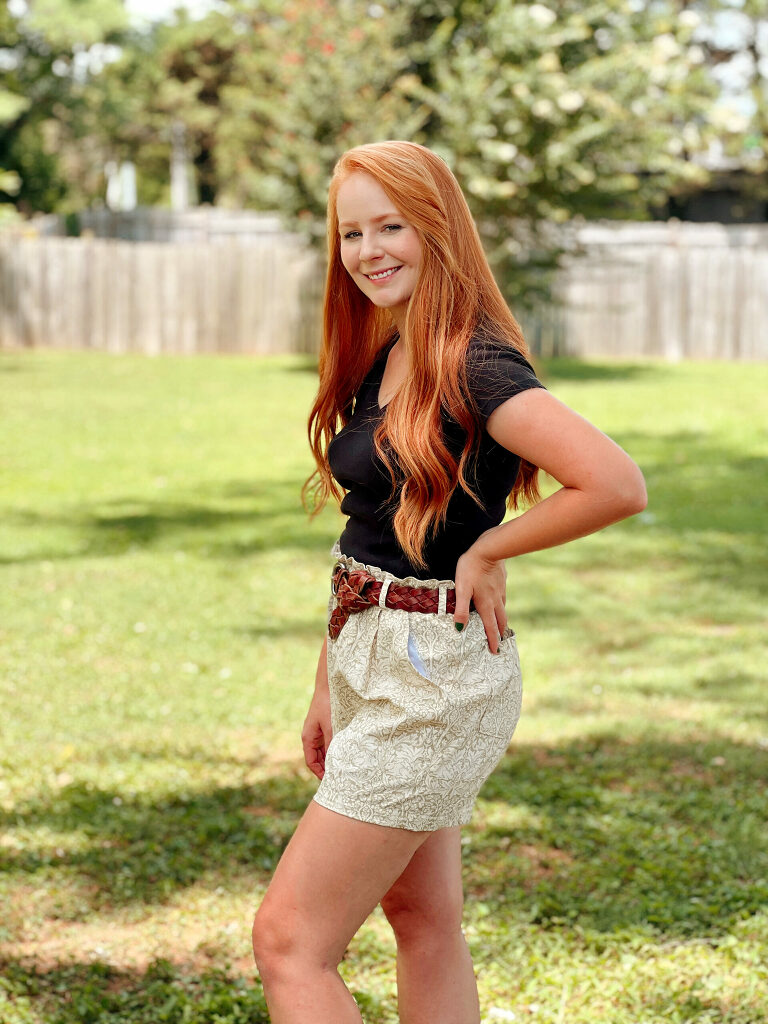 You already read about the Chataigne Shorts which are in regular rotation. I wanted to try a little bit different style, so I jumped on the Lisboa Walking Shorts as soon as they were released.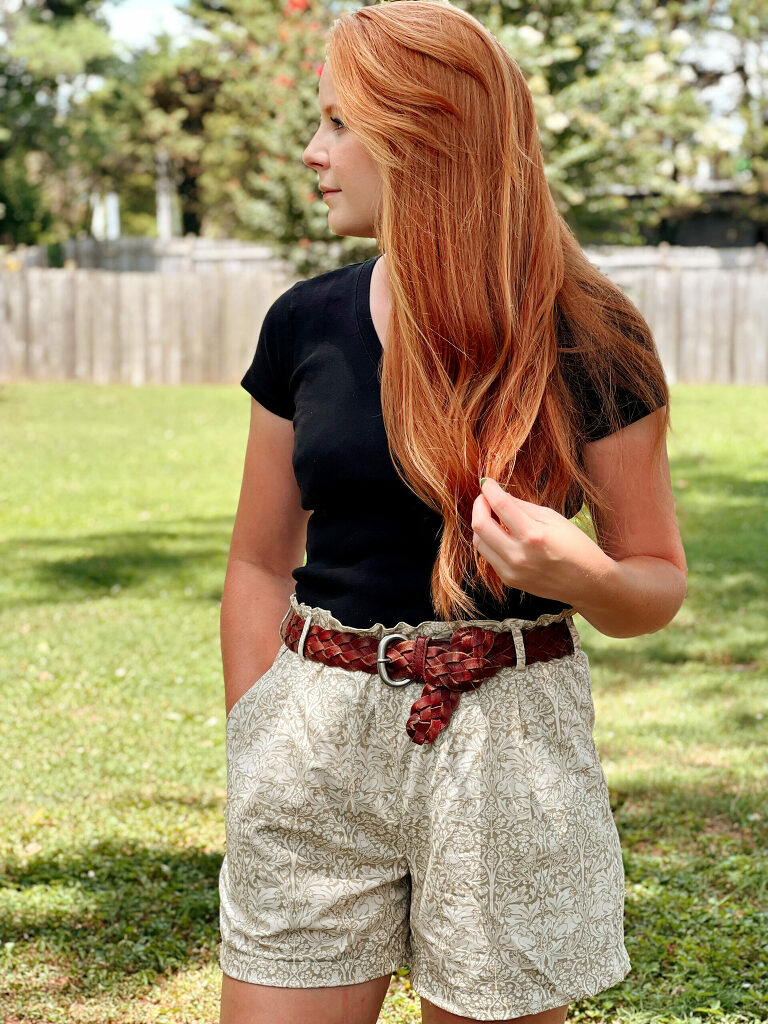 The Price…
I did have some sticker shock when I realized that for a very simple paper bag waist short, I would have to pay $18.95 for a PDF. Then I paid an additional $10 to have it printed locally. Already, I could have purchased ready made shorts for less, and I hadn't even gotten the fabric yet. So I do consider this a definite con. I do like the shorts, but this pattern is definitely not worth $18.95. Really, $12.95 would have been a much more reasonable price point considering other shorts that are equally or even better drafted from other pattern companies like Deer and Doe or Closet Core Patterns, and with those you either get a better price or more for your money. I would not pay this much if I could go back. I would find a similar pattern for less.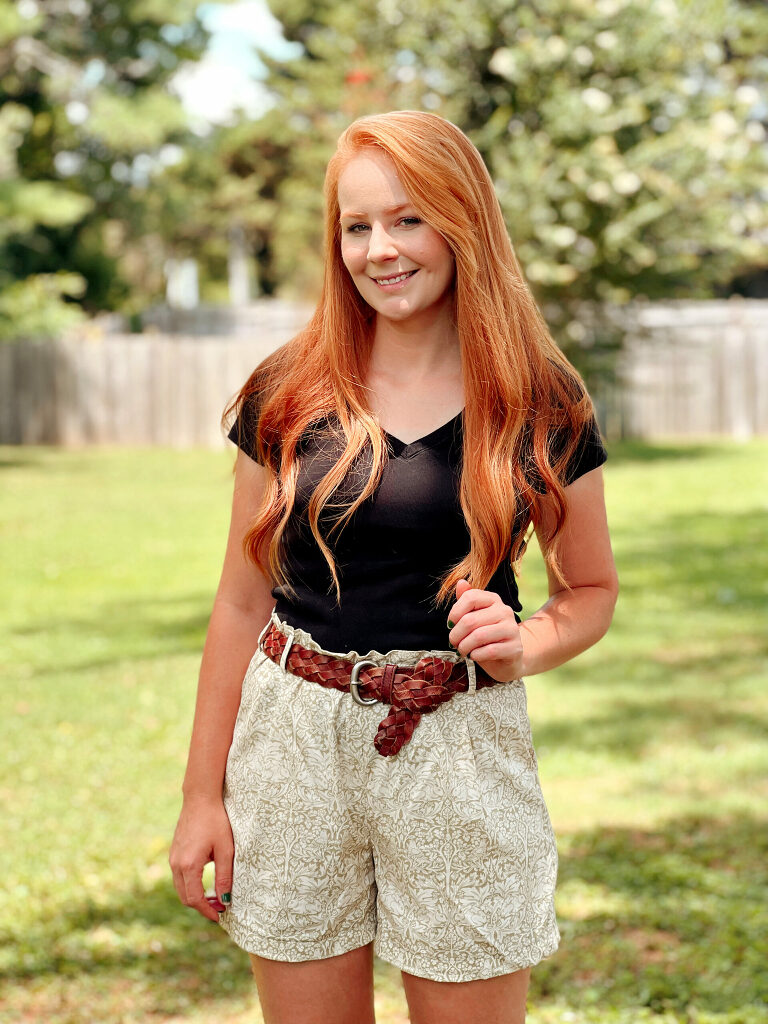 Onto the pattern!
Like every Liesl and Co pattern, this is drafted for a pretty straight cut woman. Liesl is herself quite tall and straight, and these are made for a body like hers. This is not a criticism. Unlike many others, I think its perfectly alright for a pattern company to stick to the drafting they do well rather than trying to do everything and doing a crappy job, like Seamwork. Deer and Doe, for instance, drafts for pear-shaped people especially well, and I think that's a pro, not a con. Cashmerette drafts for curvier women extremely well, and I think that's a really great thing. So all that is to say that I expected this sort of straight drafting from Liesl & Co, and thus planned to have to grade out for a good fit in the seat of my shorts. I firmly believe that it is better to do one thing well, than to do a mediocre job at a variety of things.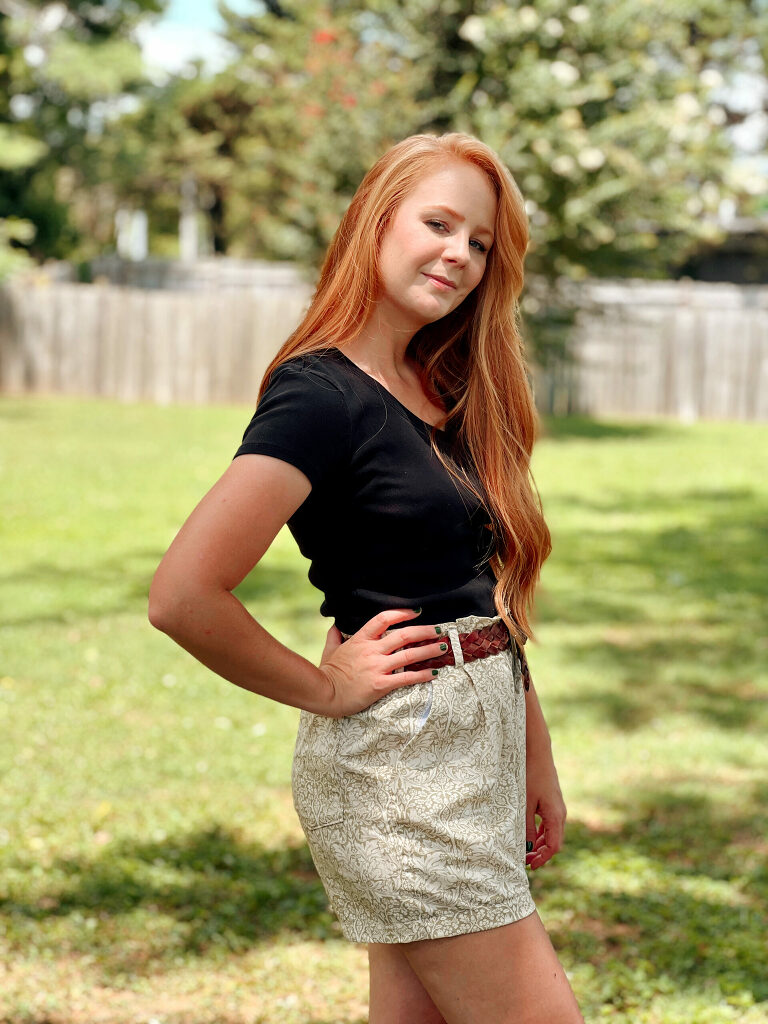 I ended up grading out from a 2 in the waist to an 8 in the seat. This modification yielded a good fit for me. These are not a very fitted shorts like the Chataigne shorts. These are meant to be a light and easy style, which is truly perfect for a hot day.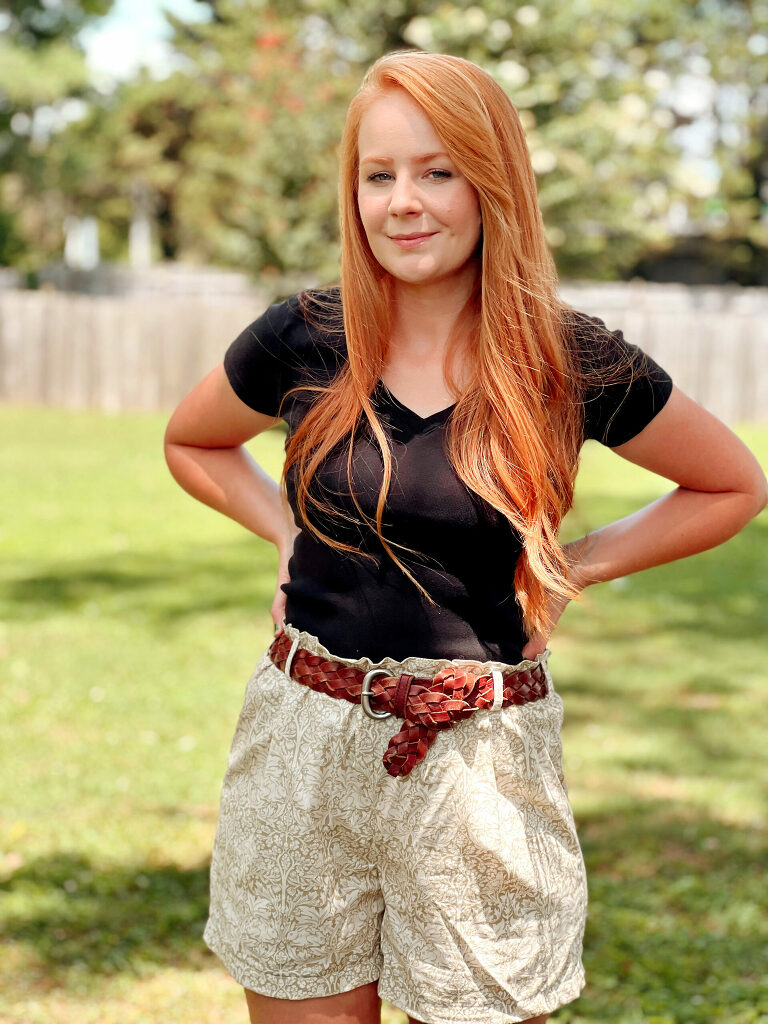 the fabric…
These Lisboa Walking Shorts were made in a William Morris print that was produced by Moda. It is a quilt weight cotton, which is not normally a fabric that I use for garment making, but it does work quite well here. As I recall, I used 1.5 yards of fabric to make these.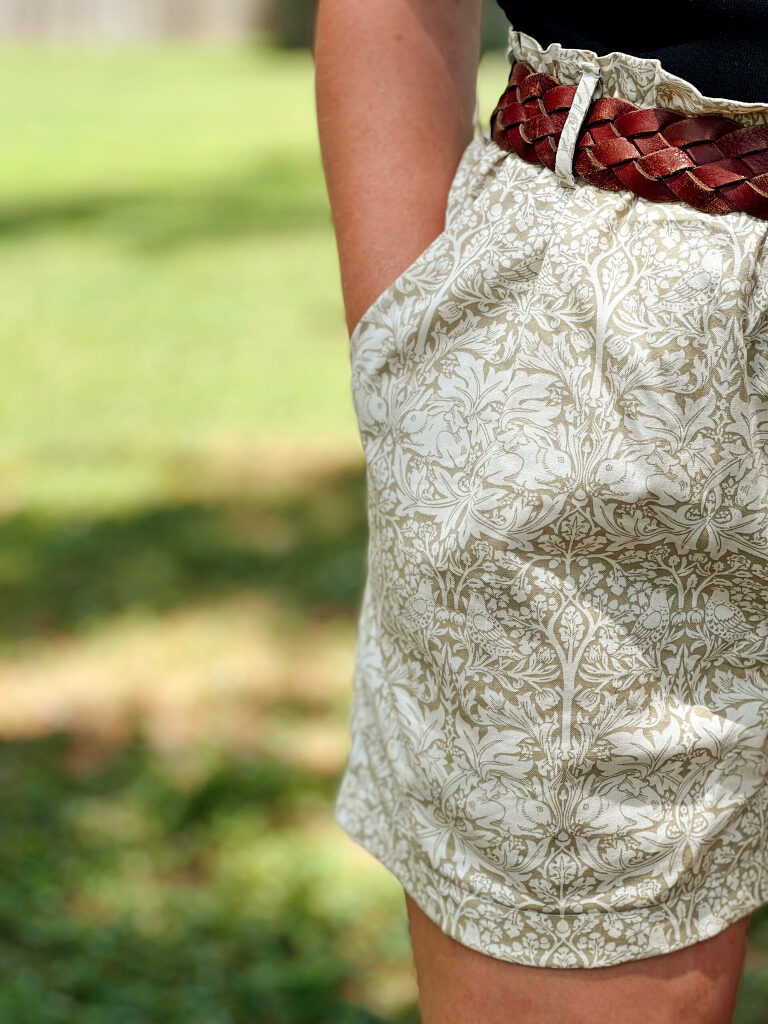 I tried my very best to line up the pattern, and I don't know that I did the best job. I was limited by the cut of fabric that I had, so I had to work with what was there. Its definitely always a good thing to order more of a fabric that you plan to fussy cut to line up on a garment, especially when its a larger scale motif like this one.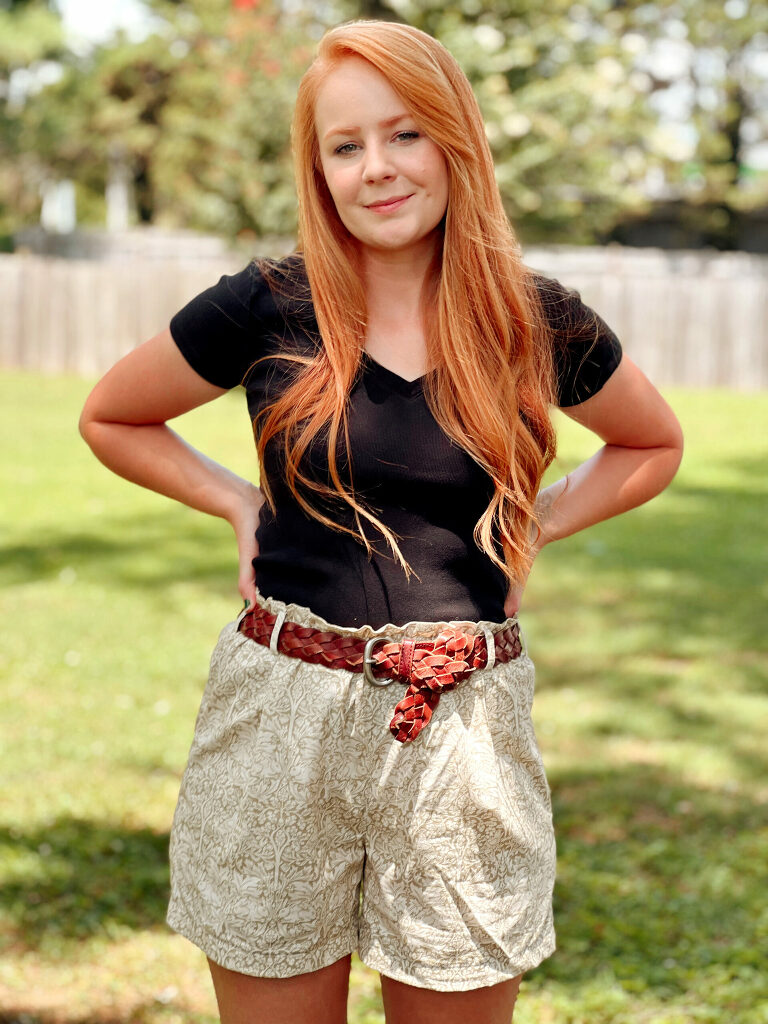 This is a Liesl & Co pattern, while I do still think $16.95 is too stiff a price to pay for shorts with no variation, the instructions are clear, concise, and super easy to follow. That is a trademark of Liesl & Co and their sister brand Oliver + S, and that is one of the major reasons I support their company. I can always rely on consistent drafting and great instructions with illustrations. Putting these shorts together was a breeze! I love that this is a project that can be done in an afternoon. That's a huge plus to the Lisboa Walking Shorts!
Lets talk about wearability!
Even with the cost of the pattern, I am happy with these shorts. No I wouldn't choose to buy it again, but since I have, I am happy with the result. I have worn them on a number of occasions already. One of the things I love most about this style, is that there are belt loops. This is a high waisted short, and I find it looks quite polished when paired with a belt.
Of course I also love that there are pockets. I've said it many times, and I'll continue to say it: every outfit needs pockets! I appreciate that there are both front and back pockets on these shorts, and can assure you I've used all of them.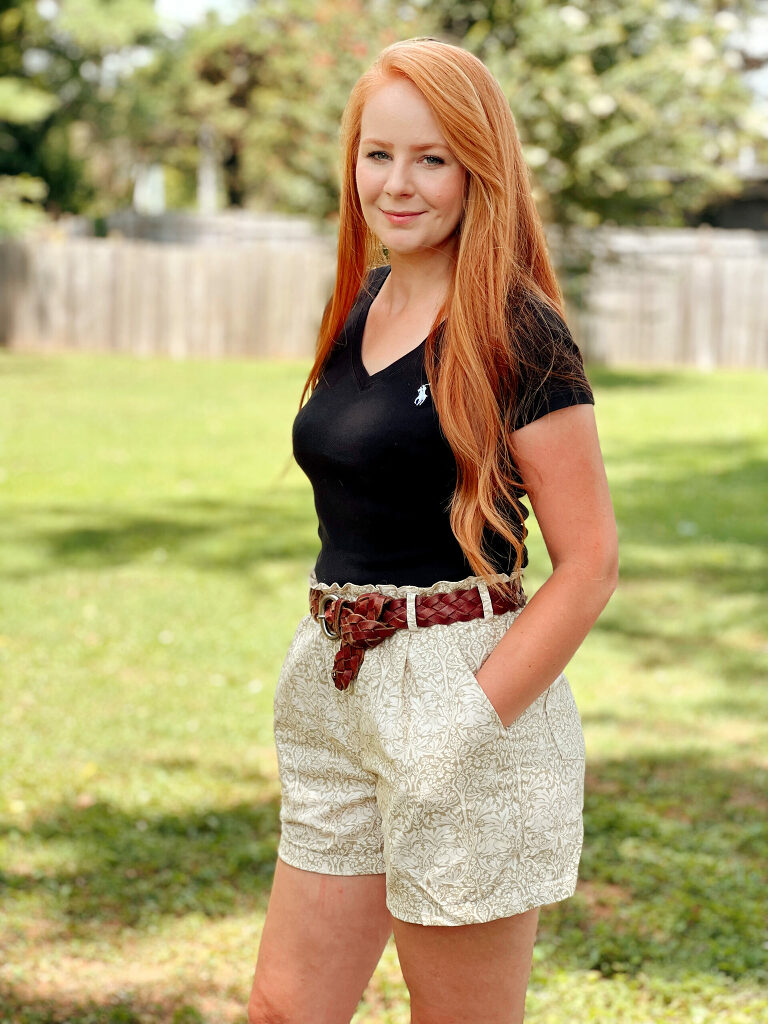 These shorts are what I would describe as a printed neutral. You like that? I got my pattern in, because I am a girl who loves pattern. But it's only two very calm colors, so its pretty dang neutral, which makes it easy to pair with a variety of tops. I feel like I'm really growing up, here.
As I mentioned, my shorts are made with a quilt weight cotton, but I think I will try linen next. This pattern is perfectly suited for linen or even a double gauze. My, those would be dreamy!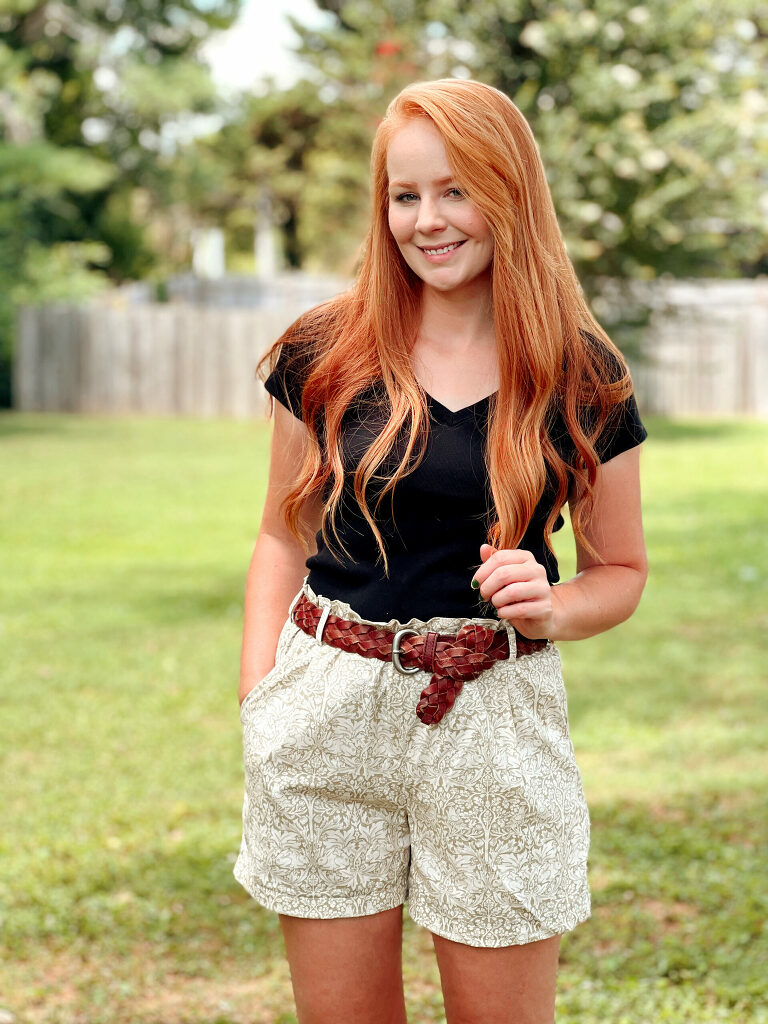 I have another super fun summer outfit to share with you next time! I can't wait to meet you back here.
-Meredith