Recently I was commissioned by a good client of mine to make some pillows for a friend of hers. She explained that her friend lost her 10 year old daughter to cancer, and that her daughter's favorite things were unicorns and rainbows. She saw my Pegasus pillow and asked if I was up for the challenge. I was so touched by her story and felt tremendously honored that she, a fellow crafter, would entrust such a project to me, and I immediately said yes.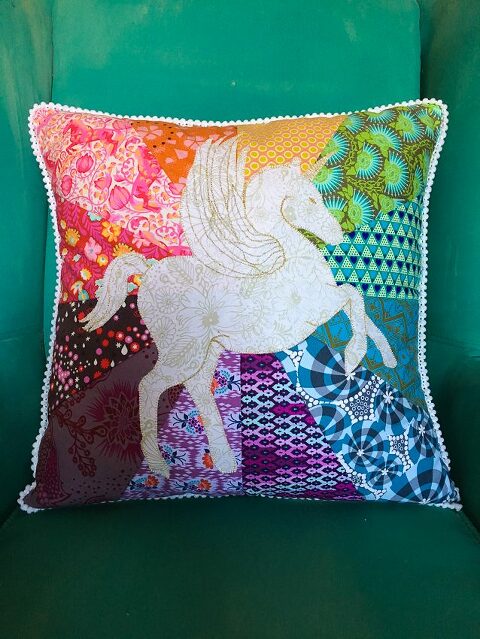 I started out with a pillow similar to the Pegasus pillow. I made it smaller and square, and I used a variety of Anna Maria and Tula Pink prints. I wanted it to be as bright and bold as possible. I used another horse from Anna Maria's Helios print as my template, but I added a horn to make it a unicorn.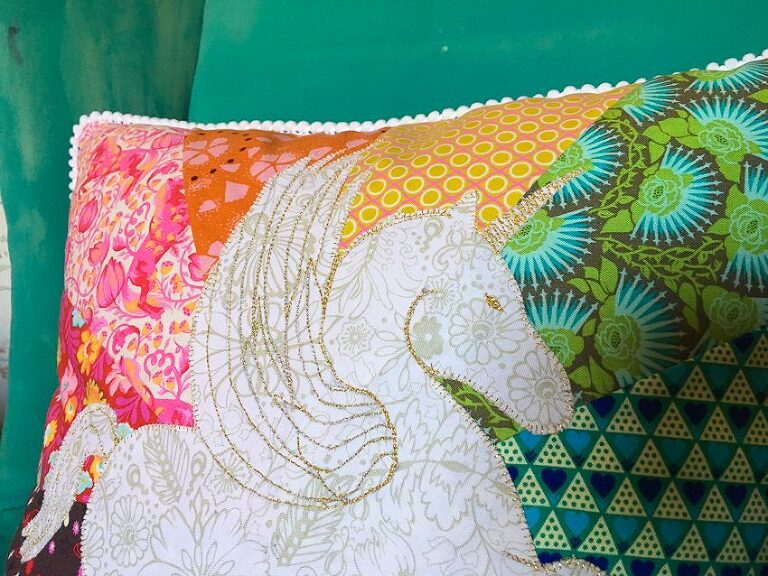 I love the whole process, but truly my favorite part of this was using the gold thread to applique and embellish the unicorn. There were no limits on this project, so anywhere I felt like I could take it to the next level, I did. I felt this need to make that sweet little girl proud.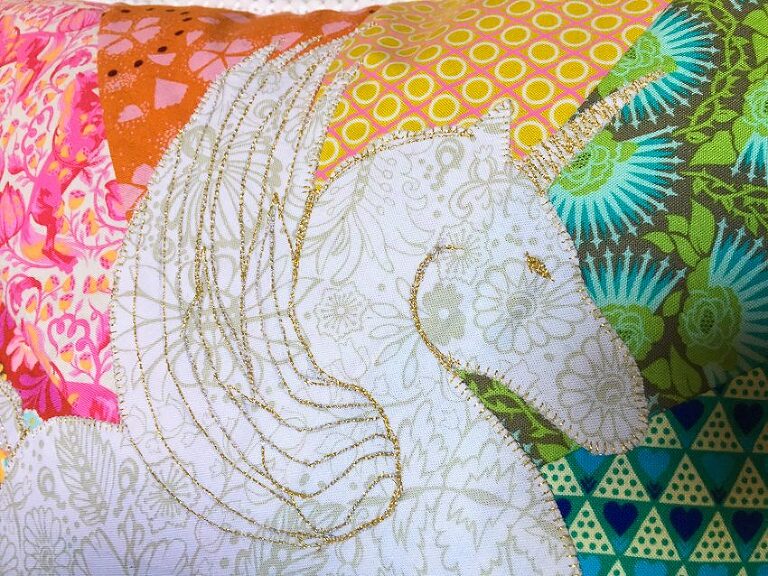 I finished the pillow with some small pom pom trim. The back of the pillow is finished they same way I do all my pillows- with a hidden zipper in the back.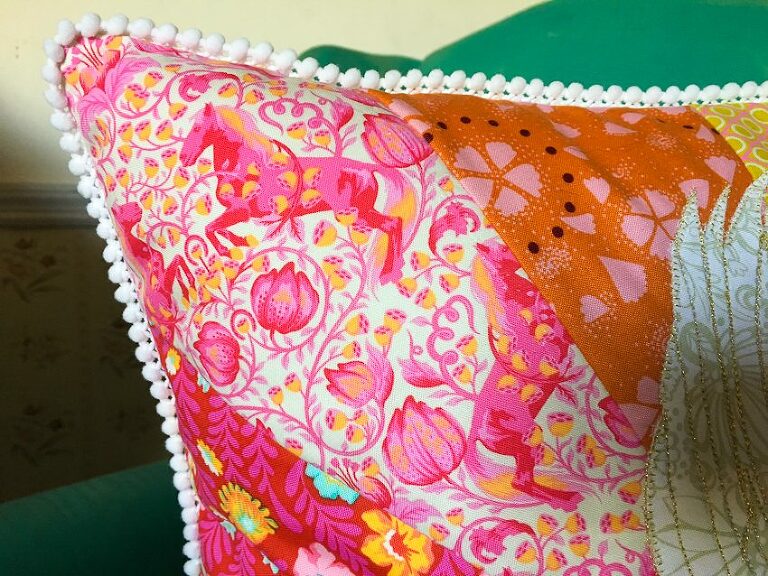 The second pillow used this amazing paper pieced unicorn pattern from Robynie. I have done my fair share of paper piecing, but nothing so intricate as this piece so I admit I was a little intimidated. I don't love doing things unless I know I can do them well, so after cutting the bajillion little paper pieces out I had to walk away and get my bearings. I came back a few days later ready to tackle it, and once I did it didn't take too terribly long. I mean, I'm a slow paper piecer, but for a normal person it might not take so long.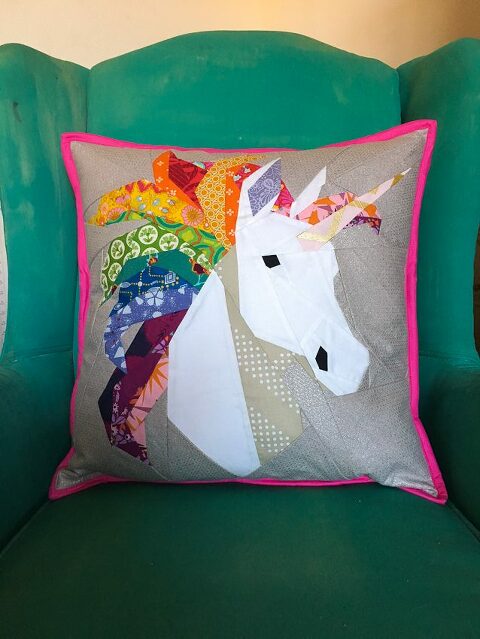 I did use the tutorial for a rainbow mane, because it had to have a rainbow mane. Obviously.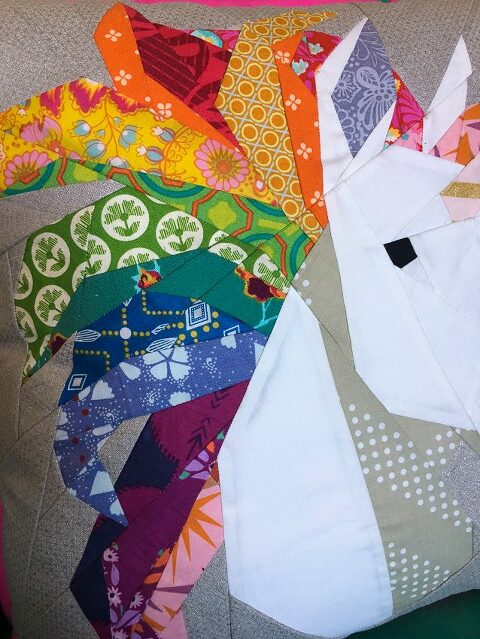 Again here, I used Anna Maria and Tula for the mane. The background and the "shadowed" portions of the unicorn are Cotton + Steel, and the white is from Hawthorne Threads. 
This pillow got a hot pink binding, and the same backing as the other pillow.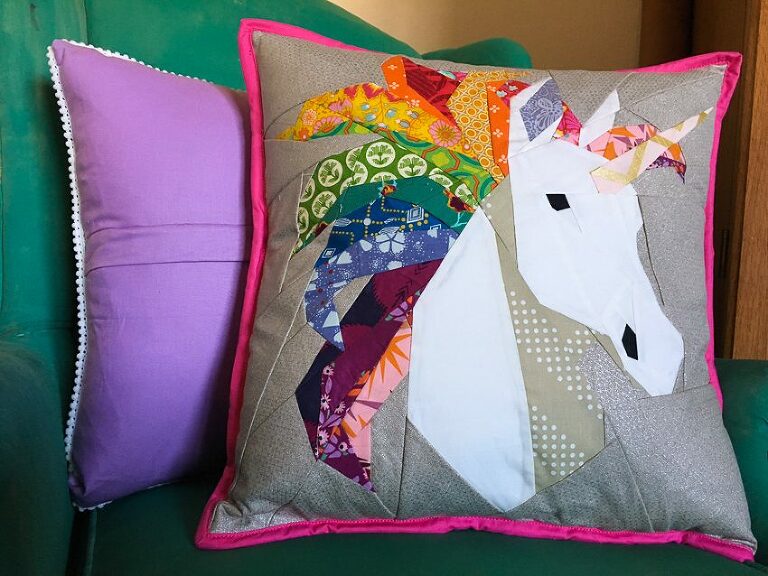 As I said before, I just feel so honored to have been trusted with this project. I wanted to do her justice so that when her mother opens the package she immediately thinks of her sweet little girl. I've talked about small business before and why I love it so. This is exactly why. I love that people reach out to me, the maker, directly and ask me to execute their visions. In most cases I have clients writing me, either before or after, about the story behind their projects. I love the human connection. I love getting to play a small part of their lives. You know? Not everyone gets to do this sort of fulfilling work, and while it is work and I do it to support my family, its so much more than that. Its a tremendous privilege to make for others, and I'm going to do it for as long as I can. Its so special to me.
So Samantha, thank you from the bottom of my heart for commissioning these pillows. It was such a joy to make them!
-Meredith