I suppose it was bound to happen, though I had hoped it would not be so soon, but I have fallen behind on blogging. Sickness has fallen over our household, and I have been unwell. I have made some progress on household chores, so now I feel I can reward myself with some time to post about a recent make, and one that caused excitement to bubble up within me from the moment I had planned it in my head until I was able to try it on. Without doubt, this outfit is one of my most favorite things I have ever sewn.
Are you excited yet? I hope I will not come across a too much sharing this one with you, but I make no promises.
William Morris. Do you know the name? He was a very accomplished man of Victorian Britain as a poet and writer. But perhaps he is most remembered for his extensive work in textiles that remain popular around the world today. He opened a design house with pre-Raphaelite artists Dante Gabriel Rossetti and Edward Burne-Jones and architect, Philip Webb, designing all sorts of textiles from wallpaper to tapestries, furniture, and beyond. His work is incredibly extensive, and his attention to detail and quality was unparalleled; influenced heavily by Ruskin, he rejected mass manufacture of art, and instead was passionate about handcrafted art that was attainable to many. He is known as the father of the Arts and Crafts movement. William Morris is a very interesting man, and if you are not familiar with him, I recommend googling his name and learning more about his work! I have a few books about his work, like this one, and I also follow a few Morris pages on Instagram so I can learn new things.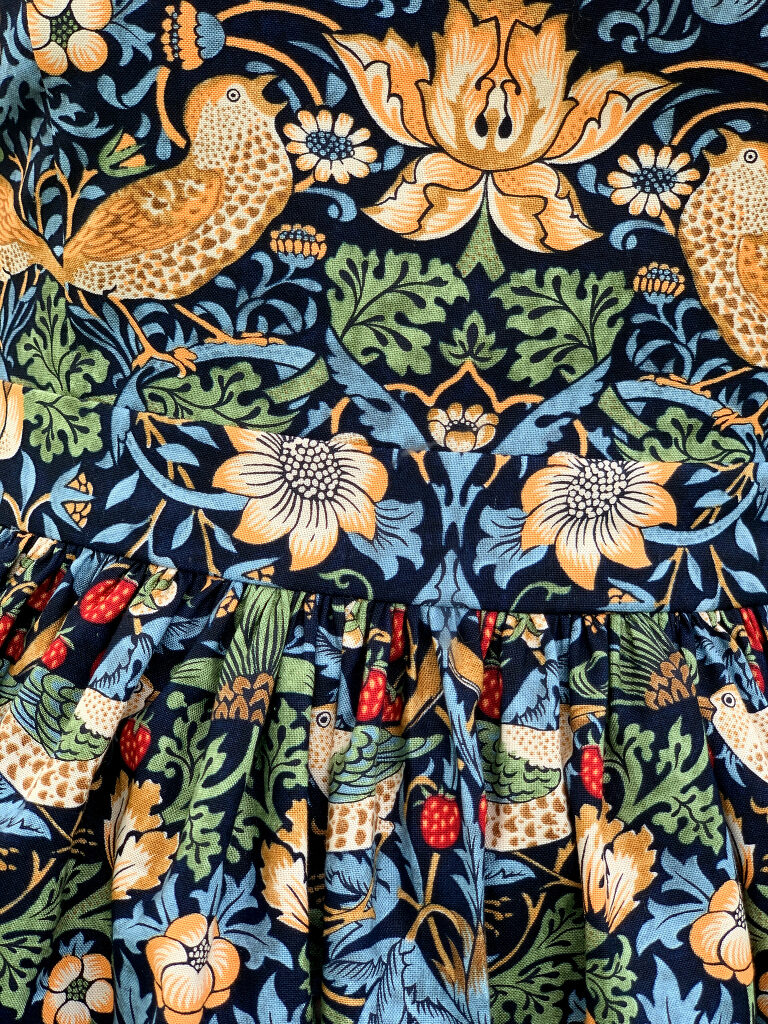 One of his most recognized works is "Strawberry Thief" which he designed as an indigo discharge print after seeing thrushes stealing strawberries from his garden at Kelmscott Manor. The company he originally founded with Rossetti, Burne-Jones, and Webb was eventually renamed Morris & Co, and today Free Spirit fabrics works with them to print William Morris's works onto their fabric. That brings me to my dress, with this very fabric as the star of the show!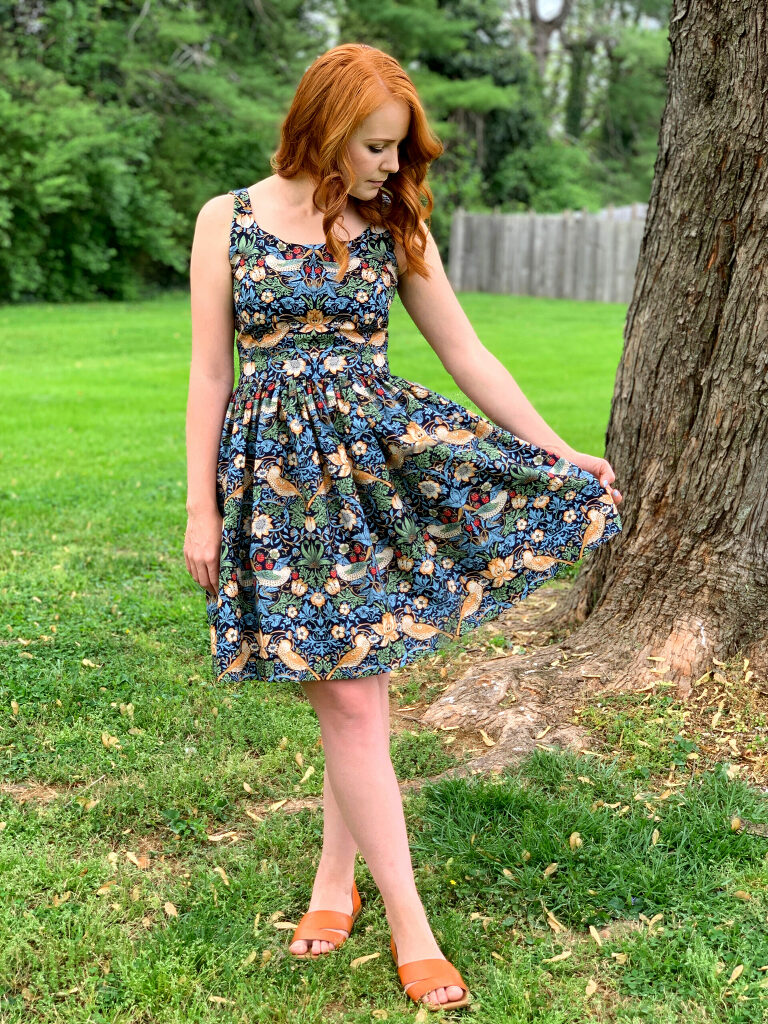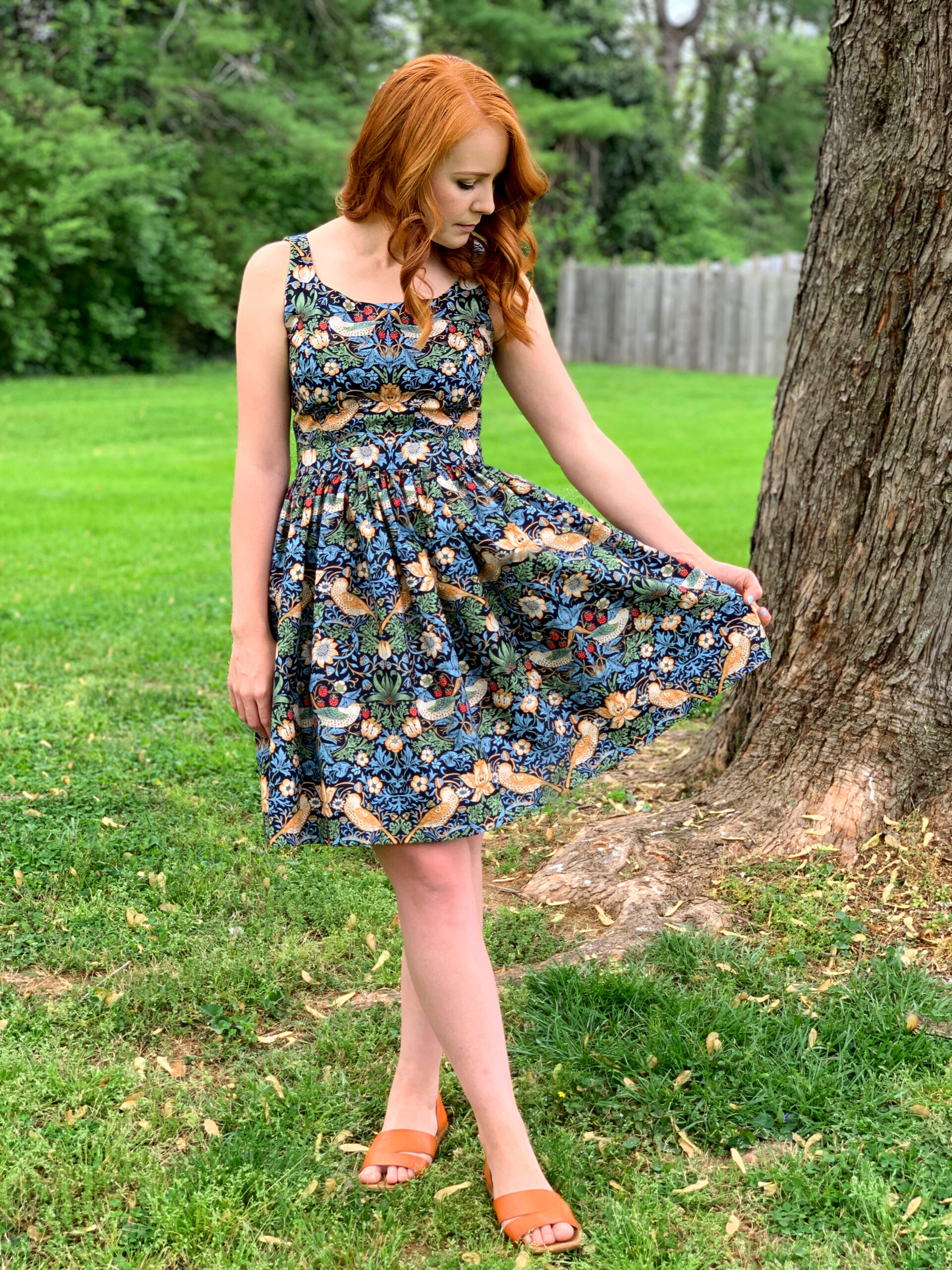 I am most familiar with Strawberry Thief on a much smaller scale printed on Liberty lawn. When I saw the larger scale of this fabric, I absolutely had to have it! It is already one of my favorite works- I have a velvet bedding set on my bed with this very print- but this new iteration takes my love to a whole new level.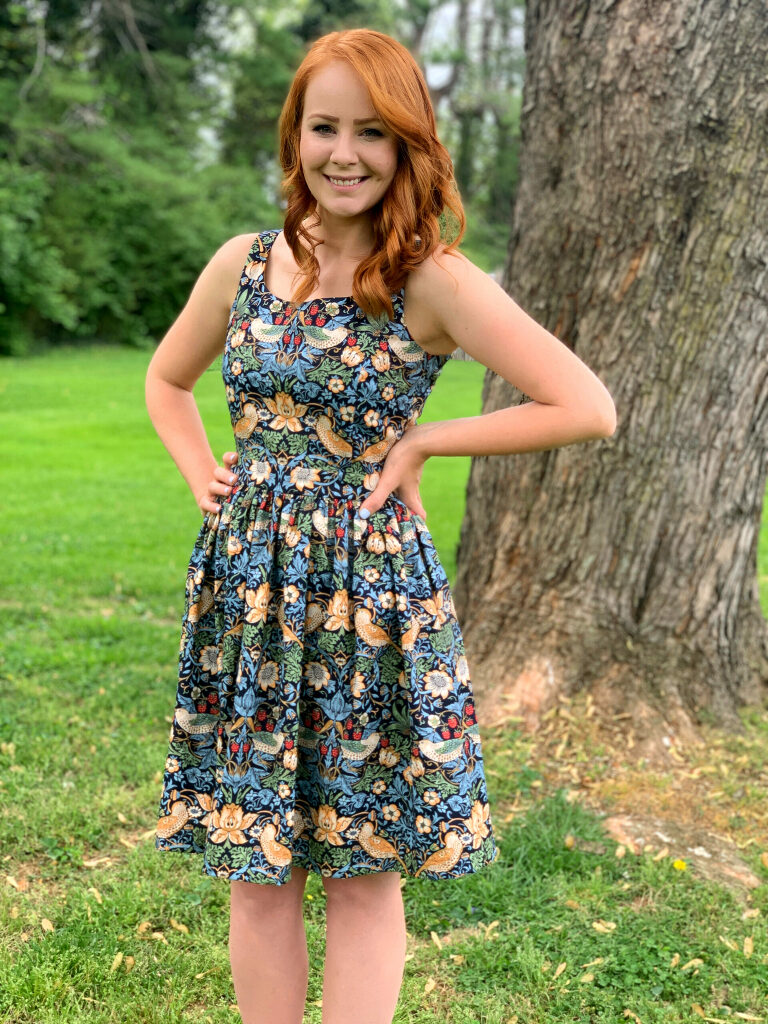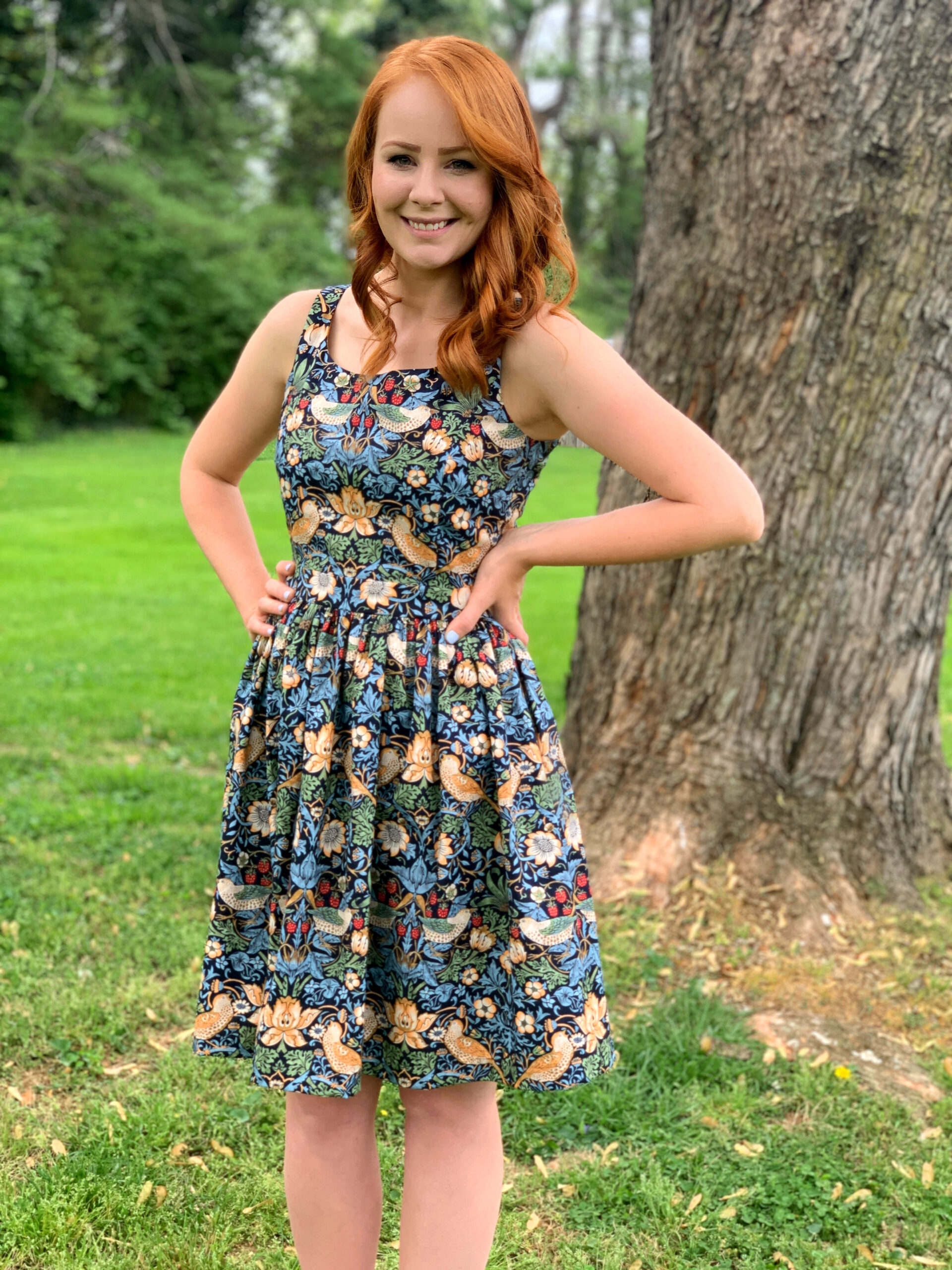 If you have been following my blog for very long, I'm certain that you can guess the pattern I used here! That's right! Its my most favorite, Michelle, My Belle Dress from one of the greatest sewing books that I have ever purchased, Liberty Love. Let me tell you a secret- most sewing books I've gotten are rather disappointing, and I find the quality of the projects to be quite lacking, even if the pictures are pretty. Not so with Liberty Love! It is probably the most used book in my small library of craft books, and it will remain so for years to come. The Michelle, My Belle dress pattern is included in the book, and I have made so many versions of this dress over the years that I have now created an entire page on my blog dedicated to this dress alone!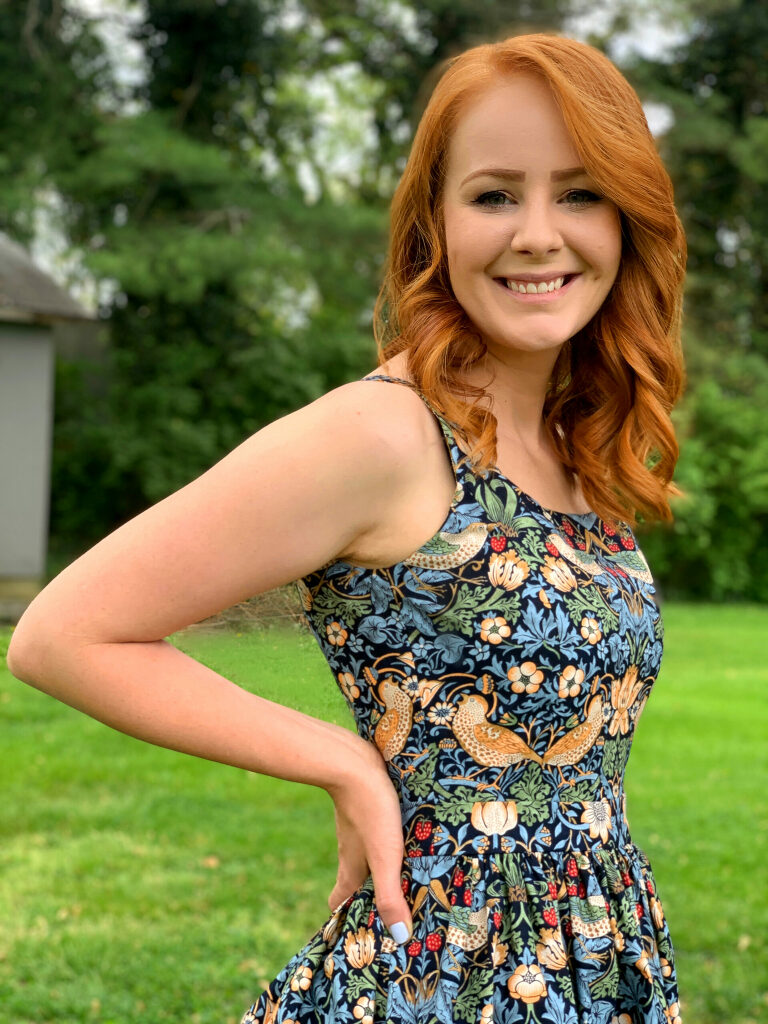 I have modified this dress in a number of ways over the years to put a fresh spin on this great silhouette. For this dress, I lengthened the bodice, shortened the waistband, and scooped out the neck bit more in the front and back of the dress.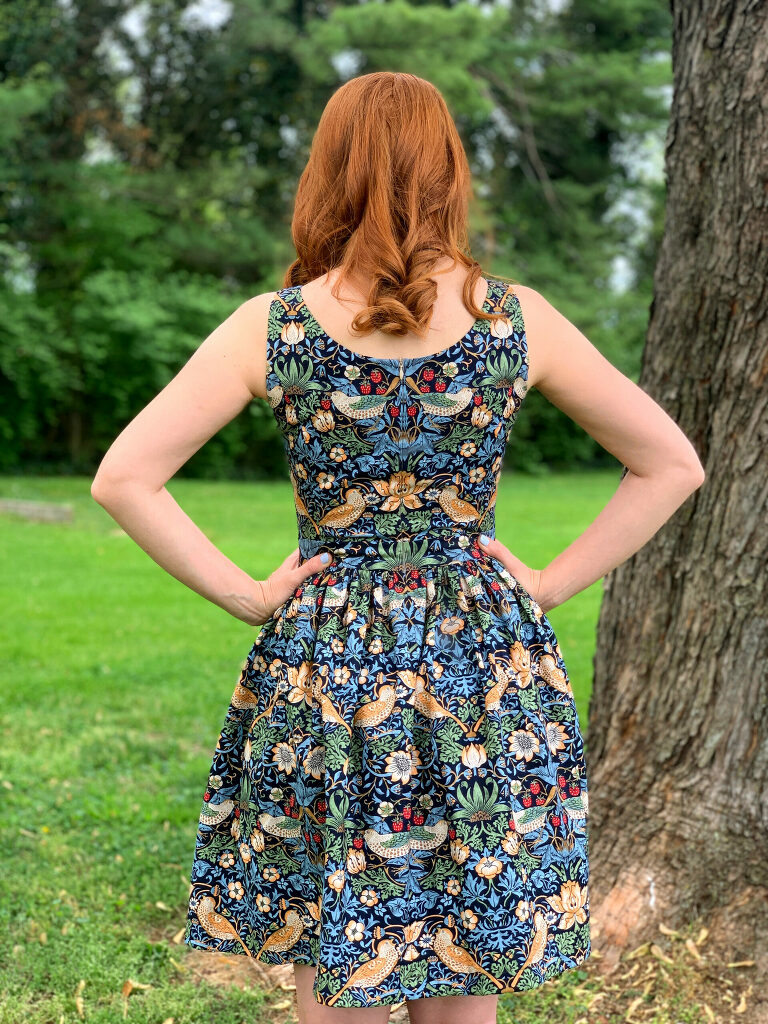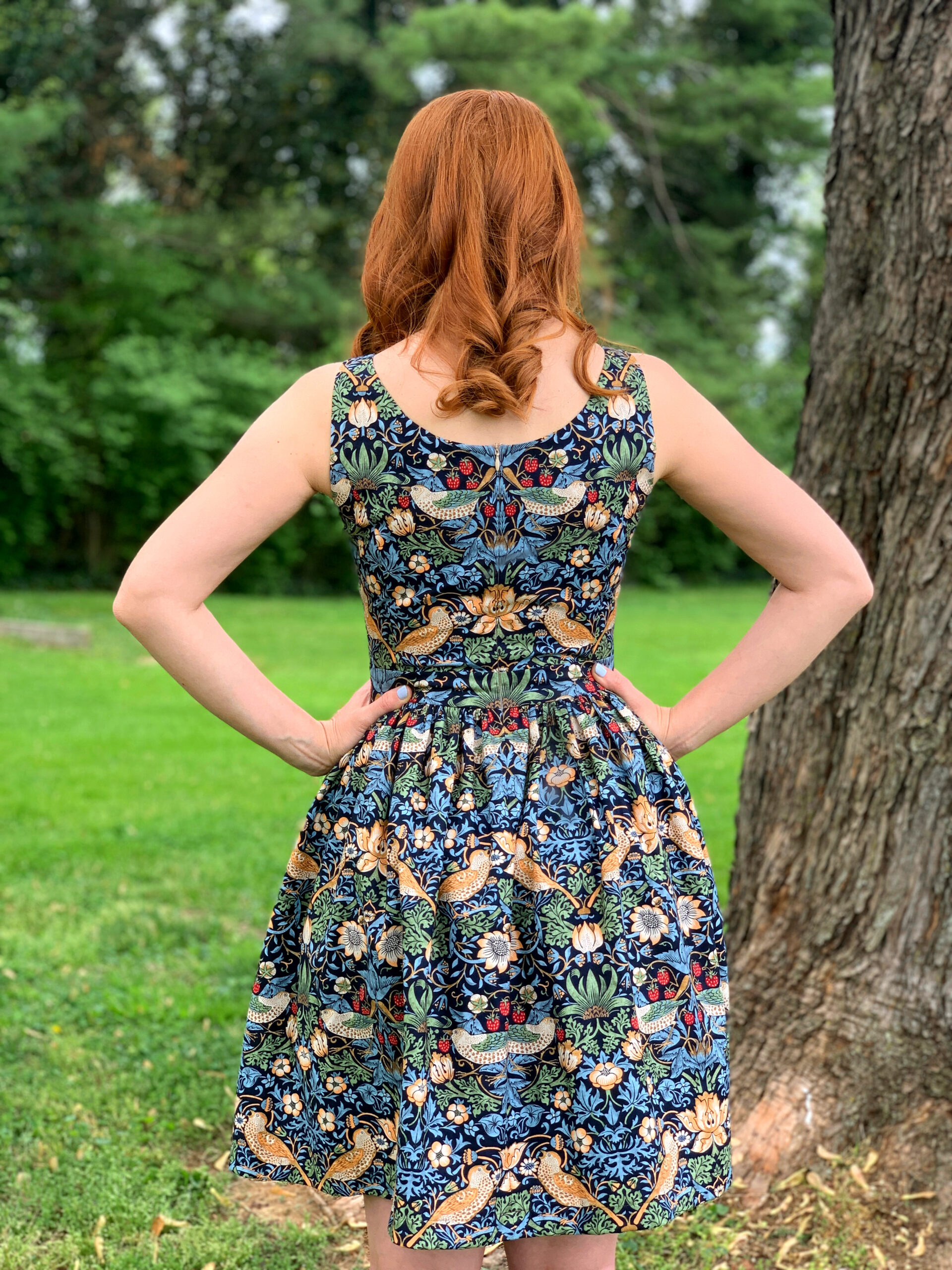 Because this fabric is actually a quilt weight cotton there was really no need to line the skirt, so I just lined the bodice. Mustard Capel is what I used for the lining, and I think it is the perfect fabric for absolutely anything, but especially as the mate to this Strawberry Thief. I will admit that its pretty "extra" to line with Liberty, but William Morris would have done the extra thing, so I did too. I think that is one of the aspects that makes him so appreciated- the man did not cut corners.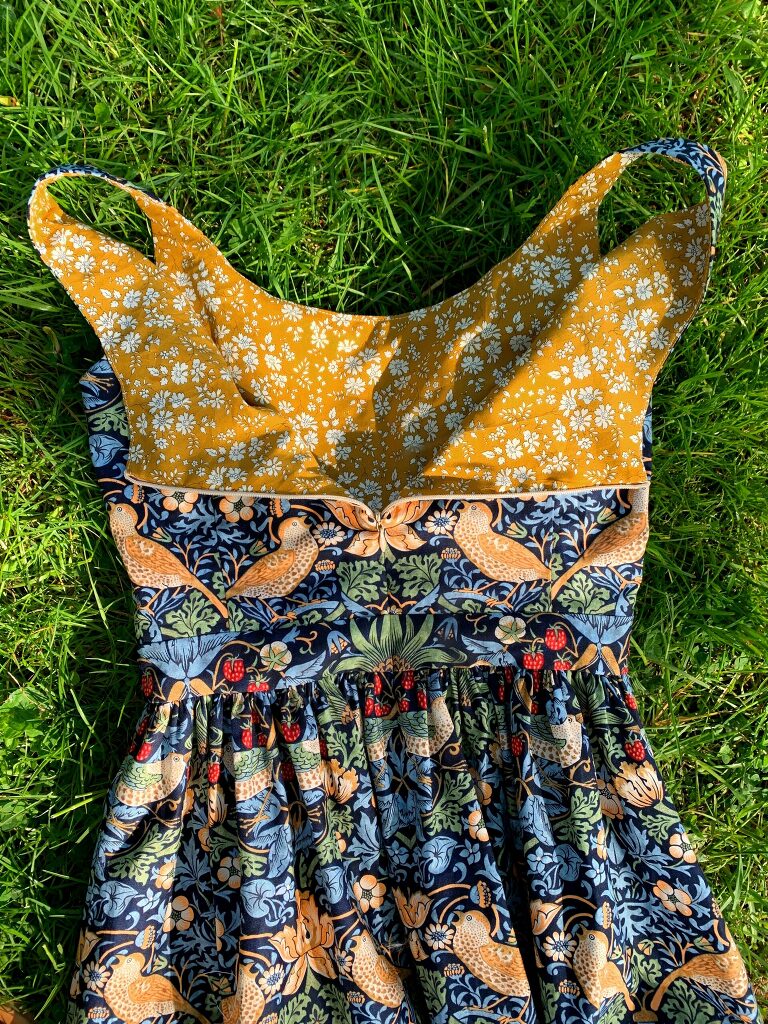 Of course the dress has pockets, as all dresses should. And they are plenty big enough for my phone and keys and whatever other things a girl needs to put in her pockets.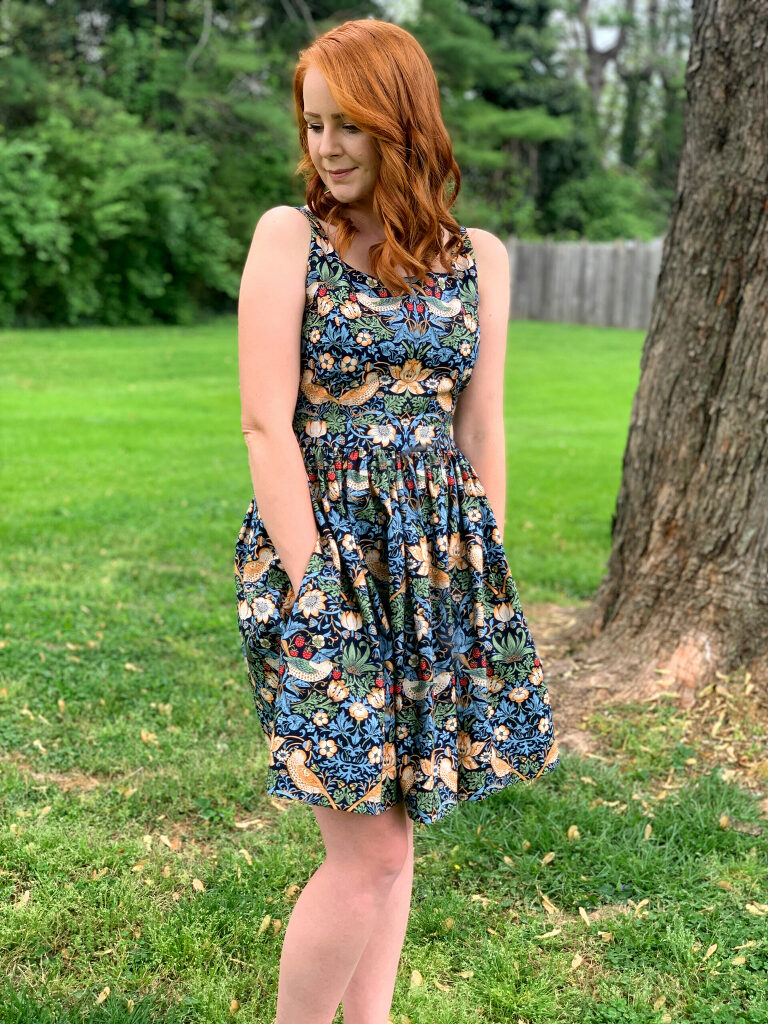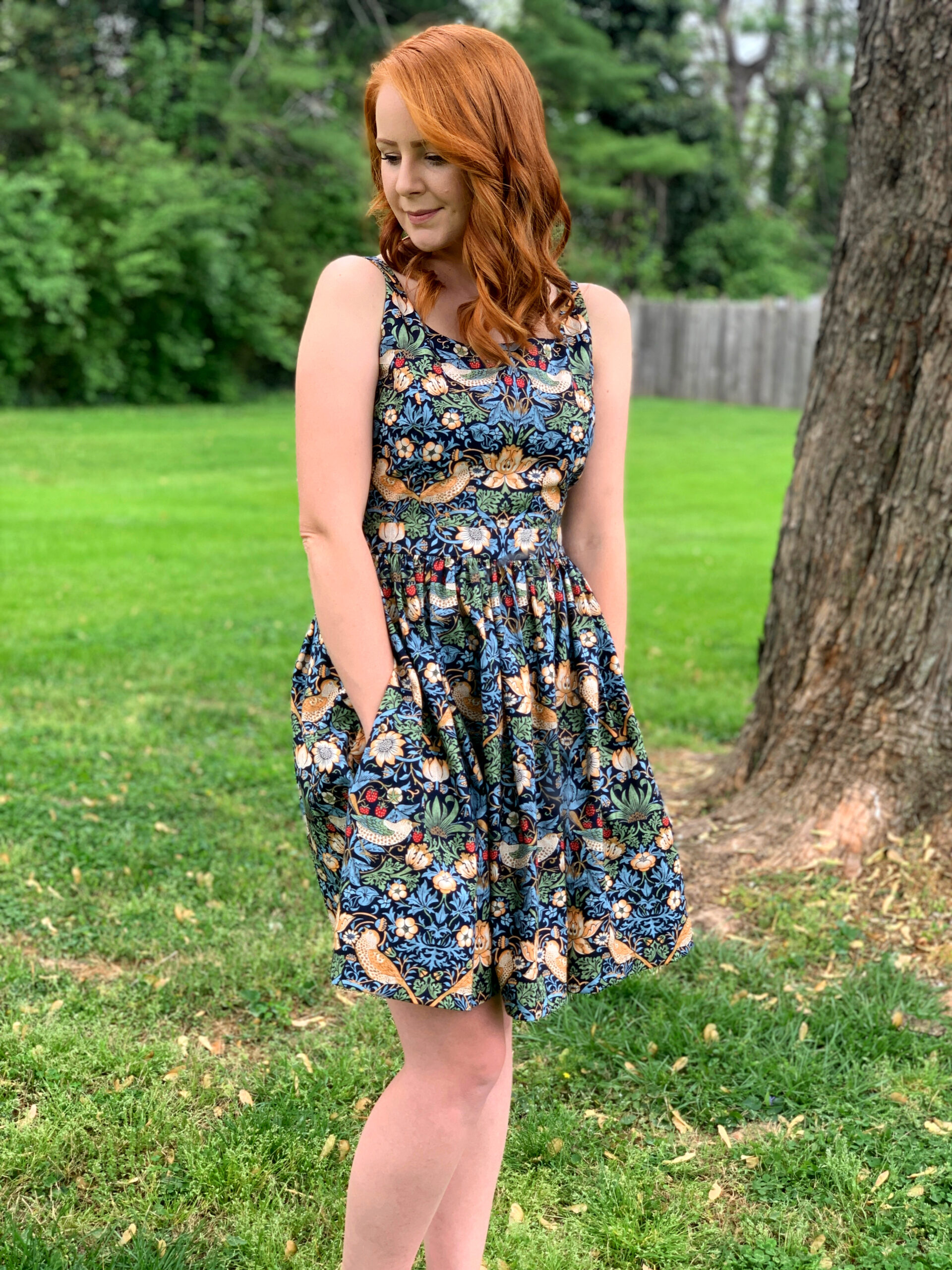 Typically, I don't put a great amount of time or thought into pattern matching because often I am working with Liberty lawn which is generally pretty small scale, and the prints rarely need to "line up". With this dress, I pulled out all the stops and I did my darnedest to align the prints as well as I was able. One issue that I encountered is that the print ever so slightly leans down across the fabric- this happens with many fabrics. Consequently, it was a bit difficult to line things up just by using the selvedge edge, so I cut everything with the fabric flat and unfolded and just did my best. This dress does have princess seams, so naturally the print cannot line up perfectly along the whole curve.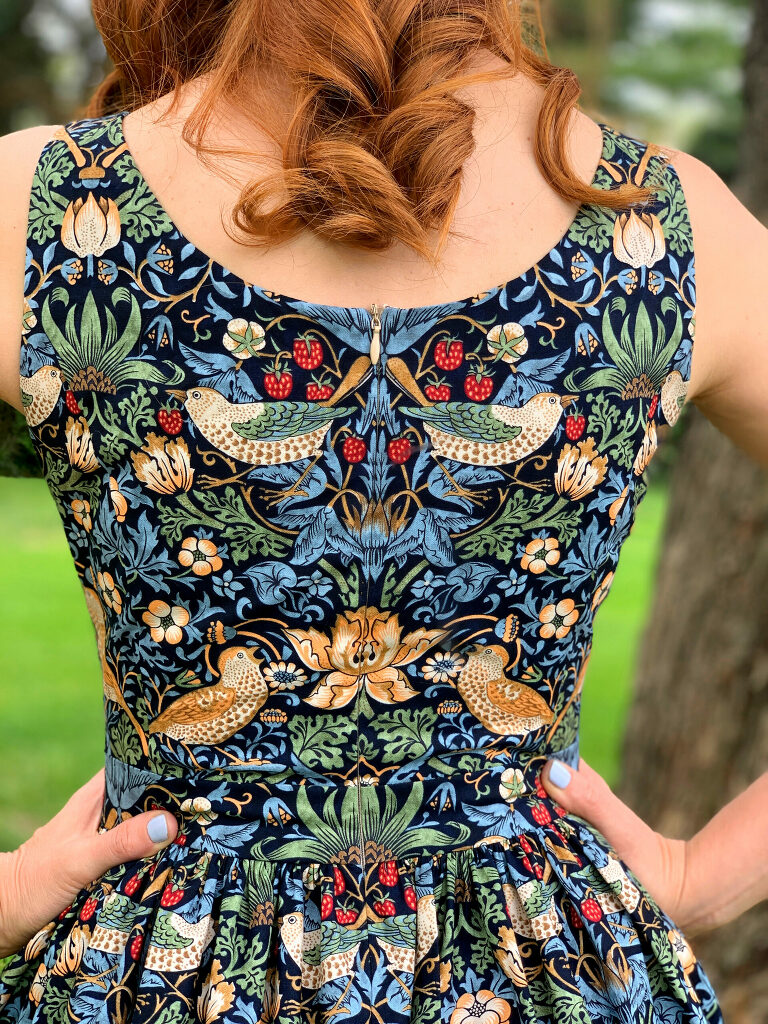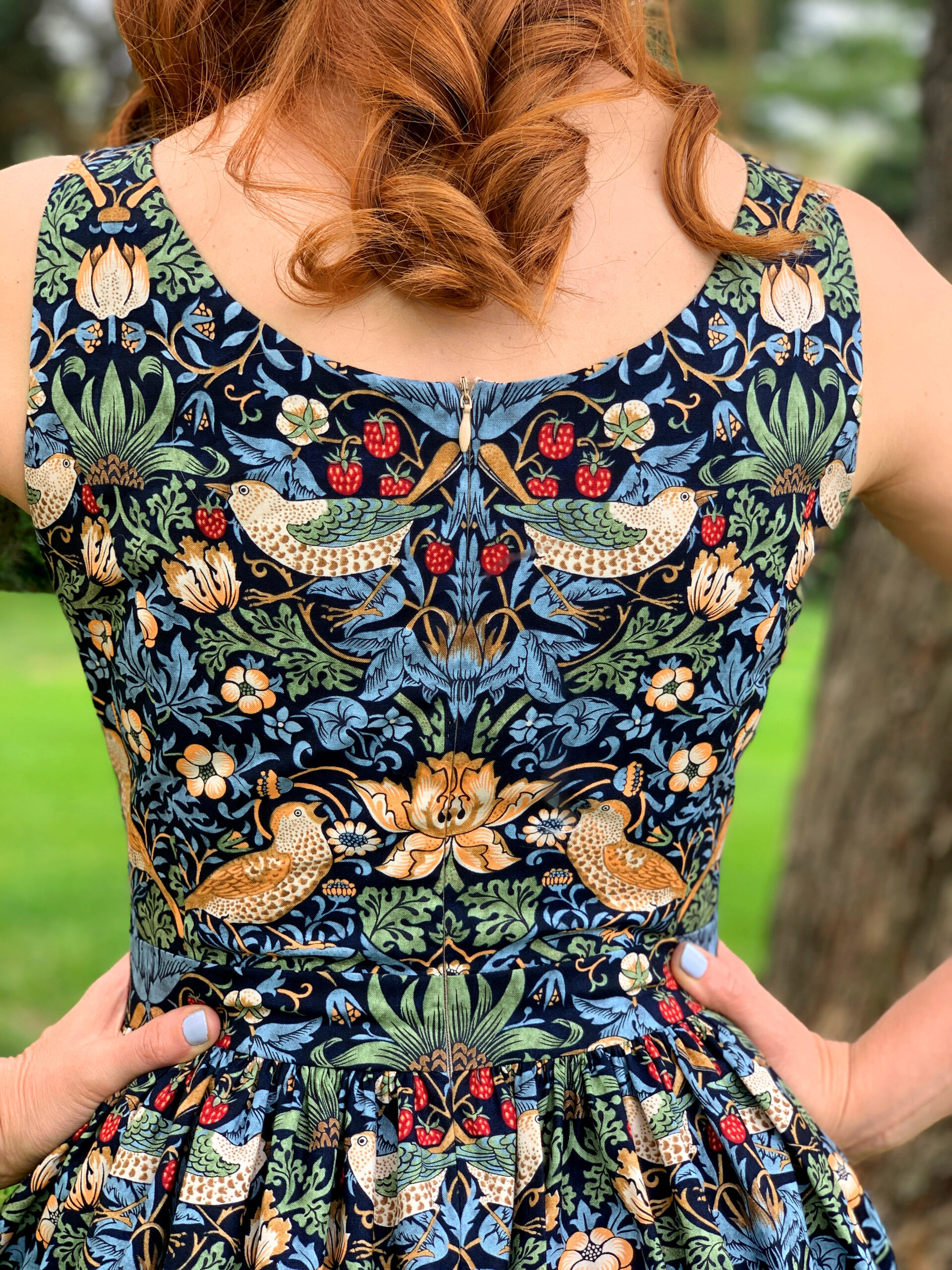 When I finished sewing the invisible zipper into the back of the dress, I could have just shouted "hooray!" because LOOK AT THAT. You can barely even tell a zipper is there, and the pattern matching is *chef's kiss*. Its not entirely perfect, but pretty close, right?! For real, I went and got my husband and kids to show it off because I was so excited about it. I like to think that William Morris would appreciate that. :)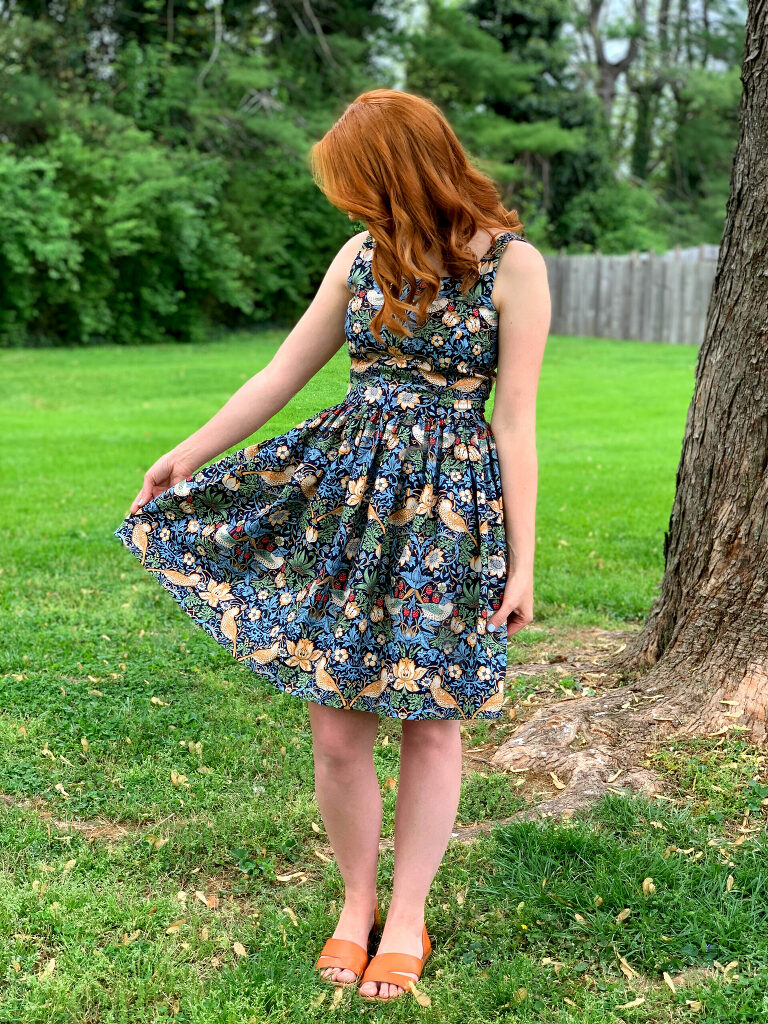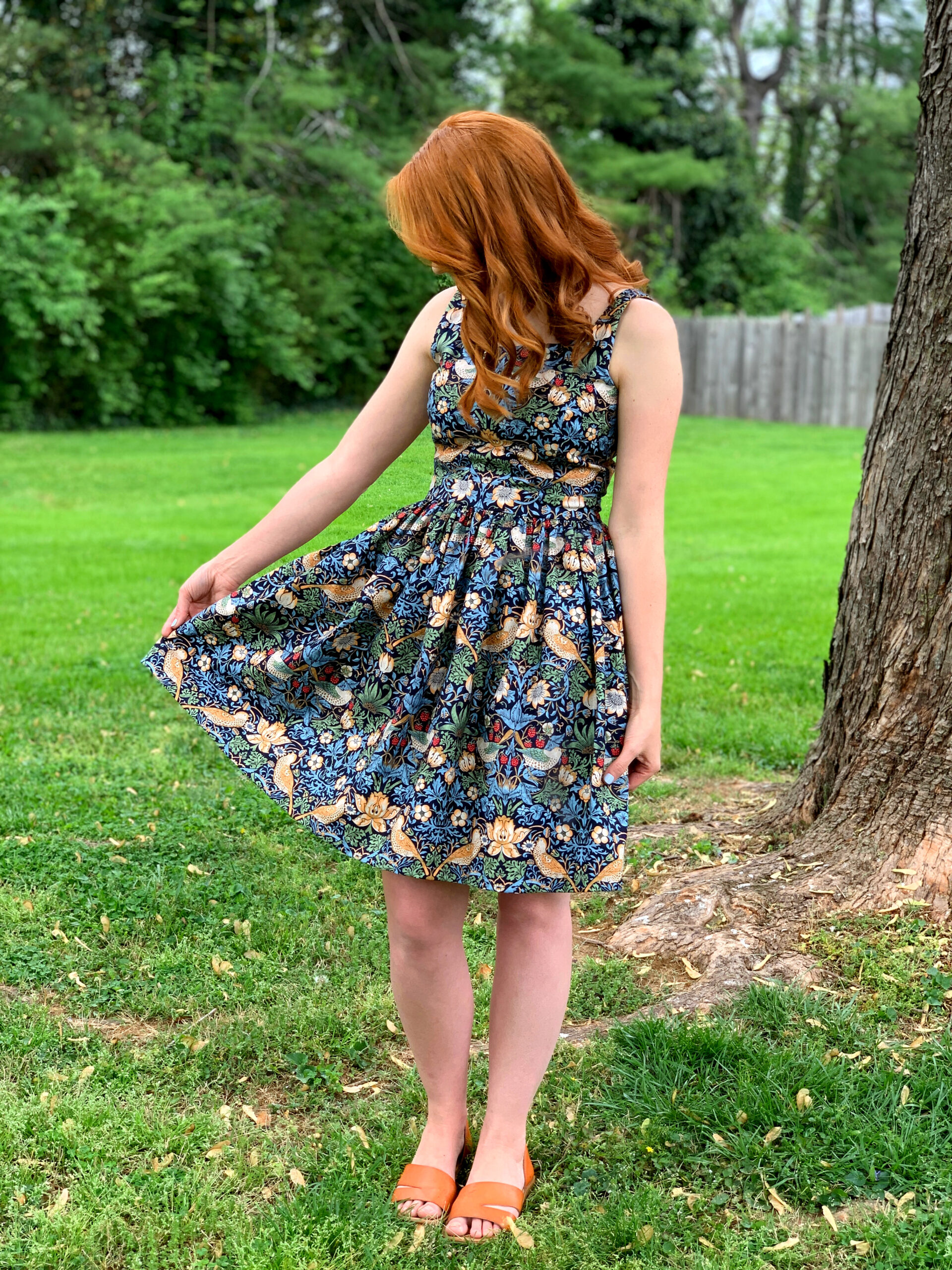 I used almost two full widths of fabric for the skirt. It is not quite two full widths because I was attempting to pattern match and the fabrics don't seamlessly line up selvedge to selvedge. I think it is just the right amount of fullness for the weight of the fabric, and I'm quite pleased with it.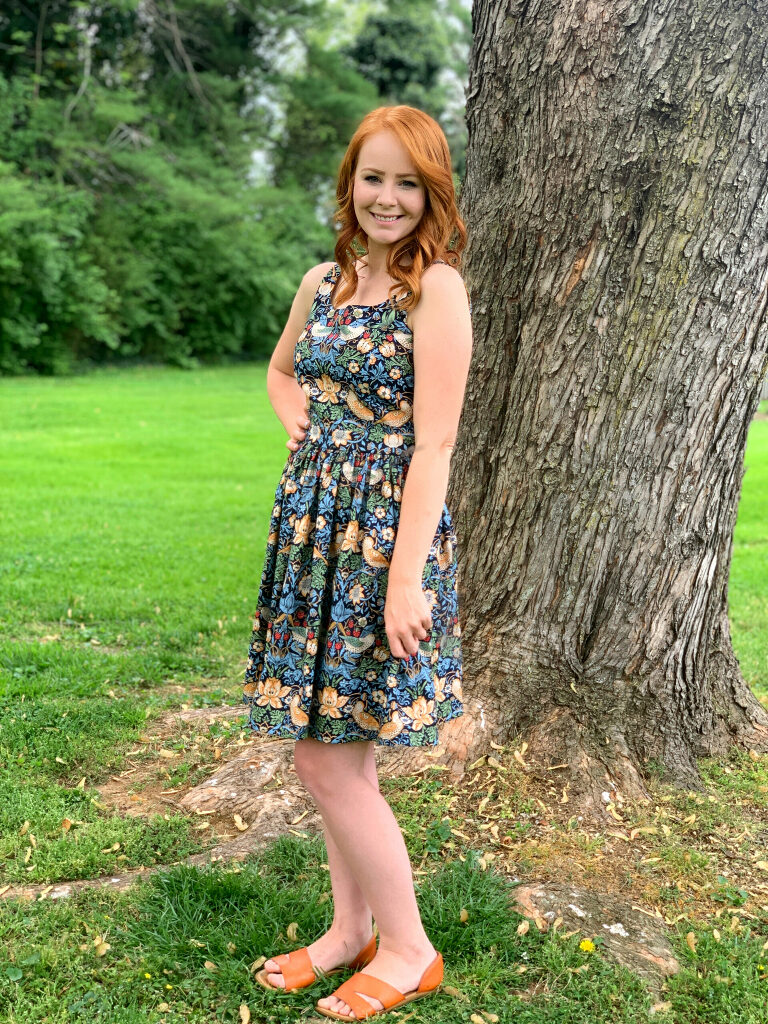 And that, my friends, is the story of this dress that I love so very much. I plan to wear it as often as possible, and to appreciate the thieving thrushes and the man that made them into this iconic work of art.
-Meredith
please note that some links may lead to Amazon, where I will receive a small commission if you choose to buy. the price is the same low price, but it helps to support my blog and creative endeavors!