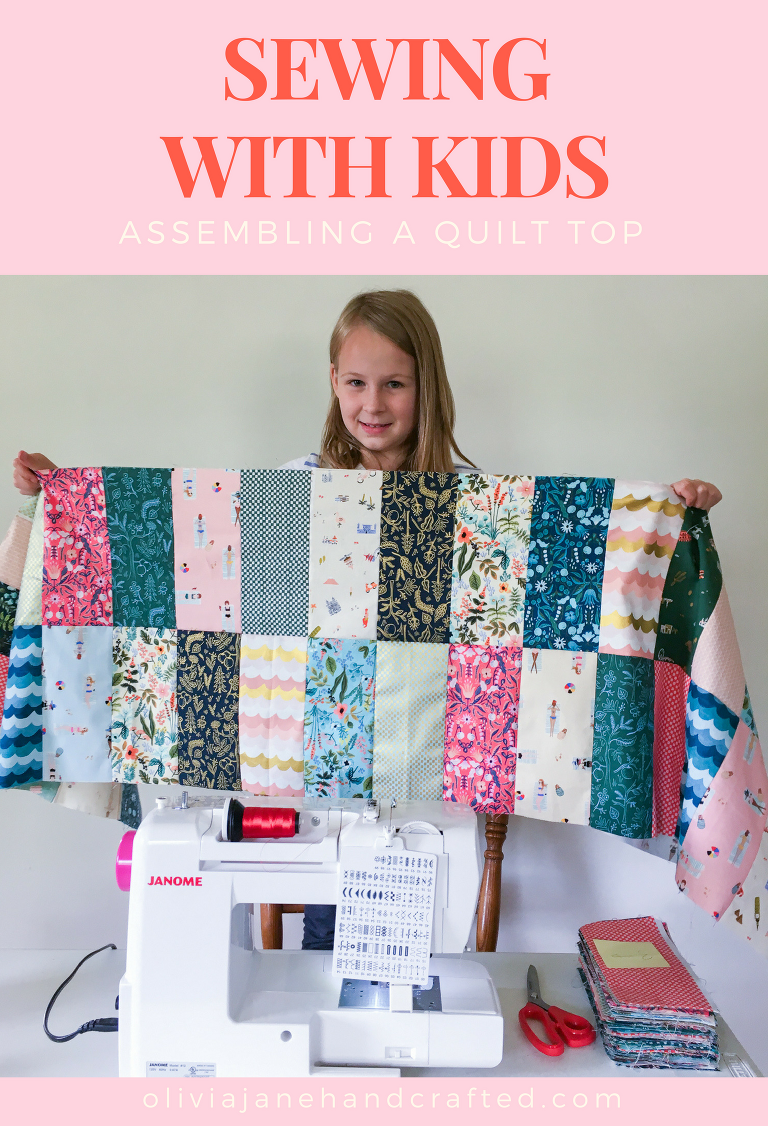 Its our third week of our Sewing with Kids series, and today Layla is here to walk us through assembling her quilt top.
I would just love to recommend starting small (like this stuffed animal quilt!), and working your way up. Kids take in information at astonishingly speed, and I would just encourage you to let them discover and learn, even if a project seems "too big". Guide them, but let their imaginations run wild. I love to make quilts with simple shapes like squares and rectangles because it allows fun fabrics to really steal the show, and I have found that children are especially attracted to FUN fabrics.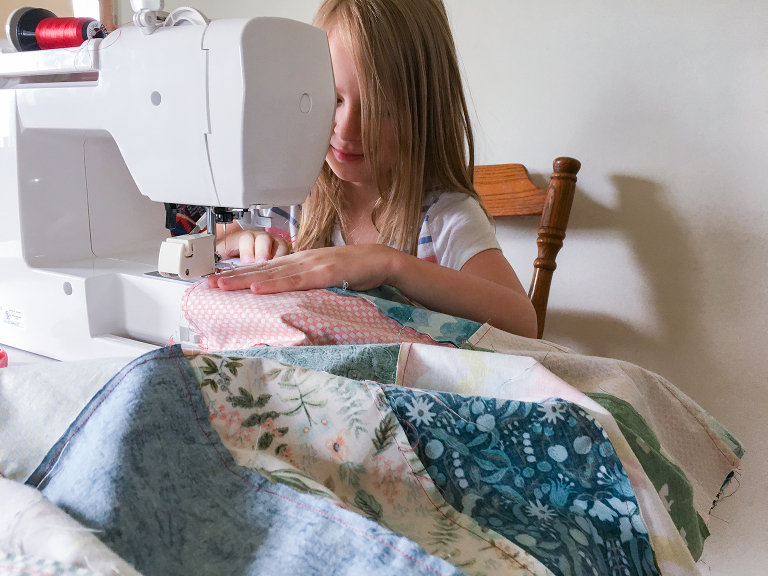 I used my rotary cutter to cut 10 rectangles from each of 18 different prints, and she was left to lay them out in a manner of her choosing. We chatted about that briefly in our last post.
To my surprise, she wanted to sew them up immediately, and within two days she had completed 70% of the twin size top! I asked her to leave the rest so she can demonstrate the piecing method to you on Facebook tomorrow.
So she's going to walk us through the process of sewing a quilt top together. Again, we are sewing rectangles together, so the process will look like this: rectangles > rows > quilt top It may work a little differently if you are using different shapes, but this is the basic assembly of most any quilt top.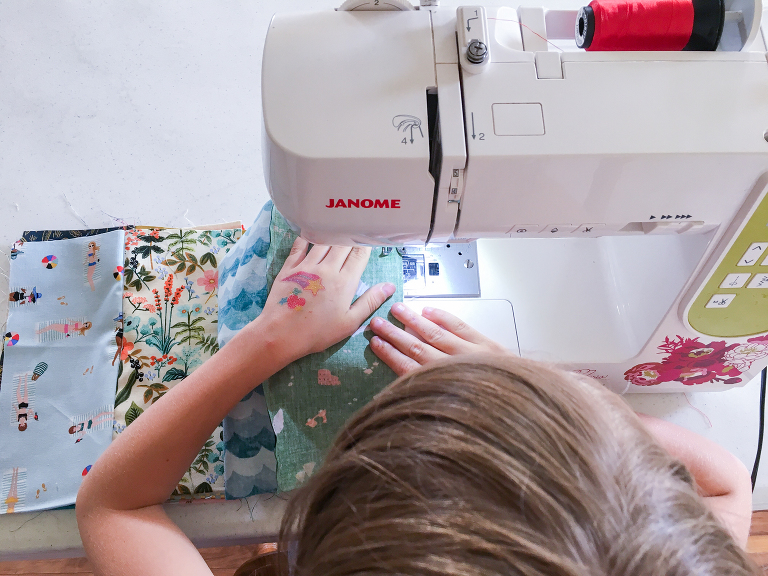 "Hi there! It's Layla. I'm going to talk to you about how I sewed the quilt top together. There were ten rows with eighteen rectangles in each. I sewed one row at a time. I started by sewing the rectangles into pairs of two. I had to go slow and make sure they were lined up correctly and not slanted or mismatched or on the wrong side. You have to sew them right sides together so the seam will be on the back of the quilt top. I used a 1/4″ seam which was marked on my mom's machine. I kept sewing the pairs and did not snip the thread until I was done with all nine pairs of two, which is called chain piecing. It helps me to sew faster and uses less thread than if I stop and cut each one.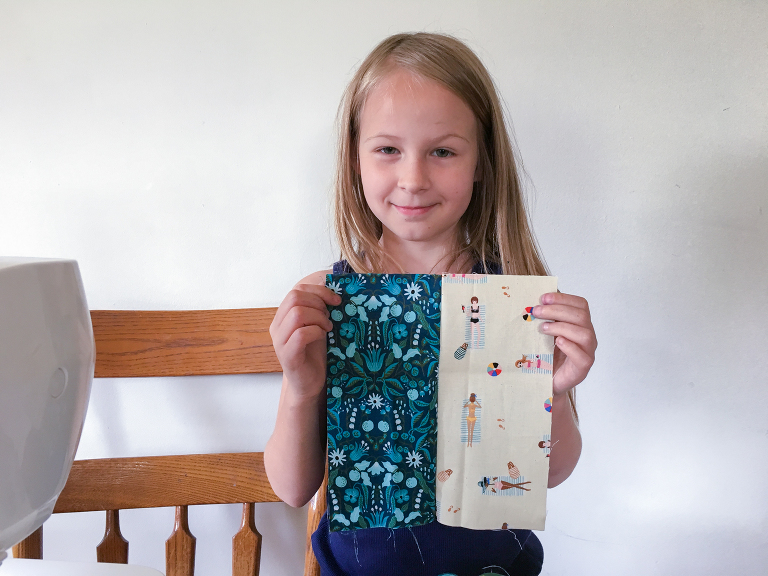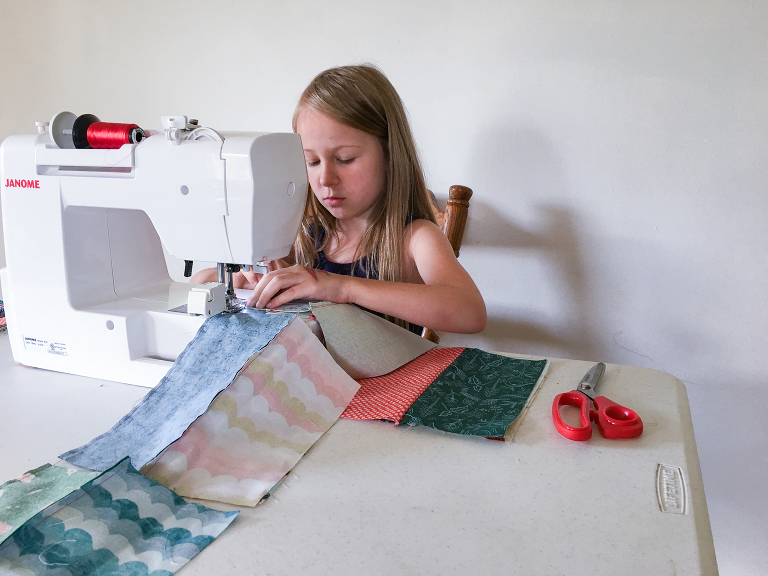 "After I sewed the rectangles into pairs of two, I cut the threads between each block and put them back in the right order. Then I sewed the pairs into sets of four. This gave me four sets of four rectangles plus the two at the end.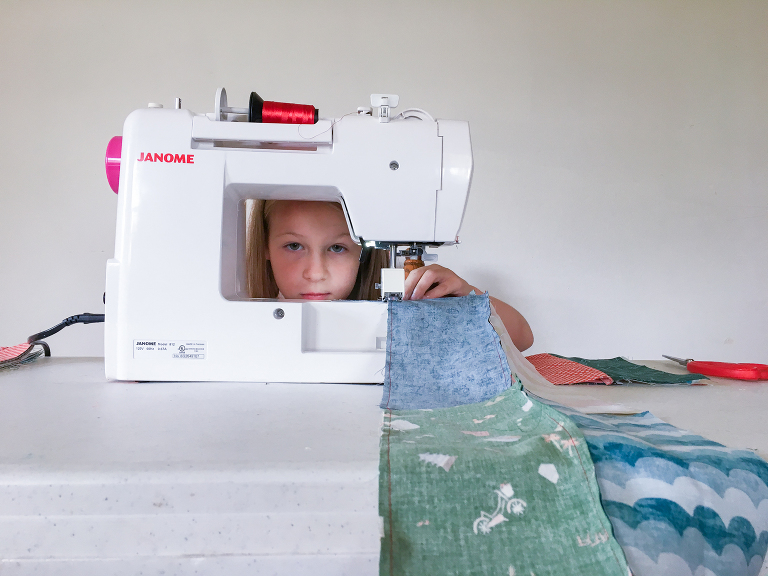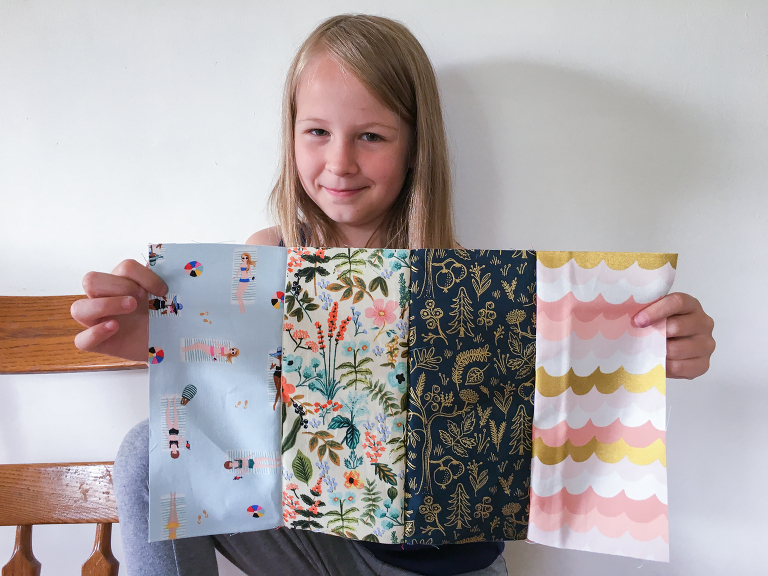 "I sewed the sets of four into sets of eight, then I sewed those together, and then the last set of two to the end. Then we had to iron the row. My mom says to switch the direction of the seams on every row. So on the first row I sewed, we pressed all the seams toward the right, and on the second row we pressed all the seams to the left. This makes it really easy to line up all the rectangles perfectly when you sew the the rows to each other. Mom says it also helps the quilt to hold up better.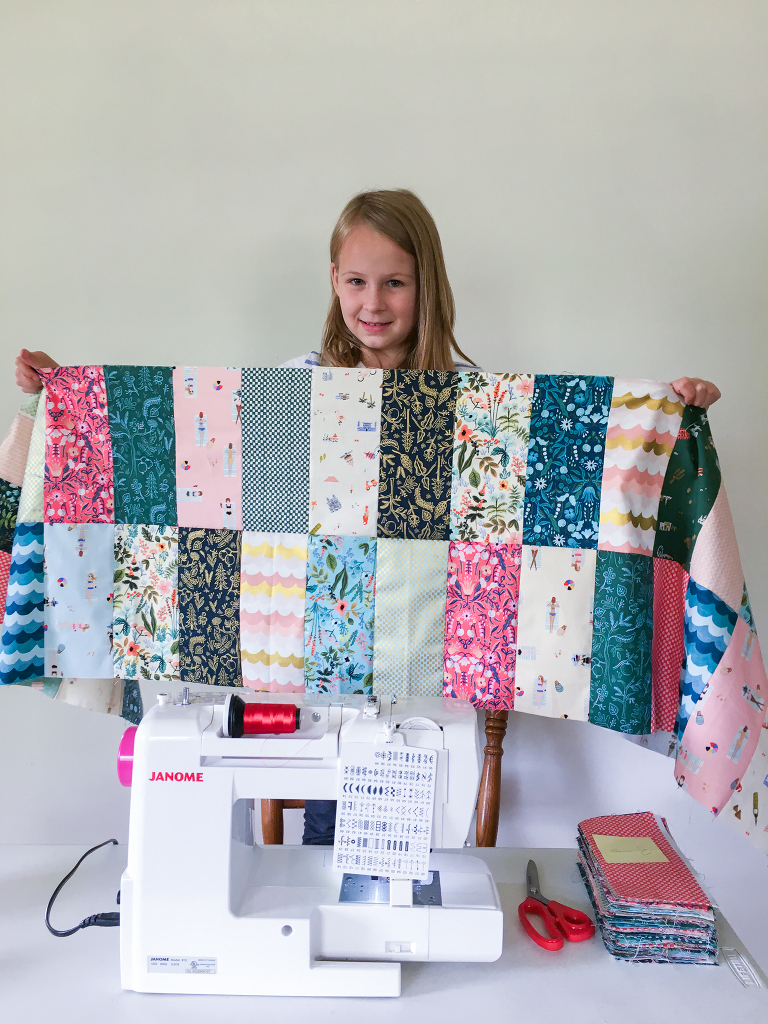 "I really liked making the quilt top because I was able to make so much of it by myself. I made almost all of it in one day! Making this project helped me to learn to focus more even when my brothers watched a movie while I was sewing at the machine. I liked how quickly it all came together once I sat down and did it. Laying it out on the floor as I went to double check the placement really helped me make sure I was doing the right thing, and it helped me to see what the whole quilt would look like as I stitched it. Now I need to choose a back for my quilt and send it off for someone to quilt it for me so I can get it back and sew on the binding and use it! I can't wait to get it on my bed and sleep under it! Yay!"
I hope you will join us tomorrow afternoon on our Facebook page for a video demonstration! We are hoping to go LIVE but if our app continues to give us trouble as it has the past two weeks, we will film and upload the video.
We want to hear from you! What projects are you working on this summer?
-Meredith and Layla