Let's talk about Quilt Market! Before I get into the booths and the incredible talent I saw, I have to tell you a bit about my personal experience with the travel and being in a city! I'll keep it short and show you the good stuff.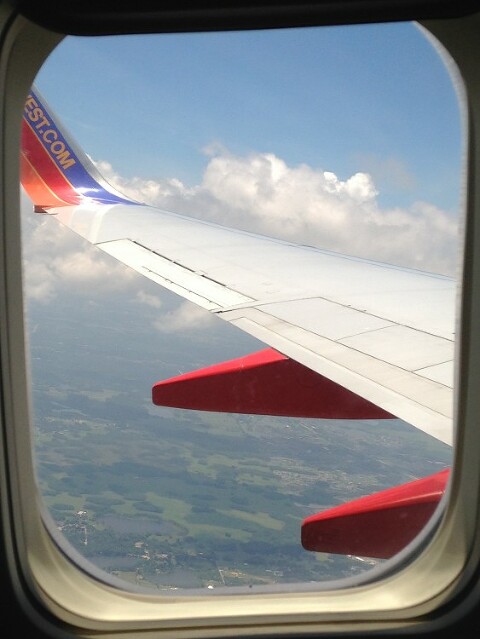 I traveled to Minneapolis last week. It was the first time I had been on a plane in seven years and it was the first time I had ever left my children (one of which is still nursing and hadn't a clue how to use a bottle despite my trying every kind of bottle/cup over the past six months!) It was also only my second time in a "real" city, the first being Washington DC when I was 16 or 17. Here I thought I was traveling to some podunk little town in the middle of farmland. Boy, was I wrong! I left 90° sunshine and I arrived in Minneapolis to 42° grey, raining skies. My phone was dead, and all I knew was that Market was at the convention center and my hotel was attached to it. I didn't have the addresses, and my roomies had my key and passes. I had been told I could just take the metro right to the convention center, but that was not correct. So a kind lady showed me how to use the Metro, but she got off on the first stop and couldn't tell me where the center was, so I relied on an angry looking guy to give me good information. 15 stops later, I'm actually hopping off and boarding a city bus (another first), and that angry guy got off. So thankfully the gentleman driving the bus let me know where to get off.
I got there late, and I was afraid I wouldn't be allowed into Sample Spree without credentials. And just to be clear, you have to have more credentials to get in there than you do to get into the USA. Just saying. (To prove my point, April Rhodes is a designer at Art Gallery and her fabric was being sold at Sample Spree. She was not allowed in because she didn't have a pass specifically stating she was allowed in there. Unbelievable, right? And kind of funny.) Back on point- The people at the door must have felt great pity on me when I explained my situation because they allowed me to go in with an escort. I had to find the person with my credentials among hundreds of frantic women before I was allowed to be free- and I had to do this by eye only, my phone was dead. So I got the pass and went to buy a bundle only to have my card declined because I was out of town. So I sat on the ground next to an outlet and waited for my phone to charge, was on hold for 15 minutes, and was finally able to get something.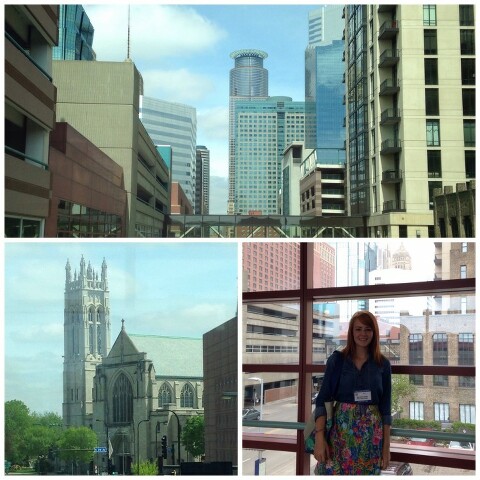 Later that night I went out with some new friends, and the following days when I wasn't in Market I got to see tall buildings, walk on the skywalk (which they have there because it snows- totally new to me), try a Jimmy Johns, and I even saw a real live pigeon (they're ginormous! Like a chicken!) It was an awesome, overwhelming, tiring, wonderful time. And I can't wait until the next Market. I met so many wonderful people, and got to put faces to so many of the names I know online and through social media.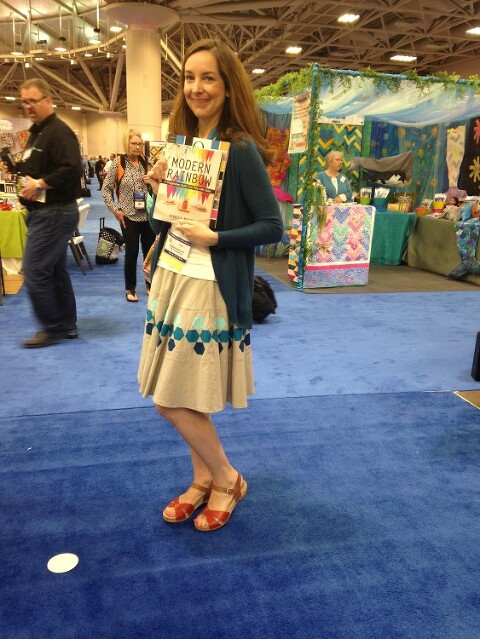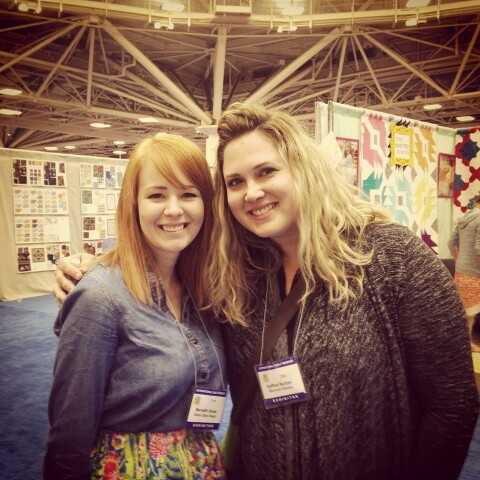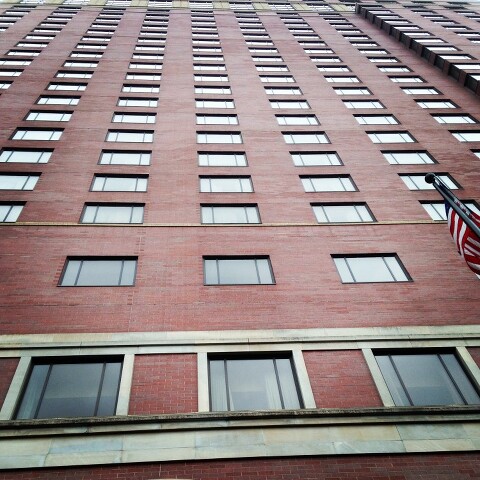 I'll stop there. Thank you for bearing with me. :) I'll show you some of the gorgeous booths now!
I was at Market exhibiting with the one and only Alison Glass. She has collaborated with several women to put out her new Skill Builder Series of patterns, and I was privileged to be there for that. She was also showing her brand new Ex Libris collection and Handcrafted 2, which are both so incredibly beautiful. Her booth was so full of color, and she really worked her booty off the whole week.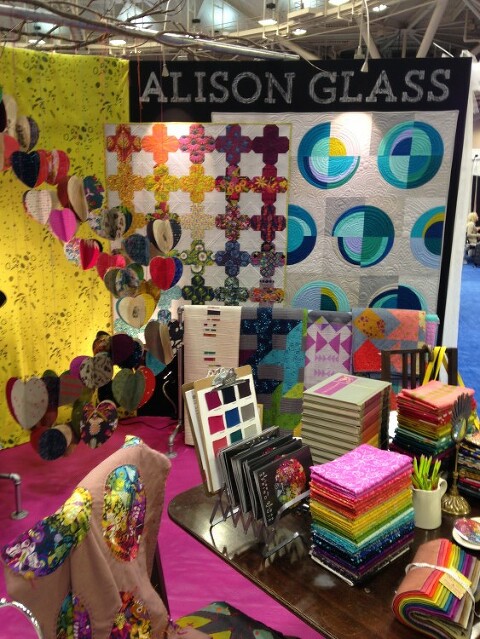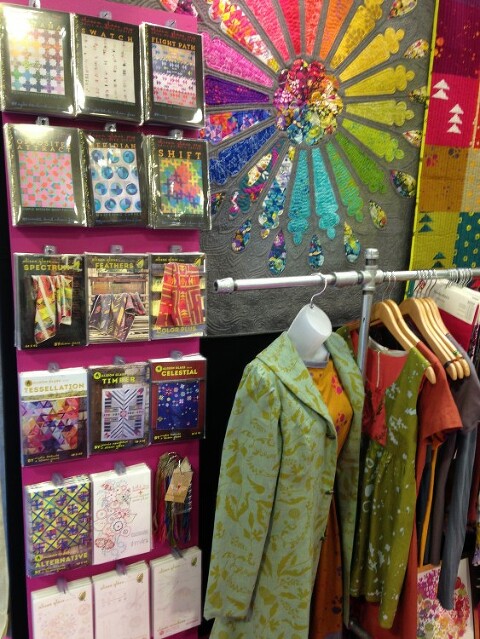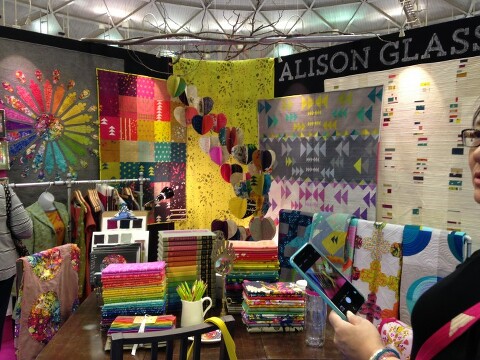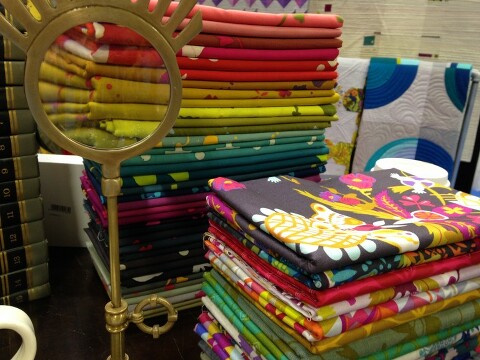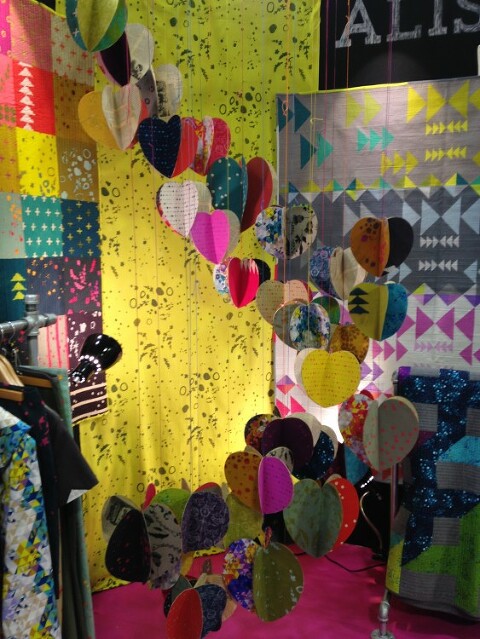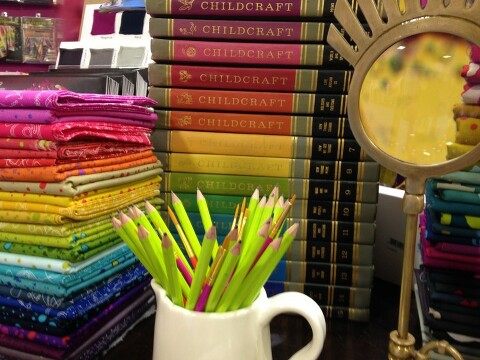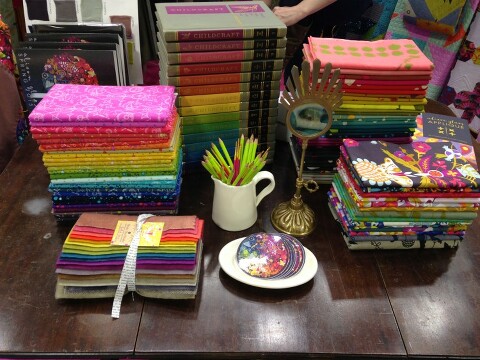 Anna Maria was there with her assistant, Pierette, showing off her newest collection of yarn dyes, Loominous. I've heard many people say you have to see this collection in person to get the full effect, and I couldn't agree more. It really is luminous in person! So, so beautiful.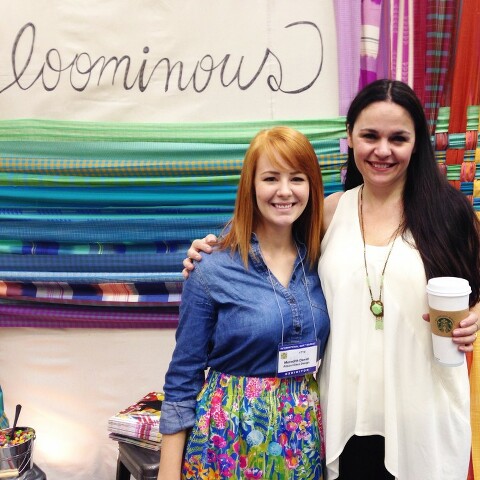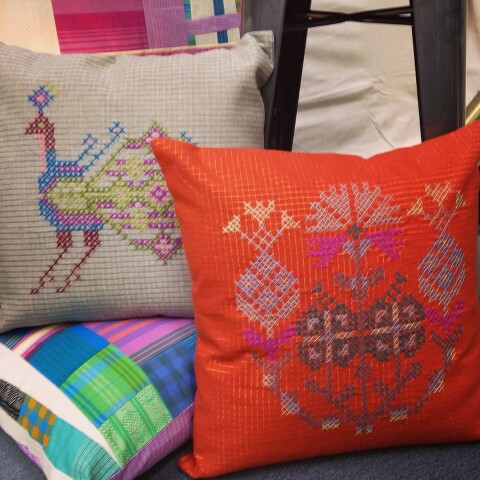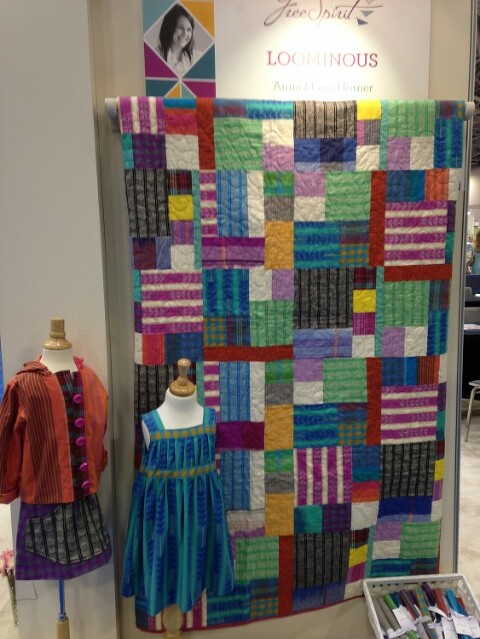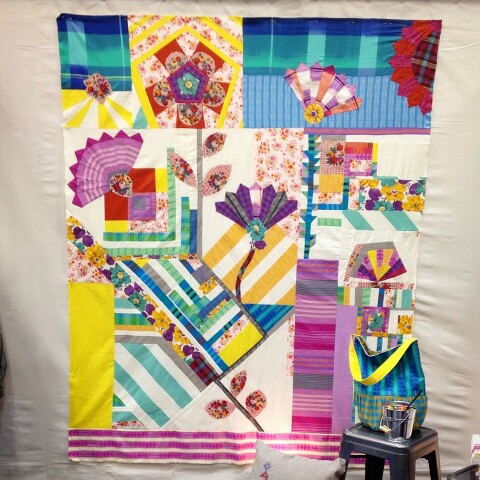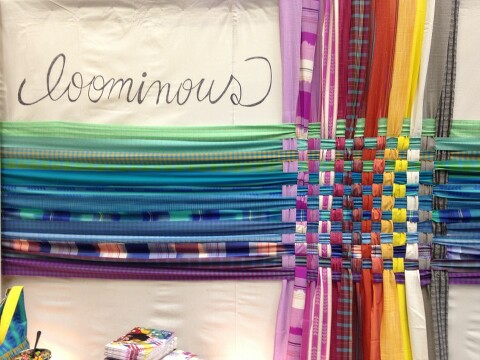 She was only there for part of a day because she needed to be back home for the grand opening of Craft South. I feel so lucky to have been able to chat with her! She is a legend.
Cotton + Steel totally lived up to expectations. They really impressed me. Not only did they nail the designs and colors again, their booth was… it was just amazing. You wouldn't believe the level of merchandising. Every single item in that booth was so perfectly planned and executed, it made me believe I needed everything. To complement their collection, they had vintage ribbons, threads, and tins, sewing machines, boxes, toys, furniture. Everything! The garments were perfectly sewn, and they even had a curated selection of home goods made with their new canvas collection.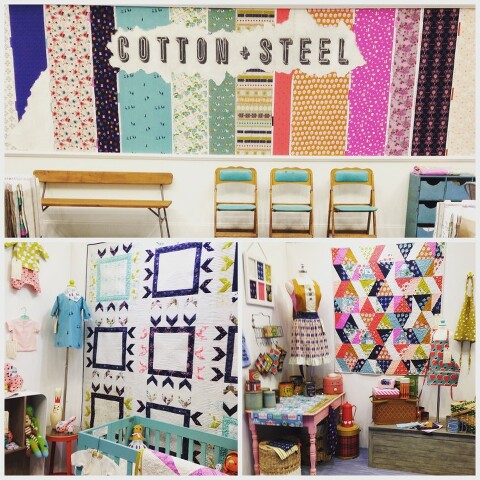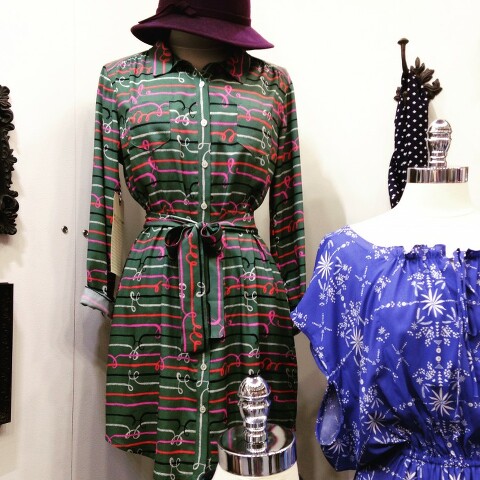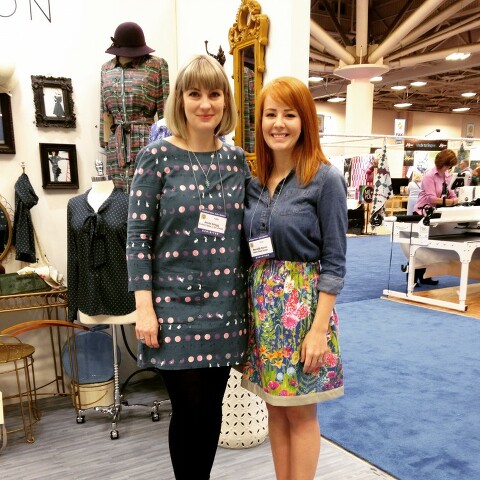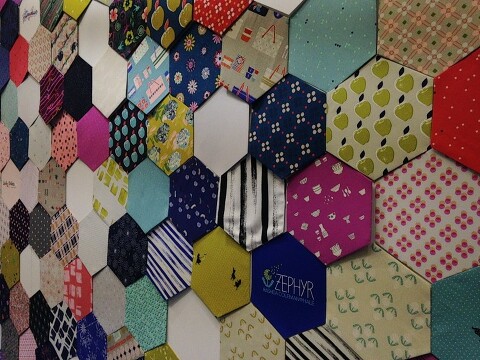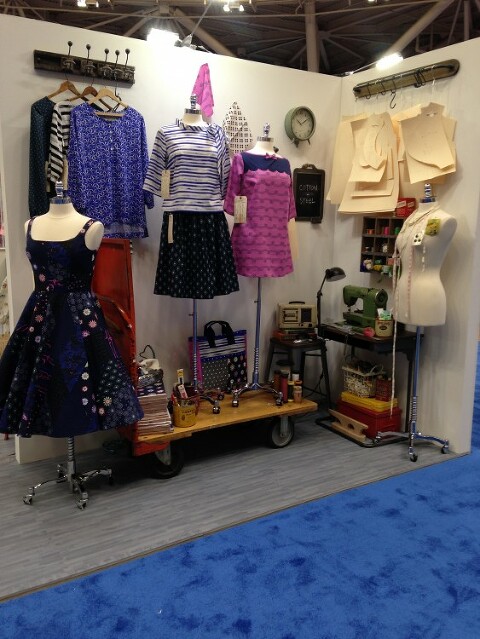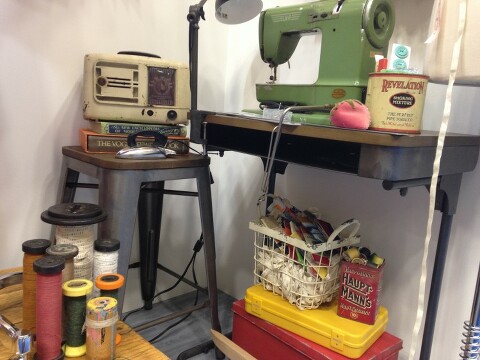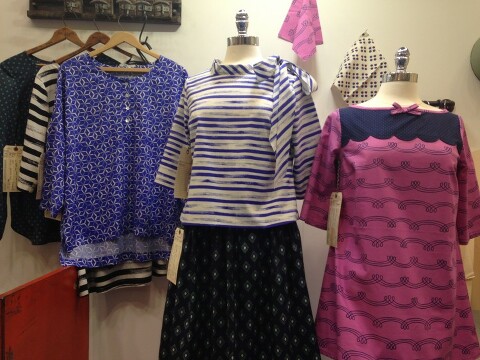 The ladies were so, so nice! They probably wished I would go away because I couldn't shut up about how awesome everything was. And poor Alexia Abegg. She had it double bad because I just went on and on about her book, Liberty Love, and how much I adore everything she does. They were all very nice to me despite my fangirling.
Erin Michael has a new collection debuting in October. Its similar to her other paint by number collection, Lush, but it features horses and this great vintage vibe. Everything in her booth was so awesome. I loved this horse quilt! Can you believe she received all this fabric less than one week before Market?! Its incredible. This is the collection Layla and I used to make her charm quilt.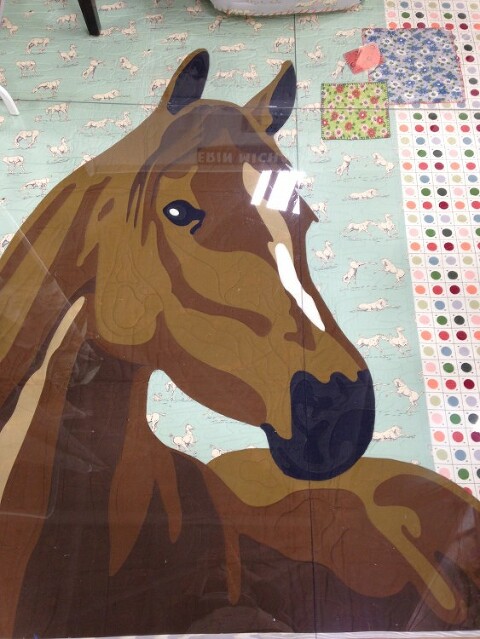 Heather Ross always has the sweetest things. Her style is so unmistakable. Her newest collection is called Tiger Lily, and in addition to quilting cottons, she also has a nice variety of voiles. The cats are precious, and the ballerinas are darling, but was has me crushing the hardest on this line is the green! The greens are the most perfect shades ever; she absolutely nailed the colors. So many people shy away from green, but she seized it and it. is. awesome. I can't wait to work with this collection. (Ashley has already made a couple of quilts that have me feeling inspired!)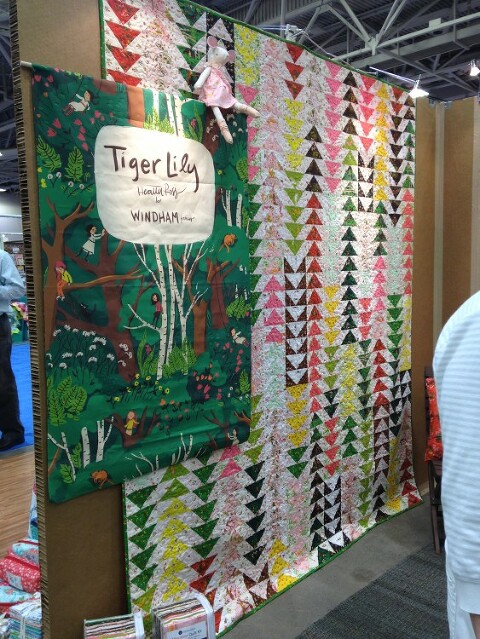 April Rhodes' booth was awesome. She has such a unique style, and I love the palette she has put out.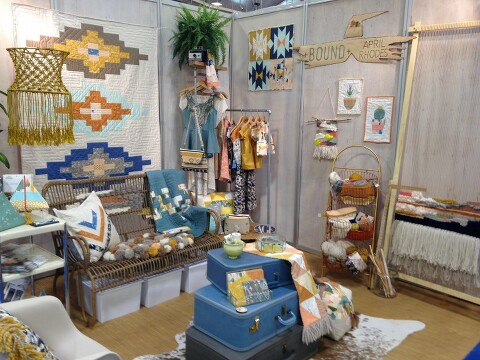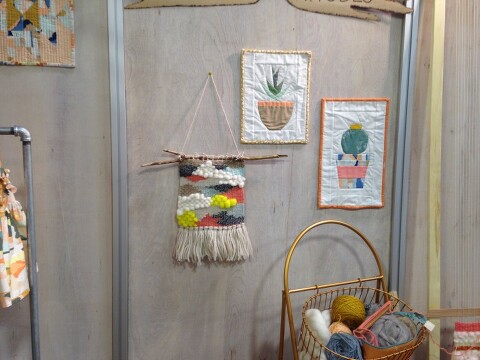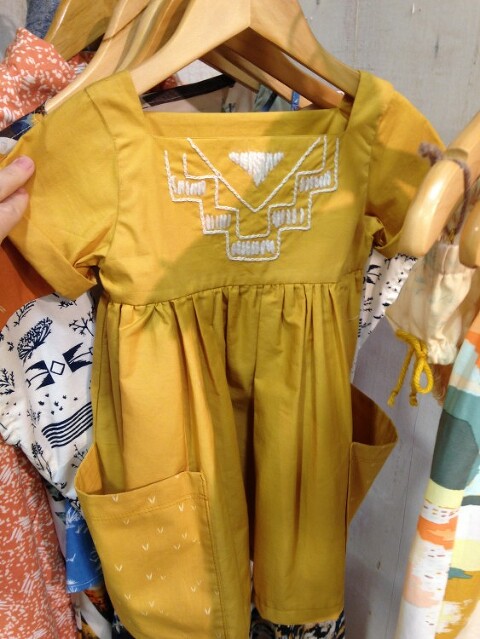 There were some new designers with fun collections! Elizabeth Hartman debuted her collection, Rhoda Ruth through Robert Kaufman.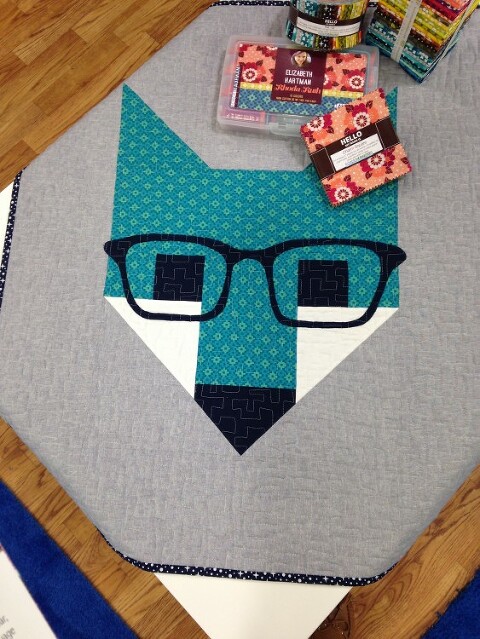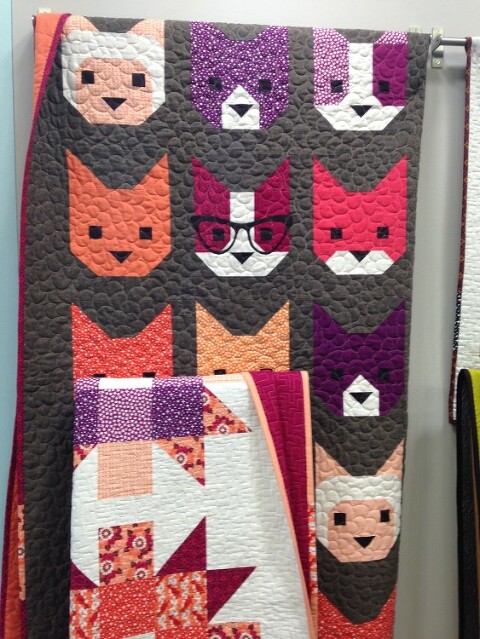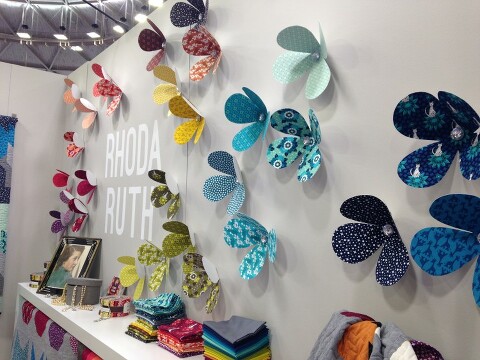 Brenda of Pink Castle is releasing Pie Making Day through RJR, and her booth won first for Best Single Booth.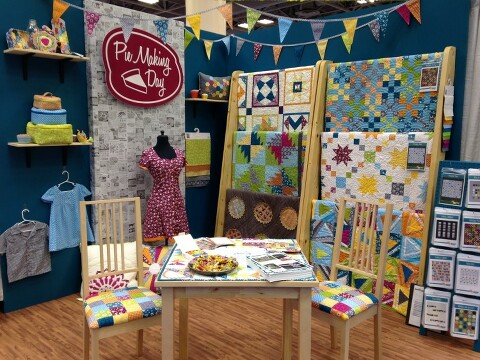 Annie of The Village Haberdashery in the UK was kind enough to let me sit in on several of her meetings. The most notable was Seven Islands, the brand behind Kokka, Echino, Nani Iro, and others. I ooh-ed and ahh-ed more at that meeting than any other. I think I embarrassed her, but I couldn't help myself. Everything was absolutely amazing, and the rep let me have some private time by the fabric caps so I could pet all of it. It was all so very good.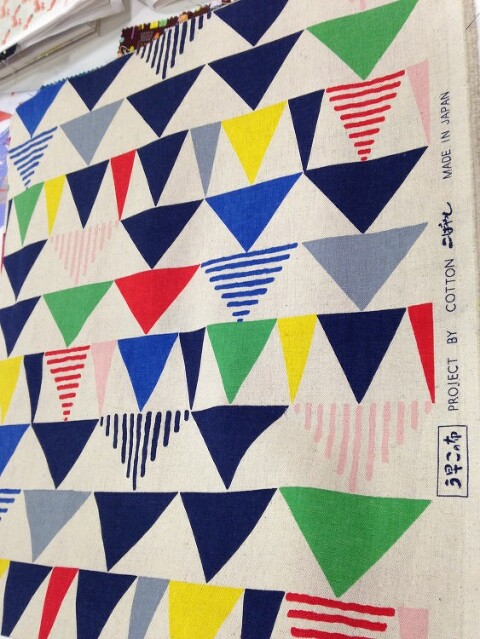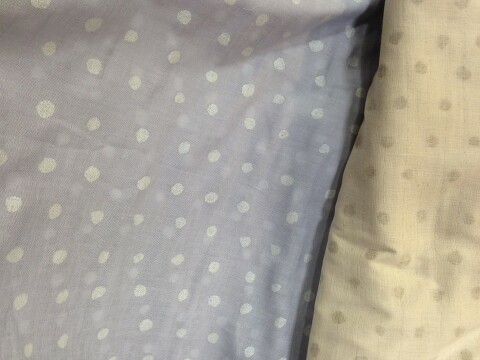 She also let me sit in on her Birch and Cloud 9 meetings. She was very obliging. :)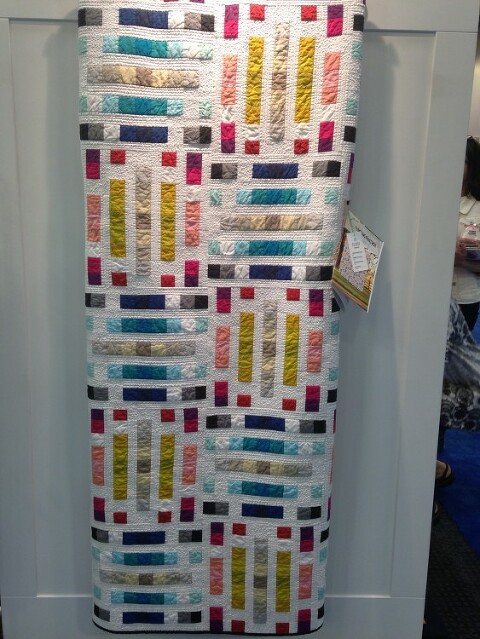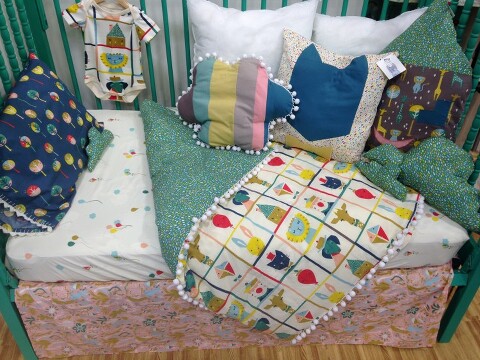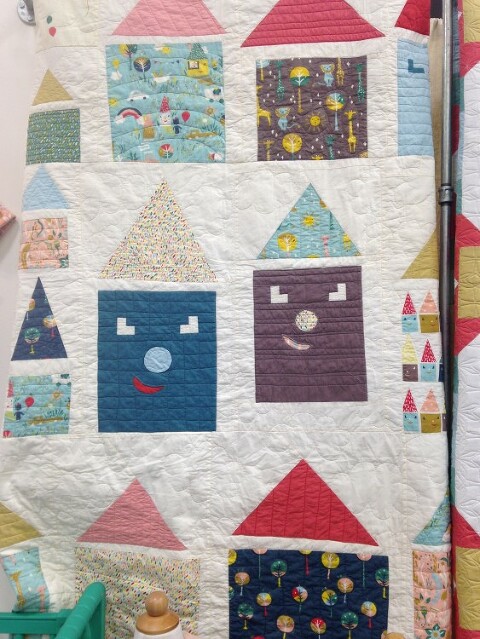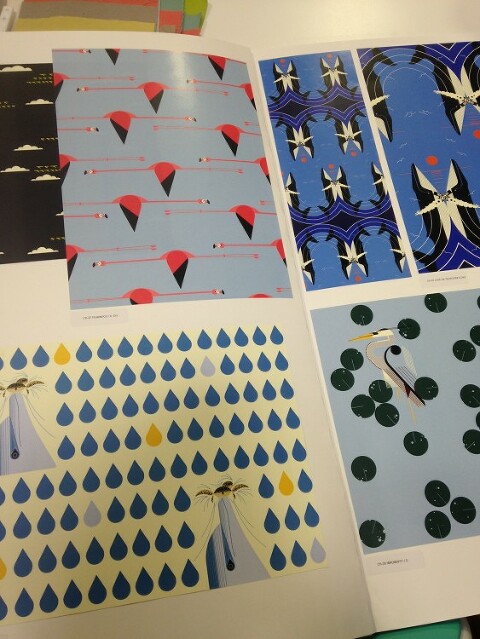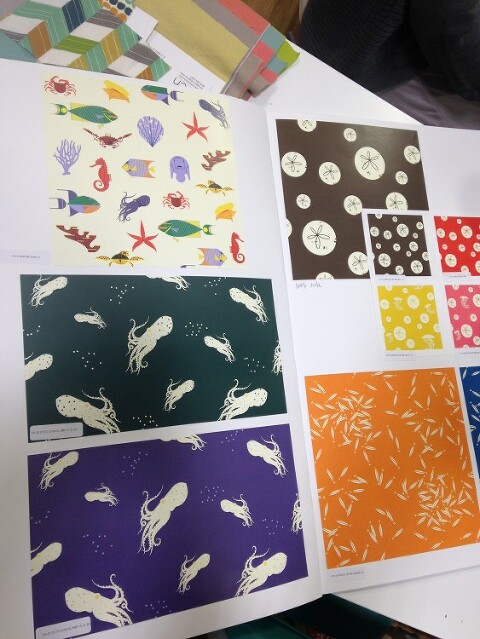 There was so much to see and to do at Market. It was really overwhelming, but I'm glad I went in the Spring because I was told that Fall Market is way busier. And I thought it was a lot to take in this time! One thing that struck me about Market is the diversity you see there. Its mostly very traditional collections. They tightened up the credentials this time around, which kept out so many bloggers and other people who typically go to Market. I chatted with people on both sides of the issue. The traditional, no website, quilt shops who had never heard of any of the modern figureheads of the industry were thrilled to have a smaller crowd. I can't imagine how modern bloggers would have gotten in their way, but okay. The modern exhibitors seemed discouraged because of the lack of people. So many of the online shops do well because of bloggers who get the word out about new collections. We depend on that inside view to know what's coming so we can buy it!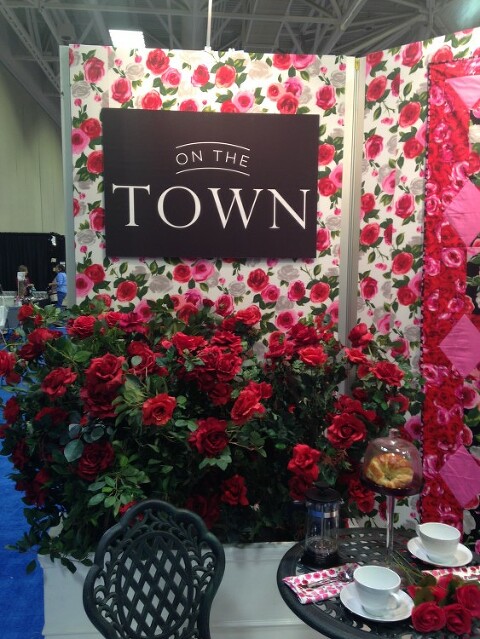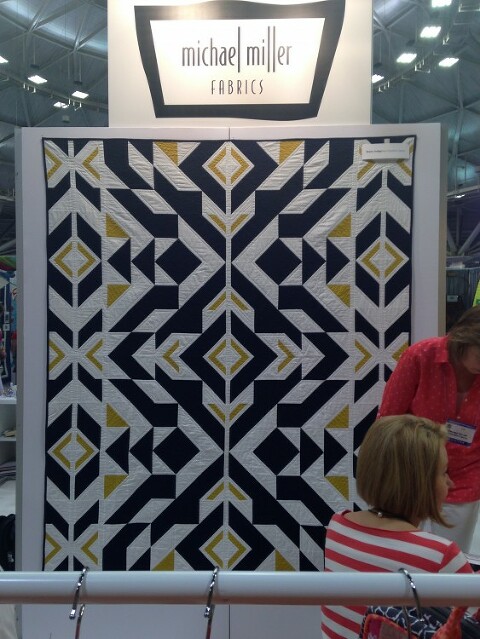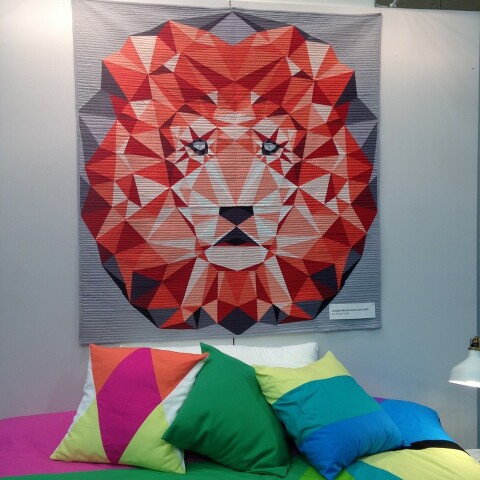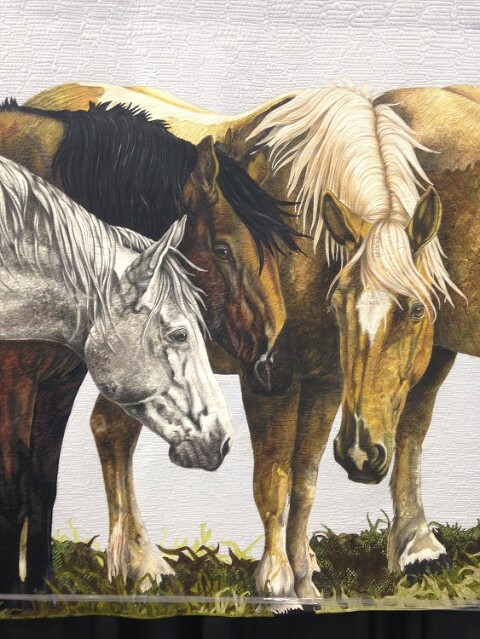 I guess I see it this way: quilting is not a one way industry. The world of sewing and textiles markets to every people group, and we are such a diverse one. I can appreciate the quilts and fabrics in those little mom and pop quilt shops that refuse all things modern because those people love what they do, and they truly believe they are leaving a legacy. I don't like those fabrics, and I don't want to make those quilts, but I can appreciate that they have a place. Still, I love the modern quilting/sewing movement. Its the one I fit into, and I find it distasteful that it can be made harder for us in this realm to be restricted in what we can do. We buy differently. We market differently. We sew differently.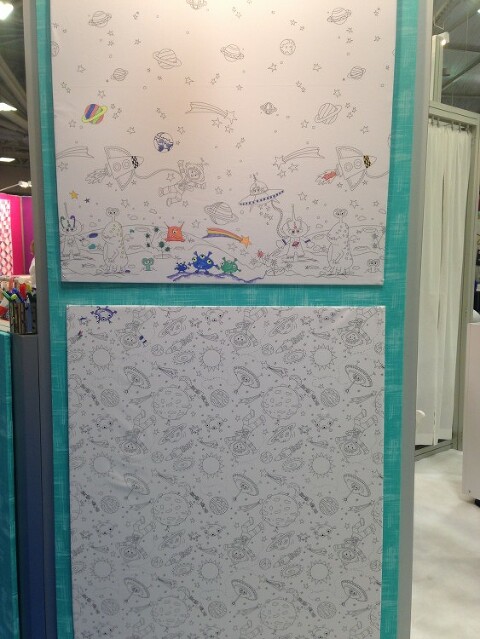 This is the one area of life that I can truly appreciate all views. I don't think there's a right and wrong to style in sewing. There is definitely right and wrong in technique, but not style. If I came back with any revelation from Market it is just that. We are all just people leaving our stitch in time. We do what we love and we paint a picture of who we are. It is so important to evolve- not only for the industry itself, but for each of us in what we do. We strive to be the best we can, and we put our heart into what we sew.
I hope you've enjoyed seeing these little glimpses of Market! I have lots to share in the coming weeks, but I'm having to coordinate with Emilee who has moved so I can get some good pictures. The posts won't be any good if I have to take them. :)
-Meredith