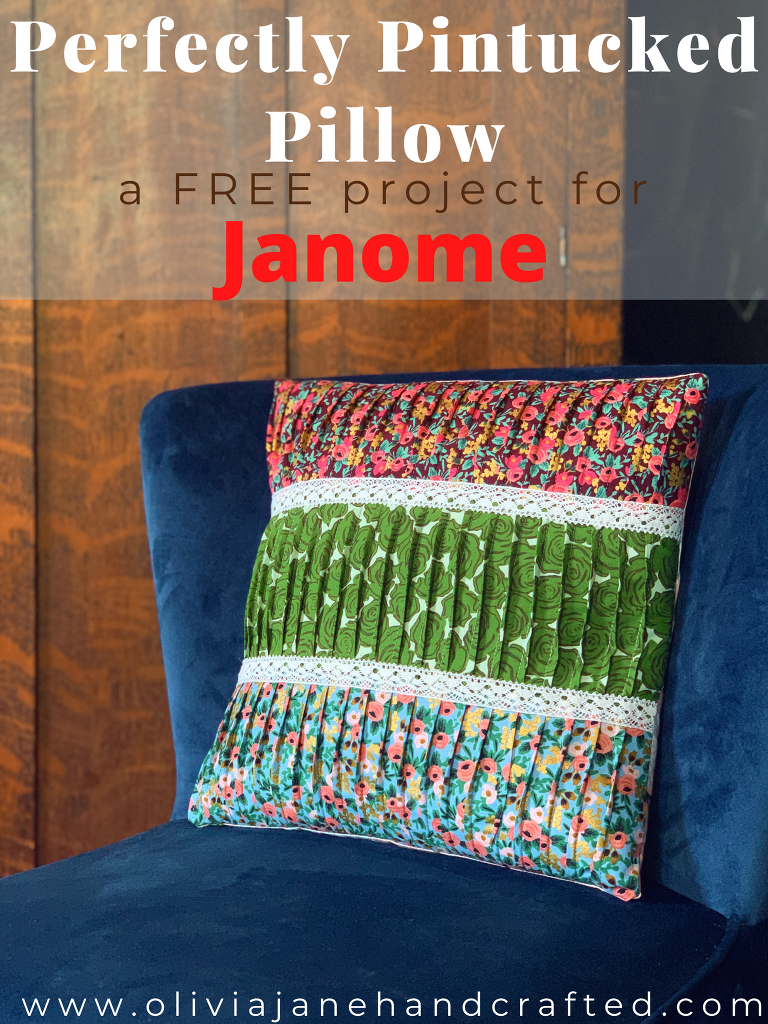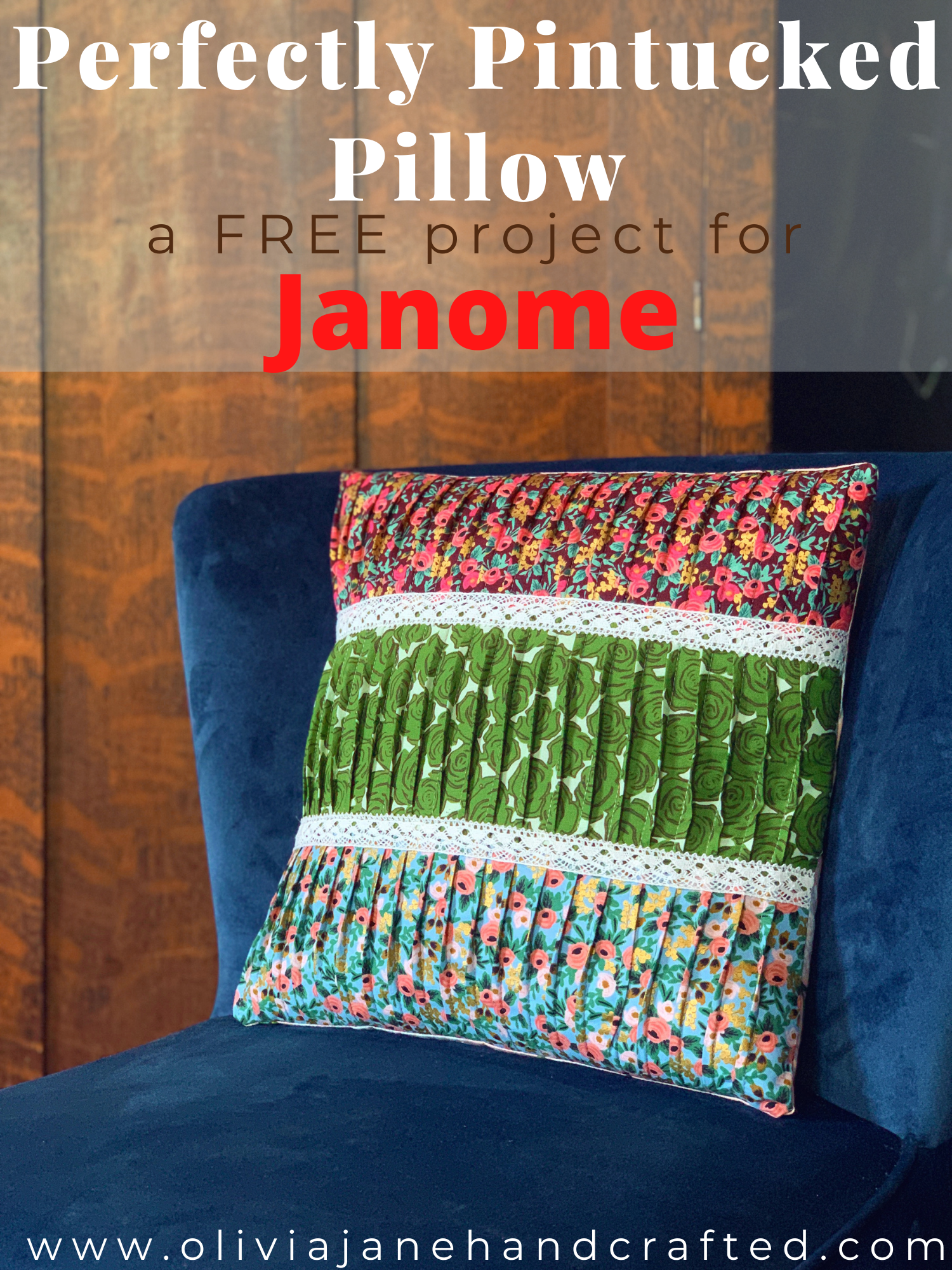 Pillows are probably the very fastest and simplest way to freshen up the decor in a room. You can easily pull in a variety of colors, textures, and prints to create an entirely new vibe. My Perfectly Pintucked Pillow will have your couch, bed, or chair feeling new and fresh in no time! This simple technique can be applied to clothing, bags, quilts, and whatever you can dream up- I'm going to let you in on the math so that you can use this tutorial to add some interest to whatever sort of sewing makes your heart happy!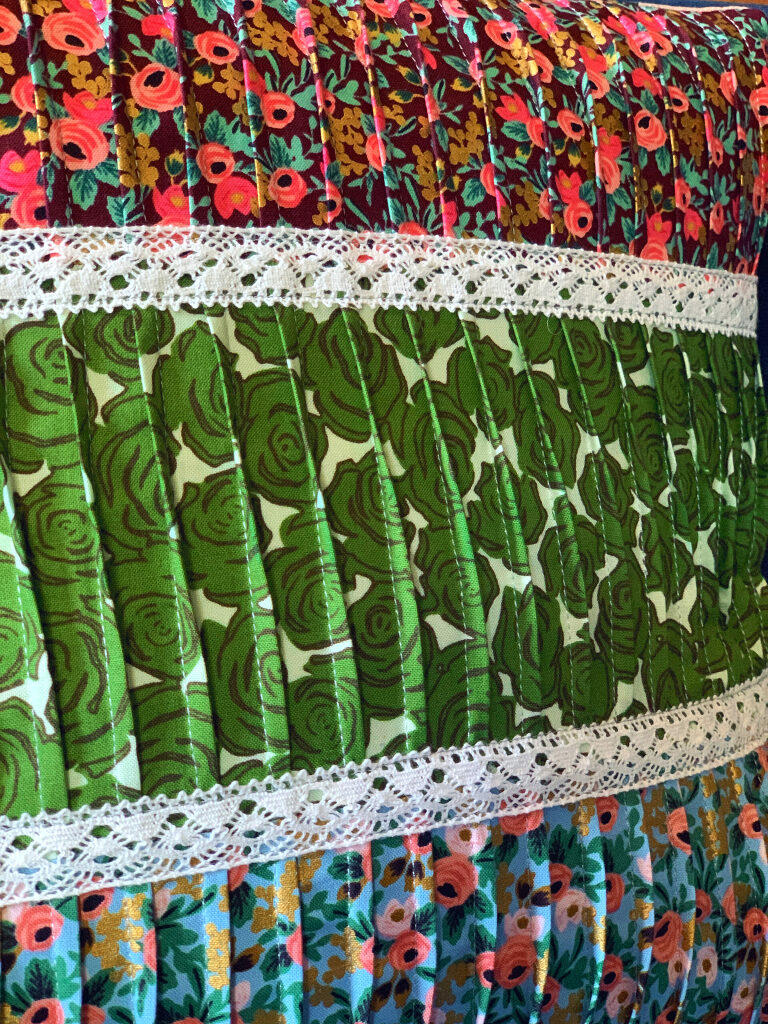 I will be demonstrating this technique by making a pillowcase. If you've never made a pillowcase, you are in for a treat. They are such a quick and satisfying sew, and oh so easy to customize to fit your personality. I am using quilting cotton from Rifle Paper Co along with some beautiful lace ribbon, and I'm doing all the sewing on my Janome Skyline S9.
PERFECTLY PINTUCKED PILLOW
Beginner friendly : 1-2 hours
THE MATERIALS:
 two fat quarters of fabric for pillow front and back (can be about the equivalent for the front- see "THE MATH" section)
1 yard ribbon for embellishment optional
1 14″ square pillow insert
THE MATH:
You can use this pintucking technique to create panels for all sorts of projects for pillows, clothing, quilts, bags, and beyond. Just use this simple math to ensure you have adequate fabric: (desired width x 1.5) + seam allowance for either side BY unfinished height it may be wise to add an extra inch or two just in case your seam allowance gets a smidge wide- this will give you some extra space to work with, and you can trim down later. 
For the sake of this project, I am going to be creating a 13″ square pillowcase. So I will need 13″ x 1.5 = 19.5″ + seam allowance for either side, so I should cut a strip of fabric 20″ x 13.5″ to work with in this case. I'm actually going to be using three different fabrics to make up my panel for pin tucking, so I am just going to divide my needed height by three and add the proper seam allowances to each to get the correct panel size before I begin, and I'll add an extra inch or so to the width just so I can trim down later if needed. If you sew a perfect 1/4″ this might not be necessary, but I want to be sure I have enough width!
THE PROCESS:
The best way to get consistently sewn pin tucks is to mark the fabric beforehand. I'm going to begin marking the fabric 3/4″ in from the left edge, and I'm going to draw a vertical line every 1″ until I reach the other side of the fabric. I am using a Frixion marker to mark directly onto my fabric. The lines will disappear with the heat of my iron. You could use whatever marking method you like best here.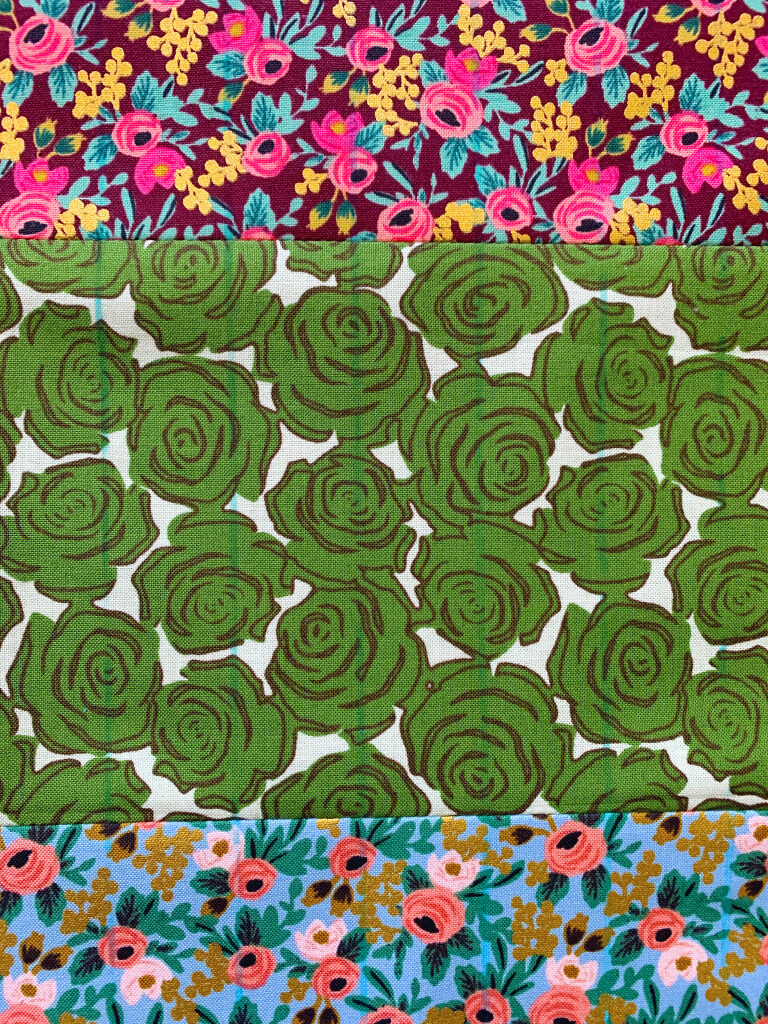 Use the lines as a folding guide, and sew 1/4″ from the folded edge. Start on the left side, and keep going until you have sewn a 1/4″ seam down every fold.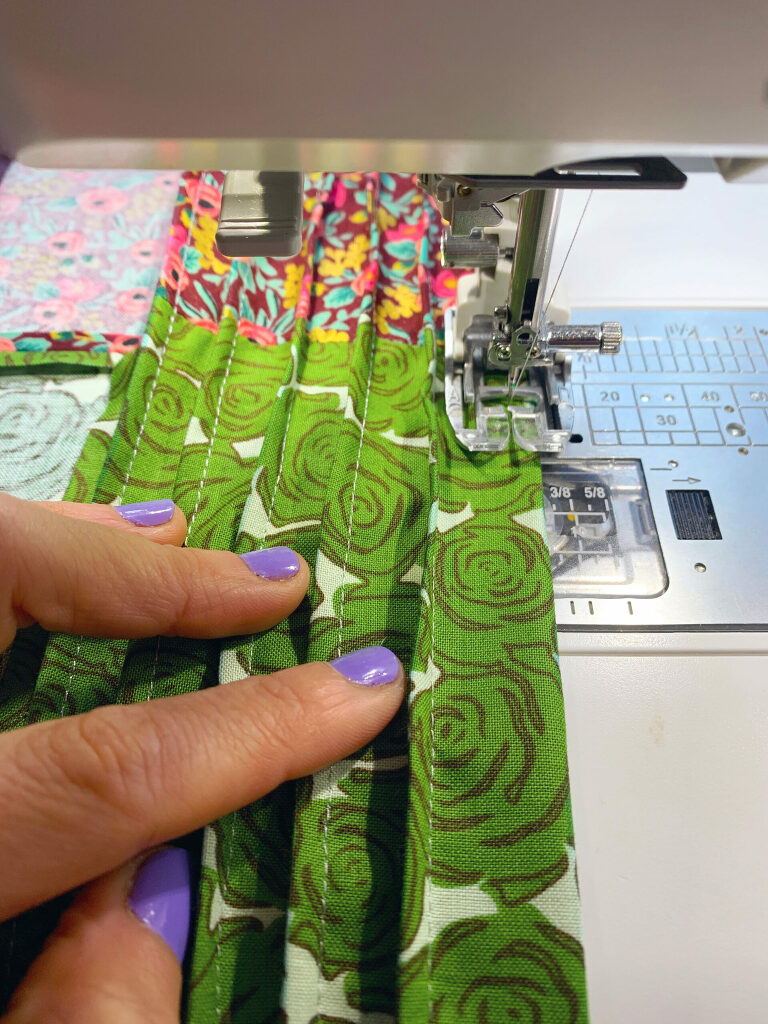 Now you can get creative- I want my pin tucks to change direction at the top and bottom and every place the fabric changes. So at the top, I have pressed all my folds to the right. At the first two fabrics, I have pressed them over to the left, then back to the right, and so on until I reached the bottom. You can vary the direction of each separate pin tuck, or keep them all the same. Do whatever looks right to you and have fun with it!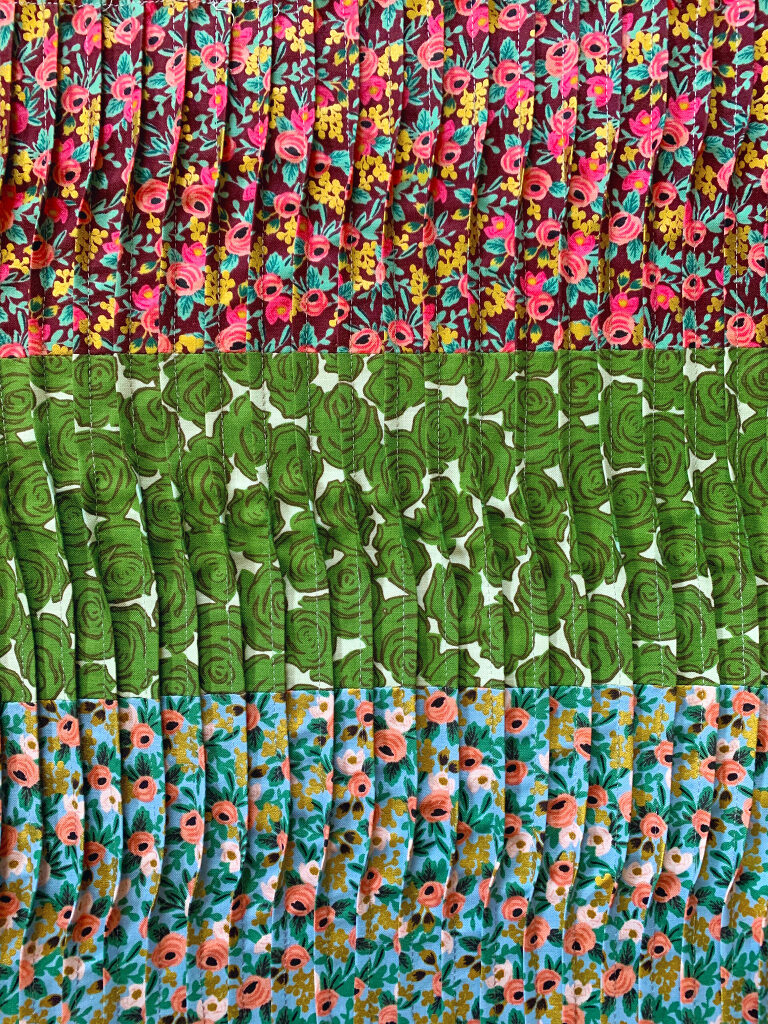 Pull the fabric taut (don't stretch, but do get it taut) and sew a scant 1/4″ seam along the top to secure the pin tucks in the proper direction.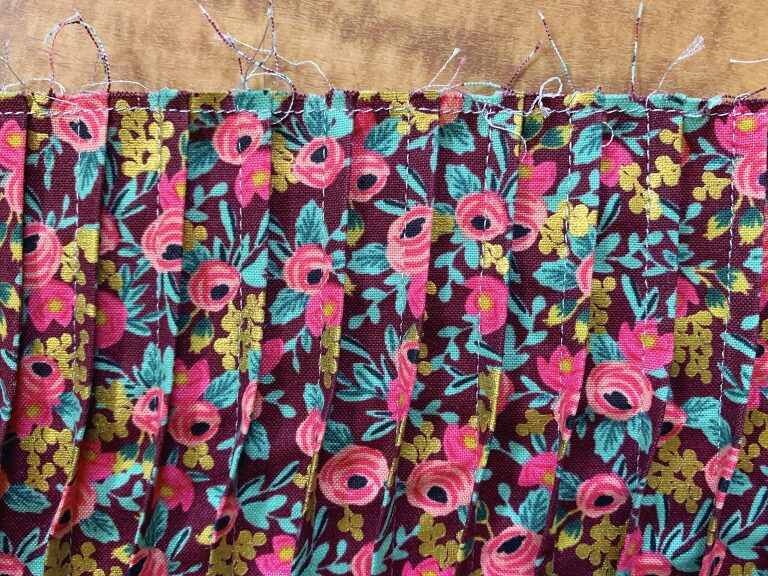 I decided to add some pretty lace ribbon to my pillow, and I simply cut the ribbon to the correct width, pinned it in place centered between the two fabrics, and used a straight stitch to secure it in place. This also serves as a way to keep the pin tucks sewn down. You can nix the ribbon if you choose, and could either just use a straight stitch, or one of the many fun decorative stitches that your machine has to offer. The Skyline S9 has hundreds to choose from, so if you have that machine, you can really have some fun there! It would be an excellent way to embellish a solid fabric!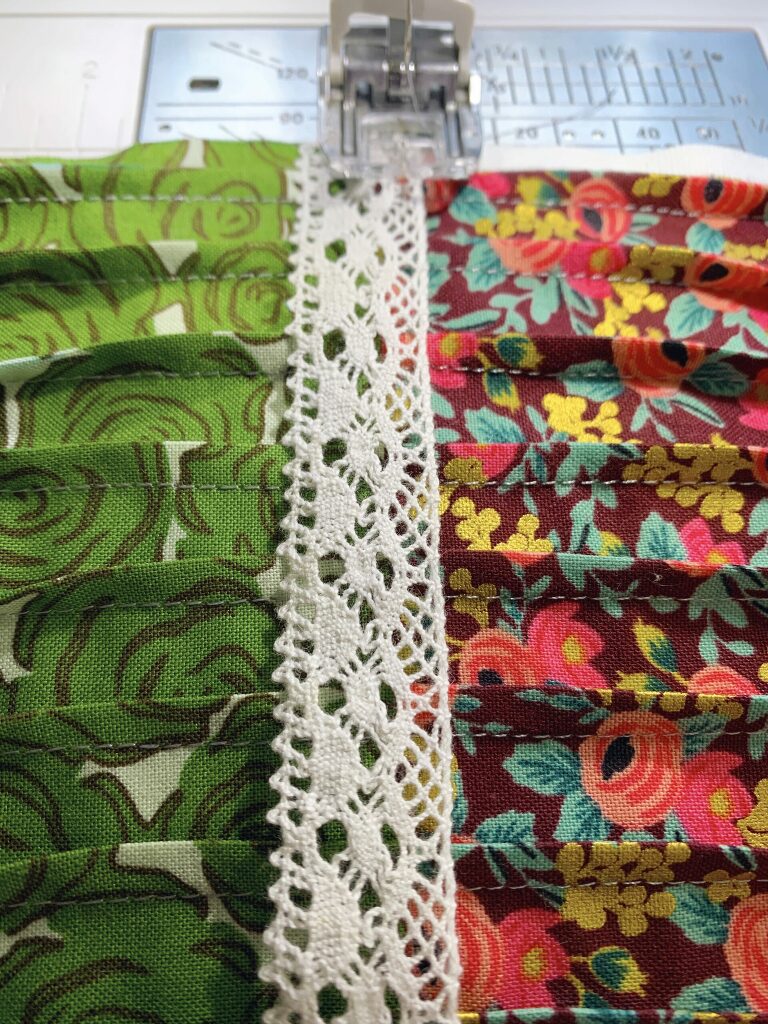 If you need to, trim your fabric to the proper size or shape. To make a pillowcase the same size as mine, trim your panel to 13.5″ square.
Cut 2 13.5×8.5″ pieces of fabric for the back panels of the pillow.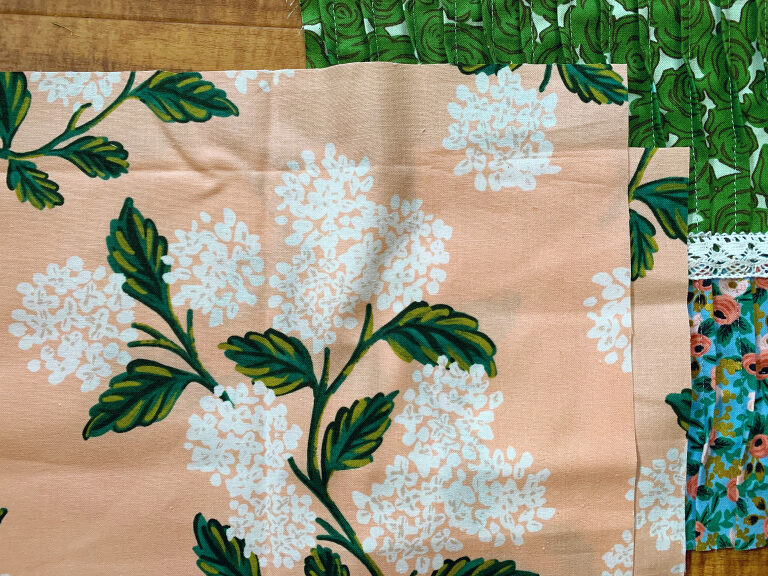 Fold the fabric along one long edge 1/4″ and press, then fold 1/4″ again and press. Using a scant 1/4″ seam, hem the double folded edge of the fabric. Repeat with remaining back panel.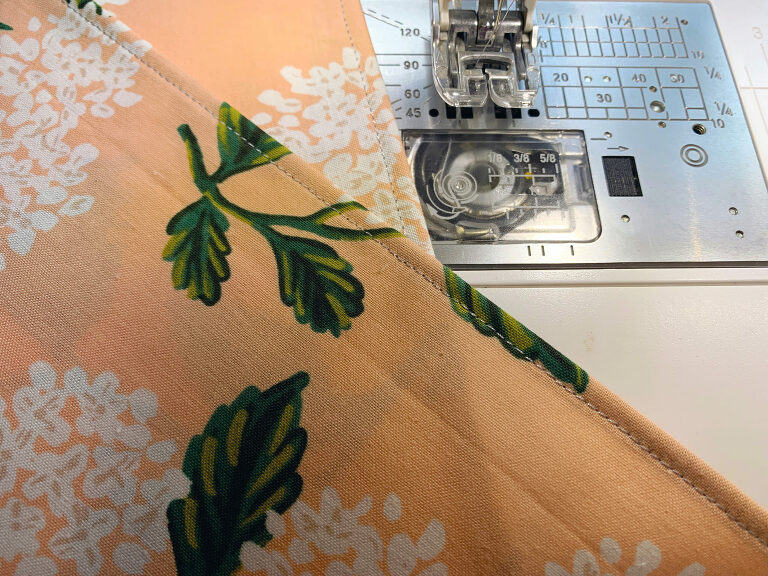 Overlap the two hemmed portions of the back panels so that they measure 13.5″, and pin in place. Sew a scant 1/4″ seam on both sides of the back portion to secure the edges. This will create an envelope style closure.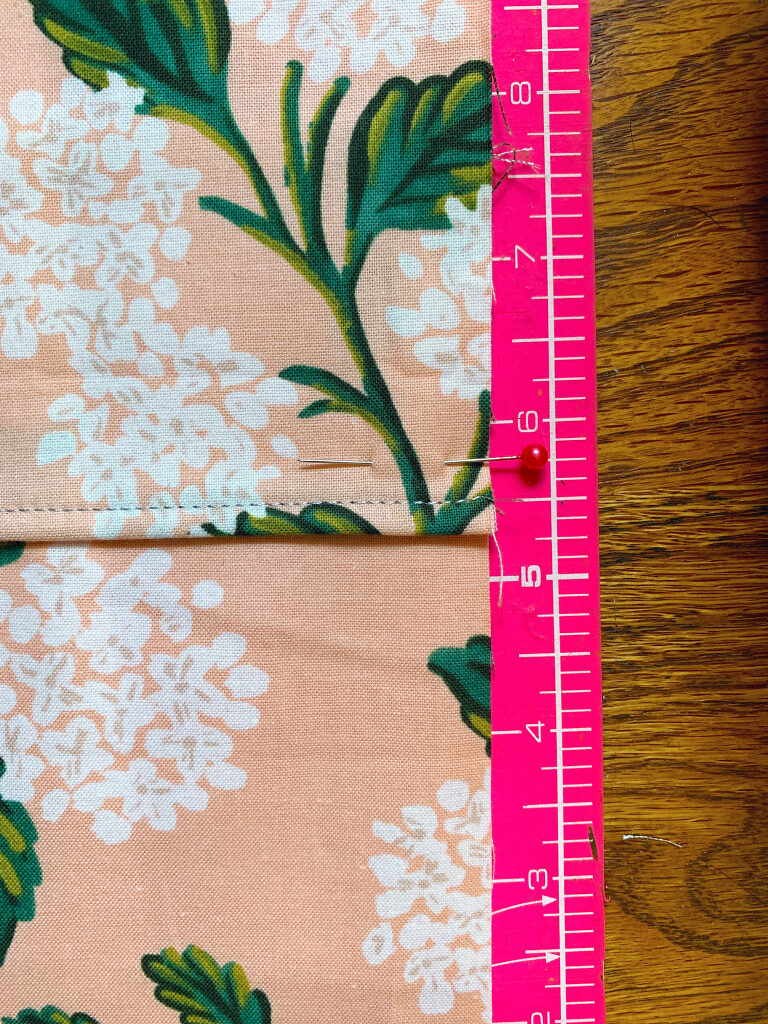 Pin the right sides of the front and back pillow together, and sew a 1/4″ seam all the way around. I like to finish the edges with my serger to keep the raw edges secure; if you don't have a serger, you can finish the seam allowances with a zigzag or overlock stitch on your standard sewing machine.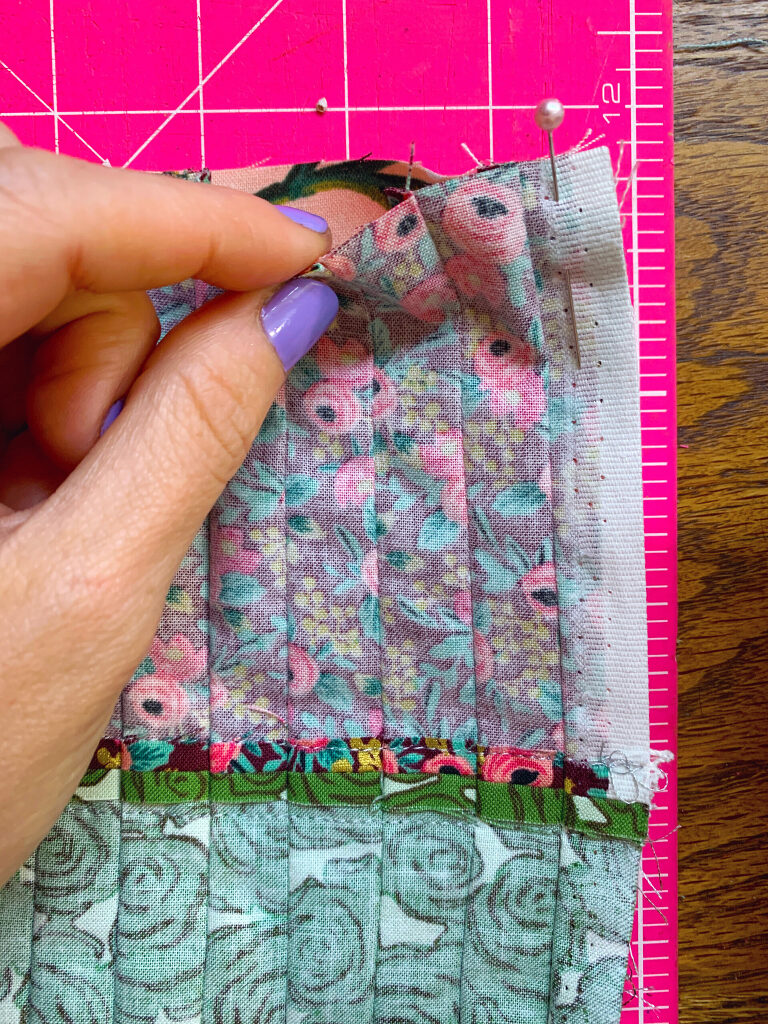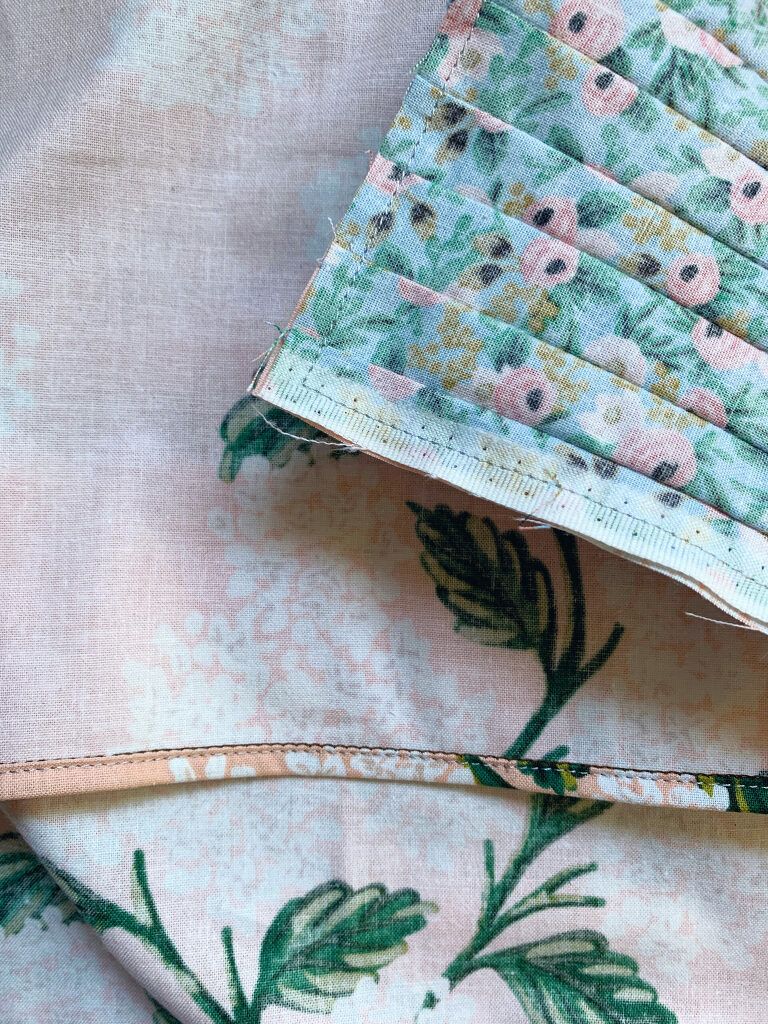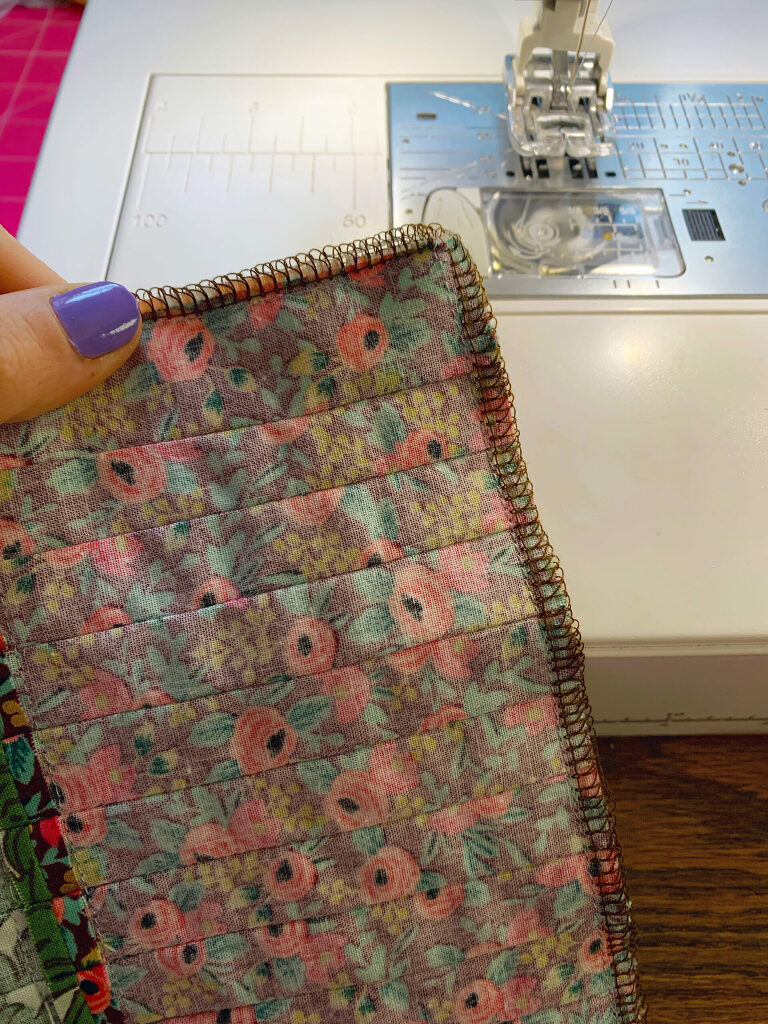 Turn the pillowcase right side out and insert your pillow form!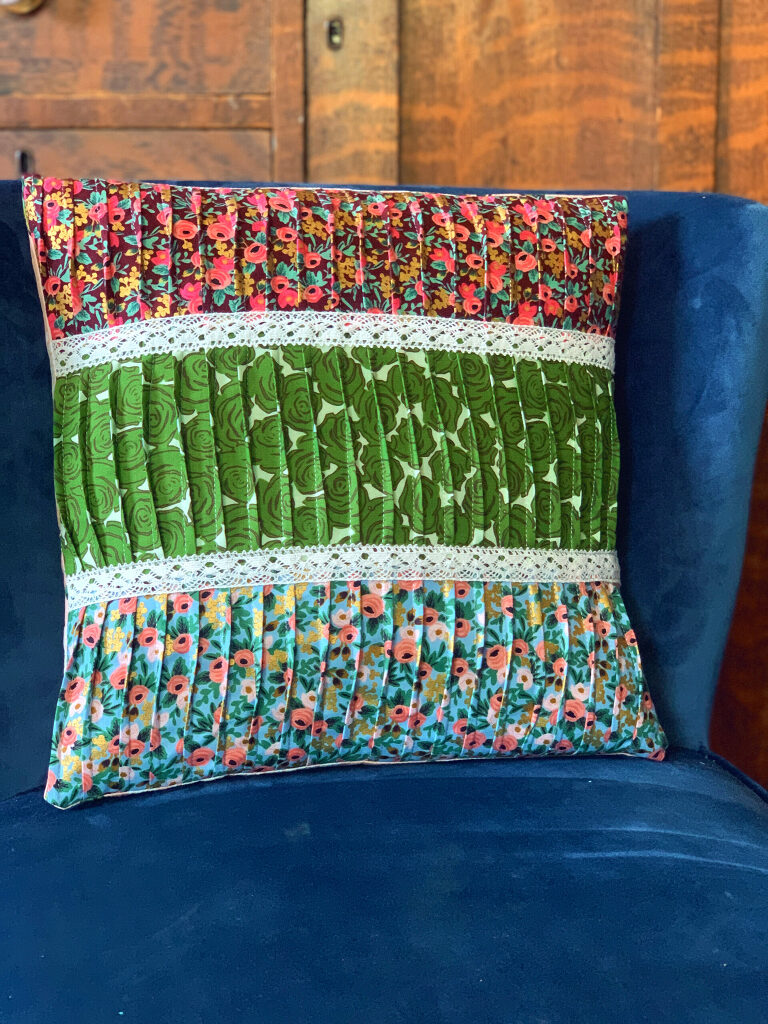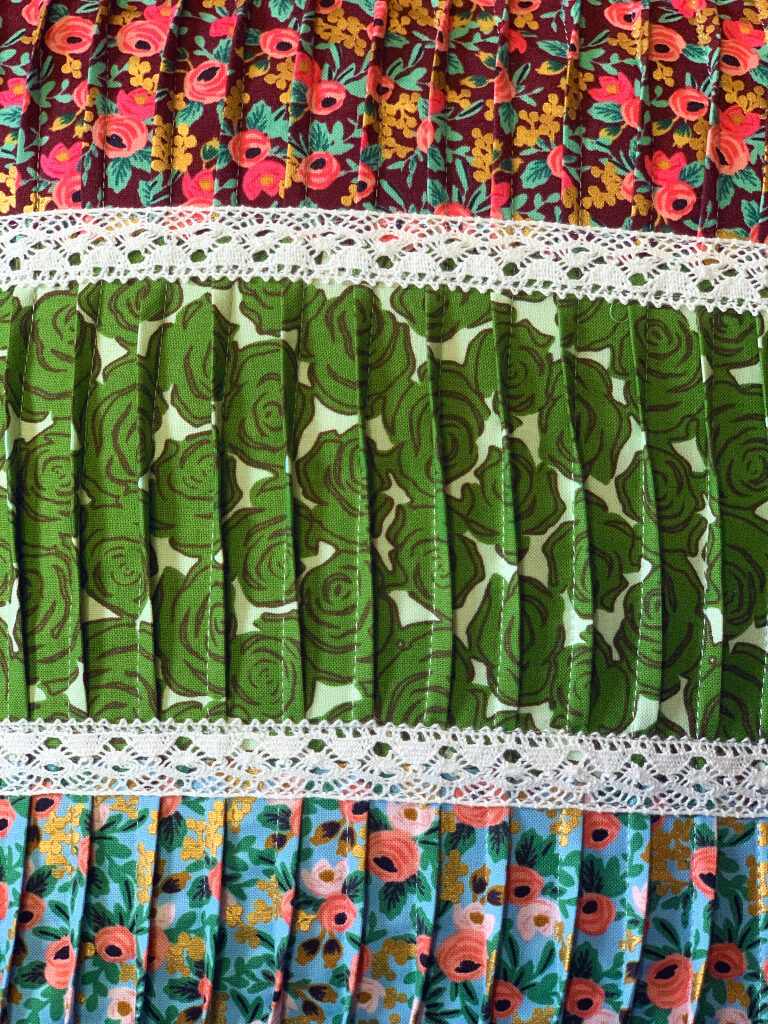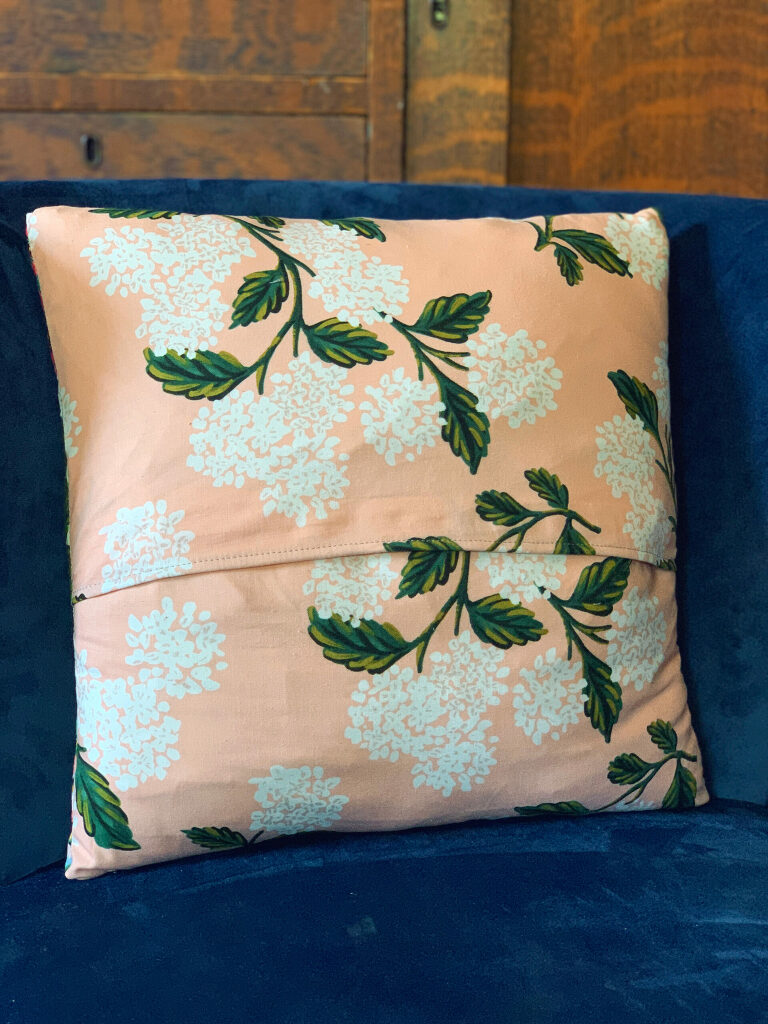 I hope you've enjoyed this Perfectly Pintucked Pillow tutorial! Do you want more free projects? I have a whole page of free projects right here!
-Meredith