I have been waiting to write this blog post for a while now! I'm so excited. Janome reached out to me two months ago to see if I would like to try out their new M100 machine, which is Anna Maria Horner's limited edition machine. Without any hesitation, I agreed! I've been using Janome machines since 2010 when a friend set me up with a Memory Craft 9000 from the year 1997 which had a mere 10 hours of sewing time. After that machine, I exclusively used Layla's Hello Kitty machine for nearly a year. It's a plain machine without any extras, but man is the tension perfect. That little machine is a workhorse and I would recommend it to anyone. Then last year a very generous stranger gifted me a Magnolia 580, which has gotten so much use since the day it arrived. Another friend surprised me with a Janome serger at the very same time I received the Magnolia. All that to say this, I'm a long time fan of Janome. I think they make stellar machines that work for any budget. I'm going to tell you more about the M100, but I'll do that after I share my project and tutorial with you.
The Pegasus pillow. I have been a long time admirer of Anna Maria. After I began sewing and stumbled across her work, I immediately fell in love with her rich use of color and her gorgeous designs. I got the immense pleasure of meeting her back in 2012 when I went to a Janome workshop with her in Tampa. She was the sweetest, most genuine woman. Years later, not a thing has changed. She is still the only designer I purchase every single design from, and her work continues to inspire me. I wanted to design a project to sew with her machine as a tribute to her. I wanted to somehow encompass her palette and designs and do her justice. I drew up several concepts, and I just couldn't dive in. That is, until I focused in on a very favorite print from her Fibs and Fables collection, Helios. It all came together pretty quickly after that.
Would you like to make one too? Here's a list of what you will need:
your favorite Anna Maria Horner motif and fabric to recreate it (I used a soft white print from her Skipping Stones collection)
Interfacing: 2+ yards 20″ wide SF101 and 1 yard Wonder Under
A variety of your favorite Anna Maria Horner prints for the background which will be 40″x22″
3/4 yard fabric for the back of your pillow
50oz polyfil 
18-20″ zipper (if you prefer this method for closure)
coordinating thread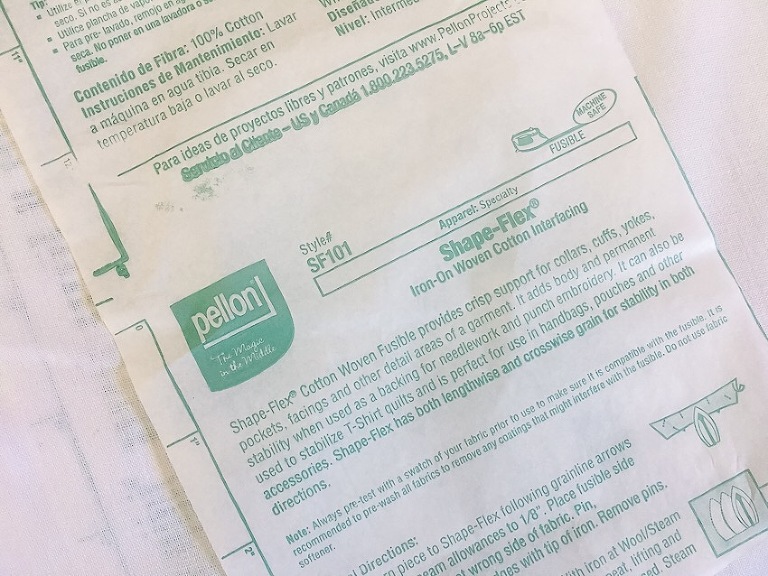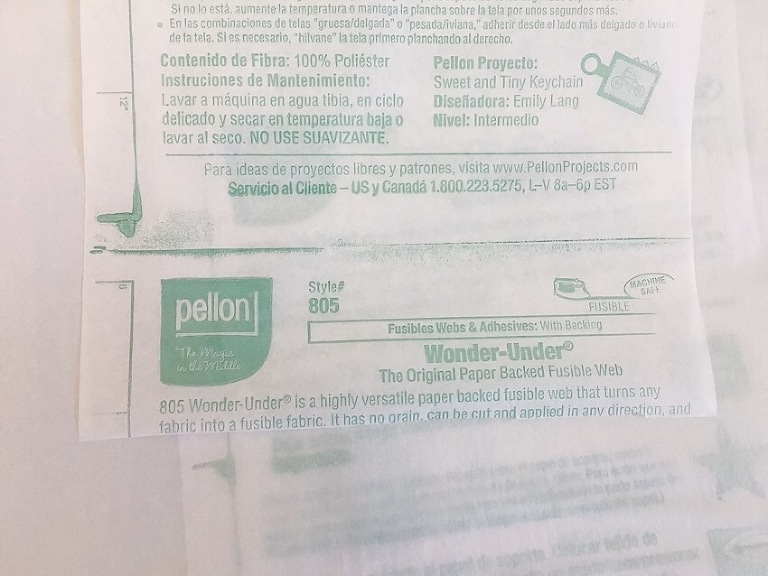 To begin, figure out what design you would like to showcase. I chose the Pegasus from her Helios print. You'll need to blow up the design. You can easily do this by placing the print right on your printer's copier and blowing it up by however much you need. That will really depend on the motif and the size you want it to end up. For this particular print, I increased the size by 200%, printed, then repeated so I ended up with a Pegasus that was approximately 21″ tall. Y0u'll probably have to tape together a few pages, then cut out your design. This is your template for your showcased motif.
Now transfer that image to the fabric you are going to use, and also to both interfacings. You'll cut them all out and fuse the fabric to the SF101. Lay aside the Wonder Under for now. Transfer any other markings from the motif to your fabric. (you can use multiple layers of fabric to achieve your design). Now head over to your machine, and choose some stitches to bring your design to life. I used the triple stitch on the M100 because I love the thickness and definition it yields.
You can see I used the thread to add detail to my initially plain design. Once you are totally done with the embroidery, fuse the Wonder Under to the back of your design, but do not remove the paper yet. Set aside.
Now its time to make the background. You can do absolutely anything you can dream up here, but I'll tell you how I did this bursting design. Cut a piece of SF101 40″x20″ in half so that you have two 20″ squares. Cut them in half so you have 4 10″x20″ rectangles. Using the marks on your ruler, cut them from the center outward every fifteen degrees. These pieces are your templates for the background.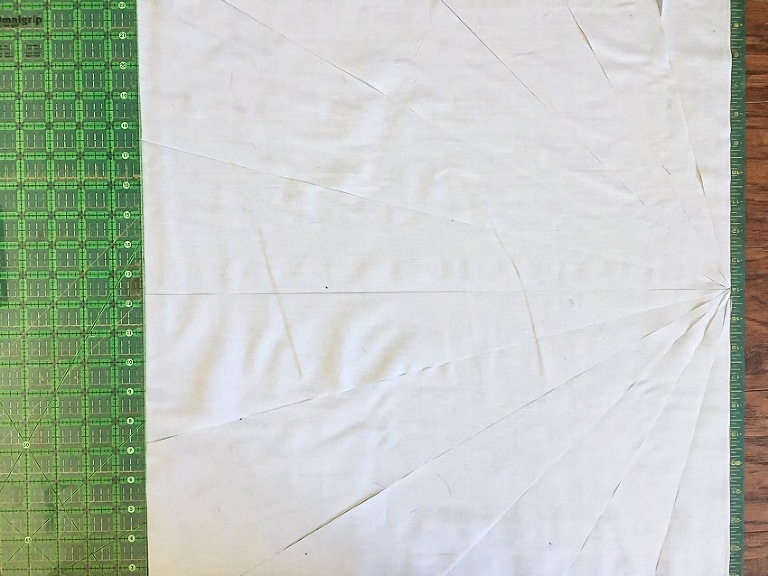 Choose whatever fabrics you want, and fuse the SF101 pieces to them, then cut.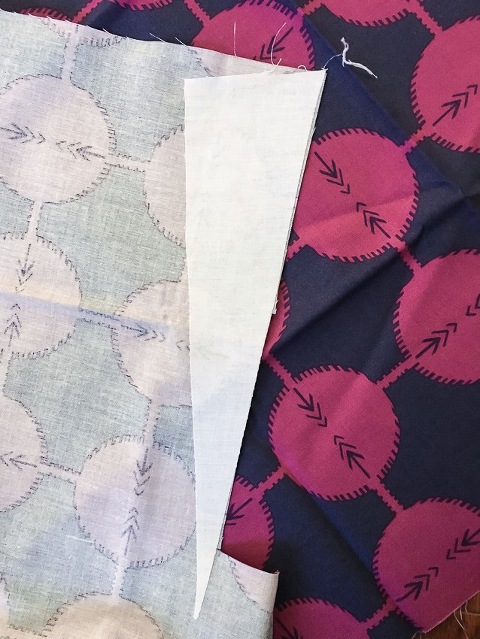 Sew them together with 1/4″ seams and press all seams in the same direction. It will be rather bulky in the center. If your seams don't line up, don't even worry about it. You're going to cover the center with the design you made earlier.
Cut 3″x WOF strips to make a border and sew onto the background which should round out your pillow top to 40″x22″ approximately.
Now y0u can remove the Wonder Under paper and fuse the motif to your background. Use your favorite decorative stitch to appliqué the raw edges of your design right onto the pillow. I chose a simple zig zag stitch simply because of all the stuff already going on on the pillow, but the M100 has a plethora of designs to choose from!
Once you have finished stitching, assemble your pillow in the manner of your choosing. I always love to use a covered zipper closure so I can wash it stays shut, but I can also wash it easily.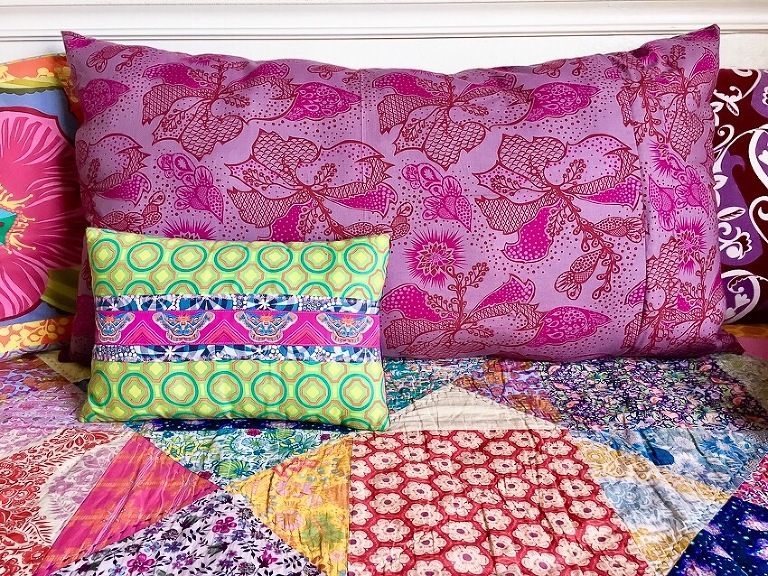 And that's that! If you make a pillow using this tutorial please tag #janomeamerica and #Pegasuspillow and @thefooshe so I can see! This is such a fun method for making a unique and large scale design, and I hope you will enjoy it.
So now some more thoughts on the M100. I have used this machine exclusively since it arrived. I have made quilts, garments, home decor, and bags on this machine. I have put it through every manner of sewing I do, and it has performed beautifully. The design of the machine is clean, and I love that it comes with a stitch card and a small, very simple digital display. I feel that this machine is suitable for anyone from a beginner to a seasoned sewist. In fact, I plan on offering some private classes in the coming year, and this machine is ideal as it can handle any sort of project. At under $1000 its also affordable.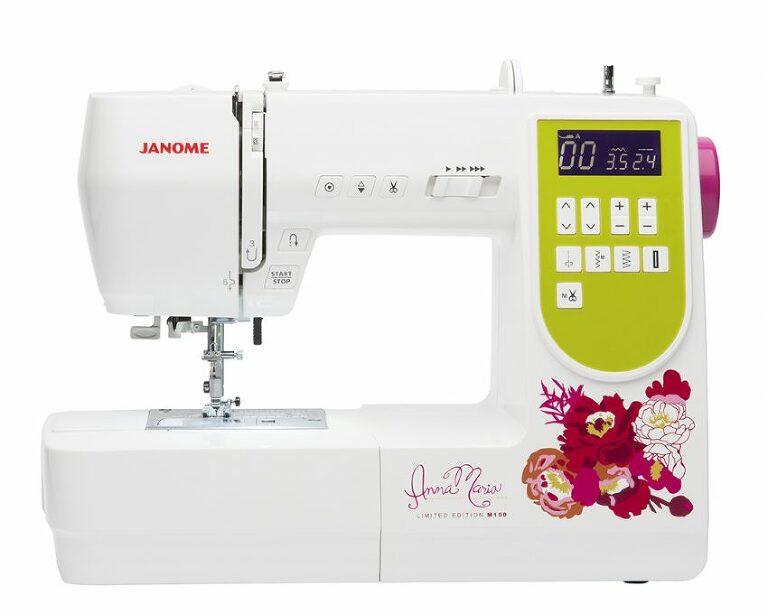 The stitches offered on the machine are awesome. You get those specialty finishing stitches that many machines at this price point lack. While there are 100 stitches offered on the machine, they are very easy to go through. There is no clicking the button 78 times to get to the one you want. The machine offers the option to scroll by tens and ones, so you are never more than a few clicks away from the stitch you want to use. And when you have a toddler and a baby who repeatedly yank the cord, getting back to the stitch you were using is far less frustrating. :)
Also, two words: thread cutter. I've never had a machine with this feature, and I don't know how. It saves thread and time, and keeps the machine ready to go. I really don't know how I've lived without it all this time.
So is there anything down about the machine? I'm not being paid anything to write any of this, so I'm not monetarily motivated. The truth is, no, functionally this machine is perfect. I really don't know what more a "normal, home sewist" would need. I do sew just about everything, so I do feel I can say that without hesitation. The ONE thing I would change, however, is that it could use more Anna Maria! I'd love to see a machine fully covered in her incredibly beautiful, iconic designs. Can you imagine? Anyway, that's just an aesthetic thing.
I hope you've enjoyed this post. If you have any questions about my tutorial or about the M100, please leave me a comment below! I'm happy to answer your questions to the best of my ability.
Thanks for stopping by!
-Meredith