Today is my stop on the Hawthorne Threads Oh What Fun blog hop. I have been so excited to make some things to share with you because Christmas is my absolute favorite. My maternal grandmother was a direct descendant of Mrs. Claus, I am sure. She had a tree in every room in her house, each with its own theme. She had more Santa's than anyone, and her house was just a sweet haven of warmth and cheer. I will never forget it. I certainly inherited her love for the holidays, so when Hawthorne Threads asked me if I would be willing to see something with their latest in house collection, I jumped at the chance. 
Oh What Fun isn't your traditional bold holiday palette. It's light and fresh and airy, capturing the cooler colors of the season. The colors make me think of sugarplums and candies. The fabrics feature several motifs including jingle bells, snowflakes, sleighs, and even an adorable collection of wintery animal faces.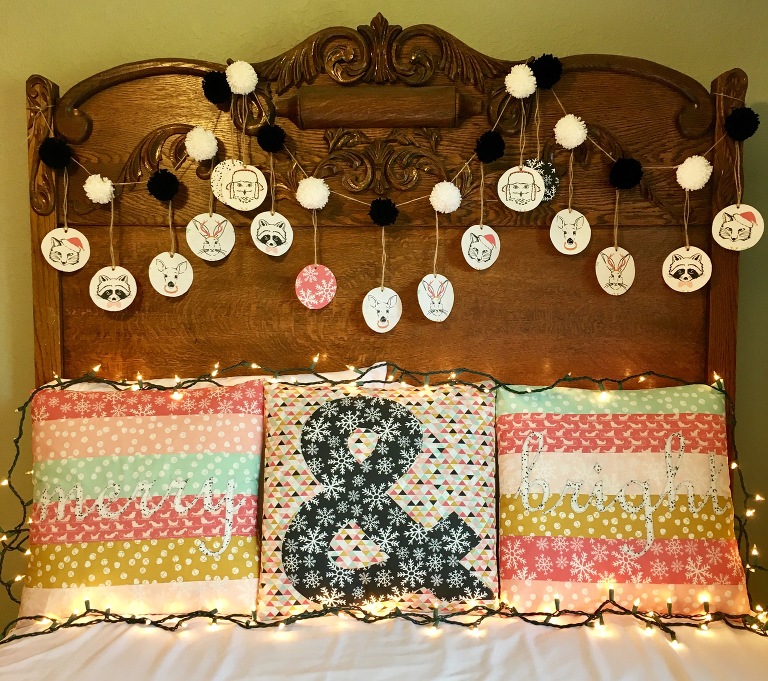 As I thought about what I would do with Oh What Fun, the words "merry" and "bright" immediately came to mind. I chose to use the warmer palette, Sweet, to make some pillows bearing those words. The "merry" and "bright" pillows were made by making a pillow background using strips from the collection, then machine stitching the words down using my favorite appliqué stitch on the Janome M100. 
The ampersand pillow used a single background print, and I used reverse appliqué (and that same stitch) to apply the onyx "&". 
All of the pillows are backed with an envelope style closure. 
I needed to find a special way to showcase all those darling animals, so I used some Wonder Under to fuse them to other fabrics in the collection. I then cut holes and hung them onto a piece of twine to make a garland. I finished it off with big poms made of black and white yarn. 
I love that these fairly quick projects came together to make such cheerful Christmas decor! Hawthorne Threads have also designed a some stocking panels which are perfectly darling, and would be such a great project to do with the kids.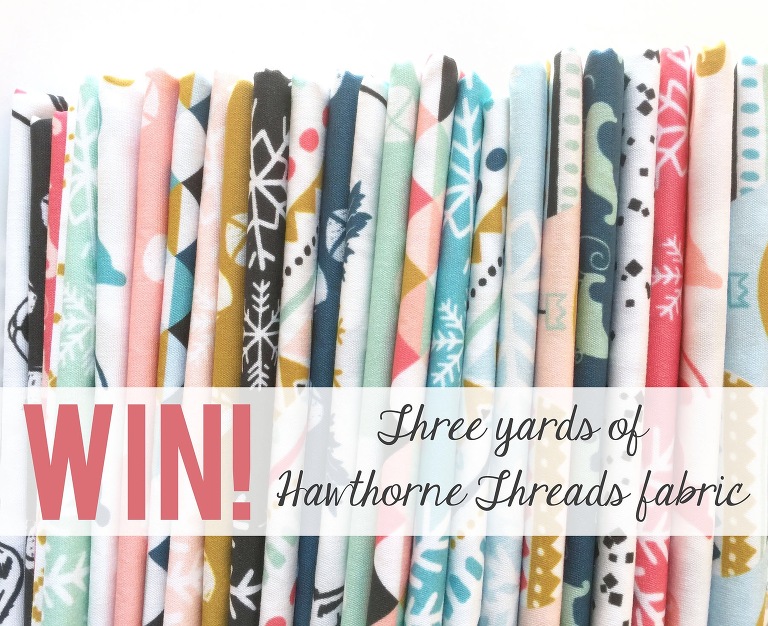 Feeling inspired? Hawthorne Threads has generously offered up three yards of their fabric to a reader, and all you need to do to enter is tell me what you would like to make. Only one entry per person, please. Giveaway winner will be randomly chosen and announced Monday! 
Be sure to stop over to check out all of the other projects made with Oh What Fun. There is so much inspiration! 
Monday 11/14 – Sew Sophie Lynn
Tuesday 11/15 – Hawthorne Threads
Wednesday 11/16 – Olivia Jane Handcrafted
Thursday 11/17 – Holly Gets Quilty
Friday 11/18 – Lillyella
Monday 11/21 – Violette Field Threads
-Meredith