A few months ago, I was invited to be a part of a private swap. I believe there were ten of us from all around the globe. Anyway, we were assigned partners (who were a secret) and it was up to us to make a mini and some extras to suit our partners. I was among some incredible talent, and was intimidated to work up to their level. I knew going into it that this was not your average "make something good, hope you get something you like" swap. Everything had to be amazing.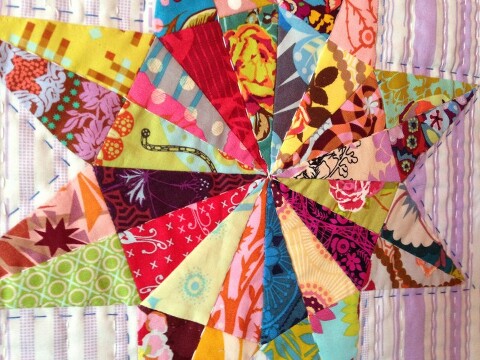 I was assigned to our awesome leader, Ashley who you may know from Mommy by Day, Crafter by Night. I felt I had a pretty good handle on her taste as a long time follower of her blog, and set out to make something bright and bold, and all Anna Maria Horner. I relish pulling out my AMH stash, and even though I was making a mini, I knew I had to include every single print I own in this quilt, which is over 200 fabrics.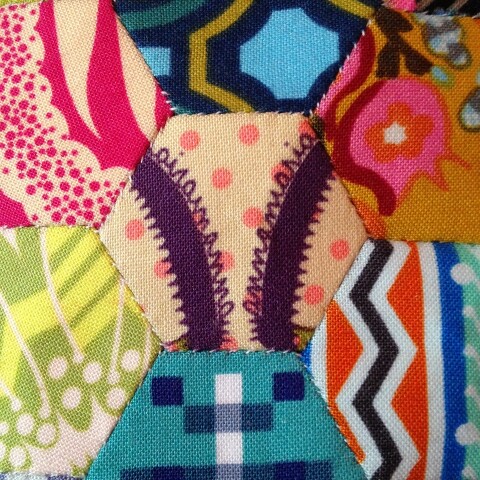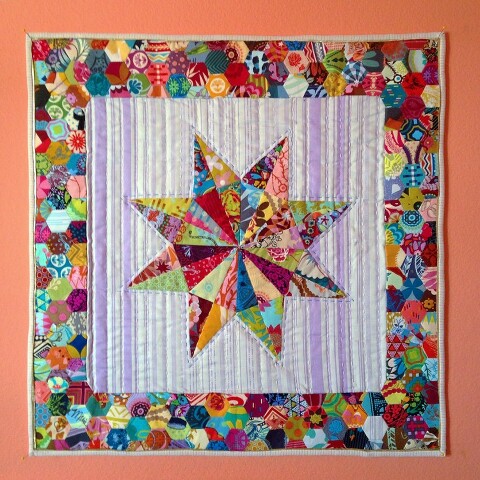 Naturally I bit off more than I could chew and made a 3/4″ hexie with each print. This took a good bit of time, and even though its not a strong skill of mine, I really enjoyed the process. I sewed them into a border and only had to repeat three prints to make it work! I appliqued the border to the background after I sewed down my centerpiece.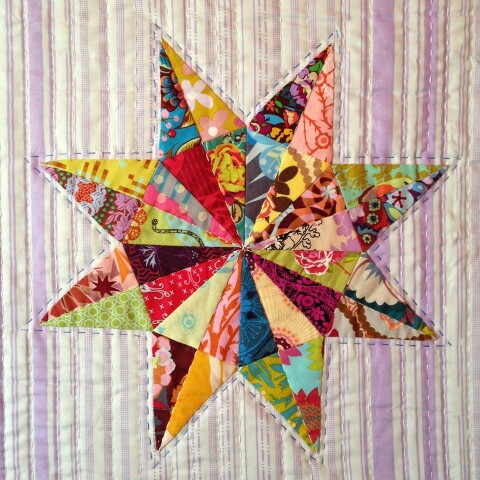 The border framed this star which is a pattern from Sarah Fielke's book, "Little Quilts". I made the star, but rather than dealing with the Y seams and giving the background a chopped up appearance, I opted to applique the star down. I redid the star and the background 4 separate times until I was perfectly happy with the background choice and star placement. It was totally worth it, though.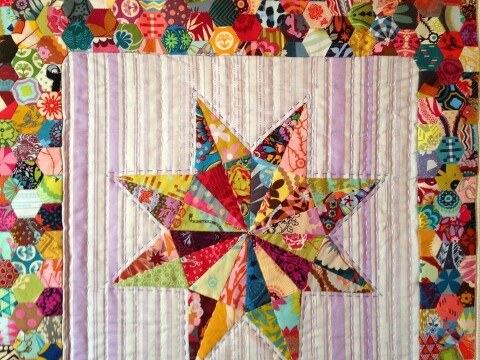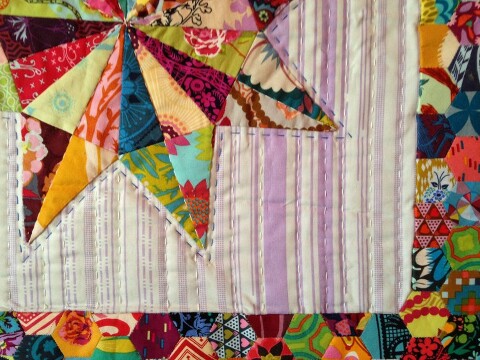 I hand quilted vertical lines on the background section of the quilt with white Perle cotton. The star is framed with a single line of blue stitches.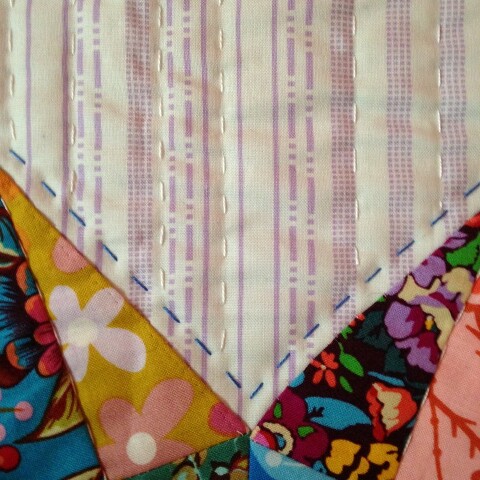 When it came time for binding, I knew I didn't want to sew right onto the hexies, so I attached a gold bias tape around the border so it would have a flat piping effect, then stitched the binding on, and hand finished it.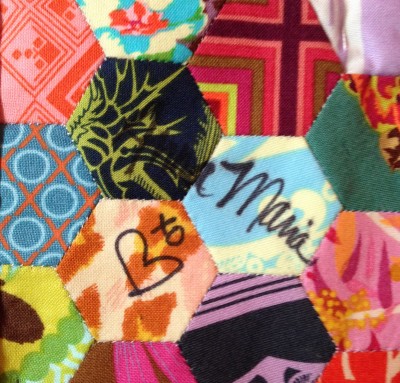 If I'm honest, I have to tell you I would have probably redone the the quilt another time, but time was not on my side. I already pushed back the mailing date by bringing it to Market to have Anna Maria sign it. I think it was worth it. I kept that part a surprise. And Anna Maria was so very obliging! She really is the sweetest lady.
For extras, I made Ashley one of my signature patchwork + leather bags with Cotton + Steel and Alison Glass fabrics. It was bright and happy and made me think of Ashley, so it needed to be done. I also included the apple tote featuring Melody Miller's new design which I picked up at Market. I threw in a Rhoda Ruth mini charm pack and a bowl with tiny little clothespin clips!
I'm nervous every time I send something to another person. I get than uneasy feeling where I question if I did my very best, and if she will like it. I'm so thrilled that she did!
Tomorrow I'll share the mini I got for the swap. It couldn't be more me, and I stalked it throughout the course of the swap hoping it had my name on it! You'll want to see it!
Thanks for stopping by!
-Meredith