I'm so excited to show you my new shorts!!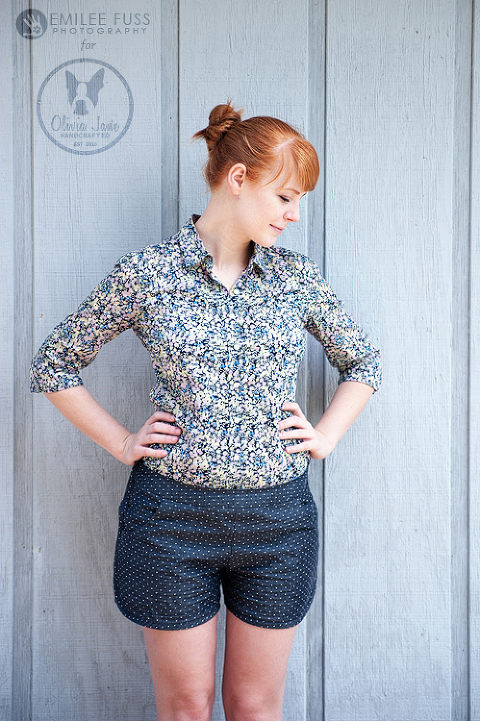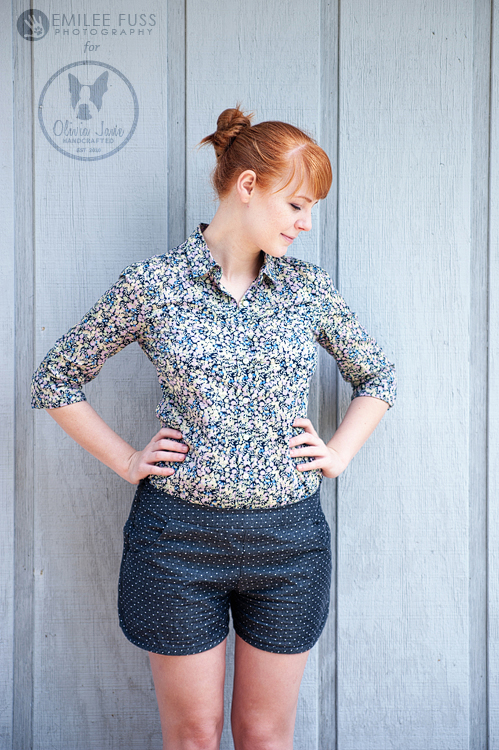 These awesome shorts were made using the Movies in the Park shorts pattern from Indiesew. I used Robert Kaufman's Chambray Dot in Black for the main fabric, and for the facing and pocket I used a voile Kokka print with Boston Terriers all over. I don't have a picture of them, but gosh, are they cute!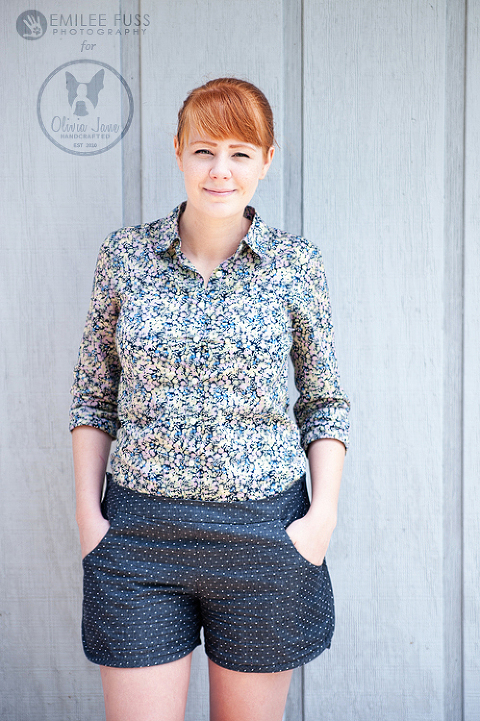 This is such a fun pattern to sew, and the way that the shorts come together makes it possible to get a totally custom fit. I cut the size small. Its a bit big in the waist, but I was bloated (yay, postpartum body issues!) when I was determining size. Ah, well. Better that they're a little big rather than small. Anyway, I say that to say that's its completely fine to cut so you have some extra room in the shorts, because the final step on the pattern is to close the legs at the sides. This gives you complete freedom to adjust for room where you need it, and overlap the sides a bit more where you don't.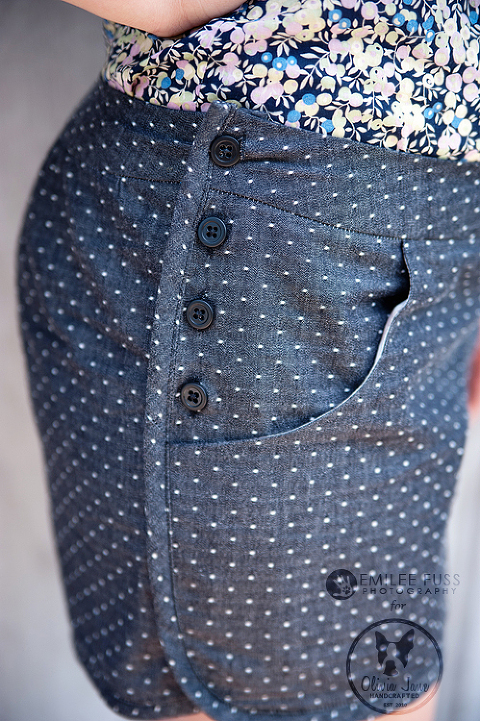 The pattern calls for 12 buttons, six on each side, as the closure for the shorts (only the top three are functional.) Rather than attaching buttons all the way down each side, I topstitched the binding down from the pocket to the bottom of each side, then used four small buttons from the top of the pocket to the waistline to create my closure. Since I was aiming for a very clean, crisp appearance in this pair of shorts, I did without the large buttons because I felt they would have created too much of a focal point.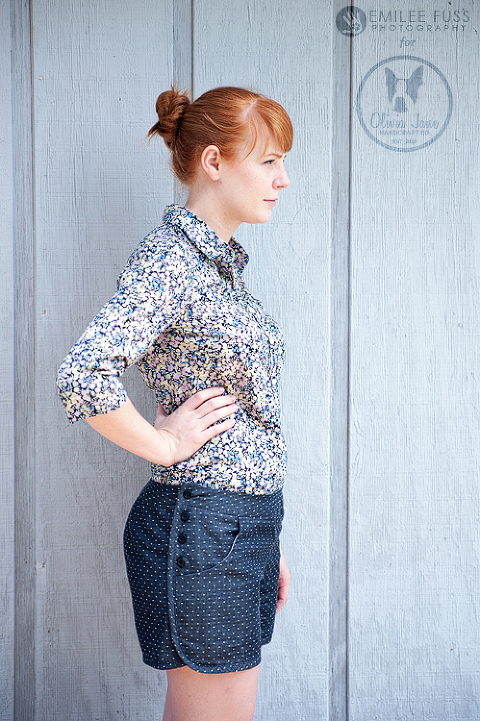 The Movies in the Park shorts have a perfect rise, sitting just at the top of my hip bones. They look awesome paired with a button down or just a plain t-shirt. I'm definitely going to be making more! I think I need a pair in Liberty to pair with a denim popover….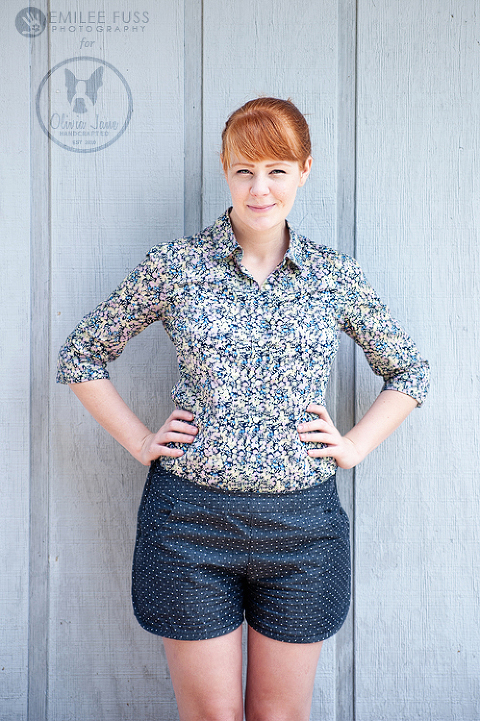 This pattern is very simple, straightforward, and fairly quick to sew together. The most time consuming part is just making sure that the sides are aligned to be a perfect fit, because for me that meant putting them on and taking them off multiple times. It was well worth it, though, because I really love the fit. I'm so happy I was able to make shorts that would fit my rear end, but I had the freedom to taper them in a bit at my legs so I didn't have any flare (as is so often the case with store bought bottoms for me).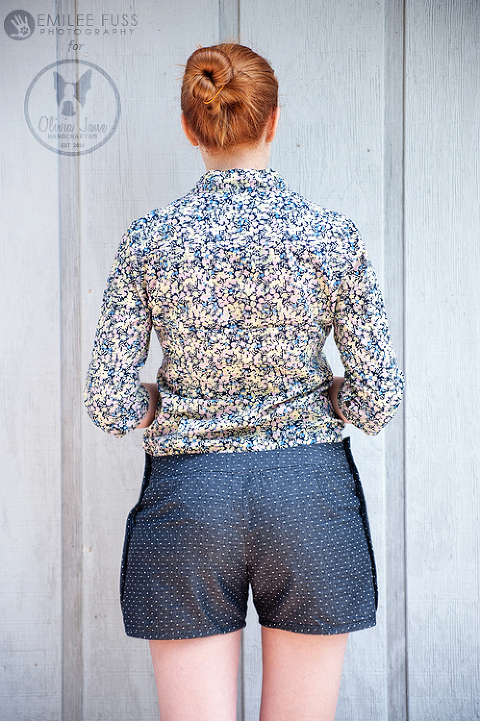 I highly recommend the Movies in the Park Shorts pattern. I know that sewing bottoms (or even shopping for them) can be such a daunting task to so many women, but having the freedom to cater the fit exactly to your body makes these such an accessible pattern even to those who are fairly new to garment sewing. And bonus? This pattern is only $8! Go get it!
If you haven't joined the Indiesew community, head over to their site and sign up. Its totally free, and their website is packed with patterns, tutorials, and even style guides. Its a great way to support emerging artists and to get to know others in the sewing world.
Thanks for stopping by!
-Meredith