Baby Boy officially has a quilt.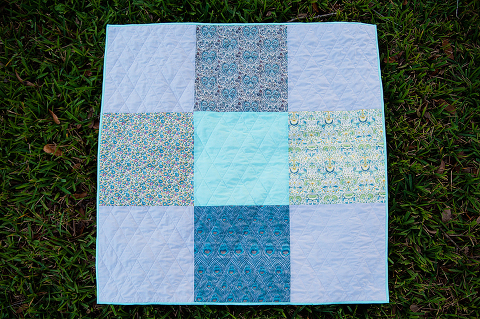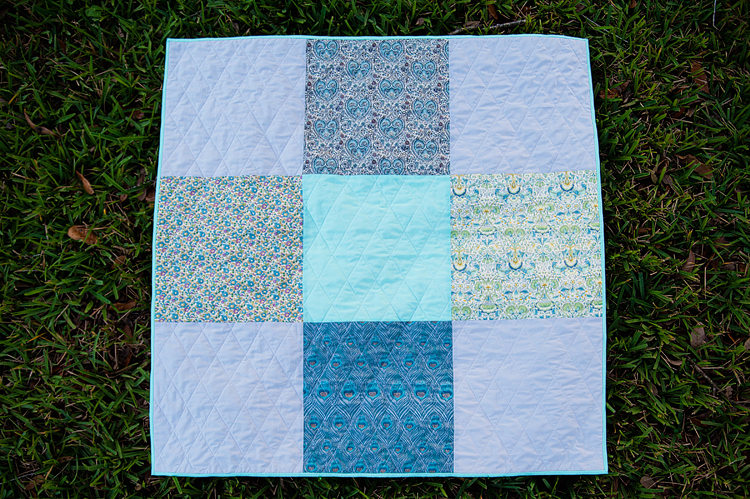 This one was made with Liberty, Robert Kaufman's Cambridge Lawn in either Grey or Taupe, and Free Spirit solid voile in Seafoam [I think?]. Its an incredibly simple pattern from Alexia Abeggs Liberty Love.
I really surprised myself on this one. I ordered some 28wt Aurifil after trying out some 50wt and loving it. And I have to tell you, I've always thought spending a lot on thread was for gullible people who actually believed that expensive stuff was better. I mean, its thread. I've always used the big roll of Coats and Clark all purpose, and its been great. I've had not one issue with it. I've tried lots of other brands like Sulky, Gutterman, Metler, and others, and I've been thoroughly unimpressed. In fact, not one of those held up as well as my average Joe Coats and Clark; they were always weak and broke with minimal effort. A friend sent me some Aurifil about a month ago, and I have to tell you, I was very impressed. I couldn't believe how strong the 50wt thread was, and since I've been sewing with lighter fabrics lately like voile and Liberty lawn, I noticed a huge difference. It was strong but not bulky against the fine fabrics.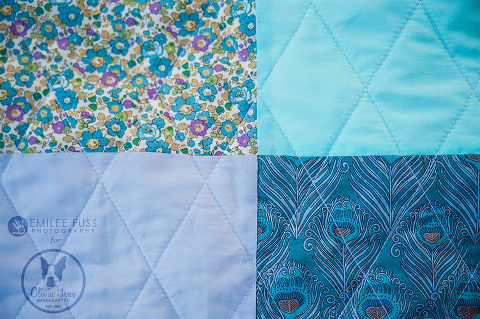 Anyway, I wanted to try out some machine quilting (my arch nemesis!), so I purchased some 28wt thread, attached my walking foot, and BAM. This quilt was quilted in under two hours! You guys! I can't believe I machine quilted something and it wasn't a total disaster!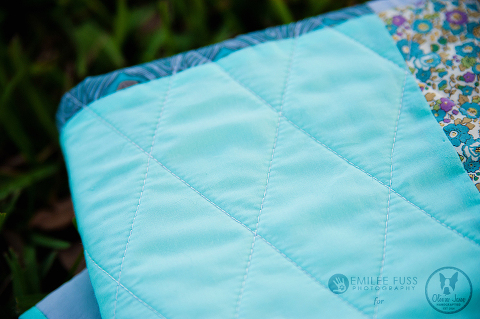 The thread is the most perfect weight for machine quilting. I'm not ready to tackle a large quilt, but I knew from the get go that I wanted this 36″ x 36″ baby quilt to be done on the machine. I'm so thankful that it turned out like I hoped. The thing I really love about this brand is that it didn't shrink up when I ironed it. Yes. I iron finished quilts. Some brands will shrink up under heat, and cause a crinkly quilt which absolutely makes my skin crawl. Not Aurifil. I'm so pleased with the result.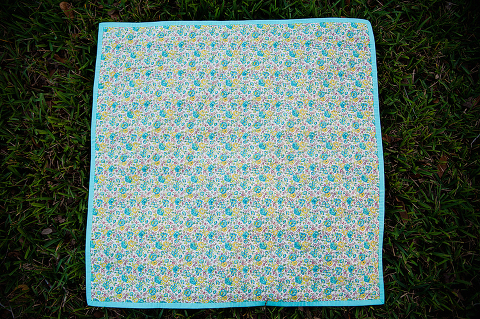 I can't believe I've jumped on the bandwagon. I will say this, I'll still use the Coats and Clark for my standard quilting cottons for piecing and what not, but when I use finer, more delicate fabrics, I'll absolutely be using Aurifil. And I'm most certainly using it if ever I can muster up the bravery to machine quilt again.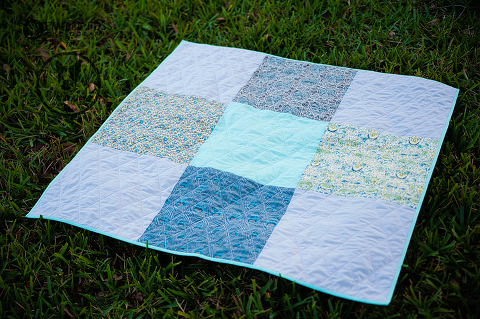 The quilting design is straight out of Liberty Love. It looked so great on Alexia's version, I didn't want to try anything else. And my whole reason for wanting to machine quilt was to lessen the likelihood of baby fingernails getting caught on more bulky hand stitches. Hand quilting is absolutely still what I'm all about, but I also get that not everything works 100% of the time. Between Layla and Olivia snagging my hand quilting on other quilts, I've learned that its alright to go out of my comfort zone to make something a little more child friendly.
Anyway, less than twelve weeks to go before we meet our little Mister and I get to start taking pictures of him on his first quilt. As Layla said to me, this one is too big, and I do always like to have a small quilt for baby. So I'll have a small one to share here soon, along with a couple of other good floor quilts since we have wood floors. It seems that most of the quilts I've made have either been gifts or specifically made for a bed, so we really only have two quilts in the living room and they get regular use. I think we need to add a few more while I still have energy and free hands.
Have a great day!
-Meredith