I don't have pictures for our next step in the Opposites Attract QAL so that post will be up in the next day or two, but I do have a great tutorial for using up some of those HST leftovers! Be sure to cut those carefully, and you'll have a precut project on your hands to whip up in an afternoon.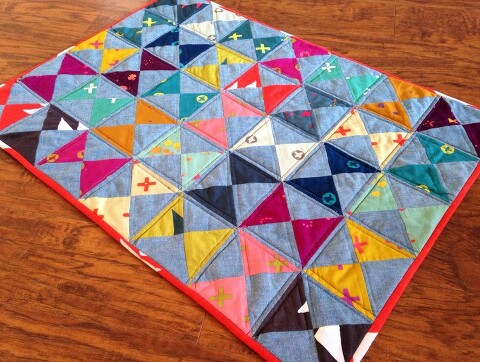 I got out my leftovers from my Handcrafted version of the quilt, and began playing out with layout. I loved the look of these hourglass blocks!
And now I get to show you how to make one of these kitchen mats for yourself! Besides your triangle scraps, you'll need an old towel, approximately 3/4″ yard for backing, 1/4″ yard for binding, thread, ruler, mat, rotary cutter.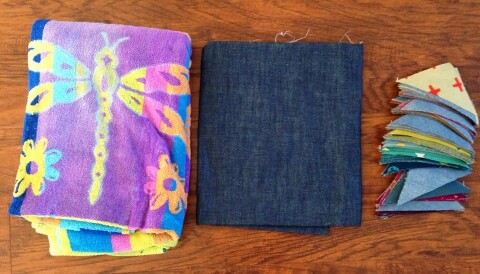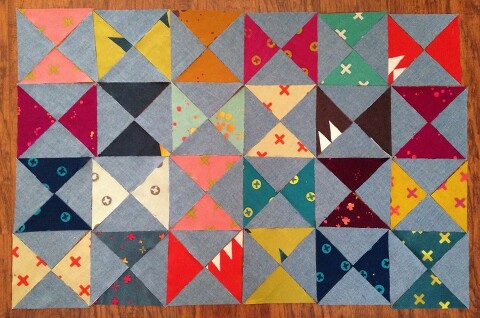 After you arrange your blocks (5 blocks x 7 blocks makes a mat approximately 20″ x 28″), sew them together with a 1/4″ seam on one of the 90° edges (those are the edges that should be even and straight, while the slanted edge will need to be trimmed and squared up later on).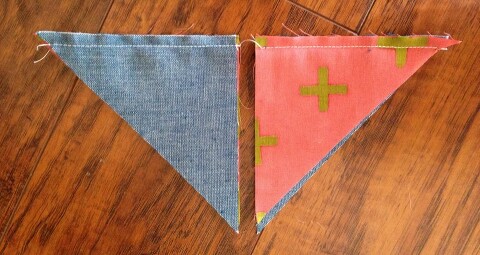 Press seams to one side (opposing sides for each side of the block- so I pressed my seams toward the Handcrafted prints).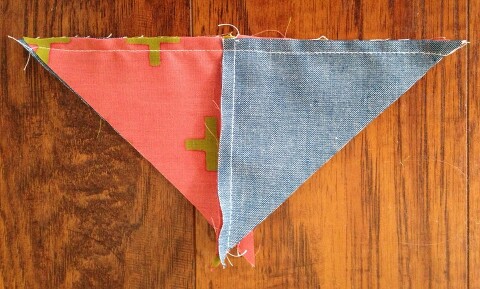 Then with right sides together, sew the diagonal edge of your pieces together with a 1/4″ seam.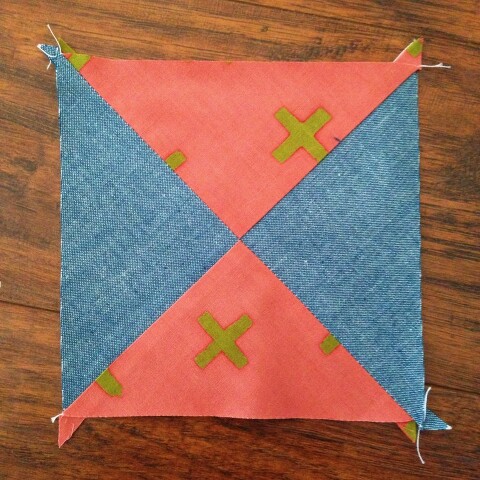 You'll end up with a block like this. I trimmed mine down to 4.5″. Most acryllic rulers have a 45° angle guide that you should be able to use to ensure you are squaring up properly.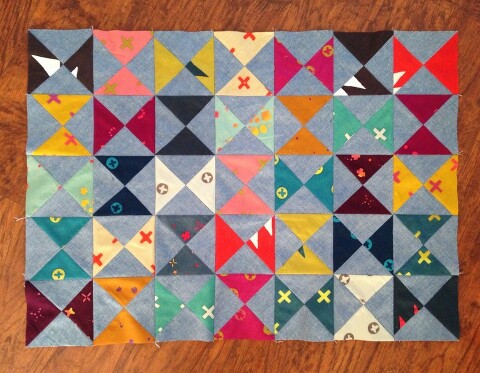 Once you have sewn your blocks and are sure of your arrangement (because its always good to double check you are happy with it!), sew each  block together to form short rows. Then sew rows together, and remember to press your seams open.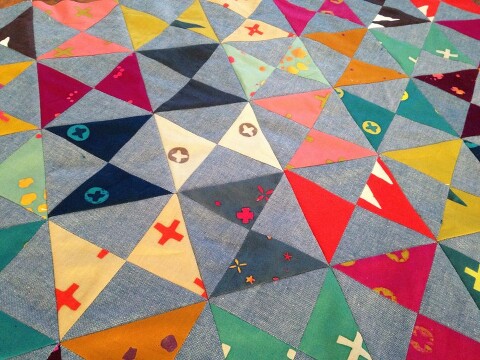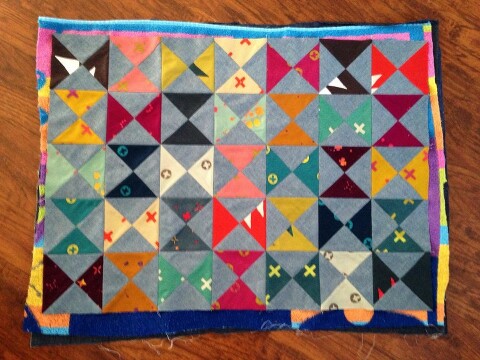 Sorry for this AWFUL blurry picture!
Now you'll layer your mat top on the towel and backing, cut them so that you have a couple of inches on every side of the mat top. Make sure your layers are flat, and baste the layers together liberally with safety pins. Depending on the loft of your towel, your mat may want to shift around when quilting, so you want to be sure to baste well to prevent that from happening.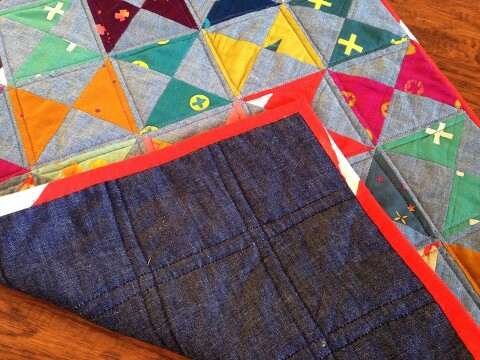 Once you are satisfied with your basting, use your machine's walking foot, and quilt in the design of your choosing. After you have quilted the mat, trim your mat and square it up. Cut three 2.5″ X WOF (width of fabric) for binding, and bind up the mat like you would a quilt. If you don't know how to do this, fear not! I'll be posting a very thorough binding tutorial this week.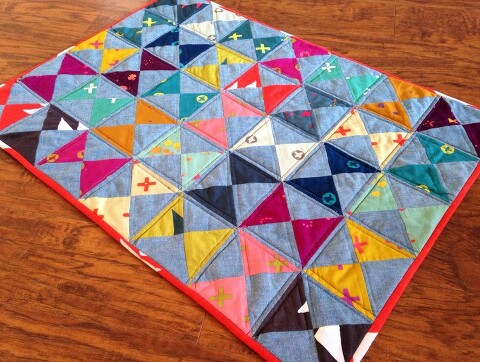 This is just one way you can use those left over triangles from your Opposites Attract Quilt, or any other quilt or pattern that will leave you with extras. Don't look at them as scraps, but use them as a precut project! Turn them into a fun time, and you'll have something new for your house, or a gift for a friend in no time. I'll be posting many more tutorials like this one in the coming weeks. I'm determined to inspire you one way or another!
-Meredith