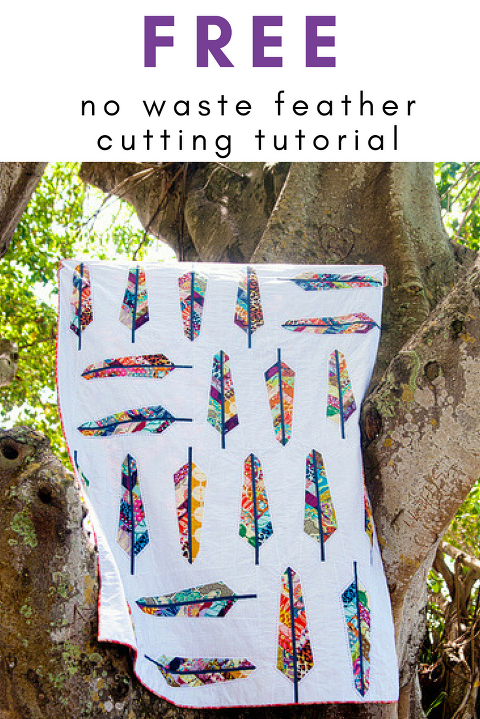 Feather Sewing + Cutting Tutorial
NOTE: The Feather Bed Quilt is written by Anna Maria, and is in no way my pattern. I simply came up with this cutting method that allows for smaller pieces and little to no waste. You must have her pattern which is FREE on her website. You can find that by clicking HERE.
In Anna's pattern, she calls for making feathers using the whole width of fabric. That's perfect if you have lots of full width fabric, but many times, we tend to purchase fat quarter bundles. My first time making this quilt I had only scraps to work with! So I had to come up with some way to maximize the amount of feather halves I was getting with each set. When I made my Field Study version, I did have full width of fabric on hand, but chose to use 22″ strips anyway, so I could place them differently and get more variety in my feathers.
Today I'm using a fat quarter pack of some Art Gallery fabric to demonstrate how you can use smaller pieces of fabric (22″ length) to get just as many feather pieces as using the full width (44″) as demonstrated in the pattern.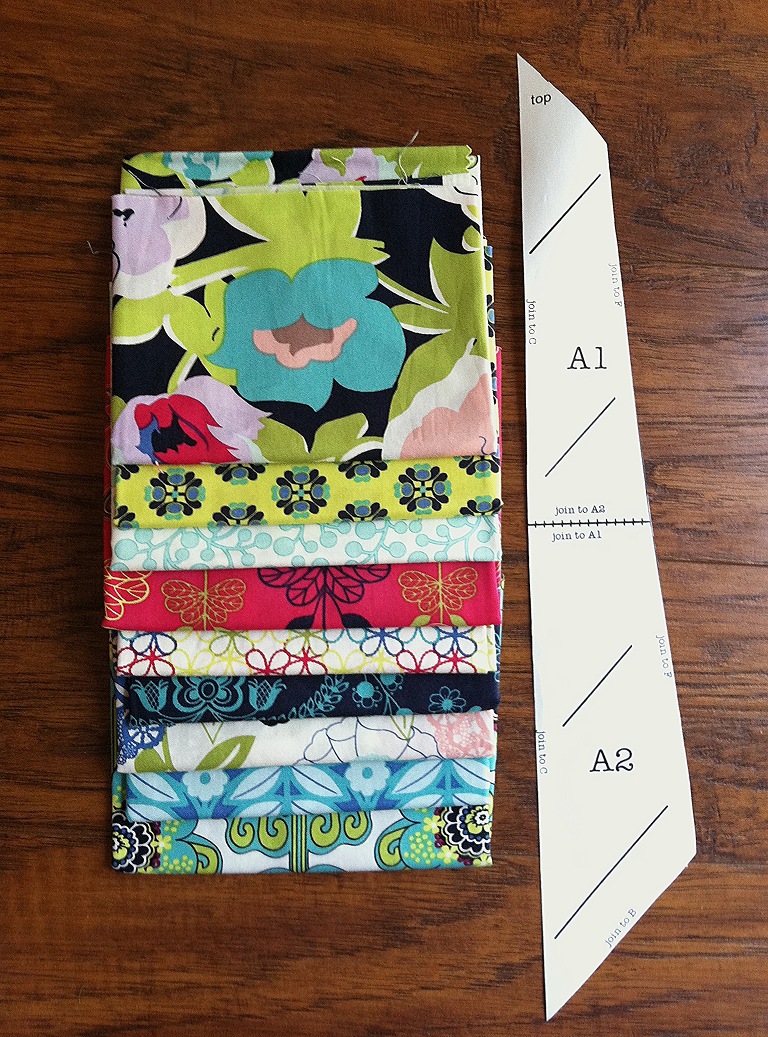 I began by cutting two strips from each fat quarter. My plan was to make a set of seven feather halves for both the right and left sides. In the Feather Bed quilts I've made, I cut various sizes of strips from 1.25″ to 3″ x the length (22″).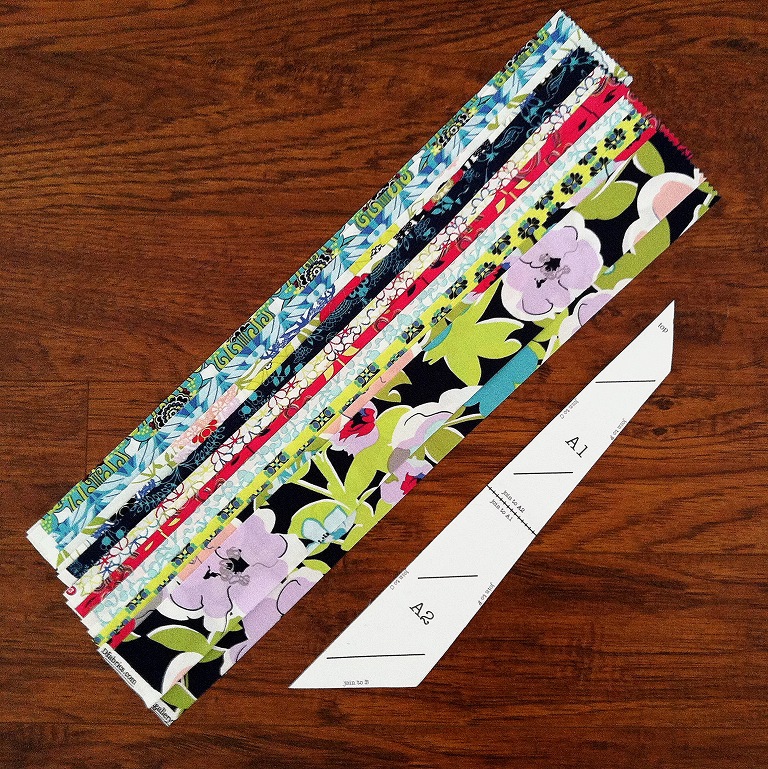 Now we'll start by making the right halves. These will be made using the side of the pattern piece that has the writing. We're going to be working with the slant of the feather to determine the placement of the strips. Place your bottom strip down, then add a piece above that. Stagger the strips so that you can still see a good 1/4″ + of the second strip where the first and second strips meet.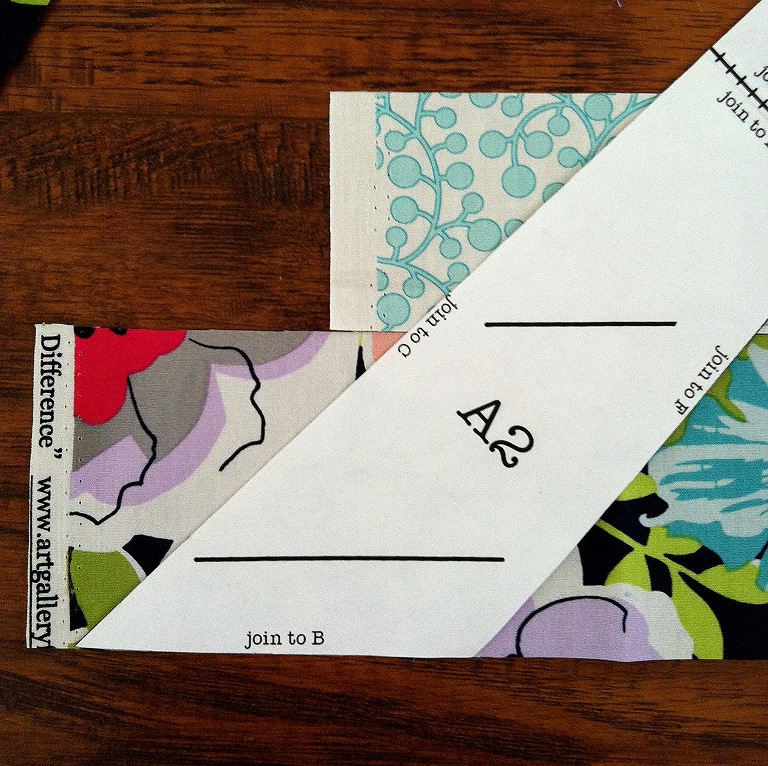 Sew with right sides together and using a 1/4″ seam. Press seam upward. Then add a third strip. Use the feather pattern piece as a guide to place the third strip so that you have a good 1/4″ extended past the pattern piece on bottom. Sew together.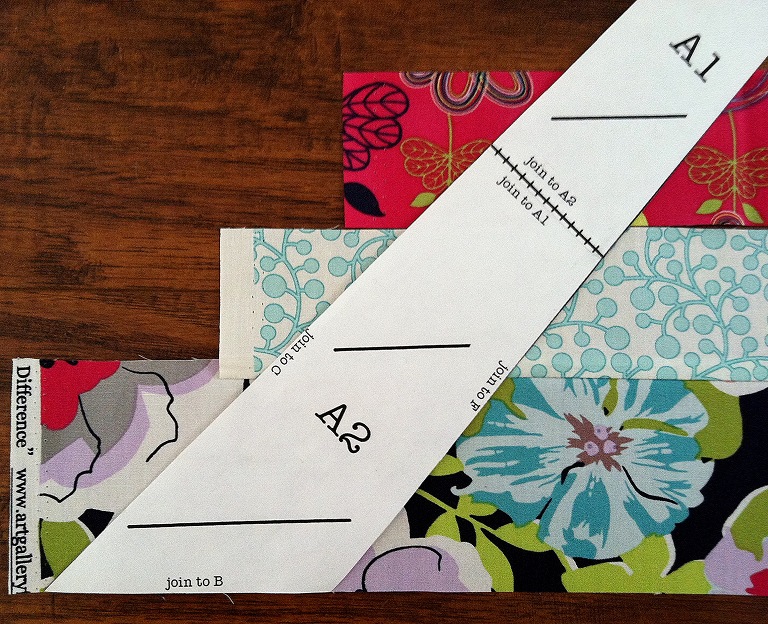 Repeat this step until you have enough strips sewn together to cover the whole pattern piece.
Now its time to cut out the feather halves! Begin by placing the feather pattern piece on the strip block. With a ruler to cover the pattern piece, use your rotary cutter to slice off the staggered edges.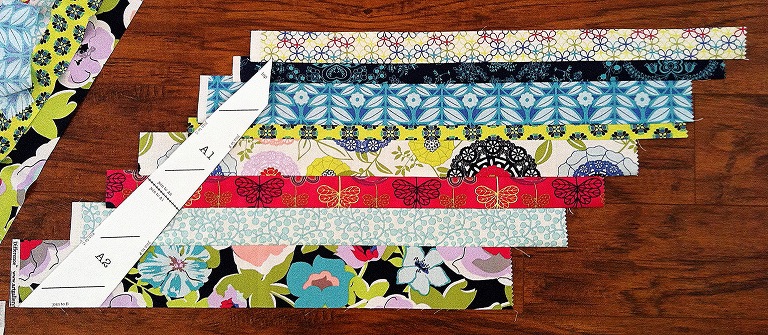 Flip the stripped piece and cut out your first feather piece.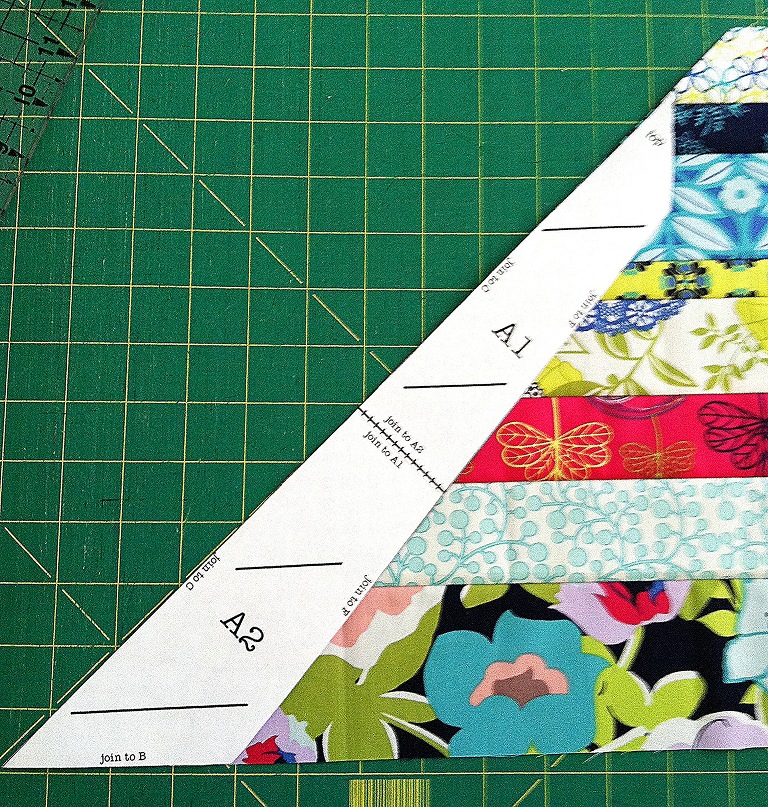 Rotate the pattern piece so that the bottom edge is on the top side of the piece, and cut another feather half.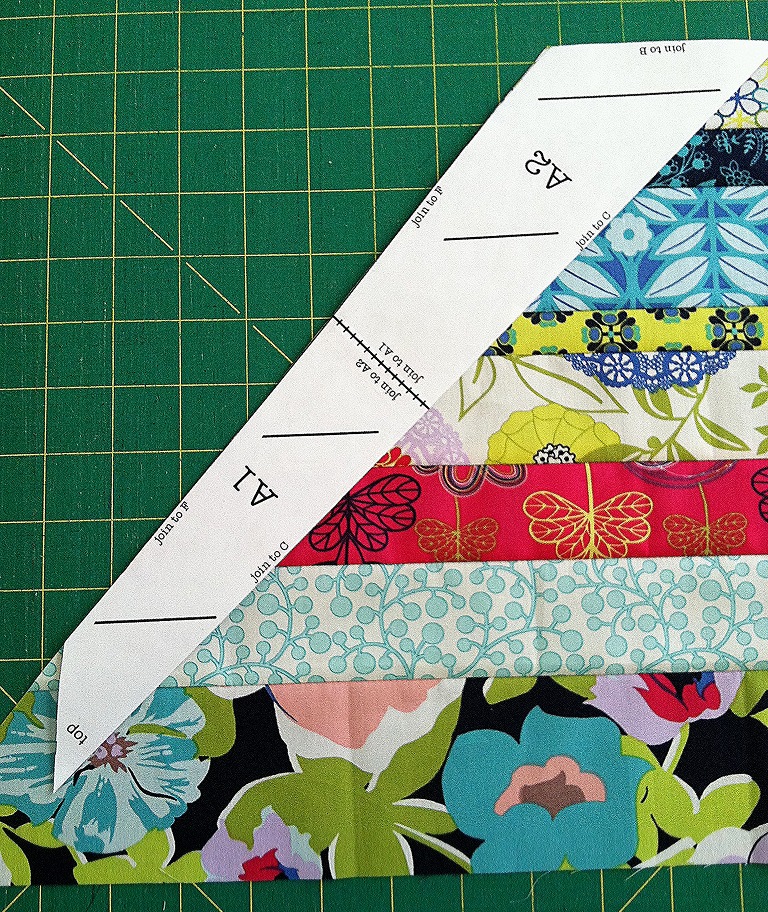 Repeat until you have six or seven right side feather halves. (I can almost always get seven out of 22″ strips.)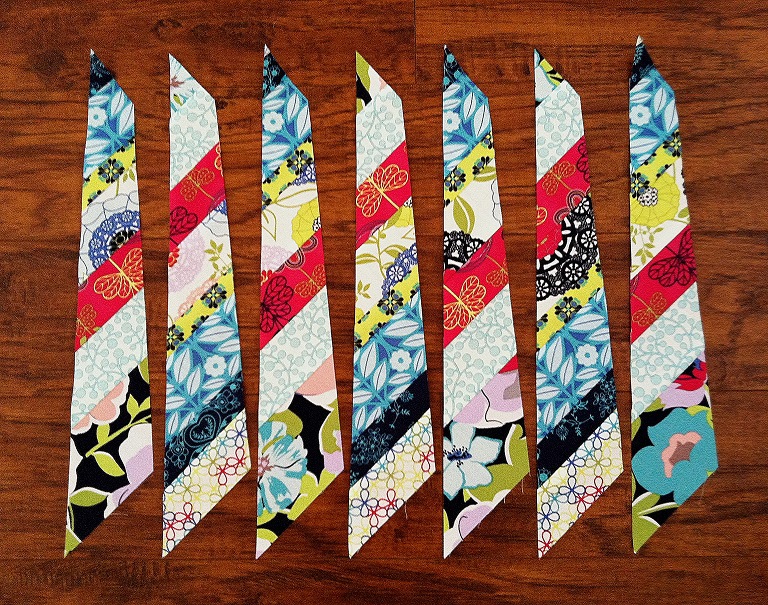 Now we'll move onto the left side feather halves, where we'll just be reversing everything we just did with the right sides.
Begin by turning your feather pattern piece to the blank side. Using that as a guide, place your strips, staggering them according the the slant of the pattern piece.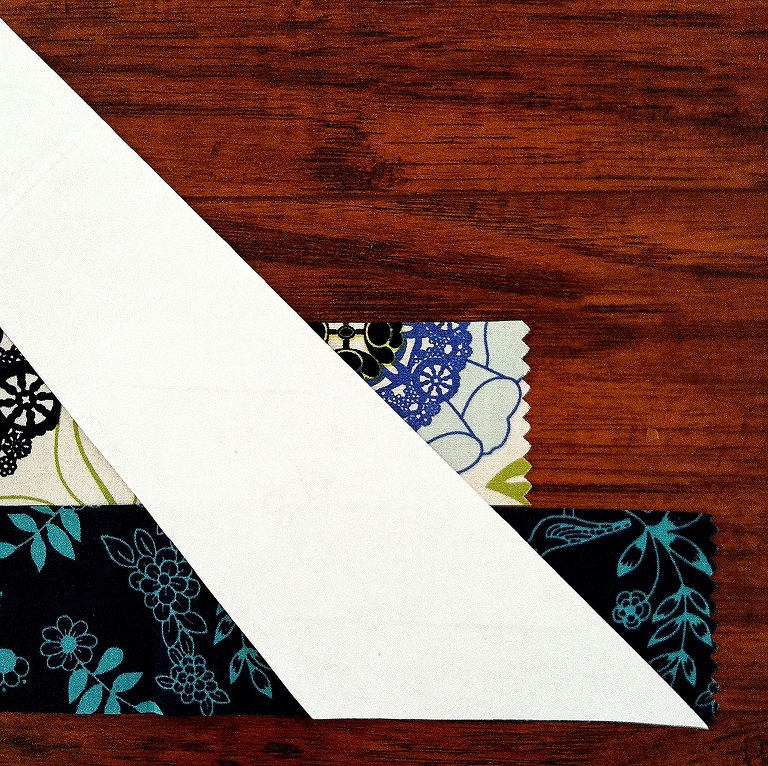 Continue to sew strips together until you have enough to cover that pattern piece.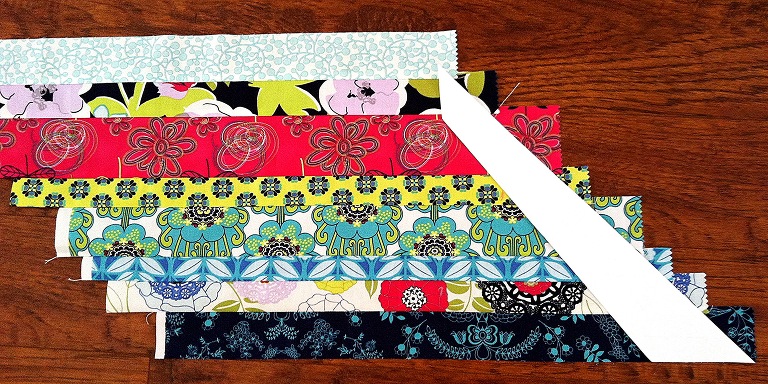 Now cut off the staggered edges using a ruler, the pattern piece (blank side!), and rotary cutter.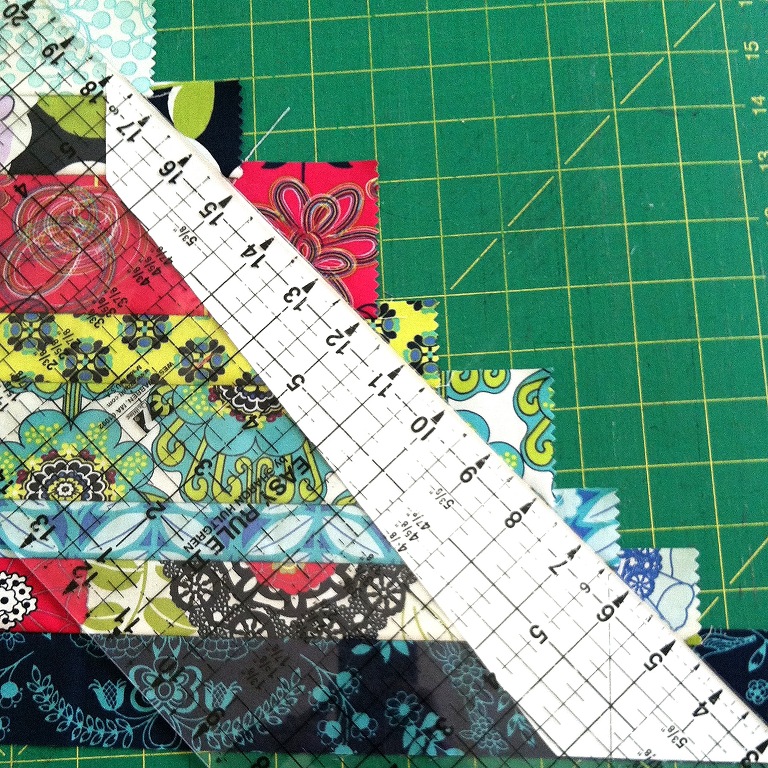 Cut out your first feather half.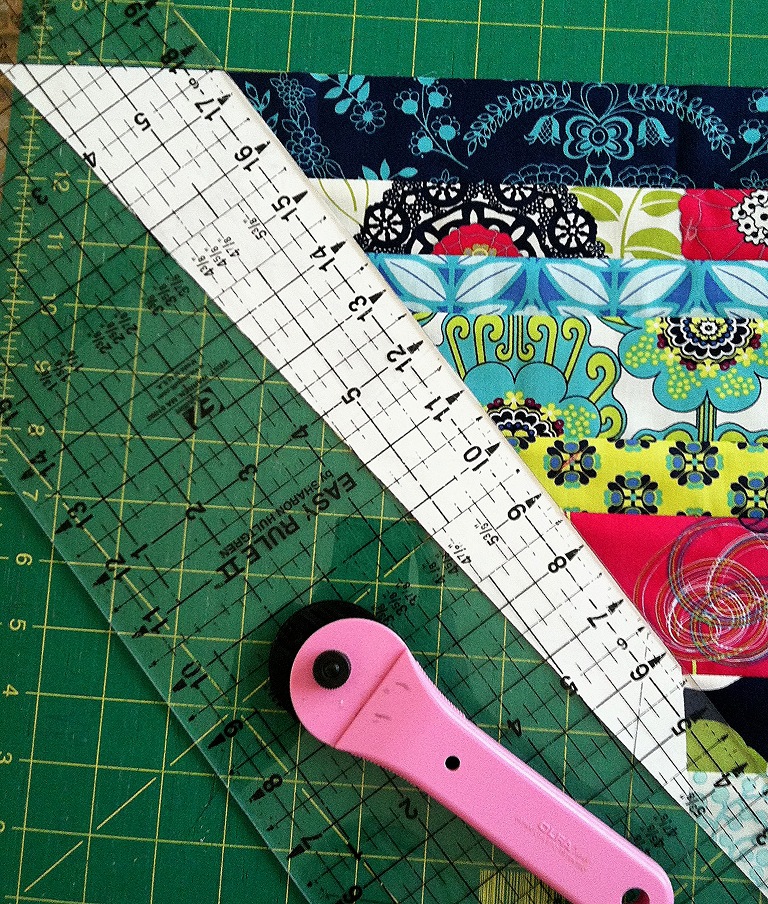 Rotate the pattern piece each time! Top then bottom, then top, then bottom… until you have seven left side feather halves!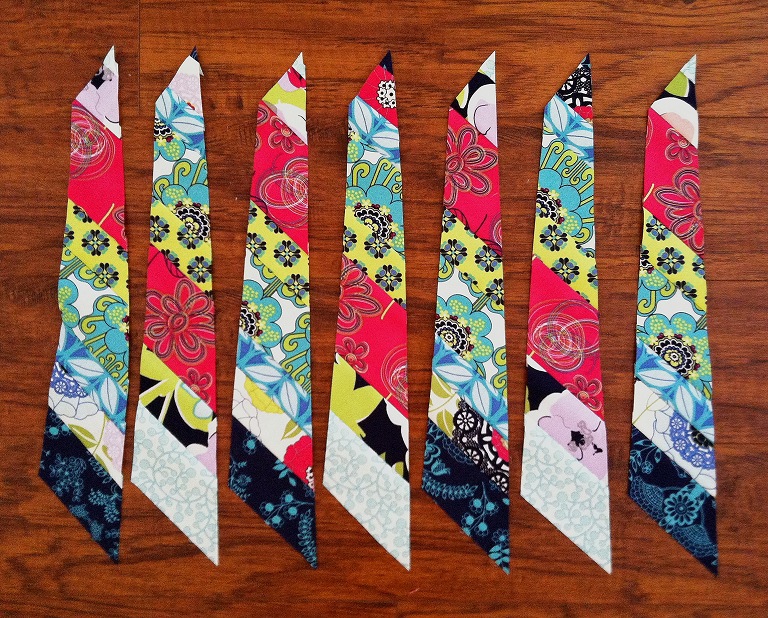 See how little waste this method leaves you with?!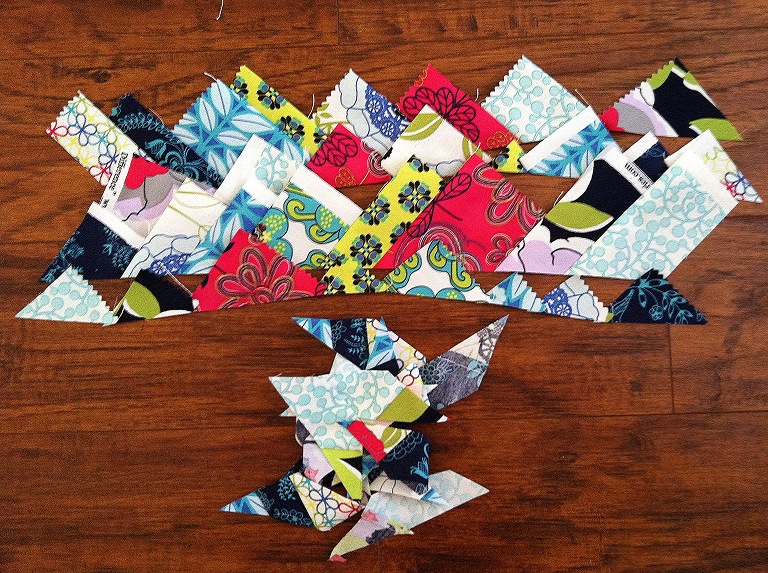 It takes a little more time having to pause in between sewing strips, but the difference in the amount of waste is astronomical. Plus, every time you do a stripped section, you'll gain speed. You'll have to let me know what you think of this method!
I've made a few Feather Bed Quilts now. I'm on my third at the moment, which I hope to share with you soon. I LOVE this pattern. If you'd like to give it a go, you can check out the free pattern here. Anna Maria is my fave. Seriously, who can compete with her?
I hope this has been helpful! Have a great weekend!
-Meredith