Late last year, I was asked by a client to make a quilt for a soon to be born baby that included fabrics from Africa, India, and Latin America. Baby's parents have lived all over the world, and she wanted this quilt to pay tribute to all the places that are so special to them. How do I always get asked to make such awesome things???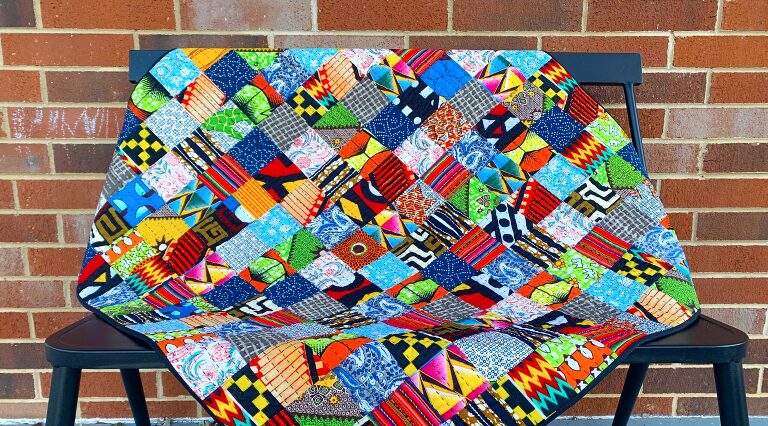 I had the most wonderful time looking for fabrics for this quilt. My client wanted a colorful explosion of fabrics with various textures, so I went about sourcing fabrics from each of these places. I found some great block prints from Jaipur, India, one of which is as soft as gauze. I was able to find a whole collection of gorgeous, bold African wax batiks. And I found a gorgeous rainbow weave from Latin America. None of these fabrics are ones that I would have thought to pair up, but somehow they work together so beautifully, it's as if they were meant to be used this way.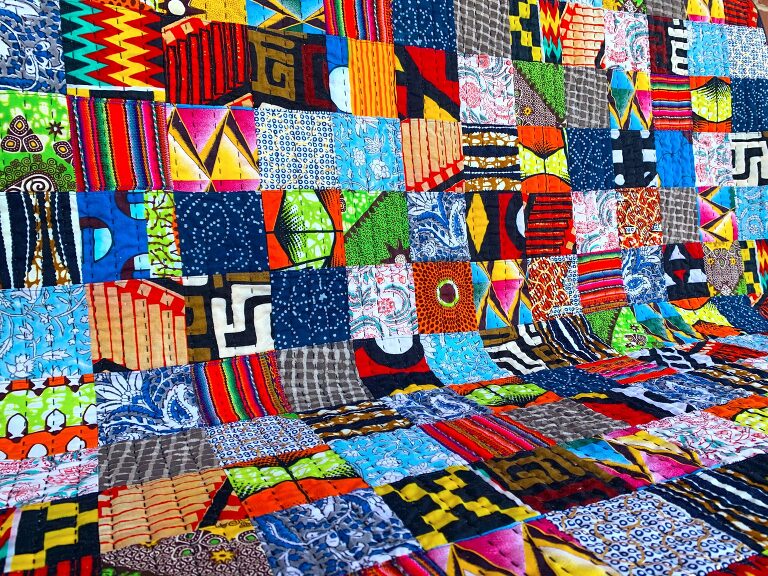 Because the fabrics feature prints that are so busy, I stuck with a very simple square patchwork design. Those fabrics have a voice all of their own, and they didn't need any sort of complex layout.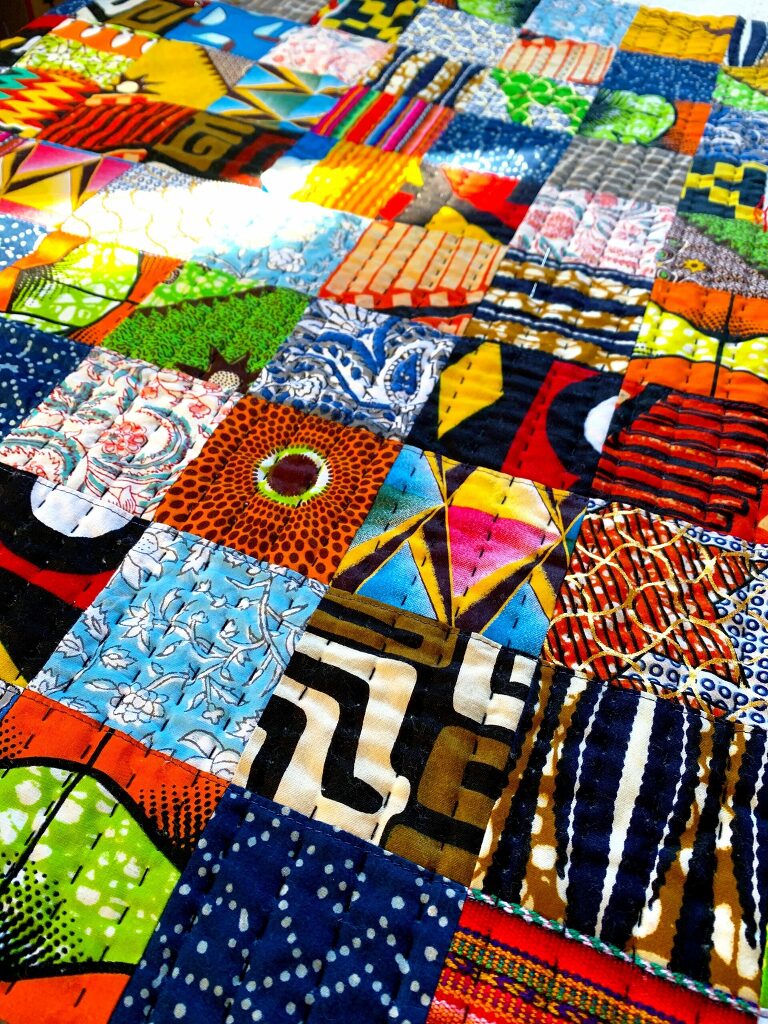 For the backing, I chose the Indian block print on the gauze-like base. It was so soft and perfect for a baby quilt!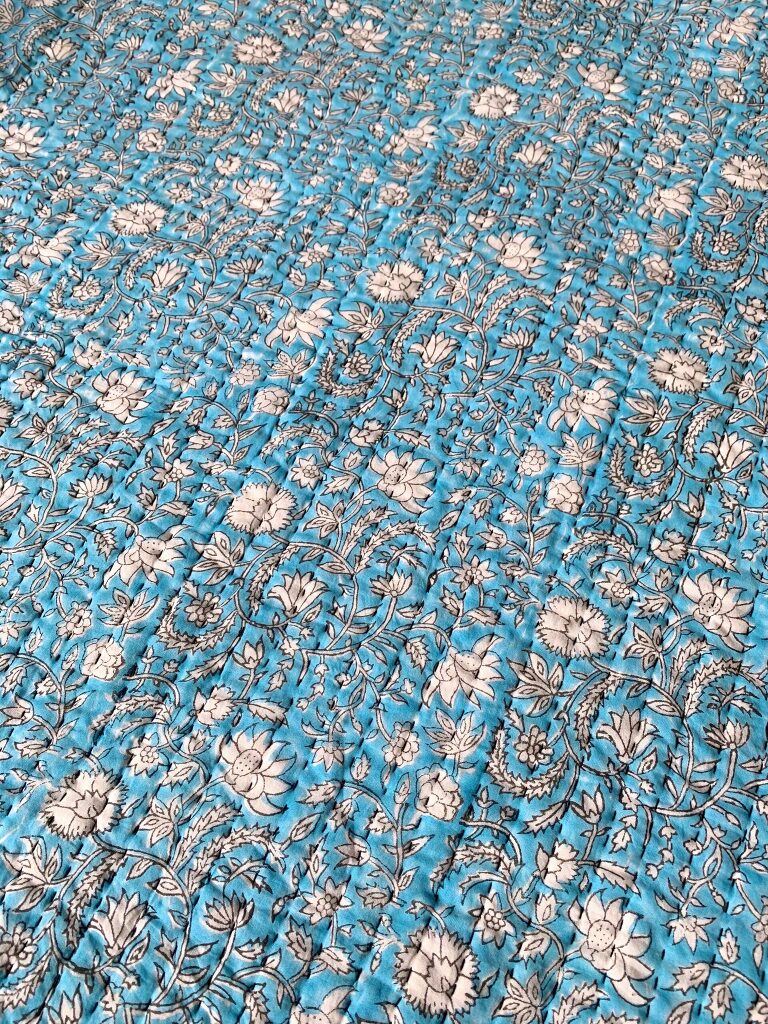 I decided to go with very dense hand quilting on this little quilt because I had Kantha-style stitching on my brain as I was looking at those richly colored fabrics. It is a popular style of stitching in India, and the extra time and effort was totally worth it to achieve the texture that only this dense quilting can give.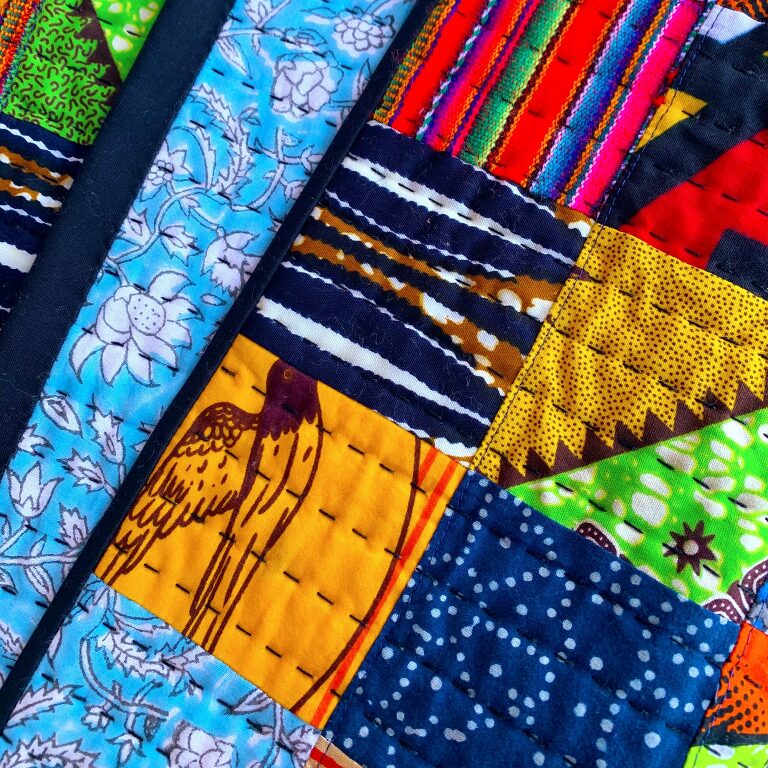 The binding is a solid black because I like for the bindings to create a sort of frame for the quilt. I felt like the heavy black created a great contrast to all the color on the quilt, and helped to ground it, if that makes sense.
This baby quilt received a label like the one I showed you on Monday, but it isn't pictured here. I did not photograph it because it feels like an invasion of privacy to share a baby's full name and birth stats online, especially since that baby is not mine. Still I will tell you, I stitched it out on my Skyline S9 after creating it in the Janome Artistic program on my computer. I was then stitched, cut out, and appliquéd to the back of the quilt.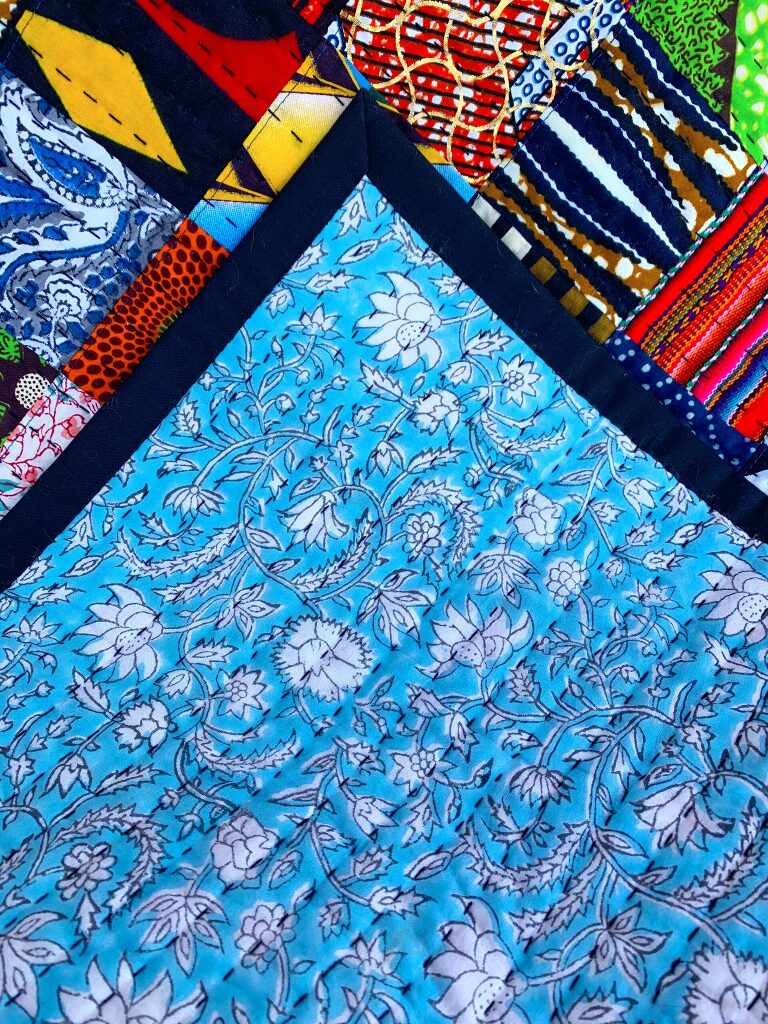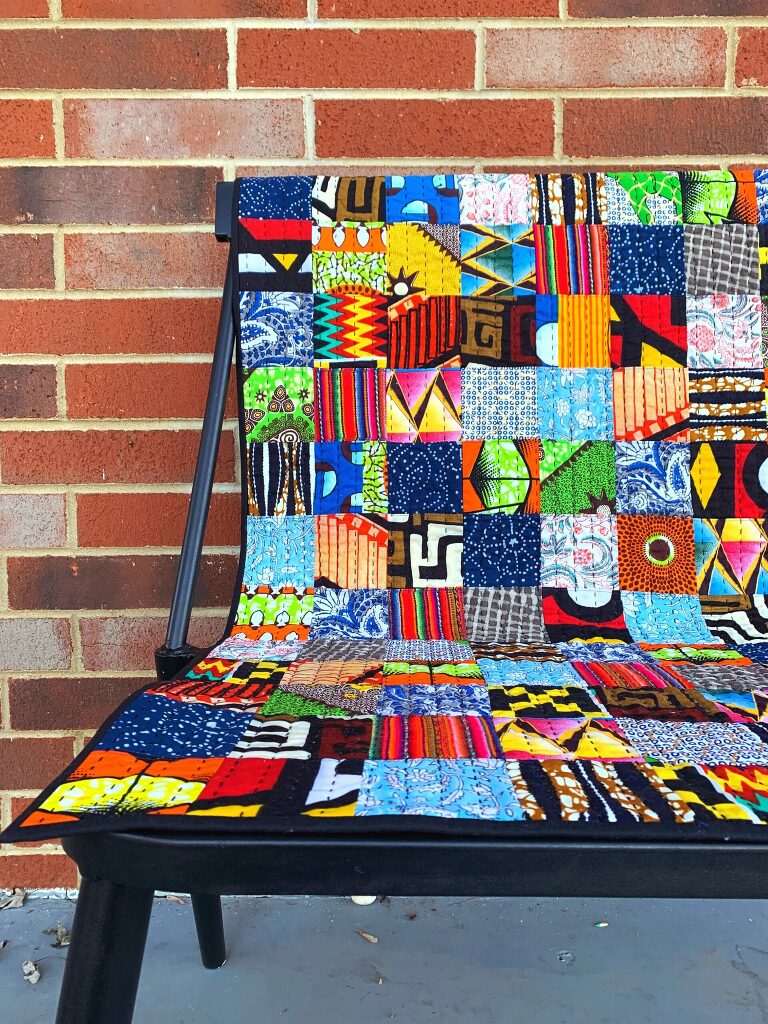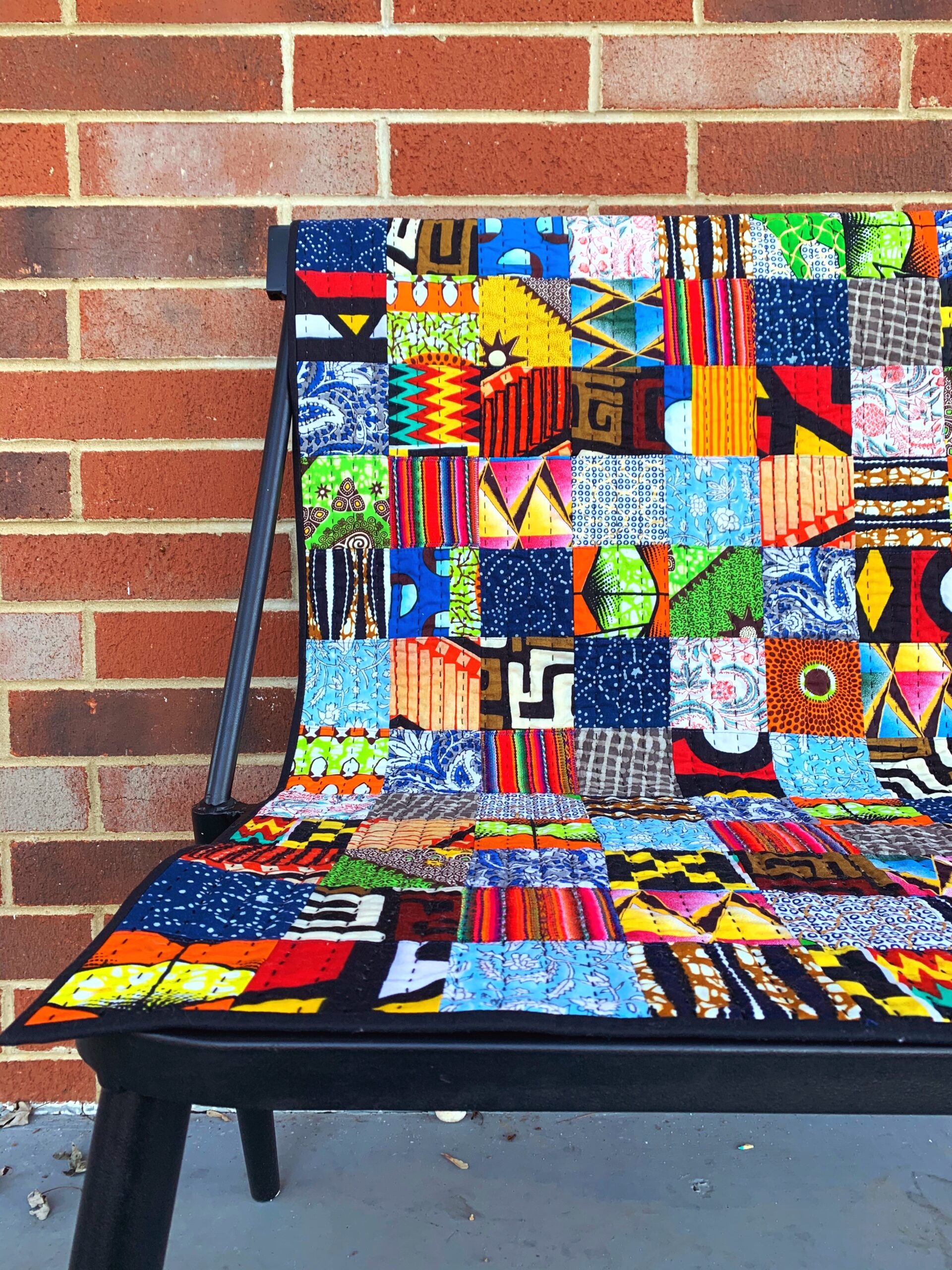 -Meredith