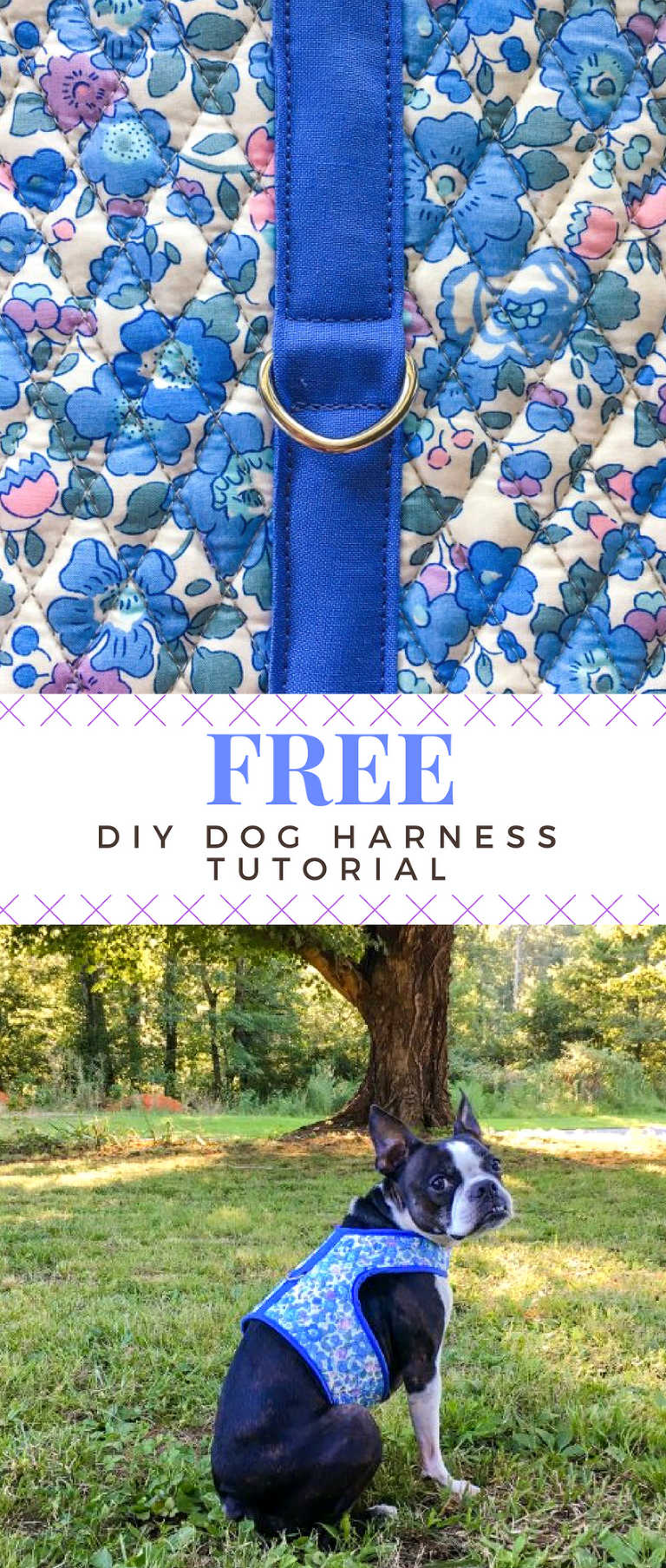 I'm so excited to bring you a brand new tutorial today. I've been working on this for a shamefully long time, but its ready and I suppose now is as good a time as any to share! DuckaDilly fabrics has partnered with me to bring this project to you, so I'll be linking to some of the gorgeous Liberty from their shop to inspire your own project!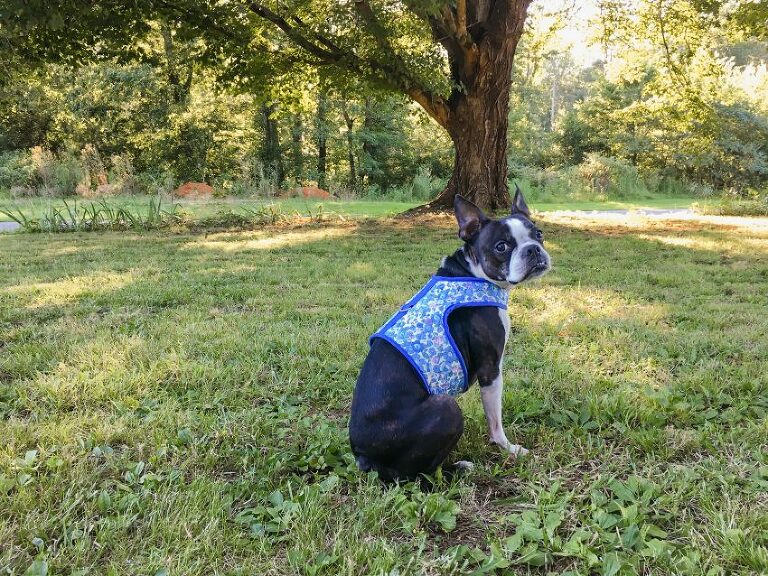 This is a dog harness, though you could just as easily use it for a cat (do cat's even allow this?) if you would like. I have three basic sizes based on the universally accepted dog measurements that are out there. You may find you need to extend one part, and cut down on another to best fit your pet's needs because as we humans know, bodies come in all shapes and sizes. The harness is quilted with a layer of Flexfoam which is sturdy and holds up well compared to batting. It uses large Velcro closures at the neck and belly.
Materials:
the pattern (be sure to print at 100%, unscaled)
a cut of your favorite Liberty (you don't need much, so go ahead and splurge!)
one fat quarter for Small and Medium
half yard for Large and XLarge
a cut of a coordinating solid for the underside and bias binding (yes, you'll be making your own! Its way better than the premade store variety.)
half yard for Small and Medium
one yard for Large and XLarge
Pellon 2 sided Fusible Flexfoam
half yard for Small and Medium
one yard for L and XLarge
Velcro. DO NOT PURCHASE ADHESIVE VELCRO. You must use the sew-in variety if you want to maintain any level of sanity. 
a D ring (3/4-1″)
Coordinating thread for quilting and topstitching (I'm using Aurifil 28 weight)
Alright! I chose one of my favorite prints, Liberty's iconic Betsy in light blue, for Olivia's harness. It looks so refined and beautiful! I've created a grid of some Liberty prints below that I thought would look equally lovely for this project. Each picture will lead you to the link at DuckaDilly! I even made one with EPP hexies, which of course, I don't have a photo of.

Let's get started!
Assemble your harness pattern. Measure your dog's neck and girth and cut out the best size. It's pretty easy to put the pattern up to your dog and see what will work best, and if you need to extend the neck or girth pieces. There should be a few inches of overlap for the Velcro closure. Here's a size chart:
| | | | | |
| --- | --- | --- | --- | --- |
| | S | M | L | Xl |
| Weight | 9-14lb | 15-25lb | 26-38lb | 39-50+lb |
| Girth | 13-15" | 15-21" | 21-25" | 25-31" |
Now use your pattern to cut out the harness from your Liberty, coordinating fabric, and flex foam. Make sure to cut on the fold.
Fuse the three layers together. Top to bottom you should have Liberty right side up → Flexfoam → solid fabric. You'll need to fuse one fabric to the Flexfoam (fabric side touching your iron), then flip and repeat with the other fabric on the other side.
Now choose a quilting design you like, and quilt through all the layers. I have used a crosshatch style grid like you see on this version, and I've also made another with straight line quilting. You will probably find it easiest to quilt through the layers with your walking foot attached. This will prevent any warping.
Cut out the strip for the D ring from your coordinating solid. Fold the strap piece in half and press, then fold the raw edges to the center fold and press.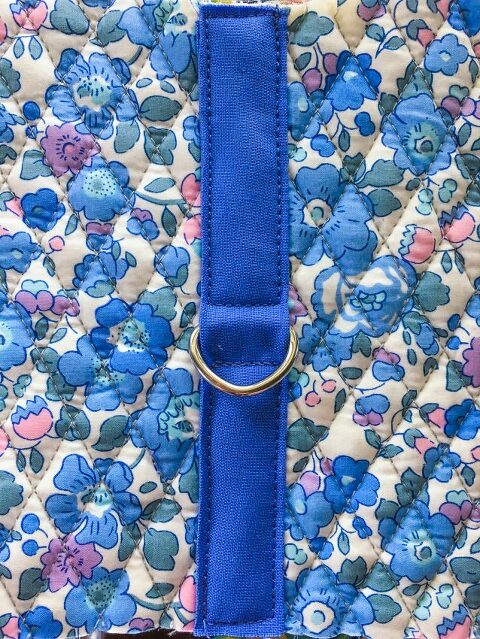 Slide the D-ring onto the strap piece, and align the strap in the center of the quilted harness and pin in place. Edgestitch around the harness in two sections- leave an opening in the middle for the D-ring, which should already be around the strap piece.
You're almost done! Now cut out your Velcro pieces. You'll probably want 2+ inches of length on the neck piece, and it will need to cover the full width of the neck portion. You'll likely want about 4″ of length on the belly portion.  Again, this is a great time to grab your pet and see what exactly will fit them best. If you have way too much in the girth or neck portions, trim down so that there's about 2-3″ and 4-5″ of overlap respectively.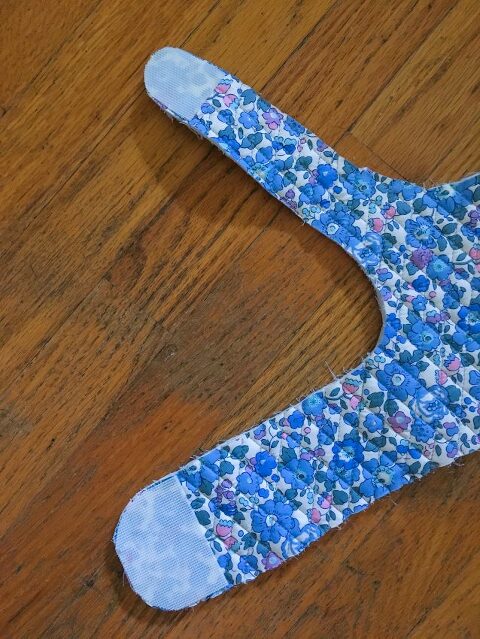 Put the male Velcro on the right side of the harness, and the female pieces on the bottom of the opposite side. Stitch the straight edges of the Velcro down to the harness, and baste around the edges.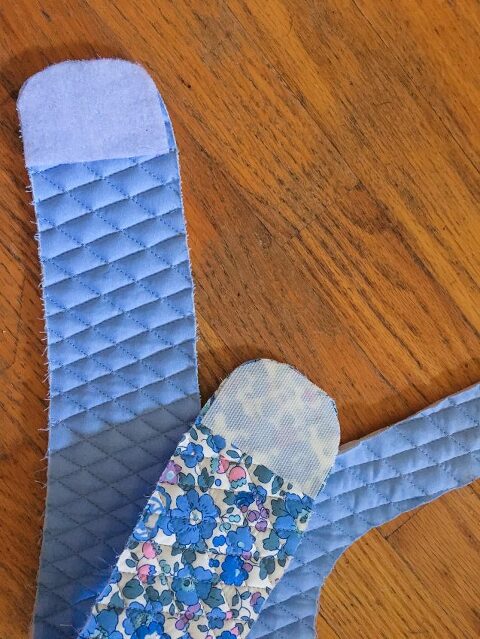 Time to make some bias binding. Cut 58″(S), 81″(M), 98″(L), or  115″(XL) by 1 1/4″ (I've worked in a couple inches of extra length here, so just trim later on). You can do this in pieces and join them with a diagonal seam to get the right length. Fold your bias binding in half lengthwise and press, then fold in the raw edges to the center line and press.
Open your bias binding, and stitch along the first fold all the way around your harness on the underside (scant 3/8″ seam allowance). Don't stretch it around the Velcro pieces. Likewise, DO stretch it a little around the inner curves. When you reach the end, sew a diagonal seam to join the ends and finish stitching.
Turn the bias binding to the right side. The fold should meet the line of stitching you just did. Press in place and pin where necessary, then edgestitch through all the layers about 1/8″ from the folded edge to secure the binding in place. Go slow around the Velcro pieces.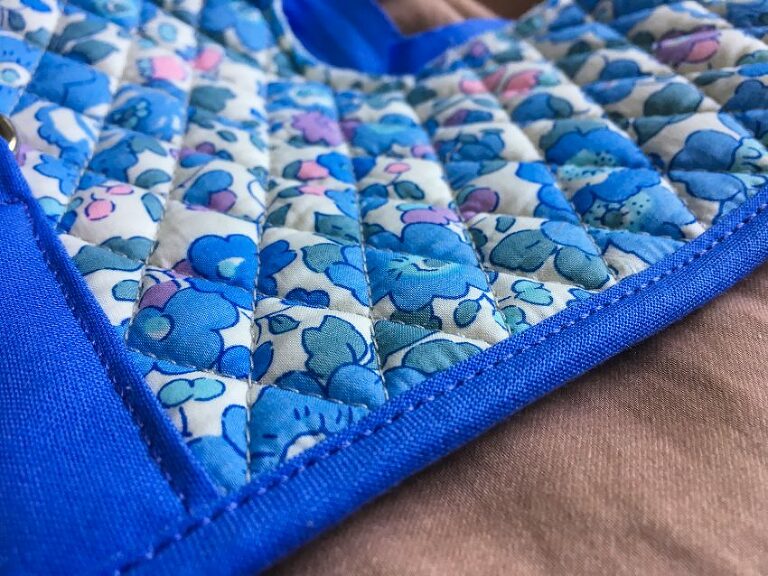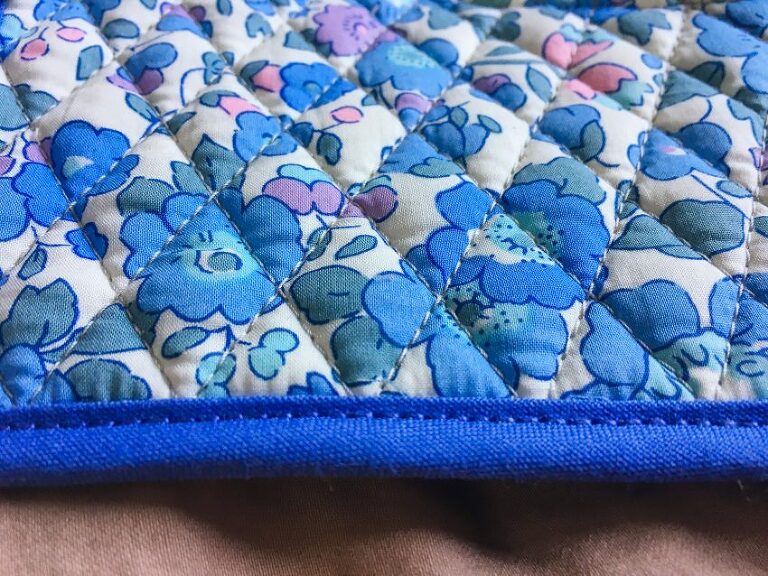 And you're done! Go try the harness on your pet!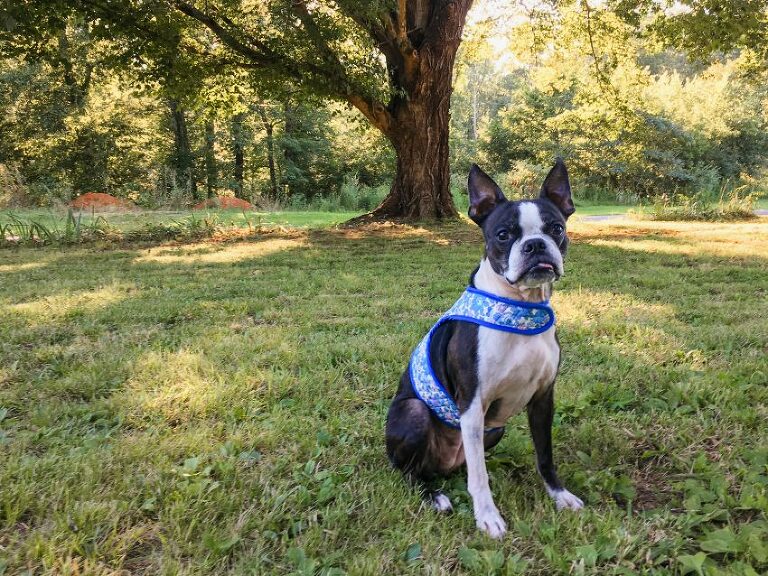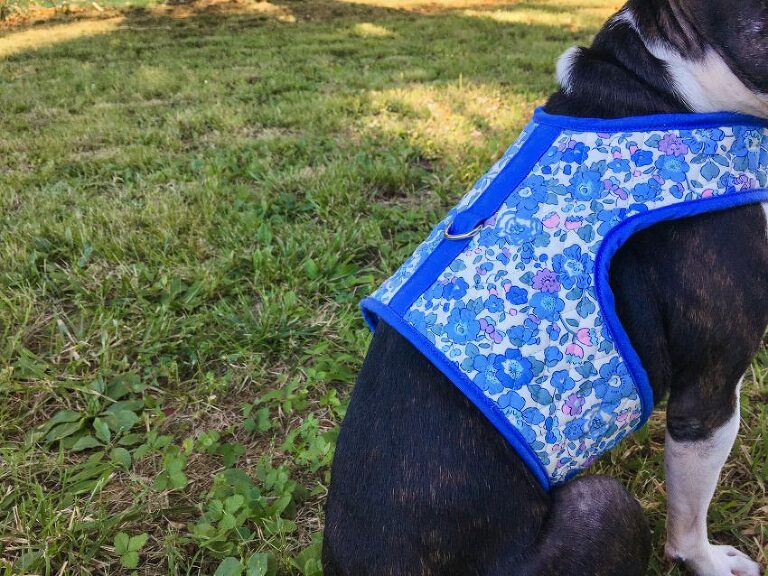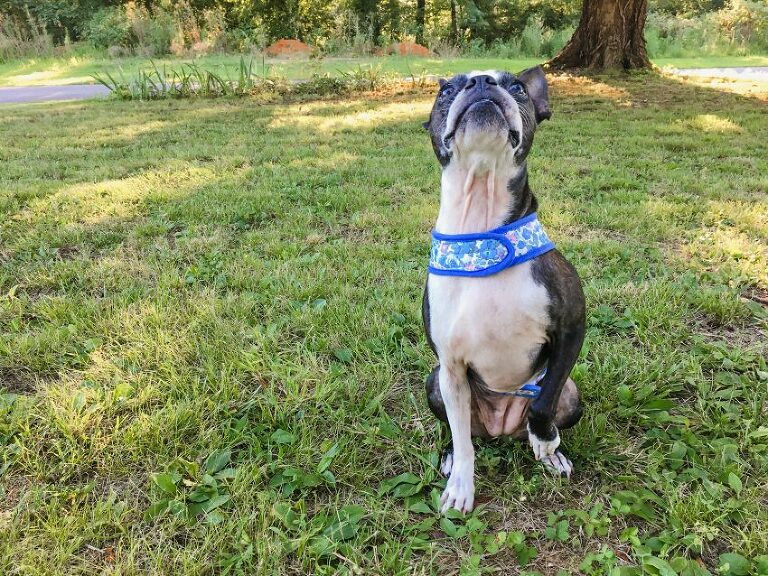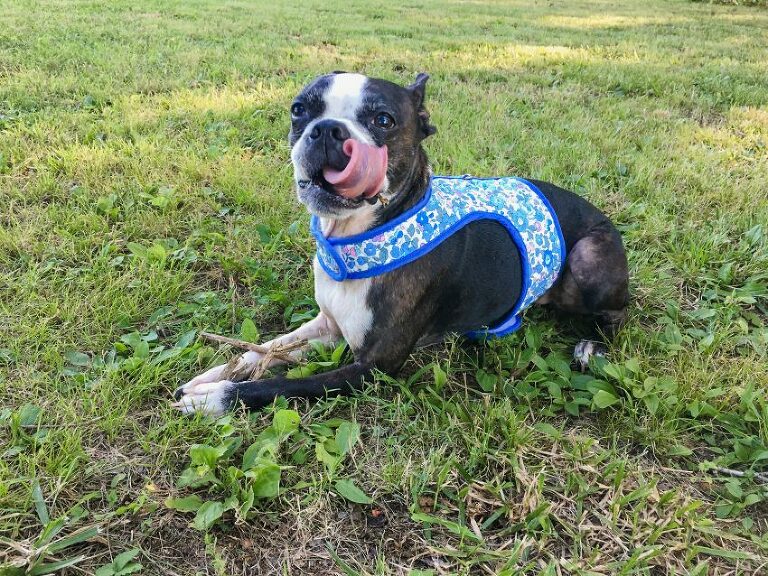 I love this style of harness because it looks clean and serves my crazy little dog well. She has a very strong chest, but this keeps her close to me without any big buckles pinching her neck or belly.
If you make a harness using my tutorial please tag me! I'm @thefooshe and you can use hashtag #oliviajanehandcrafted and #OJHharness . I would love to see what you make! If you have any questions, please feel free to leave me a comment here. This was a doozy of a tutorial to put together so I may have missed something silly!
Thanks for stopping by!
-Meredith