After even more blog silence, I'm back with a brand new quilt to show off. And this is a quilt like I've never made before. Not only is the palette a brand new one for me, but this quilt has so many other aspects to it that were virtually uncharted for me.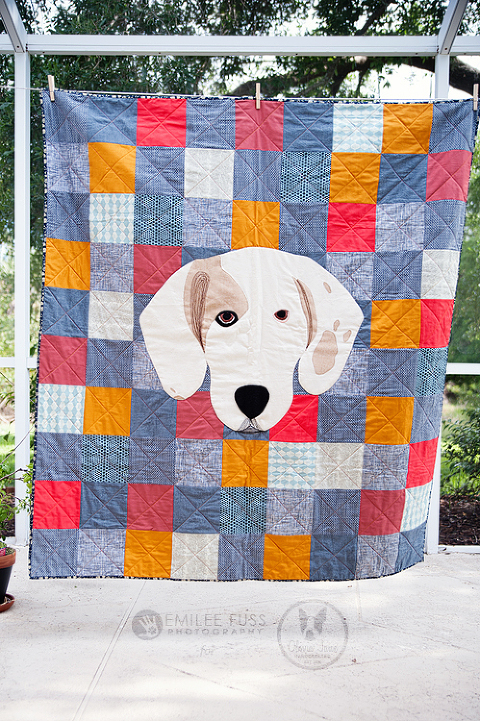 I do so love Kaufman chambray. I recently stocked up on my very favorites which I hope will last me a couple of months. Beginning with two chambrays, I mixed in a few solids and two tone prints, all rather neutral, then added some pops of color with some Aurifil 28wt thread. Yes! I machine quilted a throw size quilt!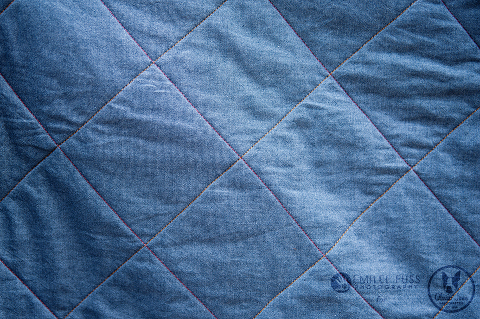 As requested by the recipient of this quilt, I had to include a little Liberty in some way. I chose to frame the whole quilt with it, and used Capel in navy for binding.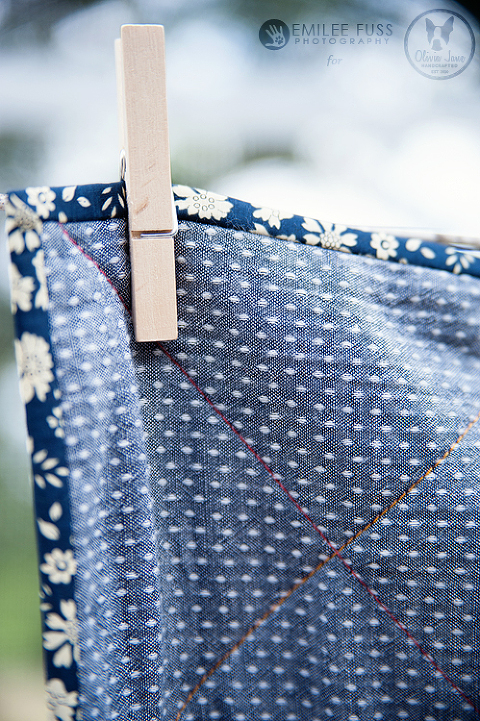 This quilt was meant for a serious dog lover, and since I had total creative freedom, I decided he needed to have his furry companion gracing the front of the quilt. With a little help from my dear sister on outlining his basic features, I got to work. His head is a white Free Spirit linen, and his brown spots are Essex linen machine appliqued onto the head. To darken the color and for under the nose and mouth, I channeled my inner Maureen Cracknell and did some "thread sketching", simply stitching over the areas I wanted to darken in a free motion style. It took a lot of thread and a lot of time, but the result is exactly what I was going for.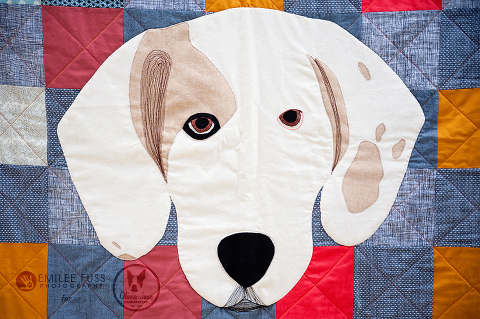 His eyes were embroidered by hand with DMC floss, and the black spot around his eye along with his nose are black felt attached by machine applique.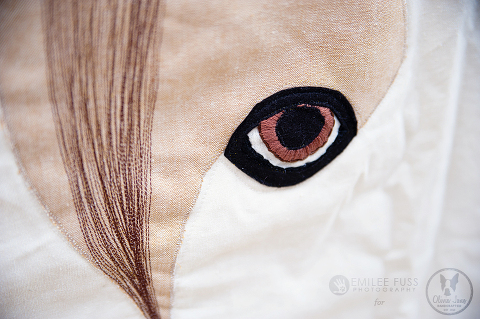 But that's not all! I wanted to make his head really pop, so I attached a piece of cotton batting and "quilted" around some of his facial features with white thread. After that, I pinned the head to the already completed quilt, and did a little needle turn applique to attach his head invisibly to the quilt.
This quilt is exactly what I envisioned. While so much of it was outside of my comfort zone (because I'm absolutely not an artist!), loving the finished work without second guessing is so gratifying. I'm happy to say the recipient loved this quilt as well, and I hope it gets many years of good use!
I've got more goodies to show you later this week. I'm working on making this blog silence go away for good! Have a great Monday. :)
-Meredith