Remember this bag? Well I thought it was utterly darling, and I wanted to make Layla one like it. After all, I am the one who ends up toting most of the stuff she absolutely has to take when we go places. And my bag is the one that fills up with her things. It was high time she get a bag of her own!
I fell in love with Sarah Jane's latest line, Wee Wander, and I'm finding it to be so perfect for Layla projects. She's my horse loving adventurer! I ordered fabric based on the requirements in Little Things to Sew, but I guess I didn't account for the fact I was making the larger bag. The first time I made the bag, I just used fabrics I already had in my stash and didn't bother measuring the amount beforehand. All that to say this, there was certainly not enough fabric to make the bag work! But with no time to spare, I had to improvise. (I'll admit that in that short amount of time, I did let the bag languish for a whole day while I racked my brain for a solution I would be happy with since I couldn't get the proper yardage in time!)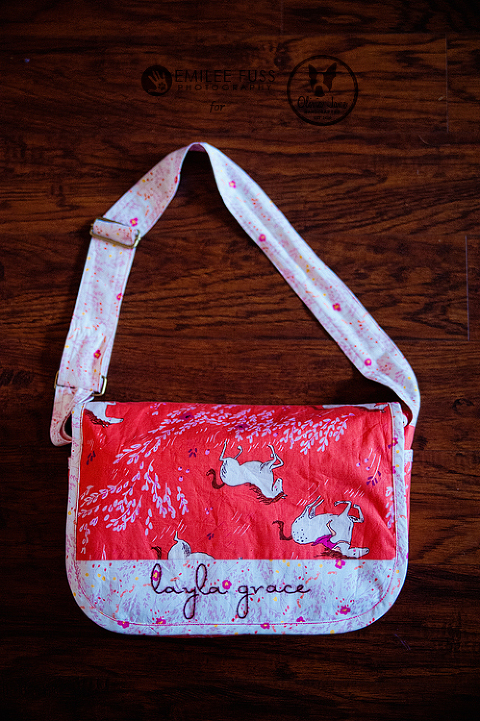 The solution that I ended up being okay  with ended up being possibly more awesome than if I had never needed to improvise. So I used the main fabric for the back/flap (which you'll see has a different fabric as well), the side pockets, and the front pockets and flaps that are under the big front flap. I used the pink feather fabric, which I had initially intended to be my lining fabric, only for the lining, rather than for the insides of the pockets etc. I hope I'm not losing you! The white floral was bought to be made into bias tape and straps. But I ended up have some left over, so I was able to use it for the background (which is hardly visible) of the front pockets, the lining for those same pockets and flaps, and the lining for the side pockets. And that wonderful floral ended up being my major sanity saver when it served as the extra length I needed for the back of the bag/flap! What?!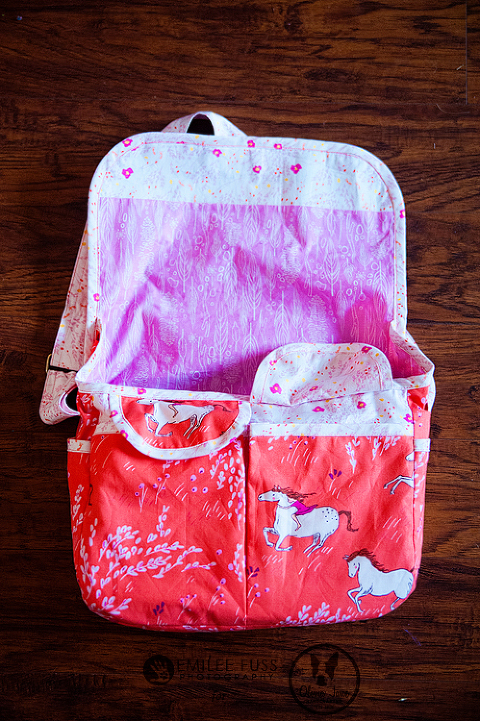 I had to make it look like this was all on purpose, so as a last minute addition, I embroidered her name onto the front flap. And I got away with it. I'm really not an improv girl; I love planning and getting things right. I'm even less of an improv girl when I have to do it out of necessity, because then I get frustrated at myself for not getting things right to begin with. But I'm so happy I was in this position because I love the embroidery so much! I love that it adds an interesting pop to the bag.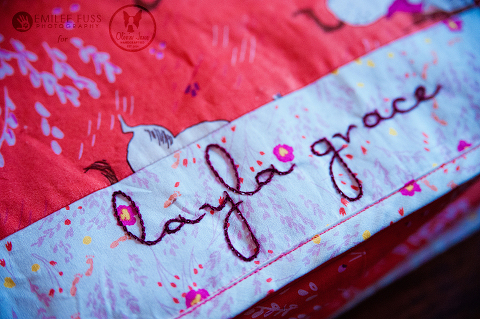 Layla's new bag was filled with lots of goodies, and I'm happy to report that its already getting some love. She has to take it everywhere!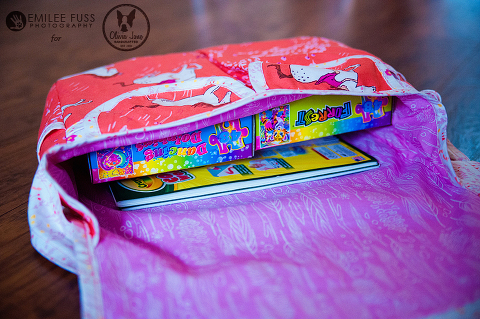 Also, this bag has so much bias tape its crazy. But the second go round was easier than the first. And making it [the bias tape] wasn't bad at all. I love that I'm getting more comfortable doing something that seemed so very cumbersome so me not so long ago. I mean, I had made plenty of bias tape for garments, but that doesn't even touch the amount used in this bag. But that is why Liesl Gibson is so good at what she does. She makes a kick butt pattern that makes you try new things, and she makes it seem so very doable because she writes her patterns as though she's sitting next to you holding your hand and cheering you on. And then you realize, that thing you were really dreading to try for fear of messing up, really is doable and even easier than you initially thought. And when its all said and done, you've just learned a new skill. That is awesome.
I've made a ton of Oliver + S patterns and I've also made several of the projects from Little Things to Sew. If you've not had experience with either, you've got to look 'em up and give them a try! You'll be so glad you did.
I'll be sharing a blanket I made for Baby this week using a new fabric that I'm now obsessed with, along with a couple of other goodies. Thanks for stopping by!
-Meredith